2020 Guerrilla Gravity Gnarvana
Test Location: Washington
Duration of Test: 3 months
Size Tested: 3
Geometry: See Below
Build Overview (as tested):
Drivetrain: Sram GX Eagle
Brakes: Hayes Dominion A4
Rear Shocks: Fox Float X2 & Manitou Mara Pro
Wheels: Sun Ringle Duroc SD37 Pro
Wheel Size: 29′′
Travel: 160 mm rear / 170 mm front
Blister's Measured Weight (as tested; w/o pedals; w/ ZEB Ultimate & Mara Pro): 32.8 lbs / 14.88 kg
MSRP:
Fameset: $2195
Ride Build Kit: $3,895
Rally Build Kit: $4,795
Race Build Kit: $6,395
[Prices listed are starting prices for each build; Guerrilla Gravity offers a great deal of customization through a configurator on their website, and further pricing and component spec details can be found there.]
Reviewer: 6′, 165 lbs / 183 cm, 74.8 kg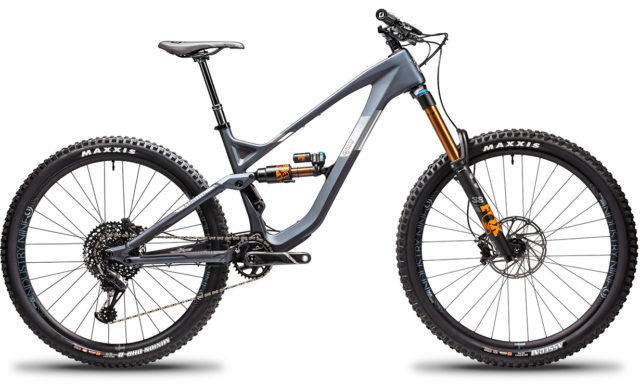 Intro
Earlier this year, Guerrilla Gravity introduced a fifth model built on their modular frame platform — and their longest travel 29er to date — the 160 mm rear-travel / 170 mm front-travel Gnarvana.
We've already reviewed their other two full-suspension 29ers, the Trail Pistol and Smash, and have now been spending time on the Gnarvana. We've now updated this post with our longer-term, full review. But first, we'll go over some of the details of the bike.
Guerrilla Gravity calls the Gnarvana "the no limit trail bike," and expands on that, saying:
"ripping down the steepest, chunkiest, fall-line trails is a zen-like experience, simultaneously losing all sense of self and becoming one with your bike. This flow state requires the right tool for the job, a bike that knows no limits, instilling a daredevil's confidence and monk's focus. Chasing this feeling is what inspired us to develop the Gnarvana.
Gnarvana pairs 160 mm of Freedom-Linkage-controlled travel with 29" wheels to create a bike fast enough to outrun your professional distractions and release yourself from terrestrial bonds. Come as you are and ascend to the next level with Gnarvana."
It should come as no surprise that Guerrilla Gravity is emphasizing the descending prowess of their long-travel 29er (or weaving musical references into their product descriptions; listen to our podcast with them for more on that), and it's worth noting that they're not emphasizing the versatility or climbing abilities of the bike. It's refreshing to see a company not try to claim that their long-travel bike excels literally everywhere and comes without compromise, and while the Gnarvana is definitely meant to be able to climb to the top and let you earn your turns, its main purpose is to descend, quickly. So, how they'd go about accomplishing that?
The Frame & Modular Platform
As with all of Guerrilla Gravity's full-suspension models, the Gnarvana is built around their modular frame platform, and features their "Revved Carbon" front triangle and aluminum rear end. We've discussed that system in a lot more detail in the prior two GG reviews, as well as our episode of Bikes and Big Ideas with the Guerrilla Gravity crew, and you should check those out for more. In short, though, all five bikes — which have rear travel ranging from 120 mm to 165 mm, and models with both 27.5 and 29 inch wheels — use the same front triangle, chainstays, and rocker link. Swapping the frame between models is accomplished just by changing the seatstays, and possibly the rear shock and / or lower headset cup, depending on the particular models in question.
Of course, the different models take different-size forks, potentially different wheel sizes, and, depending on intended usage, some other changes in component spec might be appropriate as well. But what Guerrilla Gravity has done here is unique in the bike world, and opens up some interesting possibilities for riders to convert their bike to suit different terrain and types of rides without requiring an entirely separate bike.
Converting between multiple models isn't quite a quick, trail-side swap, but it is easy; remove the rear wheel, brake caliper and derailleur; undo the pivot hardware near the dropout and at the rocker link to remove the seatstays; remove the rear shock, then reverse that order of operations with the new seatstay assembly and swap the fork (or change its travel) to match. If you've got the process dialed, and have two forks, it's a 20-30 minute job.
The Gnarvana does feature a few notably different features than the Trail Pistol and Smash that we previously reviewed. The shorter-travel offerings both feature a flip chip at the rear shock mount that toggles the bike between "Plush" and "Crush" modes. The Gnarvana dispenses with that option, and has a single setting for the linkage. The Gnarvana also makes the change to the SRAM Universal Derailleur Hanger, whereas the other four models (which were released earlier) feature the Syntace X-12 derailleur hanger system.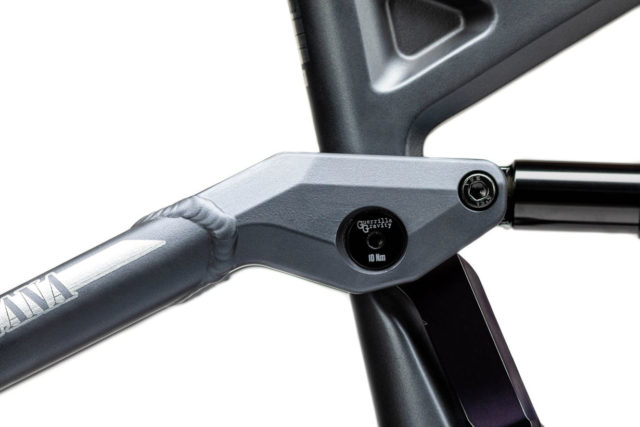 Common to the Guerrilla Gravity frames, including the Gnarvana, are their reach-adjust headset cups, which alter the reach and wheelbase by 10 mm (just reverse the drop-in cups to toggle between the two settings), and a slick, semi-internal cable routing system that puts all three cables in a groove on the left side of the downtube, with a bolt-on cover to keep them hidden.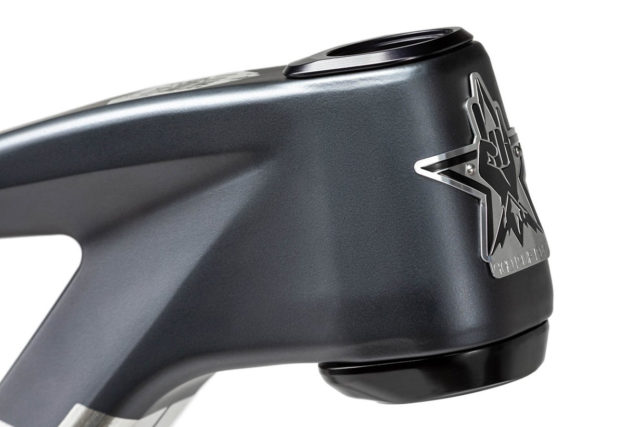 Many of the other increasingly "standard" features are here, too, like protection around the bottom bracket / downtube, chainstay, and seatstay; ISCG05 tabs for a chainguide / bashguard; a threaded bottom bracket; and a water bottle mount under the top tube and an accessory mount above the bottom bracket. For tire clearance, Guerrilla Gravity says the Gnarvana will clear up to a 2.5" x 29" tire.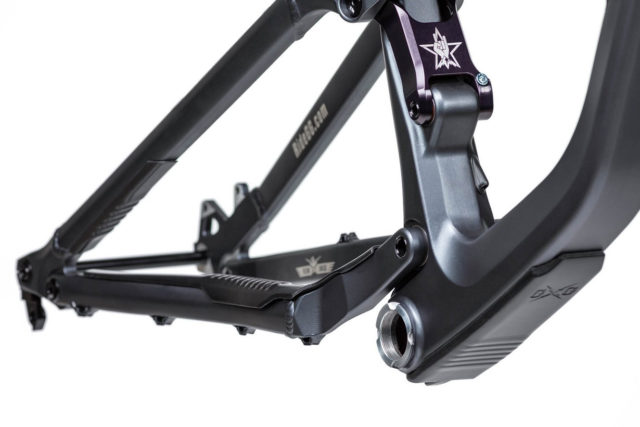 All Guerrilla Gravity frames are made in Colorado, and they have a "lifetime frame support program," which you can learn more about here.
The Build
Our test bike began its life as the mid-tier build on the Trail Pistol (called "Ride 1" at the time; now referred to as "Rally"), with a SRAM GX drivetrain, RockShox Pike RC fork, SRAM Guide RS brakes, and DT Swiss XM1501 i30 wheels. We mostly carried that build over when converting the bike to a Smash, but the Gnarvana called for some more significant changes, so our test bike no longer really resembles any of Guerrilla Gravity's current "stock" builds.
On the Gnarvana, I'm running the same GX drivetrain (though the longer chainstays of the Gnarvana required a longer chain), but switched the brakes to Hayes Dominion A4s, the wheels to Sun Ringle Duroc SD37 Pros, and have been testing both the RockShox ZEB Ultimate fork and Manitou Mezzer Pro Fork on the bike, both in 170mm-travel, 44mm-offset configurations. I've also been comparing both the new 2021 Fox Float X2 Factory and the Manitou Mara Pro rear shocks on the bike.
I'll say more about all those component options in full reviews to come, and for now, I'll just note that those sorts of decisions are worth thinking about if you're buying a Guerrilla Gravity bike with the intention of using it in multiple configurations. Their online build configurator offers a good range of component options for each bike, but the lists of options do vary depending on which frame you're starting with. For example, if you're considering running the bike as both a Gnarvana and a Trail Pistol, the brake and wheel options differ significantly depending on which you base your build around. Give your use case some thought and plan accordingly.
If you were starting from scratch, Guerrilla Gravity offers the Gnarvana in three full builds, or as a frameset for $2195. The base, $3895 "Ride" build comes with a SRAM NX drivetrain, SRAM Code R brakes, RockShox ZEB Select fork, and RockShox Super Deluxe Select+ fork. The mid-tier, $4795 "Rally" build comes with a SRAM GX drivetrain, the same SRAM Code R brakes, RockShox ZEB Ultimate fork, and a Fox DPX2 Performance shock. The high-end, $6395 "Race" build comes with a SRAM X01 drivetrain, SRAM Code RSC brakes, Fox 38 Factory Grip2 fork, and Fox Factory X2 shock. All full builds come standard with a 2.5" Maxxis Assegai EXO+ up front and a 2.4" Maxxis DHR II EXO+ out back.
It's also worth highlighting that Guerrilla Gravity's online build configurator allows you to significantly customize / upgrade any build, including a lot of different options for suspension, drivetrain, brakes, and wheels (including Shimano drivetrains and brakes, and suspension from MRP, DVO, and PUSH).
Geometry
As one would expect, given the added travel of the Gnarvana and the fact that Guerrilla Gravity is positioning it as the burly, descending-oriented option among their 29ers, it's significantly slacker and features a notably longer wheelbase than the 145mm-travel Smash.
At 6' / 183 cm and if I select "full throttle" for riding style, Guerrilla Gravity's online sizing tool suggests the Size 3 frame, with the headset in the long position and a 50 mm stem (switching the riding style to "all around" suggests the same setup, but with the headset in the short position). For reference, here's the full geometry chart for the Gnarvana: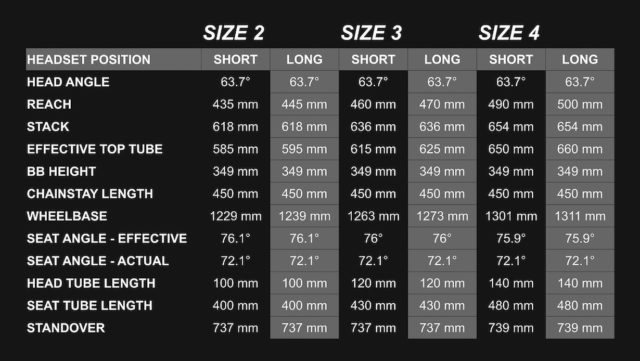 At 63.7°, the Gnarvana's headtube angle is a degree slacker than the Smash, and its chainstays grow considerably, from 434 to 450 mm. Those changes, combined with a 20 mm longer fork, increase the wheelbase from 1249 to 1273 mm. The cockpit also changes notably; since the bikes share a front triangle, going to a slacker headtube angle and taller fork effectively rotates the front triangle back, decreasing the reach (from 481 to 470 mm), increasing the stack (628 to 636 mm), and slackening the seat tube angle (from 77° effective / 73.1° actual to 76° effective / 72.1° actual). The effective top tube shrinks by a relatively modest 3 mm, from 628 to 625 mm. (All of these comparisons are for a size 3 frame, with the headset in the long position.)
As we seem to be saying with most bikes these days, the Gnarvana's geometry numbers would have seemed rather extreme just a few years ago, but are in line with modern norms for a long-travel Enduro bike; if anything, the chainstays are a touch longer than average, and the reach is perhaps a touch shorter than some Large frames, but neither is a wild outlier. On paper, the Gnarvana certainly looks like it should be a very capable bike that's comfortable at speed, and in steep, rough terrain, but how does it actually feel on the trail?
Initial Ride Impressions
I've got a dozen or so rides on the Gnarvana now, and it's living up to its billing as a capable, long-travel Enduro bike. It should come as no great surprise that a 160 / 170 mm travel 29er with modern geometry is comfortable and composed smashing through chunky terrain at speed, and the Gnarvana certainly is that.
But for this class of bike, the Gnarvana also pedals respectably well, comes in at a reasonable weight (ours weighs 32.8 lbs / 14.88 kg with the ZEB & Mara Pro), and doesn't feel entirely like a one-trick-pony that only wants to descend at top speed. Compared to, say, my Nicolai G16 — an admittedly extreme example — the Gnarvana feels a bit like an already burly Trail bike that's been stretched and slackened and given more suspension travel to make it more capable on the descent, rather than a downhill bike that's been given a decent pedaling position and a bit less suspension travel to make it go uphill better. The Gnarvana offers a blend of traits that make it seem like it should work really well for a bunch of people, including some who wouldn't normally be completely adamant about getting a very aggressive, long-travel bike.
The Bottom Line (For Now)
The Guerrilla Gravity Gnarvana is shaping up to be a very capable, long-travel 29er that doesn't sacrifice all versatility at the altar of descending prowess. It's certainly a big, long, burly bike, but it also still pedals well and doesn't feel unduly ponderous at lower speeds and in mellower terrain. We'll be spending a lot more time on the Gnarvana, and will go much deeper in a full review to come. But so far I'm very impressed with what Guerrilla Gravity has done here, in building a remarkably versatile bike — both the Gnarvana itself, and especially the entire modular platform family of bikes.
FULL REVIEW
I've now spent a lot more time on the Gnarvana, in a broader variety of terrain, and have continued to be impressed.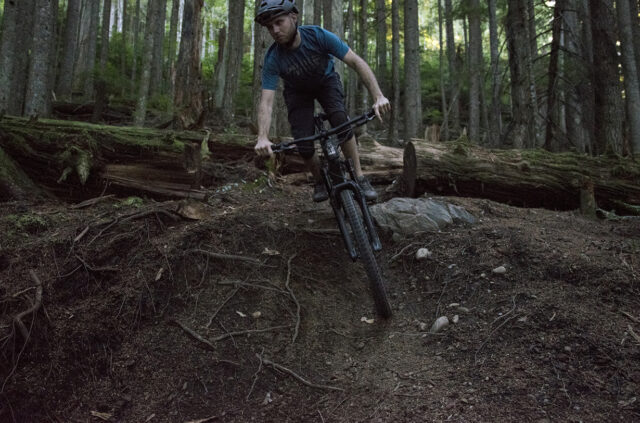 One of the biggest questions I had about Guerrilla Gravity's modular platform, when it was first announced, was: just how effectively will they be able to make one front triangle work across a range of bikes, given that it imposes some limitations on how the geometry can be set up for the different models? Having now ridden the full spectrum of their 29ers, the results are better than I might have expected, but not entirely without their limitations, which I'll touch on more below.
Fit and Cockpit Setup
I did initially have a bit of trouble with the cockpit setup on the Gnarvana. The taller stack height, in particular, coupled with the slightly shorter reach than most of the bikes I've been on recently, made for a somewhat more compact, upright position on the bike, and I had some trouble weighting the front end as effectively as I wanted to in some situations. Going to a longer 50 mm stem (I started at 40 mm) helped, as did switching to a lower-rise handlebar with less backsweep. Those changes, along with a bit of time on the bike to adjust and get used to the setup, got the job done. But at least for me, the Gnarvana wasn't a bike I was able to jump straight onto and feel like everything was dialed.
At 6' / 183 cm, I am at the taller end of Guerrilla Gravity's sizing recommendations for the Size 3 frame. They start to recommend the Size 4 at 6'2" if you select the "full throttle" option for your riding style. While I wouldn't mind a touch longer reach, I think the added 18 mm of stack height on the Size 4 would pose a real problem for me when it comes to bar height.
Climbing
The Gnarvana's pedaling performance is respectable for the travel class but (unsurprisingly) substantially less sprightly than the shorter-travel Smash. Part of that is just due to the extra travel, but to me, it feels like the Gnarvana's rear end stays slightly more active under pedaling than I would've suspected. To be clear, though, the Gnarvana's pedaling performance is well in line with what one can reasonably expect for a 160 mm travel Enduro bike — if you make a spectrum for that sort of bike, from most active/compliant to most efficient, I'd put the Gnarvana only slightly on the more active side of center.
Rear-shock choice factors in here, too. The 2021 Fox Float X2 that Guerrilla Gravity sent over with the chainstay kit features a relatively light tune on the climb switch, but I've also run a Manitou Mara Pro (review coming soon) and its climb mode is substantially firmer, which does make a significant difference in pedaling performance, particularly on smoother climbs. Personally, I'd rather see a firmer climb-mode spec on the (otherwise excellent) Float X2 from Guerrilla Gravity. The Gnarvana pedals well enough to make a climb switch by no means a necessity, so I think there's room to spec a quite firm climb mode. Riders looking for more traction and compliance (for example, when climbing something rough and technical) could just opt not to use the lever in some situations and still have a reasonably efficient platform, and the climb switch could firm things up dramatically for fire road climbs and the like.
As mentioned above, since the Trail Pistol, Smash, and Gnarvana all share a front triangle, each successive step-up in travel in the range basically rotates the front triangle rearwards, slackening the headtube angle — but also shortening the reach, increasing the stack height, and slackening the seat tube angle. Given that, I was worried that the Gnarvana was perhaps going to feel a bit too slack in the seat tube angle, but those fears have proven to be mostly unfounded.
One of the biggest ways that a too-slack seat tube angle can manifest itself is in making it hard to keep the front wheel planted on steeper climbs. With the slack seat tube moving the rider's weight rearward, over the back wheel, it can take more effort to stay forward and keep the front wheel down, but I've had no real issues there on the Gnarvana. Some of that credit is probably due to the very long 450 mm chainstays, which mitigate the rearward weight bias a bit, and of course, the Gnarvana's 76° effective / 72.1° actual seat tube angles are by no means super slack — just more so than the Trail Pistol and Smash.
All this adds up to a bike that climbs just fine for the class of longer-travel Enduro bikes it occupies, but it isn't going to blow anybody's mind on that front, either. Of course, nobody is buying a bike with this much travel with the expectation that it really excels on the way up (or at least, they shouldn't). Which brings us to the Gnarvana's time to shine: descending.
Descending
Unsurprisingly, given that we're talking about a long-travel 29er with a rather long wheelbase, the Gnarvana is very stable and composed at speed, and does a great job of mowing down rough terrain. The single setting for its rear suspension linkage feels a bit closer to the Smash's "Plush" mode than the Smash's "Crush" option, but for a bike with 160 mm of rear-wheel travel, it strikes a good balance of being compliant and cushy, while still providing some support for pumping the bike and pushing into the rear end. Overall, I'd describe the Gnarvana's suspension as being slightly on the plusher, more compliant side, but not far from the median for this class of bike.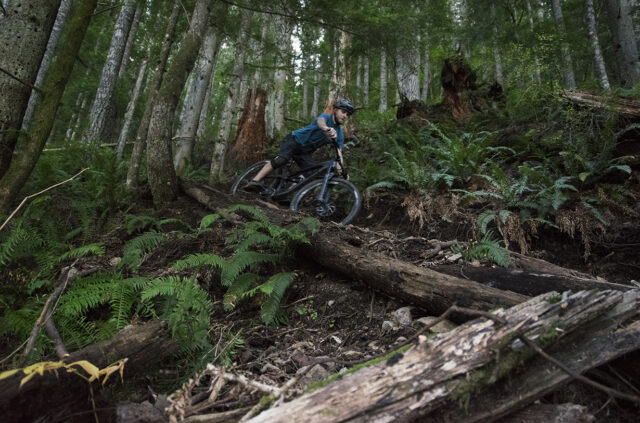 The Gnarvana's wheelbase is on the longer side, at 1273 mm for the Size 3 I rode (in the longer headset setting), but is by no means an outlier in that regard. For example, a size S4 (which is their recommended size for me) Specialized Enduro is just 1 mm longer, and an S3 Privateer 161 is 5 mm longer, at 1278 mm. Where the Gnarvana is notably long is in the chainstays: at 450 mm, they're very much on the long end of the spectrum (8 and 4 mm longer than the Enduro and 161, respectively — bikes with rather long chainstays themselves).
Due, I think, in no small part to that combination of a not-super-long front end (both in terms of reach and front-center) and quite long chainstays / rear center, the Gnarvana does feel like it favors a somewhat more upright, neutral body position to stay centered between the wheels and manage weight balance between the two, especially when cornering. Some of that contributed to my initial challenges in finding a cockpit setup that worked for me. Particularly when riding steep sections of trail into a catch berm as the trail leveled out, I found myself adopting a somewhat more upright, rearward position on the bike than I'm used to in the steeps (which felt great), but then struggling to get the timing down to move my weight forward and drive the front wheel through the berm.
Some fiddling with the cockpit setup, coupled with a bit more time on the bike to get familiar with it, got me much more comfortable and I came to appreciate how the Gnarvana corners, especially at speed. The relatively compact cockpit, coupled with the longer wheelbase means that there's a ton of room to move around on the bike without getting way out over one wheel or the other and upsetting the bike's balance, and the Gnarvana rewards riders willing and able to put in that work. Subtle inputs aren't going to get the best out of the Gnarvana. Lean it over hard, pivot your hips out through the corner, push the back end out through your feet, and the bike comes alive.
In steep, rough terrain, the Gnarvana also feels like it has a particularly big sweet spot — the suspension does a great job of ironing things out, to be sure, but also the stability afforded by the long wheelbase and ability to move around freely on the bike means that the Gnarvana is impressively forgiving of small mistakes. Get a little off line, find yourself a little back seat, whatever — the Gnarvana still responds calmly and predictably. For that reason, it's a bike that encourages pushing your limits (whatever they may be) and trying to go just a bit faster than you did last time, without worrying that the bike will immediately punish a small mistake.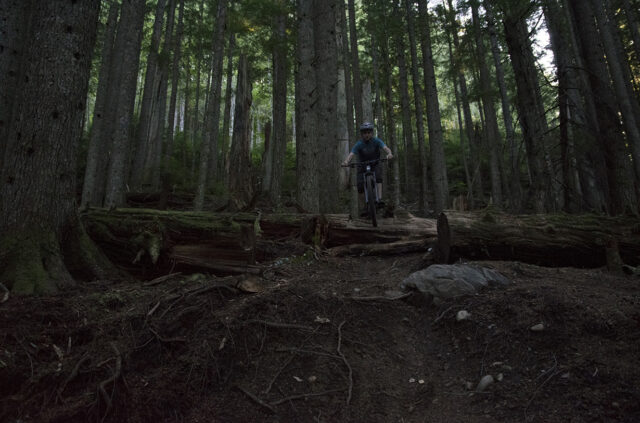 The more your local trails trend faster and more wide open — and especially if they're generally fast and rough — the more the Gnarvana starts to make sense over something shorter-travel and more nimble, like the Smash. This goes double if you're generally inclined to really attack and ride fast and hard. To reiterate, the Gnarvana certainly isn't some super demanding beast that only makes sense for the most skilled riders out there. When I say "ride fast and hard," I mean that as an approach, rather than necessarily setting Strava KOMs or winning races.
Compared to bikes with more extreme geometry (like my Nicolai G16, which has 5 mm shorter chainstays, but vastly longer wheelbase / reach at 1300 and 500 mm, respectively, and consequently a much longer front-center), the Gnarvana feels significantly more forgiving and easier-going at lower speeds and in mellower terrain. The G16 is even more stable and more capable at full throttle, but also demands more aggressive body positioning and weighting of the front wheel, and isn't as tolerant of mistakes. It's also much more cumbersome at really low speeds and in tight tech, especially when having to pedal through such sections.
So, of course, there are tradeoffs. At lower speeds and mellower terrain, the Gnarvana does start to show its length and considerable suspension travel. All that adds up to it being a bit more cumbersome, a bit less sprightly, and a bit more work to manhandle around in tighter, slower situations. That's certainly to be expected for this sort of bike, and for what it is, the Gnarvana does a passable Trail bike impression. There are plenty of (generally shorter-travel, shorter-wheelbase) bikes that are a lot more fun when the hills are more gentle and rolling, but the Gnarvana isn't so extreme that it's disastrously out of its element.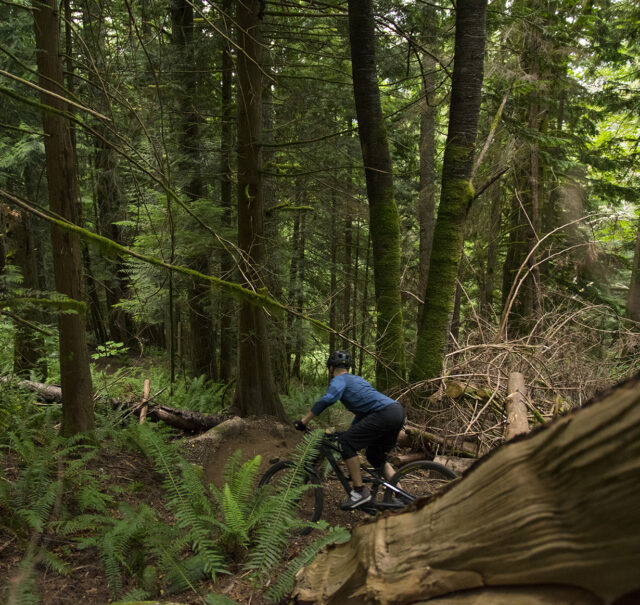 Guerrilla Gravity's modular platform also opens up some interesting possibilities, since the Gnarvana can be converted into one of their shorter-travel models at considerably lower expense than buying an entire second bike. If, for example, you live away from the mountains and steeper trails but take a trip or two every year to them (or perhaps to a bike park), converting one of Guerrilla Gravity's shorter-travel models into a Gnarvana for those trips could be a good option if you don't want to rent a bike, but can't justify an entire second bike.
Who's It For?
The Gnarvana is an undeniably big bike, best suited for riders who have access to some steeper, longer descents and who are inclined to push to ride them faster and harder. That's not to say it's only for the hardest charging, most experienced riders though, by any stretch; the Gnarvana has a big sweet spot, and would be a great call for intermediate riders looking to progress their abilities in more challenging terrain, too.
The Smash is certainly a more versatile bike, and while the Gnarvana doesn't feel wildly out of its element when presented with a bit of mellow Trail-bike duty, I still think the Smash is going to be a better choice for more people. It carries over a great deal of the big-mountain capabilities of the Gnarvana, but in a more efficient, more agile platform that's far more at ease when you're not trying to rage. That's no knock against the Gnarvana at all — it's the longest-travel 29er in the lineup and it's not supposed to be the versatile one. And there's absolutely a place for it in the world. Rather, this is just a reminder to "know thyself," and think about how much bike you really need (and that the Smash is an exceptionally good bike that we still think will work well for a whole lot of people).
The Bottom Line
The Guerrilla Gravity Gnarvana is a highly capable Enduro bike that will work well for many intermediate to expert riders who are interested in pushing hard on steeper, longer descents, and have access to the terrain to match. While it's far from the most versatile bike out there (same as the majority of bikes with as much travel), the Gnarvana does manage to keep just enough "Trail bike manners" to manage in more mellow terrain on occasion. Plus, Guerrilla Gravity's modular platform offers a unique ability to reconfigure the Gnarvana into one of their shorter-travel models, which will be an appealing option for some riders.