2020 Guerrilla Gravity Smash
Test Locations: Montana & Washington
Duration of Test: 3 months
Size Tested: 3
Geometry: See Below
Build Overview (Ride 1 / Rally Build Kit*):
Drivetrain: Sram GX Eagle
Brakes: Sram Guide RS
Fork: Rockshox Lyrik RC2 / Pike RC
Rear Shock: Fox DPX2 Performance
Wheels: DT Swiss XM1501 i30
*Build kit was partially carried over from the Guerrilla Gravity Trail Pistol
Wheel Size: 29′′
Travel: 145 mm rear / 160 mm front
Blister's Measured Weight (as tested): 31.6 lbs (14.33 kg) without pedals
MSRP: $4,795
Reviewers:
Noah Bodman: 5'9", 155 lbs (175 cm, 70.3 kg)
David Golay: 6′, 165 lbs (183 cm, 74.8 kg)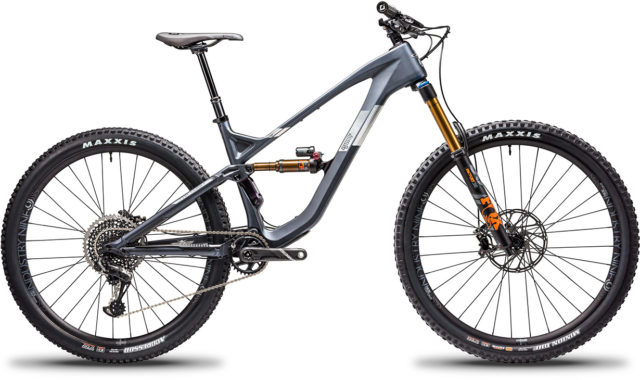 Intro
Last summer I spent quite a bit of time on the Guerrilla Gravity Trail Pistol, a 120mm-travel 29er. There are all sorts of interesting things going on with that bike, but one of the most interesting features is Guerrilla Gravity's modular frame platform, which makes it relatively easy to reconfigure any of their carbon, full-suspension bikes to become a different model. So in this case, I reconfigured the Trail Pistol to become a Smash, Guerrilla Gravity's 145mm-travel 29er.
Until today, the Smash was the longest-travel 29er in Guerrilla Gravity's lineup. That changes with the release of the Gnarvana, a 160 mm rear / 170 mm front bike built around the same modular platform, and continuing to share a front triangle with the rest of their full-suspension range.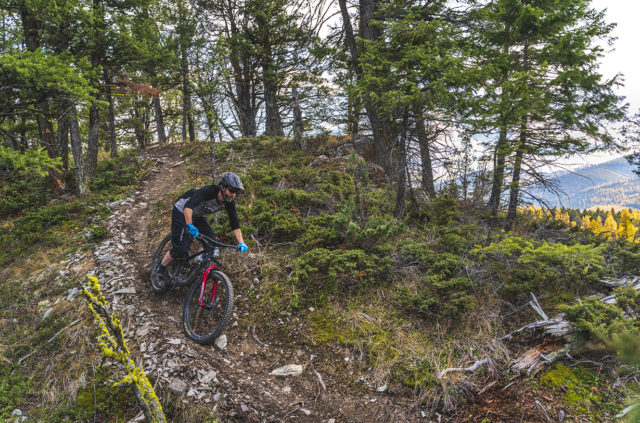 My time on the Smash was cut short by a phenomenon that, in Montana, is known as "winter." So rather than acting like the Smash is a fat bike, I shipped it over to Blister reviewer David Golay, who lives in a somewhat less wintry locale. He weighs in with his thoughts throughout this review.
The Smash is situated to be a competitive contender in the Enduro category. While it's far from the longest-travel bike in this category, its geometry and build specs make the intentions clear — it wants to go downhill, preferably quickly. The mid- to long-travel 29er category is a pretty stacked field, but the Smash brings a lot of compelling ideas to the table. The question for me was: do those ideas translate to greatness when the rubber meets dirt?
Some Background
Noah Bodman: Guerrilla Gravity is doing some interesting things out of its headquarters in Denver, Colorado. We talked about this quite a bit in the Trail Pistol review, and in our Bikes & Big Ideas podcast where we spoke with the good folks at Guerrilla Gravity. But for those disinclined to read / listen to those, here's a quick recap:
Guerrilla Gravity is building their Revved Carbon frames in house, in Denver. Their frames are actually less expensive than a lot of the carbon frames made in Asia on the market right now, and Guerrilla Gravity is touting their carbon frames as being 300% more impact resistant than other frames on the market.
More About the Frame
The frames themselves also have some interesting ideas going on. As noted above, they're modular. So with the purchase of a seatstay kit ($445), and (sometimes) a different rear shock, any Revved Carbon Guerrilla Gravity frame can be converted to any other frame in their lineup. Of course, many of those conversions will require swapping the fork (or at least changing the fork's travel), and if you're switching between models with different wheel sizes, you're gonna need a different wheelset. But at the end of the day, I don't know of any other company offering that kind of feature on their frames.
GeoAdjust Headset
Revved Carbon Guerrilla Gravity frames use a "GeoAdjust Headset," which is essentially an aluminum insert in the headtube that allows the reach to be changed by about 10 mm. Functionally, the GeoAdjust Headset is pretty simple — it's a square aluminum block with a small rubber seal that fits snugly into the carbon frame, with the actual headset pressed into that. I was wary of creaking or looseness, but in all of my time on the Trail Pistol and Smash, I never had any issues with it. The only downsides I found were that (1) it looks pretty bulky, and (2) in "short" mode, I couldn't run the stem slammed because the faceplate bolts would hit the front of the headtube.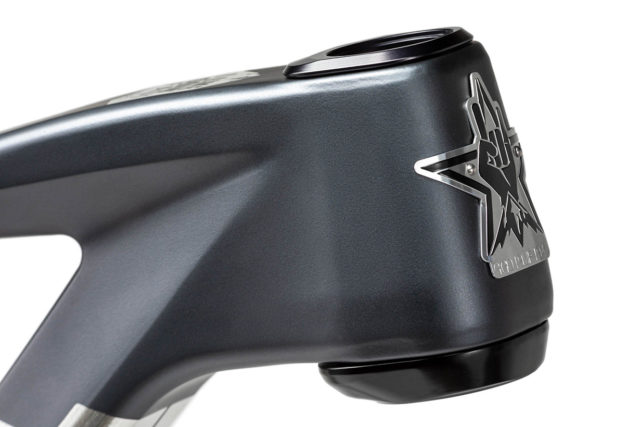 The Suspension Design
The Smash, and every other Guerrilla Gravity full-suspension bike, is built around a traditional horst-link design. Guerrilla Gravity isn't breaking new ground with the suspension design, but the design has clearly been thought through to accomplish specific goals. The shock is driven off of the seat stay, whereas many other horst-link bikes tend to be driven via a swing link of some sort. The Smash still has a swing link that modifies how the shock is compressed (and does a lot to laterally stiffen up the rear end), and that swing link features a flip chip to alternate the rear suspension between "Plush" and "Crush" mode, which only affect the bike's leverage ratio, with no change to the geometry.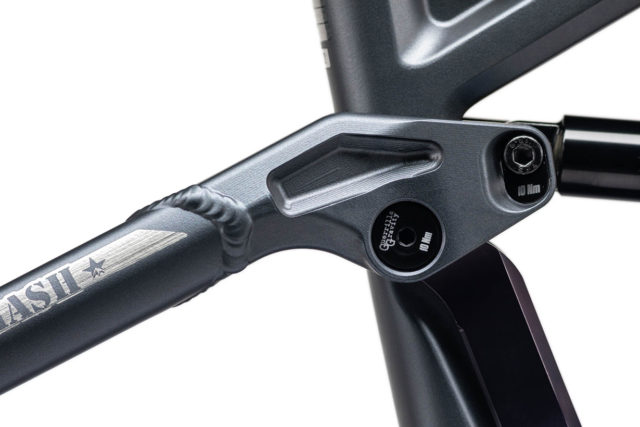 Plush Mode is a bit softer off the top to help out with traction; Crush Mode is a bit more supportive through the mid stroke to make the bike better at pumping.
Details
All of the Guerrilla Gravity frames have some cool details incorporated into them. The frame fits a water bottle in a convenient location (under the top tube, above the shock). My size Three fits a full-size bottle, albeit somewhat snugly. And a mounting bracket below the shock makes it easy to strap a tube, a CO2 cartridge, and a multitool to the frame.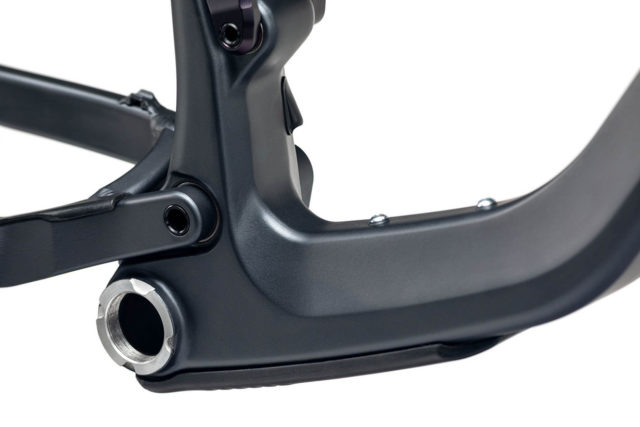 Cables are routed externally in a channel that's molded into the frame, but there's a bolt-on cover that keeps everything looking tidy. I'm a big fan of this — you get the clean look of an internally routed frame, but the maintenance ease of external cables and hoses. The main downside here is that, since the channel is on the left side of the frame, the dropper post cable has to make a tighter curve out of the lever.
The frame has a threaded bottom bracket, which is great. Easier maintenance and less creaking. The rear axle threads into a replaceable nut, so if you mess up the threads, replacement is fairly cheap and easy. There are ISCG05 tabs for mounting a chainguide / bashguard. The bearings in the pivots are Enduro Max in standard sizes, which means the pivots should hold up well, and the bearings will be easy to replace when the time comes. As a whole, there's nothing proprietary or weird about the frame — every part and size, from the derailleur hanger to the shock mount, is pretty standard and easily replaceable if it breaks.
Converting from Trail Pistol to Smash
Noah: As I mentioned above, this bike started as a Trail Pistol with the Ride 1 build kit, which Guerrilla Gravity now calls the "Rally" build. To convert to a Smash, I needed the Smash seatstay kit ($445) and a different rear shock (the Smash needs a 230 x 60 mm rear shock, whereas the Trail Pistol runs a 210 x 50 mm). I put a Fox DPX2 Performance rear shock on the Smash, but the frame will fit pretty much any rear shock you want to use.
The Trail Pistol with the Ride 1 / Rally build comes with a Rockshox Pike. Extending the travel on that Pike to 160 mm to work with the Smash is relatively cheap and easy, but I felt like the Pike was going to be undergunned on the Smash. This is one reason why, in my Trail Pistol review, I noted that upgrading the Ride 1 build kit to include a Fox 36 would be money well spent. But for my time on the Smash, I swapped the Pike out for a 160 mm Rockshox Lyrik RC2, which is what the stock Smash with the Rally kit comes with.
The whole process of switching the Trail Pistol to a Smash was pretty quick and easy. Unbolt the rear derailleur and rear brake caliper. Remove the rear shock. Remove two pivot bolts on each seatstay (and keep track of the washers in those pivots). Pop the Smash seatstays on and bolt everything back together. The whole process takes around 20 minutes. Swapping the fork takes another 20 minutes or so.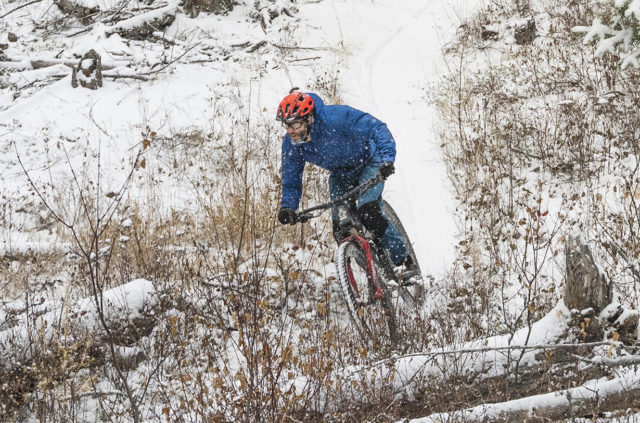 My Ride 1 Trail Pistol build came with 180 mm rotors front and rear, but the Smash is a bigger bike and bigger brakes are warranted, so I also swapped to a 200 mm rotor up front. And by the time I Smash-ified the Trail Pistol, I'd long since put heavier casing tires on (Maxxis Minions w/ DoubleDown casings), so I continued to ride those tires on the Smash. Other than that, I rode the Smash with the same build kit as the Trail Pistol.
David Golay: I rode the same Ride 1 build kit as Noah, except that I just swapped in a 160 mm air shaft into the stock Pike, rather than going for a complete fork swap. The Pike RC is a very respectable Trail fork, but as Noah suspected, I felt that it was a little undergunned on the Smash. A Fox 36 or Rock Shox Lyrik would be a better match. I also carried over the 40 mm Syntace Megaforce stem and 800 mm Thomson DH bar that I rode on the Trail Pistol, as those longer bits fit me better than the stock bar and stem that Noah sent the bike to me with.
Like Noah, I also swapped on a larger rotor (203 mm in my case) up front to eke a bit more power out of the Guide RS brakes. This helped, but frankly, I still found myself wanting a bit more power and better heat management on some of the longer, steeper descents that are opening up in the PNW as spring rolls around. As I mentioned in my segment of our Trail Pistol review, I'd pretty strongly encourage anyone who's planning to configure the bike as both a Smash and a Trail Pistol to buy the complete setup as a Smash, and convert from there, rather than vice versa. The build spec options aren't hugely different, so you're not going to gain a lot of weight, but you do get bigger brakes (200 mm front rotor by default, and Codes as either an option or standard, depending on build kit) and options for burlier forks.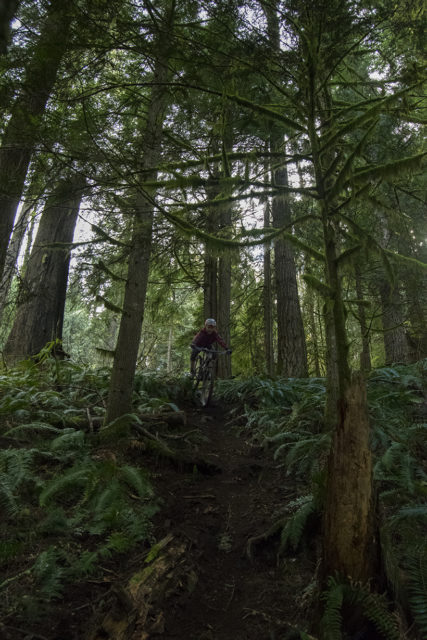 Alternatively, if you're inclined to try configuring the bike as both a Smash and a Gnarvana (Guerrilla Gravity's brand-new, long-travel 29er — more on that later), the build kits differ a little less. The Gnarvana Race defaults to the new Fox 38 over the Fox 36 on the Smash, and Industry Nine Grade 300 wheels over Enduro 305s for a bit of extra beef, but the Ride and Rally builds use the same wheels, brakes, forks and shocks, albeit in different travel configurations. If you're thinking Gnarvana / Trail Pistol combo, it probably starts to make sense to just have different forks and wheels for the two.
The Build
Noah: As I said, my Smash was originally the Ride 1 (now called the "Rally") kit that came on the Trail Pistol, which is roughly equivalent to the Rally kit that comes on the current Smash. So the Smash, as I rode it, had a Lyrik RC2 fork, a Fox DPX2 Performance rear shock, a Sram GX Eagle drivetrain, SRAM Guide RS brakes, DT Swiss XM 1501 wheels, and an SDG Tellis dropper. So while there are some minor differences between my build and the Rally build (different, but equivalent wheels, different brakes, slightly different fork), the Smash as I rode it was pretty close to the Rally offering.
I won't go too much into the details on each part since the bits I rode weren't exactly the same as what comes in the Rally build, but I think Guerrilla Gravity nailed it with this build.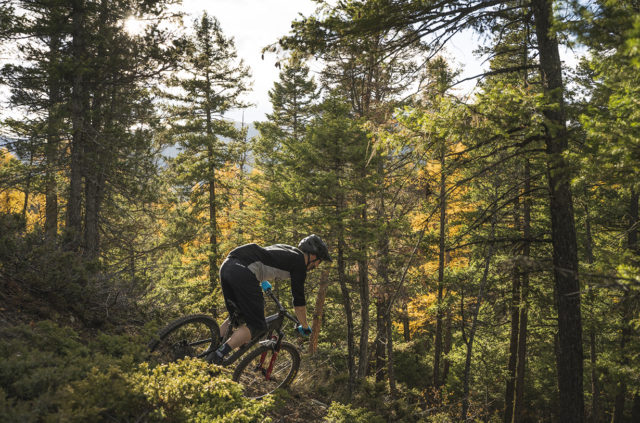 The Lyrik Ultimate is a fantastic fork and has some of the best small-bump sensitivity of any fork on the market. And the Fox DPX2 is my favorite "Trail-oriented" rear shock — it balances efficiency, mid-stroke support, and plushness better than anything else I've ridden.
The GX Eagle drivetrain certainly has its faults, but it offers an excellent gear range and it's a fairly functional, known option. The jury is still out as to whether Shimano's 12-speed XT drivetrain will prove to be more durable, but if you want to take that plunge, it's available as an option (and will save you $60).
Between my time on the Trail Pistol and my time on the Smash, I have a decent amount of time on the SDG Tellis dropper. So far, so good — nothing to report, which is a good thing. It's still running smoothly.
As with the Trail Pistol, you have the ability to customize the Smash build to a significant extent, which I think is awesome. And while there's a ton of fancy, fun bits that you can throw money at, I'm of the opinion that the Rally build is actually a pretty good value, and reasonably dialed as is. If I were going to upgrade one part, I'd probably throw down the extra $140 to upgrade the brakes to Code RSC's. They have way more modulation than the stock Code R's, and the adjustability on the RSC is arguably the best on the market.
A quick note on fork travel: the current Smash is spec'd with a 150 mm fork, but can accept up to a 170 mm fork. I rode it with a 160 mm fork, and didn't regret it at all. Ultimately, I think that choice comes down to intentions — if you want a capable Trail bike that's a little more manageable at slow speeds, stick with the stock 150 mm. If you're mostly shuttling and want to completely destroy every downhill with little regard for getting back to the top, try the 170 mm. For everything in between, I think the 160 mm is the ticket. Also keep in mind that it's a pretty quick (~20 minutes) and cheap (~$40) swap to change the fork's travel.
David: I don't have a lot to add here. Like Noah, I thought the 160 mm length of the Pike I rode was pretty spot on for the bike, but a 160 mm 36 or Lyric would have been a more ideal match for a bit of extra stiffness and support, and I'd definitely opt for a bit more brake than the Guide RCs that I rode with the bike. I haven't ridden the current generation of Code (in R or RSC guise) nearly enough to have a fully formed opinion on them, but they're the obvious options for a step up. And if you're buying the Smash as a complete bike, Codes are the stock brake.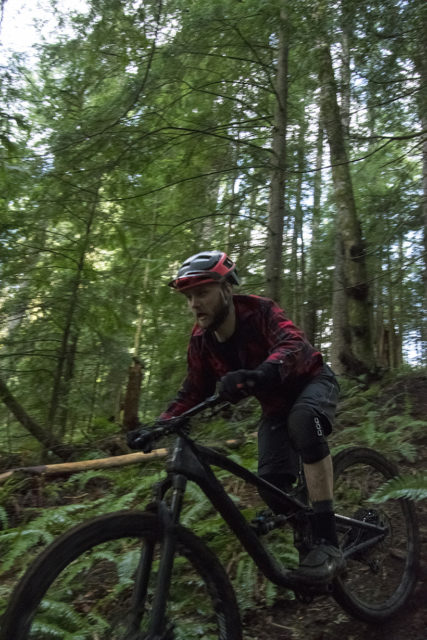 I do wish that there were some burlier tires and wider handlebars in the build configurator. If you're so inclined, you can bump up the rear tire to an Exo+ casing DHR2 for $10, but it'd be great to see a DoubleDown casing or two on the list. Not everybody is going to want to go that route (that's the beauty of Guerrilla Gravity's configurator!) but the Smash is more than capable enough to merit a tougher casing for a lot of folks. And while the 780mm-wide Race Face bars (Chester for the Ride build, Next R for the Rally and Race) are perfectly nice options, if I was buying a Smash I'd end up immediately taking them off for something a little wider. Cutting bars narrower is a lot easier than going the other direction…
Geometry and Sizing
Noah: As with pretty much all of Guerrilla Gravity's bikes, the Smash falls at the modern end of the geometry spectrum. That means it's fairly slack, and fairly long.
The stated numbers for the Smash revolve around a 150mm-travel fork, but I was running a 160 mm fork. So my head angle was a bit slacker than the stated 64.7°, and my seattube was also a bit slacker than the stated 77° (effective). The taller front end on my Smash also means the reach was slightly shorter than the stated 471 mm on my size 3. For reference, here's the geo chart for the size 3 Smash in the "short" setting. You can see the geometry charts for all sizes & options here.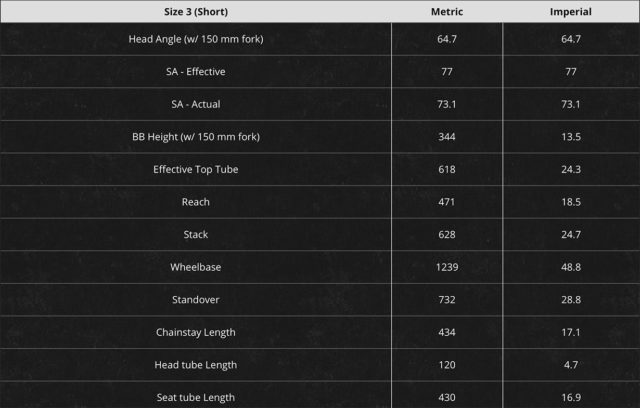 [David: Noah's stated 471 mm reach number is with the Geo Adjust headset in the short position. I rode it in the long one, which increases the reach to 481mm. At 6', a Size 3 in the long position is firmly where Guerrilla Gravity's size configurator puts me, and I very much agree with that recommendation.]
But all of those tweaks aside, the fact is the Smash is slack, and relatively long. The geometry is progressive, and it's where a lot of the major companies are heading in terms of their numbers. There are certainly some companies that have more extreme numbers than the Smash, so I don't want to suggest that the Smash is out of the realm of reason. I think the better way to look at it is, in an era where bikes from just a few years ago already look dated with respect to geometry, I suspect that the Smash's geometry will have a longer lifespan.
In terms of fit, Guerrilla Gravity puts me (5'9" / 175 cm) right on the line between a Size 2 with the GeoAdjust headset in long mode with a 50 mm stem, or a Size 3 in short mode with a 32 mm stem.
I went with a Size 3 for the Trail Pistol, and as I wrote about in that review, while the bike wasn't uncomfortable to ride, I kind of wished I'd gone with the smaller size just to make the bike easier to push around.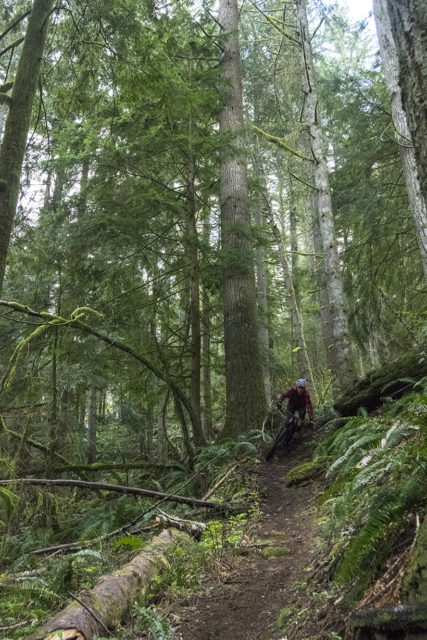 Set up as a Smash rather than a Trail Pistol, those concerns went away — I was completely happy on the Size 3. Some of that is probably because the reach and top tube length on the Smash are a bit shorter than the Trail Pistol in a Size 3. Even though the front triangle and chainstays are literally identical, the seatstay swap and the longer-travel fork make the front end sit at a different (slacker) angle, which effectively shortens the reach and toptube by a bit.
But I also think that the Smash just lends itself to, well, smashing a bit more than the Trail Pistol, and when it comes to smashing, a bigger bike feels more normal. Which brings us to…
The Ride
Noah: Let's get this out of the way right off the bat: I like this bike. It felt comfortable and competent, right from the get-go.
With the Trail Pistol, I felt like the Size 3 was just a bit too much for me to really be able to throw the bike around like I wanted (especially compared to other ~120mm-travel bikes). But the Size 3 Smash felt great — no problem putting the bike where I wanted it, and it felt entirely stable at speed. I actually put a slightly longer stem on the Smash (40 mm on the Smash vs. 32 mm on the Trail Pistol), just because it felt more natural.
I should also note that, while the Smash's geometry definitely put me into an aggressive, rider-forward position, it didn't feel strange to me at all. While the riding position on the Trail Pistol took some getting used to, the Smash felt natural to me right out of the gate. Cornering on the Smash was intuitive and effective — the geometry naturally had me weighting the front tire and pushing the bike through corners.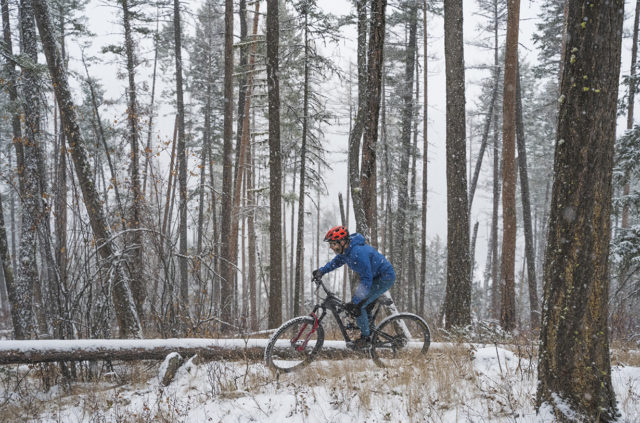 And, like the Trail Pistol, the Smash is a pretty stiff frame. Throwing the frame sideways into a corner or landing a bit cattywampus off a jump doesn't reveal a whole lot of flex.
With the Trail Pistol, I also noted that the suspension was definitely on the firmer, more supportive end of the spectrum. While that was great on flowier, pumpier trails, I often wished for a bit more forgiveness. The Smash provides that — it mows down small bumps, and does a much better job of maintaining traction in corners. And the correct response here is: "duh, the Smash has more travel." Which is true, but I also found the difference to be more significant than I would have expected with a 25 mm difference in travel.
So does that extra suppleness on the Smash come at the cost of support and pumpi-ness? Well, yes, relative to the Trail Pistol. But the Smash isn't a wallowy mess — it still pumps really well for a mid- to long-ish travel bike. Popping off jumps is effective, and pushing the bike through corners and onto the back side of rollers all feels productive. The Smash is more than happy to gain speed by pumping, and it doesn't feel like your efforts disappear into the suspension.
The Smash also retains a fairly progressive leverage ratio, meaning the rear suspension ramps up a fair amount through its travel. This means, among other things, that it takes some doing to bottom out the Smash.
David: At 6' tall, the Size 3 Trail Pistol fit me well, and I continued to feel at home having converted it to a Smash. The reach does get a bit shorter in making that conversion (by 12 mm per Guerrilla Gravity, when using a 130 mm fork on the Trail Pistol and a 150 mm one on the Smash), but in both configurations, it worked well for me.
I do agree with Noah that the Smash feels like a substantially more plush, forgiving bike than the Trail Pistol, and by a bigger margin than I might have guessed based on the geometry and suspension travel changes. The Trail Pistol didn't pose quite the same quandary as it did Noah in this regard – you should go read our Trail Pistol review for more on that – but I do think that the Smash is a bike that's more likely to really click for more people as a result. The Trail Pistol is an extremely poppy bike that's a ton of fun if you're looking to pump hard through every terrain feature and boost off every little side hit you can find, but it's not one that's particularly adept at really charging through super rough terrain without a lot of rider input.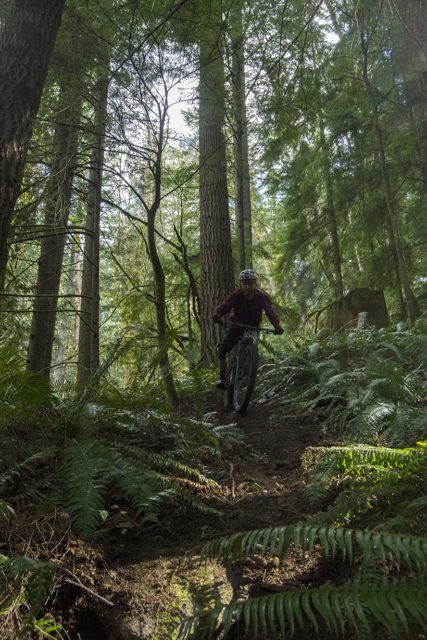 Of course, the Trail Pistol is a fairly short-travel bike, and the subtext of me even bringing up how well it'll charge through a big gnarly rock garden is that it is a very capable one to even have me asking that about it. The point that I want to make here is that the Trail Pistol feels like a focused precision instrument meant for an aggressive rider who wants a very poppy, very nimble bike that's still quite capable of being ridden hard, and is willing to give up a significant amount of compliance for it. The Smash feels like a much more versatile bike that doesn't excel at a specific niche in quite the same way, but instead has a longer list of things that it does well. As such, it strikes me as a particularly easy bike to recommend to someone looking for a 150mm-ish travel 29er to use in a broad range of conditions and terrain – and that's a whole lot of people these days.
Climbing
Noah: In the 140-150 mm travel category, I'd say the Smash is pretty average in its climbing capabilities. On one hand, a steep seat tube makes it comfortable to stay seated, even when things get steep. And a reasonably efficient pedaling platform means you can spin along without all of your energy going into moving the rear shock. On the other hand, it's a relatively long bike with a relatively slack head angle, which can be a handful on some technical climbs. And at 31-ish lbs, while it's not excessively heavy, there are plenty of bikes in this class that are lighter.
The Smash is one of those bikes that could be compared to some lighter-duty Trail bikes that are more climbing focussed, as well as some longer-travel, more Enduro-focussed rigs. So in terms of climbing, the lighter-duty bikes tend to perform a little better, but the Smash climbs pretty well amongst the Enduro-ish class of bikes.
David: I agree with Noah here. The Smash climbs plenty well for the class of Enduro-y bikes it belongs in. There are some (mostly lighter, more Trail-bike-derived) bikes in this travel range that pedal a bit more efficiently, but those bikes generally can't match the Smash on the way back down. The Smash is not light and snappy enough to be a total rocketship on the way up, but the pedaling position is good, the suspension strikes a sensible, middle-of-the-road balance between firm pedaling performance and remaining active to maintain traction, and the Smash gave me nothing to complain about on the climbs.
Descending
Noah: At the risk of reiterating some of the points above, the Smash is just a really comfortable bike to ride downhill. It's long and slack enough to feel stable going fast through rough terrain, but not so huge that it feels unwieldy in tighter terrain. There's enough suspension, and the suspension is good enough that I wouldn't hesitate to tackle any trail, but the bike doesn't feel so huge and squishy that it's completely out of place on smoother flow trails. The suspension is supple enough that it irons out rough chunder, but it's not so cushy that it makes the bike un-pumpable.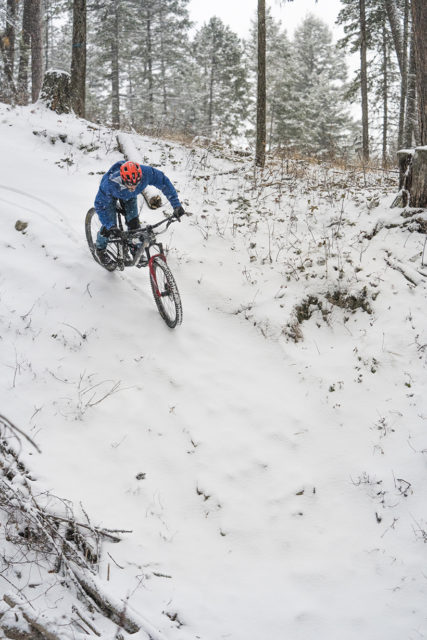 I don't want to make the Smash sound like something it isn't — there are plenty of bikes with more travel that are better than the Smash at things that require more travel, like running into large obstacles and hucking to unforgiving landings. And there are plenty of bikes that pedal better than the Smash, or work better at slow speeds than the Smash, or pump through flow trails more efficiently than the Smash.
But for a "descending-oriented Trail bike / All-Mountain bike," the Smash does a really good job of balancing all of those attributes into one package that I think will work really well for anyone who's in it for the (preferably rowdy) descents, but wants one bike that's competent enough to do it all.
David: The biggest thing that stands out to me about the Smash is its versatility. There are a lot of bikes that do one specific thing better than the Smash, but I can't think of many I've used that feel as comfortable on such a wide variety of trails and circumstances. The Smash's handling strikes a fairly neutral balance between stability and quickness for a mid- to long-travel 29er, and the suspension keeps a bit of the pop of the Trail Pistol while adding a substantial degree of compliance.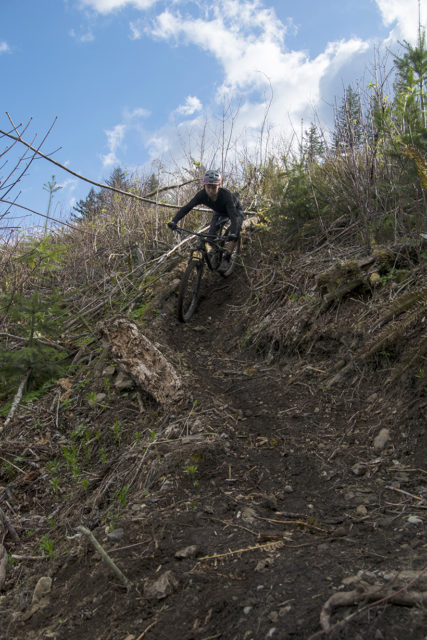 All of this is to say, the 145mm-travel Smash makes a ton of sense as the middle bike in a range of three 29ers, and we're unsurprised (and more than a little excited) to see the new Gnarvana come along. The 120mm-rear-travel Trail Pistol is, as we've said 100 times now, exceptionally nimble and poppy, and the Gnarvana sure looks like a monster truck with a 63.7° head angle, 160 mm rear / 170 mm front suspension travel, and 29" wheels. The Smash fits right in between those opposite ends of the spectrum, and makes for a really versatile option that will work for a ton of people looking for a 29er to use on a broad range of trails and conditions.
Bottom Line
Noah: I have a pretty hard time not recommending the Smash for anyone looking for a bike in the mid- to long-travel, do-it-all category. And yes, there are a number of well respected bikes in this category that also do really well — the Ibis Ripmo, the Santa Cruz Hightower, the Specialized Stumpjumper, and a whole slew of others are, at the very least, competitive with the Smash. But the Smash brings a lot to the table beyond just riding well — it's made in the USA, it's priced pretty reasonably (especially considering the previous point), and you can customize the build kit to your liking. Plus the frame itself has a bunch of neat features, including the option to turn it into a different bike for far less than buying a whole new frame.
How much all of those factors affect your decision is going to be different for everyone, and ultimately, the point of this review is to talk about how the bike rides. So to distill it down, I'll leave it at this: the Smash climbs respectably, descends admirably, and it hits all the marks that an "aggressive all-rounder" should hit.
David: Yep. If you want a 29er in the ~150mm-travel range, the Smash is incredibly easy to recommend. It's super versatile, and comes in at a very reasonable price, especially considering that we're talking about an American-made carbon frame with a bunch of options for customizing the build to your liking. That's pretty special, and what Guerrilla Gravity has done here is very impressive.