2020 Ibis Ripmo AF
Geometry: (Here)
Wheels: 29′′
Travel: 147 mm rear / 160 mm front
Stated Weight (size Medium frame + DVO Topaz shock): 8.25 lbs / ~3.74 kg
MSRP:
SRAM NX Build: $2,999
Shimano SLX Build: $3,999
SRAM GX Build: $4,299
Frame-only w/ DVO Topaz Shock: $1,799
Frame-only w/ DVO Jade X Shock: $1,899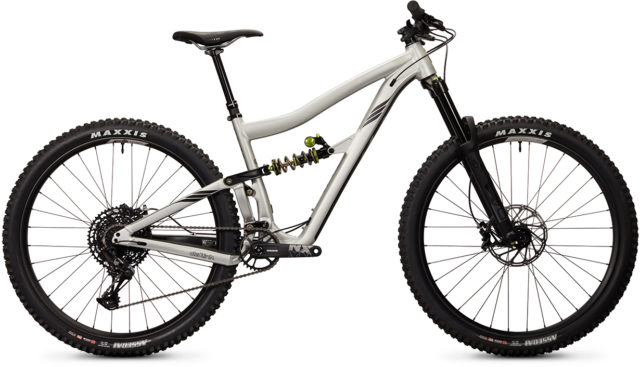 Intro
Ibis just released the Ripmo AF — as in, Aluminum Frame — their first aluminum bike since the brand's 2005 resurrection. (And yes, we realize that some people familiar with a different interpretation of the "AF" acronym might read this bike's name a bit differently…)
Ibis says that "the Ripmo AF (Aluminum Frame) brings the award-winning performance of the carbon Ripmo to a wider, rowdier audience. It's everything we love from the Carbon Ripmo, plus a few bonus tweaks."
We've already reviewed the current, standard carbon Ripmo, but how does the Ripmo AF's design stack up? Turns out, there are a few very interesting things going on with the new bike.
Before we get to all that, here's Ibis' promo video for their new Trail / Enduro bike which, of course, features BMX pro Christian Rigal riding it in the middle of San Diego…?
The Frame
The Ripmo AF is very close to a standard Ripmo reimagined in aluminum, but with a few tweaks. The head tube angle is a degree slacker (64.9° vs the carbon Ripmo's 65.9°), the reach is a few mm longer on some sizes, and rear travel has been bumped up a fraction to 147 mm, from 145 mm.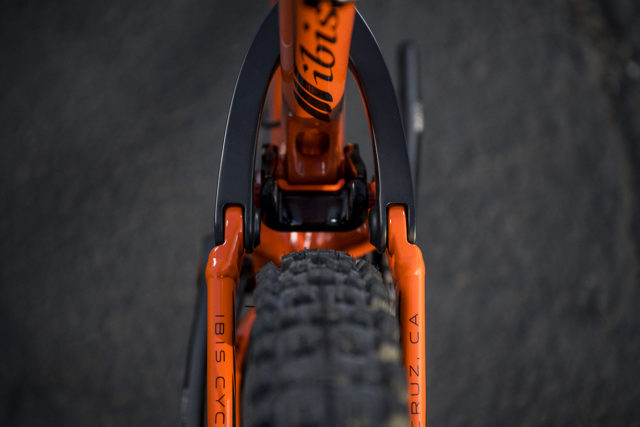 As with the carbon Ripmo, the Ripmo AF has 29" wheels, DW-Link suspension, and is designed around a 160mm-travel fork. Both versions are offered in four sizes, Small through Extra Large, and can be had as a frame only, or in a number of complete builds. Ibis lists the stated weight for the size Medium frame + DVO Topaz shock as 8.25 lbs (~3.74 kg). Lastly, it also features internally routed cables.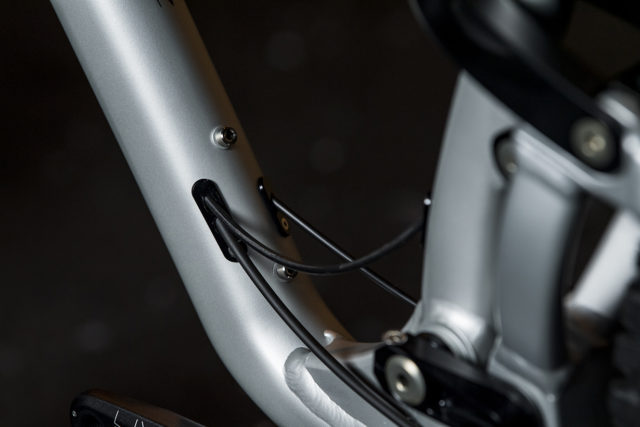 Ibis' claims about the bike are straightforward, and make a lot of sense — as a cheaper version of the Ripmo, with a slacker head angle, their note about a "wider, rowdier audience" seems to check out.
The Builds
The Ripmo AF is offered as a frame only, or in three different complete builds. Ibis is also quick to point out that "all three build kits come with DVO's top of the line suspension components. With 1×12 speed drivetrains, four-piston brakes, reliable dropper posts, and real tires."
And that doesn't seem to be marketing BS. The build kits — especially the least expensive, at $2,999 — stand out for this reason. All three come with a 44mm-offset DVO Diamond fork and Topaz shock, with the option to upgrade to a DVO Jade X coil shock for an extra $100. (Ibis says the Ripmo AF was designed with a "progressive suspension leverage ratio for compatibility with select coil shocks.")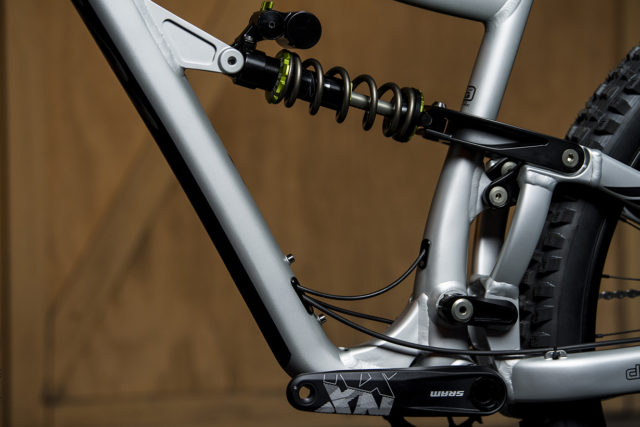 The $2,999 entry-level build uses a Sram NX drivetrain, a KS Rage-i dropper post (125 or 150 mm), Sram Guide T brakes, and Maxxis Assegai Exo+ tires (though they don't specify which rubber compound).
A full Shimano SLX build, including brakes, will set you back $3,999, and adds a BikeYoke Revive dropper post (125, 160 or 185 mm).
A Sram GX build is also on offer for $4,299 and, interestingly, adds Shimano Deore four-piston brakes.
The frame-only option runs $1,799 with a DVO Topaz shock, or $1,899 with the Jade X upgrade.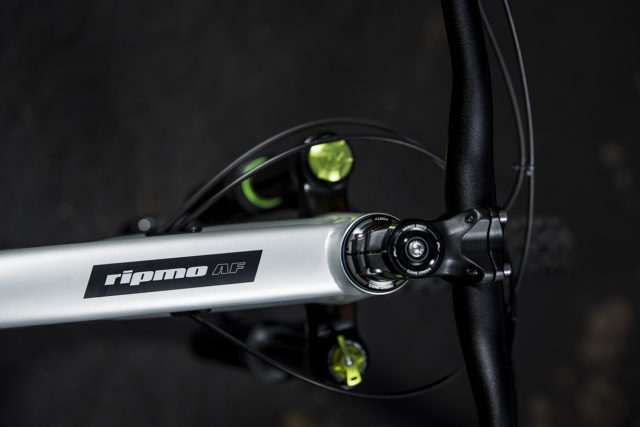 I really like what Ibis has done here. Focusing on suspension and brakes in particular is a great way to put together a price-point bike that optimizes for the things that will provide the most bang-for-your-buck performance.
Drivetrain components are also easier to upgrade piecemeal as needed and / or as they wear out, particularly when compared to suspension components, which make for far more expensive upgrades. $1,500 worth of suspension parts on a $2,999 complete bike is almost unheard of, and awfully impressive. Interestingly, the carbon Ripmo doesn't offer DVO suspension on any of its configurations — they're all Fox across the board.
Of course, some people may be wondering where the higher-end build options are. At least for now, Ibis won't be offering build options outside of these three, but that seems to make sense, given the target market they're outlining for the Ripmo AF.
Fit and Geometry
The Ripmo AF isn't at the bleeding edge of the ongoing long / low / slack wars, but its geometry is thoroughly modern. Here are some of the highlights:
64.9° head tube angle
76° effective seat tube angle (77° on the size Small). The actual seat tube angle isn't listed, but visually, the Ripmo AF doesn't have a significant "kink" in the frame that might slacken out the actual seat tube angle.
435 mm chainstays on all sizes
458 mm reach, size Medium
These numbers seem like they should make for a versatile Trail / Enduro bike that will work well for a lot of riders. We'll need to get some ride time on one to say more, but it looks like a really good addition to an already crowded field of longish-travel 29ers on the market. And if any of those numbers are confusing, check out our Geometry & Fit articles.
For reference, here's the whole geo chart for the Ripmo AF: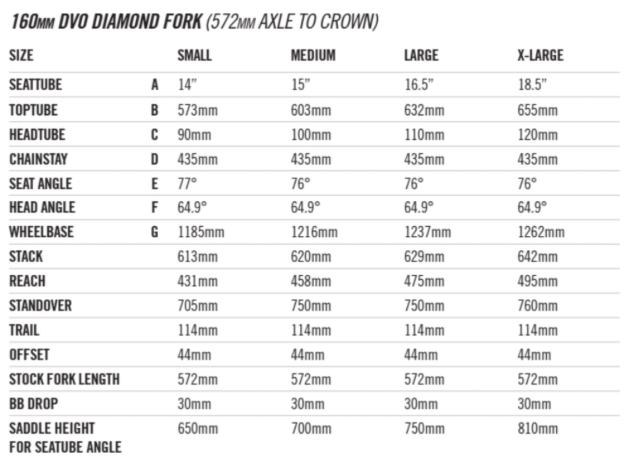 Some Questions / Things We're Curious About
(1) How similar does the Ripmo AF feel to the standard Ripmo? Ibis describes them as being similar, but also hints at the Ripmo AF as being aimed at slightly rowdier riders. Does that claim hold up?
(2) Just how good is that $2,999 build, really? On paper, it stands out as being one of the more impressive offerings in that price range, but we don't have a ton of time on the DVO suspension bits that are the most eye-popping parts, from a price-point perspective. Are they really worthy of their top-tier price tag (when purchased on their own)?
(3) Is there still a compelling reason to spring for the considerably more expensive standard Ripmo?
Bottom Line (For Now)
The Ripmo AF is an intriguing new offering from Ibis, bringing their line to a much lower price point than previously offered, and doing so with an awfully impressive-looking build spec for the money. Does the Ripmo AF deliver on that promise, or does it fall flat as a lesser offering from a relatively boutique brand? Stay tuned for our full review to find out.