2021 Guerilla Gravity Trail Pistol
Wheels: 29"
Travel: 120 mm rear / 130 mm front
Frame Material: "Revved" Carbon Fiber
Geometry: See Below
Stated Weight:
Frame Only: 6.5 lb / 2,950 g
Race Build: 27.9 lb / 12.7 kg
MSRP:
Frame only: $2,495
Ride Build: $4,395
Rally Build: $4,995
Race Build: $6,195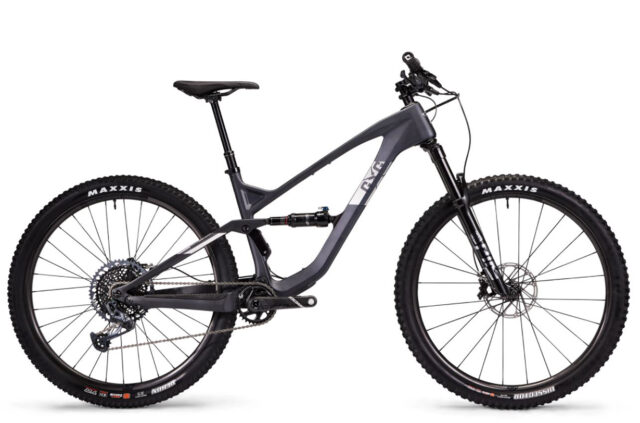 Intro
Guerrilla Gravity has been making waves with their "Revved Carbon" frames for a few years now, and today they're launching an updated version of their short-travel 29er bike, the Trail Pistol, which is the first model in Guerrilla Gravity's history to ditch an aluminum rear triangle, and go full carbon.
The new bike doesn't lose what made the outgoing model interesting, though — it's still an unusually affordable carbon frame, and achieves that despite being made in Colorado. We tested the prior-model Trail Pistol last year, and found it to be a very fun, but especially aggressive, competitor in this class of ~120 mm travel Trail bikes. And while the new carbon rear end cuts some significant weight off the Trail Pistol, we don't think it will have taken away what made the prior bike so unique.
The Frame
Let's start with what hasn't changed with the new Trail Pistol. Like the outgoing model, it's a 29er Trail bike with 120 mm of rear-wheel travel, designed around a 130mm-travel fork. And like all of Guerrilla Gravity's full-suspension models, the 2021 Trail Pistol is built around Guerrilla Gravity's Modular Platform, which lets riders convert the bike between one of five models of bike that span both 27.5" and 29" wheels and rear-wheel travel ranging from 120 to 165 mm. Doing so just requires swapping the seatstays, and potentially the rear shock and / or the lower headset cup, depending on the configurations you're going with. Of course, a wheel and / or fork swap might also be in the cards, but even so, being able to convert a frame to such disparate models of bike is a unique feature, and a pretty easy task (we've now done it multiple times).
Now, the carbon rear triangle on the new Trail Pistol complicates things slightly — to convert a full carbon Trail Pistol to one of the other models, you'll need the standard seatstay swap as well as a set of aluminum chainstays to go with it. And that brings us to the literal biggest thing that hasn't changed with the Trail Pistol — the front triangle.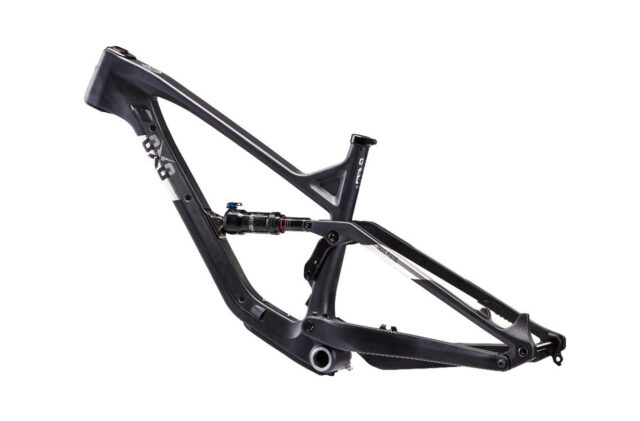 The new Trail Pistol's front triangle is still the same thermoplastic carbon fiber piece that we've now tested as a Trail Pistol, a Smash, and a Gnarvana. It does get some sweet new graphics, but it's otherwise unchanged. That means that it still features their reach-adjust headset, which gives 10 mm of reach adjustment on any given size, and clever semi-internal cable routing, with a bolt-on cover on the non-drive side of the downtube. Clearance for at least one water bottle, inside the front triangle, remains across the size range, and a second set of mounts accommodates a second, smaller, bottle on some sizes, or can be used to mount a spare tube, multi-tool, and the like. There are replaceable ISCG '05 tabs for a chainguide as well.
The big story with the new Trail Pistol is the rear triangle. Where prior Guerrilla Gravity frames have used aluminum rear ends, the Trail Pistol now gets a rear triangle made from GG's Revved carbon. If you're curious for more information on that, you should definitely check out Episode 3 of our Bikes and Big Ideas podcast, where we talk with the Guerrilla Gravity crew about the technology (while you're at it, you should probably also listen to our fun conversation with Yoann Barelli, who recently signed with Guerrilla Gravity). But in short, Guerrilla Gravity is using thermoplastic carbon fiber (in contrast to the more typical thermoset carbon materials), which allows Guerrilla Gravity to substantially automate the layup process and offer a carbon frame that they claim to be up to 300% more impact resistant than its competition. The Revved approach also allows Guerrilla Gravity to recycle the material and use it to make new Revved components. That aspect is still fairly new, but is something they're reportedly working on with the goal of making fully recycled, full Revved frames in the future.
Guerrilla Gravity says that the new Trail Pistol rear triangle shaves off 300 g compared to the prior version, and manages to be 50% stiffer despite the weight loss. It's still a Horst link layout with 120 mm of rear travel, but there are some additional tweaks with the new generation bike.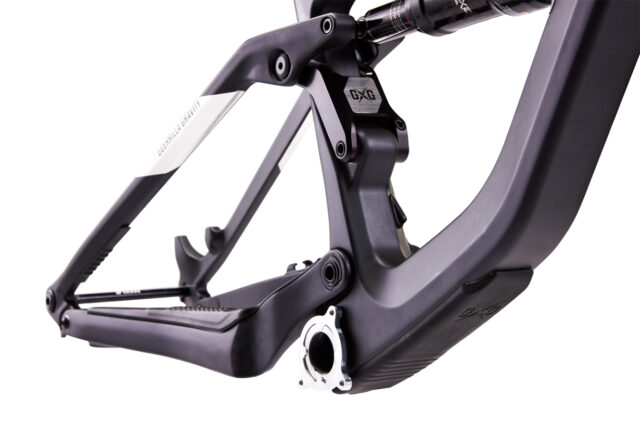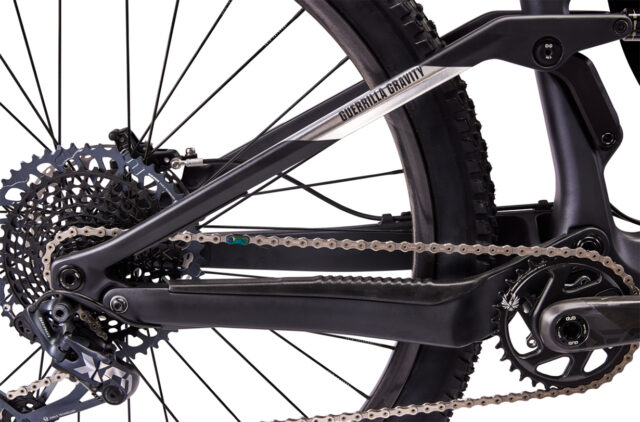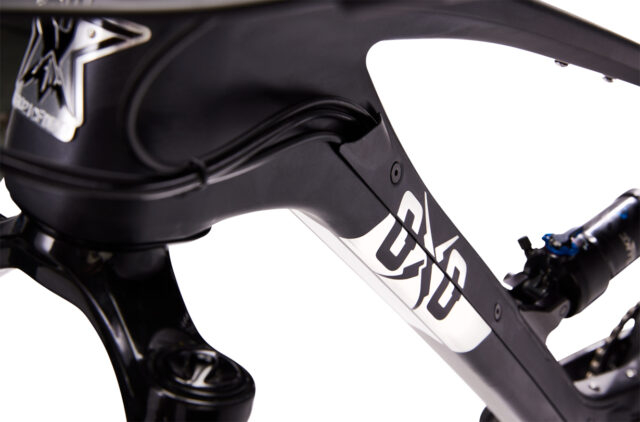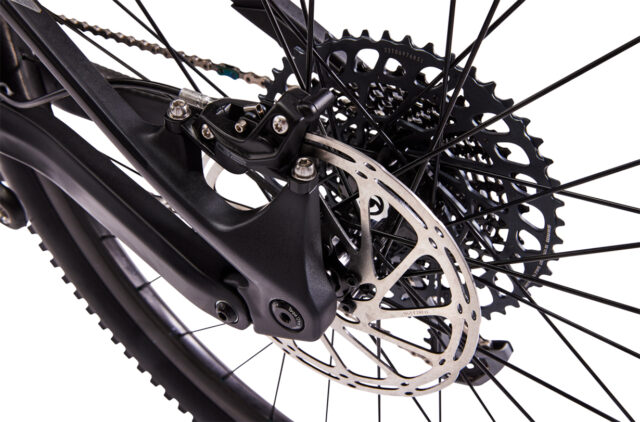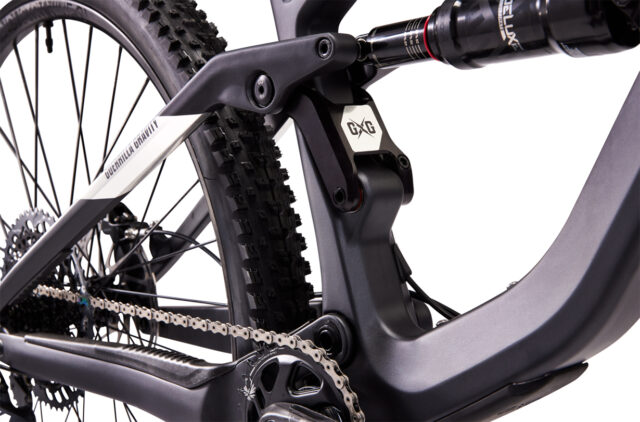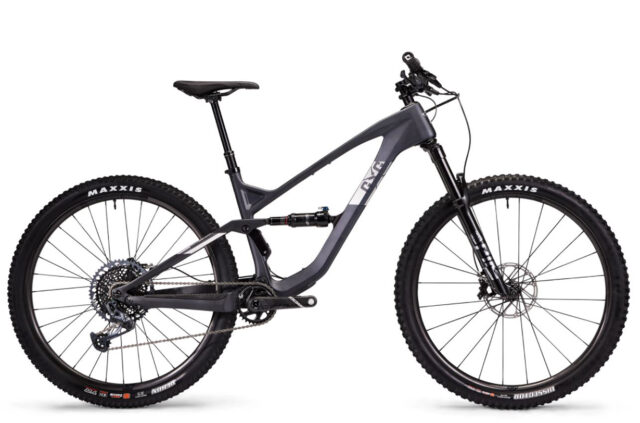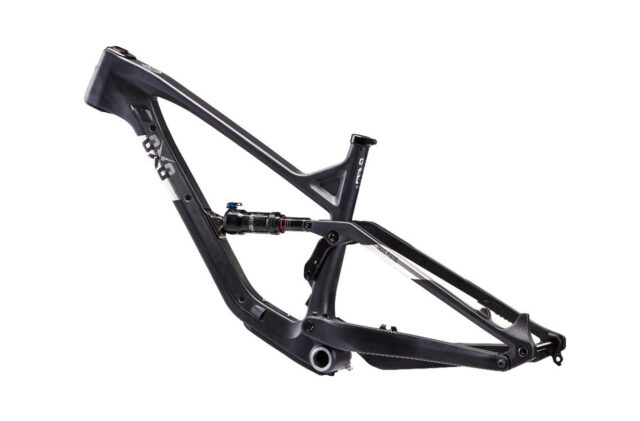 For one, the Trail Pistol now features post-mount brake mounts, for a 180 mm rotor, in place of the 160 mm IS mount on the outgoing model. There's also a re-designed rubber guard for chainstay protection, and a new style of rear brake hose clips on the chainstay, which dispenses with the need for zip ties to secure the brake hose.
While the outgoing Trail Pistol used cartridge bearings for the dropout pivots, the new version goes to Igus bushings, which Guerrilla Gravity says are lighter, stiffer, and lower maintenance in that particular application. Gone also is the Plush Mode / Crush Mode flip chip, which toggled the rear suspension between two kinematic settings — Guerrilla Gravity says the new version is "permanently plush, with increased small-bump compliance."
The 2021 Trail Pistol also gets a SRAM Universal Derailleur Hanger, which first showed up in the Guerrilla Gravity lineup on the Gnarvana, and the Trail Pistol also moves to a standard, zero-dish rear wheel. The outgoing Trail Pistol, and the rest of the GG lineup, have come spec'd with a rear wheel that's offset 3 mm to the non-drive side. Guerrilla Gravity argued (I think correctly) that this led to a better chainline, but decided that the benefit wasn't great enough to justify the hassle (also correctly, in my opinion) and ditched this particular feature.
The Builds
The new Trail Pistol is offered as a frame only, or in one of three stock builds. As per usual for Guerrilla Gravity, there's also a great deal of customization available for those builds — you can go on their online build configurator and set up your bike to your particular specifications. Certain component selections are a bit limited at the moment due to Covid-related supply chain difficulties, but there are still a lot of options available, and the highlights of the stock builds are as follows:
Frame Only ($2,495, without shock; many shock options available)
Ride Build ($4,395):
Fork: RockShox Pike Select RC
Shock: RockShox Deluxe Select
Drivetrain: SRAM NX Eagle
Brakes: Magura MT7 Pro
Wheels: DT Swiss M1900 i30
Dropper Post: SDG Tellis
Rally Build ($4,995):
Fork: RockShox Pike Select+ RC
Shock: RockShox Deluxe Select+
Drivetrain: SRAM GX Eagle
Brakes: Magura MT7 Pro
Wheels: Crank Brothers Synthesis XCT Alloy
Dropper Post: SDG Tellis
Race Build ($6,195):
Fork: RockShox Pike Ultimate RC2
Shock: RockShox Deluxe Ultimate
Drivetrain: SRAM XX1 Eagle
Brakes: SRAM Level Ultimate
Wheels: Stan's Arch MK3
Dropper Post: Bike Yoke Revive
All of these can be customized to your heart's content, including swapping out different drivetrains from Shimano and Box, as well as myriad options for suspension, brakes, wheels, and cockpit parts. Guerrilla Gravity also says that Revved Trail Pistol rear-triangle kits will be available to current GG owners sometime later in 2021, at an as-of-yet unspecified price.
Geometry
The geometry of the Trail Pistol has been slightly tweaked, but doesn't stray too far from the prior generation. It's still offered in three sizes (labeled Size 2, 3, & 4; effectively a Medium through Extra Large in most brands' sizing schemes). The headtube angle has been relaxed a touch, to 65.4°, and the chainstays lengthened by 4 mm, to 430 mm (same across all sizes). The effective seat tube angle is still steep, at 77.9° to 78.3°, depending on size, and the reach ranges from 458 to 523 mm, based on size and headset position.
All of that is on the aggressive side of the median for a 120mm-travel trail bike, but isn't totally off in left field by any stretch. Like we found with the last generation of Trail Pistol, we expect the new bike to be a particularly stable, capable bike for its travel class when it comes to descending at speed. Check out the full geometry chart below:
I like what Guerrilla Gravity has done here. The prior-generation Trail Pistol felt much more like an Enduro bike with less travel than it did a Cross Country bike with more aggressive geometry. As someone who tends to gravitate towards longer-travel, more gravity-oriented bikes, the outgoing Trail Pistol wrapped a lot of what I like about those sorts of bikes into a more efficient, poppier package. It wasn't a bike that was going to appeal to the XC-race crowd, but was an absolute blast for the right sort of rider who still mostly wanted to charge on the descents, but also was looking for something more efficient than their typical ~160mm-travel Enduro sled on the way back up. The new Trail Pistol looks to lean into that niche, and cut a significant amount of weight while it's at it.
The only thing I'd really like to see change is the introduction of a Size 1. Guerrilla Gravity had planned to make a smaller size when they initially launched the range of Revved bikes a few years ago, but shelved that size to keep up with demand for the larger options. Guerrilla Gravity's size configurator recommends the Size 2 for riders as short as 5'4" / 163 cm (and to be fair, the geo adjust headset does stretch three frame sizes further than most bikes would manage to), but there are still plenty of shorter riders, especially women, who could benefit from a smaller option.
Some Questions / Things We're Curious About
(1) Does the new Trail Pistol still feel like an especially aggressive bike in the ~120 mm travel class, or has its diet shaped it up into something wildly different? (We bet it still rages.)
(2) What sort of riders are going to be best served by the new Trail Pistol, and who should be looking for a longer-travel option, or a more XC-oriented ~120mm-travel bike?
(3) How different / how much stiffer does the new Revved rear triangle feel compared to the old aluminum version (which was not exactly flexy itself)?
The Bottom Line (For Now)
The new Guerrilla Gravity Trail Pistol makes some very promising updates to what was already one of the more interesting bikes on the market, and we're looking forward to getting on the latest version and seeing how it stacks up to the older model, and the rest of the class of short-travel, aggressive Trail bikes. We should be getting trail time on one soon, so stay tuned for our full review.