2021 Pivot Trail 429
Wheels: 29" (27.5"+ compatible)
Travel: 120 mm rear / 130 or 140 mm front, depending on build
Frame Material: Carbon Fiber
Geometry: See Below
Stated Weight: Frame and Fox Float DPS Shock: 5.9 lb (2.7 kg), Size Medium
MSRP:
Team Frame and Crank (Frame, Fox Float DPS Factory Shock, RaceFace Next R Crank): $3,949
Race XT: $5,599
Race X01: $5,899
Pro XT/XTR: $6,699
Pro XT/XTR Enduro: $6,999
Pro X01: $7,199
Pro X01 Enduro: $7,499
Pro XT/XTR w/ Fox Live Valve: $8,799
Team XTR: $8,899
Team XTR Enduro: $9,199
Pro X01 w/ Fox Live Valve: $9,299
Team XX1 AXS: $10,399
Team XX1 AXS Enduro: $10,699
Team XTR w/ Fox Live Valve: $10,999
Team XX1 AXS w/ Fox Live Valve: $12,499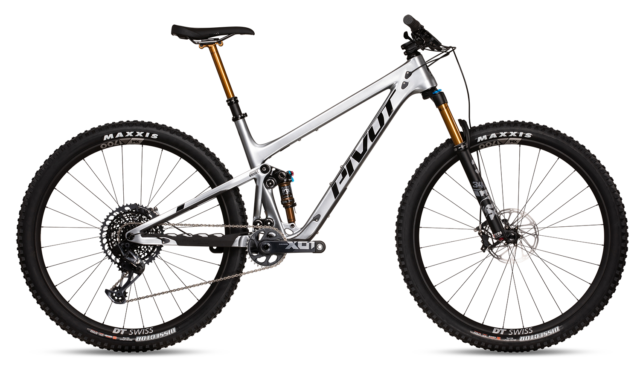 Intro
Pivot's Trail 429 (originally known as the 429 Trail) has been a mainstay in the high-end, short-travel Trail bike market for a long time now, and Pivot just released a new, V3 version.
The new bike gets a lot of Pivot's new design language, with a vertically oriented rear shock and straighter lines, as well as a dose of the longer / lower / slacker treatment that we've come to expect from new bike releases in this day and age.
At its core, though, the Trail 429 is still a 120mm-travel, DW-Link Trail bike that's meant to blend a lot of the efficiency of an XC race bike with a higher degree of capability when the going gets steep and rough. So how has Pivot gone about doing that, and how does it compare to both the prior version, and the rest of the market?
The Frame
As with the outgoing version, the V3 Trail 429 is a carbon-framed, 120mm-rear-travel, DW-Link bike. Of the new version, Pivot says "this is a bike that you can shred with confidence everywhere from 24-hour race courses to untamed high alpine singletrack." I.e., Pivot is positioning the Trail 429 as an extremely efficient bike that wouldn't be out of place at an endurance XC race, but can also be an everyday Trail bike for a lot of riders.
The Trail 429's overall design is in keeping with the design language Pivot has been rolling out on their latest models, including the Switchblade and Mach 6. The shock is now oriented vertically (a departure from the prior Trail 429) and the overall lines are very similar to their other, newer models. The Trail 429 is offered in five sizes, from Extra Small through Extra Large, which Pivot says covers riders from 4'11" (150 cm) to 6'7" (201 cm).
The suspension is still DW-Link, as per usual for Pivot, and features their preferred 157 mm Super Boost rear hub spacing and PF92 press-fit bottom bracket. Cable routing is all internal, with bolt-on ports to make routing simple. Pivot says that they've shaved 300 grams off the weight of a Medium frame, but they haven't skimped on features.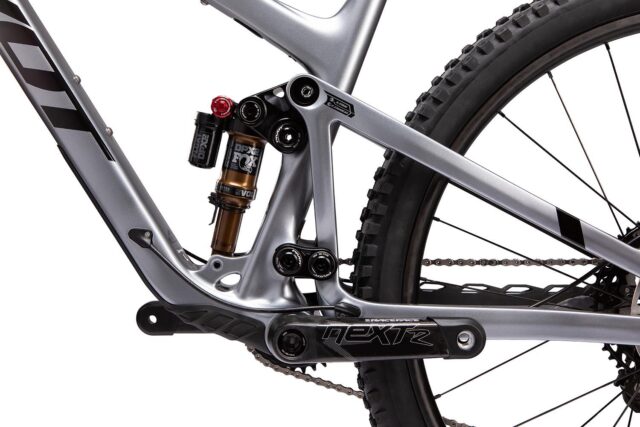 The Trail 429 gets rubber downtube, chainstay, and seatstay guards, and room for a water bottle inside the front triangle on all sizes, as well as a second set of bottle mounts underneath the downtube. A third set of mounts for a multi-tool or other accessories lives on the underside of the top tube, and ISCG '05 tabs are included for mounting a chain guide if desired. The rear brake mount is for a 180 mm rotor directly — no small rotors here — which, combined with the chain guide tabs, is an indicator that Pivot intends this to be much more than simply a marathon race bike.
Pivot says that the rear suspension has been made more progressive on the new model, but not by so much as to allow for a coil shock to be used — the Trail 429 is intended for air shocks only. We don't think too many people will be bothered by that limitation for this class of bike, though there are a few options in this sort of category, including the Guerrilla Gravity Trail Pistol, that would be viable options for riders looking to run a coil shock.
The Trail 429's tire clearance is stated at 29 x 2.6", or 27.5 x 2.8". Pivot notes that a 27.5 x 2.8" tire is still notably smaller-diameter than a 29 x 2.4", and includes a 17mm-tall lower headset cup with the bike for riders who want to experiment with 27.5"+ tires, but keep the bottom bracket height up a bit. The standard zero-stack cup is meant to be run with 29" wheels, and the taller cup with 27.5"+ tires, but riders are free to mix and match as desired.
The Builds
As tends to be the case with Pivot, there are a lot of different builds on offer for the Trail 429, with many options on the higher-end of things, and few on the lower end. If you prefer to build the bike yourself, a frame with a Fox DPS Factory rear shock and RaceFace Next R carbon cranks will run you $3,949.
In short, the builds really boil down to three tiers (Race, Pro, and Team) with SRAM and Shimano options in each. The Pro and Team levels then also get options for "Enduro" versions, which swap in a Fox 36 Grip2 fork with 140 mm travel instead of the 130mm-travel Fox 34, and a Fox DPX2 for the Fox DPS rear shock. "Live Valve" versions still use a 130mm-travel Fox 34 fork and DPS shock, but in versions with Fox's electronically controlled Live Valve dampers. The Pro builds also get the option to upgrade to Reynolds carbon wheels for a $1,300 upcharge; those are the stock wheels on Team builds.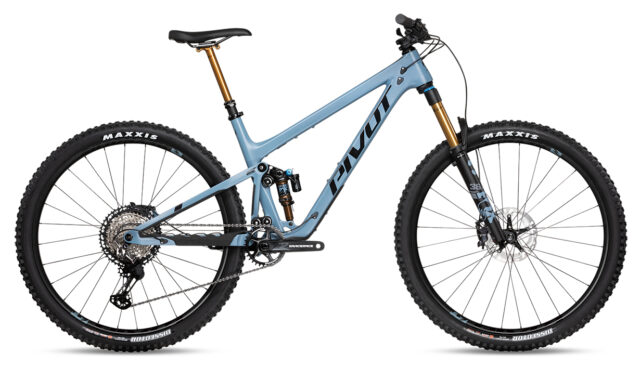 For reference, the complete build options are as follows:
Fit and Geometry
The geometry of the new Trail 429 is right in line with norms for a modern, short-travel Trail bike. The Trail 429 also adds a flip-chip that, in the lower position, slackens the headtube angle by 0.5° (from 66.5° to 66.0°), lowers the bottom bracket by 7 mm, and shortens the reach by 5 mm. The lower position also lengthens the chainstays by 2 mm, to 432 mm, in all sizes. Compared to the outgoing model, its headtube angle is a notable 1.3° slacker, its seat tube angle 1.0° steeper, and its reach 10–15 mm longer, depending on size, all with the new V3 model in its lower geometry setting.
You can see the full geo chart below. The stated numbers are all for the standard builds; Pivot says that the Enduro option slackens the headtube and seat tube angles by 0.5° due to the taller fork. The bottom bracket height should also raise slightly, and the reach shorten a touch with the Enduro builds, but Pivot doesn't state changes for those figures.
Compared to the Transition Spur, a notably progressive 120 / 120 mm travel bike, the lower geometry position for the Trail 429 is mostly quite similar. The Spur gets a slightly steeper seat tube angle and a touch longer reach and chainstays, but the changes are subtle. The biggest difference might actually be the bottom bracket height — the Spur gets 8 mm more bottom bracket drop, a substantial difference, though the Spur also comes with a 120mm-travel fork, and thus won't sag quite as deeply as the Trail 429.
The Ibis Ripley also makes for an interesting comparison; both it and the Trail 429 are carbon fiber, DW-Link, short-travel Trail bikes, and again have quite similar geometry numbers. As with the Spur, the Ripley has a slightly steeper seat tube angle than the Trail 429, but the Ripley has the same 432 mm chainstays (when the Trail 429 is in its lower geometry position), the same 66.5° headtube angle (higher position for the Trail 429) and similar reach figures as well. The XS size on the Trail 429 is notably shorter than the smallest size offered in the Spur or Ripley (both nominally a Small) though, making it a more viable option for some shorter riders.
Overall, this seems like a sensible set of geometry choices for the way Pivot is positioning the Trail 429. Designing a bike that can both be lined up for a marathon XC race, and get an "Enduro" spec build with a Fox 36 and the like is a tall order, but Pivot has laid out a middle ground that should be quite versatile. We're looking forward to throwing a leg over one and finding out more.
Some Questions / Things We're Curious About
(1) Just how versatile is the Trail 429, really? Pivot talks a big game about its pedaling performance, but is this really a bike that could make sense as both a long-distance XC race bike, and an everyday Trail bike for some people?
(2) Who should be thinking about going for an Enduro build on their Trail 429, and what sorts of riders will be better served by the standard version?
(3) How does the Trail 429 stack up against the rest of the class of ~120 mm travel XC/Trail bikes, which includes everything from the Specialized Epic Evo, through much more aggressive options like the Banshee Phantom (full review coming soon) and the Guerrilla Gravity Trail Pistol?
The Bottom Line (For Now)
Pivot's new Trail 429 is an intriguing update to one of the longer-standing options in the short-travel Trail bike category, and looks to have thoroughly modernized the bike, without straying too far from what made it popular in the first place. We're working on lining up a Trail 429 to test, and are looking forward to finding out more.