2021 Pivot Mach 6
Wheel Size: 27.5"
Travel: 158 mm rear / 160 mm front
Frame Material: Carbon Fiber
Build Overview: See Below
Price: $5,599 to $12,099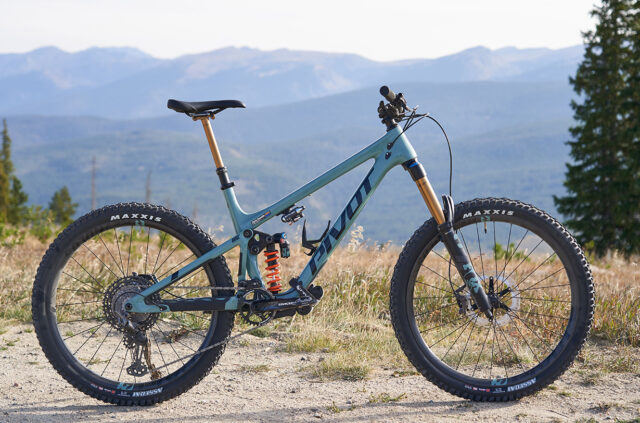 Intro
The Mach 6 is one of the longest-running models in Pivot's lineup, and they've just unveiled the 4th generation.
In keeping with prior versions of the Mach 6, the new bike uses DW Link suspension with roughly 6 inches of travel (160 mm front / 158 mm rear) and — in what feels like an increasingly rare move these days, and one we're glad to see — sticks with 27.5" wheels.
So is the new Mach 6 a mild refresh of the outgoing model, or something entirely different? And how does it stack up against the rest of the market?
The Frame
Several of the basic elements of the Mach 6 V4 are quite similar to the outgoing third generation — rear travel grew a modest 3 mm, from 155 to 158 mm while the carbon-only frame option and DW Link suspension carry over, as do 27.5" wheels. That said, the frame layout has been substantially reconfigured, with very different design language. Gone are the horizontally mounted shock and swoopy tubes, in favor of a vertically oriented shock and a new frame design with straighter tubes and sharper lines. It's a good looking frame, and matches the aesthetic of the Switchblade that we tested earlier this year.
The new Mach 6 features many of the standard niceties one can expect from a high-end, modern frame — molded rubber chainstay protection, space for a water bottle inside the front triangle, and a second set of mounts underneath the top tube designed for use with Pivot's Dock tool holder system. There's then a third set of mounts underneath the downtube as a different mount option for a bottle or to attach some tools, and all cables are routed internally through the downtube, with bolt-on ports for ease of service. Stated tire clearance goes up to 27.5 x 2.6".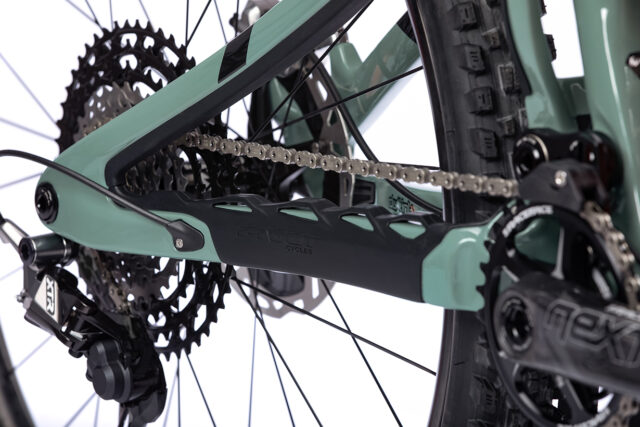 In a world where 29ers seem to dominate the mountain bike landscape, we're quite excited to see Pivot putting out a new, high-end 27.5" Trail / Enduro bike. Big wheels undeniably do some things well — particularly roll over stuff — but there's a lot to be said for the snappier handling of 27.5" wheels, too. Indeed, Pivot makes a point of emphasizing the "fun" factor of the new Mach 6. Like most brands are doing with their bikes in this sort of travel range, Pivot says the Mach 6 is up for everything from bike park laps to long days in the saddle, but Pivot's press release talks a lot more about things like "sharp handling" and "maximum fun" than it does about stability and outright speed — though those do come up too. That makes a lot of sense, given the geometry (more on that in a bit), wheel size, DW Link's notoriously efficient pedaling performance, and the parts that Pivot is speccing the Mach 6 with. Plus, Pivot also makes their 29er Enduro race bike, the Firebird 29, which seems designed more for flat-out speed.
The Builds
Pivot is offering a huge number of build specs on the Mach 6 — fourteen in total, not counting wheel options in many of them — broken down into three basic tiers. The full list of builds, with pricing, is as follows:
Race XT and Race X01
Race XT: $5,599
Race X01: $5,999
The starting tier for the Mach 6's build kits is the "Race" level, with Shimano XT and SRAM X01 builds on offer. Both feature Marzocchi Bomber Z1 forks (160 mm travel, 44 mm offset) and Bomber CR Coil rear shocks. They also get you Fox Transfer Performance dropper posts (125 mm drop on the XS, 150 mm on the S, and 175 mm on the M and L) and DT Swiss M1900 wheels. Where they diverge is the eponymous drivetrain options, plus brakes — the Race XT gets what is actually a Shimano SLX drivetrain and brakes, but with an XT derailleur and Race Face Ride crankset, and the Race X01 build gets a mix of SRAM GX and X01 drivetrain parts, with SRAM Code R brakes.
Pro XT/XTR and Pro X01
Things get a bit more complicated with the "Pro" builds. As with the other build levels, riders can have their choice of Shimano or SRAM drivetrains and brakes, but Pivot combines those options with three separate suspension packages, for a total of six different build kits.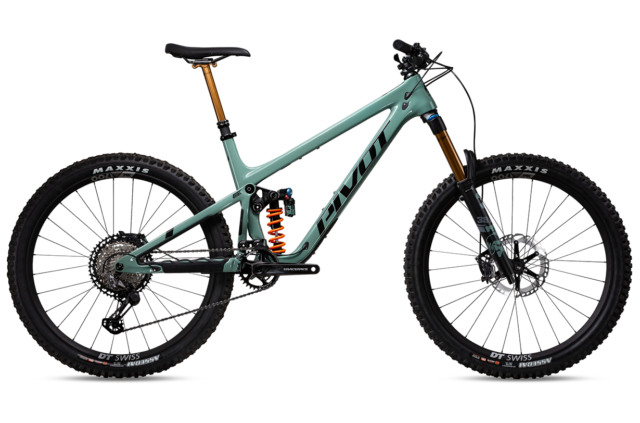 The Pro XT/XTR kits get a Shimano XT cassette and brakes with an XTR shifter and derailleur and a RaceFace Aeffect crankset, while the Pro X01 gets SRAM X01 throughout, with SRAM Code RSC brakes. Both come with a Fox Transfer Factory dropper post in the same size configurations as the Race builds (125 mm drop on the XS, 150 mm on the S, and 175 mm on the M and L), and DT Swiss XM1700 wheels.
Both the Pro XT/XTR and Pro X01 get Fox Factory suspension at both ends, but both come with the same three options for how that suspension is configured. The Pro Coil builds come with a Fox 38 Factory Grip 2 (with a Float air spring, since Fox doesn't offer a coil 38) with 160 mm of travel and 44 mm offset and a Fox DHX2 Factory rear shock. The Pro Air builds come with the same 38 Factory Grip 2, but instead pair it with a Fox Float X2 Factory rear shock. And finally, Fox Live Valve suspension — Fox's wild electronically controlled suspension package — is also on offer. The Pro Live builds come with a Fox 36 Factory Live Valve fork, again with 160 mm of travel and 44 mm offset (Fox doesn't currently offer a 38 Live Valve) and the matching Factory Live Valve rear shock. Got all that? Pricing is as follows:
Pro XT/XTR Air: $6,899
Pro X01 Air: $7,499
Pro XT/XTR Coil: $7,099
Pro X01 Coil: $7,699
Pro XT/XTR Live: $8,599
Pro X01 Live: $9,199
In case that wasn't enough, Reynolds Blacklabel Enduro Wild Trail 34 mm wheels with Industry Nine Hydra hubs can be swapped in for a $1,300 upcharge on any of the Pro level builds.
Team XTR and Team XX1 AXS
At the top end of the Mach 6 build kits are the Team XTR and XX1 AXS options. As you'd expect, they're Shimano XTR (with a RaceFace Next R crankset and XTR brakes) and SRAM XX1 AXS builds (Code RSC brakes), respectively. Both include Reynolds Blacklabel Enduro Wild Trail 34 mm wheels with Industry Nine Hydra hubs as standard, and come with the same three options for suspension packages as the Pro builds. Here's the pricing for the Team builds:
Team XTR Air: $8,999
Team XX1 AXS Air: $10,399
Team XTR Coil: $9,199
Team XX1 AXS Air: $10,599
Team XTR Live: $10,699
Team XX1 AXS Air: $12,099
These are unapologetically high-end builds, and priced as such. And while Pivot's pricing for the Mach 6 isn't particularly out of line with what's on offer from other traditionally "boutique" brands (e.g. Yeti), it is notably higher than, for example, the Canyon Spectral 29 than was recently released (which we lauded for having a notably modest price for its top-tier build).
Fit and Geometry
Compared to the outgoing model, the new Mach 6 gets a dose of the longer / lower / slacker treatment, but it's a modest one. The headtube angle is adjustable via flip chip, which lets you switch between 65.5° and 65° (from 65.8° on the V3 bike), and the reach grows between 20 and 45 mm, depending on size and flip-chip orientation. In the higher setting, the size Medium Mach 6 has a 465 mm reach (the lower setting drops it to 460 mm), compared to 440 mm on the outgoing model.
Speaking of sizing, the XL Mach 6 is no more. There are now four sizes on offer, from XS through L. The new L bike does match the old XL model in terms of reach, at 485 mm (again in the high setting) and adds a few mm of wheelbase, but very tall riders may be left wanting for a bigger option. Pivot's recommended sizing for the L frame goes up through 6'2" (188 cm).
Pivot has steepened the seat tube angle significantly on the new Mach 6 (to 76° effective, in the high position, from 73°) and that steeper effective angle is achieved with considerably less offset at the bottom bracket — meaning that the actual seat tube angle has steepened even more, though its measurement isn't stated. The Mach 6's chainstays are a moderate 431 mm on all sizes, all of which adds up to a fairly middle-of-the-road wheelbase, at 1208 mm for a Medium. For reference, here's the whole geo chart:
Perhaps the most standout line of the geometry chart is the bottom bracket height. At 353 mm in the low position, it's notably high. For reference, that's 10 mm higher than the Guerrilla Gravity Megatrail in that bike's high position, and also 10 mm higher than the Nicolai G16 — both 27.5 bikes with very similar amounts of suspension travel. We'd expect that to make for a bike that's a bit more manageable when pedaling through technical climbs, but perhaps doesn't feel quite as adept at carving through higher-speed corners, but we're looking forward to getting on the new Mach 6 and finding out.
The Bottom Line (For Now)
The Pivot Mach 6 is a bit of a rare breed these days — a high-end, 27.5" wheeled Trail / Enduro bike, and we're excited to see Pivot carrying that particular torch. We're expecting the Mach 6 to be a nimble, quick-handling ride, but are curious to see just how much it manages to blend that with high-speed stability and confidence in steep, technical terrain. It sounds like a lot of fun on the right terrain, and we're looking forward to riding one and finding out more.