Canyon Spectral 29
Wheel Size: 29"
Travel: 150 mm rear / 160 mm front
Frame Material: Carbon Fiber and aluminum versions available
Stated weight: Spectral 29 CF 8: 31.5 lb / 14.3 kg
Build Overview: See Below
Price: Complete bikes $2,899 to $7,499
Size Tested: Large
Reviewers:
Dylan Wood: 5'10", 155 lb / 178 cm, 70 kg
Eric Freson: 5'10", 170 lb / 178 cm, 77 kg
Test Location: Gunnison-Crested Butte, Colorado
[Note: Our review was conducted on the 2021 Spectral 29 CF8, which features different paint and a Fox Float DPX2 rear shock in place of the Float X on the 2022 model.]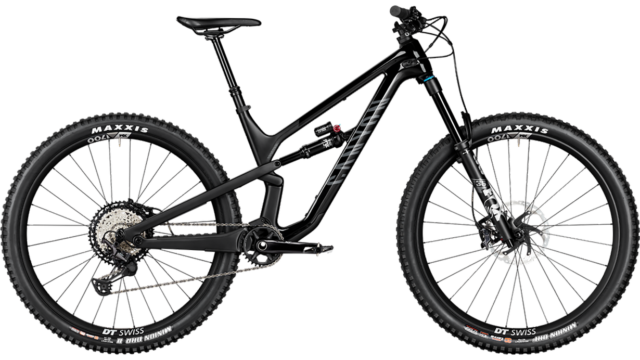 Intro
For 2021, Canyon released an updated, 29er version of their Spectral Trail bike, with 160 mm front / 150 mm rear-wheel travel. The Spectral 29 was initially only available with a carbon fiber frame, but for 2022 Canyon has added both an aluminum version, and a higher-end CFR Carbon frame that's said to cut 300 g from the standard one. And if that wasn't enough, Canyon updated the Spectral 27.5 to match the new Spectral 29, and added a mullet version, for good measure.
The Frame
For the Spectral 29 that we've been testing, four sizes are available — S through XL, all of which feature fairly average, 437 mm chainstays. A flip-chip toggles between a 64° and 64.5° head tube angle and the reach ranges from 435 to 510 mm in neat 25 mm increments.
Confusingly, Canyon still offers an aluminum Spectral 27.5, but it uses the prior-generation frame with substantially different geometry; the new Spectral 27.5 CF is the only version to get updated geometry. But the Spectral 29 got an updated aluminum frame for 2022, with geometry that matches the carbon version. Canyon says the two frames weigh 3,000 g and 2,600 g, respectively. The Spectral 29 also adds the option for a higher-end "CFR" carbon layup with trims an additional 300 g from the frame. The Spectral Mullet is only available with the standard carbon frame.
The Spectral 27.5 CF shares most of its geometry with the 29er, but its chainstays are a touch shorter (432 mm), and the size range is moved one notch shorter (XS – L). The bottom bracket drop and headtube lengths have also been tweaked to match the changes in wheel size and overall fork length. And finally, the Spectral Mullet consists of a 29er front triangle mated to the 27.5 rear end (and as such is offered in sizes S – XL).
The Spectral uses a Horst link rear suspension layout with a horizontally mounted shock. Despite the shock layout, there is room for a water bottle inside the front triangle, tucked underneath the shock just above the bottom bracket. Cables and the rear brake hose are internally routed through the downtube and chainstays, with guides that Canyon says make for a hassle-free routing experience.
The bottom bracket shell is threaded (as seems to be the norm again, after press-fit bottom brackets reared their head and suffered justified blowback), and Canyon says that the threaded inserts for suspension pivots and the like have been made replaceable wherever possible.
Molded rubber guards protect the drive-side chainstay top and bottom, and Canyon includes an integrated upper guide to help with chain retention. A set of removable ISCG '05 tabs allow for an integrated bash guard or lower chain guide to be run as well.
Canyon's rear axle is another clever-looking touch — it's threaded in from the non-drive side, but rather than use a wrench for installation and removal, a lever pops out from inside the axle to provide leverage, then stows away inside the axle, out of the line of fire and providing a cleaner look.
And again, our review was conducted on the 2021 Spectral 29 CF8, which carries over for 2022 with new paint and a change in rear shock spec (more on that below). The Spectral 27.5 received the updated frame design and geometry for 2022, and the Spectral Mullet is brand new.
The Builds
In case the array of frame options wasn't complicated enough, there are a whole lot of different builds on offer for the various Spectral versions, too.
The Spectral 27.5 CF and Spectral 29 CF are both offered in three build levels, but the parts specs differ a bit as we'll outline below. The Spectral 29 also gets two build options in the aluminum frame, and a single option on the high-end CFR carbon frame, none of which are available on the 27.5 bike. And finally, the Spectral Mullet is offered in a single build with a carbon fiber frame.
[The builds listed below are for the US-spec versions of the Spectral. Canyon offers significantly different builds in different regions, check their website for the options in your area.]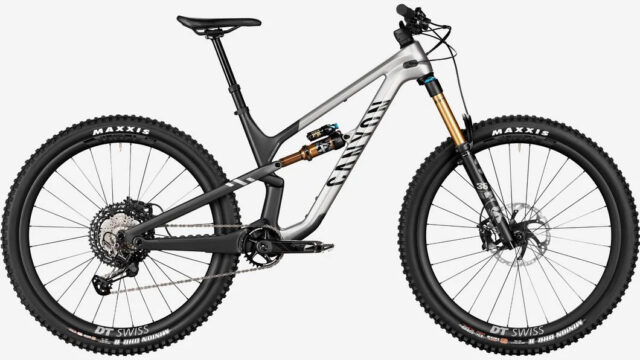 Canyon (like a lot of brands) have raised their prices a bit for 2022, but the Spectral is still notably excellent value for money. In particular, the Spectral 29 AL 6 is a killer build for $3,500, but the whole range is very, very strong on the bang-for-buck front.
Geometry and Sizing
The geometry of the Spectral 29 is right in line with the norms for a modern Trail bike. Interestingly, it's strikingly similar to the Guerrilla Gravity Smash that we reviewed a couple of years ago and found to be one of the most versatile and best bikes we spent time on this past year.
And again, the Spectral 27.5 CF gets very similar geometry to the 29er version, but with shorter chainstays, and in a smaller size range. And, finally, the Spectral Mullet mixes the 29er front triangle with the rear end of the 27.5 bike, so it gets the larger sizing of the 29er with the short chainstays from the 27.5 bike.
For reference, here are the geometry charts for all three:
Nothing jumps out as being totally wild here — just very good, modern Trail bike numbers that we'd expect to add up to a versatile all-rounder.
Flash Review
Blister Members can read our Flash Review of the Spectral 29 for our initial on-trail impressions. Become a Blister member now to check out this and all of our Flash Reviews, plus get exclusive deals and discounts on gear, and personalized gear recommendations from us.
Bottom Line (For Now)
The Spectral 29 looks like a big jump forward for Canyon's longer-travel Trail bike offerings, which were starting to seem a bit dated in terms of geometry. The new bike appears to fit right in with modern norms, and features a number of clever-looking design touches with an eye towards serviceability. We're looking forward to getting on the new Spectral 29 and seeing how it performs on the trail. Stay tuned for the full review.
Full Review
Dylan Wood (5'10", 155 lbs / 178 cm, 70 kg): We spent a significant amount of time this past summer and fall on the Canyon Spectral 29 CF 8, and after riding it on everything from steep high-alpine singletrack to winding desert XC trails, we got a great feel for how the Spectral 29 performs and who it's for.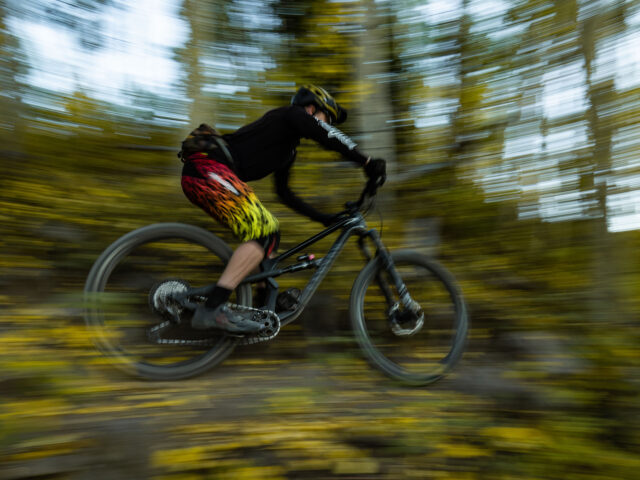 Fit and Geometry
Dylan: The Large Spectral 29, with its 485 mm reach, is the longest bike that I've spent significant time on. I wasn't surprised that, upon pedaling the bike around for the first time, it felt pretty long. I felt a bit more stretched out than usual and it put me in a pretty aggressive pedaling position (i.e., chest down, hips rotated forward). This didn't take long to get used to, and it even made me feel a little too upright when getting on other, shorter bikes like my size Large Santa Cruz Megatower (467 mm reach).
The effective seat tube angle (STA) of the Spectral 29, at 76º, is around the middle of the pack for the bikes I usually spend time on. Subsequently, it felt immediately comfortable, and I found that it matches the versatility of the Spectral 29 (more on this in a minute). It put me in a good position for cruising up flatter roads and trails, though I could still get over the pedals and put some power down when seated and grinding up some notoriously steep climbs that Crested Butte is known for. If you regularly grind up steep roads and trails, you might find yourself wanting a slightly steeper STA, like that on the Commencal Meta TR 29. On the flip side, the Spectral does put you in a more comfortable seated pedaling position on flatter XC-like trails than that bike.
On the way down, I felt like I had more than enough room to move around the Spectral 29 and change my body position for what the trail had coming. I tend to bias my weight rearward on most trails, especially on the steep trails I usually ride in the Crested Butte area. I found that, with the Spectral 29's long front end, that is not the ideal body position for the bike. Rather, I got better front-end traction and a more balanced ride out of the bike when I focused on putting my weight more forward, dropping my chest, and trusting the bike's long wheelbase. This is similar to what I found on the Canfield Lithium, though I would say that the Spectral doesn't require as aggressive of a forward stance as the Lithium.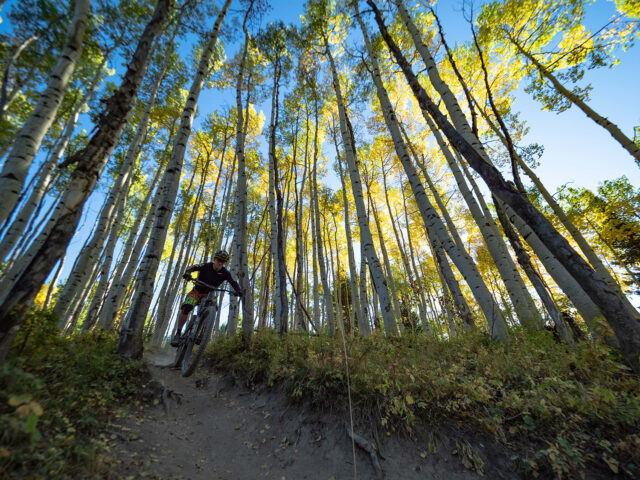 Eric Freson: (5'10", 170lbs/178cm, 77kg): Similar to Dylan, this is one of the longest bikes I have spent real time on, and, one of my first impressions upon throwing a leg over it was "oh boy this thing is loooooong." But I quickly came to terms with the length, and throughout the testing process even came to enjoy and appreciate it in many scenarios.
Climbing aboard the Spectral 29, with its 76º effective seat tube angle, is a familiar place to be for a modern enduro bike. Sized correctly, you are unlikely to find yourself or your weight positioned aggressively over the front center of the bike, nor will you be sitting as upright as your favorite beach cruiser. In the average scope of trail riding, your elbows will be pretty naturally bent.
When the climbs did begin to get steeper, I was still able to stay over the pedals and drive power to the ground as long as I was diligent about staying on the nose of the saddle. But as Dylan mentions, climbing aboard the Spectral 29 for me felt best when the climbs weren't exceptionally steep. My height, coupled with the bike's long reach, meant that I was most comfortable when I was able to maintain a neutral riding / climbing position aboard the bike.
When descending, I came to enjoy the stretched-out, long, and low body position that the Spectral 29 encouraged. I tend to favor a centered / neutral position when things are pointed downhill, and the Large Spectral left me with a lot of room to move around on the bike without feeling like I was getting way out over one wheel or the other. The long wheelbase meant that I could move both forward or back on the bike and not feel like I was putting too much weight in front of or behind either axle.
Climbing
Dylan: The Spectral 29 is among one of the best climbers I've used for a ~150 mm trail bike.
Its low weight is apparent on the uphill, and it has a quick, snappy feel for how much travel it has. I wouldn't say that the Spectral 29 is the most efficient long-travel bike I've ridden, though. In my mind, its suspension falls pretty squarely in the middle, somewhere between being very traction-oriented and being very efficient. While the Pivot Switchblade 29 feels more efficient, the Spectral does offer a bit more traction when climbing rough and technical trails. It felt pretty similar to the Commencal Meta TR 29 in terms of how the suspension handled inputs from pedaling, though the Spectral is notably less sluggish than the (much heavier) Meta TR 29.
As I mentioned earlier, the Spectral also put me in a slightly more aggressive pedaling position than many trail bikes, and it felt comfortable cruising along XC-style trails as well as steeper, more challenging climbs. "Versatility" is the main word that comes to mind when I think about the characteristics of the Spectral 29, and this definitely showed when climbing.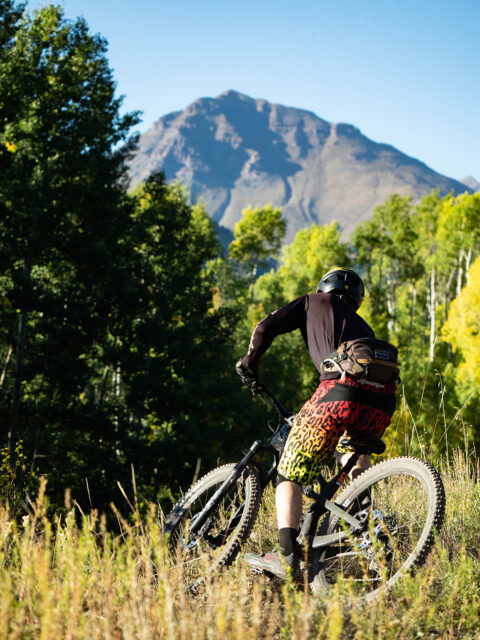 The Spectral 29 has a fairly low bottom bracket, and I found myself striking my pedals on a lot of the rocks in my local trail system, Hartman Rocks in Gunnison. I've done a pretty good job of training myself to avoid these rocks on other bikes, but I found that I was having a harder time avoiding them on the Spectral. I don't think this is a big deal since it only ever resulted in some scratches on the ends of the crank arms, but it is worth noting. Switching the bike into the "high" geometry setting did a good job of mitigating pedal strikes, and it also made for a slightly more forward and aggressive body position for climbing. I usually end up preferring the "low" setting on most bikes that offer one, but I actually found myself spending a lot of time in the "high" setting on the Spectral 29, especially on the XC, desert-esque trails of Hartman Rocks.
Eric Freson: I'd echo that the light "feel" and weight of the Spectral 29 was the first thing I noticed when I began riding it. Between being light(ish) overall, including wheels and tires, the Spectral 29 felt noticeably quicker to get up to speed than I had anticipated. I wouldn't call it snappy in the way that a Cross Country or short-travel Trail bike can be, but for an Enduro / long-travel Trail bike, it was surprisingly so.
From a traction and efficiency standpoint, the Spectral 29 puts a little more emphasis on the former, but does a good job of balancing both. It's not the absolute snappiest-feeling 150 mm bike out there, but between its low weight and still-solid efficiency, the Spectral 29 feels quick and light on the climbs for this sort of longer-travel Trail bike.
When you really mash the pedals you will notice some suspension movement, and the longer wheelbase is noticeable in the way the bike calmly navigates the trail and its obstacles. This is a bike that encourages you to look where you want to go, not at the trail directly in front of you. Its long wheelbase leads to relaxed manners, and its suspension design that affords you ample traction means the Spectral rewards anticipatory rather than reactive climbing practices. Plan ahead, stay smooth in your power delivery, time your pedal rotations well, and you can climb just about anything on it.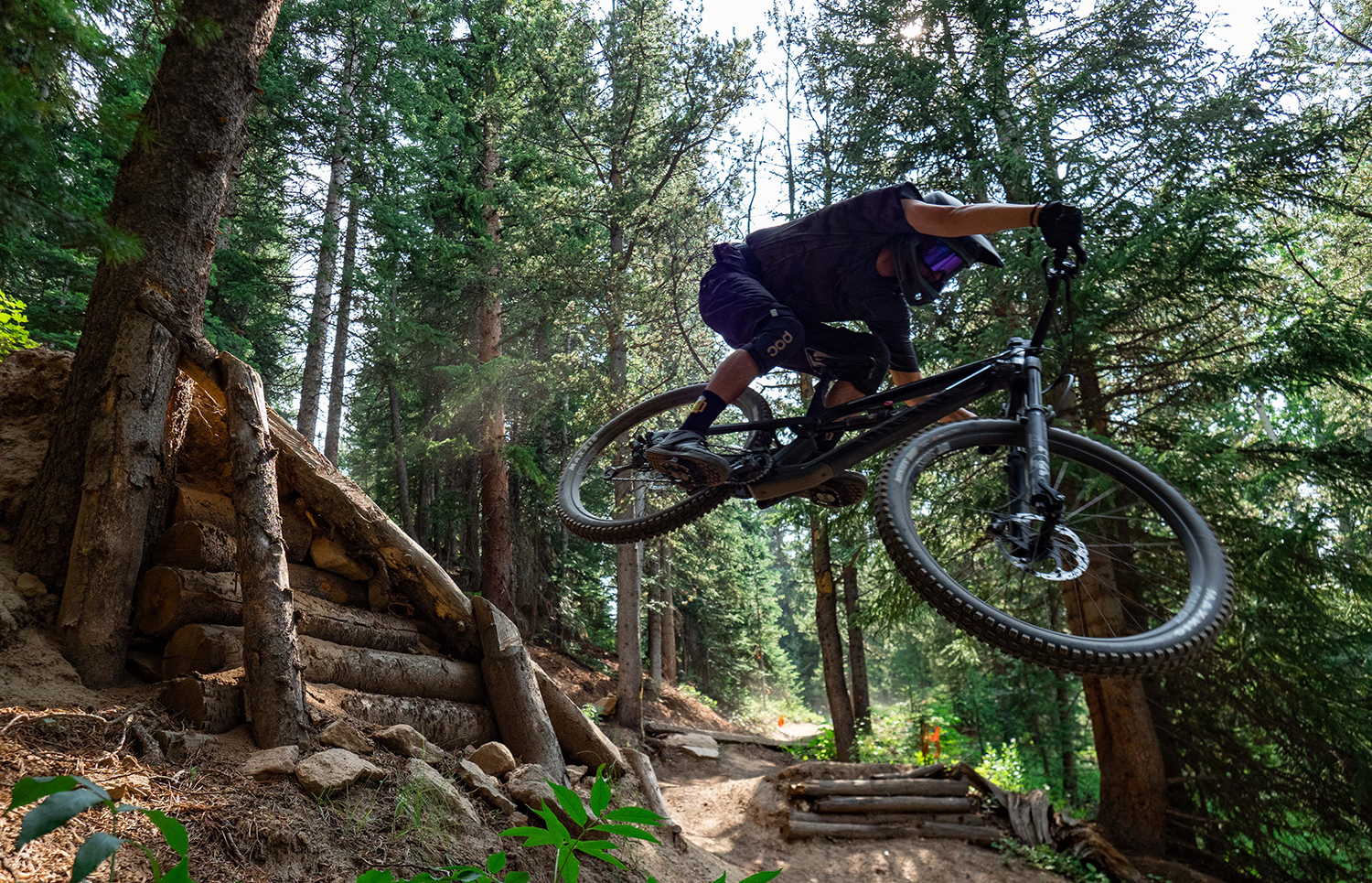 Descending
Dylan: The Spectral 29 didn't feel very much out of the norm when it comes to descending prowess for a ~150 mm 29er Trail bike, and that definitely isn't a bad thing. The Spectral 29 felt at home in many different situations and was very versatile with solid all-around performance.
I would say that the Spectral 29's low weight does make it a relatively nimble trail bike, and it is easy to get into the air. While heavier bikes like the Commencal Meta TR and Canfield Lithium encouraged me to plow over obstacles, the Spectral does well with hopping over roots, gapping obstacles, and taking a more dynamic, precise approach to dissecting technical and rough bits of trail.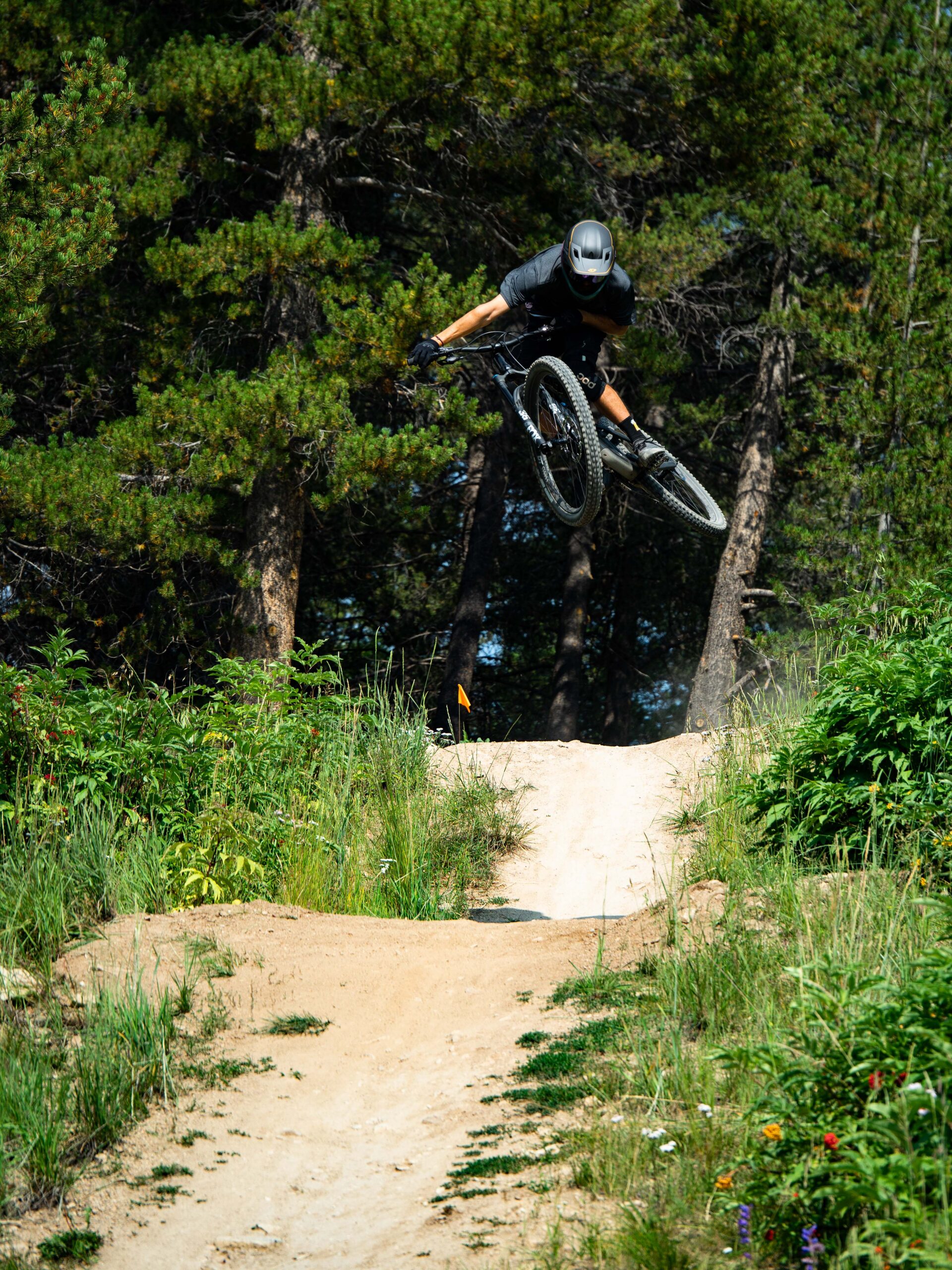 When opening it up on the Spectral and riding fast on rough trails, I found it pretty important to ride with an aggressive, forward stance. The bike's low weight and long front end caused the front wheel to get deflected if I was riding lazily or with a more rearward weight bias. After figuring this out, I found myself really trusting the Spectral 29's long wheelbase to handle whatever was happening underneath me, and I could ride the Spectral 29 just about as hard as I could ride any other long-travel 29" Trail bike. Its rear suspension feels pretty easy to get into off the top, but then it ramps up nicely the deeper you get into its travel.
As I've been hinting at throughout the review, the Spectral 29 is a very versatile bike, and this continues with the types of terrain that the Spectral 29 feels comfortable in. I rode plenty of XC-style trails on the Spectral 29 (Hartman Rocks in Gunnison, Gemini Bridges in Moab), and its light weight and general nimbleness allow it to feel less sluggish and bogged-down than other heavier, more planted bikes. It is fun to jump and bounce around on, and is pretty enjoyable to ride trails in which you're "over-biked."
I also found the Spectral 29 to corner very well. As I mentioned earlier, the Spectral 29 definitely performs best with some weight on the front wheel, and this is especially true in corners as the front wheel can pretty easily wash out without proper weight on it. But it has a pretty big sweet spot in corners, and so long as you are there, it is easy to push into and trust the bike, even on flatter, looser corners. I suspect that this also might be due to the Spectral's relatively low bottom bracket, and I bet its moderately short chainstays also help.
Eric Freson: Had I ridden the Spectral 29 completely blind, I would have guessed it was a 150mm travel frame. It feels capable, but it's not a full-on Enduro bike, either. It's got moderately progressive suspension, is quite stiff laterally, and feels more precise than ultra-forgiving and plow-y. It's a bike that maintains speed really well as long as you don't force it to eat every hole, rock, and compression the trail puts in front of you. The Spectral 29 rewards an engaged rider who rides at 90% pace most of the time. It feels like a better choice for someone who is generally in control and on top of line choice than it is for less experienced, more timid riders.
To me, the Spectral 29 "feels" like the Enduro bikes many of us built ~5-8 years ago when the name of the game was long travel AND lightweight components. It feels stiff, efficient, and precise — in part because it is, and part because this isn't a bike that comes spec'd with 1200gr tires, a super progressive leverage curve, and a frame so overbuilt you could run a dual-crown fork on it. It's not so muted it would ever be accused of being dull.
The Fox DPX2 Performance Elite shock does an admirable job keeping up with the back end of the bike, and I think it is a good fit for the feel. Same with the Fox 36 fork up front. For example, this was not a bike I ever wanted to throw a Fox 38 or rear coil shock onto and try to ride the bike park with all summer.
For the high speeds and relatively smooth trails of the Gunnison Valley, the Spectral 29 felt like a great fit for me. The long wheelbase, relaxed headtube angle, and light feel of the bike meant that I felt encouraged to find lines and apply power in places that encouraged efficiency and smooth, fast riding. The Spectral 29 got up to speed quickly and was easy to keep there. It has a big sweet spot in that regard. This also meant that in more rolling terrain, I didn't feel like I was working extra diligently or fighting to keep the bike up to speed.
When I took too much heat into a corner or got off line, the Spectral did let me know, and on more than one occasion I found myself getting off line despite my best efforts. You need to keep your weight centered on the bike, both for front-wheel traction in corners, as well as being able to pull it back on line if one of your wheels is deflected somewhere unexpected.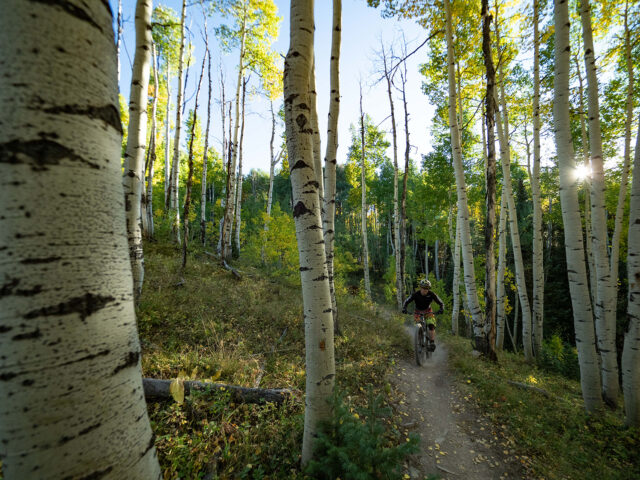 The Build
Dylan: This will be short, but as expected from a direct-to-consumer brand, the build kit on the Spectral 29 CF 8 provides a lot of value, and I think it is very well put together. I'm a big fan of Shimano XT drivetrains and brakes, and I am happy to see them both on the Spectral. The DT Swiss XM1700 wheels offer a lot of bang for the buck, and they stayed true for the entire duration of our review. The Fox 36 Performance Elite fork has just about all the adjustments you could want, and the ability to dial in your fork feel is welcome on the Spectral, given that the bike encourages a pretty aggressive, forward body position with lots of force going into the fork.
I was disappointed with the Fox DPX2 Performance Elite that was stocked on the Spectral, though. This is nothing new, as I've struggled with liking this shock in general (across various bikes). I find that it lacks the performance I am looking for on sustained, rough descents, with the DPX2 sometimes overheating. This was pretty common on the Spectral, especially on the hot trails with plenty of square-edged bumps in Moab, Utah. I think the Spectral would do well with a coil if you ride lots of rough trails, and to be fair, the rear shock is probably the only thing I'd replace on the Spectral 29 CF 8.
The good news is that the 2022 Spectral 29 CF8 comes with a Fox Float X Performance Elite (review coming soon) in place of the DPX2, and have high hopes that the Float X will be a better fit for the Spectral.
Eric Freson: I really enjoyed the build of the Spectral 29 CF 8. Its parts spec may not have the flash of a full-bling dream build, but it has 90% of the functionality.
I'm a big fan of Shimano XT drivetrain and brakes, have used many sets of DT Swiss XM1700 wheels, and got along well with the EXO spec tires here. The Fox 36 Performance Elite fork and DPX2 shock to me both felt well matched for the capabilities and compliance of the frame.
I do hear Dylan on his comments about the DPX2 struggling a bit to maintain damping performance on longer sustained descents (8+ minutes) or bike parks laps, and I could feel things speed up and get harsher by the time I'd reach the bottom of a long run. I think I'd personally run a Float X2 rather than a coil, though, because I'd like to be able to add a bit more progressivity than a coil would allow for, as well as a bit more high-speed compression damping than the DPX2 can. That said, I didn't feel like I needed to replace the DPX2, and if I wasn't riding in areas with long sustained runs, I'm not sure I'd have anything negative to say at all.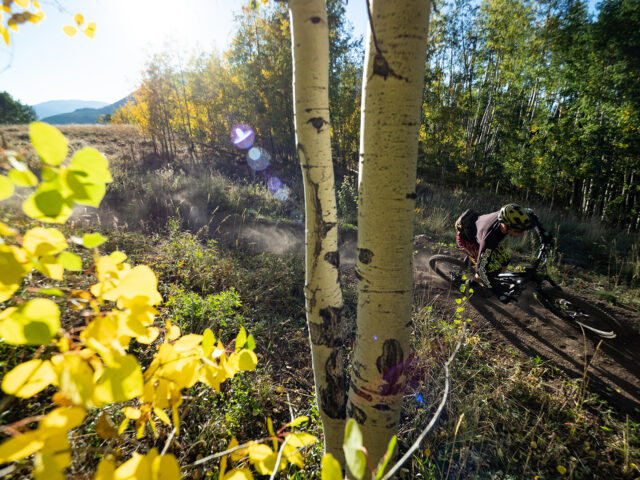 Comparisons
Canyon Spectral 29 CF 8 vs. Yeti SB130 T1
Dylan: Overall, these two bikes probably remind me of each other the most. They're both very versatile, lightweight, 29" Trail bikes.
There are a few key differences, though. First, the SB130 feels more efficient and is the better climber of the two. The SB130 also feels a bit quicker in terms of steering and handles tight, awkward corners better. The Spectral, on the other hand, feels more stable at high speeds, both in terms of steering and the extra suspension travel that it provides. While the SB130 has a more race-inspired feel to it, the Spectral is a bit more laid-back and a tad more plush feeling, too.
Canyon Spectral 29 CF 8 vs. Commencal Meta TR 29 Race
While these bikes have similar travel and are both available from direct-to-consumer brands, that's basically where the similarities stop. The main differences here are weight and suspension. The heavier Meta TR 29 Race, which also has a coil shock, feels much more planted on the trail and encourages a riding style of "plow through everything and hope you are running enough PSI in your tires." The Spectral feels far more nimble, lively, and efficient, despite the fact that we tested the Spectral in a size Large and the Meta in a Medium. I'd say that both bikes feel similarly stable at high speeds, though, you just have to be a bit more attentive of front wheel weighting on the Spectral 29. I would imagine that a Large Meta TR 29 would be more stable than the Large Spectral 29, though.
Canyon Spectral 29 CF 8 vs. Santa Cruz Hightower C S
These two bikes also fall in the same class and are more similar than different. The Hightower has a slightly more plush, forgiving, and sluggish feel to it, while the Spectral feels more lively and slightly more game-on. The Hightower tends to offer better traction all-around, whereas the Spectral was easier to flick around and get in the air, despite being a longer bike. The Spectral did feel more stable at high speeds, whereas the Hightower could let you get away with a bit more of a lazy riding style.
Canyon Spectral 29 CF 8 vs. Santa Cruz Megatower C S
This is a very similar story to the comparison above, given that the Megatower and Hightower's geometry and suspension layouts are strikingly similar. The Megatower offers more geometry adjustment and feels a bit more demanding and suited for Enduro racing than the Spectral, though. The Megatower isn't strikingly more sluggish or planted than the Spectral, but the Spectral is easier to get into the air and more nimble-feeling.
Canyon Spectral 29 CF 8 vs. Pivot Trail 429 Pro XT/XTR Enduro
Not very similar. Both bikes are nimble and versatile, but the Trail 429 is a far more efficient bike and better suited to XC-style trails. The Spectral 29 is a better choice if you'd be riding mostly steeper, rougher trails with some dabbling in the bike park and finding yourself on XC-style trails a portion of the time.
Canyon Spectral 29 CF 8 vs. Norco Range C2
Again, not many similarities here. The Spectral 29 is a very versatile bike and the Range might be one of the most specialized trail bikes currently out there. The Range is far more planted, stable, sluggish, and capable on rough and fast descents, whereas the Spectral is far more nimble, efficient, and versatile.
Canyon Spectral 29 CF 8 vs. Santa Cruz Bronson CC X01 AXS Reserve
This is actually a great comparison. Both bikes are pretty nimble, easy to get into the air, quite versatile, and would work well with a wide range of riders. The Spectral does feel a bit more stable, especially at higher speeds and on chunky trails. The Bronson feels like it initiates turns and exits corners with a cleaner feel and is much more comfortable with a more rearward weight bias. Overall, if you'd be riding lots of steep trails, and especially if you are a shorter rider, the Bronson is probably the better bike. If you're more concerned with all-out speed, the Spectral is the more stable of these two relatively light and agile trail bikes. It would be very interesting to compare the Spectral Mullet to the Bronson…
Canyon Spectral 29 CF 8 vs. Canfield Lithium
This is a decent comparison. Both bikes are good at cornering for long(ish)-travel 29ers, and both seem to require a more forward, aggressive body position when trying to ride fast and hard. The Lithium, having more travel and a more downhill-oriented design, does feel more capable on the descents and more comfortable in the bike park. The Spectral 29 is a bit easier to get into the air, and feels more at home on mellower trails than the Lithium.
Who's It For?
I believe the Spectral could work for a very wide range of mountain bikers.
(1) Riders looking for a do-it-all, versatile Trail bike with a bias toward downhill performance
The Spectral 29 has a pretty high speed limit, yet it is very hard to find a trail in which the Spectral 29 does not feel comfortable.
(2) Riders looking for a lightweight long-travel Trail bike with a lot of value
The Spectral 29's pricing is very reasonable, especially considering how light the bike is. If you are looking to save some grams on your long-travel trail bike but not drop a ton of dough in the process, the Spectral 29 is a great place to look.
(3) Riders looking for a more nimble bike, rather than a very planted one
The Spectral 29 feels much easier to get in the air and flick around than many similar Trail bikes. While it doesn't have the glued-to-the-trail feel that heavier, more sluggish bikes do, it is a bit easier to handle and subjectively more fun to try and gap and pump sections of trail on.
Bottom Line
Dylan: The Canyon Spectral 29 doesn't really jump out for any particular reason, and that might be the greatest thing about it. It handles a very wide range of terrain and trails very well, rarely feels out of place, and after a short period of getting used to, it offers a very predictable and trustworthy ride. I think the Spectral 29 could work for a lot of riders out there who aren't quite sure what they want out of their longer-travel Trail bike, and it helps that Canyon offers it at a great price.
Eric Freson: For the price relative to other options, the build of this bike is fantastic. And as someone who gravitates towards enduro "sleds," I really enjoyed my time aboard the Spectral 29 — because it isn't a typical sled of a longer-travel bike. It felt extremely capable, but not so burly, muted, or overbuilt that I wasn't able to find the limits of its capability every now and then. That helped to keep each ride exciting and kept me on my toes. It's fun to be able to find your limits! And to have the adjective "light" keep coming into my head while riding the Spectral 29 in regard to both its feel and handling was unexpected and something that helped the Spectral stand out.