2021 Commencal Meta TR 29
Test Location: Gunnison-Crested Butte, Colorado
Test Duration (so far): 1 week
Size Tested: Medium
Wheel Size: 29"
Travel: 140 mm rear / 150 or 160 mm front
Build Overview (as tested):
Drivetrain: SRAM GX
Brakes: SRAM G2 RS
Fork: RockShox Lyrik Ultimate, 160 mm
Rear Shock: RockShox SuperDeluxe Coil Ultimate
Wheels: DT Swiss M1900 Spline
Blister's Measured Weight (as tested, w/o pedals): 35.6 lbs / 16.16 kg
MSRP:
Meta TR 29 Frame Only: $1,599–$1,699
Meta TR 29 Origin: $2,499
Meta TR 29 Ride SRAM: $2,999
Meta TR 29 Essential: $3,799
Meta TR 29 Race (tested): $4,599
Meta TR 29 Signature: $5,299
Meta TR 29 Öhlins AXS: $6,499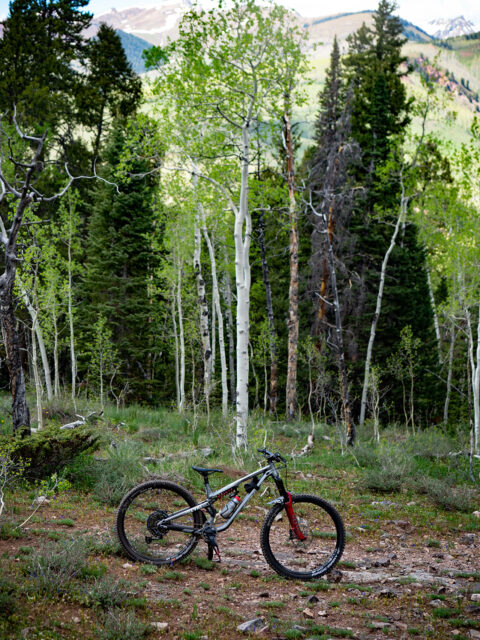 Intro
Last year Commencal launched an all-new version of their "Trail" bike, the Meta TR 29, which returned unchanged for 2021, apart from some tweaks to the build options.
The bike had always looked intriguing to me personally since it seemed like it could offer a nice compromise between being efficient and fun enough on the climbs and mellower trails throughout the Gunnison valley, while still being burly enough for frequent laps at Crested Butte Mountain Resort's bike park and the longer, steeper, chunkier descents here.
Also, it's 2021, and mountain bike frames and parts are harder to get your hands on than an eel that's taken a bath in a jar of bike grease. So I'd be lying if I said the fact that the Meta TR 29 Race's estimated shipping date of June wasn't a factor when I decided that it was going to be my next bike.
Last week I finally got the bike built up and ready for a summer of riding. I'm going to be lending it to some of our other reviewers so they can chime in for the full review, but for now, we're gonna take a closer look at this bike, why I thought it might work well for the riding I do, and then Blister Members can read my initial impressions in our Flash Review.
The Frame
"Burly" is a word that gets thrown around a lot in the bike industry, but I think it's well deserved when discussing the Meta TR 29.
This bike, like all of Commencal's, is only available with an aluminum frame. It's also clear that the folks at Commencal were more concerned with making a bike that'd hold up to a lot of riding than trying to minimize weight. One of my main hopes with whichever bike I opted for was that it would be fun for many years to come. Along with its modern geometry (more on that below), Commencal's reputation for making durable frames was a big factor when I ended up picking the Meta.
On the other hand, there's no getting around that the Meta TR 29 is heavy. At 35.6 lbs / 16.16 kg for my size Medium Race build, the Meta TR 29 is anywhere from "slightly" to "a heck of a lot" heavier than a lot of other bikes with similar travel. Personally, I wasn't too worried about that. I've found that I'm much more sensitive to a bike's suspension pedaling characteristics than how much it weighs. Plus, I think part of my ski-reviewer thoughts on how weight tends to be a plus when it comes to overall downhill performance also carry over to my thoughts on bikes.
Weight aside, the Meta TR 29 has pretty much all of the features I'd look for in a modern frame. Cable routing is all internal, with the derailleur and rear brake cables briefly coming out of the frame above the bottom bracket. There's also a spot for you to internally route a remote lockout for the rear shock, though I don't think a whole lot of people will be going that route, given the weight and geometry of this bike.
In terms of frame protection, there's a pretty thick guard under the bottom bracket that extends a bit up the downtube, and then some soft rubber around the drive-side chainstay and seatstay. Because I frequently end up shuttling Crested Butte's famous Doctor Park trail throughout the summer, I added some All Mountain Style protective strips to the upper downtube and a few other spots on the frame.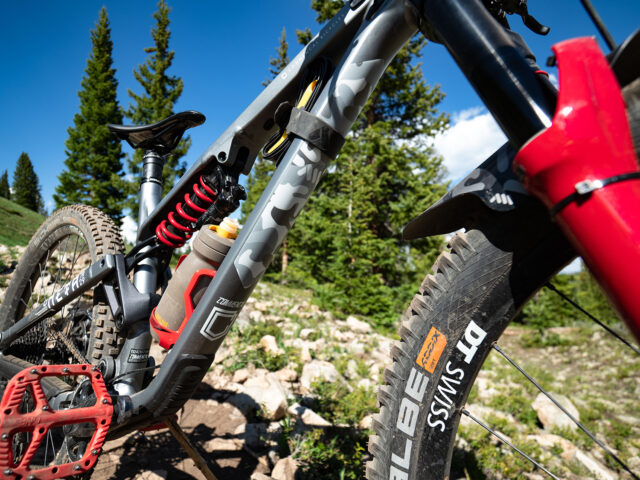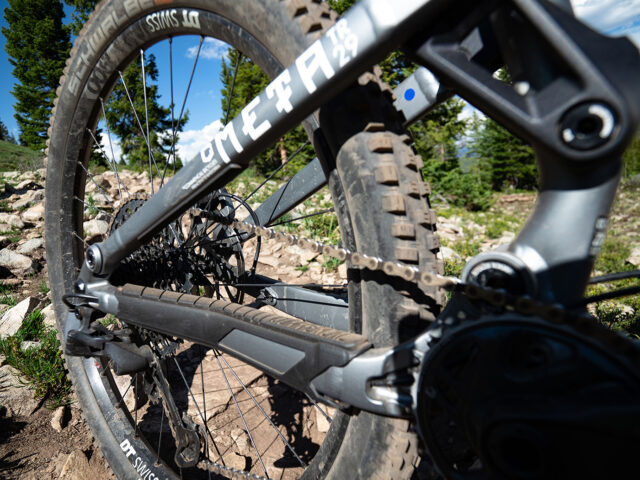 The front triangle of the Meta TR 29 leaves room for a water bottle, but whether yours will fit will depend on a few things. My 24-oz bottle contacts the piggyback of the shock, but in a stroke of luck, I randomly found a smaller 21-oz bottle on the side of a trail and it fits (with maybe a millimeter to spare) when I have the cage mounted as low as possible.
The Meta TR 29 is set up to run a sizeable 200 mm rotor, and while you can't go smaller than that, you could run up to a 220 mm rotor out back. Other randoms include ISCG 05 tabs for a chain guide, 148 mm Boost spacing, press-fit bottom bracket, a 34.9mm-diameter seat tube, and stated tire clearance of 65 mm / ~2.56 inches.
As far as the suspension design goes, the Meta TR 29 uses a linkage-driven single-pivot layout to provide 140 mm of rear travel. Depending on the build, you can pair that with a 150–160mm-travel fork. One of the things that excited me about the latest Meta TR 29 was that it has a pretty substantial amount of anti-squat, with it sitting around 130% at sag for the easier gears. Coming from the 2019 Specialized Enduro 27.5, I knew I wanted something that was going to feel a bit firmer on the pedals, even if it happened to weigh more. So far, the Meta TR 29 has definitely checked that box.
The Meta TR 29 is compatible with both air and coil shocks, though the Race build I have is the only one that comes stock with a coil shock.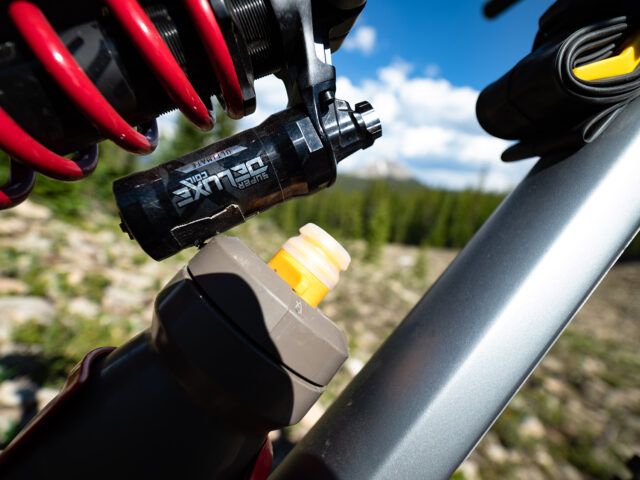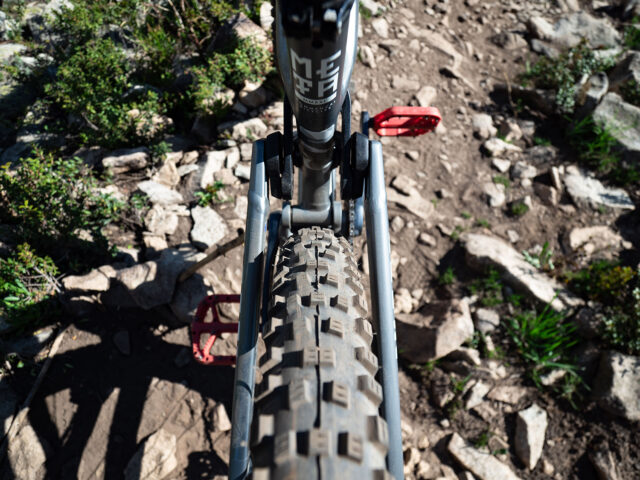 Given that Commencal is a direct-to-consumer brand and most folks will be ordering directly from their site, I figured I'd briefly touch on the ordering and shipping process. First off, their customer service team was great — they quickly helped me with the ordering process when there was a processing issue on their site, and they kept me up to date on the shipping process without me needing to bug them. When the bike finally showed up, it was extremely easy to get it up and running. All I had to do was get the handlebars on, adjust the cockpit and seat height, set up the tires as tubeless, pump them up, set sag, and get going. The derailleur was shifting perfectly out of the box, and overall the bike was basically as pre-built as I could hope while still having it fit in a bike box.
The Builds
The Meta TR 29 is available as a frame-only for $1,599–$1,699 (depending on the color), and in 6 full build options. You can also use Commencal's "A La Carte" program to build up a frame with your choice of available parts.
As is a theme with most of Commencal's bikes, the Meta TR 29 builds offer good bang for your buck. Likely thanks in large part due to Commencal's direct-to-consumer model, the Meta TR 29 builds come with some higher-end components than many similarly priced bikes.
This is most notable in the suspension department — a big reason why the Meta TR 29 Race caught my eye was that it came with top-level RockShox suspension while still costing well under $5k. You won't find any fancy carbon parts on any of the Meta TR builds, nor any top-spec Shimano XTR or SRAM X01 drivetrains, but I think Commencal does a good job of going higher-end for the parts that I'd personally care about the most.
The least-expensive Meta TR Origin builds do not get dropper posts, but the others get a 125 mm dropper on a size Small, 150 mm for a Medium, ~175 mm for a Large, and ~200 mm for the XL in most cases (exact travel depends on the particular dropper model for each build).
Here's an overview of all of the current Meta TR 29 builds (click to expand):
For the Race build that I have, there's a nice mix of reliable components I'd already spent a lot of time with, and some new-to-me ones that I was curious to try.
I've spent a lot of time with the GX drivetrain and know I get along pretty well with it, so there was no worry there. While I haven't used the coil version of the SuperDeluxe Ultimate shock, I knew the air version and Lyrik Ultimate were huge upgrades from the base-level Fox suspension on my previous bike, so I was very psyched about that.
On the brake side, I'm curious to see how the 4-piston G2 RS stoppers compare to the more downhill-oriented SRAM Code R brakes I've been running for the past few years, but so far they've been doing fine.
This is my first time using a KS dropper and the DT Swiss mid-level M1900 wheelset, but I've heard good things about both. This is also my first time running Schwalbe tires (Magic Mary + Nobby Nic, Super Trail casings, Addix Soft compound), so I'm curious to see how I end up getting along with them.
All in all, it seems like a build that will be a significant step-up from my previous bike in terms of suspension, in particular, with other parts that don't raise any immediate red flags. The fact that it cost less than a lot of similarly spec'd alternatives was a big plus.
Fit & Geometry
For a 140mm-travel bike, the Meta TR 29's geometry is notably modern / progressive / whatever we want to call bikes with slack head angles, long reaches, steep seat tube angles, and low bottom brackets, among other things.
Reach ranges from a not-super-small 440 mm on the size Small, all the way up to 515 mm on the XL. My size Medium Meta TR 29 has a 465 mm reach, which is a bit longer than most size Medium bikes I've spent time on, and even some of the size Large bikes from last year.
To keep the bike from feeling too stretched out with that long reach, the Meta TR 29 gets a very steep 78.6° effective seat tube angle, and the actual seat tube angle looks pretty steep, too.
All sizes of the Meta TR 29 get 435 mm chainstays. For the Small and Medium sizes, those aren't wildly short, though still a bit on the shorter end of the spectrum. That said, with more brands making bikes with chainstay lengths that vary by size, the Meta TR 29's chainstay length starts to look pretty short when you get into the Large and XL sizes and their big reach numbers.
According to Commencal's geo chart, the Meta TR 29's head angle sits at 64.5° with a 561mm-long (150mm-travel) fork. That's already pretty slack for a bike in this class, and the Race and Signature builds get 160mm-travel forks, which will slacken it out a bit more.
All of that translates to some pretty long wheelbases, with the size Medium with a 150mm-travel fork coming in at 1230 mm.
For reference, here's the full geo chart of the Meta TR 29: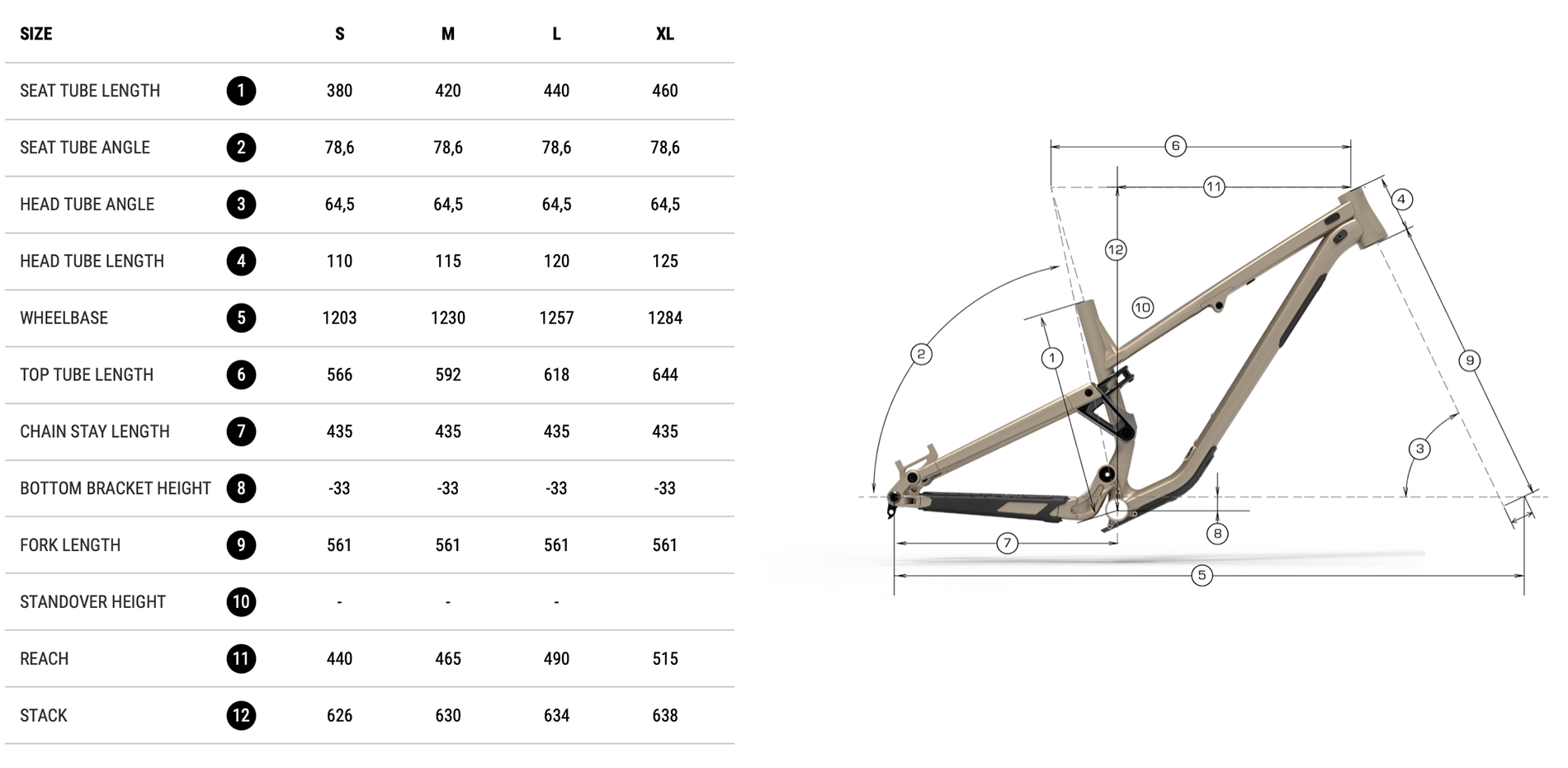 As far as comparisons go, the Privateer 141 is the most obvious one. It shares extremely similar numbers when it comes to reach, top tube length, head angle, and seat tube angle, though the 141 has different chainstay lengths across different sizes, making for longer wheelbases in the larger sizes.
That said, the Meta TR 29's numbers put it squarely on the more aggressive side of the spectrum. It's longer and / or more slack than most bikes in this class, such as the Santa Cruz Hightower, Ibis Ripmo AF, Pivot Switchblade, Propain Hugene, YT Jeffsey, and Canyon Spectral. In addition to my optimism regarding the Meta TR 29's long-term durability, the fact that I doubt its geometry will feel "outdated" in many years was another big factor when I was considering the bike.
Some Questions / Things We're Curious About
(1) With a hefty weight and decidedly downhill-oriented build and geometry, how versatile will the Meta TR 29 prove to be as a do-it-all Trail bike, particularly on the uphill and more moderate downhills?
(2) On the other side of things, I spend a lot of time lapping the bike park at Mt. Crested Butte, so how well will this bike (and the components of the Race build) handle frequent days riding lifts?
(3) The Meta TR 29's bigger sibling, the Meta AM 29, looks very similar on paper, apart from its increased front and rear travel. So who should be opting for one over the other? A local shop, Butte & Co, has some Meta AM's in their demo fleet so I'm looking forward to testing them back-to-back.
(4) All of the Meta TR 29 builds offer a pretty nice value for their respective prices, but what about the lowest-tier $2,499 Origin build? Butte & Co also has that version so I'll be giving it a try, too.
Bottom Line (For Now)
The Commencal Meta TR 29 is a bike that's got a relatively modest amount of travel, but with geometry numbers, frame details, and component specs that all make it seem like it will be able to handle the sort of riding often best suited to longer-travel alternatives. That's the main reason I thought it could work well for the majority of riding I do, and I'm eager to see how well it lives up to my expectations.
Blister Members can check out my Flash Review for my thoughts after my first few rides on it, and then stay tuned for our full review where we're planning on having a few of our reviewers weigh in.