In our recent Mtn Bike 201 article, we covered the various rubber compound and casing options from a few of the popular tire manufacturers whose tires we're reviewing here. Now it's time to dive into specific tread patterns.
As noted in that article, this isn't a comprehensive overview of every tread pattern offered from each brand; this guide is focused primarily on models designed for "aggressive Trail" through DH use, and the tires chosen reflect that. We also haven't been able to spend time on every conceivable option in that space, but we will be adding to and updating this guide as we test new tires (including options from other brands). You can also click here for more reviews of other tire models (including more XC-oriented tires).
It's important to consider width, casings, and rubber compounds in addition to just the tread pattern when evaluating tires (which is also why that compounds & casings article is important for this one). Where practical, we've attempted to test tires in multiple casing and rubber options to get a feel for how they perform in a range of constructions.
When describing performance differences between different tread patterns from different brands, the comparisons refer to how the most similar versions (in terms of similar casings / compounds from other brands) of the tires compare. Unless specifically discussed, it's fair to assume that the general performance tradeoffs between harder and softer rubber compounds, discussed in our 201 article, apply here. And if you need a refresher about the general construction and attributes of mountain bike tires, check out our Tires 101 article.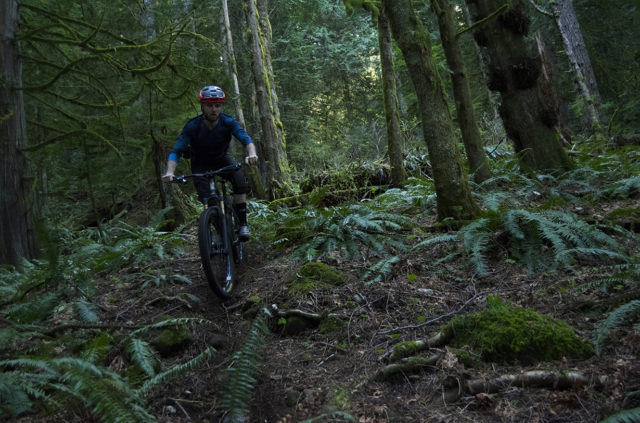 A few quick notes to start:
(1) This guide predominantly covers tread designs that make sense for use on "Trail" bikes through DH bikes (which, I'd argue, are pretty much the same set of tread patterns, albeit in different casings and perhaps rubber compounds).
(2) We've included some measured specs for all the tires, with all measurements being taken on a 30 mm internal-width rim, unless otherwise noted.
(3) For more detail on each brand's different rubber compound and casing options, you can check out this article. In this comparison of tread patterns, we'll cover which rubber compounds, casings, and sizes that a given tread pattern is offered in as an overview, but in many cases, those tires won't be offered in every possible combination of rubber / casing / size. For that minutiae, you'll want to go to the tire manufacturers' websites.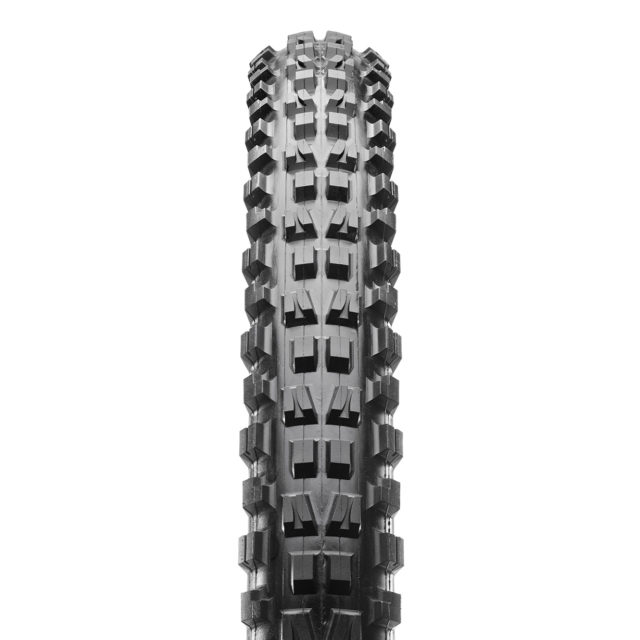 The Minion DHF has been a mainstay tire for aggressive riders for nearly two decades now, and Noah Bodman and I went so far as to name it our product of the 2000s in Episode 13 of our Bikes and Big Ideas podcast. The DHF stands out largely due to its versatility; there are few situations where it feels wildly out of place, and its predictability is a defining characteristic. Even in conditions for which it's not ideally suited, the DHF breaks traction smoothly, controllably, and with considerable feedback and warning that you're approaching its limit of grip.
Compared to a lot of newer designs, the DHF has a somewhat more rounded profile, which, combined with its large open channel between the center and side knobs, can create a sensation of needing to commit to leaning over the tire into a corner to engage the side knobs and get past that open channel. The upside is that that open channel provides ample room for an aggressive rider to really dig in the side knobs, and in most conditions, the DHF's cornering grip is quite good. The potential downside is that more cautious riders may not like the "vague" or "drifty" feeling when they aren't leaning the DHF over at a higher angle during a turn, and consequently not fulling digging in its side knobs.
Given its relatively aggressive tread, the DHF rolls a bit better than average, has mediocre braking traction, and corners well in most conditions. It also performs notably well in situations where lateral grip is needed when riding on the center knobs (e.g., off-camber, wet roots). In terms of conditions, the DHF isn't in its element in truly wet, horrendous conditions, but is a good generalist that performs admirably almost everywhere else.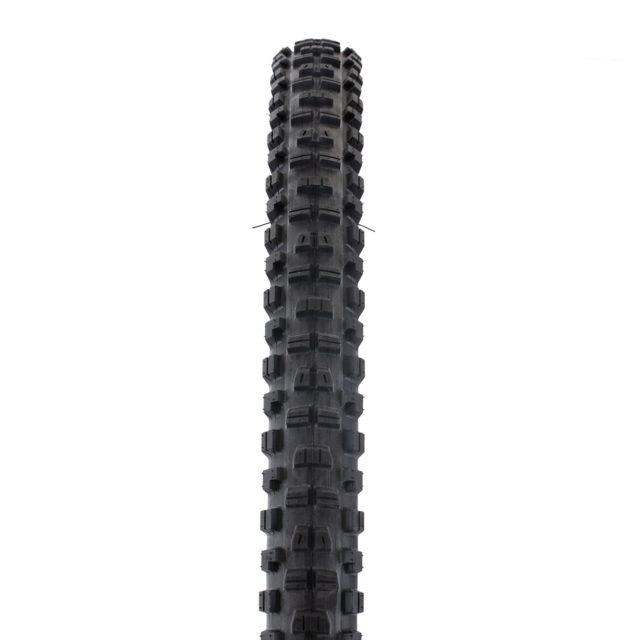 The original Minion DHR was released alongside the DHF and, yes, the "F" and "R" do stand for Front and Rear, which were the intended uses for the two. But while the DHF was a smash hit, the original DHR left a lot to be desired, and many riders at the time opted to run DHFs front and rear.
The updated DHR II (released back around 2011) shares essentially the same side knob design as the DHF, but pairs those side knobs with much broader center knobs and a slightly more squared-off overall profile. The result is a tire that offers tremendously better braking traction than the DHF, rolls a bit slower, and slightly minimizes the DHF's open transition from center to side knobs.
Like the DHF, the DHR II can actually work well on both ends of the bike, depending on your priorities. Though far more braking power comes from the front end — due to the forward weight shift that occurs under braking — braking traction is often more limited in the rear for precisely the same reason (less weight on your rear tire means less braking grip available out of the rear). Rear tires also have a greater overall impact on rolling resistance, and the DHR II doesn't quite match the DHF's grip on wet roots and rocks. [The very long, and substantially siped center knobs of the DHF are to credit here; the DHR II trades those for vastly better braking performance].
The DHR II makes sense as a front tire if you're inclined to maximize braking traction and can live with its reduced lateral grip when riding on the center knobs as compared to the DHF. As a rear tire, the DHR II's increased rolling resistance is the only real downside as compared to the DHF, and its far better braking traction makes up for that for many people, which is why you see so many people running a DHF up front and DHR II out back. The DHR II sheds mud a touch better than the DHF, but they're similarly versatile in terms of the conditions in which they perform well.
The Assegai is a somewhat newer offering from Maxxis, intended to take some of the strong points of the DHF recipe but improve upon the braking performance and offer more consistent grip across a variety of lean angles. Broadly speaking, it succeeded in those goals, but those design criteria do come with some tradeoffs.
The Assegai rolls notably slower than the DHF — it's closer to, or maybe a touch slower than the DHR II in that regard — and its braking performance falls somewhere between the two Minion variants.
The Assegai does offer more cornering grip than the DHF or DHR II at shallow / moderate lean angles, but that does come somewhat at the expense of being able to really, fully dig in the corner knobs in soft, supportive soil (i.e., perfect hero dirt).
The Assegai does best in fairly dry, loose conditions, where traction and support are limited. It doesn't offer wildly more lateral grip than the DHF or DHR II in those conditions, but is more consistent and predictable when the soil is anything but predictable — especially when the trail conditions offer such little traction that it's challenging to achieve high lean angles to fully engage the side knobs on something like the DHF. For that reason, some of our less aggressive reviewers have found themselves preferring the Assegai especially as a front tire, which is worth noting if you find yourself hesitant to really trust and lean over your tires on flat, loose-over-hard conditions.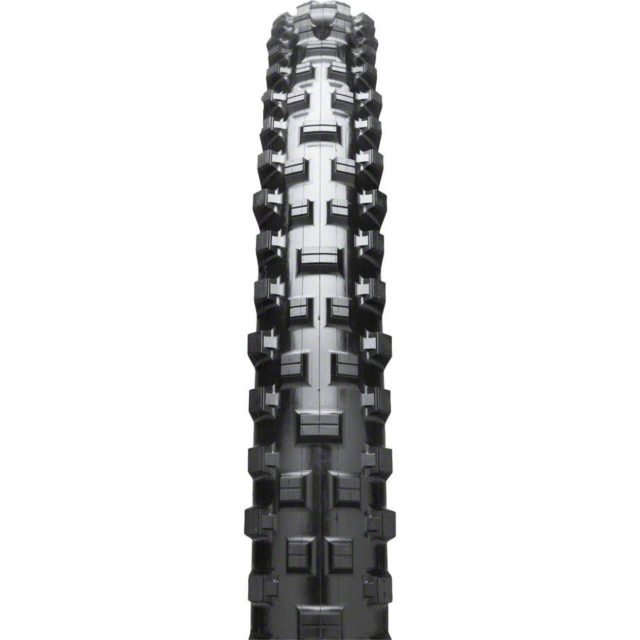 The Shorty is Maxxis's mid-spike tire — meant to work best in very soft, loose conditions. Maxxis actually mentions dry, "blown out" conditions before mud in their description, but the Shorty is intended to work in both, and be more versatile than a more specific, "true mud spike."
As with most tires with a spiky, open-tread pattern, the Shorty rolls fairly slowly and doesn't inspire a ton of confidence on firmer terrain, be it hardpack or roots and rocks. The Shorty is best suited to very soft conditions and makes more sense as a front tire than a rear most of the time, due to rolling-resistance considerations and its tendency to feel squirmy and vague on harder surfaces.
As Maxxis's description suggests, the Shorty works better in dry, loose conditions than it does in super wet, loose conditions, but it's a respectable option for both. The biggest downside to the Shorty in the wet is that its lateral grip on wet roots isn't very strong, and wet roots and wet soil tend to go hand in hand. If your trails don't have a ton of exposed roots, this obviously doesn't matter as much — in soft, wet soil, the Shorty's braking and cornering grip are both very good.
The Shorty is a somewhat specialized tire that's far less versatile than many of the tires here that are designed to work in a broad range of conditions, but does perform admirably in the ones for which it's designed.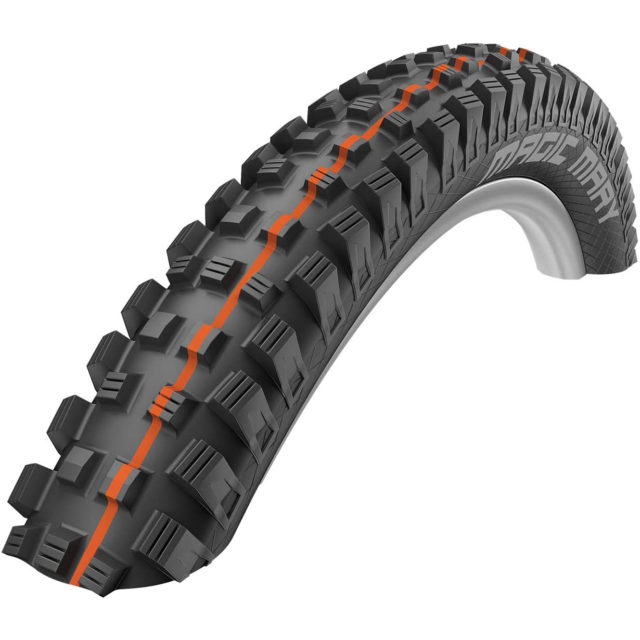 The Magic Mary is Schwalbe's aggressive gravity tire, intended for use in a broad range of conditions. Compared to many other tires in that category, the Magic Mary's tread design is notably open and spiky. As such, the Magic Mary is at its best in somewhat softer, looser conditions; on very hard surfaces it can feel a little squirmy, and its rolling resistance suffers compared to the less spiky options, such as both Maxxis Minion variants or the e*thirteen AT Gen 3 (more on those in a bit).
The Magic Mary's braking traction is quite strong — again, especially in softer soil — and its cornering grip is substantial. With partial transition knobs between the center and side knobs, the Magic Mary's lateral grip is relatively consistent across a range of lean angles; the Magic Mary is more like the Assegai and less like the Minion DHF in that regard. For more on what "transitional knobs" are, see our Tires 101 article.
Where the Magic Mary is lacking, however, is in terms of predictability. Though it does grip well in many different conditions, the transition from gripping to breaking into a drift can happen abruptly, and with little feedback to give you warning. Despite feeling like it offers more max cornering grip than the Minion DHF or DHR II in some circumstances — and significantly stronger braking — I'm less comfortable pushing the Magic Mary to the limit for precisely this reason.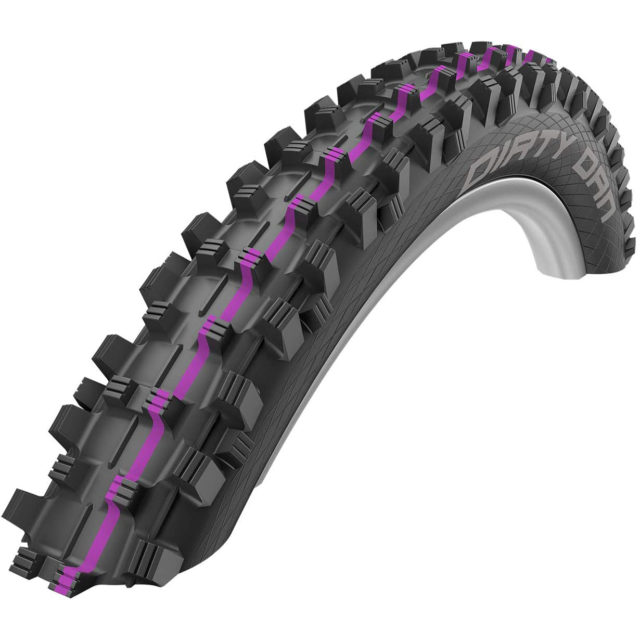 The Dirty Dan is Schwalbe's mid-spike, wet-weather tire, designed to offer excellent soft-condition, wet-soil performance, while continuing to be serviceable if conditions dry out a bit.
In soft, wet soil, the Dirty Dan is superb. Its braking traction is exceptional in these conditions, and while no tire corners great when conditions are wet and slippery, the Dirty Dan manages uncommonly well, while also being remarkably consistent and predictable. That combination of substantial grip and a high degree of consistency and predictability in super wet conditions is rare. Plenty of tires can dig into soft soil but then abruptly give out when the soil does, and plenty can slide around in the wet in a way that's consistent and predictable, but without ever gripping all that well. The way that the Dirty Dan manages to blend those two traits is impressive, and has made it my go-to front tire in wet, Western Washington winter and spring seasons.
As tends to be the case with tires with open, spiky tread designs, the Dirty Dan rolls fairly slowly and can feel somewhat vague and squirmy on firmer ground, but for how well it works in truly wet, terrible conditions, the Dirty Dan is remarkably versatile. That's not to say that I'd recommend it for use outside of relatively soft, loose soil, but it's not a tire that feels like it's trying to kill you the moment you take it out of its element.
Given that it does roll slowly, and is only available in Schwalbe's ultra-sticky Addix Ultra Soft rubber, I've mostly preferred to pair the Dirty Dan up front with a Minion DHR II in the rear (for rolling resistance and durability reasons).
e*thirteen All-Terrain Gen 3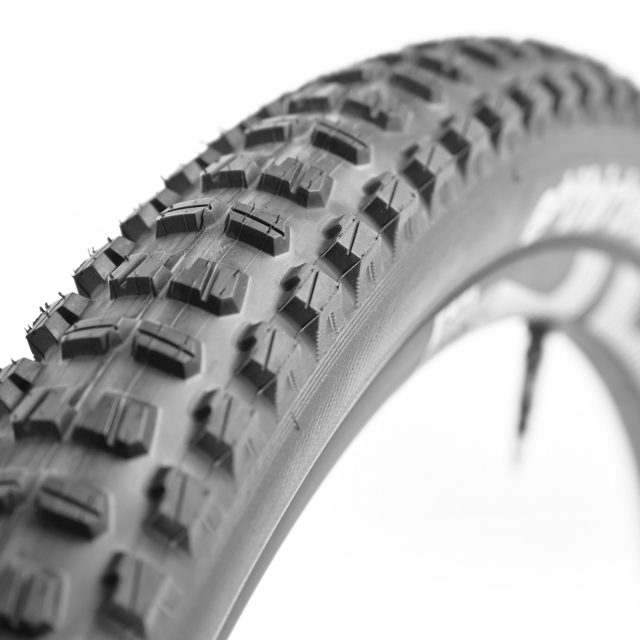 e*thirteen's naming of the All-Terrain Gen 3 is refreshingly straightforward, if a little clunky; I'll give no prizes for guessing that it's the third generation of their take on a versatile tire that's meant to work in a broad range of terrain.
Compared to the prior iteration, the AT Gen 3 has dramatically broader, chunkier center knobs — which look a bit like a blend between those on the Minion DHF and DHR II — and a significantly more rounded profile.
The AT Gen 3 does indeed feel like a bit of a mix of the DHF and DHR II; the AT Gen 3's braking traction is somewhere between the two and the AT Gen 3 also features a sizable channel between the center and side knobs, which requires some commitment to lean through and engage the side knobs. The AT Gen 3 is the fastest rolling of the three — credit its slightly shorter, stiffer center knobs for that.
The AT Gen 3 is perhaps best viewed as something like a variant on the Minion theme, but oriented a touch more towards dry, firm conditions. Compared to either Minion version, the AT Gen 3 gives up a little bit of traction, especially while cornering, when presented with very loose, soft conditions, but is less squirmy and more supportive when conditions trend toward hardpack, or shallow amounts of loose over hard. For variable to dry conditions, short of fully blown-up, loose, moon dust, the AT Gen 3's performance is excellent.
Unfortunately, there's a downside — along with the e*thirteen Semi-Slicks described below, the AT Gen 3 is definitely the most difficult tire to mount compared to the other options here. The issue seems to be that the bead is just a touch tight, and on rims without a fairly deep center channel to drop the bead into, there just isn't enough total length of the bead for things to go smoothly. In fact, when the AT Gen 3 tires were brand new, I was completely unable to mount them on the first wheels I tried, a pair of We Are One Agents.
Mounting on subsequent wheels — including DT XM481, DT EX 471, DT EX511 rims, as well as the newer We Are One Unions — was doable, but with notably greater effort than most other tires. I was also later able to install the TRS construction e*thirteen AT Gen 3 on the Agents once the tires had been mounted on another set of wheels for a few weeks and apparently stretched slightly, but did not have any such success with the beefier LG1 EN versions.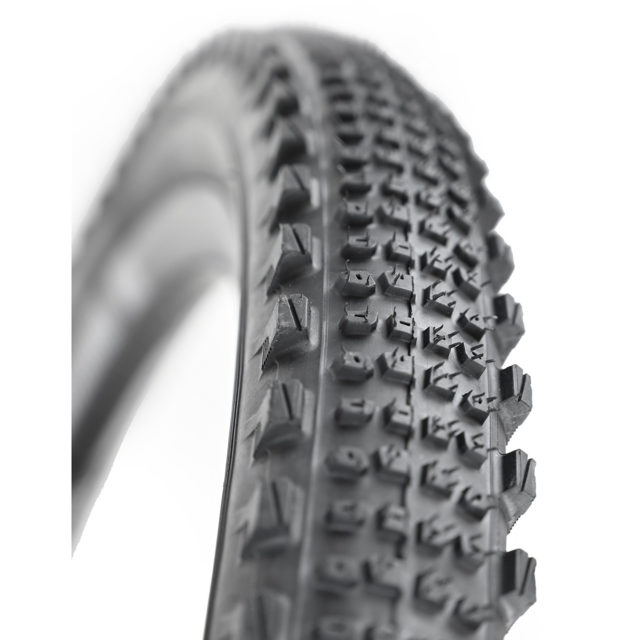 e*thirteen's Semi-Slick is just that — a semi-slick version of the AT Gen 3. The two share somewhat similar side knobs, but those on the Semi-Slick are spaced slightly farther apart and lack the stepped L-shaped hook that the AT Gen 3 features. The center knobs are where the big changes appear — in keeping with the semi-slick design, the e*thirteen Semi-Slick's center knobs are very low, small, and more tightly spaced.
As one would expect of a semi-slick, e*thirteen's version rolls very well, at the expense of braking and pedaling traction. The e*thirteen Semi-Slick also feels quite loose and drifty until the side knobs are engaged, given the modest center knobs and notable channel between them and the side knobs.
The overall profile is an important design element on any tire, but it's especially so on a semi-slick. Since the side knobs are the only ones of any real size on this sort of tire, the shape of the tire profile heavily dictates how and when the transition onto the side knobs occurs. e*thirteen did an excellent job with the Semi-Slick; the tire is slightly rounded overall, to keep the side knobs out of play (and consequently not really impacting rolling resistance) when the bike is upright, but not overly round to the point that engaging the side knobs requires extreme lean angles. For a fast-rolling tire for dry conditions that still corners reasonably well, the e*thirteen Semi-Slick is excellent.
Unfortunately, the same mounting challenges that I mentioned in the AT Gen 3 apply here as well. It'd be great to see e*thirteen loosen up the beads on these tires ever so slightly because they're very good tires otherwise.
The Verdict is WTB's take on an aggressive front tire and features a very open, spiky tread pattern and a somewhat squared-off profile. It's also notably high volume compared to most other tires of similarly nominal width. You can read our full review of the Verdict and the WTB Judge here, but the main points are that the Verdict is a tire that's best suited for soft soil, and is especially grippy at somewhat moderate lean angles (particularly compared to a similar tire without transitional knobs, like the Maxxis DHF).
This might sound somewhat reminiscent of the Maxxis Assegai and Schwalbe Magic Mary, but the way those tires achieve grip at shallow lean angles is pretty different; while the Assegai and Magic Mary incorporate transition knobs to fill the gap between the center and side knobs, the Verdict's tall side knobs and relatively square profile mean that the side knobs engage sooner as you start to lean the bike over. There's still a notable channel between the Verdict's center and the side knobs, but it doesn't take much to lean past it.
The downside is that the Verdict's combination of very high volume, a fairly square profile, and tall, spiky knobs with lots of longitudinal sipes makes for a tire that can be a bit squirmy and vague under hard cornering at high lean angles. As Noah said in his full review, I suspect that the Verdict might work better in really loose, sandy dirt (or fully blown-up moon dust). For better or worse, (better for me and Noah, worse for any of you who might have to regularly deal with those kinds of conditions and would want to know how the Verdict handles them), we haven't had much opportunity to test that thesis, but we'll post an update if we do.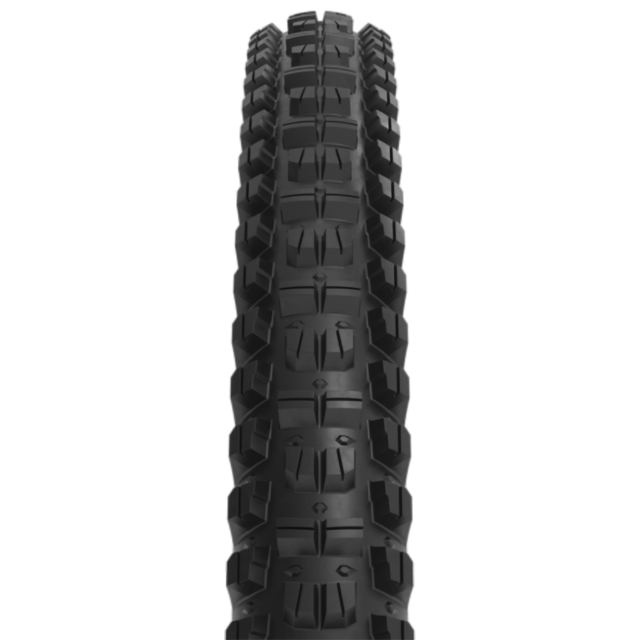 The Judge is WTB's aggressive rear tire, and at a quick glance bears a significant resemblance to the Maxxis Minion DHR II. There are some notable differences, though; the Judge has a more square overall profile, taller side knobs, and more longitudinal sipes in the side knobs. The L-shaped portions of the Judge's side knobs are also oriented in the opposite direction to the DHR II. Frankly, Maxxis's design makes more sense to me; those L-shaped hooks give an extra edge to dig into the soil, and as they're oriented on the DHR II, they serve to aid braking, whereas, on the Judge, they're adding pedaling traction — something that seems less necessary out of the side knobs on a tire (particularly one in this more aggressive-traction category).
Overall, as compared to the DHR II, the Judge is a bit higher volume and the Judge's spikier knobs and more squared-off profile make for a tire that grips better in very soft soil and at shallower lean angles, but one that, like the Verdict, can be overwhelmed by very aggressive, hard cornering at high lean angles, especially on firmer soil. I'd point to the Judge's square overall profile and heavily siped side knobs as the likely reasons for this. The Judge's braking traction is very good — again, especially in soft, loose soil — but the Judge is on the slower-rolling side of the spectrum. I'd place its rolling resistance between the Minion DHR II and Magic Mary.
The Judge makes the most sense as a rear tire for riders who want a burly, high-volume option that works well in soft, loose soil, and that requires less commitment to lean over and engage the side knobs than something like a Minion DHR II.
Michelin Wild Enduro Front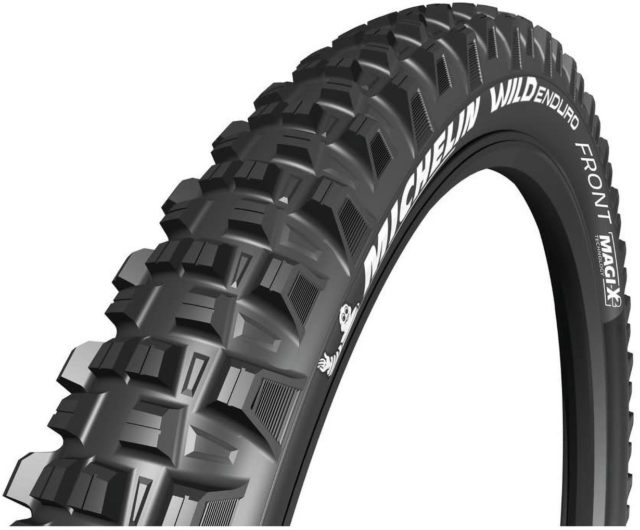 The Wild Enduro Front is, as the name would suggest, Michelin's take on an aggressive Trail / Enduro front tire. It's a fairly open tread design, with somewhat smaller center knobs and partial transition knobs, paired with extremely well supported but somewhat widely spaced side knobs.
The result is a fast-rolling tire with respectable cornering grip on hardpack and loose-over-hard surfaces, and performance characteristics that are rather unlike anything else in this guide. The Wild Enduro Front rolls very fast for a tire I'd consider for use up front; it brakes well for such a fast-rolling tire, feeling roughly on par with the Minion DHF, but notably worse than some slower-rolling options like the Minion DHR II; and feels most comfortable in dry, mostly firm conditions.
The Wild Enduro Front's cornering grip is passable, especially on relatively firm, dry surfaces, but isn't particularly strong for the category of tires covered in this guide; the Minion DHF and DHR II, Schwalbe Magic Mary, and e*thirteen AT Gen 3 all corner better in dry conditions. Rather than being a super aggressive, ultra-grippy Enduro tire, the Wild Enduro Front is probably best thought of as a fast-rolling Trail bike tire for dry conditions.
The Wild Enduro Front features a version of Michelin's "Gravity Shield" casing, but in a different construction than the Wild Enduro Rear, which is also described as featuring Gravity Shield. The Front tire uses a 3-ply, 60-TPI casing that feels fairly comparable to Maxxis Exo in terms of weight and toughness.
Michelin Wild Enduro Rear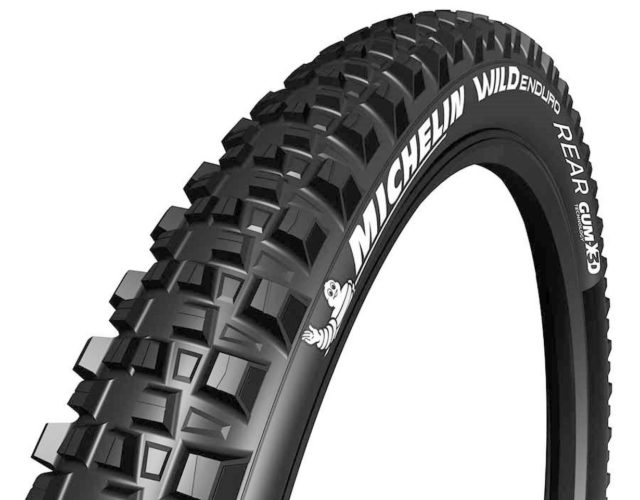 The Wild Enduro Rear bears a strong resemblance to the Wild Enduro Front, but with tighter-spaced and somewhat lower-profile knobs. As with its Front counterpart, the Wild Enduro Rear is a fast-rolling tire best suited for dry, firm conditions. Compared to something like the e*thirteen Semi-Slick, the Wild Enduro Rear rolls a touch slower, brakes notably better, and isn't as loose and drifty before the side knobs are fully engaged. The Wild Enduro Rear is a good option for riders looking for a fast-rolling tire for dry conditions that doesn't go quite as all-in as a semi-slick when it comes to trading off grip for a reduction in rolling resistance.
As with the Wild Enduro Front, the Wild Enduro Rear comes in a single casing option that Michelin labels "Gravity Shield," but it's a 3-ply, 33-TPI version that's slightly thicker / tougher, and correspondingly heavier, than the Front. Maxxis's Exo+ casing is probably the closest comparison from the other brands here.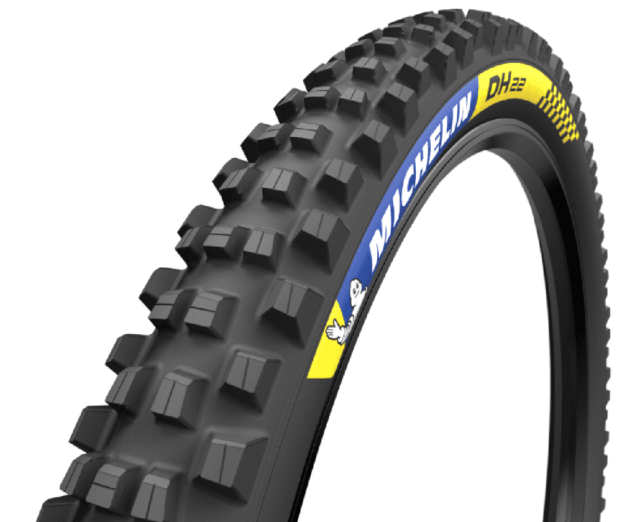 After a lengthy hiatus, in which they didn't offer any true downhill tires, Michelin is back with two of them. The DH22 is their DH tire intended for "soft and mixed terrain," and it excels there — and has been ridden to EWS domination by a certain retired downhiller / noted flat-pedal enthusiast…
The DH22 tread pattern looks a bit like a Schwalbe Magic Mary, but with bigger, more buttressed side knobs, which are oriented straight (opposed to the angled knobs on the Magic Mary) and at an alternating, two-position stagger.
In soft / loose soil, the DH22 is outstanding. It brakes well, and its cornering grip is exceptional. Though it doesn't feature much of a channel between the center and side knobs, the DH22's overall profile is somewhat on the rounder end of the spectrum, so it does require some lean to really engage the side knobs and get them to bite to their fullest, but grip at shallower lean angles is greater and more consistent than tires with a large open channel, such as the DHF. The DH22 is on the slower-rolling side of things, but not at all out of the ordinary for such an aggressive, spiky tire; again, the Magic Mary is a fairly good comparison in that regard.
The DH22 isn't in its element on very hard-packed surfaces, but for a tire that's this good in loose, soft soil, it manages to be predictable and not terribly squirmy. On very firm surfaces, it does start to feel a bit vague and its grip starts to suffer, especially at high lean angles, but for such a good soft-condition tire, it's impressively versatile.
The DH22 is only available in Magi-X DH rubber and with a four-ply Downhill Shield casing, and therein comes their biggest limitation — weight. At an average measured weight of 1463 g for a 27.5 x 2.4" tire, the DH22 is easily the heaviest tire in this guide. Even by the standards of downhill-casing tires, Michelin's are notably burly. They're a great choice for pure gravity riding, but I'd love to see Michelin offer a slightly lighter, more pedal-friendly version (call it the "EN22?") alongside their ultra-burly DH version.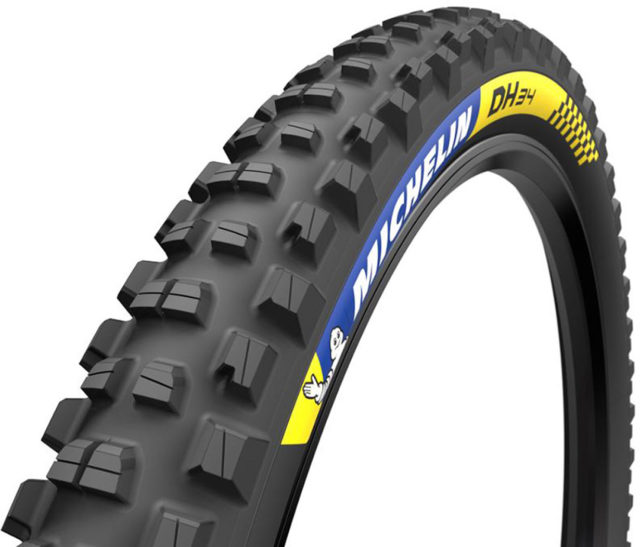 The DH34 is Michelin's faster-rolling counterpart to the DH22, meant for firmer conditions. The DH34 is still an aggressive tread though, and bears a bit of a resemblance to the Minion DHR II. Compared to the DHR II, the DH34 has a somewhat more ramped and open center tread, and slightly beefier, better-supported side knobs. In terms of performance differences between the two, rolling resistance is similar and the DH34 edges out the DHR II when it comes to cornering grip, especially on loose-over-hard surfaces, but doesn't brake quite as well.
The DH34 comes in the same Downhill Shield casing and Magi-X Downhill rubber as the DH22, but as a result of having somewhat shorter knobs, it comes in more than 100 g lighter. But that still leaves it as the second-heaviest tire in this guide, just a few grams heavier than the notably bigger 2.5" Maxxis Assegai in a Downhill casing, 3C MaxxGrip configuration. I'm not at all mad about that for a true Downhill tire, and again, Michelin's DH casings are notably beefy — even by the standards of the category — so riders who are hard on tires, take note. But I'd love to see a lighter, Enduro-oriented version offered as well.
Michelin does offer the DH34 in a less expensive "Bike Park" version, with harder rubber and more basic casing, which we haven't yet tested. The stated specs below are for the standard, Magi-X DH + Downhill Shield version.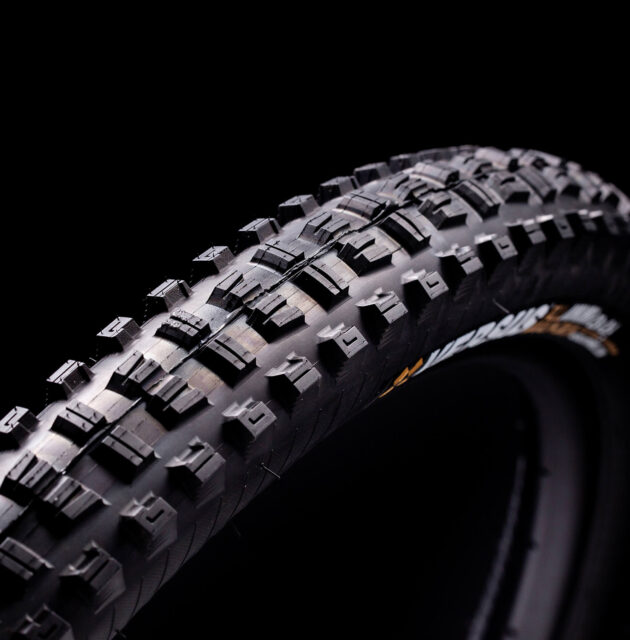 Versus' lone tread pattern to date is simply called All Mountain, and it bears a significant resemblance to the e*Thirteen AT Gen 3, which we described as a bit like a mix of the Maxxis Minion DHF and Minion DHR II. As with all of those designs, the All Mountain features blocky center knobs with a substantial channel between the center and side knobs.
The knobs on the All Mountain are slightly taller than those of the AT Gen 3, which makes for a slightly slower rolling tire, but one that performs better in looser conditions than the e*thirteen. Compared to the Minion DHF, the All Mountain brakes slightly better, but can't quite match it for cornering grip. The All Mountain rolls faster than the Minion DHR II, but has a touch less braking bite, and has a little less cornering grip.
Overall, though, the All Mountain is a strong offering, especially for riders looking for a faster-rolling variant on the Minion DHR II theme. A softer rubber option would be a nice option, especially for areas where wet roots are the norm, but apart from riders looking for the absolute softest, stickiest rubber, it's a very good option.
The biggest limitation at the moment is that the All Mountain is currently only available in a 29" diameter. Versus had hoped to have a 27.5" version out by now, but Covid-related supply chain issues have pushed that release back.