2021 Privateer 141
Wheel Size:
29" for size P2, P3, & P4
27.5" for size P1
Travel: 141 mm rear / 150 mm front
Stated Weight (frame only, no axle, no shock): 8.15 lbs / 3.7 kg
Build Overview:
Fork: Fox 36 Performance Elite Grip2, 150 mm
Shock: Fox Float DPX2 Performance Elite
Drivetrain: Shimano SLX w/ XT shifter
Brakes: Magura MT5
Wheels: HUNT Trail Wide
Price:
Frame w/ Fox DPX2 Performance Elite: $1,759 / £1,489 / €1,739
Complete Build: $3,719 US / £2,989 / €3,489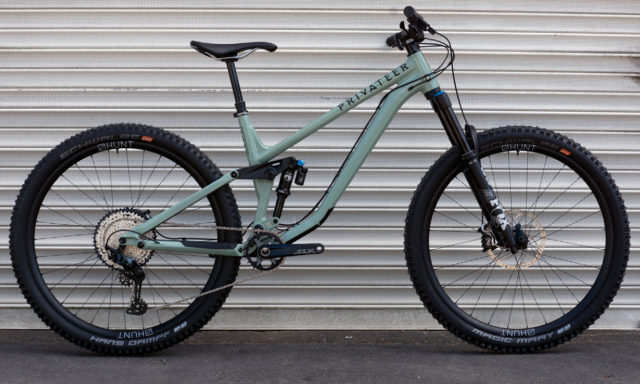 Intro
Privateer Bikes launched a few years ago with their first model, the 161, which was a "no compromise Enduro race frame" targeted at riders and racers looking for a modern, aggressive, long-travel Enduro bike at a lower price point than many of the major players. The 161 is an aluminum-framed, 161mm-travel bike with notably progressive geometry, and a no-nonsense parts spec that offers high-end suspension and solid, but not flashy components at a very affordable price.
Today, Privateer announced the follow-up to the 161, the 141, with the goal of bringing that same recipe to a shorter-travel (yep, it's got 141 mm of rear travel) and slightly more compact package that doesn't need quite the same big-mountain terrain and high speeds to come alive as the 161. What they've put together looks awfully compelling:
The Frame
Visually, the 141 and 161 are nearly identical; they're both aluminum frames with a Horst-link suspension design, a beefy, one-piece rocker link, and very similar overall design language.
Most of the finer details are the same, too. Both feature a threaded bottom bracket and ISCG-05 tabs, as well as a mix of internal and external cable routing. The rear brake is all external, the derailleur housing sits on top of the downtube before passing through the chainstay, and the dropper routing goes internal through the downtube. While that's a bit of a hodge-podge, it's a sensible arrangement, in keeping with the overall Privateer ethos. Internal brake routing is often a hassle; modern dropper posts mostly route internally through the seat tube anyway; and putting the derailleur housing through the chainstay protects it from chain slap.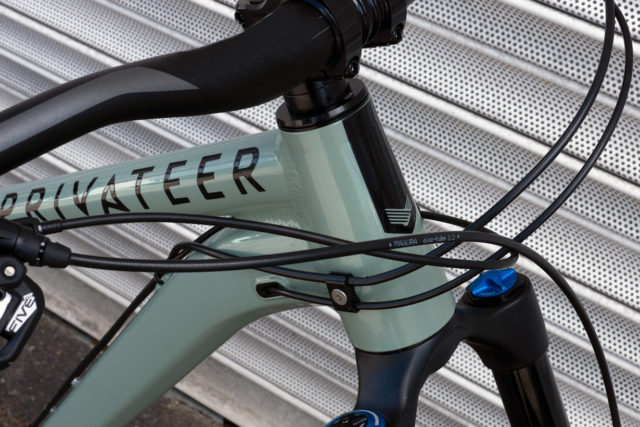 Other specs include the reported ability to run either an air or coil shock, stated clearance for a 2.6"-wide tire, a direct post mount for a 180 mm rear brake rotor, Boost 148 mm rear spacing, and the ability to fit a 500-ml water bottle in the front triangle.
Options, Pricing, & Build
As with the 161, the value of the 141 is one of its major talking points.
A 141 frame with a Fox Float DPX2 Performance Elite shock costs $1,759. While these aren't apples-to-apples comparisons due to the different frame materials, it's worth at least noting how striking the price difference is when comparing the 141 to many carbon-framed bikes in this class: a frame + Fox Factory Float X2 shock for a Transition Scout or Sentinel costs $3,199; a Yeti SB140 frame + Factory DPX2 shock is $3,600; and a Santa Cruz Hightower CC + RockShox Super Deluxe Ultimate shock is $3,299. Compared to Commencal's alloy, direct-to-consumer Meta TR frame with a comparable shock, the 141 is still a couple hundred dollars less expensive.
One complete 141 build will also be offered for now, and what you get is pretty impressive, given that it costs $3,719. Here are the brief highlights of the full 141 build:
Fork: Fox 36 Performance Elite Grip2, 150 mm
Shock: Fox Float DPX2 Performance Elite
Drivetrain: Shimano SLX w/ XT shifter
Brakes: Magura MT5
Dropper Post: OneUp V2, 180 mm
Wheels: HUNT Trail Wide
Front Tire: Schwalbe Magic Mary, Super Trail Soft
Rear Tire: Schwalbe Hans Dampf, Super Trail Soft
Both the 141 frameset and full build stand out for being comparatively inexpensive, relative to the majority of bikes with similar components and / or similarly modern geometry. Speaking of…
Geometry
The 141 (again, like the 161) is offered in four sizes, which Privateer labels P1 through P4. The smallest size in the range, the P1, is designed for 27.5" wheels, while the P2 through P4 are all 29ers. This, too, has strong rationale behind it. Despite modern trends toward using 29ers for everything, I think 27.5" bikes still very much have a place in the world, especially for shorter riders. A long-travel 29er fork and wheel makes for a very high front end, something I've sometimes struggled with (and I'm 6' tall). Similarly, big rear wheels can significantly limit how far a rider can get off the back of the bike in steep terrain, particularly for smaller riders with shorter legs. In my opinion, not trying to cram 29" wheels underneath shorter, yet still-aggressive riders is a great call on Privateer's part.
[I'd also love to see more modern, aggressive 27.5" bikes for taller people, but that's perhaps a topic for another time…]
Here's the whole geo chart for the 141:
All sizes of the 141 feature a 64.5° head tube angle and a 75.5° actual seat tube angle (effective seat tube angle varies slightly by size, but sits around 78.7°.) While that seat tube angle is notably steep, even by modern standards, it's actually a touch slacker than the 161's. Again, I think that's likely a good call; extremely steep seat tube angles are great if you're exclusively grinding up steep climbs and ripping straight back down, but can feel awkward on more rolling, varied terrain. Since it's meant to be the more versatile option in the range, slightly dialing back the 141's seat tube angle seems sensible.
As one might expect from a bike with a notably steep seat tube angle, the reach on the 141 is definitely on the longer side, ranging from 440 mm on the P1, to 510 mm on the P4. The P2 and P3 come in at 465 and 485 mm, respectively.
Another bike-sizing-related drum that some of us at Blister have been beating is the idea of varying chainstay / rear-center length across the size range of bikes. Changing the front-center length between sizes without any corresponding changes to the chainstay length impacts weight distribution between the wheels, particularly for those on the shortest and longest sizes. But the majority of bike companies today use the same chainstay length across the whole size range for a given bike.
Intuitively, changing the chainstay / rear-center length along with the front-center length makes sense. And if you go that route, taller riders tend to be more able to manage the longer wheelbase that results from stretching the chainstays on the larger sizes.
The chainstays on the 141 vary by 6 mm per size, from a moderate 434 mm on the P1, to a decidedly long 452 mm on the P4. This is actually identical to the 161, which is a bit unusual; most brands tend to shorten the stays on their shorter-travel bikes (on top of using one length across the size range), presumably with the goal of making the smaller bike a bit more nimble.
On the 141, all of that adds up to notably long wheelbases, especially on the larger sizes; the P1 starts at 1197 mm (for reference, a size Small Transition Scout comes in at 1185 mm) and grows to a very long 1301 mm for the P4. The P2 and P3's wheelbases come in at ~1236 mm and 1266 mm, respectively.
The 141's geometry is a touch less aggressive / extreme than the 161, but the differences are surprisingly modest; only 0.5° separates their head tube angles, and the 141's reach is 5 mm shorter in any given size. Those small changes (along with the shorter, 150mm-travel fork on the 141) mean that the wheelbase drops by roughly 15-20 mm, depending on size, from the 161. The 141 is still a decidedly aggressive bike compared to other options with similar travel, and it'll be interesting to see how it compares to bikes like the Guerrilla Gravity Smash and Transition Sentinel.
The Bottom Line (For Now)
The Privateer 141 looks like a promising offering, slightly dialing back the race-oriented design of the 161 into what should be a more versatile, but still quite aggressive Trail bike — and doing so at a very reasonable price. Frames are slated to be delivered near the end of this November, with complete bikes arriving later in January of 2021. We're set to start testing one of Privateer's bikes later this fall, so stay tuned for updates.