2020 Transition Scout
Geometry: See below
Wheel Size: 27.5′′
Travel: 140 mm rear / 150 mm front (or 150 mm rear with a 62.5 mm stroke shock, up from the stock 57.5 mm)
Stated Weight
Frame w/ Shock: 3.20 kg / 7.05 lbs
Complete X01 Build: 13.79 kg / 30.4 lbs
MSRP:
Frame w/ Fox Float X2 Performance Elite Shock: $3199
Sram NX Complete: $4499
Sram GX Complete: $5499
Sram XO1 Complete: $6599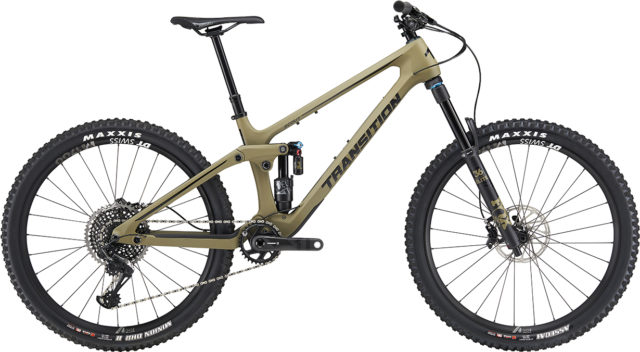 Intro
The Scout has been in Transition's lineup since 2015, first appearing as a 125mm rear / 140mm front travel Trail bike with 27.5 wheels, but Transition's press release begins by calling the new Scout "our modern day take on the Bottlerocket" – referencing a bike that they haven't made since 2012, and one that was marketed as a Slopestyle bike at the time, rather than a Trail bike.
The point Transition is making here is to emphasize that they wanted the Scout to be fun, and in their release video (see below), they call it "the most fun bike in our lineup". The Bottlerocket was, in its day, a very burly, playful, 140mm-rear-travel bike that rode a lot more like a dirt jump bike given a bunch of suspension than it did like most other ~140 mm bikes at the time, which, when it was first released in 2006, tended to feel more derived from XC bikes.
I owned a first-generation Bottlerocket, and used it for everything from trail rides to hitting dirt jumps to a bit of lift-served DH duty, and for the time it was a remarkably versatile bike, and one that felt far more playful and freeride-oriented than a lot of other bikes in the same travel range. The idea of a modernized version sounds great, so does the new Scout really fit the bill? Let's look closer.
The Frame
The updated Scout is offered in five sizes, XS through XL, and comes in a carbon frame only, a departure from the last bike, which was only offered in aluminum. The outgoing iteration of the Scout had grown to 130 mm rear / 150 mm front travel, and this latest adds another 10 mm – or 20 mm, if you swap in a longer-stroke shock – to the prior generation. Overall, the lines of the bike carry over from the prior version, with a Horst-link suspension layout, and a vertically oriented shock, which leaves ample room for a water bottle in the front triangle, along with what Transition calls an "accessory mount" under the top tube.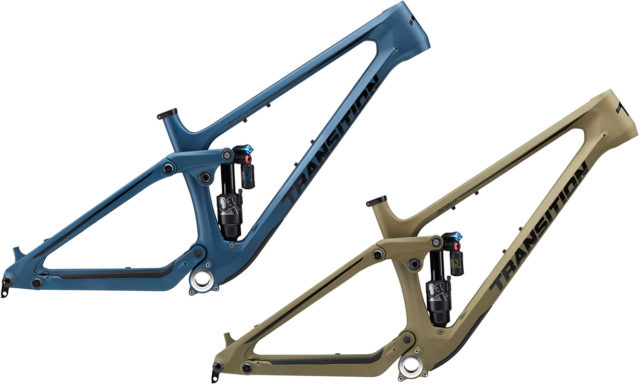 The new Scout frame features a threaded bottom bracket, molded rubber chainstay and downtube protectors, and internal routing for the dropper post and rear derailleur, but an externally routed rear brake, in a nod to ease of routing for the hydraulic line.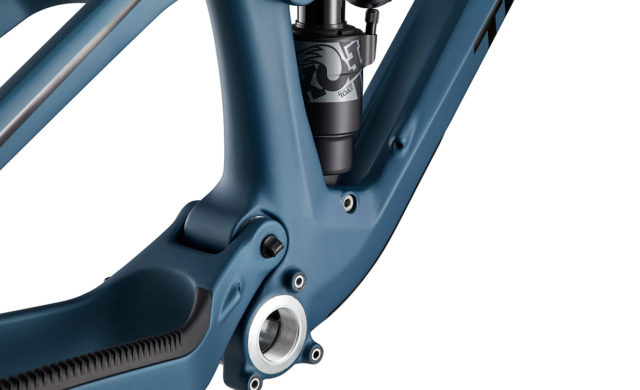 Transition is also quick to point out that the Scout has room for very long dropper posts, with a short seat tube that allows for deep insertion. XS complete bikes come with a 120mm-travel dropper, while Smalls get a 150 mm stroke, M builds get 180 mm, and the L and XL get a monster 210 mm.
While the general suspension layout is carried over from the earlier iterations of the Scout, the new bike is considerably more progressive than the outgoing model. Transition's published leverage curves show a fairly straight leverage curve in both 140mm- and 150mm-travel configurations, from about 2.85:1 at topout, to 2.15:1 at the end of stroke.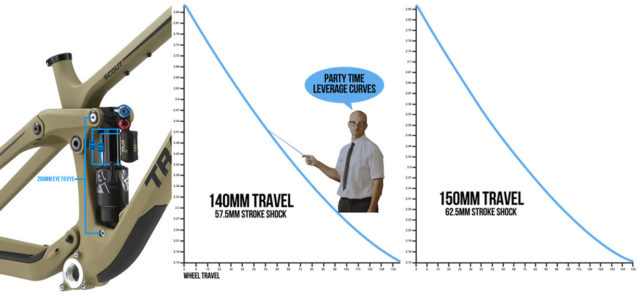 [As an aside, can we, as the bike-literate public, please stop calling bikes with flat leverage curves "linear"? Transition describes the Scout as "linear-progressive", which is far more descriptive terminology. It's both progressive, and a straight line (ish). A curve doesn't have to be horizontal to be linear.]
Another bit of news from Transition is that they'll now be offering a lifetime frame warranty to the original owner, and lifetime crash replacement, including for secondhand owners, for all bikes released in 2020 going forwards, starting with the new Scout.
The Builds
The Scout will be offered as a frame only, or in three complete builds, with Sram NX, GX, and X01 drivetrain options.
The base NX build on the Scout comes with a Rock Shox Lyric Select RC and Super Deluxe Select+ handling suspension duties, Sram Code R brakes, and Stan's Flow rims on Novatech hubs. The GX build upgrades to a Lyric Ultimate and Super Deluxe Ultimate, a Stans Flow S1 Team wheelset, and Code RSC brakes, while the top-spec XO1 build goes to Fox suspension (36 Float Grip 2 Performance Elite fork and Float X2 Performance Elite shock), along with DT Swiss M1700 wheels. All three builds get a OneUp dropper post and a Maxxis Assegai 2.5 Exo+ front / DHR2 2.4 Exo+ rear tire combo.
Fit and Geometry
The Scout keeps Transitions "Speed Balanced Geometry" concept – basically their term for combining a longer reach, slacker headtube angle, steeper seat tube angle, and a short-offset fork – and runs with it a little further than the prior generation. The reach is now 10 mm longer in any given size, (460 mm for the Medium), the headtube angle is now 64° across the board (previously 65°), and the effective seat tube angle is around 1.5-2° steeper, depending on size. All five sizes get 430 mm chainstays, and all the complete bikes come with 37mm-offset forks.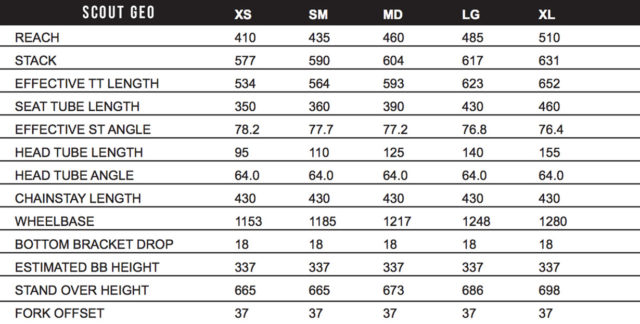 I'm really excited about the geometry on the Scout. It's definitely on the long/low/slack/aggressive side of things for a 140mm-rear travel bike, but – as I've been banging on about for a long time now, and discussed in our recent Bikes and Big Ideas episode on the coming decade – the combination of aggressive geometry with a bit more moderate suspension travel can make for an extremely fun combination of serious capability, blended with a bit more pop and playfulness than you get out of longer-travel, more Enduro race-focused bikes.
That sort of balance is exactly what drew me to the Bottlerocket almost 15 years ago, so maybe Transition is on to something with that comparison. It's clearly been on their mind of late, as they recently released a video of co-owner Kyle Young riding a 2009 PBR Edition Bottlerocket on some classic trails in British Columbia, including some super sweet skinnies (remember those?).
I'm also glad to see Transition making a thoroughly modern 27.5" bike. In an era where more and more bikes are moving to 29er only, it's great to have some options sticking around for those of us who still like the snappier handling of smaller wheels.
Some Questions / Things We're Curious About
(1) Transition talks at length about the Scout being focused on fun, and on paper it does look like a blast. Just how well is that borne out on trail?
(2) Does the Scout mostly make sense as a Trail bike for a rider who's interested in popping off every little side hit and just riding with a playful style, or with its fairly aggressive geometry, does it have a hard-charging side too? And does it really bring to mind a modernized Bottlerocket?
Bottom Line (For Now)
The updated Scout looks like a super fun, and highly capable mid-travel 27.5 wheeled trail bike, in a landscape dominated by 29ers. The combination of modern Enduro geometry with 27.5 wheels and slightly more moderate suspension travel sounds like an exciting recipe, and I'm very much looking forward to swinging a leg over one. We're working on getting a test bike to review, so stay tuned for a full review, hopefully coming soon.