Whether it's the start of fall when you need a little bit more than just a flannel, a little extra insulation mid-winter, or it's a cool spring / summer day in the mountains, an insulated vest can provide the right amount of warmth just about any time of year. Long, short, thick, and / or lightweight — there are some great options on the market and we've rounded up some of our favorites. Let us know in the comments what your go-to vest is, we'd love to hear your picks!
Face Fabric: Waxed Cotton & Wool Felt (46% Nylon, 15% Waxed Cotton, 22% Wool, 17% Polyester)
Insulation: 600-fill-power traceable, cruelty-free down
Blister Measured Weight: 476 grams
Back Length: 27.5" / ~70 cm
Reviewer: 5'8", 125 lbs
Size Reviewed: Medium
MSRP: $158
Best For: around town

Kristin Sinnott: Carve Designs is likely best known for their bathing suits and warm-weather wear, rather than for colder-weather apparel, but it hasn't stopped them from creating some fantastic pieces like the Zane Vest, Durango Sweater, and Rowayton Cowl Neck. The waxed cotton and wool felt exterior combined with the two-toned color scheme make the Zane Vest attractive and gives it a unique look when compared to the other more technical-looking vests on this list. The 600-fill down insulation is warm yet not very bulky. Designed for casual wear, not active pursuits, I find myself reaching for this vest when I need a little extra warmth while running errands or meeting up with friends. The sherpa-fleece-lined collar adds a bit of extra coziness and the two handwarmer pockets are large enough to accommodate a cell and wallet. With a single snap centered on the flap of each pocket, items can be secured without too much effort.
The Zane runs very large, so plan to size down when purchasing. My go-to size for Carve Designs tops is a Medium, but the Medium Zane Vest was huge — so big I could easily layer it over a bulky sweater. At 5'8", 125 lbs, I think my ideal size would be a Small or possibly even an Extra Small. If you're looking for a casual vest to wear as an outer layer, the Zane Vest is a nice-looking option.
Face Fabric: 100% Polyester
Panels: 46% Polyester / 38% Merino Wool / 16% LYCRA®
Insulation: 88% Merino Wool / 12% Polylactide
Lining: 100% Merino Wool
Blister Measured Weight: 294 grams
Back Length: 26.75" / ~68 cm
Reviewer: 5'8", 125 lbs
Size Reviewed: Small
MSRP: $200
Best For: anything from athletic activities to an extra layer at the office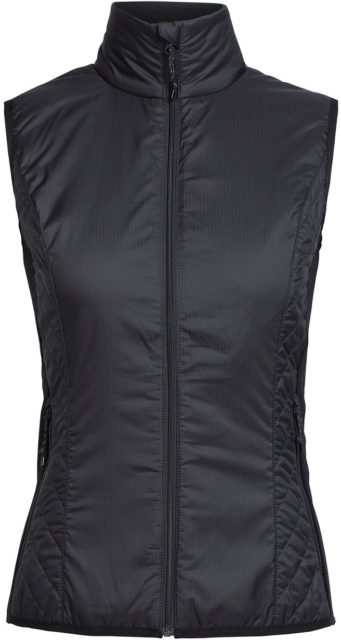 Kristin: The Helix Vest is a fairly thin and lightweight vest that still provides ample warmth. With the majority of the insulation being comprised of wool and with a 100% wool lining, the Helix Vest stands out in the insulated vest category. The wool lining is my favorite feature since it creates less static in the dry winter air than vests with synthetic linings. Anything I can do or wear that reduces static is a big win for me. As a result, this has been my go-to vest this winter. I reach for the Helix when I need a bit of extra warmth on a ski day or have a long day of travel ahead. In terms of warmth, the Helix slots somewhere between the Fjallraven Abisko (warmer) and Kari Traa Eva Hybrid (not as warm). The wool insulation seems to be fairly breathable as I'm happy to wear the vest all day any day, not just days where I'm outside in the cold. On long travel days, I never felt the need to remove the vest in the airport or on the airplane and while not as compressible as some of the down vests on this list, the Helix is thin enough that it doesn't take up a lot of space when stored. The wool not only looks a little less technical, it's also more comfortable than most synthetic fabrics I've used.
I am typically a size Small in Icebreaker so it was no surprise to me that the Small fit perfectly. Long enough in the torso that it extends halfway down my rear — no need to worry about sweaters or tops peeking out the bottom of the vest. With a wool / polyester / lycra blended fabric on the side panels, the vest has a slim profile and can stretch to accommodate extra layers. The wool-lined handwarmer pockets are a nice treat as they always seem warm to the touch regardless of how cold it is outside. A great vest for any activity, from cool weather hikes to days spinning lifts to a day in the city — whenever I need a little extra warmth, I reach for this vest.
Face Fabric: 100% Polyamide
Side Panel Fabric: 91% Polyester / 9% Elastane
Insulation: 80/20 Goose / Duck Down
Blister Measured Weight: 207 grams
Back Length: 25.5" / ~65 cm
Reviewer: 5'8", 125 lbs
Size Reviewed: Small
MSRP: $130
Best For: wearing as an outerlayer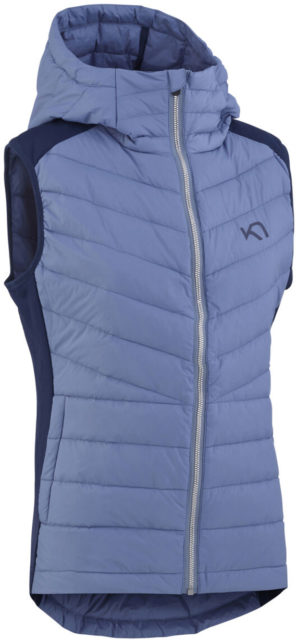 Kristin: The Eva Hybrid is so named because it features two types of fabrics — a woven Polyamide face fabric that makes up about 85% of the vest and a polyester / elastane knit material located on the side panels and shoulders. This light and dark color combination makes for an appealing two-tone style. Plus the strategic placement of the materials keeps the insulation where it needs to be instead of adding unnecessary bulk (and not very breathable material) around the sides and shoulders.
When fully zipped, the collar reaches my mouth and is wide enough that it sits fairly comfortably against my chin. The three-panel, insulated hood is fairly bulky and while it'll keep your head warm when needed, I found it to be a bit cumbersome when paired with a ski jacket. As a result, I tend to not add layers over the top of this vest and wore it as an outer layer instead of as a mid layer. While I found the hood cumbersome when paired with a hooded ski jacket, when on its own, the hood acts like a neck gaiter as it stands up high around the back of the neck. The hood has enough integrity to sit on top of my head without drooping down and the three-panel design gives it a nice shape. The size Small was a little too small for my liking as I found it a bit tight around the arm holes and I could only wear a thin shirt underneath it. For me, a size Medium would have been perfect.
The medium-weight down insulation was a little warmer and thicker than the other vests I tested with the exception of the Carve Designs Zane Vest which was substantially bulkier than all the others. Combine that with the substantial hood and stretchy side panels and I find myself reaching for this vest whenever I need a bit of extra warmth for a hike or walk but when it's not so cold that I would want a jacket. The attractive and not overly bulky design also makes it perfect for trips to town.
Face Fabric: 100% Nylon
Insulation: 60-g PrimaLoft® Eco, 100% polyester with 70% recycled fibers
Lining: 100% Nylon
Blister Measured Weight: 294 grams
Back Length: 31.5" / 80 cm
Reviewer: 5'8", 125 lbs
Size Reviewed: Medium
MSRP: $219
Best For: extra coverage for active or sedentary adventures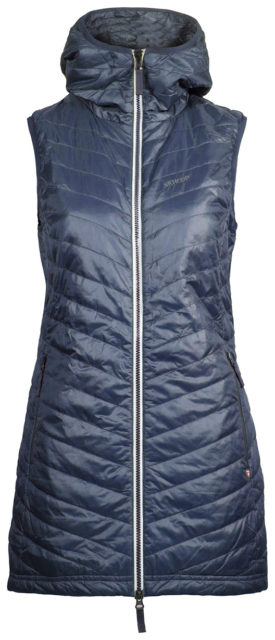 Kristin: Skhoop has a number of vests designed with cuts longer (a good 5-6 inches longer) than most traditional insulated vests. As someone that has a longer torso and who also likes to wear tunics and other tops that fall below my waistline, I tended to avoid vests as I disliked how they were often shorter than the underlying top. The Tessa makes this issue obsolete as it measures 31.5 inches from neck to cuff. With its two-way zipper, reflective trim, and lightweight, recycled insulation, this vest is great for cool-weather adventures when you don't need or want the added warmth of sleeves.
From skinning to outdoor crossfit-style workouts, the Tessa has kept me warm without overheating which speaks more to the thin layer of insulation than the breathability of the materials. When the vest is fully zipped, the collar extends to my upper lip and is not overly fitted so it doesn't restrict movement. The top of the hood comes down to my hairline and is roomy enough to accommodate a hat but not so big or heavy that it collapses on my head. I love that I don't have to scrunch or extend my neck in order for the hood to stay in place comfortably.
The vest is long enough to act as both a vest and an insulated skirt, keeping one's torso, rear, and thighs warm. The two-way zipper means there's no issue with mobility and it works great for nordic skiing or winter hiking. If you're looking for a bit more coverage than a traditional insulated vest, the Tessa is a great option.
Face Fabric: 100% Polyester
Insulation: 40-g G-Loft Supreme (100% Polyester)
Lining: 100% Polyester
Blister Measured Weight: 155 grams
Back Length: 26.25" / ~67 cm
Reviewer: 5'8", 125 lbs
Size Reviewed: Small
MSRP: $150
Best For: layering and travel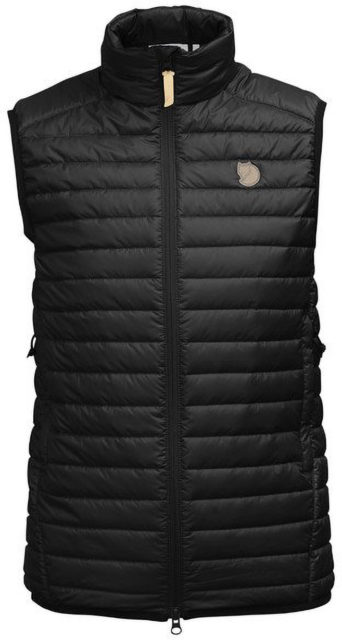 Kristin: The Abisko Padded Vest W is everything I look for in a puffy vest: lightweight, compressible, and capable of fitting a long torso. In the past, I have struggled to find insulated vests that sat below my waist without having to size up. The size Small Abisko is a great length for me as I don't have any issues with untucked mid layers or sweaters popping out below the hem.
The G-loft Supreme synthetic (non-fluorocarbon-impregnated) insulation is thin and lightweight, which has me reaching for this vest when I need a light outer layer or mid layer. The double zipper makes it functional for belaying (or just freeing up some range of motion) and the handwarmer pockets are backpack friendly. The pockets are quite roomy and easily fit large items like my cell but I found, if they're left unzipped, they detract from the streamlined appearance of the vest. The mid-height collar doesn't interfere with any of my ski jacket's collars and I found the lack of additional bunching around the chin and neck to be quite nice. While not overly tall, the collar is tall enough that it still provides coverage around the neck. The elasticized edging around the arm openings and hem keeps body heat in without being uncomfortably tight.
If you're looking for a fairly lightweight insulated vest that works equally well as a midlayer or outer layer, the Abisko Padded Vest W is a safe bet.
Face Fabric: Ultra-light 20D Poly S/G Lite™ fabric w/ DWR finish
Insulation: 600-fill-power down
Lining: 100% recycled polyester
Blister Measured Weight: 250 grams
Back Length: 25.75" / 65.5 cm
Reviewer: 5'9" 150 lbs.
Size Reviewed: Medium
MSRP: $150
Best For: Midlayer insulation for skiing, casual, and active wear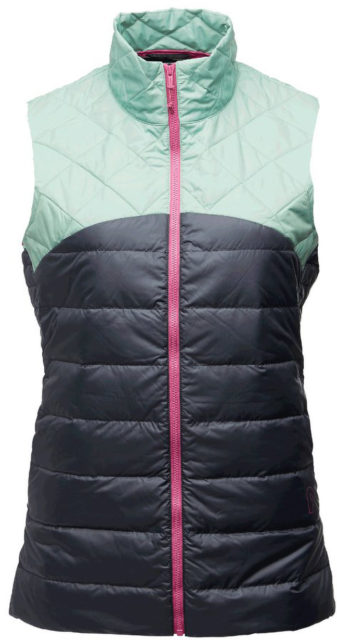 Kara Williard: Down vests tend to be my go-to insulators due to their lack of bulk, which is especially important for core insulation when going uphill or downhill on skis. The Flylow Laurel vest has proven to be a versatile layering piece for bone-chilling days, while also being a fashionable lifestyle piece that is easy to throw over a flannel or sweater for mildly cold evenings. Anything from Flylow in a size Medium tends to fit me really well because they run slightly longer in the torso, which fits my tall build quite well, and this holds true with the Laurel. I am impressed by the comfort and active-friendly fit of this vest, which fits me snugly but I can move comfortably because of articulated side panels and range of motion around the arms. It really isn't restrictive and I found it to allow ample movement, whether hiking, biking, or loading the car. It offers the ability to snug up around the bottom through a pull cord — a nice feature to keep the cold air out from the bottom. I am also pleased to report that the zipper is easy to zip and unzip, even with thick gloves on.
The Laurel is a warm and cozy piece underneath a waterproof / windproof shell, but it also feels pretty protective as an outerlayer in milder conditions, as it is wind and water resistant. The down insulation is more than adequate for cold days when used as a mid layer, but it's also pretty thin and packable as far as down vests go, so it is easy to layer with underneath and over other layers, while not feeling at all bulky in a layering system.
I found it to be a cute and practical option for warmth whether I was being active, or just needing something to throw on for a night out with friends. While I know there are thicker or higher-fill-power down vests to choose from, I was so thrilled by the comfort, style, and versatility of the Laurel. Once I am back on skis and cleared from my knee surgery, the Laurel is going to get a lot of ski days as an essential part of my layering system, especially on colder and windier days when I am still going to be working hard or hiking.
Fabric:
Front Panel: 100% nylon
Back Yoke: 92% polyester / 8% spandex
Back & Sides: 100% nylon
Insulation: 100-g PrimaLoft® Silver Insulation Active
Blister Measured Weight: 199.5 grams
Back Length: 26.25" / ~67 cm
Reviewer: 5'10, 115 lbs
Size Reviewed: Small
MSRP: $99.00
Best For: Active Wear, Layering
Maddie Hart: I have always been a big fan of vests for layering during cold winter runs, but often find that I end up getting too hot in many of the options on the market. The Eddie Bauer Ignite Hybrid Vest was a perfect lightweight layer that helped to avoid this dilemma of overheating while running in a vest. While the front and across the shoulders feature synthetic insulation (100-g PrimaLoft Silver Active), the lower back and sides are made of a stretchy polyester / spandex fleece material. During my runs in the vest, mainly in temperatures in the 15–25°F (-9 to -3°C), I found the insulation on the front kept my core warm while letting my back breath, keeping me from getting too hot while running.
The Ignite Hybrid Vest has a more snug, form-fitting cut, but the size Small still provided enough space for me to put a base and mid layer underneath it. Even with my longer torso, the vest came down to my hip bones and did not pull or stretch in any weird ways. The Ignite Hybrid Vest features a Polygiene odor-resistant treatment in the back and sides, which I found to work very well. Even after many harder runs in the vest, two days ski touring, and a handful of adventures around town in the vest, it has no lingering odor. I found that, even though this vest is designed for active wear, it was cute and functional enough to be an everyday layer.
While Eddie Bauer advertises this vest as being windproof, I found that only the front protects against wind. The back and sides easily allowed the wind through, which made it a bit cold when I was wearing it as an everyday layer. But on days that were not so cold or windy, this is a great vest; I can see it being an ideal top layer for brisk spring or fall mornings when you want to keep your core warm but don't want a big, bulky down vest. It is also a great option as a layer under a heavier jacket while skiing or running errands around town. One note: while the website says the vest has a tuckaway hood that folds into the collar, it does not.
Face Fabric & Lining: 10-denier nylon ripstop Pertex Quantum
Insulation: 65-g PlumaFill (100% polyester)
Stated Weight: 145 grams
Reviewer: 5'1", 103 lbs
Size Reviewed: Extra Small
MSRP: $199
Best For: packability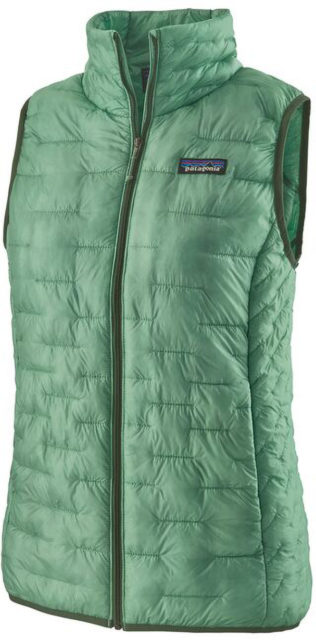 Sascha Anastas: If I could only own one vest, the Micro Puff Vest would probably win my vote. I have worn this vest almost every day. I wear it at work over my scrub tops, after work on the trails getting a workout in, and / or under my ski jacket as a warmer added layer on colder days. I actually think I have slept in this jacket more than a handful of times.
The ultralight nylon ripstop material is extremely thin, but it has proven to be surprisingly durable so far (though you should keep in mind how light it is — don't go skiing into any bushes on purpose…). The synthetic PlumaFill insulation provides lots of warmth for its weight, whether over baselayers and / or under a jacket, but is warm enough to be worn as an outer layer on sunnier winter outings or while doing strenuous physical activity. That said, this vest is not very breathable and the options here with fleece panels on the sides and / or back would be better options for high-output activities in moderate temperatures.
As our other reviewers noted in our reviews of the Micro Puff Hoody and Micro Puff Storm, the PlumaFill insulation is surprisingly warm considering how light it is and the fact that it's a synthetic insulation (which also means you don't have to worry about getting it wet). The ultralight nylon material and synthetic fill make this vest hardly noticeable when wearing and an excellent layer under almost any jacket, including insulated jackets on truly frigid days. The Micro Puff Vest can also be stowed into its own pocket, which is great for traveling.
The fit is slim, especially through the lower torso / hip areas. The fit does cover my hips, but this vest is not as long as the Patagonia Hi-Loft Down Hooded Vest. The Micro Puff Vest also narrows above the hip which makes it easy to fit under most layers as this avoids adding too much waistline bulk. There are two interior drop-in pockets that were perfect for my cell phone and / or wallet as well as two handwarmer pockets located on the sides. I tried both an XXS and XS on, and while the top half of the vest fit similarly, the bottom half was incredibly narrow on the XXS and therefore went with the XS. Since I wear mostly XS in all brands, I would say the fit is true to size. At $199, I'd say the Micro Puff Vest is definitely worth the price, given its versatility and overall performance.
Fabric: 100% recycled polyester w/ durable water repellent finish
Insulation: 600-fill-power recycled down.
Stated Weight: 340 grams
Reviewer: 5'1", 103 lbs
Size Reviewed: Extra Small
MSRP: $199
Best For: colder days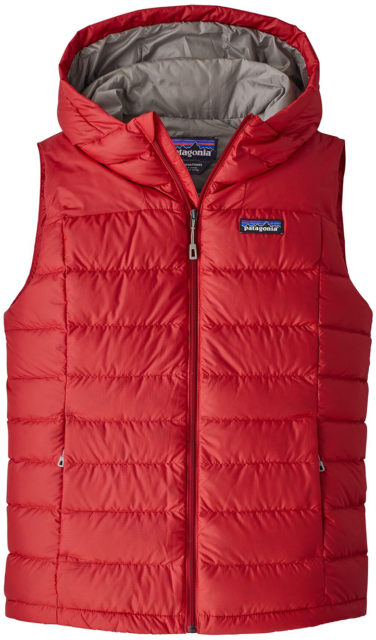 Sascha: The Hi-Loft Down Hooded Vest is one of the warmest vests here. I spent the majority of my time wearing this as my outermost piece over a thick sweater or sweatshirt while running errands and around town and also as a warmer outer layer over a mid-weight, long-sleeve baselayer while hiking or skinning up the hill on colder days.
Impressively, the 600-fill-power down fill is 100% recycled from reclaimed goose and duck down. The collar is wide yet not cumbersome or bulky. The vest also features a warm and comfortable hood with an adjustable elastic cinch on the back of the hood, which makes for a snug fit around the face and head — ideal for gusty outings. It's bulkier than the Micro Puff Vest and added a little too much bulk to wear under most of my other layers.
The fit is, for the most part, true to size but is somewhat boxy especially through the chest area and arm holes. There are two side pockets and an inside left chest pocket that's great for a wallet or other coveted items. The vest is somewhat long and extends past my hip and offers pretty full coverage over the buttock. While the price is higher than other vests reviewed, if you're looking for lots of warmth, the Hi-Loft Down Hooded Vest is great.
Face Fabric & Lining: 100% Recycled Polyester 20D ripstop
Insulation: 650-fill-power responsibly sourced goose down
Stated Weight: 241 grams
Reviewer: 5'1", 103 lbs
Size Reviewed: Extra-Small
MSRP: $149
Best For: Casual Everyday Use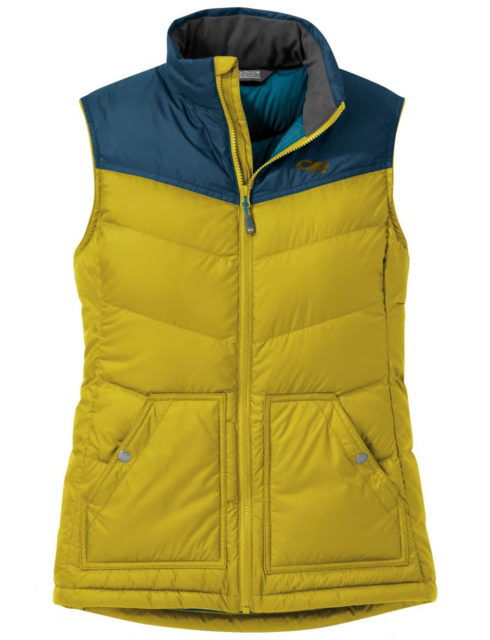 Sascha: With a vintage two-tone front panel look, this vest lends itself to both fashion and function and I found that this vest was best suited as a lifestyle piece. I found myself choosing this vest most often when strolling around town and casual occasions as it was the most stylish vest I reviewed — I reviewed the Turmeric / Prussian Blue and ended up wearing it almost everyday with jeans out and about. The front also has roomy, fleece-lined front pockets that snap and easily fit a cell phone. With that said, the vest can still be worn as a layer for more active pursuits and is really warm. I did wear this under my ski jacket a few times but it was bulkier and warmer than the Micro Puff Vest, so I tended to opt for a thinner / lighter vest for skiing, running etc. I often choose this vest when hiking in cooler temperatures as a top layer with a baselayer underneath and kept plenty warm.
The fit is true to size and is narrow on the upper-half around the chest area and tapers somewhat at the waist and then bells out on the bottom half of the vest. On me, at 5'1" the size XS extended to the top of my hip which I would consider to be shorter than other vests reviewed — which is a huge advantage for me (but probably a disadvantage for longer-torso people like Kara and Kristin). But the XS is a perfect fit for my more petite frame. The insulation consists of a 650-fill-power responsibly sourced down, though it's not a super lofty fill. For comparison, the Patagonia Hi-Loft Hooded Vest is much loftier than this vest, though the two aren't super far off in terms of warmth (the Transcendent is still one of the warmer vests here).