Intro
Sometimes, all you want is to be comfortable. Whether that's when you're relaxing after a day in the mountains, spending all day parked on your couch, working from home — it's great to have soft, cozy clothing for those days when the main activity is doing no activity at all.
While we love highly technical gear for getting outside, we also love simple pieces with one goal — comfort. So here we've rounded up several of our favorite tops, bottoms, and slippers for simply lounging around. And if you have any favorite loungewear pieces, please let us know in the Comments section below.
Fabric: 100% polyester (87% recycled) plain weave w/ 4-way stretch
Insulation: 60-g FullRange (40% recycled)
Size Reviewed: Medium
MSRP: $199

Luke Koppa: I talked about these pants in our Holiday Gift Guide, but I need to include them here. These are the most comfortable pants I've ever worn.
While I initially thought the Nano-Air Pants would be a niche piece (they are, after all, designed for alpine climbing), they've turned out to be far from that. You don't need to be doing anything remotely active to enjoy the Nano-Air Pants — their soft & stretchy fabric and breathable insulation make them my go-to comfy pants for days at home. I tend to avoid turning on the heat whenever possible, so the breathable FullRange insulation in the Nano-Air Pants helps me save some money, but since it is breathable, I've found myself wearing these year-round in my place in Crested Butte (something I will not do with non-breathable puffy pants like Patagonia's Nano Puff Pants).
The Nano-Air Pants are quite expensive, but they aren't strictly a loungewear piece. Thanks to their roomy-but-tapered cut and streamlined cuffs, I've also been wearing them under my shell pants for truly frigid ski days (< 5°F / -15°C). They definitely create a bit of bulk when pulled up above ski boots, but I don't really notice it once I'm skiing.
Since I got them last spring, I'm pretty sure I have thrown on the Nano-Air Pants for more than 50% of my days. They're just so dang comfortable.
Materials: recycled polyester upper, memory-foam insole, nylon rand, & TPR outsole
Size Reviewed: 10
MSRP: $50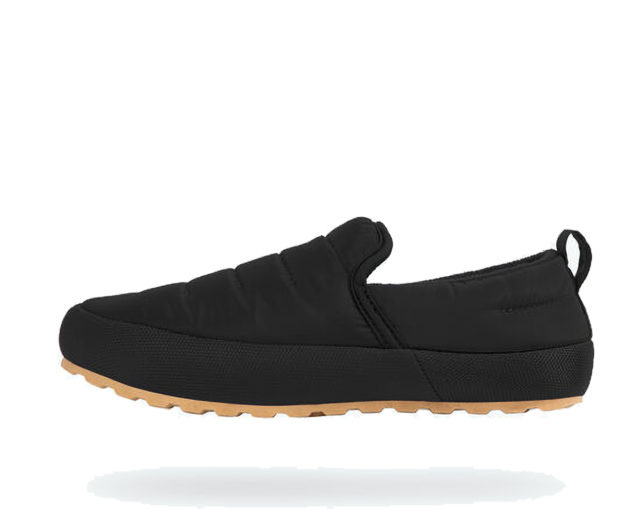 Luke: Lots of brands say their shoes / slippers are like "pillows for your feet," but in the case of the Native Chamonix Basecamp, I think that description is actually pretty spot-on. The Chamonix features light, slightly puffy, recycled insulation throughout the upper, which makes them quite warm and comfy. That's paired with a memory-foam insole that just wraps around my feet every time I step into these slippers.
That has made the Chamonix Basecamp my go-to slipper this year, but Native also added a synthetic rubber outsole and a nylon "mudguard" (basically a rand around the shoe) so these slippers aren't totally limited to indoor use. The low cut means they're not great for snow, but once you've shoveled your driveway, the Chamonix Basecamp actually works quite well as an outdoor shoe for running errands, grabbing the mail, etc.
My feet tend to run hot and I'm usually fine inside with just socks, but for those days when we refuse to turn on the heat when we really should, the Chamonix Basecamp is perfect.
At $50 (currently on sale for $39), I think the Chamonix Basecamp is a great deal and I wouldn't hesitate to recommend it to someone looking for a comfy, warm, lightweight, and fairly versatile slipper.
Fabric: recycled polyester
Insulation: 100-g PrimaLoft Gold
Size Reviewed: Medium
MSRP: $299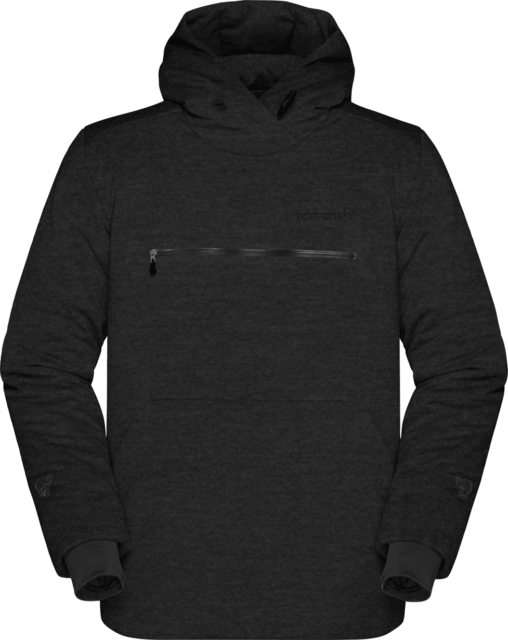 Luke: Like the Patagonia Nano-Air Pants, the Roldal Thermo100 Hood is not simply a loungewear piece, but it's so comfy that it can pull double-duty as a technical layer and a very non-technical layer for cold winter days.
The Roldal Thermo100 Hood features 100-g PrimaLoft Gold insulation, which is quite warm. I've been happy using it as my outer layer for temps down to around 20°F / -7°C, or as my midlayer under my shell for super cold ski days. But the Roldal Thermo100 Hood's stretchy, smooth fabric also feels more breathable and way more comfortable on skin than most traditional fabrics you see on puffy jackets (e.g., Patagonia Nano Puff, most down garments, etc.). That makes the Thermo100 great for really cold days spent hanging out indoors.
On top of that, I think the Roldal Thermo100 Hood just looks really cool. If you're a frequent reader of Blister, you know I have a soft spot for anoraks. The Thermo100 Hood is an excellent anorak — clean pullover design, side zippers for easy on and off, a shawl-style collar, insulated kangaroo-style pocket, and a big, insulated hood. This piece is far from cheap, but like all Norrona products I've used, the build quality is excellent and it does a great job of blending style, functionality, and comfort.
Fabric: 55% hemp / 45% organic cotton
Size Reviewed: Medium
MSRP: $98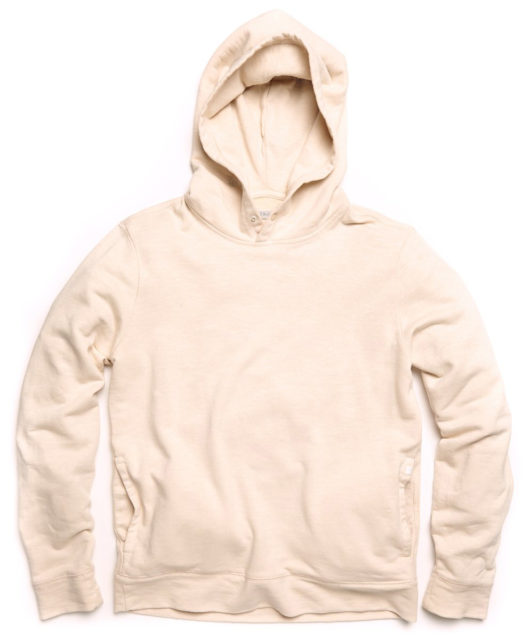 Luke: This hemp / cotton hoody has become one of my favorite casual pieces for cool and even fairly warm days. Its terry fabric is very breathable and almost feels cool on my skin, making it less ideal for frigid winter days but way better for shoulder-season and summer use.
The Sur Snap Hoody has a fairly roomy & relaxed fit, but the size Medium feels pretty perfect for me at 5'8", 155 lbs and I definitely wouldn't say the hoody looks "sloppy" — I wear it out all the time. I have never found myself using the snap on the neck opening, but I love how it looks un-snapped and the hood is even big enough to fit comfortably over my huge head.
While the Sur Snap Hoody isn't super fleecy or buttery soft, its terry fabric is still very comfortable and it's probably one of the most comfortable pieces I've used that's made with more than 50% hemp fibers. Plus, hemp requires less water, fewer pesticides, and has phytoremediative properties that can make it great for crop rotation. Then the other 45% of the Sur Snap Hoody's fabric is made from organic cotton.
If you're looking for a comfy, breathable hoody that you can wear pretty much year-round, the Sur Snap Hoody is great.
Fabric: 88% merino / 9% nylon / 3% Lycra (200 gsm)
Size Reviewed: Medium
MSRP: $150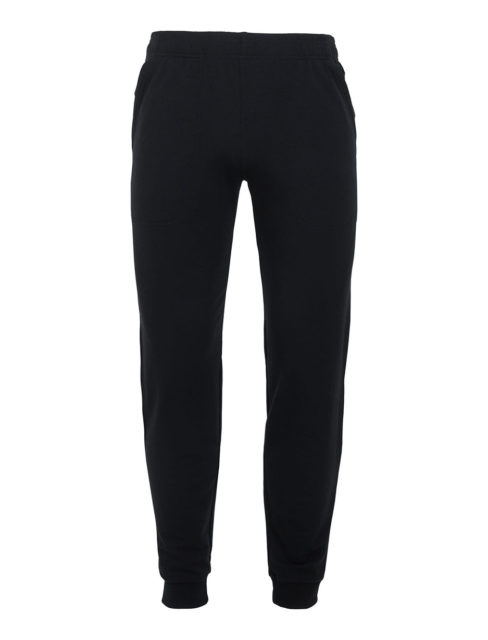 Luke: While the Nano-Air Pants are my go-to for cold weather, the Icebreaker Shifter is my choice for warmer days when I still want to wear some comfy pants. Their 200-gsm merino fabric is pretty light and super breathable. They don't really block any wind so I rarely wear them as an outer layer in the winter, but they're perfect for fall, spring, and cooler summer nights. And they work pretty well under shell pants since the fabric is thin and stretchy.
The fit on the Shifter is fairly average through the thighs and then tapers significantly down to the ankles. I'd call it a pretty standard "jogger" fit. The Shifter's predominantly merino fabric is not as soft as the Nano-Air or cotton-fleece pants, but like the Outerknown Sur Snap Hoody, I've never found the Shifter to be uncomfortable. And the upside to the Shifter's merino fabric is that they take, like, a really long time to smell bad. Gross? Yeah. Useful? Also yeah.
Fabric: 88% merino wool / 9% nylon / 3% Lycra
Size Reviewed: Small
MSRP: $150 (pants); $180 (sweatshirt)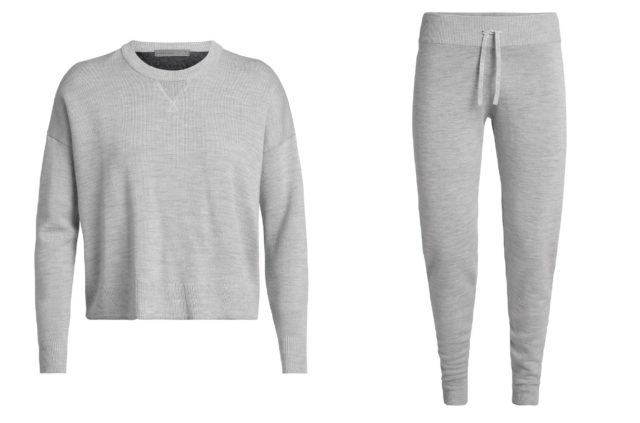 Kristin Sinnott: If you tend to get cold but aren't a fan of the look of traditional sweatpants or technical pants (e.g., Patagonia R1 pants), the Carrigan Sweater Pants should be on your radar. Perfectly named as they are exactly like wearing a sweater on your legs and are made of the same merino wool / nylon / Lycra fabric as the matching Sweater Sweatshirt. With its wide ribbed drawstring waist, ribbed cuffs, narrow leg, and mid to high waist, the Sweater Pants are ideal for lounging on cold days and won't look out of place if you decide to wear them out in public.
The Sweater Sweatshirt is a shorter (falls just above my hipbone) sweatshirt and also has a more refined look than is typical for sweats. The reversible design pairs perfectly with the Sweater Pants but I also found myself wearing it with my favorite jeans for apres or just about anytime I wanted to stay warm but look put together.
The fabric for both items is a finely knit wool so it's warm yet breathable but it is somewhat delicate, especially when compared to more traditional sweats. If you have a claw-happy cat or other snaggable things in your life, you'll need to be careful wearing these items around them. Both wash well (air dry) and look as good as new after months of wear. For loungewear that doesn't look sloppy or techy, Icebreaker's Carrigan combo is a great, luxurious alternative.
Fabric: 48% supima cotton / 48% Micro Modal / 4% Lycra
Size Reviewed: Extra Small
MSRP: $78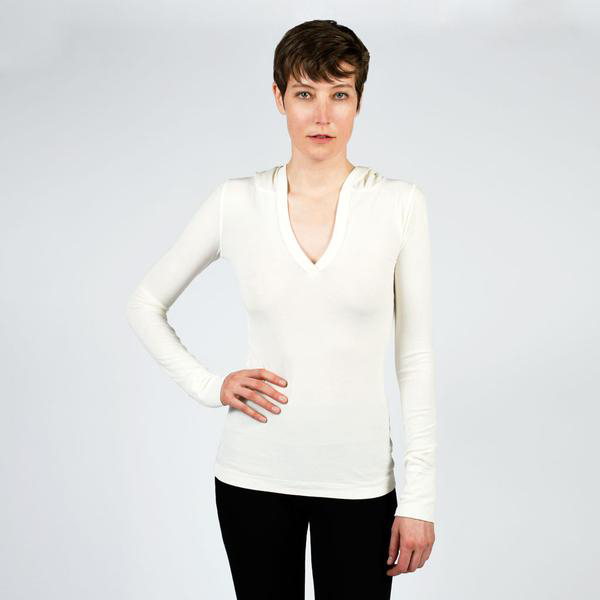 Kristin: Made in the US (and designed in Santa Fe), Sense Clothing is a company that creates soft and good-looking resort and activewear. The Raw Edge Hoody is part of a new line that features edges with a raw, un-hemmed finish. At 5'8", 125 lbs, I could have worn the Small or Extra Small but opted for the XS since the long sleeves and torso were the right length and it fit like a second skin. While it's a bit slimmer than what I typically wear, the super-soft Supima cotton (a very high-grade cotton fiber) / Modal fabric and light ribbing make it very comfortable, stylish, and easy to add layers over the top if you need a bit more warmth since the fabric is thin. The V-neck style is fairly low cut on me but with the right bra or tank, it looks really good and feels a bit sexy. Something I don't typically say about loungewear.
Fabric: 52% viscose / 28% polyester / 20% nylon
Size Reviewed: Small
MSRP: $124 (on sale for $62)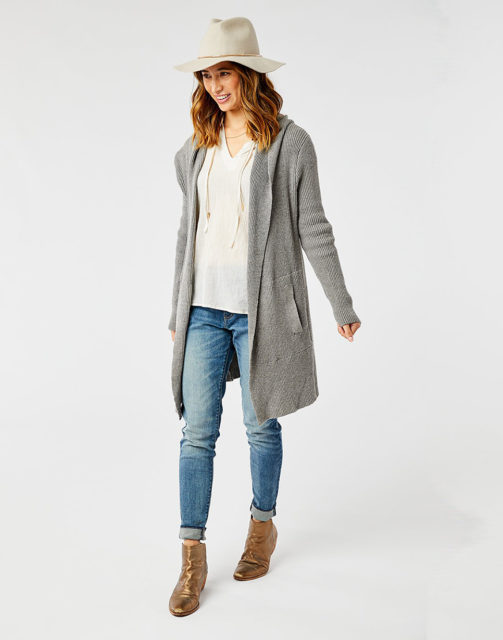 Kristin: If I had to describe my go-to loungewear uniform for the past decade it would be sweatpants, a comfy tee, and a cardigan. I own slews of cardigans since I find them to be an easy layer to add, remove, and just generally wrap myself up in. The Durango Sweater is a 33" / 83 cm long, soft, hooded cardigan that is seemingly made for days when you want to be cozy but still presentable. With an oversized hood, hand pockets, and open design, I found myself reaching for the Durango Sweater for lounging around the house or as an outer layer on cool but not cold days.
Full Tilt Apres Booties
Liner Material: multi-laminate foam, faux-fur lining, Intuition foam insole, & foam outsole
Size Reviewed: Medium (US Men's 7-9)
MSRP: $59.95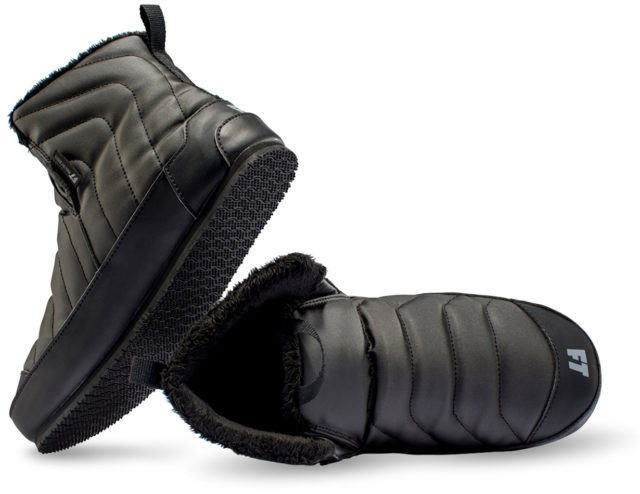 Sam Shaheen: I saw these last winter at Outdoor Retailer and just about stole them off the show floor. After several months of eager anticipation (delayed by a harrowing shipping accident where the container they were in got crushed by a crane), a pair showed up at my house and I couldn't be happier with them. They are insanely comfortable (faux-fur-lined, Intuition foam insole), insanely warm (did I mention they are fur-lined with Intuition foam?), and a serious head turner.
These are my go-to, hut-trip, après footwear, an excellent house slipper, and I've even worn them out on the town on especially cold nights. My only complaint? They might be too warm. Unless it's pretty chilly out, my feet tend to get uncomfortably hot in these booties — granted my feet do tend to run hot / sweat a lot, for what it's worth.
The Medium (stated size range of US Men's 7-9) fits my foot pretty tight, though quite comfortably. I usually wear an 8.5 or 9 street shoe. If you're in between sizes, I'd probably recommend sizing up from my experience.
Materials: 100% polyester w/ 4-way stretch
Insulation: 60-g synthetic
Size Reviewed: Medium
MSRP: $399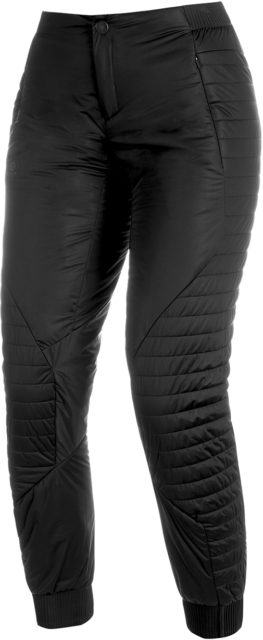 Sam: Ok, let's just get this out of the way right now. These pants are expensive. Like, really expensive. They are a part of Mammut's Delta X streetwear collection and they strike a good balance between being crazy comfy for lounging around the house and also being quite trendy on the streets.
I would describe the silhouette as an insulated puffy jogger. THE IN Pants have thick elastic cuffs and a pretty slim leg which gives them a modern jogger look. The length isn't quite so short that I would consider them cropped, but it is probably shorter than many of the pants in your closet. This is a very modern fit and cut for a unique pant. You will certainly get comments when you wear these out.
I decided to include them in this roundup though because they are so insanely comfy. When I wake up and it's snowing outside, I make some coco, throw these on (and probably the Full Tilt Booties…) and get cozy. The insulation, 4-way stretch, and trim fit combine for an excellent lounging experience.
Fabric: 100% organic cotton
Size Reviewed: Large
MSRP: $50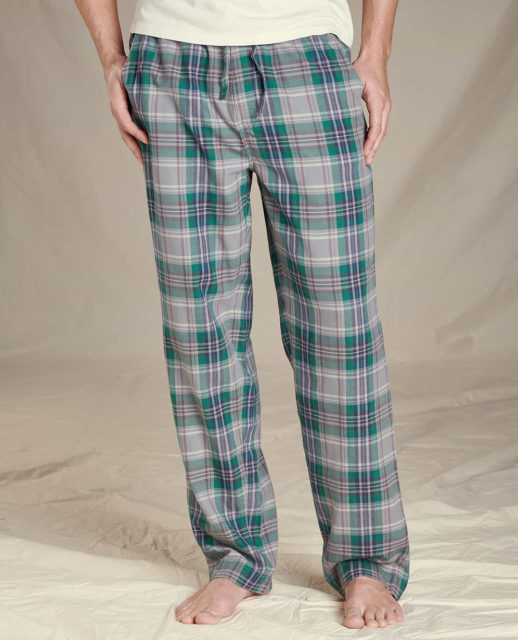 Jonathan Ellsworth: I first wrote about these pajamas over 2 years ago, and I still love them, and I still wear them all the time. Furthermore, a couple years later, and my original pair is still in perfect condition; they've held up well. And I like them so much, I purchased a second pair so that when it was time to throw 1 pair in the laundry pile, I had backup.
As Toad & Co puts, it, the Shuteye Pant's "organic cotton fabric is yarn-dyed for distinctive character, and then heavily brushed for buttery softness," and has "a draw cord-adjustable elastic waist, slash front pockets, single back pocket, and 32″ finished inseam."
What all of this amounts to for me is that these are still my everyday loungewear pants, and I suspect that will remain the case for years to come.
Regarding fit: I'm 5'10", ~175 lbs, and went with a size Large, with no interest in downsizing, though I bet I could do a size Medium just fine. But if I'm lazing about, I like roomy. And at most, I just roll the pant cuffs up one or two times. Done. Commence lounging.