Norrona Tamok Gore-Tex Pro Jacket
Reviewer: 5'8", 155 Ibs
Size Tested: Medium
Blister's Measured Weight (size Medium): 665 grams
Measured Front Zipper Length: 88 cm / 34.5 in
Fabric:
Membrane: Gore-Tex Pro
Face Fabric: 70Dx160D nylon w/ 200D reinforcements on shoulders & elbows
Backer: nylon
Stated Features:
Articulated elbows
Asymmetric cuffs with velcro adjustment
Asymmetric longer back cut
Chest ventilation with YKK water resistant zipper and mesh
Goggle wipe with leash
Laminated stretch woven hand gaiter™
One-hand hem adjustment
Powder skirt with silicone grip
Reinforced shoulders & elbows
Soft brushed chin protection
Storm hood fitted for freeride helmet
Taped seams with thin GORE-TEX 13mm tape
X-open underarm zip ventilation
YKK 2-way Vislon® water-resistant front zip
Y-sleeves™
Pockets:
1 exterior chest pocket (zippered)
2 exterior hand pockets (zippered)
1 exterior bicep pocket (zippered)
1 interior chest pocket (zippered)
MSRP: $649
Test Locations: Crested Butte, CO
Days Tested: ~10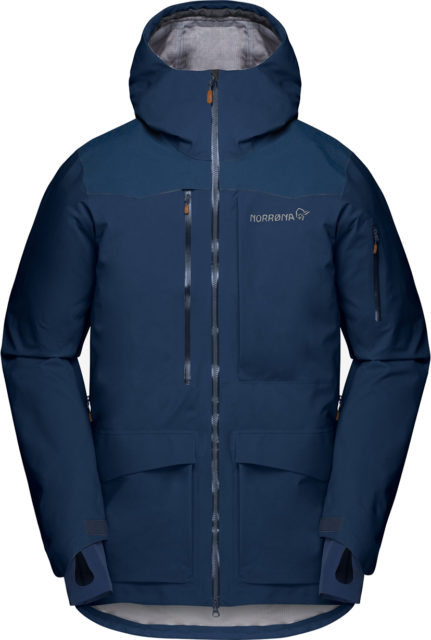 Intro
This year Norrona launched a new ski / snowboard shell, the Tamok Gore-Tex Pro Jacket. If you're not familiar with Norwegian brand's various collections, the "Tamok" collection is designed for "backcountry freeriding" and features what I'd call more casual-looking aesthetics than Norrona's "big-mountain freeride" Lofoten collection and "ski touring" Lyngen collection.
According to Norrona, the Tamok Gore-Tex Pro Jacket is their "most durable jacket for the backcountry freeriders, blending a unique look with uncompromising freeride functionality."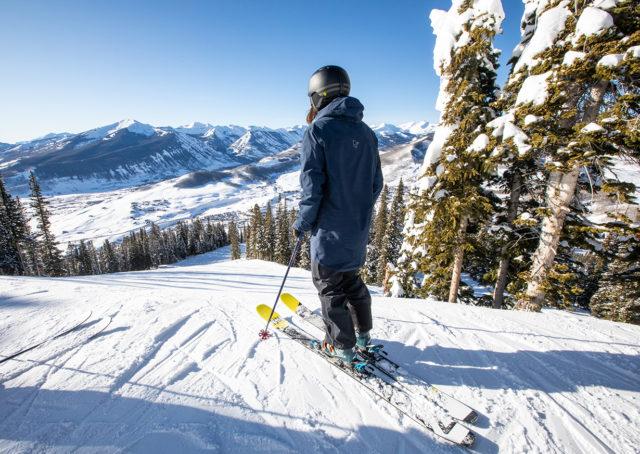 As someone who's spent a lot of time in front of a sewing machine and sketching out various apparel designs, pieces that blend "unique looks" with high functionality are what I'm always interested in. I've been using the Tamok Gore-Tex Pro Jacket throughout the early season here in Crested Butte, and I think it lives up to most of Norrona's claims, and it's become one of my favorite resort shells.
Fit
The Tamok Gore-Tex Pro Jacket is cut quite long and fairly roomy, but I definitely wouldn't call it baggy. It fits pretty similarly to the Open Wear Open One 3L Jacket, and I love the fits on both of these shells. The Tamok is notably roomier than many ski-touring shells (like Norrona's Lyngen Hybrid), but it doesn't have as much room / volume in the torso as some shells like the Spyder Sanction GTX or North Face Ceptor.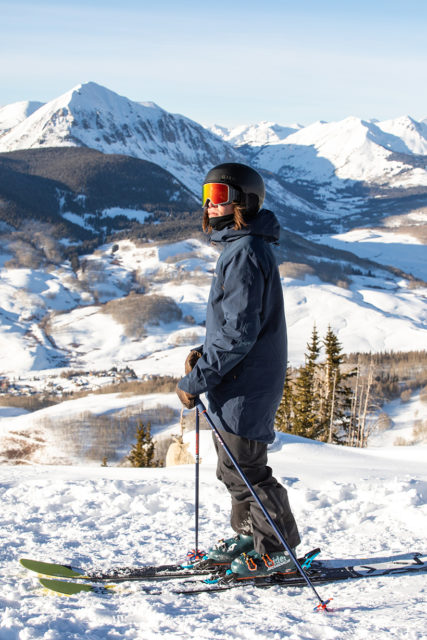 One of the defining aspects of the Tamok Gore-Tex Pro Jacket is its long, asymmetrical hem. The back hem of the Tamok extends much lower than the front, offering plenty of butt coverage on chair lifts and in deep snow. Jonathan Ellsworth stole the Tamok Gore-Tex Pro Jacket from me for a few days and he loved its long hem.
For resort use, I love the fit of the Tamok Gore-Tex Pro Jacket. Lots of coverage, not excessively bulky, but still plenty of room to add pretty bulky layers underneath (e.g., Norrona's Roldal Thermo100 Hoody). But, in what will be a theme in this review, I personally think the fit of the Tamok Gore-Tex Pro Jacket is pretty big — arguably excessively so — for ski touring where weight and packability are important factors.
Pockets
The Tamok Gore-Tex Pro is a pretty fully featured jacket, with five total pockets and loads of other bells and whistles.
I really like the Tamok's hand pockets. They have flaps that cover them, but also water-resistant zippers for full security. And while the flaps are easy to get out of the way and help contribute to the clean look of the jacket, they stay down without any velcro or magnets, which I love since it means fewer things to fumble with when wearing bulky mitts. I end up using these pockets very often to stash my gloves, or just to shield my hands from the cold & snow.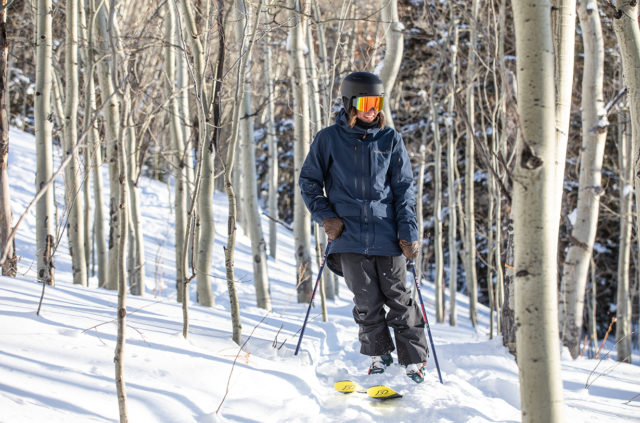 The Tamok's exterior chest pocket is pretty large at 24 cm / 9" and lays flat when not filled, or when I have my phone, wallet, or other similarly thin items in it (though apparently it puffs out a bit in the air — see below). The zipper pull-tab makes it easy to open and close with gloves & mitts, and Norrona even includes a goggle wipe with a lanyard which is a feature I never figured I needed, but one I've found myself using very often.
Since the Tamok's exterior chest pocket is pretty big and small items tend to bounce around in it, I usually use the smaller interior chest pocket for my phone or wallet, which works great. At 17×10 cm / 6.75×4" it fits my iPhone 6 totally fine and I think it'd fit most phones, though some of the massive, modern phones might be tight. And then there's a zippered bicep pocket that's nice for a lip balm or ski pass.
Other Features
The Tamok Gore-Tex Pro Jacket has three vents — two standard underarm vents and Norrona's unique chest vent. The underarm vents are very big at 55 cm / ~21.5", feature double-sided zippers for easy access with a pack, and are not mesh-backed so they open wide and let in tons of airflow.
The chest vent is pretty long at 31 cm / 12", though it is mesh-backed so it doesn't open very wide. If the Tamok didn't already have big underarm vents, I'd probably cut out the mesh on the chest vent, but even with the mesh, it still dumps a bit of heat. And since I rarely use two exterior chest pockets, I think it's cool to have a vent there instead of another pocket.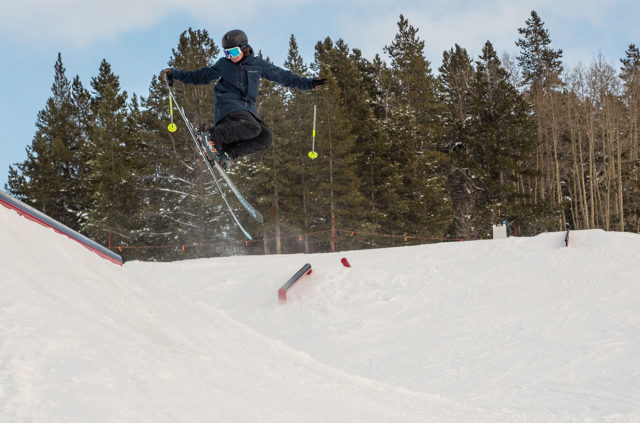 The Tamok has a helmet-compatible hood with a single adjustment on the back. Norrona takes a different approach to hoods than most brands, ditching the 3- or 4-way adjustment for a single adjuster and, in my opinion, pretty dialed patterning that keeps the hood out of the way when not in use, but that allows for very good field of view and a secure feeling when I'm using it over a hat or helmet. And then it also features hem draw-cord adjustments that are embedded in the fabric with the cords routed inside the jacket to keep things clean and snag-free.
Like many Norrona ski shells, the Tamok Gore-Tex Pro Jacket features asymmetrical cuffs that extend farther over the back of your hands than standard cuffs. I'm a big fan of these cuffs — I have never noticed any significant downsides, they give you a bit of extra coverage, and they look sweet (IMO).
On the inside of those cuffs are wrist gaiters made of a very thin, stretchy woven fabric. I barely ever use internal wrist gaiters, but they're there if you do. They're not super soft and fleecy like the gaiters on some other jackets (e.g., Strafe's jackets), but I've never found them uncomfortable, and I don't notice them when I don't use them.
The Tamok also comes with a removable powder skirt that has snaps to connect it to Norrona ski pants. The powder skirt is pretty standard with a stretchy fabric, grippy silicone, and multiple snaps for adjustment options. I barely ever use powder skirts, especially with long-cut jackets like the Tamok Gore-Tex Pro Jacket, but the Tamok's works well (though I removed it after trying it).
Weight
While Norrona markets the Tamok Gore-Tex Pro Jacket as a backcountry shell, it's definitely not the lightest one out there at 665 grams for the size Medium.
That said, it isn't a crazy heavy shell and I never noticed the weight while wearing it. I'd say its size is more of a limiter for ski touring — packed down, the Tamok is around the size of an NFL football, and a bit smaller than a soccer ball. That's pretty large, and all of the lighter shells listed below take up less room in a pack.
For reference, here are some of our measured weights for some notable shells in this category. Note the size differences to try to keep things apples to apples.
364 g Black Diamond Helio Active Shell, size Medium
366 g Patagonia Ascensionist Jacket, size Medium
435 g Arc'teryx Rush LT Jacket, size Medium
518 g Flylow Cooper Jacket, size Medium
544 g Outdoor Research Hemispheres Jacket, size Medium
563 g Rab Sharp Edge Jacket, size Medium
574 g Amundsen Peak Anorak, size Medium
590 g Flylow Higgins Coat 2.1, size Large
593 g Patagonia PowSlayer Jacket, size Large
605 g Patagonia Descensionist Jacket, size Medium
610 g Strafe Cham Jacket, size Large
615 g Patagonia SnowDrifter Jacket, size Medium
626 g Arc'teryx Sabre LT Jacket, size Medium
635 g Mammut Alvier Armor Hardshell Jacket, size Medium
665 g Norrona Tamok Gore-Tex Pro Jacket, size Medium
726 g Holden M-51 Fishtail 3 Layer Jacket, size Medium
825 g The North Face Ceptor Jacket, size Medium
841 g Strafe Pyramid Jacket, size Large
848 g Open Wear Open One 3L Shell Jacket, size Medium
1047 g FW Manifest 3L Jacket, size Large
Materials
Can you guess what material the Tamok Gore-Tex Pro Jacket uses? Yep, it's Gore-Tex Pro.
As with most Gore Pro pieces, the fabric on the Tamok is fairly stiff & crinkly compared to many of the more supple fabrics out there like Gore-Tex C-Knit, Patagonia's SnowDrifter, etc., but the crinkle-level of the Tamok's fabric is nothing out of the ordinary for a Gore Pro fabric. And while softer fabrics are nice, once I put on the Tamok, I don't really think about the feel of its fabric.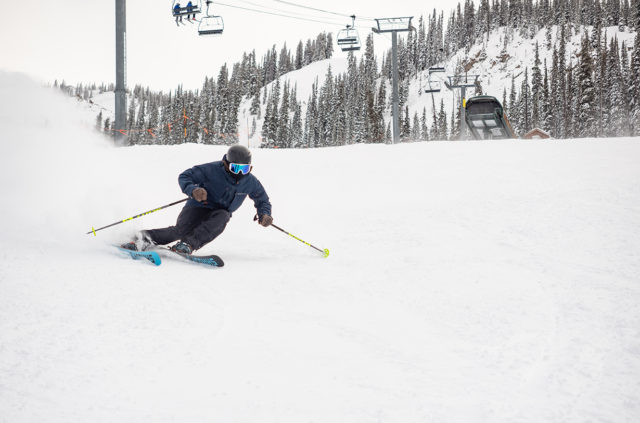 The Tamok uses a 70-denier x 160-denier nylon face fabric (i.e., half the fibers are 70 denier, half are 160 denier). That's pretty dang burly to begin with, and those fibers look like they're spun into pretty small yarns and woven pretty tight. In other words, the fabric doesn't look like a very bulky weave like Cordura.
Norrona added 200-denier portions at the shoulders and elbows to add extra durability in those high-wear areas, and on top of all that, the face fabric on the Tamok is at least 50% recycled, according to Norrona. The fabric is also Bluesign & Oeko-Tex certified.
For a resort shell, I love the burly feel of the Tamok's fabric, and Gore-Tex Pro is a proven high-performer in the world of waterproof / breathable laminates.
Weather Resistance
As with all of the Gore-Tex Pro pieces I've used, the Tamok has been completely waterproof after using it in some snowstorms and some rain. The DWR seems quite good — not exceptional, but definitely not bad. And when the face fabric did finally wet out, I never had any water penetrate the membrane.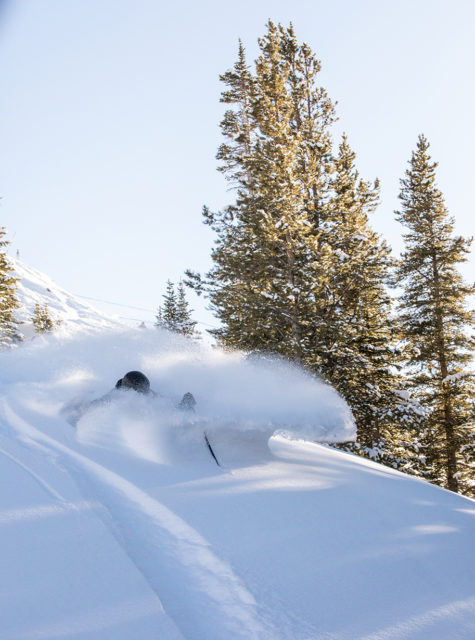 Given all my positive experiences with the weather resistance of many other Gore-Tex Pro garments, I have no reason to doubt the weather resistance of the Tamok Gore-Tex Pro Jacket.
Breathability
Like every other Gore Pro piece I've used, the Tamok Gore-Tex Pro Jacket is fairly breathable, but definitely not class-leading. I can skin with a baselayer + the Tamok Gore-Tex Pro Jacket for short periods of time in cold weather (colder than 20°F / -7°C), but if I know I'll be skinning for more than 30 minutes, I'll toss the Tamok Gore-Tex Pro Jacket in my pack (as I'll do with most waterproof shells).
Along with its heavier weight and large size, the breathability of the Tamok Gore-Tex Pro Jacket makes it less ideal for ski touring than some of the air-permeable shells out there like the Flylow Cooper, North Face Freethinker (Futurelight version), and Strafe Cham & Strafe Pyramid. But if you live in an area that sees a lot of wet snow and / or rain, a Gore-Tex Pro jacket like the Tamok is still a viable option for touring since it's still about average in terms of breathability for a fully waterproof shell. And in the resort, where I'm rarely hiking for more than 30 minutes, the Tamok Gore-Tex Pro Jacket's breathability is totally adequate.
Warmth
The Tamok Gore-Tex Pro Jacket is an uninsulated shell, so it's not very warm at all. I typically throw the Patagonia Nano-Air Jacket + a baselayer underneath for most resort days and am very comfortable, or the Norrona Roldal Thermo100 Hoody for very cold days (< 10°F / -12°C).
Durability
I can't yet comment on the long-term durability of the Tamok Gore-Tex Pro Jacket since I only have around 10 days in it so far, but I have high hopes. The Tamok Gore-Tex Pro Jacket uses a pretty burly face fabric, has reinforcements where they're needed, and like all Norrona products I've used, the build quality is excellent. So I suspect that it'll be above average when it comes to durability.
I'm going to be using the Tamok Gore-Tex Pro Jacket a lot more this season, so I'll report back if I notice any durability issues down the line.
Who's It For?
Skiers & snowboarders who want a fully waterproof, fully featured shell and who prefer a jacket with a longer cut and a clean, modern aesthetic.
There are tons of Gore-Tex Pro jackets out there, so I think the main things that set the Tamok Gore-Tex Pro Jacket apart from the others are its fit, burly face fabric, and overall look. As you'd expect of a $650 jacket, the Tamok Gore-Tex Pro Jacket has plenty of features that all work quite well, the sewing and finishing is top-notch, and all in all, feels in line with its high price.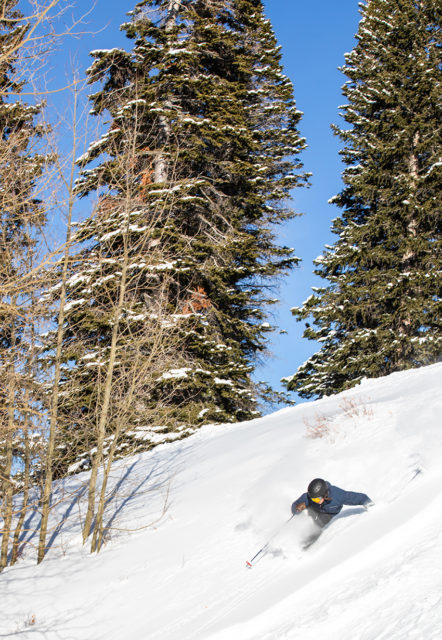 Norrona markets the Tamok Gore-Tex Pro Jacket as a backcountry freeride jacket, and while it can certainly work for human-powered riding, it's not the best option out there. This is mostly due to its bulk — there are tons of lighter, more packable jackets out there (Norrona's Lyngen Hybrid is excellent) and many that are more breathable. You can check out our 19/20 Winter Buyer's Guide for some great ski-touring shells. But if you live in a wet climate, prioritize weather protection over breathability, and don't mind a bulkier shell, the Tamok Gore-Tex Pro Jacket does work fine for touring.
And for inbounds or mechanically accessed skiing and riding, I think the Tamok Gore-Tex Pro Jacket is excellent. If I'm riding lifts, I don't care how light or packable my jacket is since I never take it off, and I love the long cut and plentiful features of the Tamok Gore-Tex Pro Jacket for resort skiing. All in all, I have almost zero complaints about the Tamok Gore-Tex Pro Jacket as a resort shell — it's great.
Bottom Line
The Norrona Tamok Gore-Tex Pro Jacket is an excellent resort shell with a unique look; tons of features; a reliably protective, pretty burly, & fairly breathable fabric; and the finish quality you'd expect from a high-end jacket. Its large size and average breathability mean that it's not the best option for those looking for a dedicated ski-touring shell, but the Tamok Gore-Tex Pro Jacket has quickly become one of my favorite shells for lift-accessed skiing.