FW Manifest 3L Jacket
Reviewer: 6'0", 175 lbs
Size Tested: Large
Blister's Measured Weight: 1047 grams
Blister's Measured Front Zipper Length: 86.3 cm
Material:
Face Fabric: 100% Polyester plain weave
Membrane: Dermizax EV (100% Polyurethane)
Backing: 100% Nylon tricot
Stated Features:
Tall collar for full coverage and fixed stoppers for adjustment
Backpack and harness friendly design
Pivot sleeve design with articulated elbow
YKK Vislon Aquaguard® center front zipper with underflap zipper garage
Large under arm vents with YKK Aquaguard® zipper
Adjustable hem and cuffs
Protective lycra wrist gaiters with laser-cut thumbholes
Stretch powder skirt with anti-slip elastic
Jacket-to-pant connection system
Pockets:
1 zippered pocket on sleeve
1 interior drop-in pocket
2 exterior zippered chest pockets
1 interior zippered chest media pocket
2 handwarmer / skin pockets
MSRP: $600
FW Manifest 3L Pant
Size Tested: Large
Blister's Measured Weight: 775 grams
Material:
Face Fabric: 100% Polyester plain weave
Membrane: Dermizax EV (100% Polyurethane)
Backing: 100% Nylon tricot
Stated Features:
Articulated knees
YKK Aquaguard® zippers with multi-functional large gusseted thigh pockets with top and side access while wearing harness or being seated
Adjustable waist, brushed Polytricot liner on inner back waistband for soft hand feel
Silicone anti-slip print in inner front waistband
Side zipper bottom boot opening with magnetic buttons to reinforce closure
Boot gaiters with anti-slip elastic
Kick patches
Jacket-to-pant connection
Pockets:
2 zippered thigh pockets
2 drop-in cargo pockets w/ magnetic closure
MSRP: $450
Test Locations: Grand Targhee & Teton Pass, WY
Days Tested: 10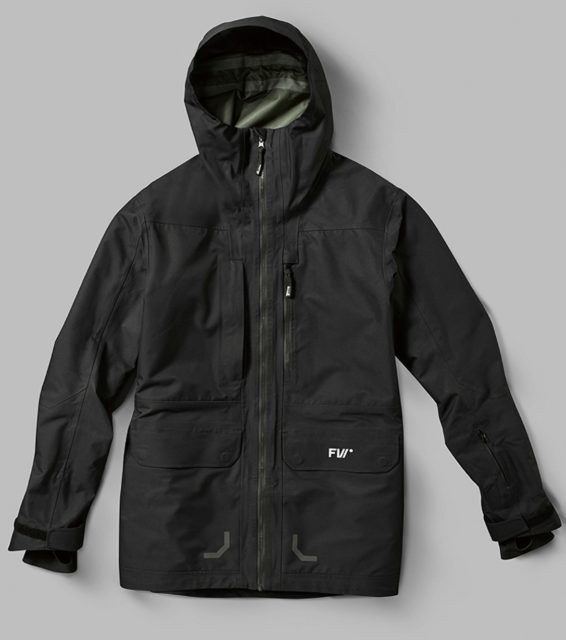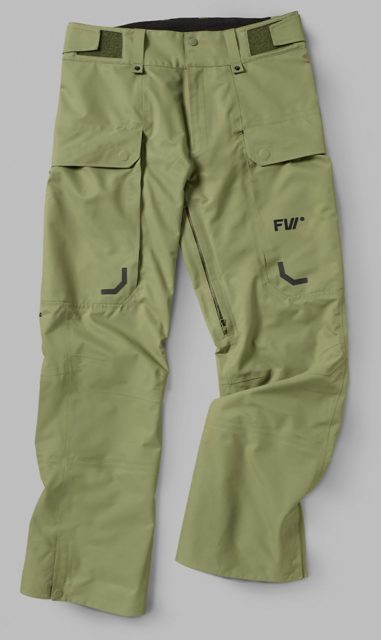 Intro
FW is a new-for-2019 outerwear company that focuses on making outerwear that is, according to the brand, "highly versatile, able to withstand formidable weather in the high alpine while also styling perfectly into your streetwear look."
That's a tall order to live up to. We got their flagship Manifest 3L kit at the tail end of last season and I have been skiing in it since. The first three words in FW's quick specs / description of the Manifest jacket and pants are "Back Country | Touring," so here I'll talk about how they perform in a range of conditions, both when riding lifts, and when trudging uphill.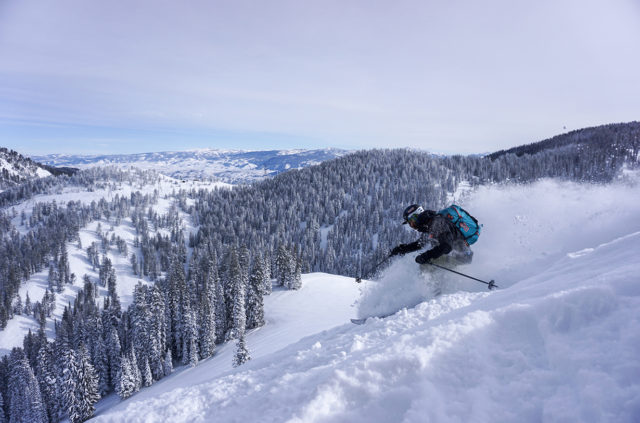 Before we dive into the meat of this review, a note: according to the brand, "FW" is pronounced "Forward." In this review, I'll just be referring to the brand as "FW" to avoid any confusion.
Fit
The Manifest Jacket and pants epitomize the "freeride" fit. They're generously cut without being super baggy, and they fit very similarly to the Dakine Stoker Bibs and Sawtooth Jacket I reviewed two years ago. The Manifest jacket is cut long, but is still somewhat tailored and I'd say it's more slim than baggy.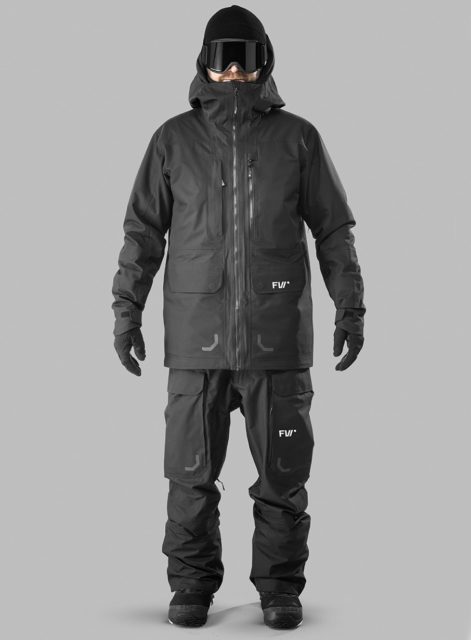 As someone who's worn and reviewed a lot of size "Large" outerwear, the Manifest kit falls a little toward the "longer and baggier" end of the spectrum of outerwear I've used. So if you're debating between sizes and don't love a bigger fit, size down — you'll likely still have plenty of room.
Manifest Jacket Pockets
The Manifest jacket could maybe best be described as "fully featured." It's got a lot going on. It has five zippered pockets and one drop-in pocket.
The two zippered chest pockets are large enough for a big smartphone or wallet, but you'd have to be using really small skins to fit them in these pockets. Instead, they're best used for snacks or spare goggle lenses. The Manifest Jacket's included goggle wipe is a nice touch.
The two hand pockets have both a magnetic flap, as well as a zipper. You could fit slimmer skins in these (fairly light skins cut for a smaller ski around 180 cm x 95 mm would fit fine). But it's still a snug fit, they don't fit my larger skins (e.g., cut for the 112mm-wide, 184 cm long Moment Deathwish Tour), and anything in these pockets interferes with my pack's waist strap, so they mostly stayed empty during my time in the Manifest kit.
The jacket's interior media pocket is generously sized, my grotesquely large iPhone XR fits just fine, and it has a nice headphone port.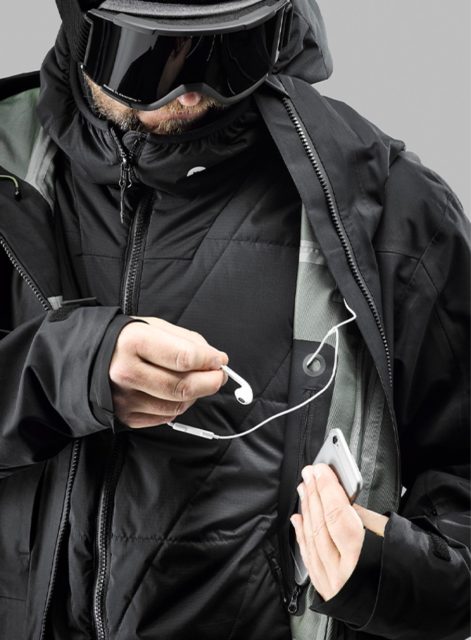 There's also an RFID pass pocket on the wrist, another nice touch.
Manifest Pant Pockets
The pants have four big pockets, which are layered over each other so it looks like the pants just have two big cargo pockets. There are two vertical zippered pockets that are under the cargo pockets and are nicely sized for snacks. They'd also work fine for a beacon, but there is nowhere to clip a tether to, so you'd have to add a D-ring inside one. And then there's the issue of all of the Manfiest's magnets.
The FW Manifest kit has sixteen individual magnets (8 pairs) keeping the flaps on the jacket and pants pockets closed. In general, magnets and avalanche beacons are not a good match. Magnets can interfere with and distort your beacon's signal. Avalanche Canada recommends keeping your beacon 20 cm away from any magnet (and phone) when in send mode, and 50 cm in search mode. That's almost impossible to do while wearing this kit, since the magnets are used throughout the jacket and pants. Arva says that magnets do not interfere with their beacon's signals, though most of the major beacon manufacturers recommend keeping magnets away from their beacons.
The pant's two exterior cargo pockets are nice and big and could theoretically carry just about any skins with no problem due to their generous size. However, any big load (e.g., skins) in either of those thigh pockets rubs my thighs and drags down the pants, so I never put skins in there. Smaller items like gloves were fine though. The cargo pockets also don't have a zipper, just a magnetic flap, so storing smaller, more valuable things in them is a no-go for me.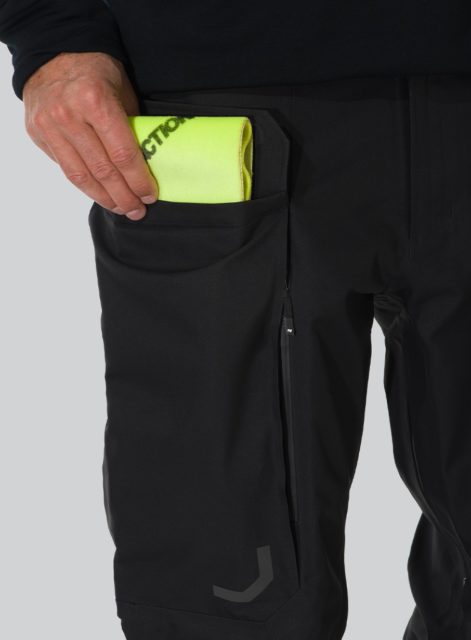 Overall, the Manifest has a bunch of pockets, but for touring, the pockets seem to fall into the "quantity over quality" category. I haven't been able to comfortably stash my skins in any of the pockets, there's nowhere to store my beacon, and I found myself missing an upper-thigh pocket for my phone.
For an inbounds kit, I think the Manifest's pocket layout is good and gives you a ton of storage options. But for a touring kit, the pocket layout is not all that functional and the number of the pockets adds to the already hefty weight of the jacket and pants.
Vents
The Manifest pants have a 25 cm / 10" zippered inner-thigh vent on each leg, which is mesh lined. The jacket has a 34 cm / 13.5" vent under each armpit, with the same mesh lining. The lining is awesome for keeping out snow, but also does a really good job of keeping the vent from opening wide enough to allow lots of airflow.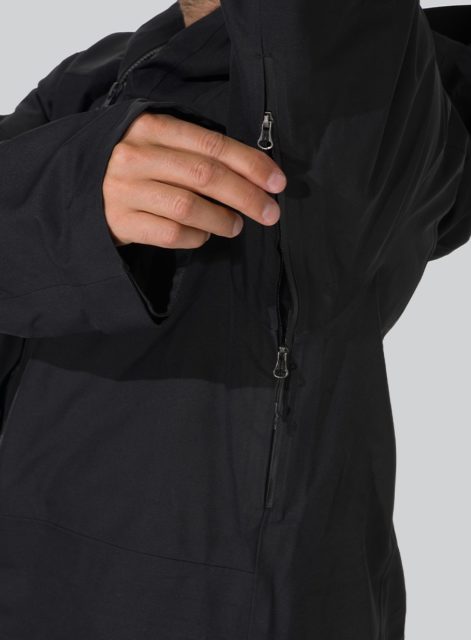 This sentiment is going to ring throughout the review: the Manifest kit's vents are completely adequate for inbounds use. But for going anywhere under your own power, I don't think they allow enough airflow to justify themselves. Of course, you could always just cut out the mesh lining to get more airflow.
Other Features
In case it wasn't already clear, FW didn't skimp on features with the Manifest kit.
The jacket has wrist gaiters that are nice and long, as well as an adjustable hood and a tall collar. The hood has a very large and stiff brim at the front. This means that, if you're wearing the hood over your head, it does a great job of keeping itself up and out of your eyes. But if you're not wearing the hood, it has a tendency to rub itself against the back of your head with the jacket open or zipped up. This is a weird issue that is pretty rare in our experience with lots of outerwear over the years. The hood of the Manifest jacket annoyingly rubs the back of my head and neck when I'm driving while wearing the jacket, and while I'm skinning with the jacket on since the hood rests on my pack and rubs my head. It's not a huge deal, but it is annoying, and I've never run into it before with other jackets. If you're primarily wearing the jacket inbounds (especially without a pack), I doubt you'll notice it.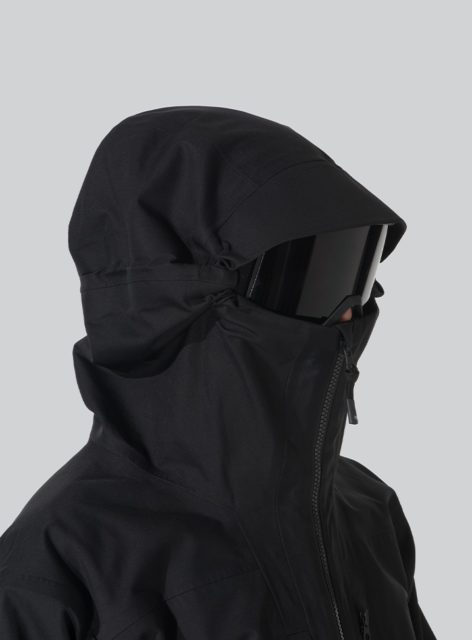 The Manifest jacket also has a fixed powder skirt. I wish it was removable without cutting it out, but it's not a big deal. It's as good as any powder skirt, if that's something you need. And, for what it's worth, fixed powder skirts do tend to be more durable than removable powder skirts since most companies tend to use very small, fragile zippers on removable powder skirts.
The jacket and pants have a button system to snap them together and create a better barrier against snow. It's a nice touch for inbounds use but it's also a bit of a hassle to use and not worth it if you're touring and frequently taking the jacket on and off. The long cut of the jacket and the powder skirt already do a good job of keeping out snow, and the snaps are not noticeable when you're not using them.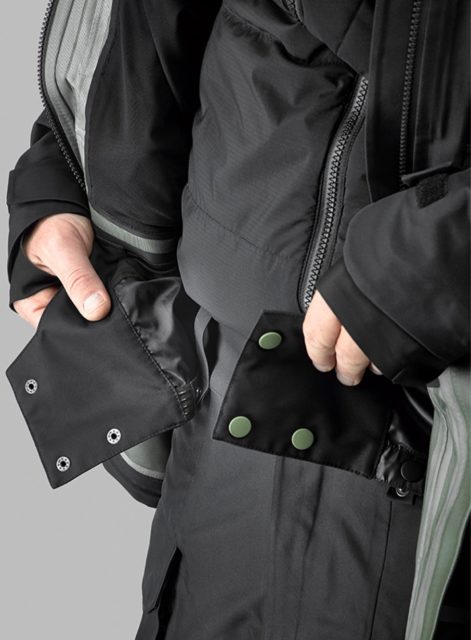 The pants have a nice velcro system to adjust the waist, as well as belt loops. I was happy to find that the velcro stayed put, even with the pockets weighed down. The silicone grip patches inside the waist may also have helped with that.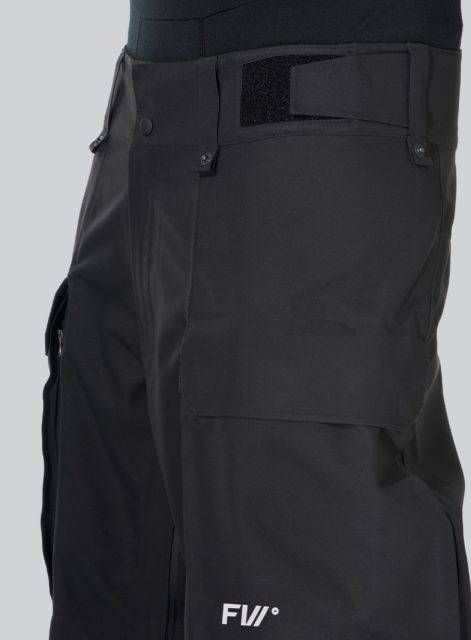 The fly of the Manifest pant gave me some weird issues. The way that the pants are cut means that it's not located quite where I'm used to it being. The fly is positioned high and the zipper is pretty short, which led to significantly more fumbling than I'm used to when it came time to use the "facili-trees." But your mileage may vary based on your body geometry.
The waist of the pants is secured with both a button and a little clasp. Make sure you both button the button and hook the clasp (and / or add a belt), otherwise, the button can pop loose and your pants will drop to your knees while skiing. Don't ask how I found that out.
Finally, the pants feature your typical elastic internal gaiter to keep out snow, along with a zipper on the side of the ankle that allows you to open up the pants for bigger boots. I never found myself using that zipper since the cuffs fit over all of my boots with no issues.
Weight
The Manifest kit is heavy. The Manifest jacket is one of the heaviest shells we've reviewed, while the Manifest pants don't stand out quite as much when it comes to weight, but they're still on the heavier side, especially compared to any touring-oriented shells.
Here's a list of some of the other jackets and pants we've reviewed, and their respective weights. Note that not all of the pieces are the same size, so try to keep that in mind when making comparisons.
Jackets:
364 g Black Diamond Helio Active Shell, size Medium
366 g Patagonia Ascensionist Jacket, size Medium
435 g Arc'teryx Rush LT Jacket, size Medium
518 g Flylow Cooper Jacket, size Medium
544 g Outdoor Research Hemispheres Jacket, size Medium
563 g Rab Sharp Edge Jacket, size Medium
574 g Amundsen Peak Anorak, size Medium
590 g Flylow Higgins Coat 2.1, size Large
593 g Patagonia PowSlayer Jacket, size Large
605 g Patagonia Descensionist Jacket, size Medium
610 g Strafe Cham Jacket, size Large
615 g Patagonia SnowDrifter Jacket, size Medium
626 g Arc'teryx Sabre LT Jacket, size Medium
635 g Mammut Alvier Armor Hardshell Jacket, size Medium
726 g Holden M-51 Fishtail 3 Layer Jacket, size Medium
825 g The North Face Ceptor Jacket, size Medium
841 g Strafe Pyramid Jacket, size Large
848 g Open Wear Open One 3L Shell Jacket, size Medium
1047 g FW Manifest 3L Jacket, size Large
Pants:
441 g Norrona Lyngen Windstopper Hybrid Pants, size Large
485 g Strafe Cham Pants, size Large
494 g Patagonia Descensionist Pants, size Medium
539 g Arc'teryx Rush LT Pant, size Medium
555 g Open Wear Open One 3L Shell Pants, size Medium
603 g Patagonia PowSlayer Bibs, size Large
608 g Patagonia SnowDrifter Bibs, size Medium
618 g Rab Sharp Edge Pants, size Medium
620 g Arc'teryx Sabre Pants, size Large
775 g FW Manifest 3L Pants, size Large
896 g Flylow Baker Bib, size Small
Materials
Both the Manifest jacket and pant use the same fabric — a Dermizax EV 3-layer laminate with a pretty thick polyester face fabric and pretty standard nylon backer. This is my first time using Dermizax EV garments, and I'm a big fan of how the supple fabric feels in the hand and moves on the body. It feels similar to the Gore-Tex C-Knit used in Armada's old Sherwin jacket — substantial, but not crinkly at all.
That said, if you're a spec-obsessed, this isn't the most waterproof and definitely not the most breathable kit out there. FW says the Manifest's fabric is rated at 20,000 mm for waterproofing and 16,000 g for breathability, which puts its Dermizax EV fabric a bit below Gore-Tex and many Sympatex membranes in terms of waterproofing and similar to most brands' high-end, proprietary waterproof laminates. In terms of breathability, the Manifest's fabric is well below membranes like Dermizax NX, eVent, Polartec NeoShell, Strafe's Recon Elite, and The North Face Futurelight.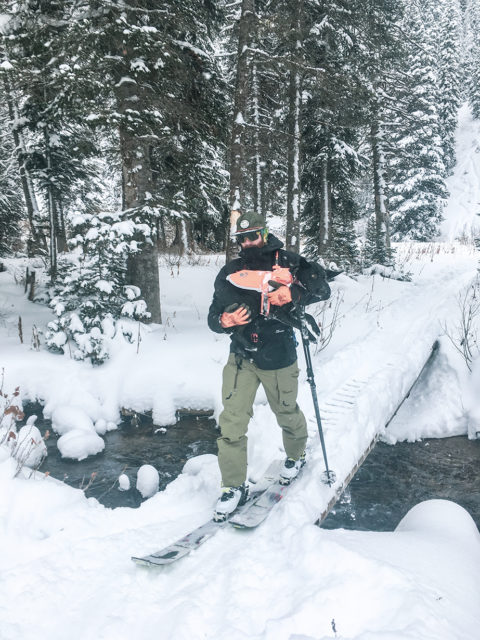 That said, those numbers don't paint a complete picture of a material's performance, as explained in Sam Shaheen's Outerwear 101 article. I've found that, for the intermountain climate of the Tetons, Dermizax EV is just fine for inbounds use. The DWR on the FW kit seems robust and hasn't started to wear out yet, and I haven't had any issues with anything wetting out yet, even on some rainy spring days. But when it comes to breathability on the skin track, there are lots of better options out there.
Durability
I've only spent ten days in the Manifest kit so far, but I've done more than my fair share of bushwhacking while going uphill and downhill in this kit. So far, so good. No tears, and the DWR seems to be holding up well. The materials FW uses in the Manifest kit feel very burly, and I'll be surprised if I notice any premature durability issues.
The pant cuffs do feature a reinforced kick-patch, but the thicker reinforcement is actually laminated inside the pant, so from the outside, it doesn't look like there's a reinforcement there. As with other pants we've reviewed with internal cuff reinforcements (e.g., many of Strafe's pants), I've noticed that I'm cutting up the face fabric with my edges more than I usually do on pants with an external reinforced cuff, but the cuts are only going through the face fabric, not the internal reinforcement. So the pants look way more beat up than they actually are.
As always, I'll update this review if I notice any durability issues down the line.
Price
The Manifest 3L jacket and pants are not cheap. You're looking at $600 for the jacket and $450 for the pant. That's basically in line with other flagship outerwear from other brands, but with the Manifest, you don't get a top-of-the-line membrane that you often would at this price point. The waterproofing on the Manifest has been totally fine for me, but there are lots of much more breathable options that are similarly or less expensive.
I think the main things that make the Manifest stand out from its similarly expensive competitors are its fit and overall aesthetic, comfortable fabric, and generous feature set. Would I personally recommend paying this much to use this kit for walking uphill? No. But if you like the look, want a lot of features, and you're ok with paying a flagship-outerwear-level price to get that, it's worth considering as an inbounds kit.
Who's It For?
FW's page for the Manifest kit lists backcountry / touring right at the very top, but that's not where this kit excels. It's cut as large as the roomiest inbounds kits I've used, it's very heavy, it doesn't pack down that well, and it's not very breathable at all compared to many other high-end fabrics out there. The Manifest kit doesn't have very useful pockets for skins nor a viable beacon pocket, and then there's the issue of the numerous magnets used throughout the kit and the interference they can cause with your beacon.
So yes, I have been touring in this kit for this review, but now that it's published, I do not plan on doing that again. There are so many better touring kits on the market (check out our 19/20 Winter Buyer's Guide for several solid options).
BUT if you're looking for a fully featured inbounds kit, the FW Manifest kit is worth a good look. It's been reliably waterproof in my experience, its breathability is fine for most lift-accessed skiing, it has a lot of features and pockets, and the fit and overall aesthetic definitely stand out in the market.
Bottom Line
The FW Manifest 3L Jacket and Pants combo is a solid, high-performing inbounds kit with a great freeride fit and tons of features. While it's marketed as a backcountry outerwear solution, that's not where it excels. And there are better 50/50 options if you prioritize breathability and / or don't want to worry about the potential for magnet / beacon interference. But if you're looking for a new inbounds jacket and pants with solid, comfortable materials and all the features you could need, the FW Manifest 3L Jacket and Pants are worth considering.