The North Face Ceptor Jacket
Reviewer: 5'10", 145 Ibs
Size Tested: Medium
Blister's Measured Weight (size Medium): 825 g
Fabric: 3L DryVent laminate w/ 75-denier x 160-denier polyester plain weave face fabric & polyester backer
Stated Features:
Standard fit jacket with a longer length in the back
Dedicated hood
Jacket-in-hood storage system
Powder skirt with gripper elastic
Underarm vents
Secure-Velcro® wrist pass pocket
Jacket-to-pant integration
Waterproof, exposed zips
Key clip in both hand pockets
Wrist cuffs with thumb loops
Pockets:
2 handwarmer pockets (zippered)
2 external chest pockets (zippered)
1 interior drop-in pocket
1 sleeve pass pocket (zippered)
MSRP: $320 (on sale right now for $224)
Test Locations: Crested Butte, Front Range, & Summit County, CO; Wasatch & Bear River, UT
Days Tested: ~20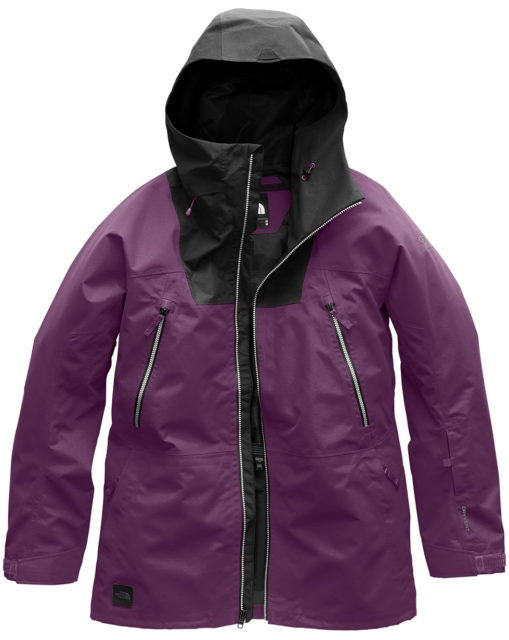 Intro
With advances in apparel and the increase in popularity of backcountry skiing and snowboarding, it's no surprise that we've seen more and more brands combine technical fabrics and features with more casual, "freeride" aesthetics. Usually, these pieces fall distinctly on one side of a spectrum. Either they are best used in the backcountry but have a less bland / "techy" look, or they are best suited for the resort but can hold up to a bit more activity and weather.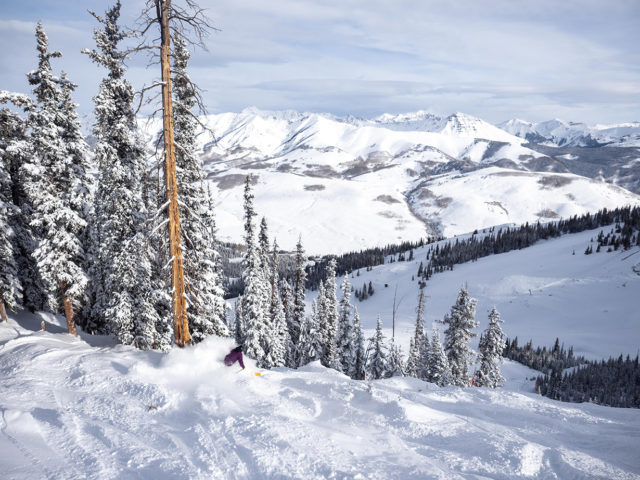 The Ceptor Jacket from The North Face falls onto the latter side of the spectrum, and it has become one of my favorite resort jackets of the past several years.
Fit
Fit is one of the primary determining factors for the end use of a shell. The fit on the Ceptor is generous and longer, which lends it a bit more to less technical endeavors where streamlined cuts and low weight are lower priorities.
The Ceptor has a long-cut torso. On my 5'10" frame, the hem of the size Medium hits me an inch or two above mid thigh. The Ceptor's torso width is slim by comparison, but still has more room to layer and move compared to more backcountry-oriented jackets like the Black Diamond Helio Active Shell, Norrona Lyngen Hybrid, and Arc'teryx Sabre LT.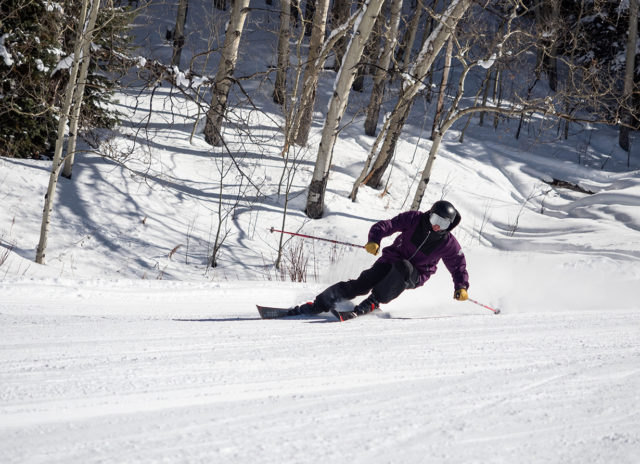 The Ceptor's sleeves are also cut long and the hood is quite large — it easily fits over all the helmets I've used with it (Pret Cynic X, Smith Maze, & Sweet Protection Switcher). But my favorite part about the Ceptor's fit is its collar.
The Ceptor has a high stand collar that is cut very wide. As a result, I can leave it fully zipped up all the time without my face and neck overheating. But if I get cold, I can easily bury my face in it to warm up. It is never restrictive around my neck and contributes nicely to the aesthetic of the jacket.
Features
The Ceptor is a fully featured 3L shell. It has two handwarmer pockets, two chest pockets (one with an interior media port), one RFID pass pocket on the sleeve, an interior drop-in pocket, a powder skirt, and pit zips.
None of the pockets on the outside of the Ceptor Jacket are quite big enough to fit skins, but snacks, large phones, a beacon, or a beer will fit just fine. The interior drop-in pocket is perfect for goggles or a small to medium pair of gloves, and the powder skirt does its job, though it isn't adjustable.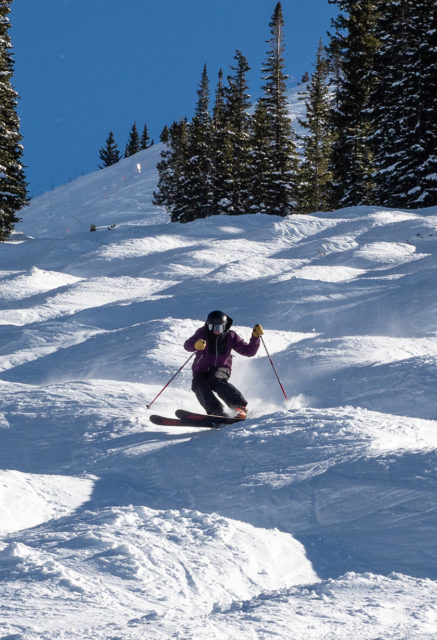 The only quip I have with the features on the Ceptor is that the exposed Vislon waterproof zippers are a bit difficult to operate, especially the ones on the chest pockets. I've used other similarly styled zips that are smoother and easier to operate. This isn't a that big of a deal for me, but it is a slight annoyance.
Weight
At 825 g in a size Medium, the Ceptor definitely falls on the heavier end of the 3L-ski-jacket spectrum. This is no ultralight touring shell.
For reference, here are a number of our measured weights for some notable jackets in this category. Note the size differences to keep things apples-to-apples.
364 g Black Diamond Helio Active Shell, size Medium
518 g Flylow Cooper Jacket, size Medium
544 g Outdoor Research Hemispheres Jacket, size Medium
563 g Rab Sharp Edge Jacket, size Medium
590 g Flylow Higgins Coat 2.1, size Large
593 g Patagonia PowSlayer Jacket, size Large
605 g Patagonia Descensionist Jacket, size Medium
610 g Strafe Cham Jacket, size Large
626 g Arc'teryx Sabre LT Jacket, size Medium
635 g Mammut Alvier Armor Hardshell Jacket, size Medium
825 g The North Face Ceptor Jacket, size Medium
841 g Strafe Pyramid Jacket, size Large
848 g Open Wear Open One 3L Shell Jacket, size Medium
Materials
The Ceptor Jacket uses The North Face's proprietary DryVent membrane, which is combined with a pretty burly 70-denier x 160-denier face fabric and a subtle camo print on the backer.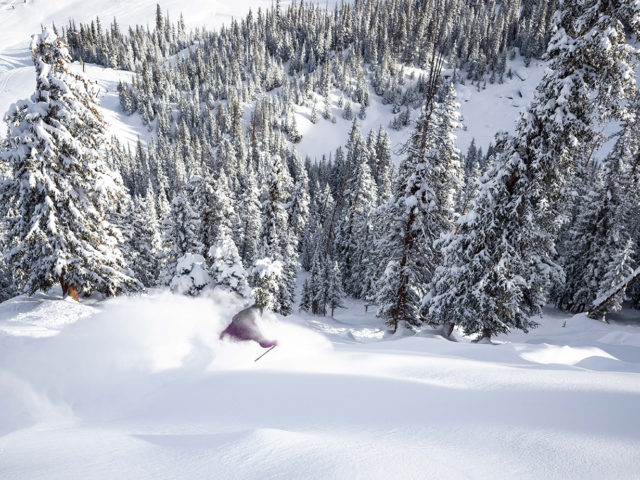 The Ceptor's fabric has a bit of structure to it, which I like for a jacket that is this heavy and big — the structure makes the drape of the jacket feel a bit more natural. This Ceptor Jacket offers a nice balance between being soft enough to be comfortable (the hand is fairly soft and decently crinkle-free), while also having enough structure that it drapes well and looks good.
Weather Resistance
As with most 3L hard shells, the Ceptor offers plenty of protection against the elements for the testing that I can do here in Colorado.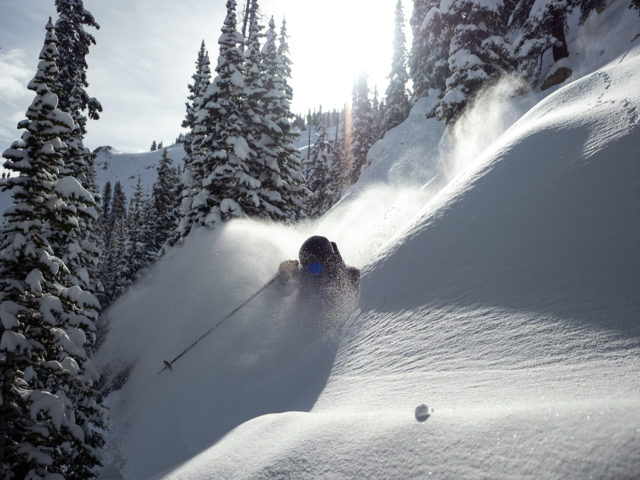 I've never experienced any wind or water getting through the Ceptor and I have no reason to believe that water would get through in wetter climates, either. As with many proprietary laminates, the Ceptor's DryVent fabric is quite waterproof but suffers a bit on the breathability front. Which brings us to:
Breathability
The Ceptor isn't as breathable as other jackets on the market that feature air-permeable membranes (e.g., eVent & Polartec NeoShell) or very lightweight face fabrics. But that's actually been a plus for me, given how I've been using the Ceptor.
I mostly use the Ceptor as a resort shell, and highly breathable jackets like the Patagonia Descensionist or Black Diamond Helio Active Shell tend to feel quite cold when the winds are raging or the temps drop. The Ceptor holds in a bit more heat, while still offering enough breathability to accommodate the output of a decent inbounds hike or a moderate-output day touring — and it has two 35.5 cm / 14" pit zips to dump heat if needed.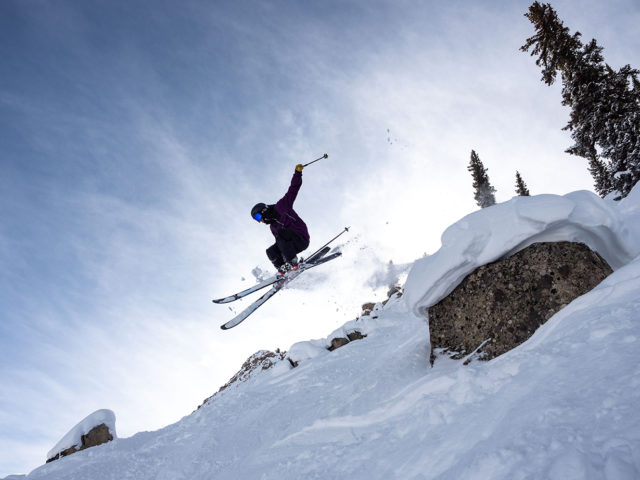 If you spend the majority of your time earning your turns, I think the Patagonia Descensionist Jacket or Strafe Cham Jacket are probably better options for shells with generous "freeride" cuts, but that breathe better than the Ceptor. But if you mostly ride lifts and tour less frequently, the Ceptor's breathability shouldn't be an issue — it breathes similarly well to most non-air-permeable shells. And if that talk about membranes and air permeability is confusing, check out our Outerwear 101 and 201 articles.
Warmth
The Ceptor is a thin shell and, as a result, offers very little inherent warmth. As I just discussed, it is a bit warmer than other options that offer better breathability, but the Ceptor is designed for versatile protection from the elements, not warmth. If you want a warm jacket, look toward other, insulated options.
Durability
The Ceptor uses a heavyweight face fabric that has proved about as durable as it feels. Several weeks ago I hit a tree (~3″ diameter, ~7′ tall), and did so hard enough to snap it off at the base of the trunk. Besides some tree sap embedded in the fabric, the Ceptor came out looking just fine. I imagine this jacket will hold up to several seasons of regular use, and I'll make sure to update this review if anything happens to change that opinion.
Who's It For?
The Ceptor is an excellent option for people who want a jacket with a baggier, longer, "freeride" aesthetic, but with enough protection and breathability to handle a bit of use in the backcountry.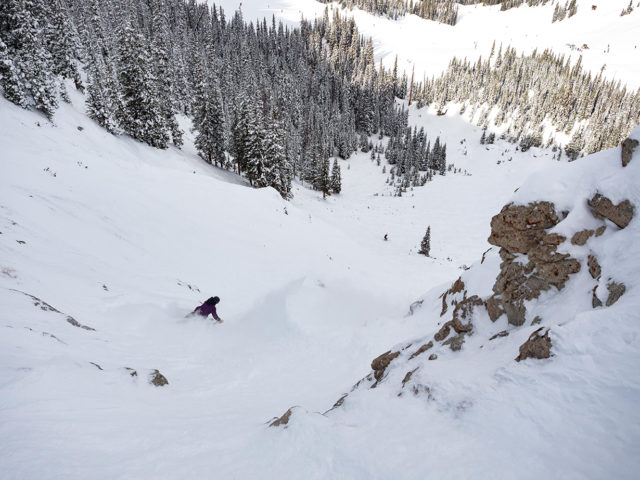 If you spend most of your time in the park, there are less expensive, 2L options that will probably work just fine (and offer more style options). Conversely, if you spend most of your time in the backcountry, I would recommend a lighter, more breathable option like the Patagonia Descensionist, Strafe Cham, or Flylow Cooper. But if you're looking for a shell with a more generous cut and you either split your time between the backcountry and resort or ski solely in the resort, the Ceptor is one of my top picks right now. Plus, the Ceptor comes in at a price (MSRP of $320) that's significantly lower than many other 3L shells.
Bottom Line
The North Face Ceptor is a very well thought out and moderately priced 3L jacket. It has a generous "freeride" fit, a burly face fabric, it drapes excellently, is extremely comfortable, and offers good protection against the elements. For riding lifts and getting out into the backcountry a bit, I'm a huge fan of the Ceptor. Plus, that purple colorway… damn.