2021-2022 Roxa R3 130 T.I.
Stated Flex Rating: 130
Available Sizes: 24.0-30.5
Stated Last Width (size 26.5): 99 mm
Stated Range of Motion: 45°+
Stated Forward Lean: 15°
Size Tested: 27.5
Stated Boot Sole Length (size 27.5): 310 mm
Stated Weight (size 26.5): 1520 g
Blister's Measured Weight (size 27.5, w/ "Freeski Wrap MS" liner):
Shells & Boot Boards, no Liners: 1319 & 1320 g
Liners : 263 & 263 g
Total Weight per Boot: 1582 & 1583 g
Buckles:
1 cable-style lower buckle
1 ankle buckle
1 upper strap / buckle combo
Power Strap: 50 mm buckle-style
Tech Inserts: Dynafit-Certified
Liner (two available choices):
Intuition Freeski Wrap MS Liner
Intuition Freeride Tongue MS Liner
Shell Material:
Cuff: Grilamid
Shoe / Clog: Grilamid
Tongue: Nylon
Soles: Grip Walk or Alpine (swappable)
Binding Compatibility:
All pin-style / "tech" bindings (Dynafit, Marker Kingpin, etc)
Grip Walk Bindings
Alpine Bindings
Test Locations: Teton Pass backcountry, Grand Teton National Park, Jackson Hole Ski Resort, & Grand Targhee Ski Resort, WY
Days Tested: 12
[Note: Our review was conducted on the 19/20 R3 130 T.I., which was not changed for 20/21 or 21/22.]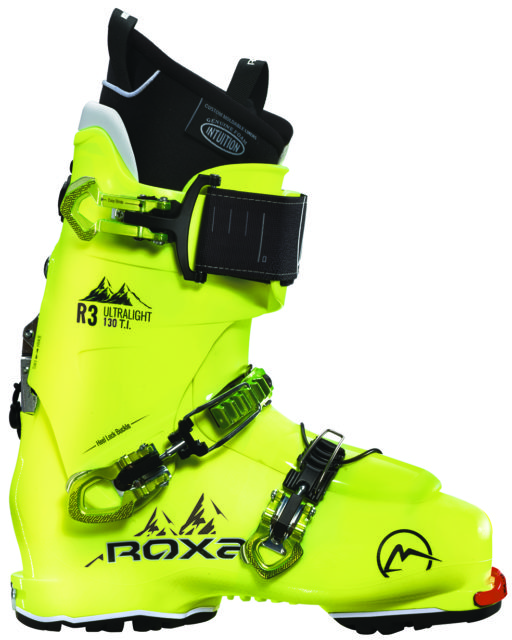 Intro
Two years ago I reviewed Roxa's original R3 130, and came away generally impressed. It skied pretty well for its weight, walked well enough for a 50/50 crossover boot, and was generally hassle-free.
But, I found that it had several shortcomings: it wasn't quite stiff enough for me to confidently ski it inbounds in variable snow, the top buckle limited range of motion while skinning, and I found myself wishing it had a wrap liner.
Apparently, the folks at Roxa felt similarly, and when the new 19/20 iteration of this boot showed up, I was excited to see that it had redesigned buckles, a Grilamid insert to stiffen it up, and an option to get it with a wrap liner. On top of all that, the new version is officially heat-moldable and comes in an incredibly bright "alien slime neon green" color that positively glows.
So I've spent the last few weeks touring and skiing inbounds in the updated Roxa R3 130, and comparing it to a variety of other touring and inbounds boots. Spoiler alert: It's been a fun couple of weeks, and I've come away really impressed with the updated version of this boot.
Weight & Comparisons
The new R3 130 comes in a bit lighter than the previous version, and still a bit heavier than most "dedicated" touring boots like the Scarpa Maestrale XT, Atomic Hawx Ultra XTD 130, Tecnica Zero G Tour Pro, and Salomon S/Lab MTN. But the new R3 130 comes in significantly lighter than most 50/50 "crossover" boots like the Tecnica Cochise 130, Nordica Strider 130, Lange XT Free 130, and Full Tilt Ascendant.
For reference, below are a number of our measured weights for some other notable boots (keep in mind the size differences). Our measured weights show the size of boot, then the weight of each boot + the weight of each liner, then the total weight for shells + liners, listed in grams:
Scarpa Maestrale RS (24.5 / 25.0): 1053 & 1057 + 244 & 245 = 1297 & 1302 g
Tecnica Zero G Tour Pro (26.5): 1099 & 1100 + 210 & 211 = 1309 & 1311 g
19/20 Atomic Hawx Ultra XTD 130 (26.5): 1130 & 1132 + 276 & 282 = 1406 & 1414
Salomon MTN Explore (26.5): 1126 & 1135 + 281 & 281 = 1407 & 1416 g
17/18–18/19 Atomic Hawx Ultra XTD 130 (26.5): 1128 & 1127 + 300 & 305 = 1428 & 1432 g
Scarpa Maestrale XT (26.5 / 27.0): 1258 & 1258 + 247 & 252 = 1505 & 1510 g
Head Kore 1 (26.5): 1132 & 1136 + 392 & 393 = 1524 & 1527 g
Salomon S/Lab MTN (26.5): 1257 & 1246 + 288 & 303 = 1545 & 1549 g
Fischer Ranger Free 130 (26.5): 1204 & 1204 + 348 & 351 = 1552 & 1555 g
19/20 Roxa R3 130 T.I. (27.5): 1319 & 1320 + 263 & 263 = 1582 & 1583 g
17/18–18/19 Roxa R3 130 T.I. (27.5): 1341 & 1348 + 263 & 262 = 1604 & 1610 g
Salomon QST Pro TR 130 (26.5): 1389 & 1391 + 273 & 274 = 1662 & 1665 g
Nordica Strider Pro 130 DYN (27.5): 1445 & 1440 + 363 & 373 = 1808 & 1813
Lange XT Free 130 LV (27.5): 1472 & 1473 + 376 & 376 = 1848 & 1849 g
Nordica Strider 120 (26.5): 1486 & 1494 + 365 & 366 = 1851 & 1860 g
Full Tilt Ascendant (27.5): 1613 & 1615 & + 3018 & 311 = 1921 & 1962 g
Tecnica Cochise 130 DYN (25.5): 1493 & 1496 + 440 & 441 = 1933 & 1937 g
Liners
Roxa customers now get to choose for the R3 130 either an Intuition tongue-style liner with a heel-flex zone or an Intuition wrap-style liner without a flex zone on the heel. I love Power Wraps, especially in three-piece boots, so I opted for that option.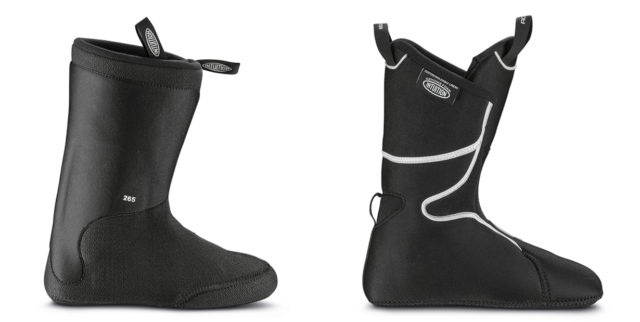 The R3 130's wrap liner greatly contributes to the improved downhill performance of the new R3 130, but it doesn't walk well at all. It's the stock inbounds Power Wrap liner, so there's no flex zone at the heel. That's a tradeoff I'm happy to make, given what I've been using the R3 for (more on that later). It's also worth noting that the tongue-style liner in the old R3 130 (which is the same tongue-style liner available for the new boot) weighs almost exactly the same as the new wrap-style liner.
You could opt for the tongue-style liner for the R3 if touring performance is a higher priority for you, though this is a boot that seems perfect for an Intuition Tour Wrap liner.
Soles
Like the original version, the new RS 130 is available with either Grip Walk soles or standard alpine soles. In the old pair, I skied one day on the alpine soles and then swapped to the Grip Walk soles and never swapped back. I found that the old boot wasn't stiff enough for inbounds use for me, so I used it with the soles that offered slightly better traction. On the new version, I started out with the Grip Walk soles, and then immediately realized that this is plenty of boot for me to ski inbounds in, so I have left the alpine soles on since. It's worth noting that you can use the R3 130 in tech bindings with either the Grip Walk or alpine soles.
Either way, the screws holding the soles just thread into plastic, so a lot of swaps is not recommended.
Hard / Soft Setting
Like the old version, the new R3 130 has a bolt on the back of the cuff that allows you to choose between "Hard" or "Soft" settings. All this does is rotate a block inside the cuff that engages or disengages the cuff from the highest point of the wings of the clog. In the "Soft" setting, the R3 feels similar to a Full Tilt "6" tongue, and in the "Hard" setting it feels a little stiffer than a Full Tilt with an "8" tongue.
Buckles & Power Strap
I'm a big fan of the new R3's updated buckle system. It's simple and easy to use. Most folks can set the lower cable on its buckle and leave it on the track, just flipping the buckle open or closed to take the boot on or off. I have a grotesquely high instep, so I can't.
The new R3's upper buckle has been tweaked with longer rails for the sliding portion so that it now allows you to open up the boot further with every stride in walk mode. I noticed that improvement immediately — the new version has an increased range of motion (aka, "ROM").
I really like the R3's top strap / buckle combo. I wish all my touring boots had it. It's so simple to open up or cinch down, and it feels like it provides better power transmission than anything short of a Booster strap.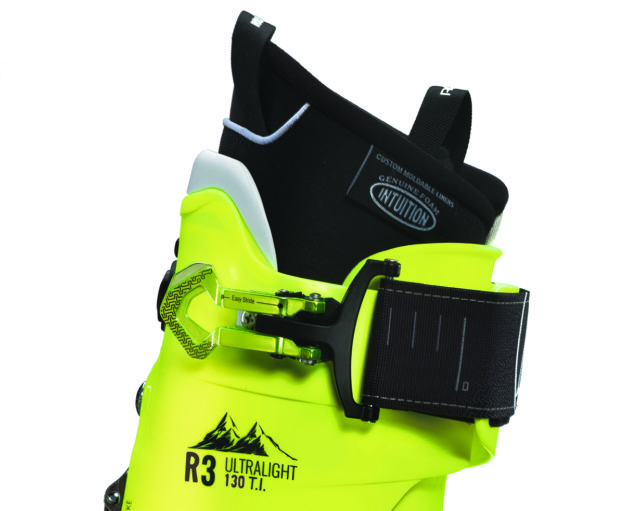 Lastly, all of the new R3's buckles have a nicer finish than the old version's.
Walk Mechanism
The new R3 retains the same almost brutally simple walk mode as the original. It's just an external switch with a hard stop that keeps the boot from flexing back, similar to the one on the Full Tilt Ascendant and Dalbello Lupo series. The R3's walk mode is pretty foolproof — you immediately know if it's locked or not, it's easy to operate, and it's difficult to ice up. The downside is that it doesn't open up any forward flex. So you need to at least open up the buckles to get any sort of ROM for striding.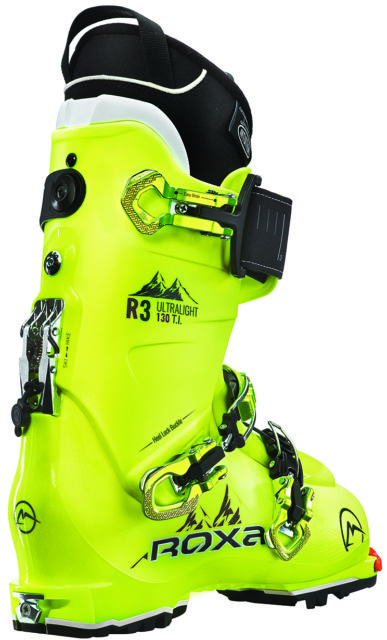 I've found that, similar to the Ascendant, if you're planning on skinning for more than ~20 minutes in the R3, your best bet is to either buckle all the buckles under the tongue and over the liner to get more ROM, or just pull off the tongue completely. Fortunately, that's pretty easy to do on the R3, and it slips back in quickly for the descent.
Fit
Stop staring at your feet, buying boots online, and ignoring your bootfitter. Bootfitters really are magicians, doing their best to make your ski boots fit like dainty fairy slippers. Listen to them, have them figure out what boot will work best for you, and tip them well.
That said, the new R3 130 fits exactly like the old one, so here's what I said about that boot:
My foot is high volume, I have high arches, a high instep, and a wide forefoot, so I generally require a toe punch, and usually end up with pain in my instep.
Roxa warned me that the R3 130 runs a little longer in the toe than usual — without otherwise being higher-volume in the toe box — and so they sent me both a size 26.5 and 27.5 to try on. I found that, even with the longer toe box, the 27.5 fit me much better than the 26.5, so the 27.5 is the boot I'll be referencing in this review.
I've skied quite a few boots in the last few years, and almost all of them make me cry like a little baby if I don't get a bunch of punching / bootwork done. The only other boot that's worked for me straight out of the box is the Scarpa Maestrale RS. After 12 days in the R3 130, I haven't wanted or needed any work done, other than a liner heat mold. That may be thanks to the R3's "Biofit Last" that has "preformed relief in the most common fit issue areas."
Despite not having pain in my usual areas, I still have great heel hold in the R3. I think a lot of that is due to the middle ankle buckle that absolutely locks my foot in without pinching anything. It has a very similar feel to the Maestrale in this respect, and I love it.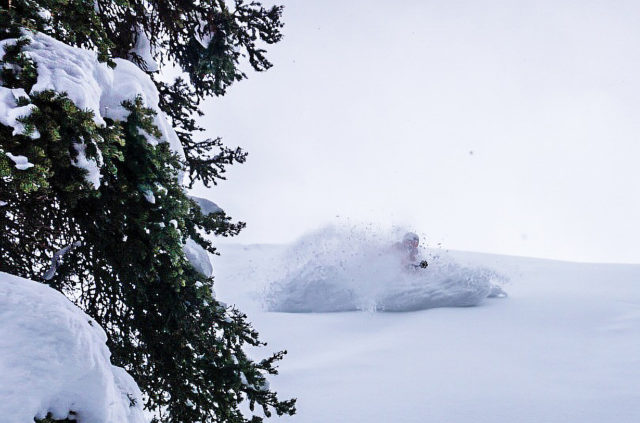 New for 2019-2020, the R3 130's shell is officially heat moldable. Roxa didn't actually change the shell materials at all, instead, they say:
"We have many dealers who have been heat molding the R3 since its introduction 3 years ago. So we are acknowledging the capabilities and are currently finalizing our 'official' protocol for molding. Essentially it is 7-8 minutes in a pre-heated boot oven (Salomon / Atomic / 117° C). We are currently putting the boots on their back, sole towards the fan. Remove from oven; Liners in; buckle loosely; stand static for 3 minutes; then ice pack for 3 minutes."
I haven't had to heat mold the shell of the R3 130, but I wish every boot was heat moldable. Props to Roxa for recognizing this.
Uphill Performance
The new R3 walks about the same as the old version, which is to say, fine, but not great. Without unbuckling it, you're basically skinning in an alpine boot. If I loosen the buckles, I get enough ROM for most short tours, and the new version has just a touch more ROM thanks to the updated top buckle. But for anything where you're planning on extended skinning, your life will be much better if you just pull out the tongue.
The R3's buckles latch securely over the liner when you pull out the tongue, and the middle buckle has done a great job of keeping the liner from moving around in the shell or creating blisters.
With the tongue in, the R3 walks noticeably worse than the Atomic Hawx Ultra XTD 120 and Scarpa Maestrale RS. With the tongue out, the R3 still doesn't walk as well as those boots, but unless you're doing super long, flat approaches, I doubt most people will take issue with the R3's ROM without the tongue.
Taking out the tongue obviously creates another step during transitions and means that you need to keep space in your pack for the tongues, but for me, the tradeoff in walking performance is worth it.
Downhill Performance
I didn't feel that the old R3 was a true "130-flex" boot. But I think the new version is. A lot of that seems to be due to the addition of a Grilamid insert in the back of the cuff that keeps it from deforming / flexing as much as the old boot. The insert looks like a little black spider riveted into the inside of the cuff. Some of that boost in downhill performance is also due to the wrap liner I've been using. Overall, the new boot just feels stiffer and like it has better "suspension" than the previous version.
I typically ski the Atomic Hawx Ultra 130 inbounds and really like it (other than the fit). Off the top / initially, the R3 might be a touch stiffer, but it has a more linear flex initially before it ramps up. The Hawx Ultra 130 is a touch softer when initiating the flex, but ramps up quicker.
That said, I've found that I can ski either one of these boots very similarly, and they both offer very similar levels of control and damping. That makes the new R3 130 the best boot with a walk mode that I've reviewed when it comes to downhill performance (other boots I've used include the K2 Pinnacle Pro & Pinnacle 130, old Roxa R3 130, Full Tilt Ascendant, Nordica Strider Pro 130, La Sportiva Spectre 2.0, & Atomic Hawx Ultra XTD 120). That's awesome, because it walks better than any inbounds boot I've reviewed before, and weighs less as well.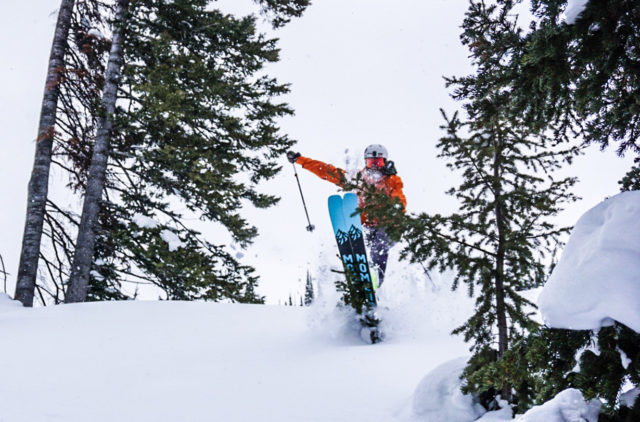 That includes the Full Tilt Ascendant. As I mentioned above, in the "Soft" setting, the R3 feels similar to a Full Tilt "6" tongue, and in the "Hard" setting it feels a little stiffer than a Full Tilt with an "8" tongue. However, the R3 is much lighter than the Ascendant, and walks almost identically well.
I'm planning on skiing every inbounds day for the rest of the season in this boot — to me, it doesn't feel like a touring boot when it comes to downhill performance.
Who's It For?
The touring-boot market just keeps growing, and as it does, I think it's helpful to create sub-categories so that we're not comparing apples to oranges.
Basically, I see four classes of touring boots.
(1) ~1000-g or less boots that are really just designed for ski-mountaineering races.
(2) Ultralight mountaineering-focused boots that top out around ~1200 g (e.g., Salomon S/Lab X-Alp, Atomic Backland Carbon, Fischer Travers, etc.).
(3) Day-to-day dedicated touring boots that top out around 1600 g (e.g., Scarpa Maestrale RS, Atomic Hawx Ultra XTD, Salomon S/Lab MTN, etc.).
(4) Inbounds-oriented boots with tech fittings and walk modes that weigh ~1700 g and up (e.g., Full Tilt Ascendant, Lange XT Free, Nordica Strider, Tecnica Cochise, etc.).
The R3 gets to blur those categories a bit though. It walks well enough and weighs the right amount to be competing with the Hawx and Maestrale, but, to me, it skis like a full-on inbounds boot. As a result, I think there are a lot of folks that should check out the R3.
I think the most obvious category of skiers for the R3 are people who ski inbounds in Full Tilts, but who are looking for a touring boot. The R3 weighs much less than the Full Tilt Ascendant, the R3 is heat moldable, the R3 walks just as well, and in my opinion, the R3 skis better. I think most of that's due to the R3's higher cuff.
The second category is anyone who's thinking of flirting with touring, but who only has money for one pair of new boots that they will use for everything. The R3 fills that niche nicely. It skis well enough that you wouldn't really be missing out if you only ever skied it inbounds, but if those backcountry sirens start calling, you've got a great first touring boot.
The third category is the backcountry jump crowd that's touring on the Salomon / Atomic Shift or Cast Freetour bindings. Want to walk up big lines, skin out to build booters, and session cliffs? Welp, you're going to need a stiff, secure boot, and it's going to need tech fittings. The R3 checks both of those boxes. The R3 makes me want to put in a skin track, wander out to new pillow zones, and huck my meat. It skins well and skis better — a perfect combination for going big in fresh snow.
Bottom Line
Every time a company updates a product they come up with a bunch of catchy taglines and marketing plays to make it seem sexy. But it's rare that the updated version is really that much better. The original R3 was a good boot, it was just lacking a little bit of downhill skiing performance to make it a great one. Roxa managed to pull that off with the updated boot, while also making it walk a little better at the same time. If you're looking for a new inbounds-capable touring boot, the Roxa R3 130 should be on your short list.