Mammut Alvier Armor Hardshell Jacket
Reviewer: 5'9", 155 lbs
Size Tested: Medium
Blister's Measured Weight (size Medium): 635 grams
Materials:
Membrane: Mammut DryTech
Face Fabric: 71% Polyamide / 29% Polyester
Backing Fabric: 100% Polyamide
Stated Features:
Mammut Phase Weave™ seamlessly integrates and combines different material properties and processing methods in a single material
Water column: 10,000 mm
Vapor permeability: 10,000 g/m²/24h
Helmet-compatible hood with snow-specific construction and 3-point adjustment
Robust, water-repellent YKK-Vislon® 2-way front zipper
U-shaped puller on front zipper makes it easier to open when wearing gloves
Underarm ventilation with water-repellent, matt YKK Vislon® 2-way zipper
Pre-shaped sleeves with stitched hook and loop fasteners
Laser-cut, low-profile, bonded hand gaiters to reduce glove bulk
Detachable, elastic snow skirt
Snap buttons on snow skirt to attach jacket to pants
Pockets:
2 external chest pockets (zippered)
1 internal left chest pocket (zippered)
1 left forearm pass pocket (zippered)
MSRP: $599
Test Locations: Whitefish & Big Sky, MT; Revelstoke, BC
Days Tested: ~40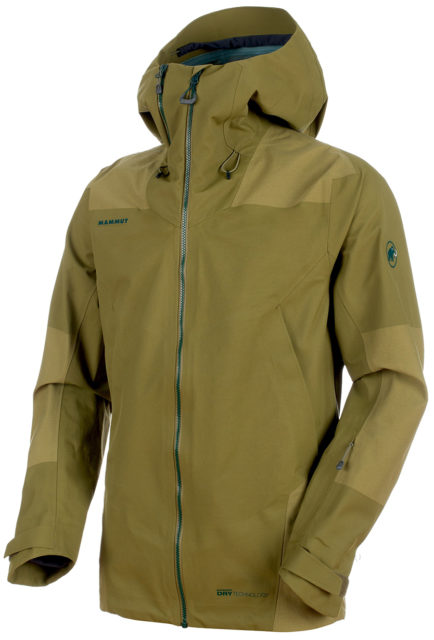 Intro
Mammut has two subsets within their Alvier line of ski-oriented hardshells — the regular Alvier jacket and bibs, and the Alvier Armor jacket and bibs. The Alvier Armor options are reinforced in high-wear areas using an interesting construction technique, their waterproofing and breathability ratings are a bit lower, and they're a bit less expensive.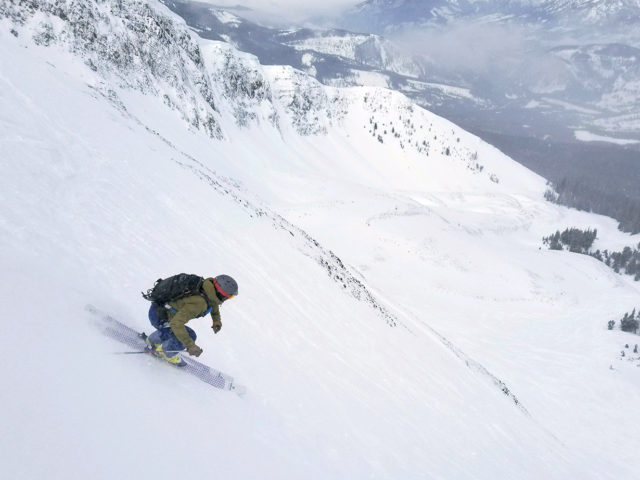 The Alvier Armor is still a hardshell jacket, and it has most of the upsides (and downsides) of the hardshell category. But given that it foregoes more well-known waterproof membranes in favor of Mammut's in-house DryTech fabric, the question is — how does it compare to the many other hardshells out there? I've been spending a lot of time in the Alvier Armor jacket in a huge range of conditions — here's how it's held up.
Fit
The Alvier Armor Jacket is a little odd when it comes to fit. The upper 90% of the jacket fits true to size. The sleeves and torso are all fairly typical of a lot of the ski jackets on the market. The sleeves are perhaps slightly on the short side, but for most people, I think they'll be fine. The Alvier Armor is not a baggy jacket by any means, but it has a comfortable cut that doesn't restrict movement and leaves plenty of room for layering underneath. On a particularly cold day, I wore my big puffy jacket underneath it without issue.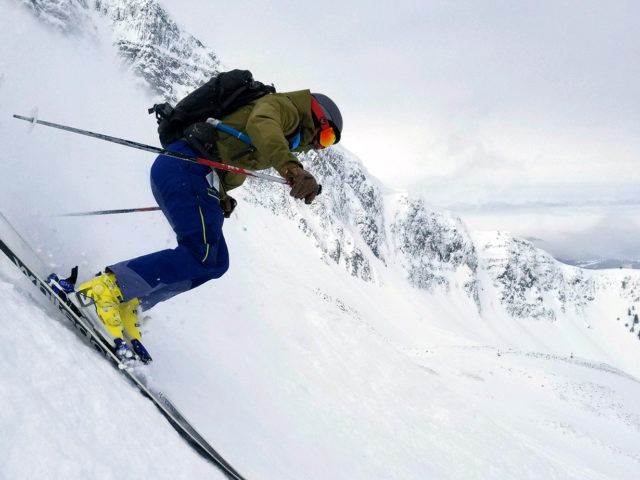 The bottom 10% of the jacket is the odd part — basically, the bottom edge of the jacket is quite tight. Lengthwise, the jacket is normal — the bottom edge of the size Medium sits a bit below my hips; low enough that there's good overlap with any pants. But that bottom edge sits just below my butt, and it's pretty snug, which is not an issue I've had with any other jacket I've ever worn (excluding a few that have an elastic waist).
This doesn't really present any comfort issues, but it does mean that the bottom edge of the jacket tends to ride up a bit while skiing. With the way that it's cut, it doesn't just hang slightly loose like most ski jackets. I find myself having to pull it down periodically, which is occasionally annoying.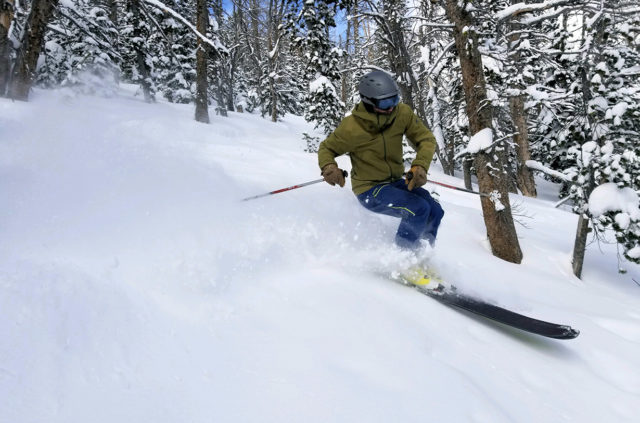 At 5'9", 155 lbs (175 cm, 70 kg), I'm a solidly Medium-sized person. Pretty much every piece of clothing I own is a size Medium, and 95% of the time, a Medium is the right size for me. The Alvier Armor jacket is not an exception to this rule, although I'd say I'm closer to needing a size Large than with most other ski jackets I've tried. And it's really just that bottom hem that's oddly tight — if you're at all meaty in the thigh / hip / waist area, I'd consider sizing up, or maybe looking for a jacket with a more traditional cut.
Features
The Alvier Armor has most of the basic features that you'd expect in a ski-oriented hardshell, without going overboard. There are two main external chest / handwarmer pockets that are fairly large and situated high to avoid interfering with the waist strap of a pack. This placement works as intended, but the zippers can be a little awkward to grab since they're up close to the armpits.
Inside the jacket is a single zippered pocket in the left chest area that, based on the Barryvox label attached to it, is intended for a beacon. Personally, I'm disinclined to put a beacon in my jacket pocket for a number of reasons, not the least of which is the fact that I want my beacon on my body (not in my pack), and my shell often ends up in my pack while skinning. That inner pocket has a media port, but the pocket is too small to fit most modern smartphones, so its utility is a bit restricted. My main gripe here is that the Alvier Armor Jacket has only one internal pocket, and it's in the same location as the pocket on the Alvier bibs, which means using both pockets creates a stack of pocket items in my left chest area, with nothing in my right chest area.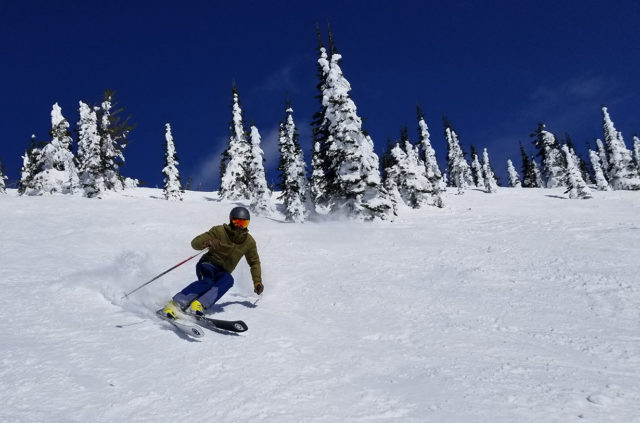 The Alvier Armor Jacket also has a pass pocket on the left forearm. There's not a clear window into it, so it really only works for RFID passes.
The Alvier Armor's main zipper and pit zips are waterproof, and all of them have good pulls that are easy to use with gloves on. The pit zips aren't as long as the ones I've seen on some other jackets, but for the most part, the zipper configurations are pretty standard. The main zipper is fairly taught, which is good for waterproofness, but means it gets gummed up with ice and snow somewhat easily.
The Alvier Armor Jacket also has a short zipper on the collar that's supposed to loosen things up and provide some extra space for helmet straps, neck gaiters, scarves, etc. And yes, I suppose it does that, but it mostly just means there's more going on in the collar region right in front of my face — I think I'd be happier if it wasn't there and the collar was just a little roomier.
The Alvier Armor's helmet-compatible hood is fairly tight — it fits snugly over my Smith Variance helmet. And while I only use the hood when it's particularly cold and windy, the hood on the Alvier Armor is a good one. Vision is minimally restricted — it's one of the better hoods I've used in this regard. The hood has a fairly standard three-point adjustment. The only interesting note here is that the cord locks for the hood pulls are sewn inside of the collar — you just have to feel around to loosen them. Upside: they don't ice up. Downside: they're not easily replaceable if they break.
The Alvier Armor Jacket has a removable powder skirt that'll snap into most Mammut ski pants. I didn't end up using it, partly because I find powder skirts annoying, partly because I wear bibs so it doesn't usually matter, and partly because the aforementioned snug bottom edge of the jacket mostly keeps snow from working up under the jacket.
A few other minor features that I've noticed with this jacket: the velcro at the cuff is "inlaid" in the fabric. This is a small but appreciated touch, since the stitching in that area has been a common point of failure on other jackets I've owned. Less appreciated is the shape of the cuff, which is cut at an angle. This works well on jackets designed for other activities (biking, for example), but here it just makes the cuff bunch up funny around my glove.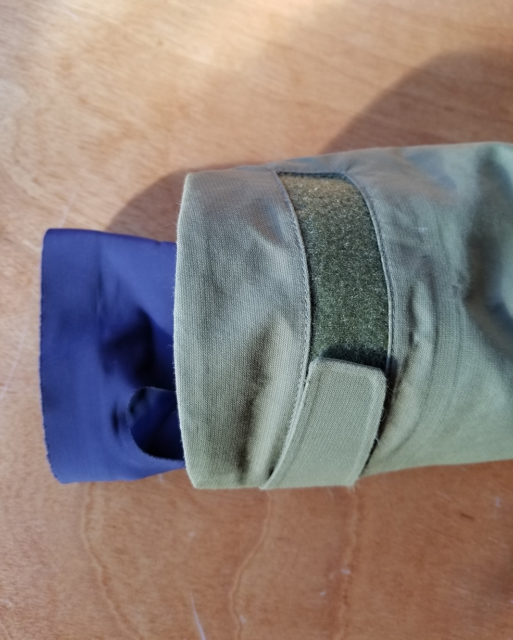 Also in the cuff area are internal elastic hand gaiters. I have mixed opinions on hand gaiters, but I've been using them on the Alvier Armor and I generally like them, especially when it's cold. Your opinion on cuff gaiters may differ, but it'd be entirely easy to cleanly cut them out of the jacket if you want to.
Weight
On my scale, the size Medium Alvier Armor Jacket weighs in at 635 grams. That's on the slightly heavier end of average for a jacket like this, but for most people shopping for a jacket in this category (i.e., primarily for inbounds resort use), weight isn't a big deciding factor. To be clear though, if you're looking for a lightweight, packable shell, the Alvier Armor isn't it.
For reference, here are a number of our measured weights for some notable jackets in this category. Note the size differences to keep things apples-to-apples.
364 g Black Diamond Helio Active Shell, size Medium
518 g Flylow Cooper Jacket, size Medium
544 g Outdoor Research Hemispheres Jacket, size Medium
563 g Rab Sharp Edge Jacket, size Medium
590 g Flylow Higgins Coat 2.1, size Large
593 g Patagonia PowSlayer Jacket, size Large
605 g Patagonia Descensionist Jacket, size Medium
610 g Strafe Cham Jacket, size Large
626 g Arc'teryx Sabre LT Jacket, size Medium
635 g Mammut Alvier Armor Hardshell Jacket, size Medium
825 g The North Face Ceptor Jacket, size Medium
841 g Strafe Pyramid Jacket, size Large
848 g Open Wear Open One 3L Shell Jacket, size Medium
Materials
While the "regular" Alvier jacket is built around a Gore-Tex Pro membrane, the Alvier Armor features Mammut's proprietary DryTech waterproof membrane. The DryTech membrane is (according to Mammut) less waterproof and less breathable than Gore-Tex Pro, but it's also a good bit less expensive (though not super cheap compared to the entire market). I'll get into breathability and water resistance below, but in terms of materials, the interesting thing about the Alvier Armor is the reinforced areas.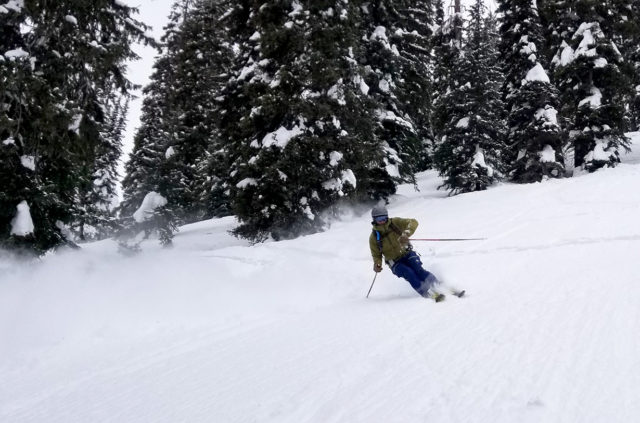 Mammut uses what they call "Phase Weave technology," which, for the purposes of this jacket, means that they've integrated reinforced sections of fabric without extra seams. Basically, the material transitions from a lighter weight, non-reinforced material to a burlier fabric without any stitching, taping, or welding — the transition is actually woven into the fabric. This is similar in concept to The North Face's Fuse Form technology. The upside here should be pretty obvious — fewer seams mean less stitching to fray, fewer welds to fall apart, and less taping to peel off, which all means fewer places for water to intrude.
Now, this isn't to say the jacket doesn't have seams — it's still sewn together like most jackets are. But the reinforcements don't require additional seams or stitching.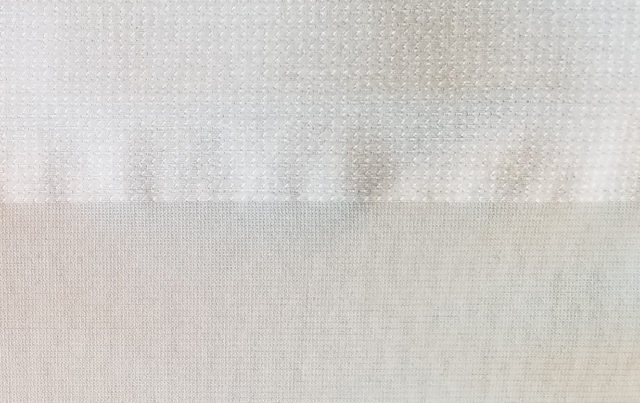 The Alvier Armor Jacket's reinforcements are in the typical areas — the shoulders, elbows, and butt all feature the heavier fabric. There's also a reinforced panel on top of the hood, although I'm not really sure why that one's there.
The Alvier Armor's fabric is moderately soft by hardshell standards, but it's still relatively stiff. Some hardshells can feel excessively stiff and crinkly, and I'd say the Alvier Armor isn't terrible on that front, especially for a jacket with some reinforcements. That said, if you prefer a softer jacket that hangs more loosely, we'd recommend checking out the Open Wear Open One 3L Shell Jacket or Strafe Pyramid.
Weather Resistance
Mammut rates the Alvier Armor's waterproofing at 10,000 mm, which is a good bit less waterproof than the 28,000 mm rating on the Gore-Tex Pro Alvier jacket. I've been skiing in the Alvier Armor is a huge range of conditions, and throughout that time I've also been wearing the Mammut Alvier bibs, which have the higher waterproof rating that comes with the Gore-Tex Pro membrane.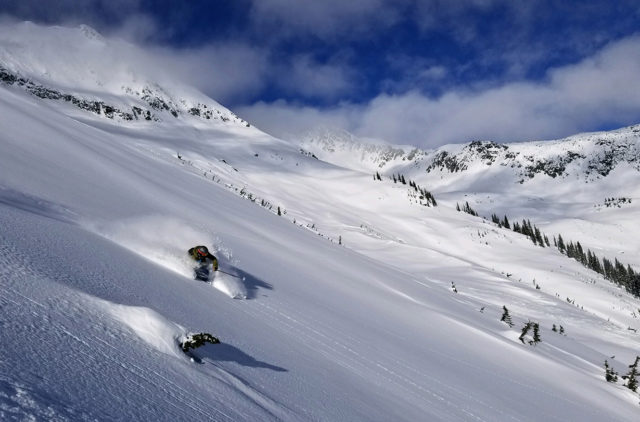 I can't say that the Alvier bibs kept me any drier than the Alvier Armor jacket; they both kept the elements completely at bay. I've skied in the Alvier Armor in everything from frigid storms with -40° F windchill to warm storms where it was fully raining at the base of the ski hill. I've yet to come across a better test of a garment's waterproofness than sitting on a chairlift while it's pouring rain, and the Alvier Armor passed with flying colors — no water made it through to my inner layers, and for the most part, water beaded off the jacket nicely.
So while it is true that, by the advertised numbers, the Alvier jacket with the Gore-Tex Pro membrane is more waterproof, I think you'd need to be skiing in some impressively abysmal conditions for it to matter, at least as far as the waterproofing goes. That said, there's a lot of interesting science behind waterproofing and fabrics. If you're interested in learning more about different waterproof membranes and how they compare, check out our Outerwear 101 and 201 articles.
Breathability
As with the waterproofing, the Alvier Armor has a lower breathability rating than some of its more expensive competition. But unlike the waterproofing rating, I do actually notice a difference here.
When I'm putting in a hard effort and working up a sweat, the Alvier Armor doesn't breathe quite as well as a Gore-Tex Pro garment, and it's significantly worse than other assorted jackets that use membranes that put a higher priority on breathability (e.g., Gore-Tex Active, eVent, Polartec NeoShell, etc.).
Now, I don't want to give the wrong impression — the Alvier Armor isn't a suffocating sweatbox, and it still breathes reasonably well for what it is. As far as hardshell jackets go, I'd say it's average-ish. But it isn't notably great, and based on my time in the Gore-Tex Pro Alvier bibs, I think the regular Alvier Jacket with the Gore-Tex Pro membrane would be a noticeable improvement.
Warmth
The Alvier Armor Jacket is uninsulated, so you'll want some layers under it for all but the warmest days. But like most hardshells, there's some weight to the Alvier Armor's fabric and the membrane traps a bit of heat, so it does actually provide some warmth. I find that my layering with this jacket is about the same as with most other jackets in this category. So in other words, there's nothing about the Alvier Armor that's noteworthy in terms of its insulating properties.
Durability
I have somewhere in the neighborhood of 40 days in the Alvier Armor at this point and it's held up well. Despite crashing through plenty of trees and branches, I haven't ripped or snagged the fabric. I've spent plenty of time hiking around in the Alvier Armor Jacket with skis on my shoulder, but the reinforced fabric has shrugged it off without any visible wear. All of the seams are still tight and fray-free, and the zippers are all still running smoothly.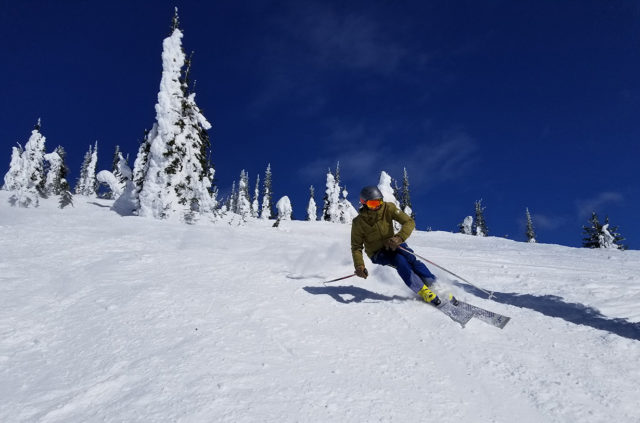 The only minor wear I can find is around the brim of the hood, which is slightly abraded. I think that's likely from the hood rubbing against the back of my helmet while skiing. Ultimately, this is fairly nominal wear in a pretty non-critical area, so I don't really count this as a strike against the jacket.
Bottom Line
The Alvier Armor is a solid contender in the ski-hardshell category, mostly aimed at lift-served skiers. If you're doing a lot of touring, I'd look for something that's more breathable and more packable (e.g., Patagonia Descensionist, Black Diamond Helio, & Strafe Cham). But for the inbounds crowd, the Alvier Armor has a lot to like. It's reinforced in smart places, it's waterproof enough to weather some severely unpleasant storms, and it has enough features to feel complete without feeling like the jacket's pocket engineer was on the tail end of a binge.
The Alvier Armor Jacket's fit is slightly odd, mostly due to its snugness in the hip area. If you're more pear-shaped than carrot-shaped, the Alvier Armor probably isn't the best bet. But for the carrots in the crowd, the fit will likely be perfect, and it keeps things from feeling bulky at the bottom edge of the jacket. Still, if you're on the edge between sizes, size up.
Ultimately, the Alvier Armor worked well in a pretty huge range of conditions. If you have a quiver of jackets for every condition, you can probably find better options for any given category. But if the fit will work for you, the Alvier Armor Jacket is a good entry in the quiver-of-one category, especially if durability is a priority — it'll shrug off the worst weather you throw at it, and still do pretty well the rest of the time.