Mammut Alvier Hardshell Pants
Reviewer: 5'9", 155 lbs
Size Tested: 32"
Blister's Measured Weight (size 32"): 595 grams
Materials:
Main Fabric: 3L Gore-Tex Pro w/ Polyamide face fabric and backer
Upper Vest: 48% Polyester / 48% merino wool / 4% Polyurethane
Cuff Reinforcements: Dyneema
Stated Features:
Fixed bib with wool sections to keep the body warm after sweating
Barryvox®-compatible zipper pocket with a loop inside
U-shaped puller on front zipper makes it easier to open when wearing gloves
Belt loops
Belt loops on waistband for connecting jacket and pants
2 splashproof zipper pockets
Side ventilation with splashproof zipper
Reinforced seam edges and ski edge protection made from Dyneema®
Snap button to adjust leg width for improved crampon compatibility
Pockets:
1 left chest pocket (zippered)
2 partially baffled thigh pockets (waterproof zippered)
MSRP: $599
Test Locations: Whitefish & Big Sky, MT; Revelstoke, BC
Days Tested: ~30

IntroSome people love bibs for their comfy fit, extra pockets, and protection from the elements. Other people hate bibs because they're warmer than regular pants and can be cumbersome when nature calls. Mammut's Alvier Hardshell Pants take the upsides of the bib a bit further, but what about the downsides?
The Alvier is different from any other bib I've worn — it doesn't use the more traditional suspenders that you see in some format or another on most bibs on the market. Instead, the upper half of the Alvier bibs is more of an integrated vest. I'll get into the pros and cons of that below. But the first and most noteworthy result of that design is that the bibs aren't adjustable. Which leads us to…
Fit
A true story: on the drive back from a weekend at Big Sky, I came across a flyer in a truck-stop restroom that had some interesting advice: "101 Ways to Cope with Stress." Some suggestions were reasonable: "smile," "get enough sleep," "take a bubble bath." Some were slightly odd: "tickle a baby," "make duplicate keys." Some had a direct impact on this review: "maintain your weight" and "avoid tight fitting clothes."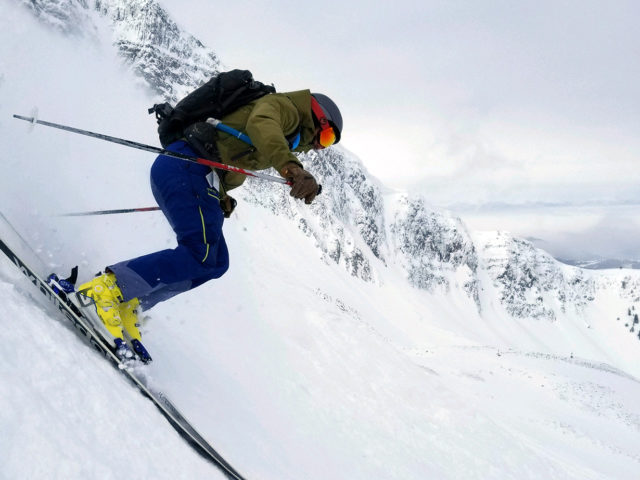 I consider myself to be a fairly average-sized person — I'm 5'9", 155 lbs (that's about 175 cm, 70 kg for you non-imperialists). I'm not thick by any means, but the Alvier bibs have me thinking that maybe I need to eat more salads, cut back on the carbs, and buy one of those things they used to sell on TV that jiggles your butt to make you skinnier. Me pulling on the Alvier bibs conjures images of a chubby kid seeing how many marshmallows he can stuff into his face.
The main constriction is at the waist, and the bib's zipper isn't long enough to allow the bibs to really open up. This means that pulling the waist up past my butt is pretty dang snug, especially if I'm wearing an extra layer or two for a cold day. Once the bibs are on, they're definitely on the snug end of the spectrum; the thighs and butt aren't uncomfortably tight, but compared to many of the more "freeride fit" bibs on the market (e.g., Trew, Flylow, Strafe, etc.), the Alvier is much slimmer. If I was a larger person, I think they'd be tight to the point of restricting movement. Yet Mammut calls these a "Loose Fit," which is their roomiest cut. It's like the sizing chart is body shaming me.
The upper portion of the bibs fits like a slim vest. The material has a tiny bit of stretch to it, so while it's form-fitting, I didn't find it to be uncomfortably tight, even with a layer or two underneath.
Girth issues aside, the length of the Alvier bibs is pretty important since they don't have any adjustable suspenders. The upside here is that Mammut offers the Alvier HS in seven sizes, so getting a good fit should be possible for most people.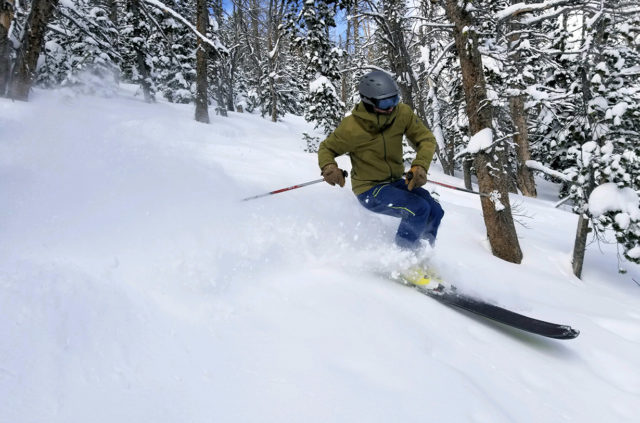 By Mammut's size chart, I was right on the line between the 32" and 34", but I went with the 32" since that's what I normally wear. For me, I find the Alvier bibs to work pretty well lengthwise, although I wouldn't mind it if the legs were a touch longer.
So, given the snug fit mentioned above and the average to (maybe) slightly short length, I'd recommend that most people size up in these pants. Since there are seven sizes offered, I think bumping up a size won't be as big of a jump as with some other pants, and it should provide a bit more room where it matters without going overboard on the length.
Features
The Alvier HS doesn't have a ton of pockets and do-dads hanging off of it, which may or may not be a good thing, depending on your preferences. It has two medium-sized, zippered thigh pockets that are partially baffled, and a single zippered pocket on the left side of the upper bib / vest that's just big enough to fit my Pieps beacon (but not big enough for my phone). I wish there was a similar pocket on the right side of the vest, since my Mammut shell and an assortment of middle layers I use all have pockets on the left breast. This means I can't really use those pockets if I use the beacon pocket in the bibs, lest I have a massive pile of gear clattering around on my left chest region.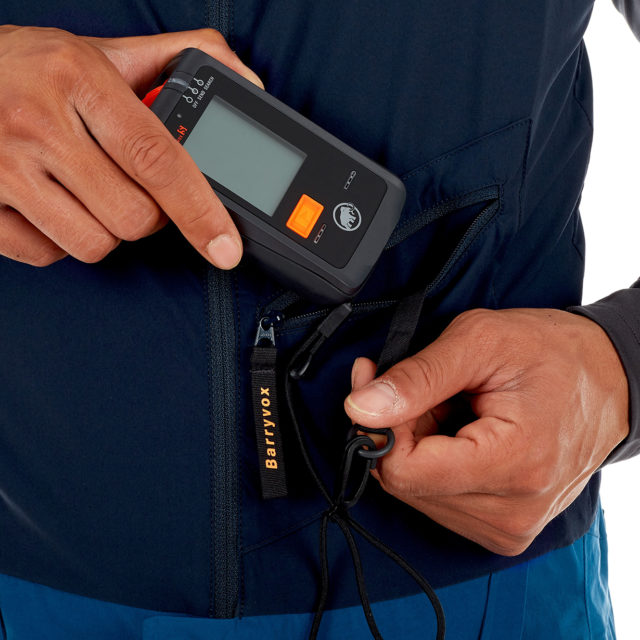 The Alvier's waterproof side zippers provide venting, with the zips running from may waist to just below the knee cap. There's no mesh or anything like that in the opening to inhibit venting, so getting rid of heat through the vents works pretty well. A minor improvement would be double zippers, so that the vents could be opened from the bottom or the top (as implemented, the vent only opens from the top), but that's getting a bit nitpicky.
Perhaps the most noteworthy feature is the vest-style upper portion of the Alvier. It's a fairly thin wool / polyester blend fabric, so while it certainly runs warmer than a non-bib style pant, I don't actually find it to be much warmer than some bibs that use a heavier fabric but don't come up quite as high (e.g., Patagonia Powslayer). And the big upside of the vest style is that it's super comfortable — no shoulder straps slipping around, and no buckles rubbing in the wrong spots or interfering with backpacks. The main zipper in the front is two way, so it can be zipped "up" to answer the call of nature (although the zipper doesn't run low enough to really make that process easy). The downside is that there's only the one integrated beacon pocket, so storing snacks and what-not isn't as convenient as with many other bibs that have more pockets.
Weight
The Alvier bibs fall around the middle of the spectrum when it comes to weight. They're not as heavy as super burly, inbounds-oriented bibs like the Flylow Baker Bib, and not as light as more touring-oriented pants like the Strafe Cham and Patagonia Descensionist.
For reference, here are a number of our measured weights for some notable 3L ski pants in this category. Note the size differences to keep things apples-to-apples.
441 g Norrona Lyngen Windstopper Hybrid Pants, size Large
485 g Strafe Cham Pants, size Large
494 g Patagonia Descensionist Pants, size Medium
539 g Arc'teryx Rush LT Pant, size Medium
555 g Open Wear Open One 3L Shell Pants, size Medium
595 g Mammut Alvier Hardshell Pants, size 32"
603 g Patagonia PowSlayer Bibs, size Large
618 g Rab Sharp Edge Pants, size Medium
620 g Arc'teryx Sabre Pants, size Large
896 g Flylow Baker Bibs, size Small
Materials
The Alvier HS bib is built around a 3-layer Gore-Tex Pro membrane, which carries a waterproofing rating of 28,000 mm (that's quite high). The face fabric and backer are polyamide, which basically means nylon. The vest portion of the bib is a combination of polyester and merino wool, which is designed to breathe fairly well but also stay warm if it gets wet from sweat.
The cuffs of the pants feature a Dyneema material, which is designed to resist cuts from ski edges. So far, those reinforcements have been holding up pretty well, although the material doesn't feel as robust as some of the pants that use a heavy Cordura fabric in that zone (e.g., Arc'teryx Rush LT and Flylow Baker Bibs).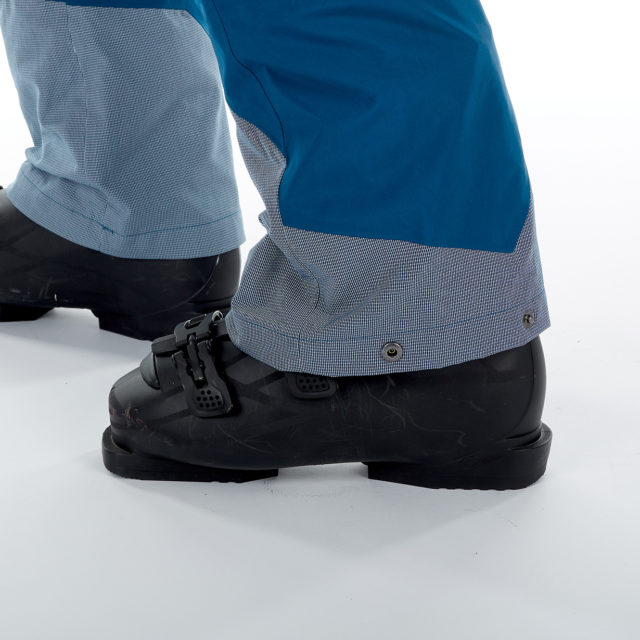 I'd put the overall construction of the Alvier on the lighter weight end of the spectrum — it feels more like it's designed with mobility and breathability in mind rather than overall burliness. And as we just mentioned, that conclusion is borne out by the numbers — at 595 grams, the size 32" Alvier HS bibs are quite a bit lighter than a burly option like the 896 gram (size small) Flylow Baker Bibs.
Weather Resistance
I've had the Alvier HS bibs out in some pretty wet weather — warm storm days where it was fully raining at the bottom of the mountain and snowing fat, wet flakes at the top. And throughout that, I stayed dry. The Alvier's DWR coating did a decent job, but my lap wetted out while I was sitting on the chair. No big surprise there — I've yet to find a pant that doesn't wet out in that situation.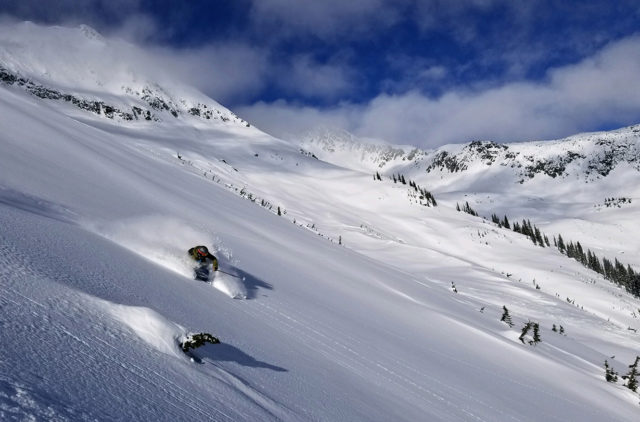 But the Gore-Tex Pro did its job, and none of the moisture made its way through to my underlayers. The best test I have for this is my wallet — it's old, leather, and instantly saturates if it gets even a little bit wet. And I always ski with it in my thigh pocket, so it's right in the wettest area of my pants. So far, the Alvier has kept my wallet perfectly dry, so that means that the Gore-Tex membrane, the seam sealing around the pocket, and the zipper itself are all working as designed.
Breathability
I've also done a fair amount of touring in the Alvier in a wide range of temps. And while the design of the bibs looks like it'd be pretty warm, they're actually not too bad. As far as hardshells go, these breathe pretty well and the vest portion is thin enough that it doesn't get overly hot.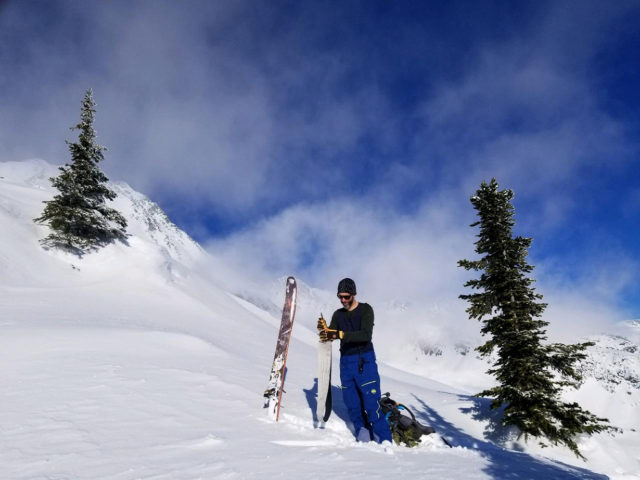 The vents work as expected, and I can unzip the vest if I need a little more airflow up top. Now, these aren't a lightweight softshell, and if you're looking for some spring touring bibs, or really any pant for extensive non-storm-day touring, these are certainly not the best choice. But by hardshell bib standards, these are surprisingly comfortable to walk around in.
Durability
I've taken quite a few awkward lines in the Alvier that involved smashing through branches, and I've tumbled through a number of small trees with these bibs on. Enough that the thighs of the pants have that characteristic smear of bark that tells me I did something dumb. And despite all of that, the pants are going strong and haven't ripped at all.
In other respects, the pants are faring reasonably well. There are some small cuts and abrasions around the cuff from my ski edges, but that's pretty normal for my ski pants. Thus far, all of the seams are holding up well, and the zippers are still running smoothly.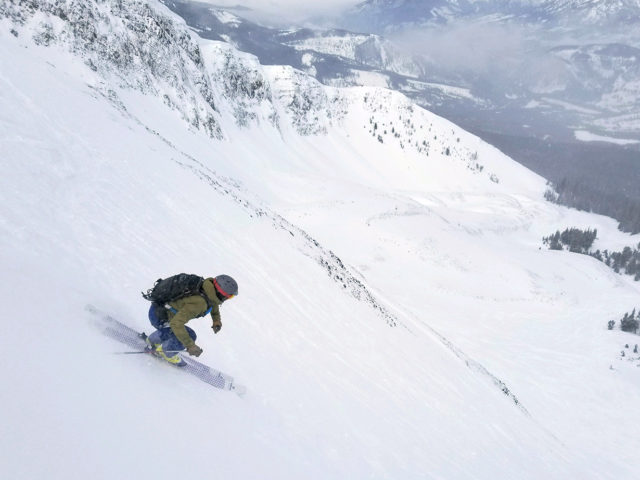 So while I wouldn't call these pants "burly," they've held up well to a couple of months of abuse. As I mentioned above, the fabric on the Alvier doesn't have the heft of some of the burlier pants on the market, so if you're hard on your equipment, you might want to look at something with more reinforcements (e.g., Flylow Baker Bib). Mammut also makes a more heavily reinforced pant version of the Alvier — the Alvier Armor. But for most people, I don't think durability will be a limiting factor with the Alvier HS.
Bottom Line
I have some relatively minor gripes about the Mammut Alvier Hardshell Pants (the number of pockets and their placement being the main ones), but those aren't deal breakers, and they're similar in scale to the gripes that I have about every other bib I've ever worn. But at the end of the day, the Alvier has kept me comfortable and dry in almost every condition imaginable, ranging from brutally cold to warm and wet, and everything in between.
The fit on the Alvier HS is… I think "European" is the word I'm looking for. And when I first got the bibs, I was kind of hung up on that slimmer fit (both literally and figuratively). But I've come to realize that I only really notice the quirky fit when I'm putting them on and taking them off — once I'm on snow, they're pretty comfortable. Not roomy, mind you, but not restrictive.
Mostly, I've become a fan of the full bib / vest format — with other layers and / or a pack on, the upper half of the bib just kinda disappears under there, which is really nice. And I think if I bumped to the next size up, most of my fit quibbles would be a non-issue. That said, I wouldn't recommend these bibs to anyone looking for a roomier cut.
Ultimately, it's that full bib, vest-style upper that is the reason to buy the Alvier Hardshell Pants. There's not much else like it on the market, and for the right person, it's better. If you've already decided that bibs aren't for you, the Alvier probably isn't going to change your mind. But if you like the bib format and just want to find a way to make them even comfier, the Alvier's vest may well be the answer you're looking for.