Patagonia Ascensionist Jacket
Reviewers:
Sam Shaheen: 5'10", 145 Ibs
Luke Koppa: 5'8", 155 lbs
Size Tested: Medium
Blister's Measured Weight: 366 g
Fabric: 3-layer Gore-Tex Active w/ 100% recycled 30-denier nylon face fabric & C-Knit backer
Stated Features:
Optimal Visibility Hood with laminated visor is helmet-compatible and two-way-adjustable to provide good visibility in poor conditions.
Two high handwarmer pockets with watertight zippers stay clear of a harness or pack waistbelt
One exterior welted, left-chest pocket with DWR (durable water repellent)-treated zipper
Interior stretch catch-all pocket
Exposed, watertight two-way pit zips provide ventilation and reach without raising the body of the jacket.
Cuffs feature minimal self-fabric hook-and-loop closure.
Cohaesive embedded cord-lock system has two contact points at hem for intuitive one-handed operation.
Minimal seams are reinforced with narrow seam taper for low bulk.
Concealed RECCO reflector.
Pockets:
2 external handwarmer pockets (zippered)
1 external chest pocket (zippered)
1 interior drop-in pocket
MSRP: $499
Test Locations: Crested Butte, Front Range, & Summit County; CO
Days Tested: ~13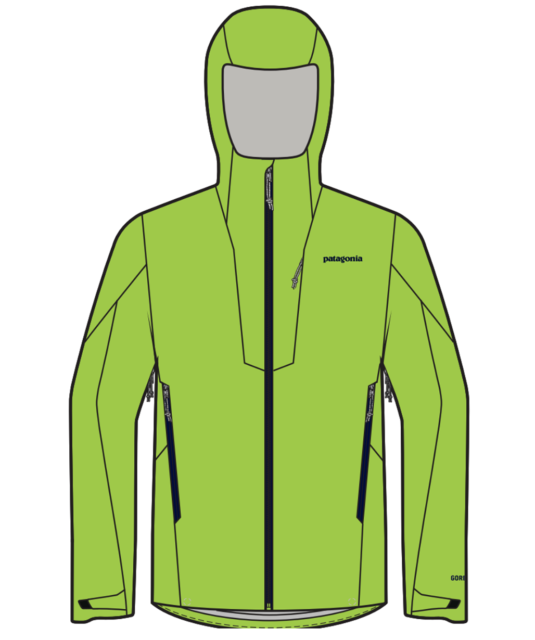 Intro
Both Patagonia and Gore-Tex have long histories of creating products that do a good job of keeping you dry in nasty weather. Over the years, both brands have come up with plenty of new ways to accomplish this, and the brand-new Patagonia Ascensionist Jacket is one of their most recent offerings. Coming out for the 19/20 season, the Ascensionist Jacket combines Gore's "Active" waterproof and comfortable C-Knit backer with a streamlined silhouette designed for moving fast in the mountains.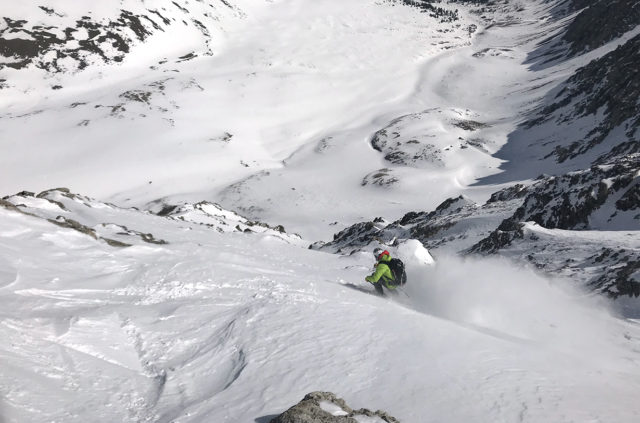 We here at Blister have been very excited and impressed by the combination of Gore's Active membrane and C-Knit backer, and we thought it worked really well on backcountry skiing / ski-mountaineering shells like the Black Diamond Helio Active Shell. So when Patagonia announced a very similar jacket using the same Gore Active membrane and C-knit backer — but with a 100% recycled face fabric and Fair Trade sewing — we were understandably intrigued.
So how does Patagonia's new Ascensionist Jacket perform? And how does it stack up against the competition? Let's get into it.
Fit
Sam Shaheen (5'10", 145 lbs): Let's get this out of the way early: the Ascensionist and Helio are extremely similar jackets. This is not a bad thing — the Helio is one of our favorite touring shells. Though there are differences between the two jackets, they certainly feel more similar than they do differently. And the fit is no exception.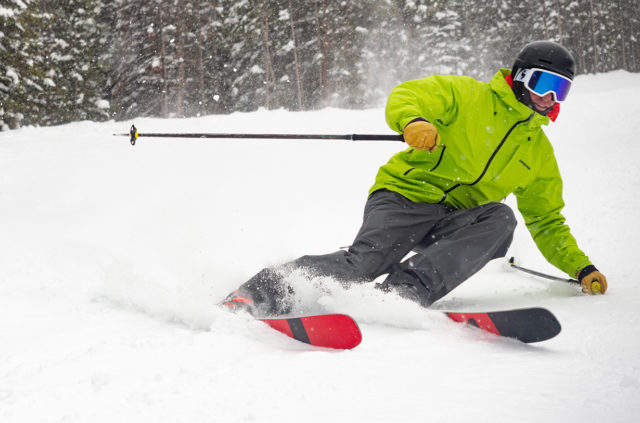 The fit differences between the two jackets are almost indiscernible. The sleeves on the Ascensionist are a hair shorter and the body might be a touch wider, otherwise, they fit very similarly.
The Ascensionist is a relatively slim-fitting shell. It isn't as slim some other 3-season options on the market (like the Rab Kinetic Plus) or some soft shells (like the Patagonia R1 TechFace Pullover). But as far as 4-season shells go, the Ascensionist is rather form fitting.
For my 5'10", 145 lbs frame, the size-Medium Ascensionist Jacket provides plenty of room to layer underneath on colder days — I can easily fit a base layer, the R1 TechFace Pullover, and the Patagonia Micro Puff under the Ascensionist with a small amount of room to spare.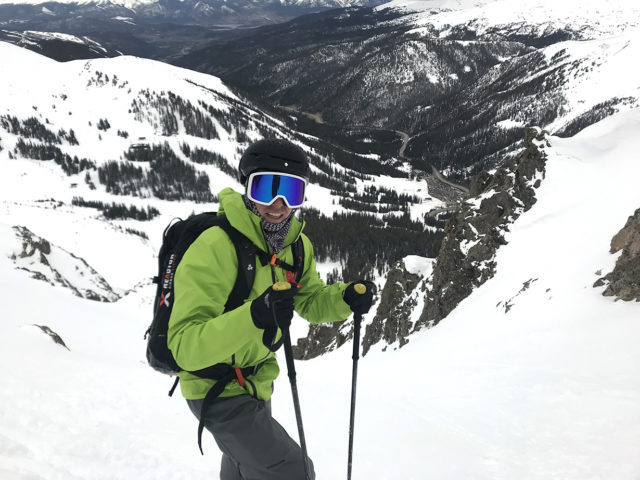 Just like the Helio, the fit of the Ascensionist is just about perfect for a shell I plan to take on and off several times during a day of touring. If I wanted a shell that would stay on for the up and down, I'd like something a bit slimmer (like the old Patagonia Knifeblade). But a hard shell like the Ascensionist just can't breathe well enough to keep on throughout the entirety of high-output days in the mountains, so I end up leaving it in the pack on the way up unless it gets windy or starts to precipitate. And for that use, I think the fit is just about perfect.
Luke Koppa (5'8", 155 lbs): Yep, I'd agree with everything Sam said. For a touring-oriented ski shell, I think the fit of the Ascensionist is pretty ideal — slim enough to not feel necessarily bulky, roomy enough to fit multiple layers underneath, and trim enough to fit under bigger belay jackets.
I do want to stress that the Ascensionist is slim for a skiing-oriented shell, but I think it's a bit roomier than most climbing-oriented shells and your run-of-the-mill rain jackets (e.g., Patagonia Torrentshell). That said, I find the fit of the Ascensionist Jacket to be just about perfect for year-round use.
Features
Sam: One difference between the Helio and the Ascensionist is the jackets' feature sets.
First, the Ascensionist has an exterior zippered chest pocket while the Helio has no chest pocket. Both jackets have large hand warmer pockets (though the Helio's are a bit larger than the Ascensionist's). If you like to keep your phone or snacks in a chest pocket and need fast / frequent access, then the Ascensionist gets the nod. Personally, because I don't tend to leave this jacket on all day, I don't often use the chest pocket and instead store personal items in my mid layer or pants so I don't have to pack / repack my stuff every time I switch layers. Your mileage may vary.
Second, the Ascensionist has a small interior wind flap on the main zipper that the Helio lacks. This should help to block wind and precip in nasty conditions, but I haven't had issues with wind or water getting through the zippers on either jacket.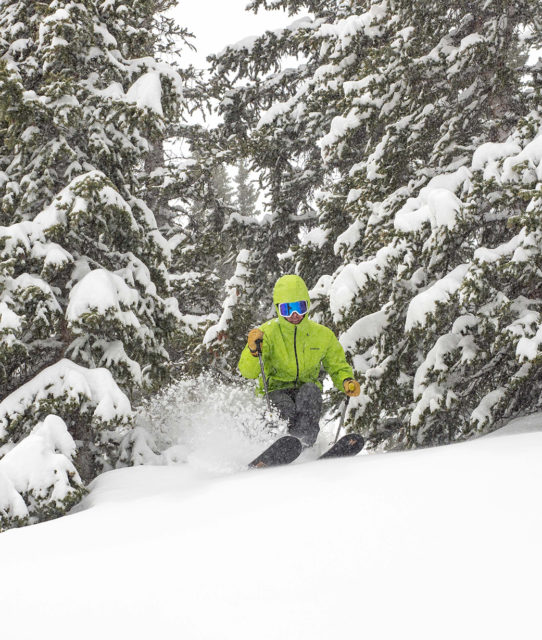 Third, the Helio's hand warmer pockets are made of a fine mesh on the interior, while the Ascensionist's hand pockets are made of a Gore fabric that has (presumably) the same membrane as the exterior shell. This means that the hand pockets on the Helio can be used as vents while those on the Ascensionist cannot.
Both shells have large, helmet-compatible hoods, pit zips, adjustable hems and cuffs, a single drop-in interior pocket, and reverse-coil water-resistant YKK zips (#6 on the main zip, #4 on the pockets). Neither jackets have powder skirts.
Luke: The only thing I want to add here is that I very much missed a chest pocket on the Helio Active Shell, and I very much appreciate the chest pocket on the Ascensionist. I find myself constantly moving small items around throughout the day, so having a quick place to stash a lens cap, phone, chapstick, etc. is nice. That said, I would definitely like it if the Ascensionist shared the Helio's mesh-backed hand pockets as I think they're an easy way to increase ventilation options without compromising on performance.
Weight
Sam: The Ascensionist's weight is almost identical to the Helio's and both shells are very light in comparison to much of the market. Though the Ascensionist should be a bit heavier on paper than the Helio (with the additional interior main flap and chest pocket), both jackets weigh essentially the same. I think this is because the face fabric on the Ascensionist is a hair lighter than that of the Helio. All in all, the Ascensionist is impressively light, given its fabric and feature set.
309 g Arc'teryx Alpha FL, size Medium
364 g Black Diamond Helio Active Shell, size Medium
366 g Patagonia Ascensionist Jacket, size Medium
518 g Flylow Cooper Jacket, size Medium
544 g Outdoor Research Hemispheres Jacket, size Medium
563 g Rab Sharp Edge Jacket, size Medium
590 g Flylow Higgins Coat 2.1, size Large
593 g Patagonia PowSlayer Jacket, size Large
605 g Patagonia Descensionist Jacket, size Medium
610 g Strafe Cham Jacket, size Large
841 g Strafe Pyramid Jacket, size Large
848 g Open Wear Open One 3L Shell Jacket, size Medium
Materials
Sam: The Ascensionist's main fabric features 100% recycled face fabric, which is not only impressive, but also pretty rare in the technical shell category. Patagonia continues to lead the market in sustainability and every single one of their 19/20 waterproof shells will be made with is made with recycled materials and sewn in Fair Trade Certified factories. As I said, seriously impressive.
Just like the Helio, the Ascensionist uses a 3-layer Gore-Tex fabric with Gore's Active membrane and their C-Knit backer. This combo isn't very common on the market right now but is one that we've been very impressed by. The Active membrane is one of the more breathable non-air permeable membranes on the market and the C-Knit backer is quite soft against the skin. For more info on waterproof / breathable membranes, 3-layer laminates, backers, face fabrics, and more, check out our Outerwear 101 and 201 articles.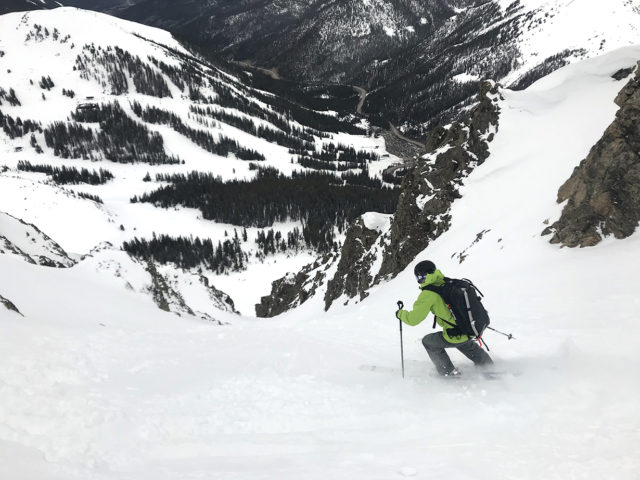 Compared to the Helio, the Ascensionist's fabric isn't quite as soft — it has a bit more "crinkle" to it. I chalk this up to the 100% recycled content of the Ascensionist. We saw a similar increase in "crinkle factor" when Patagonia's PowSlayer switched to a 100% recycled face fabric.
This increased structure to the fabric makes the Ascensionist a touch less comfortable than the Helio on the whole, but has a few interesting consequences.
In the Helio review, I talked a bit about the drape of a jacket and how the structure of the fabric, combined with the weight and flexibility of the notions (zippers, velcro, etc), can make an otherwise good jacket a great one. If there was a complaint about the Helio's combo of structure and drape, it was that the main zip felt a touch heavy / stiff for how supple the fabric was. On the Ascensionist, with its slightly more structured fabric and the same zippers, the structure / drape combo feels a bit more natural — the front zip feels far less out-of-place than that of the Helio.
Granted, these differences are extremely subtle and you probably wouldn't be able to tell the difference unless you tried the jackets on back to back. But regardless, it's an interesting comparison for an outerwear nerd like me to be able to make.
Luke: Yep. Like Sam, I have a background in apparel and a borderline unhealthy interest (read: obsession) in things like fabric, drape, trims, zippers, etc. So I didn't love how the Helio's stiff main zipper contrasted its supple fabric. I think the Ascensionist's trims match better with its slightly stiffer fabric, and I'd still say that it's one of the more supple / comfortable hardshells I've used, particularly compared to standard Gore-Tex or Gore-Tex Pro.
Weather Resistance
Sam: Because the Helio and Ascensionist use essentially the same fabric, same notions, and have nearly identical fits, it's no surprise that their weather resistance is essentially identical. Everything I had to say about the Helio also applies to the Ascensionist:
"The Helio is a Gore-Tex piece, and just as Gore has proved for decades, the Helio will keep you dry. Active Shell is a non-air permeable laminate that should offer plenty of protection in all but the most extreme weather. There is a chance you could see some water get through in high-pressure situations like hard falls, or near your pack straps and hip belts in really wet weather. But this is a fully waterproof hardshell — I've worn it in a few decent squalls with no issue and expect it to be fine in far worse conditions. I'll be sure to keep this updated if that changes, but I'd be very surprised if it does."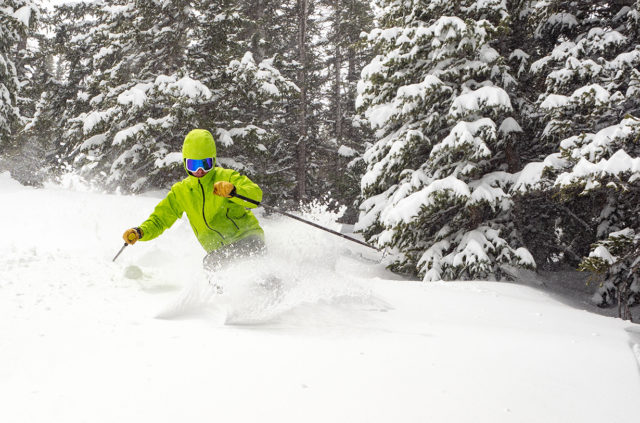 Luke: I have no reason to suspect that the Ascensionist will not keep you dry in the vast majority of storms. All the Gore Active pieces I've used have lived up to Gore's claims about their weather resistance, while standing out much more from other Gore fabrics when it comes to breathability. Which brings us to…
Breathability
Sam: The Ascensionist and Helio are, again, essentially indiscernible when it comes to breathability, with the one caveat that the Helio's hand pockets can double as additional ventilation whereas the Ascensionist only has pit zips for ventilation. Here's what I said about the breathability of the Helio:
"One of the reasons why I like Active Shell so much (and wish more companies used it) is that breathes very well. It isn't a huge step above other hardshells, but I think it does come close to the level of breathability of some air-permeable shells like the Patagonia Descensionist and Strafe Cham. For a shell that I use mostly in the spring and in warm weather in general, the Helio's bit of added breathability is quite nice. Plus, the Helio has huge pit zips to dump heat if necessary. In my opinion, its combination of a great against-the-skin feel and good breathability makes Active Shell + C-Knit combo Gore's most comfortable shell fabric."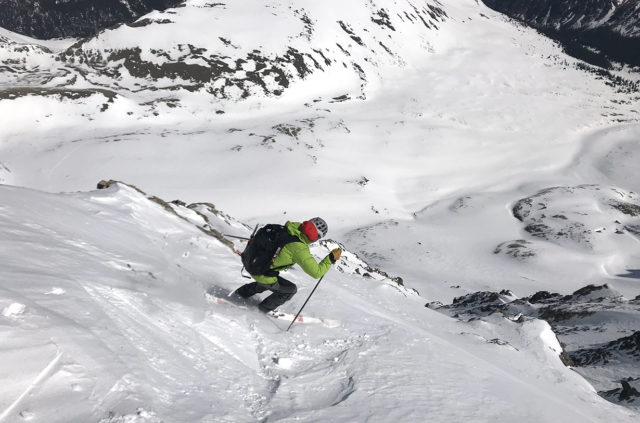 Luke: Until the Helio, I never liked touring in Gore-Tex. For me, it was just not breathable enough to wear for extended periods of exertion (e.g., on the skin track). But I think the Active membrane in the Helio and Ascensionist is notably better than standard Gore-Tex and Gore Pro.
I was able to skin comfortably in the Ascensionist in ~25°F weather for about 45 minutes. That might not sound like a lot, but I'd start sweating buckets in most other shells in the same conditions after only a few minutes. As Sam said, the Ascensionist is not quite as breathable as the Patagonia Descensionist or Strafe Cham, but it's not that far off.
Warmth
Sam: And, yet again, the warmth of both the Ascensionist and Helio are just about the exact same. Psychologically, the Helio might not feel quite as warm because the fabric is a bit softer, but in practice, I haven't been able to tell the difference between the two in terms of warmth. Here's what I said about the Helio in regard to warmth:
"The Helio is a super lightweight, thin hardshell. It offers almost zero insulation. This is not a warm jacket at all. In fact, it is one of the least warm shells I've ever worn. That is in no way a slight against the Helio, but it is an important point to note. Don't buy this shell if you're looking for a warm jacket. The Helio is designed to protect you from the elements in the backcountry, and the rest of your layering system is what will keep you warm."
Luke: As Sam said, don't buy this jacket if you're looking for something warm. Do buy this jacket if you're looking for a very versatile shell that you'll toss over or under warmer layers when things get chilly.
Durability
Sam: I've been touring with the Ascensionist for about a month this spring and haven't had any durability issues with it. That said this is a very lightweight piece of gear and needs to be treated as such. It definitely won't hold up to abuse like heavier jackets might. The better and more carefully you treat your ultralight gear, the longer it will last. As always, we'll update this review if we run into any durability issues down the line.
Who's It For?
The Ascensionist is an excellent ski-touring and general alpine shell. It shares a lot of similarities with the Black Diamond Helio Active Shell, and both stand out on the market due to their low weight, breathability, and weather resistance.
If you like the sound of that, either could work. The more you appreciate buying clothing with decreased environmental impact and supporting a company pioneering sustainable garment production, the more sense it makes to go with the Ascensionist. If you prioritize comfort (and don't mind the lack of chest pocket), then the softer fabric on the Helio probably gets the nod. It's also worth noting that the Helio comes in $100 cheaper than the Ascensionist, which is a significant difference.
At the end of the day, these jackets perform extremely similarly, and both are extremely good at what they're designed to do: protect you from the elements when you're working hard, and not weigh you down while doing so.
Bottom Line
Sam: The Patagonia Ascensionist is an ultralight, fully protective, and highly breathable hard shell that's also produced in a more ethically and environmentally sustainable manner than many other hardshells. It's one of our favorite shells for touring and alpinism on the market right now. The combination of Gore's Active membrane and C-Knit backer along with a minimal feature set and moderate fit makes for a very versatile shell that I'm happy to reach for on the majority of my days in the mountains.