Amundsen Peak Anorak
Reviewer: 5'8", 155 lbs
Size Tested: Medium
Blister's Measured Weight (size Medium): 574 grams
Fabric: 3L Schoeller c_change waterproof / breathable stretch fabric
Stated Features:
Water tight zippers
All seams are carefully sealed
Hood fitted for helmet with quick adjusters
Optional coyote fur on hood edge
Ventilation on sides also work as easy entry/exit
Big backpack friendly chest pocket for gaiters and skins.
Amundsen Peak patch on right upper arm
Snow-lock integration with knickerbocker
Utility pocket on left underarm
Velcro fastening on cuffs
Pockets:
1 external front pocket (zippered)
1 external forearm pocket (zippered)
MSRP: $499
Test Locations: Crested Butte & Telluride, CO
Days Tested: ~14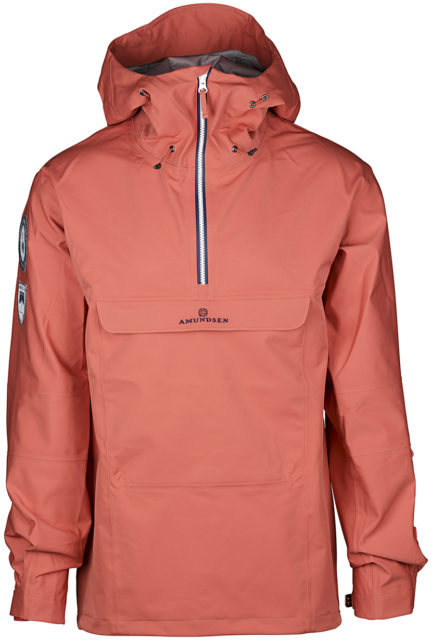 Intro
There are two interesting things about this review. First off, the Amundsen Peak Anorak is just that — an anorak. It doesn't have a full-length main zipper, which has proved to be a bit of a point of contention at Blister, and was discussed on our recent GEAR:30 podcast.
The Peak Anorak is also from a brand that's relatively unknown in North America. Amundsen was founded in Oslo, Norway in 2009. The name comes from the founder's relative, Roald Amundsen, an arctic explorer who is credited with being the first person to have reached the South Pole.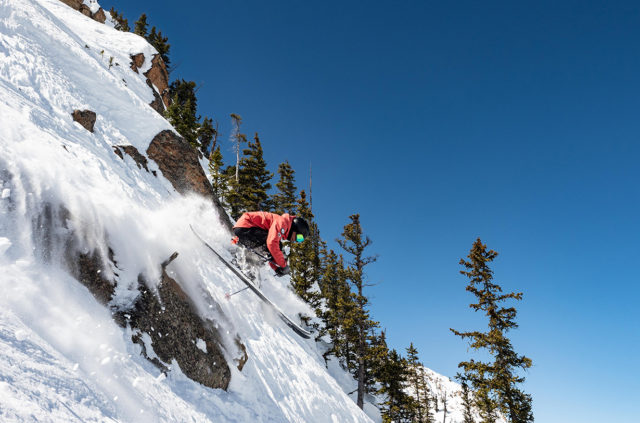 Jorgen Amundsen founded the Amundsen brand in 2009 in an effort to bring a different concept to technical clothing. Instead of sticking strictly with current trends, he thought that people could benefit from looking to the past to see how arctic explorers like Roald survived brutal temperatures and conditions. The result is a line of clothing that doesn't look a whole lot like what else is on the market.
The Peak Anorak is Amundsen's first anorak, which they say they've been perfecting over the years, and that's been tested on Arctic expeditions. While it doesn't have the traditional silhouette that we see from most brands, Amundsen says that the Peak Anorak is "ideal for ski touring and expeditions small and big."
So is Amundsen onto something here by looking to the past when it comes to creating modern, technical outerwear, or is this just a fad? I've been spending time touring and skiing inbounds in the Peak Anorak to find out.

I can easily fit a puffy jacket like the Patagonia Nano-Air under the Peak Anorak without feeling constricted, but I can't fit much bulkier layers like the Patagonia Macro Puff Hoody. Range of motion in the Peak Anorak feels great, despite the slim fit, part of which I'd attribute to the slight stretch in the Peak Anorak's fabric.
Unlike many baggier ski jackets, the Peak Anorak's slimmer and shorter fit makes it look less out of place in town, and I've been happy wearing it out to dinner when the weather is nasty. This thing just looks good.
Features
The Peak Anorak is pretty minimal.
The most obvious evidence of this is its lack of a full zipper. While many would scoff at this — and arguably have good reason to — I love the anorak silhouette.
Yes, it's more difficult to get on vs. a full-zip jacket. Yes, it doesn't offer as much ventilation through the main zip. And yes, it's not as convenient for touring when you're frequently swapping layers. But if you really want a full-zip jacket, there are approximately a zillion others out there to choose from.
As a resort jacket, I have zero reservations about the Peak Anorak's half-zip style. It's still fairly easy to get on at the beginning of the day, which is aided by the jacket's side zip that doubles as a vent. And the main zipper is deep enough that I can still pretty easily access the chest pockets in most of my midlayers.
For touring, the Peak Anorak's half-zip style is less practical. When I'm out skinning, I want to be able to easily take my shell off and on, and I like having the option to fully unzip it when I get really hot. Combined with the Peak Anorak's weight, feature set, and fabric, this makes the Peak Anorak less ideal as a dedicated touring jacket.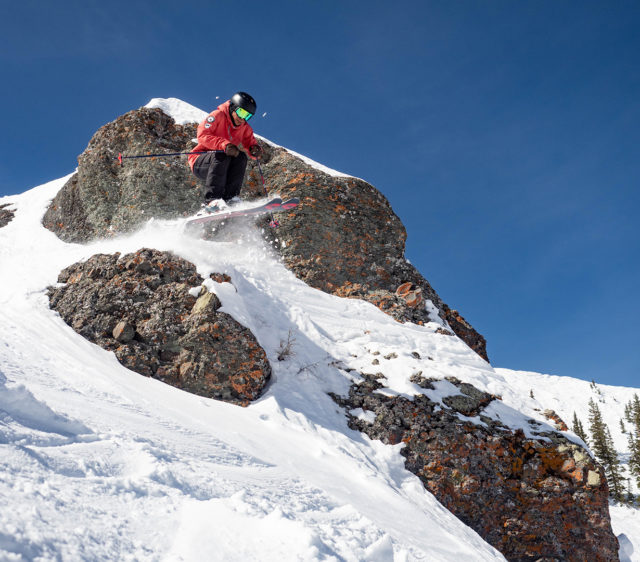 Beyond the anorak style, the Peak Anorak has two pockets, some cinch cords around the waist and hood, Velcro cuffs, and pit zips.
The Peak Anorak's main pocket is a fairly large (28×25 cm) one situated directly on the front, a bit below the chest. It's positioned nicely so that I can still access it while wearing a pack, unlike most jacket's handwarmer pockets (which the Peak Anorak lacks).
Inside that big pocket, there's a ~8cm-wide stretch-mesh drop-in pocket with a media port. This drop-in pocket fits my iPhone 6 perfectly, though I think it'd be a bit small for some of the bigger, more modern phones out there.
The main pocket is zippered with a storm flap that stays down even when the zipper is open. I've come to really appreciate this when skinning or shooting pics as I can easily drop gloves or a lens cap into the pocket without messing around with any zippers. The main pocket is big enough to cram many skins inside, though my G3 Alpinist skins cut for 105mm-wide, 185cm-long skis were too big to zip the pocket closed (but they still stayed put with the zipper open).
The other pocket on the Peak Anorak is a very small zippered one on the lower left forearm. This is nice for chapstick or a wallet, but as with all forearm pockets, I find that tossing heavier items in there makes the arm bag down uncomfortably.
On the left side, the Peak Anorak has a 70 cm vent that also lets you fully unzip it to make it easier to put on / take off the anorak. This zip has a snap at the bottom that prevents the zipper from opening when you don't want it to, which is an issue I've noticed with some other anoraks.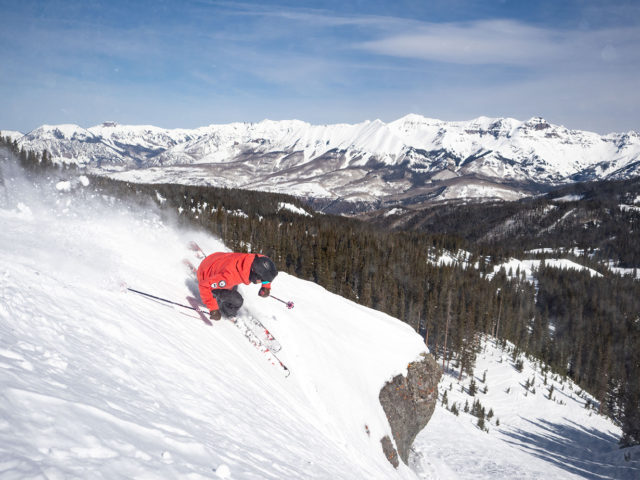 On the right side, the Peak Anorak has a pretty large 45.5 cm vent that, like the left vent, has two-way zippers. I'd say the vent zippers on the Peak Anorak are fairly average when it comes to how easy they are to actuate — not amazing, but far from terrible.
Beyond the pockets and vents, the Peak Anorak has a helmet-compatible hood that's adjustable via three cord locks, an adjustable hem, and snaps near the hem that will attach to some of Amundsen's pants. The Peak Anorak's Velcro cuffs are really well done — they stay attached when I want them to, and are easy to adjust while wearing mittens or gloves.
Weight
At 574 grams for a Medium, the Peak Anorak sits on the lighter end of the spectrum, which I'd attribute to its minimal silhouette, fit, and feature set. It's still not nearly as light as super thin, ultralight shells like the Black Diamond Helio Active Shell, but given how burly the fabric on the Peak Anorak feels, it's impressive that it comes in significantly lighter than shells like Strafe Pyramid, North Face Ceptor, and Open Wear Open One 3L.
For reference, here are a number of our measured weights for some notable jackets in this category. Note the size differences to keep things apples-to-apples.
364 g Black Diamond Helio Active Shell, size Medium
518 g Flylow Cooper Jacket, size Medium
544 g Outdoor Research Hemispheres Jacket, size Medium
563 g Rab Sharp Edge Jacket, size Medium
574 g Amundsen Peak Anorak, size Medium
590 g Flylow Higgins Coat 2.1, size Large
593 g Patagonia PowSlayer Jacket, size Large
605 g Patagonia Descensionist Jacket, size Medium
610 g Strafe Cham Jacket, size Large
626 g Arc'teryx Sabre LT Jacket, size Medium
635 g Mammut Alvier Armor Hardshell Jacket, size Medium
825 g The North Face Ceptor Jacket, size Medium
841 g Strafe Pyramid Jacket, size Large
848 g Open Wear Open One 3L Shell Jacket, size Medium
Materials
While the Peak Anorak was inspired by the period of time when waxed canvas, wool, and fur were cutting-edge technology, the Peak Anorak employs a much more modern fabric. The entire jacket is composed of a stretchy 3-layer Schoeller fabric with Schoeller's c_change membrane.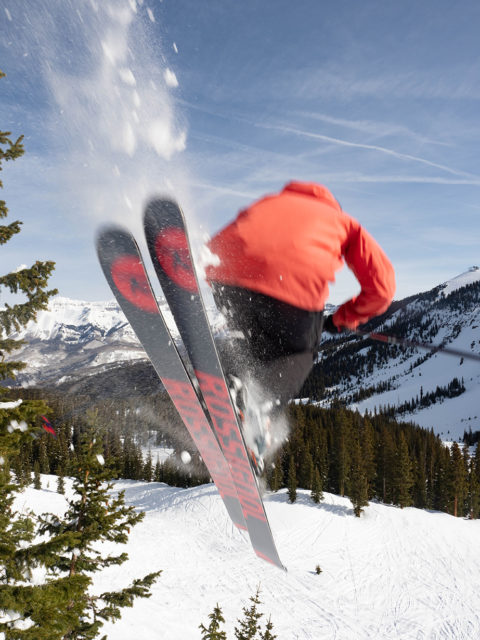 You can read a lot more about waterproof / breathable membranes in our Outerwear 101 and 201 articles, but the short summary of the c_change membrane is that it's meant to breathe more when you're working up a sweat, and retain more heat / breathe less when you're not. I first used the c_change membrane in the Ortovox Pordoi Jacket, and came away pretty impressed (more on performance in the next sections).
The Peak Anorak's fabric feels much more like a softshell than it does most hardshells (e.g., Gore-Tex, Gore-Tex Pro, and eVent). The Peak Anorak's fabric is soft, supple, slightly stretchy, and has a bit of heft to it. It's less noisy and crinkly than most Gore-Tex fabrics, feels fairly nice on skin, and I like the feel and look of the smooth, plain-weave face fabric.
Weather Resistance
Amundsen claims that the c_change fabric on the Peak Anorak has a water column rating of 20,000 mm, and after using it during plenty of wetter, late-winter storm days in Crested Butte, I think that's accurate.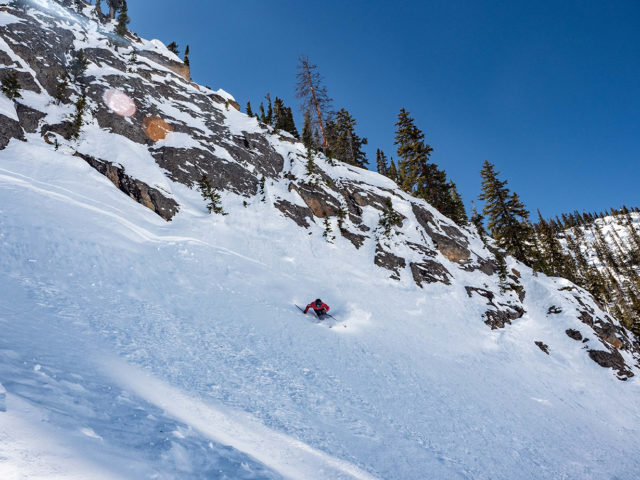 I've never had any water get through the fabric of the Peak Anorak, and its DWR has done its job very well. After my time in it, I have no reason to doubt the waterproofing of the Peak Anorak, but I'll update this review if I notice any weather-resistance issues down the line.
Breathability
Like the c_change fabric on the Ortovox Pordoi, I think the Peak Anorak's fabric is a bit above average when it comes to breathability. It's not as breathable as some options like Polartec NeoShell, Gore-Tex Active, and the fabric on the Patagonia Descensionist, but I think the Peak Anorak is a bit more breathable than Gore-Tex and Gore-Tex Pro.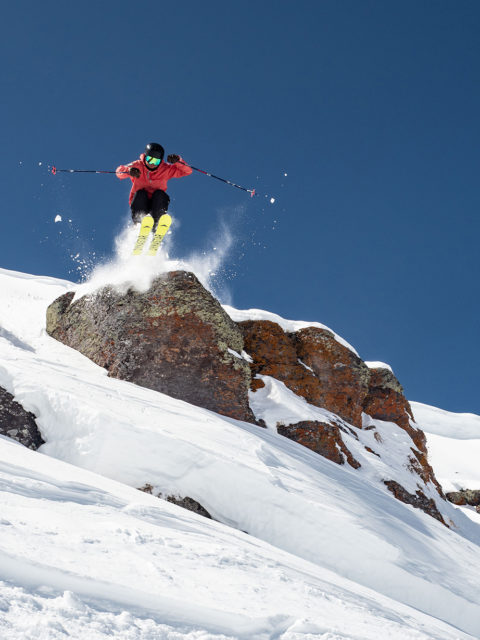 I've been able to skin in the Peak Anorak in cold temps (<15°F) with just a base layer and not need to use the pit zips. When it got warmer than that, opening the vents certainly helped, though I'd still probably just toss the Peak Anorak in my pack if I was planning on doing a lot of skinning or hiking in temps above 20°F (which is the case for most waterproof shells I've used).
Warmth
The Peak Anorak is a shell jacket with no insulation. As a result, you'll definitely want to add some layers under or over it when the temps drop below freezing — the shell itself does not offer much warmth at all.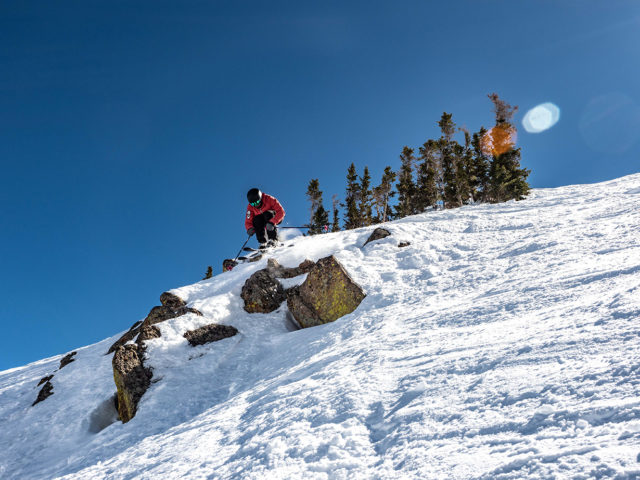 Compared to other shells, I'd say the Peak Anorak's fabric is a bit less wind-resistant. I never noticed any issues when I was wearing a midlayer under it, but when I just had a baselayer underneath, I could feel a bit of wind getting through the fabric.
Durability
I've only spent around 14 days skiing in the Peak Anorak so far, and after that, it basically looks brand new. But that's obviously not a true test of long-term durability, so I'll keep using the jacket and will update this review if anything comes up down the line.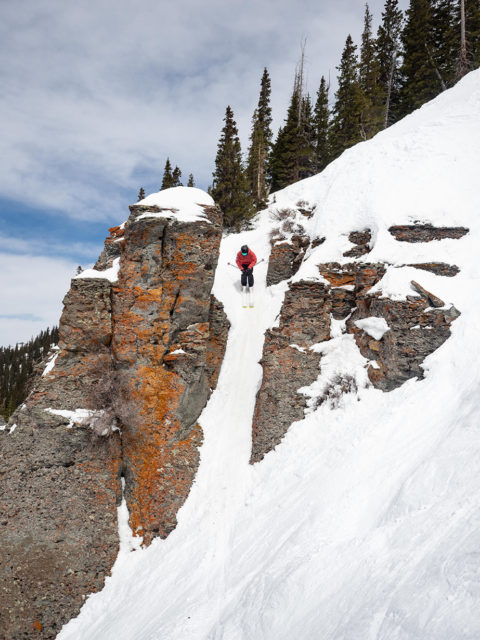 I think it's worth noting that the fabric on the Peak Anorak definitely feels burlier and sturdier than most other hardshells, so I have high hopes for the Peak Anorak's durability.
Who's It For?
Let's start with who the Peak Anorak is not for: weight-conscious backcountry skiers, people who take their shells off and on a lot, and those who think style is pointless and anoraks are stupid.
But you should check out the Peak Anorak if you're looking for a waterproof / breathable jacket that brings something a bit different to the table when it comes to style. The Peak Anorak has the technical fabric of other waterproof shells, but it combines it with a unique style that I've come to love. It only has a few features, but they work well, and its fabric offers a bit of an improvement in terms of breathability compared to standard Gore-Tex.
Last (totally subjective) note: I've worn a lot of jackets this year, and I can say that I've definitely gotten the most compliments about the Peak Anorak. This thing just stands out, and I'd argue that it looks pretty great.
Bottom Line
Anorak's aren't for everyone, especially when it comes to technical clothing. But if you're tired of the arguably bland and homogeneous style of most modern ski / snowboard shells, the Amundsen Peak Anorak is worth a good look. It's got a technical fabric that competes with the best waterproof / breathable fabrics out there, but comes in a silhouette unlike most other pieces. That's a combo I've come to love, and I think a good number of people might dig it, too.