Smith 4D Mag Goggle
Lenses Tested:
ChromaPop Sun Green Mirror (9% VLT)
ChromaPop Storm Rose Flash (50% VLT)
Stated Features:
Medium Fit
Smith MAG interchangeable system includes bright light and low light ChromaPop lenses
BirdsEye Vision increases field of view by 25% compared to Smith I/O Mag
QuickFit strap adjustment system with clip buckle
3-layer DriWix face foam
AirEvac integration technology to reduce fogging
Ultra-wide, silicone backed strap
Includes goggle hardcase with microfiber bag
MSRP: $280
Test Locations: Crested Butte & Telluride, CO
Days Tested: ~20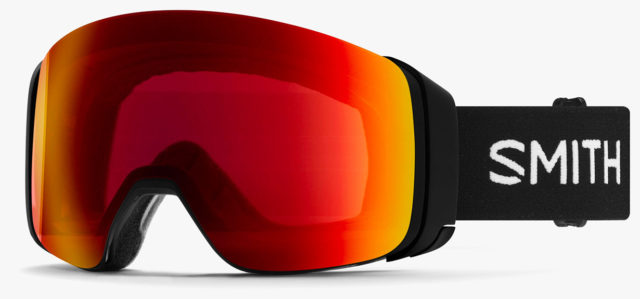 Intro
Once a fairly stagnant category, ski & snowboard goggles have seen a lot of new technology emerge over the past few years. Easy magnetic lens-swap systems are now seen across the industry, many brands now have their own high-contrast lenses, and we even have goggles that can change tint on demand.
But through all of that, pretty much every brand has still been using traditional cylindrical-, spherical-, or toric-shaped lenses.
For 19/20, Smith is changing that with their new 4D Mag goggle. Unlike other goggle lenses, the 4D Mag's lens extends and curves below the bottom of the frame, which Smith claims increases field of view by 25% compared to their standard I/O Mag goggle.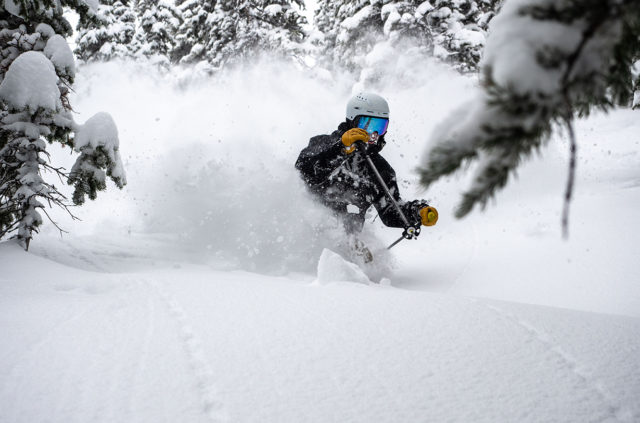 So is this a gimmick, or a true advancement? I'd argue the latter, but since there's a lot going on with this new goggle, let's dive in.
Fit
Luke Koppa: Smith says the 4D Mag has a "Medium" fit, which I'd say is pretty accurate.
I've used the Smith I/O7 for years, which Smith also says has a Medium fit. On my face, the two goggles feel very similar. I have a pretty big head, and the I/O7 was always borderline too small for me. I think the same could be said of the 4D Mag, though its lens design means it does indeed have a noticeably larger field of view vs. the I/O7 (more on that later).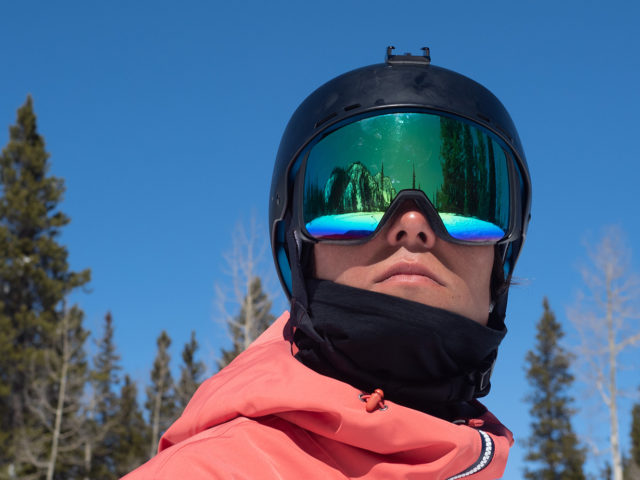 Unlike the I/O7, which fit my face comfortably with no gaps, I had to play around a lot with the tension of the strap of the 4D Mag to get it to fit without any gap between my nose and the bridge of the goggle. I think some of this comes down to the frame and lens of the 4D Mag being a bit stiffer / less flexible than goggles with traditional lenses.
This wasn't an issue when I put the 4D Mag over my helmet, but I grew up skiing with park rats and latched onto their style, so I like to wear my goggles under my helmet. Yeah, I know that's not the "proper" way to wear goggles and I get teased by plenty of my older friends for that reason but, until this year, I had never had an issue with goggle fit under my helmet. Eventually, I was able to tweak the tension and placement of the 4D Mag's strap to get a nearly gap-less fit over my nose, it just took more time and precision to do so vs. most other goggles I've used.
All that is to say that, as with any goggle, I'd recommend trying on the 4D Mag to make sure it fits your face well.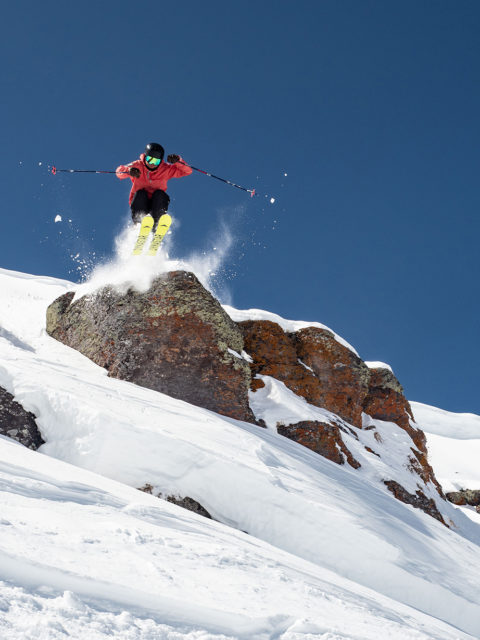 Compared to the Anon M4, POC Orb Clarity, and I/O Mag XL, the 4D Mag is noticeably smaller. I'd say the fit on the 4D Mag is roughly equivalent to the Spy Ace EC and Giro Axis in terms of coverage.
Sam Shaheen: I got a few days in the 4D Mag as well. I have a much smaller face than Luke and tend to have the opposite issues with fit — most goggles are too big for me. The overall size of the 4D Mag was OK for my face. Due to the curve of the lens, the 4D Mag feels a bit stiffer than most other goggles on the market which I think makes it a bit harder for the frame to conform to my face.
I also have a pretty big nose, and the lense of the 4D Mag comes incredibly close to the skin on my nose. If I don't have the strap adjusted right, the lens touches my nose (which, in a face-first fall, could end badly). I also get a small (but manageable) gap around my nose, like Luke.
Lens Swapping
Luke: While it bears the "Mag" moniker of Smith's I/O Mag line, the 4D Mag's lens swap system is slightly different than the I/O Mag and I/O Mag XL (review coming soon).
The 4D Mag features seven magnetic contact points which, combined with dual locking mechanisms on each side of the frame, secure the lens to the frame. The I/O Mag and I/O Mag XL's locking mechanisms are on the inside of their straps, but the 4D Mag's are on the bottom of the frame (see the stock photo at the top of this review) and can be adjusted without taking off the goggle. Since I use my goggles under my helmet, I really like that I can swap lenses on the 4D Mag with the goggle still on my face.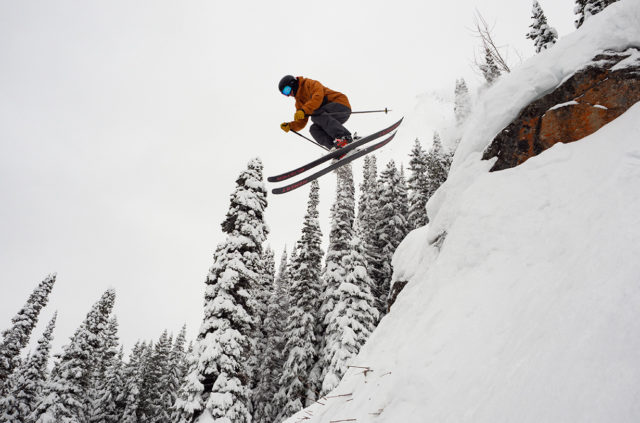 The 4D Mag's lens-swap system isn't quite as stupidly easy as those on the Anon M series, Giro Axis, and Zipline XT — all of which don't have extra locking mechanisms and just require you to place the lens on the frame and rely mostly on magnets to hold it in place. But the 4D Mag's lenses are still way easier to swap than non-magnetic systems like those on the POC Orb Clarity, I/O7, and Spy Ace.
While I've never had a lens pop out of the M4 unexpectedly, I have had lenses pop out of the Giro Axis a few times during some particularly violent tomahawks. So if you're worried about magnetic lens-swap systems not holding in your lenses, the 4D Mag's extra locking mechanism could be a plus. It does require a bit more precision when lining up the lens compared to magnet-only systems like that on the M4, but the 4D Mag's lens feels very secure when locked into place, and the 4D Mag's magnets do a good job of lining up the lens most of the way.
Lenses & Optics
Luke: We've been using the 4D Mag with Smith's ChromaPop Sun Green Mirror and ChromaPop Storm Rose Flash lenses. I've always liked Smith's lenses, and the ChromaPop lenses are a noticeable upgrade from their standard ones (all 4D Mag goggles come with two ChromaPop lenses).
ChromaPop Sun Green Mirror (9% VLT)
At 9% VLT, the ChromaPop Sun Green Mirror is definitely a high-light lens, and I think it's a very good one. I love the look of the old Blackout lens on the I/O7, but that lens feels very much limited to pure bluebird days with no clouds. The ChromaPop Sun Green Mirror feels a bit more versatile as it offers slightly more contrast. I'd still opt for the Storm Rose Flash lense when I know there are a lot of clouds in the forecast, but for bluebird to mostly sunny days, I've been very happy with the Sun Green Mirror.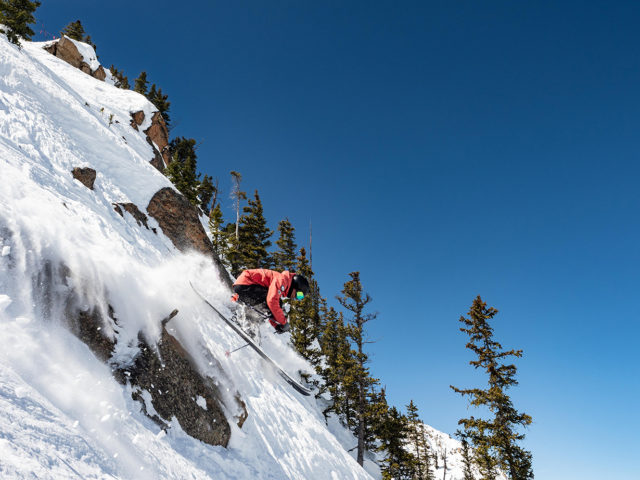 The ChromaPop Sun Green Mirror feels very similar to the Giro VIVID Jet Black lens, with the Sun Green Mirror offering a bit more contrast in mixed conditions. The Giro VIVID Onyx & VIVID Royal and Anon Sonar Bronze lenses are all slightly better options for mixed-light conditions, while offering similar eye comfort in full bluebird conditions. If you don't end up skiing in a lot of full-sun conditions, it'd probably be worth getting the 4D Mag with the 23% VLT ChromaPop Everyday Green Mirror.
ChromaPop Storm Rose Flash (50% VLT)
This is a great low-light lens. While I've never used a lens that makes fully flat-light conditions super fun, I think the ChromaPop Storm Rose Flash is basically as good as my other favorite low-light lenses, like the Giro VIVID Infrared (58% VLT) and Anon Sonar Blue (46% VLT).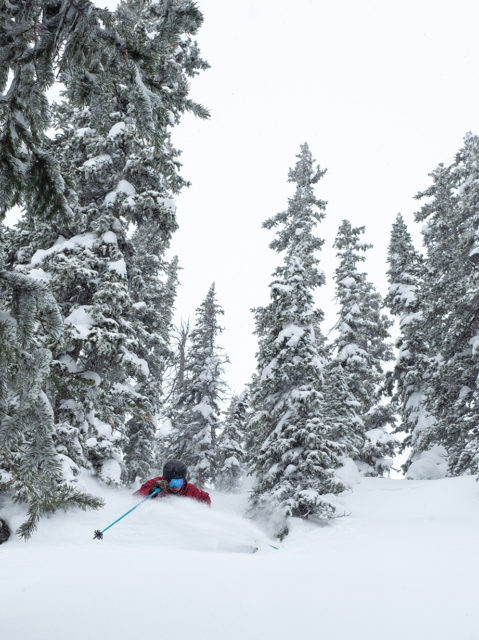 While I'd prefer the VIVID Infrared for the lowest-light days, I think the ChromaPop Storm Rose Flash is a bit more versatile when there's a bit of sun. I've been happy using the Storm Rose Flash on mixed-sun days when I think my eyes might have gotten a bit more strained in a higher-VLT lens like the VIVID Infrared.
Fogging
Luke: No surprises here, be them negative or positive. Like every modern goggle I've used, I haven't had any notable fogging issues in the 4D Mag. I've been able to briefly hike in it with my helmet tipped back to add more ventilation, but for any extended skinning, I'd swap it out for some sunglasses.
Field of View
Luke: This is where the 4D Mag really sets itself apart from the rest of the market. I was skeptical of the 4D Mag's lens at first, but it really does increase field of view (aka, "FOV") compared to traditional spherical, cylindrical, and toric lenses I've used.
On the sides and top, the 4D Mag feels very similar to the I/O7 and Giro Axis when it comes to field of view. Compared to the Anon M4 and POC Orb Clarity, the 4D Mag offers a bit less FOV on the sides and top. Overall, the 4D Mag offers a larger FOV than the Spy Ace EC.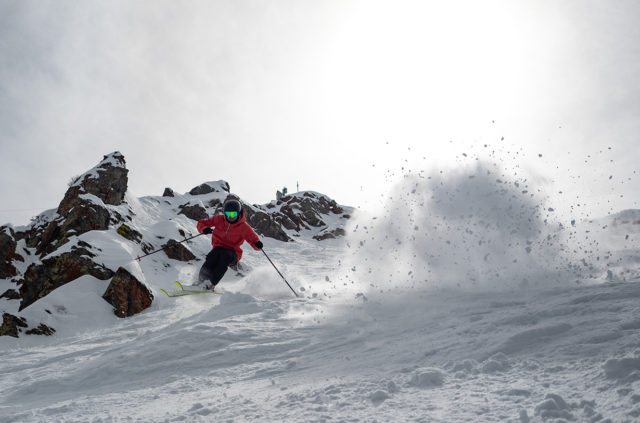 But on the bottom of the frame — where the 4D Mag has a curved, extended part of its lens — it really stands out.
I'm often wearing a pack with a camera while I'm on the mountain, which means I'm constantly fiddling around with my pack's hip and sternum straps. In traditional goggles, this often means blindly messing about with gloved hands until I stumble upon the buckles, since their frames block FOV at the bottom of the goggle. With the 4D Mag, I can actually see the buckles, which is a big plus for me. The 4D Mag's extended lens is also helpful when trying to reach the lower pockets on my jacket, shooting pics from low, awkward angles, and really anything where I need to be looking down.
Will everyone be blown away by the 4D Mag's FOV? Probably not. But I think it should be particularly appealing to those who ski or board while wearing a pack, or who get frustrated by the downward FOV of other goggles.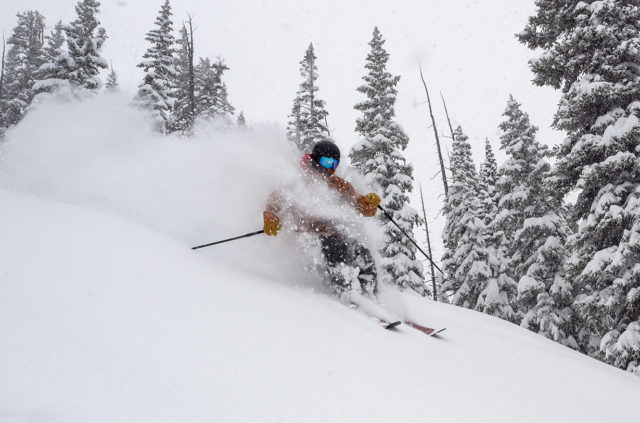 One thing that both Sam Shaheen and I noticed is that, where the 4D Mag's lens curves downward, there is a bit of a distortion in the optics. I noticed it the first time I used the goggle but, after that, I never really gave it a second thought. If that distortion had been in the middle of the lens, I'd have a serious problem with it. But since that part of the lens is essentially a bonus — FOV that I wouldn't get with a normal goggle — I'm fine with it not being perfectly undistorted, rather than not having that extra FOV at all.
Helmet Compatibility
Luke: Like the I/O7, the 4D Mag fits well with a lot of my helmets. It matches very well with the Smith Maze, Giro Combyn, Sweet Protection Switcher, and POC Oric Cut Backcountry SPIN.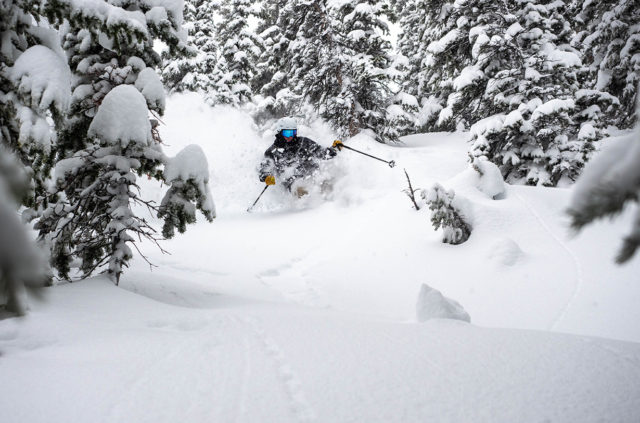 The 4D Mag has a more curved upper edge, so if you have a helmet with a very flat brim, you might be better off with a flatter-topped goggle like the Anon M4 if eliminating any sort of a gap is a priority for you. But in the several helmets I've used with the 4D Mag, it's matched quite well.
Durability
Luke: We only have around 20 days in the 4D Mag, and it's unsurprisingly holding up well. I haven't put any serious scratches in the lenses, and the strap is still functioning flawlessly. Based on my several years using the I/O7, I'm optimistic about the durability of the 4D Mag, but we'll update this review if we run into any issues down the line.
Price
Luke: The 4D Mag is far from cheap at $280. But for that price, you get two of Smith's excellent ChromaPop lenses, a magnetic lens-swap system, and a unique lens design with increased downward field of view.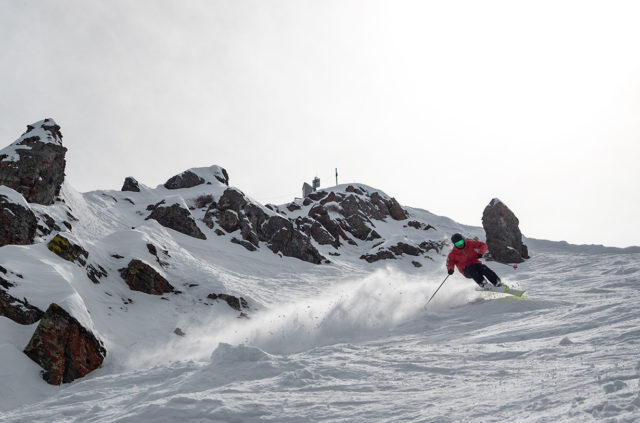 There are now a ton of very good, and much cheaper goggle options out there, so I think the main thing that sets apart the 4D Mag from its <$200 competition is the 4D Mag's optics and its field of view. If you don't need maximum-contrast lenses or extra field of view, you could save some cash and go with a cheaper option like the ZipLine XT or Giro Axis.
But if those two things are a priority for you, the 4D Mag is one of, if not the best option out there.
Who's It For?
People who want a very high-quality goggle and who prioritize high-contrast lenses, easy lens swapping, and increased field of view.
If you only want one or two of those things, there are other goggles that are similarly good vs. the 4D Mag. But to get all three, the 4D Mag is the best goggle I can think of.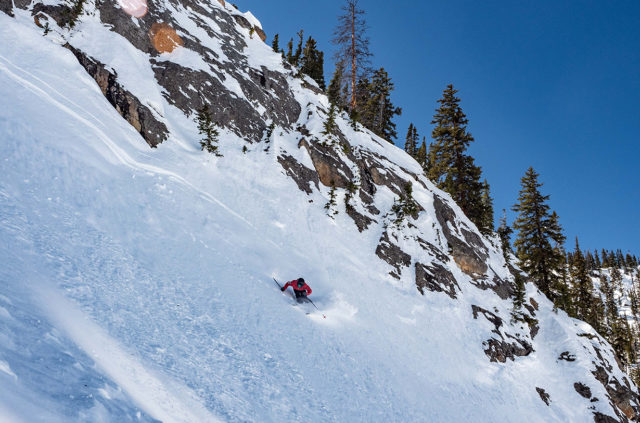 I think the 4D Mag should be particularly appealing to those who wear packs a lot while skiing or riding, and who are often frustrated by not being able to see when messing around with pack straps, pockets, etc. The 4D Mag's extended downward field of view is very noticeable, and I've come to appreciate it a lot when I'm skiing with my camera pack or out touring and often fuddling with the gear around my waist and feet.
Bottom Line
The Smith 4D Mag represents a new step forward for goggles. While I wouldn't say its extended field of view is revolutionary in the way that magnetic lens-swap systems or double-lens goggles were, the 4D Mag does offer a noticeable increase in field of view. And it combines that with two of Smith's excellent ChromaPop lenses and a very easy and secure lens-swap system, making it a very competitive option in the high-end goggle market. It's far from the cheapest goggle, but for those who have been searching for a goggle that lets them see more with great lenses that can be swapped easily, it's worth a good look.