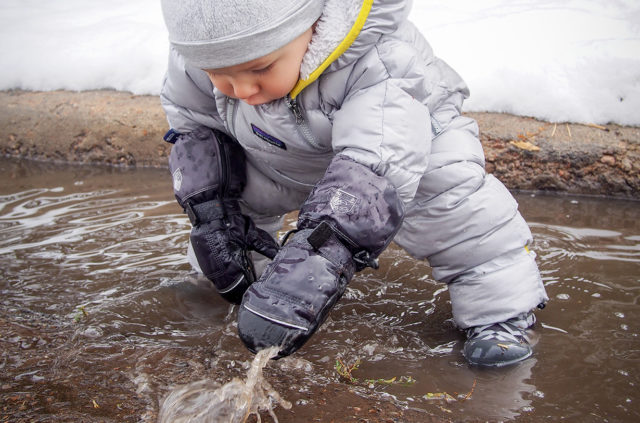 As I enter the second winter with my son, I'm trying to be more prepared, especially when it comes to keeping my son's hands, feet, and head warm. Keeping your baby's core warm is extremely important but so is keeping his or her extremities toasty, and of the two, I have found the latter to be much more difficult. Below are a number of products that have already proven to keep him happy and warm on the chilliest of days.
Products are listed by category and then organized with the warmest at the top, and the least-warm at the bottom. If you have some favorites yourself, please let me know in the comments section as I'm always looking for warm layers for my son.
HATS
JoJo Maman Bebe Cozy Waterproof Hat
Fabric:
Outer: 100% Recycled polyester with PU coating
Lining: 100% Polyester
Size Range: 0-12 months up to 3-6 years
Size Tested: 1-2 years
MSRP: $32
Best For: cold days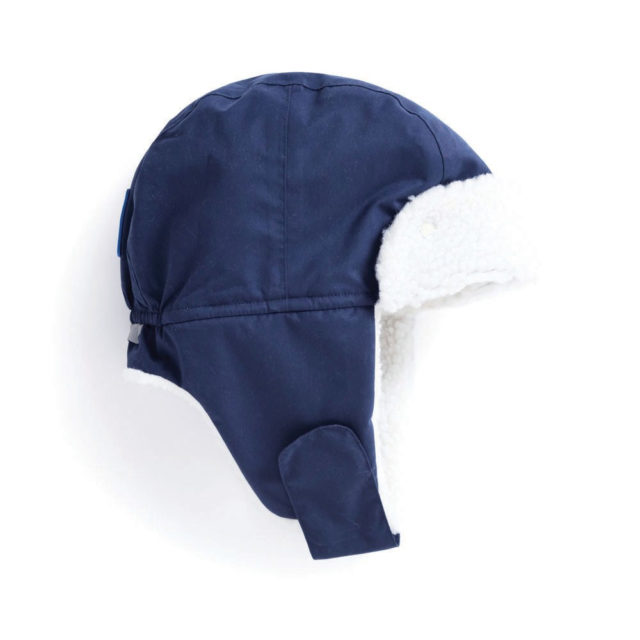 The first time my son saw this hat he immediately gave it a hug. Imagine your child's softest stuffed animal and now picture that soft fabric lining the hat. There's a reason my son hugged it — it's absurdly soft. While the inside is warm and cozy, the exterior is made from a durable and recycled polyester that is PU coated to make it water and wind resistant. With the arctic-explorer-style design (earflaps that keep the hat in place and provide extra coverage), this hat will keep your little one warm through the coldest of winters.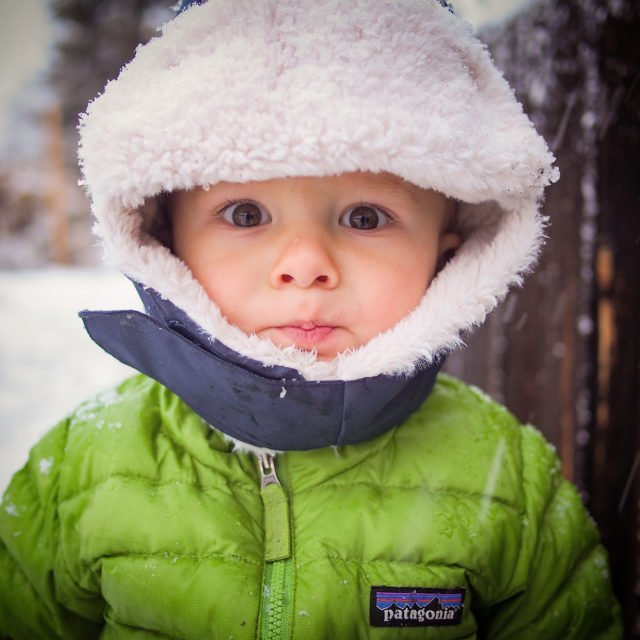 One of the only hats I've found with a velcro chin strap, I am psyched my son likes it as much as me. Last season we used a similarly designed hat and found it to be the only one that stayed in place while out skiing or exploring in the baby carriers. Other hats had a tendency to shift every time my son moved his head. The chin strap is wide — perhaps a little too wide at times — but it can be worn on top of the hat for warmer days. We used it in this fashion when my son fell asleep in the baby backpack as the chin strap is too wide when he has his chin tucked down. Babies and their double chins don't always have enough room for wide straps. Of all the hats on this list, the Cozy Waterproof Hat is definitely the warmest and I look forward to many adventures with my son bundled up in it.
Skida Alpine Hat Baby
Fabric:
Printed outer fabric: Poly-spandex jersey with MAX-Dri moisture management technology (92% Polyester, 8% Spandex)
Lining: medium-weight fleece (100% polyester)
Size Range: 6-12 months ("kids" version covers ages 2-8 years old)
Size Tested: 6-12 months
MSRP: $30
Best For: cold, windy hikes & skiing with baby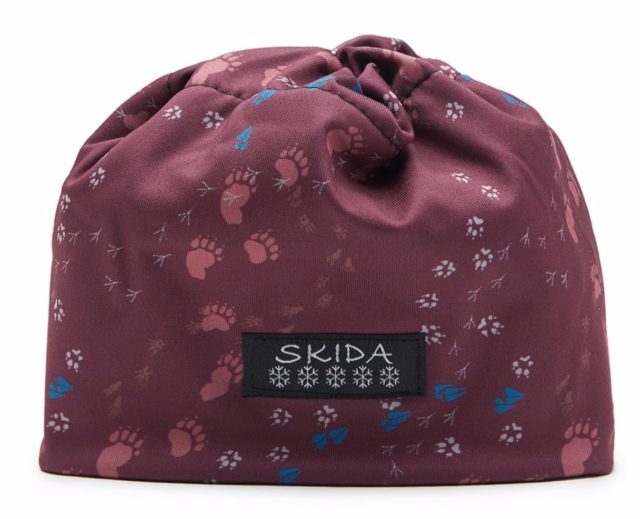 The baby-sized version of the original Skida Alpine hat is perfect for windy days, sledding, or a ski tour. Thicker than most baby hats and with a windproof and water-resistant exterior, the Alpine Hat is great for cold days especially if there is a breeze or your child is skiing with you. Last winter I was without a windproof hat for my son and every ski tour he seemed to really enjoy the uphill but not the downhills. While I was skiing slowly, I think the lack of a windproof hat made him uncomfortable and cold.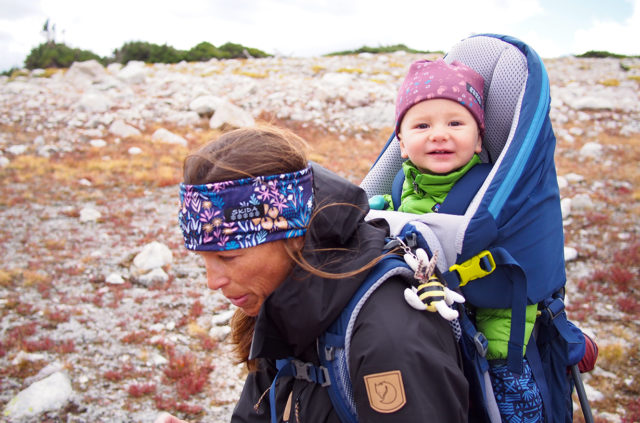 On a very windy hike in the Snowy Range of Wyoming my son had on the Alpine hat and while all the adults struggled to stay upright in the biggest gust, my son was not at all bothered by the weather. The tight weave of the polyester / spandex face fabric makes the hat windproof and the medium-weight fleece interior will keep your child warm in windy conditions. The interior fleece liner is soft and comfortable, but at 13 months old, the hat just barely fit my son and he outgrew it by 14 months. My son has an average head size for his age (50% percentile) and while the hat had enough stretch to go on comfortably, it was too short and no longer covered his ears. Fortunately, Skida offers a larger version of this hat that should fit well.
Zutano Cozie Fleece Hat
Fabric:
Band: 100% Cotton
Fleece: 70% Cotton / 30% Polyester
Size Range: 3 months to 24 months
Size Tested: 18 mos
MSRP: $14.50
Best For: warmer winter days or as a layer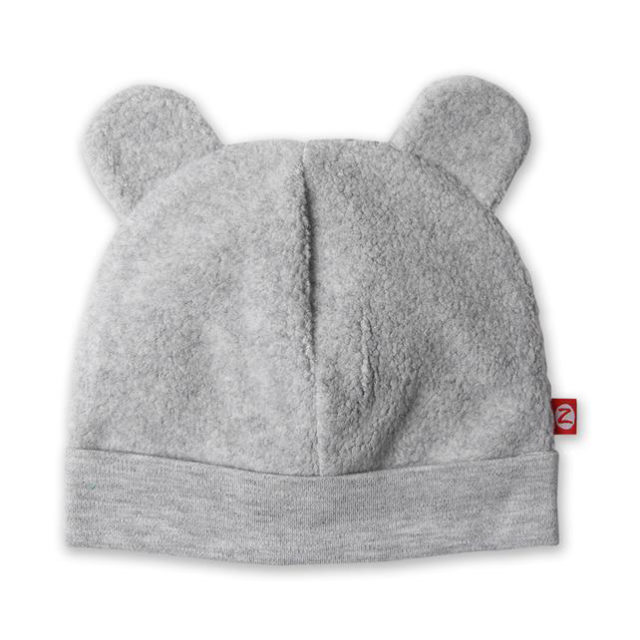 When transitioning from summer to fall, it's always good to pack extra layers and one item I always carry is a hat. We have a number of baby hats and each one is unique in its own way. The large band at the base of the Cozie Fleece Hat helps keep it in place so there's no need to worry about it falling down over your little one's eyes or working it's way off.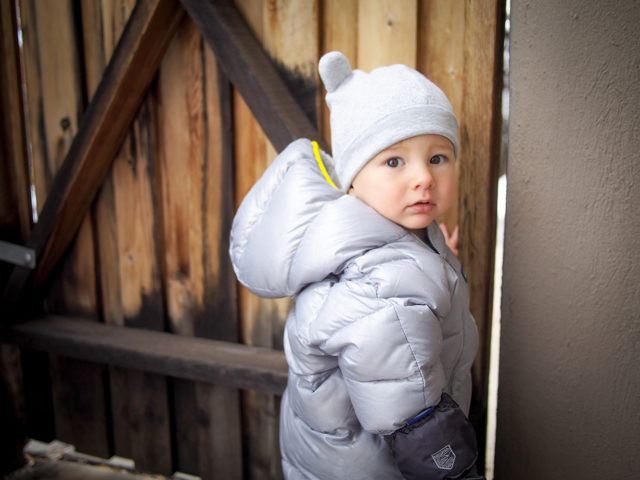 The 100% cotton band can be folded up for a shorter hat style or extended to give full coverage over the ears. It's also fairly low profile (even with the adorable bear ears) so it easily fits under a hood and is small enough to stuff into your pocket. From cool car rides to mountain adventures, your little one will be comfortable and cozy. The mid weight fleece is not windproof so on windy days or when skiing downhill with your child, this hat will be cold.
Slouch Headwear Slouch Beanie
Fabric: cotton / polyester knit
Size Range: small (0-6 months) to adult
Size Tested: small, medium, & adult
MSRP: $18
Best For: cool but not super cold days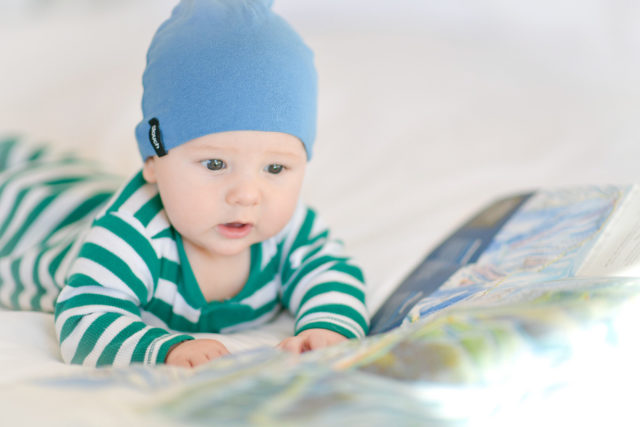 If you're a fan of dressing babies in miniaturized adult accessories or apparel, then you will love the Slouch Beanie. I've never been a fan of the cutesy animal-themed hats (hats with ears, yes, but whole animal heads, not so much) or anything with crazy bobbles, so the simple design and single color of the Slouch Beanie was right up my alley. At 15 months old, my son no longer fits in the newborn size (size small) so we have moved up to the medium which has a size range of 7 months to 2 years. He wore the smallest size all last winter — it was the first hat I ever purchased for him. The medium fits him but is a little big and has a tendency to fall down over his eyes on occasion.
The Slouch Beanie is made by moms in Utah and is a double layer of cotton jersey fabric — that's it. Nice and simple, but not super warm. My son wears his for car rides and outside on cool but not cold days. Most weekends last winter, my son and I (or my husband), were camped out in the day lodge where temps aren't super warm. On those days he was almost always rocking this hat. The longer design that gives it its name means it's plenty long enough to cover his ears, and combined with the stretch fabric, your child won't grow out of it too quickly. If you're into matching outfits or accessories, you're in luck as Slouch Headwear makes them in sizes from newborn to adult but do know that the adult size is quite large.
MITTENS
Hestra Baby Zip Long
Fabric:
Outer: HESTRA Micron polyester fabric, 100% polyester
Insulation: Primaloft Gold, 100% polyester
Lining: Bemberg, 100% Polyester
Size Range: 1-5
Size Tested: 1 & 2
MSRP: $55
Best For: cold days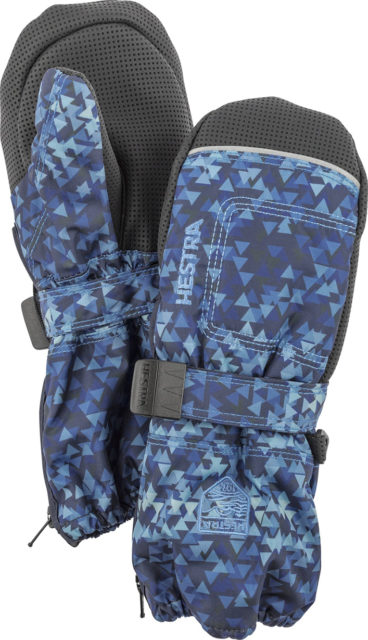 If you've spent any time on a ski hill, you're likely familiar with Hestra gloves and mittens. Designed with the same attention to detail and with the same quality materials, the Baby Long Zip might just be the perfect pair of baby mittens. The first time my son came inside with warm hands after playing outside in the snow for over an hour was thanks to these mittens. The mittens, which feature a side zipper that extends below his wrists, are easy to get on and off and can be worn over or under the cuffs of a jacket. The velcro strap that tightens the mitten around the wrist and the elastic at the cuffs help keep them in place and keep cold air from seeping in. The mittens extend just short of my son's elbows so cold air has a long way to go before it reaches my son's hands.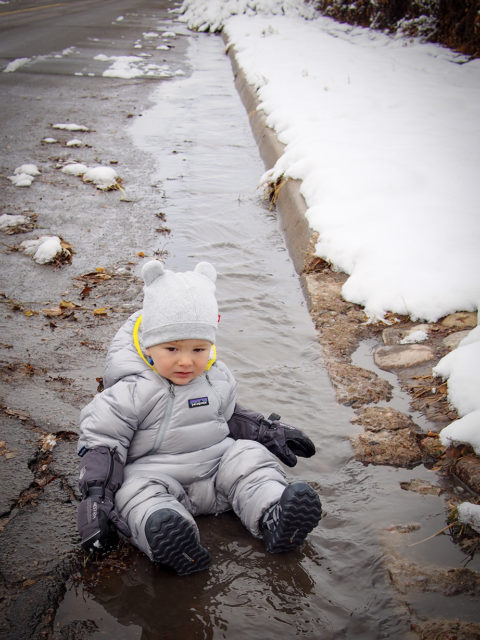 At 15 months, the size 1 fits my son perfectly but we also have a size 2 (a hand-me-down) and it has worked fine — just a bit longer. The handcuff attachment also means you can lock them together when not in use — this has saved me a lot of time searching through his mitten bin. My son is a big fan of playing in puddles of snowmelt, and between the extra long design and water-resistant fabric, his hands stay warm and dry in these mitts from Hestra.
Patagonia Baby Puff Mitts
Fabric:
Shell: 2.2-oz 100% recycled polyester plain weave with a DWR (durable water repellent) finish
Mitt Lining: 3.8-oz 100% polyester brushed tricot
Cuff Lining: Taffeta
Insulation: 100-g (cuffs: 60-g) THERMOLITE ® ECO92 (100% polyester, 92% recycled)
Size Range: 0-3 months to 2T-5T
Size Tested:
MSRP: $39
Best For: cold days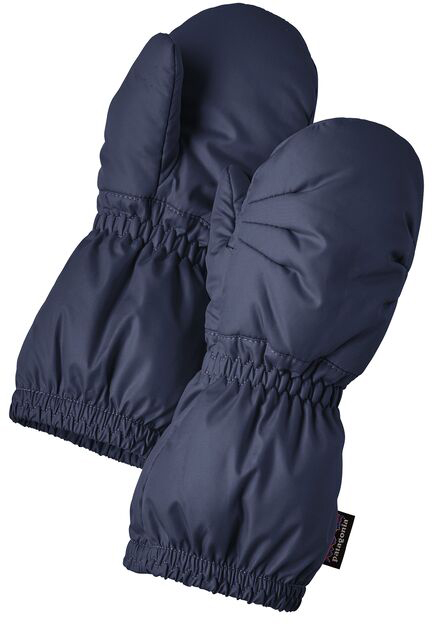 Unlike the Hestra, the Baby Puff Mitts don't have a zipper or any velcro. They do have elastic at the wrists and cuffs and most of the time that is enough to keep them in place. The mitts are long, like the Hestras, and extend nearly up to my son's elbow, giving the mitts good coverage and making them a bit harder for my son to yank off. Windproof and water-resistant, I've found it best to put these on before bundling up my son in his snowsuit. Most of his winter outerwear is long in the sleeves which can make it hard to keep mittens in place. Wearing the mitts under his snowsuit seems to keep his hands warmer and keep his mittens on a bit longer.
The lack of a zipper definitely makes it more difficult to put the mittens back on if they come off since pulling them over a thick, puffy coat is challenging. But the DWR finish makes these great for wet snow days and the lack of a zipper means you don't have to worry about water seeping in through a zipper (though the mitts aren't totally waterproof).
Zutano Cozie Fleece Mitten
Fabric:
Fleece: 70% Cotton / 30% Polyester
Cuff & Lining: 100% Cotton
Size Range: O/S
Size Tested: O/S
MSRP: $14.50
Best For: newborns and infants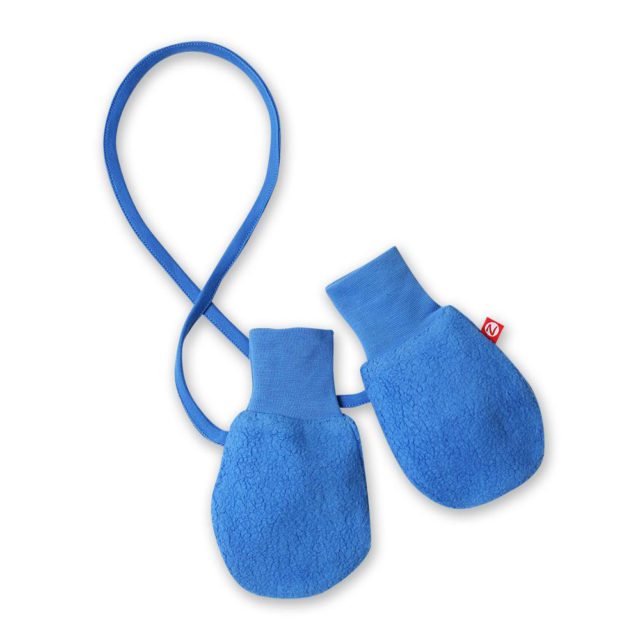 For the littlest ones out there, these mittens add just a bit of extra warmth. With only one size available and no separate thumb pocket, these are designed specifically for infants. The string that attaches the two mittens keeps them in place and gives parents a little peace of mind as you don't have to worry as much about losing one.
My son wore these his first winter when he was 3-6 months old. We typically dressed him in a one-piece bunting and would add these on colder days. Made of medium-weight fleece, the mittens aren't too warm on their own but when they're layered under the fold-over cuff of a bunting, they kept my son's hands warm.