Ski: 2021-2022 Moment Deathwish Tour, 184 cm
Available Lengths: 174, 184, 190 cm
Blister's Measured Tip-to-Tail Length: 183.4 cm
Blister's Measured Weight per Ski: 1660 & 1680 grams
Stated Dimensions: 138-112-129 mm
Blister's Measured Dimensions: 136-111-128 mm
Stated Sidecut Radius (184 cm): 25 meters
Measured Tip & Tail Splay (ski decambered): 66 mm / 64 mm
Measured Traditional Camber Underfoot: 3 mm
Core: Palowonia/Ash + Carbon & Fiberglass Laminate
Base: 4001 Durasurf
Factory Recommended Mount Point: -5.0 cm from center; 86.7 cm from tail
Boots / Bindings: Scarpa Maestrale RS / Fritschi Vipec Evo 12
Test Locations: Grand Teton National Park, Teton Pass, Grand Targhee Backcountry, WY; Stout's Mountain, Idaho
Days Skied: 12
[Note: Our review was conducted on the 19/20 Deathwish Tour, which was not changed for 20/21 or 21/22, apart from graphics.]

Intro / Background
If you're a frequent reader of Blister, you might be aware of how much I like the standard Moment Deathwish as a 1-ski quiver here in the Tetons. I've talked a lot about it through two years' worth of quiver articles, and my comparisons of other skis often discuss how they perform relative to the Deathwish. I really, really like that ski.
I also really, really like backcountry touring, and spend well over half my time on skis doing it. But for the last few years, I've really struggled to find a ski that comes in at a touring-friendly weight, but that I also enjoy in as many conditions and scenarios as the standard Deathwish.
I've liked a few touring skis, but I've never loved any of them as much as I love skiing the Deathwish inbounds. Astute readers might find that notion pretty weird, since Moment has made a 106mm-wide, tour-layup, triple-camber ski for years. It was even called the Deathwish Tour 106. But 106 is just a tad narrow for a daily driver for me, and a partner's experience with a too-light, too-soft, not-damp-enough Deathwish Tour 106 kept me away.
In the meantime, last winter I tried touring on a multitude of skis, swapping bindings over and over again while trying to find something that worked for everything from big consequential days in Grand Teton National Park, to deep pow days off Teton Pass, and jib days out the back of Grand Targhee. In fact, when Moment teased the all-new Deathwish Tour that I'm reviewing here, I was actually skiing an old, retired pair of the standard Deathwish as my touring ski. So you could say I was just a bit excited about Moment's promise of a real Deathwish Tour — i.e., a ski that had the same design as the standard Deathwish, but with a lighter, more touring-friendly construction and slots for skin tail clips.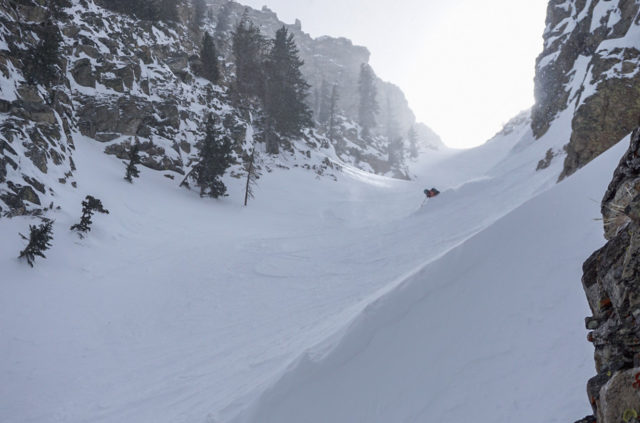 I started getting on the new Deathwish Tour near the end of last season, and was able to ski it in a huge variety of conditions — from deep pow, to some of the more exposed and scary mountaineering lines I've skied.
And so … is it the dream ski I've been waiting for? How does it compare to the regular Deathwish? And what kinds of skiers will like it most?
What Moment says about the Deathwish Tour
"Honestly, the decision to redesign the Deathwish Tour came from some pretty simple reasoning. Instead of letting people fall in love with the Deathwish then making them choose a different ski for touring, we figured it made more sense to just give them what they want: a lightweight, skin-ready version of the original Deathwish. So we shaved a couple pounds off, tweaked the tip and tail to accept skins, and here we are. As if that wasn't enough justification, this new version also happens to slot perfectly in between the Wildcat Tour 108 and the Wildcat Tour."
That's a pretty simple and straightforward description, and I fall squarely into the target demographic of this new ski.
Shape / Rocker Profile
The Deathwish Tour has the same exact rocker profile as the standard Deathwish, and an extremely similar shape. (The only changes are at the ends of the tips and tails to make them work better with skins.)
The Deathwish Tour has a pretty deep tip rocker line, and a deeper-than-average tail rocker line. It's also got a lot of tail splay (the standard Deathwish is, afterall, part of Moment's "Freestyle" collection).
The middle of the ski is where things get different. The Deathwish uses Moment's "Triple Camber" design, which features rocker in the tip and tail, camber underfoot, and then two "micro-camber pockets" in front of and behind the bindings. Here's a photo of the original Deathwish that shows the ski decambered.
The shape of the Deathwish Tour is less radical. It's got some tip and tail taper, but not a crazy amount — we'd call it slightly more tapered than average.
Flex Pattern
Here's how we'd characterize the flex pattern of the Deathwish Tour:
Tips: 7
Shovels: 8
In Front of Toe Piece: 9
Underfoot: 9
Behind the Heel Piece:9
Tails: 8
This is a strong, pretty round flex pattern. The tips are a touch softer than the tails, but the difference isn't very big and the rest of the ski is quite strong. It feels extremely similar to the standard Deathwish, with the Tour maybe being a touch softer in the tips.
Weight
The standard Deathwish is already pretty light for its size, and the Deathwish Tour substantially lighter. An average weight of 1670 grams per ski puts it in line with other dedicated touring skis like the Amplid Facelift 108, Line Vision 108, and Atomic Backland 107.
For reference, here are a number of our measured weights (per ski in grams) for some notable skis. Keep in mind the length differences to try to keep things apples-to-apples.
1476 & 1490 K2 Wayback 106, 179 cm (18/19–19/20)
1477 & 1482 G3 FINDr 102, 184 cm (17/18–18/19)
1547 & 1551 Black Diamond Helio 105 Carbon, 185 cm (17/18)
1562 & 1566 Scott Superguide 105, 183 cm (17/18–18/19)
1605 & 1630 Line Vision 108, 183 cm (19/20)
1606 & 1641 Blizzard Zero G 105, 188 cm (19/20)
1642 & 1651 Renoun Citadel 106, 185 cm, (18/19)
1642 & 1662 Atomic Backland 107, 182 cm (18/19–19/20)
1660 & 1680 Moment Deathwish Tour, 184 cm (19/20)
1706 & 1715 Volkl BMT 109, 186 cm (17/18–19/20)
1720 & 1747 Line Sick Day Tourist, 186 cm (16/17)
1733 & 1735 Blizzard Zero G 108, 185 cm (17/18–18/19)
1745 & 1747 4FRNT Raven, 184 cm (16/17–18/19)
1752 & 1771 Amplid Facelift 108, 189 cm (18/19–19/20)
1755 & 1792 Line Sick Day 104, 179 cm (17/18–19/20)
1814 & 1845 Elan Ripstick 106, 181 cm (17/18–19/20)
1825 & 1904 Black Crows Corvus Freebird, 183.3 cm (17/18–19/20)
1843 & 1847 Head Kore 105, 189 cm (17/18)
1848 & 1903 Line Sick Day 104, 186 cm (17/18–19/20)
1849 & 1922 Elan Ripstick 106, 188 cm (17/18–19/20)
1898 & 1893 Armada Tracer 108, 180 cm (18/19)
1913 & 1943 Sego Condor Ti, 187 cm (18/19)
1923 & 1956 DPS Alchemist Wailer 106, 189 cm (17/18–18/19)
1941 & 1965 Fischer Ranger 108 Ti, 182 cm (17/18–18/19)
1950 & 1977 Blizzard Rustler 10, 188 cm (17/18–18/19)
1970 & 1979 Atomic Backland FR 109, 189 cm (17/18)
1980 & 2016 Liberty Origin 106, 187 cm (17/18–18/19)
1980 & 2019 Moment Deathwish, 184 cm (17/18–18/19)
1996 & 2012 Dynastar Legend X106, 188 cm (17/18–19/20)
2005 & 2035 Liberty Origin 106, 187 cm (19/20)
2022 & 2047 Faction Dictator 3.0, 186 cm (17/18–18/19)
2026 & 2056 Black Diamond Boundary Pro 107, 184 cm (17/18–19/20)
2030 & 2039 Rossignol Soul 7 HD, 188 cm (17/18–19/20)
2036 & 2064 Salomon QST 106, 188 cm (18/19)
FULL REVIEW
Uphill Performance
We'll start the on-snow portion of this review like most backcountry tours, with how the ski does going uphill.
In a word? Awesome.
Moment managed to make the Tour version of the Deathwish impressively light. It's only about 100 grams heavier per ski than the Salomon MTN Explore 95 that had previously been my "super light and fast" setup.
As you'd expect from a ~1670-gram ski, the Deathwish Tour is easy to haul uphill. Moment gives their touring skis a different tip and tail shape that help skins stay on, which is something I appreciate.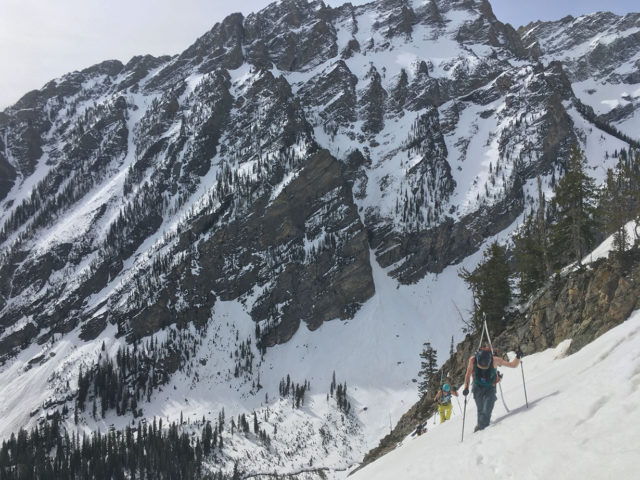 The other big thing I noticed with the Deathwish Tour is how light it feels on my back. I spent a lot of time boot packing with this ski, often while hanging on to steep, firm slopes with crampons, an ice axe, and a Whippet. In situations like that, I really appreciate and notice a light ski that's not yanking my back around.
When it comes to skinning, I think the Deathwish Tour is really nice. In my experience, Triple Camber skis have slightly better edge grip on icy skin tracks than regular rocker-camber-rocker skis, and my time on the Deathwish Tour confirmed that. It slipped marginally less while side-hilling in challenging conditions than the Atomic Bent Chetler 100 I was touring on before.
Powder and Soft Snow
My first day on the Deathwish Tour was on Stouts, an aesthetic peak on the Idaho side of Teton Valley. We were blessed with near-perfect conditions — deep, slightly dense pow up top that then turned to hot pow for the bottom quarter. In this sort of snow, the Deathwish Tour is a blast.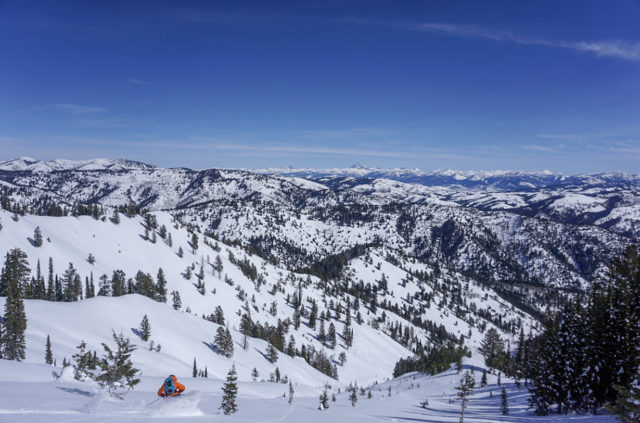 I love skiing the regular Deathwish in deep pow. I think it floats very well for its width, and is really easy to slash and jib. That said, it definitely suits a more playful, balanced style, and more directional skiers might find that it's easy to bury the tips if you try to drive them too hard in deep snow. After all, the Deathwish and Deathwish Tour have a recommended mount point of -5 cm from center.
The Tour version takes the standard Deathwish's performance in pow and amplifies both the upsides and downsides. The Deathwish Tour is so light on your feet that it begs to porpoise and pop out of soft snow. I found myself airing small humps bigger than I would on almost any other touring ski, and ended up spinning the Deathwish Tour on my first lap. The only touring ski I've been on that's more fun in powder is the (wider) Atomic Bent Chetler 120. But again, if you're an aggressive directional skier and you tend to drive your shovels really hard in pow, there are better options.
On a bit firmer but still soft and consistent snow (corn, hot pow, etc.), the Deathwish Tour holds an edge well when driven hard, but is still very easy to pivot and slash if you adjust your stance to be just slightly more upright. It's very easy to get going very fast on this ski, but it's also easy to shut it all down fast when you need to. In summary, the Deathwish Tour is a really fun powder touring ski, particularly if you ski with more of a centered, playful style. But unlike some superlight fat skis, the Deathwish Tour is still fun in conditions that aren't perfect.
Variable Snow
Variable snow is the bane of many lightweight skis. They just don't have the damping and mass to smooth out abrupt transitions in snow quality. While the Deathwish Tour isn't some miracle ski, in my experience, I think the Deathwish Tour punches well above its (very low) weight.
It's not in the same class as the regular Deathwish when it comes to stability in variable conditions, and that's no surprise. But if I had to put it into numbers, I'd say the Deathwish Tour skis more like a ski that's ~100-200 grams heavier. For its weight, the Deathwish Tour doesn't deflect that easily, has great edge hold, and is very predictable.
No, you're not going to be fooled into thinking you're on an inbounds charger — or even the standard inbounds Deathwish — when you're skiing rough, chopped up snow. But the Deathwish Tour also feels much more composed than a ski of this weight has the right to be.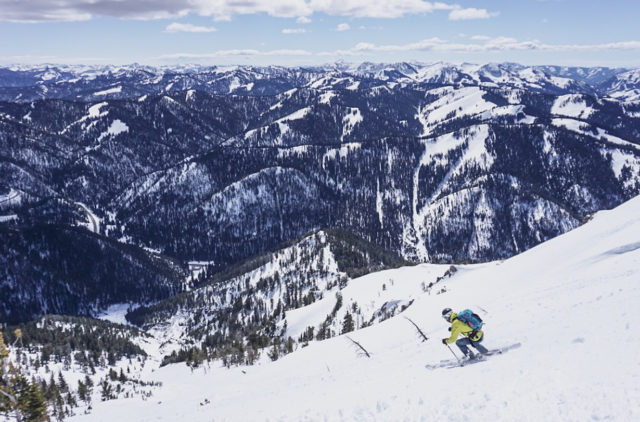 In these conditions, both the regular Wildcat and the Wildcat Tour beat the Deathwish Tour when it comes to stability and damping / suspension. Similarly, the Atomic Bent Chetler 100 is much more damp (and ~200 g heavier), although the Deathwish Tour's wider width keeps it from getting bogged down a bit better than the narrower Bent Chetler 100.
Firm, Rough Snow
Lucky for you, I've skied a bunch of truly terrible snow on this ski. Excursions up the Middle Teton and the Fallopian Tube yielded frozen, chunky, coral reef — the sort of high-consequence, low-fun skiing that makes me grimace through my teeth.
But while making a collection of terrible, loud, bumpy turns in these awful conditions and sliding into the next safe zone, I found myself exclaiming again and again "I can't believe how much I love this ski." It's so damn predictable.
If you're at all familiar with its inbounds sibling, you're completely prepared for how the Deathwish Tour will react to any given conditions. I've never been on a touring ski that felt this safe and consistent in no-fall terrain.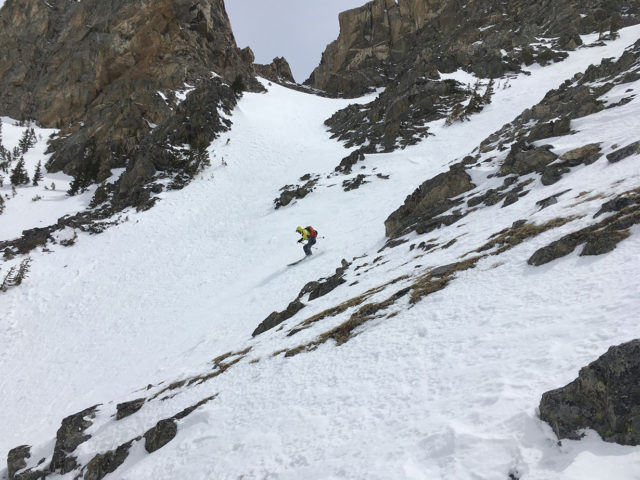 Now, part of this is due to the fact that I've spent a lot of time on the Deathwish and am very familiar with how it skis. But I'd also attribute a lot of that confidence in bad snow to its triple camber. I've found that triple camber offers a more tenacious edge hold than anything else I've skied on super firm snow, even compared to a narrower ski like the Salomon MTN Explore 95. But on the flip side, it's also much easier to consistently disengage the ski from its edge to initiate a turn. Instead of jumping to initiate the turn, I can just pivot my hips gently. That's great when you're looking over a cliff at the edge of your line and you'd really rather not jump.
Of course, plenty of people aren't going to want to bring their 112mm-wide, ~1670-gram ski on super steep, firm, consequential lines. But I think the Deathwish Tour does really well in these conditions, particularly for how wide it is.
Deathwish Tour vs. the Standard Deathwish
Right before I got the Deathwish Tour, I was skiing the regular Deathwish with the exact same boots and bindings. The only thing I changed in my setup was the ski itself, which let me make some good comparisons without too many variables.
What I found is that I sacrificed less downhill performance than I'd expected given how light the Deathwish Tour is. I only really noticed the difference at high speeds in firm, variable snow, and on imperfect landings — the Tour version doesn't stomp as hard on landings as the standard Deathwish does. It also requires a touch more finesse to keep it from going squirrely.
Conversely, the Deathwish Tour is much, much easier to spin.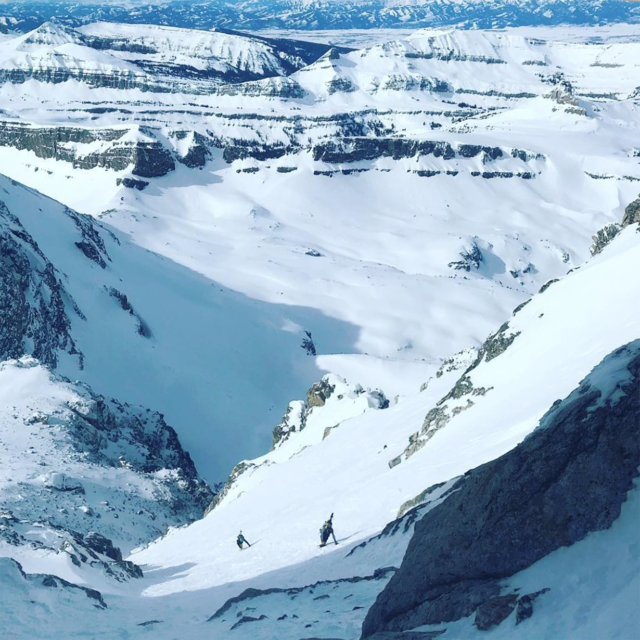 In my experience, the biggest key to getting along with a touring ski is … familiarity. I need to be able to predict how a ski is going to react in any situation, before I'm on top of some no-fall zone. It's hard to accomplish that though, because the best way to build familiarity with a ski is to ski it inbounds a bunch, and I hate skiing touring skis inbounds (the Deathwish Tour is no exception, which I'll discuss below).
The Deathwish and Deathwish Tour fix that dilemma for me. If you have skied a regular Deathwish inbounds, the transition to the Deathwish Tour will be seamless. You can just jump on the ski and go climb something big and scary, knowing that your touring ski will behave almost identically to your inbounds ski.
I think Moment has really dialed in their tour-construction skis. They have a consistency with their inbounds counterparts that adds a lot of value for skiers looking for a way to ski the same way in and out of bounds. I've experienced this with both the Deathwish and the Wildcat. Moment shaves off a bunch of weight in the touring versions, without losing any of the predictability and familiarity of the inbounds ski. It takes so much guessing out of the equation, and it's commendable.
Is the Deathwish Tour a 50/50 Ski?
Nowadays, it seems like everyone wants everything to be a 50/50 ski that they can slap a burly touring binding on and go ski in and out of bounds.
The Deathwish Tour is not that ski. Please, don't do it.
This is a very light touring ski — please don't put a heavy touring binding on it. You'll hamper its uphill performance, and will be disappointed by how well it holds works inbounds.
While we'd say this for basically all skis as light as the Deathwish Tour, in this case, I think it makes even less sense to ski the Tour inbounds, because the regular Deathwish is already pretty light. If you really need a 50/50 ski, put a Shift binding on a regular Deathwish — this will make for a really cool travel setup that will ski well inbounds, and won't be a chore to haul uphill.
And, related note: the Wildcat Tour 116 is a really cool 50/50 ski. The Deathwish Tour is a really cool touring ski.
Who's It For?
Well, the first group is obvious: anyone who likes the Deathwish, but wants to walk uphill. If you like the Deathwish and want to earn your turns, go buy the Deathwish Tour. It's the same sort of quiver killer, but it goes uphill better. I could (and probably will) happily ski only a Deathwish and Deathwish Tour for a season at any given mountain range in the world. They cover my needs perfectly.
However, I think plenty of folks who don't have experience with the regular Deathwish will also get along with the Tour. If you're a less directional / more playful skier looking for a 1-ski touring quiver, the Deathwish Tour should be on your shortlist. It floats well in pow, wouldn't feel out of place at a booter session, and is also surprisingly capable on steep, skimo-style lines (provided you don't mind using a wider ski for this).
Who should not get the Deathwish? People whose absolute top priorities are stability and composure at speed. For you, I'd recommend checking out more directional touring skis like the Blizzard Zero G 105, Volkl BMT 109, or heavier skis like the Moment Commander 108, RMU North Shore 108, and maybe the Faction Dictator 3.0.
But if you're looking for a ski that's light on the uphill, stable for its weight on the down, and that will let you play around in a really wide range of conditions, the Deathwish Tour makes a lot of sense.
Bottom Line
It's been a few years coming, but Moment has finally applied their touring-layup to their classic Deathwish and managed to create a touring ski that carries most of the original's performance and predictability in a much lighter package.
The Deathwish Tour is the most versatile touring ski I've ever been on, and the most confidence inspiring. The Deathwish Tour has raised my own personal bar for what a good backcountry ski should be, and that's the highest praise I can give. Aggressive, directional skiers should look elsewhere, but anyone else who's looking for a versatile, playful, 1-ski backcountry-touring quiver should have the Moment Deathwish Tour on their shortlist.
(Note: rocker pics are of the standard Deathwish, which shares the same exact rocker profile as the Deathwish Tour)​