2019 Specialized Enduro Elite 27.5
Size Tested: Medium
Geometry: (Here)
Build Overview (Elite Build Kit):
Drivetrain: Sram GX Eagle
Brakes: Sram Code R
Fork: Fox Rhythm 36
Rear Shock: Fox Performance Float DPX2
Wheels: Roval Traverse w/ Specialized hubs
Wheels: 27.5′′
Travel: 170 mm rear / 170 mm front
Blister's Measured Weight: 31.7 lbs (14.4 kg) without pedals
MSRP: $4,820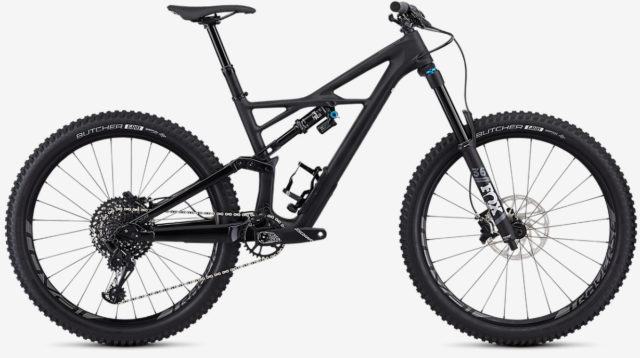 Intro
The Specialized Enduro has been around for 20 years now — (!!!) — with the first model being released long before the Enduro World Series was even a thing. But the latest models of the Enduro bear little resemblance to the original 1999 model, which had a mere 109 mm of rear travel, and came spec'd with an 80mm-travel fork.
Over two decades of the model line, the bike's travel has grown to 170 mm at both ends for the 27.5" frames (160 mm for the 29ers), the chainring count has dropped from three to one, and the geometry has stretched longer, lower, and slacker into numbers that would have seemed extreme for a Downhill bike in 1999.
But times have changed, and so have bikes. So, how does the 2019 Specialized Enduro compare to the current class of do-it-all long-travel bikes? Today we're taking a closer look at the Enduro, and will be reporting back with a full review later on.
The Frame
The Enduro Elite comes with a carbon front triangle and an aluminum rear end. The higher-end "Pro" and "S-Works" builds get carbon rear ends, while the lower-end "Comp" build features a fully aluminum frame.
The Enduro features what used to be a proprietary Specialized suspension design — the "FSR" link in Specialized nomenclature, otherwise known as a Horst link. Now that the patent has expired, lots of companies are producing bikes with a similar layout, essentially a four-bar linkage with a pivot on the chainstay, slightly forward of and below the dropout.
For more on suspension designs and how they differ, check out our Suspension 101 article.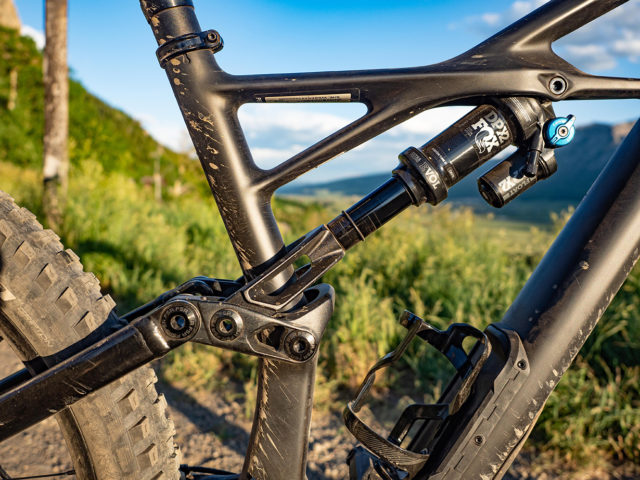 The Enduro has antisquat values at the lower end of what is common for Trail / Enduro bikes, coming in a little under 100% around the sag point in the lower gears. This theoretically should help maintain rear-wheel traction under power when climbing, but comes at the expense of a bit of pedaling efficiency. It's not a big outlier in this regard (e.g., the Trek Remedy is similar), but it has significantly less antisquat than some other competitors, like the Rocky Mountain Slayer and Devinci Spartan.
All cables on the Enduro are routed internally and setup was super easy. The bike features internal tubes that run through the frame and stick out at the entry / exit points, meaning that you don't need to fiddle much at all while trying to run the cables through.
On the Enduro's Elite's down tube is what Specialize calls the "SWAT" door, which lets you stash all sorts of stuff inside the down tube and the "door" doubles as a water-bottle holder. The cavity inside the down tube is very spacious, and you can fit an extra tube, pump, small tools, and most importantly, lots of snacks. Specialized also includes a small multi tool with a slotted screwdriver, 3, 4, 5, 6, and 8 mm Allen keys, and a T25 Torx. The multitool attaches to the bottom of the SWAT door / water-bottle holder. Of note — the aluminum Enduro Comp does not get the SWAT door.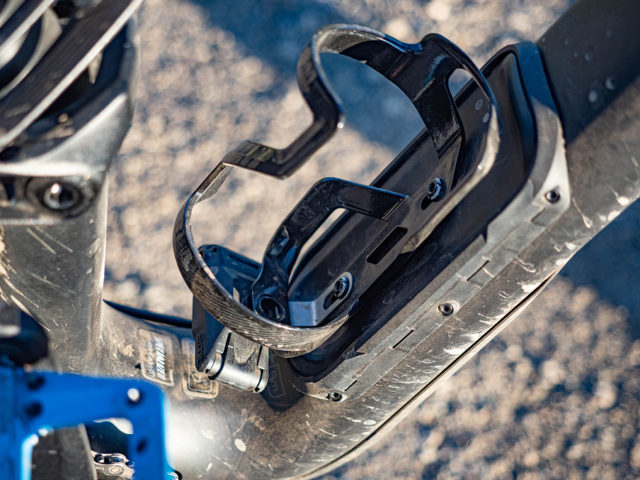 The Enduro's frame is finished off with cleanly integrated rubber guards along the bottom of the down tube and around the chainstay.
The Build
Here are the quick highlights of the Enduro Elite 27.5 build:
Drivetrain: Sram GX Eagle
Brakes: Sram Code R
Fork: Fox Rhythm 36
Rear Shock: Fox Performance Float DPX2
Rims: Roval Traverse 27.5, hookless alloy, 30mm inner width, 2Bliss Ready, 28h
Front Hub: Specialized, sealed cartridge bearings, 15x110mm spacing, 28h
Rear Hub: Specialized, sealed cartridge bearings, 12x148mm thru-axle, 28h
Tires: Specialized Butcher, GRID casing, GRIPTON® compound, 2Bliss Ready, 27.5 x 2.6″ (these actually measure around 2.4" on the 30 mm Roval rims)
Cockpit: all Specialized-branded aluminum
Dropper Post: Command Post IRcc, 16-position micro-height adjustable, two-bolt head, bottom mount cable routing, remote SRL lever, 34.9mm, S: 130 mm travel, M/L/XL: 160 mm travel
Saddle: Body Geometry Phenom Comp, hollow Cr-Mo rails, 143mm
This checks all the boxes for a bike in this class and price point, and stacks up nicely against some other competitive options. Apart from the Specialized-branded parts, the Enduro Elite build is nearly identical to the Transition Patrol Carbon GX build, for example, which retails for $4999. 
While nothing jumps out as needing upgrading right away, it's worth noting that the Enduro uses a proprietary shock mount that limits replacement options, and the 34.9mm-diameter seatpost is a less common size that hasn't (yet?) been embraced by all seatpost manufacturers.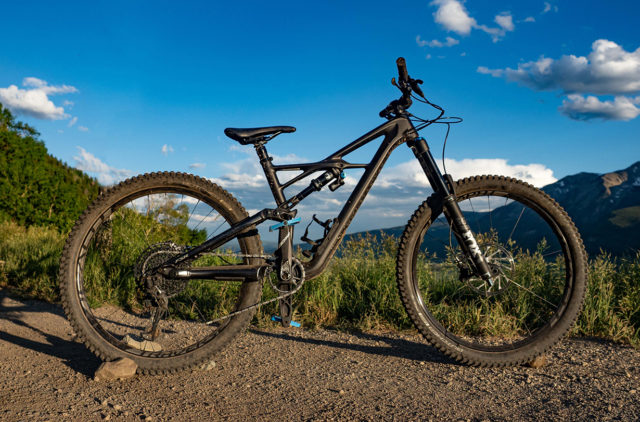 For reference, here are the other build options for the Enduro 27.5 and some quick highlights in terms of components and price:
Enduro Comp 27.5
MSRP: $3200
Rockshox Yari RC fork
Rockshox Monarch Plus shock
SRAM GX drivetrain (XG cassette)
Enduro Elite 27.5
MSRP: $4820
Fox Rhythm 36 Fork
Fox Performance Float DPX2 shock
SRAM GX Eagle drivetrain
Enduro Pro 27.5
MSRP: $6500
Ohlins RXF 36 fork
Ohlins STX shock
SRAM X01 Eagle drivetrain
Enduro S-Works 27.5
MSRP: $8500
Ohlins RXF 36 fork
Ohlins STX shock
SRAM XX1 Eagle drivetrain
Fit & Geometry
The Enduro's geometry is pretty middle of the road for a long-travel Enduro bike these days — it's certainly not dated, it's but notably not at the forefront of the longer / lower / slacker trend, either. This is especially noteworthy when compared to the rather eye-popping geo numbers on Specialized's Stumpjumper Evo bikes (63.5° head angle, 465 mm reach, and 1228 mm wheelbase for the smaller "S2" size) . And it's worth noting that, at least in terms of geometry, the 2019 Enduro is the same as the 2018 Enduro (there are some differences between the two when it comes to build and color options).
For reference, here are some key geo numbers for a size Medium Enduro 27.5:
Reach: 444 mm
Head Angle: 65.5°, 65° in low setting
Wheelbase: 1197 mm
Chainstay Length: 433 mm (same for all sizes)
Bottom Bracket Height: 350.5 mm
Effective Seat Tube Angle: 76.8°

(A quick measurement with a phone angle-finder app provided an actual seat tube angle of between 73° and 74°.)
For more on geometry numbers and how they affect the fit and ride of a bike, check out our Geometry 101 article.
Some Questions / Things We're Curious About
(1) Where does the Enduro fall within the growing class of 160-170mm travel bikes? Does it feel like a long-legged Trail bike, or more like a gravity-oriented bike that happens to have some climbing capability? Or something else?
(2) How does the longer-travel Enduro match up against the Stumpjumper Evo, which has less travel, but a much slacker head angle and longer wheelbase? And what sorts of riders would prefer one over the other?
(3) Does the Enduro make sense as an Enduro race bike? Specialized's EWS team has notably raced a mix of the Enduro (29er) and the Stumpjumper in recent years.
Bottom Line (For Now)
The Specialized Enduro has been a mainstay for two decades now, and it's not a stretch to say that it helped name an entire discipline of riding and the class of bikes that that discipline spawned. The competition in the class of 160-170mm travel bikes has never been stronger, so in an increasingly crowded marketplace, does the Enduro still manage to stand out? Stay tuned for our full review.