2021 Canfield Tilt
Wheel Size: 29"
Travel:
Rear: 138 mm w/ stock 55 mm stroke shock; adjustable to 125 mm w/ 50 mm stroke
Front: 140 mm
Stated Weight:
7.6 lb (3.4 kg) frame only
8.9 lb (4.0 kg) frame and shock
31.8 lb (14.4 kg) complete bike
Build Overview: See below
Price:
Frame only: $1,850
Frame w/ shock: $2,250–$2,750
Frame and fork packages: $3,000–$4,700
Complete bike: $4,900–$6,400
2021 Canfield Lithium
Wheel Size: 29"
Travel:
Rear: 163 mm w/ stock 65 mm stroke shock; adjustable to 151 mm with 60 mm stroke
Front: 170 mm
Stated Weight:
7.7 lb (3.5 kg) frame only
8.8 lb (4.0 kg) frame and shock
31.8 lb (14.4 kg) complete bike
Price:
Frame only: $1,950
Frame w/ shock: $2,350–$2,800
Frame and fork packages: $3,650–$4,750
Complete bike: $5,600–$7,100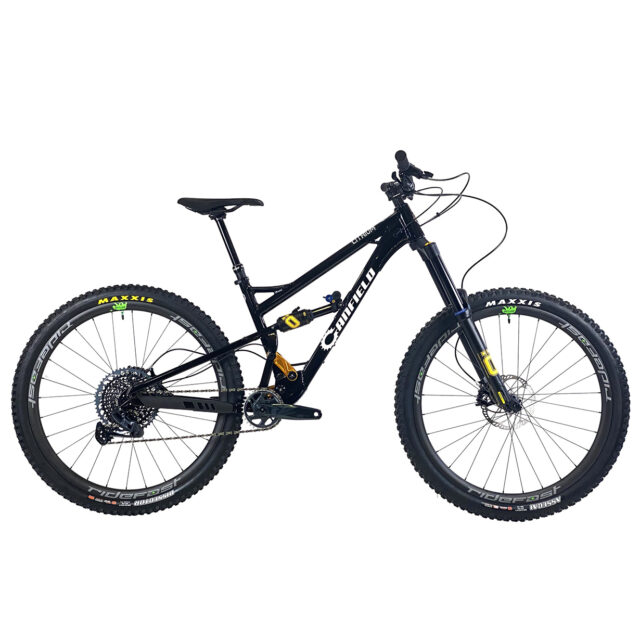 Intro
Canfield Bikes just introduced two new 29er Trail / Enduro bikes, the Tilt and Lithium, with 138 and 163 mm of rear-wheel travel, respectively. Both are aluminum frames that feature Canfield's CBF suspension — which we were very impressed by on the Revel Rail — and with modern, but not over-the-top aggressive geometry. The Tilt and Lithium fill two holes that had previously been empty in Canfield's lineup, with the new 29ers joining the freeride / DH bike, the ONE.2; the 169mm-travel 27.5" Balance; and the 29er hardtail Nimble 9.
In short, these two new bikes look like very interesting options in their respective categories, as we'll cover in more detail below.
The Frames
The Tilt and Lithium frames look nearly identical, apart from their paint options. Both are offered in aluminum only, and feature internal cable routing through the downtube and then out along the seatstays for the rear brake and derailleur cables. Their threaded bottom bracket shell is a welcome move, and both frames use post-mount rear brake tabs sized for a 180 mm rotor. Removable ISCG '05 tabs are included with both, and while there is one set of water bottle mounts, the shock placement pushes them to the underside of the downtube.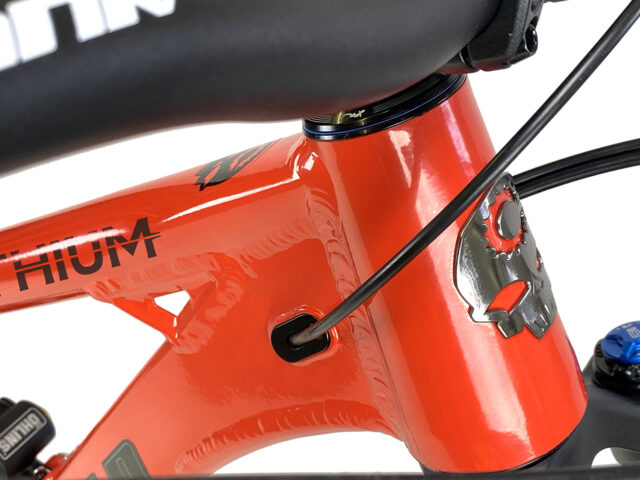 The Canfield Balance Formula (CBF) suspension layout has been around for a while now, in use on both Canfield's own bikes, and licensed to Revel. In short, it's a mini-link design, in which Canfield has aimed to keep the Instant Center (IC) and Center of Curvature (CC) constrained to a narrow area near the top of the chainring throughout the bikes' travel.
[If that last sentence sounded like a bunch of tech mumbo jumbo, don't worry about it and focus on this next one.]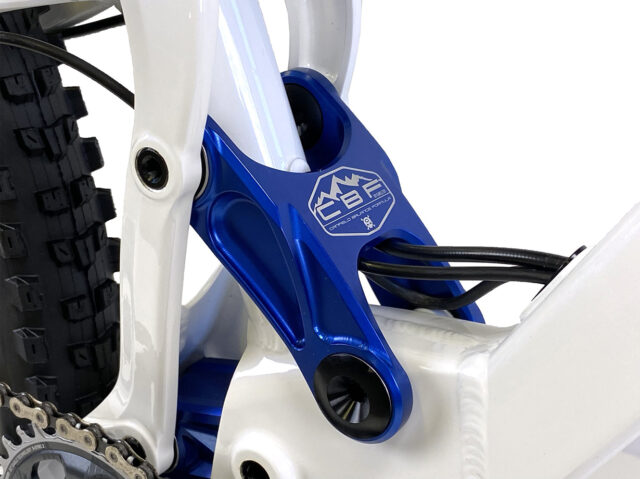 The idea with CBF's design is to create more consistent pedaling and braking behavior throughout the travel range, and offer a broader range of suspension tuning options to the rider, since the suspension isn't as dependent on running an exact sag setting to achieve the intended performance, particularly under pedaling. While we're always wary of bold claims like this, they did seem pretty accurate (and very impressive) when we tried CBF on the Revel Rail.
Both the Tilt and Lithium have stated clearance for 29 x 2.5" or 27.5 x 2.8" tires, and are spec'd with air shocks from the factory, though Canfield notes that both the Tilt and Lithium are optimized for use with air or coil shocks.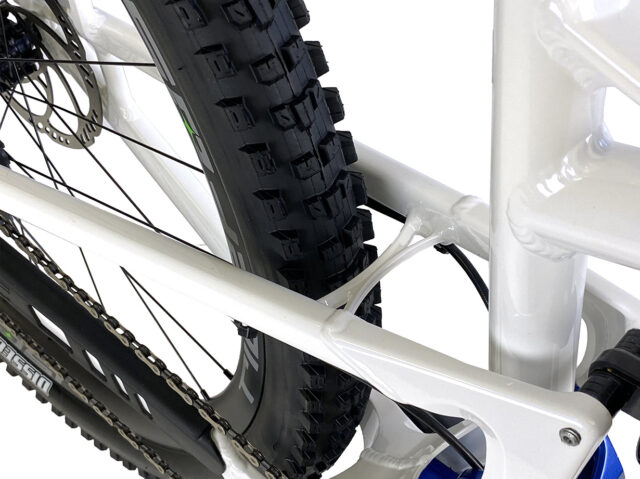 Options, Pricing, and Build
Both the Tilt and Lithium are available from Canfield as a frame + shock, frame + shock + fork package, or as a complete bike. There's only one full build kit on offer for each bike, and the builds are mostly identical between the two, apart from suspension and brakes. Here's a quick breakdown of the options:
Canfield Tilt Pricing:
Canfield Tilt Full Build Spec:
Canfield Lithium Pricing:
Canfield Lithium Build Spec:
I like what Canfield has done here — they're offering a very well spec'd bike at a price which, while not cheap, spends money where it'll make the most difference (suspension) and goes with more value-oriented choices in sensible spots. We'd recommend an aluminum frame with better suspension over an otherwise identical carbon option with lower-end suspension in a heartbeat, at least for bikes in this sort of travel range where minimum weight isn't often a top priority.
That said, we don't have a ton of time yet on either the latest Cane Creek Kitsuma shock and Helm MKII, so we're very curious to spend more time on them and see if their performance stacks up to their premium price tags. The Öhlins RXF36 m.2 Air, EXT Era, and EXT Storia are all outstanding though, and we certainly approve of the line of thinking behind Canfield's spec choices there.
Geometry
The geometry of both the Tilt and the Lithium is in keeping with modern trends, but doesn't go all-in on the long / low / slack arms race.
Both are offered in four sizes, S through XL, and despite their significant differences in travel, the geometry doesn't differ massively between the two. The headtube angle differs by just 0.5° between the bikes — 64.5° for the Lithium and 65° for the Tilt — and both feature similar seat tube angles as well, at 76.7° and 77° (effective), respectively.
Canfield's website also makes the very welcome move of specifying effective seat tube angles at three stated seat heights for both bikes. As we've mentioned many times at Blister, effective seat tube angles can be misleading, since they're dependent on the seat height and actual seat tube angle. Stating them at three specified heights is helpful information that we'd love to see more brands offer.
[If you could use a refresher on the difference between effective and actual seat tube angle, or any of the other geometry aspects we're discussing, check out our Bike Fit & Geometry 101 article.]
The reach for both the Tilt and Lithium ranges from 425 to 500 mm in 25 mm increments between sizes, and both feature notably short chainstays, at 425 mm for the Tilt and 430 mm for the Lithium, for all sizes. Given the very short chainstays, the decision to not go super slack on the headtube angles for both bikes makes sense. For reference, here are the full geo charts for the Tilt and Lithium: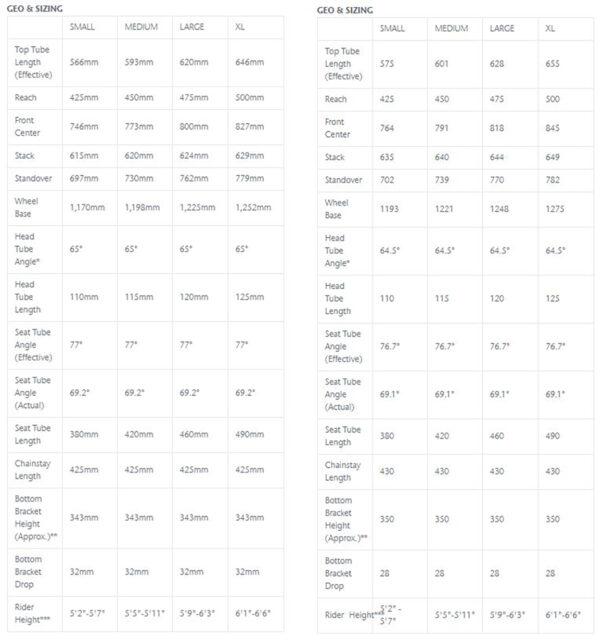 Combining an ultra-long front center with very short chainstays / rear center can make for a bike that requires very aggressive weighting of the front wheel and a relatively forward body position to feel balanced. We'd expect the Tilt and Lithium's combination of short chainstays, moderate (by no means steep, but not ultra-slack) headtube angles, and correspondingly moderate wheelbases to add up to a relatively nimble, agile pair of bikes that aren't likely to be quite as stable at speed as some other options in their respective classes with much longer wheelbases, but we're looking forward to getting on the Tilt and Lithium to find out more.
Bottom Line (For Now)
The Canfield Tilt and Lithium are two promising-looking Trail / Enduro 29ers, which combine modern, roomy cockpits with relatively short chainstays and moderate headtube angles. Both use the excellent CBF suspension layout that we've enjoyed on the Revel Rail, and come in no-nonsense builds with high-end suspension at highly competitive prices. We're looking forward to getting onto these new offerings next year and figuring out, among other things, the following:
(1) How does the blend of very short chainstays with modern, longer reach numbers and a moderate headtube angle feel on the trail, and is it going to feel as quick and nimble as we'd be inclined to guess?
(2) How similar or different does the tuning of the CBF suspension feel between these bikes and the Revel offerings we've been on?
(3) How does the performance of the Cane Creek and MRP suspension spec'd on the Tilt and Lithium, respectively, stack up to the more common OEM options from Fox and RockShox?