2020 Pivot Switchblade
Test Location: Front Range, Colorado
Test Duration (so far): a few dozen miles
Size Tested: Medium
Build Overview (Team XTR 29", as tested):
Drivetrain: Shimano XTR
Brakes: Shimano XTR
Fork: Fox Factory 36 GRIP2
Shock: Fox Factory DPX2
Wheelset: Reynolds Black Label Wide Trail 349 + i9 Hydra hubs
Wheel Size: 29" (test bike), 27.5"+ compatible
Travel: 142 mm rear / 160 mm front
Blister's Measured Weight (as built, w/o pedals): 29.2 lbs / 13.24 kg
MSRP: $5,499–$12,399 ($8,999 as tested)
Reviewer: 5'10", 180 lbs / 178 cm, 81.6 kg
Intro
Four short years ago, in what now seems like another age in the bike industry, Pivot Cycles released a versatile All-Mountain bike called the Switchblade. In the bike archive of Pivot's website (which is awesome; other bike companies take note), the tag line for the V1 Switchblade reads: "one bike, any trail."
Now, Pivot is far from the only brand to tout their 130-145mm-travel bike as the ideal one-bike quiver. Being fair to Pivot, that's a business necessity more than anything, since this category of bike arguably drives the mountain bike market. Look at it this way: if a bike brand is a US college athletic department, Trail / All-Mountain bikes are the football program. And as our reviewer Noah Bodman wrote in 2017 about the original bike, aside from the playfulness and progressivity of the V1 Switchblade, Pivot didn't exactly build a class-leader. Without re-hashing too much of my colleague's review, he used words like "harsh" and phrases like "isn't setting any records for pedaling efficiency." Not exactly what you want to hear about what many would argue is a brand's flagship bike.
Fortunately, in mountain bike terms, four years is a different age, and Pivot has completely reworked and reimagined their do-it-all bike, resulting in the "V2," 2020 Switchblade. Pivot hypes up this newest version using language similar to the V1 Switchblade, saying, "from bike park flow trails to raw backcountry routes, the Switchblade amplifies every rider's skills and excels on any trail."
With that versatility and all-trail mantra in mind, we recently started riding the new Switchblade and now have a handful of rides to form some initial opinions and raise some questions. First, let's go into the details of the all-new frame:
The Frame
"Switchblade" isn't a new name in the Chris Cocalis (Pivot Cycles CEO) bike universe. Though Pivot first used the name in 2016 for the V1 bike, Cocalis's former bike company, Titus, used the Switchblade moniker for its own versatile, jack-of-all-trades bike way back in the early 2000s. But other than the name, the new V2 Switchblade doesn't really resemble its ancestors.
The curvy top tube and down tubes that characterized middle-2010s Pivot frames (and a few Titus frames) are gone, apart from a kink in the down tube to accommodate the rear shock. This revised design aesthetics were seen on earlier Pivot releases, like the Firebird 29 and Mach 4 SL. And though some of the older, curvier tubes remain in their lineup, Pivot is doing a good job of translating their newer design style across their lineup. Speaking subjectively, I think it's a much cleaner look.
But apart from aesthetics, those straighter tubes also have a performance benefit. The Hollow Core Carbon that Pivot uses in the new Switchblade frame design loses some weight in comparison to the older design. And without knowing the details of Pivot's Hollow Core Carbon layup secrets, I'd have to imagine that those straighter lines also improve / simplify manufacturing processes, too.
Second, and most notably, the new Switchblade has a vertical, trunnion-mount shock. This is again, not a completely new thing for Pivot. The new Mach 4 SL also has a vertical-shock layout and it seems Pivot wants to include this design feature where it makes sense on their newer bikes. Pivot says that a vertical shock orientation yields a frame that is, among other things, lighter, stiffer, and uses less material.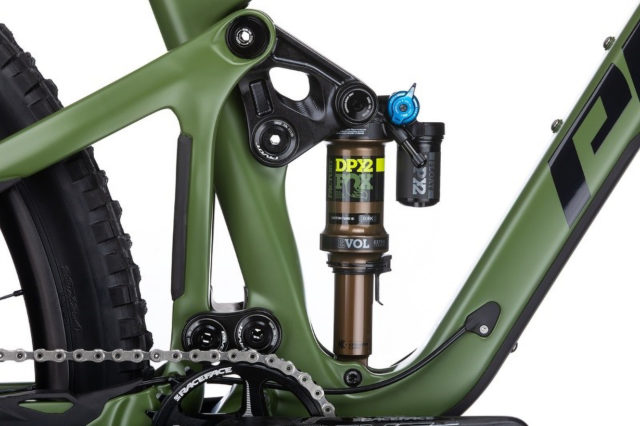 This is a welcome change in my view. I've experienced some issues with the Fox DPX2 on my personal bike — a Yeti SB5.5 — which features a horizontal shock placement. Though I can't find a ton of fault in the general performance of the DPX2, I have blown the damper (twice) under relatively benign riding conditions. It seems that side-loading during compression can be a problem for the Fox DPX2 on some bikes. Vertically oriented, trunnion-mounted shocks are said to be less susceptible to side-loading, and any shock mount and frame placement that promises to reduce side-loading has my approval.
Another positive aspect of the vertical shock layout, Pivot says, is a more progressive rear suspension, allowing for more voluminous air shocks or even a coil shock. Pivot confirmed that they had tested the Switchblade with other rear shocks, including coil shocks, through the course of design and testing. Looking up the four-digit code on the Fox DPX2 that came on our test bike shows that its stock tune on the Switchblade comes with a pretty large 0.6-inch volume reducer. This seems to back up Pivot's claim of a more progressive rate. And as you'll read later, my early ride impressions back up what Pivot is saying. But whether that suspension progression is solely attributable to the shock by itself or the shock and the linkage, I'm not sure. Pivot isn't releasing leverage, anti-squat, anti-rise, or any other suspension kinematic information to the public, preferring to keep the secret in the sauce of their bikes' ride qualities.
The new Switchblade's vertical shock orientation also has the benefit of more easily fitting a full-size water bottle inside the front triangle. While being able to fit a bottle anywhere inside the front triangle is nice, it's also nice to have that bottle easily accessible. On bikes where the shock is above the water bottle mount, I haven't been as impressed by having a bottle on the bike since they can be tricky to get to. But on the Switchblade, the water bottle is higher and in front of the shock, making drinking on the go much easier. This adds to the convenience of not having water on your person.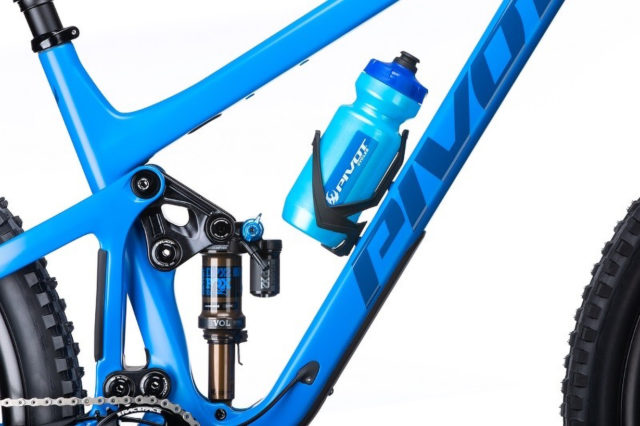 Some things that didn't change on the new Switchblade are Pivot's commitment to the Superboost Plus standard (157 mm rear hub), their focus on designing each frame size individually, and the ability to run 29" or 27.5" wheels and tires. In our online world where no good deed goes unpunished by the comments section, Super Boost Plus seems to be enjoying some moderate acceptance, with some liking the increased stiffness while others, understandably, don't love the idea of needing to get parts for a different standard. (Pivot makes a point to note the Super Boost hubs from DT Swiss and Industry Nine on Pivot's stock builds, while mentioning that Onyx and Stans also have Superboost Plus standards available.)
Personally speaking, I'm coming around to Superboost Plus as a standard. The reasoning Pivot provides on their website is pretty sound from a structural perspective, claiming a 30% lateral stiffness gain over a "normal" Boost (148 mm) wheel. They also claim that a Superboost Plus rear wheel has the same lateral stiffness as a front wheel that is "normal" Boost (110 mm), better balancing the strength and stiffness from front to rear.
Pivot says they construct their frames to be different between sizes. Which is to say, their approach to sizing is more nuanced than simply shrinking or enlarging a given measurement to create a different-size frame. Pivot makes it a point to claim that a size Small of a given bike model is designed separately than a size Medium, and so on. The carbon layup itself and resulting tube diameters are unique to each specific size. The idea is that they can make the ride qualities of the frame the same for all sizes of frames for the riders they're likely to have on board.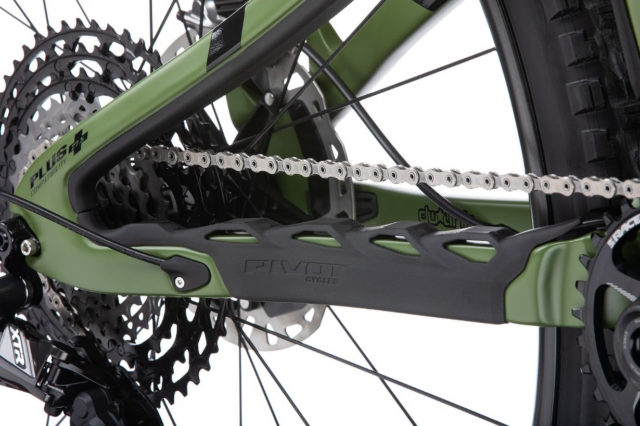 While that all sounds sensible, this is where I'll piggyback on something that fellow Blister reviewer, David Golay, mentioned in his review of the BTR Ranger. Looking at the geometry charts of the new Switchblade, the rear chainstay measurement is the same 431 mm for all sizes from Extra Small to Extra Large. Granted, there are many variables that go into the linkage design and suspension kinematics, and to be fair to Pivot, same-sized swingarms within the size range of a bike model is mostly standard practice in the industry. But some companies are admitting that different-size rear swingarms for different-size bikes are indeed an issue worth addressing, since in most cases, the rear-center stays the same across sizes while the front-center is quite different. Building bikes with different rear-center measurements to balance ride characteristics across the size range doesn't seem too far-fetched, does it?
The Superboost Plus spacing and a Flip-chip in the upper linkage mount allow the Switchblade to use 29" or 27.5"+ wheels, or even a 29" front / 27.5" rear "reverse mullet" setup (or just "mullet," depending on who you ask). Tire clearance is generous, allowing for up to 29" x 2.6" or 27.5" x 2.8" rubber inside the rear swing arm. I'll touch on the Flip-chip itself in the geometry section.
The new Switchblade continues Pivot's long-time use of a modified four-bar linkage called DW-link. If you didn't know already, "DW" stands for Dave Weagle, the creator of the linkage resulting from his research on suspension bob. How did I know that last part about Weagle's research on pedal bob? Wikipedia. Yep, DW-link has a Wikipedia page. Oh the times in which we live. DW-link is by now a well-known suspension design in the mountain biking world and Pivot's continued licensing of the link shouldn't be particularly noteworthy, other than them sticking with what works.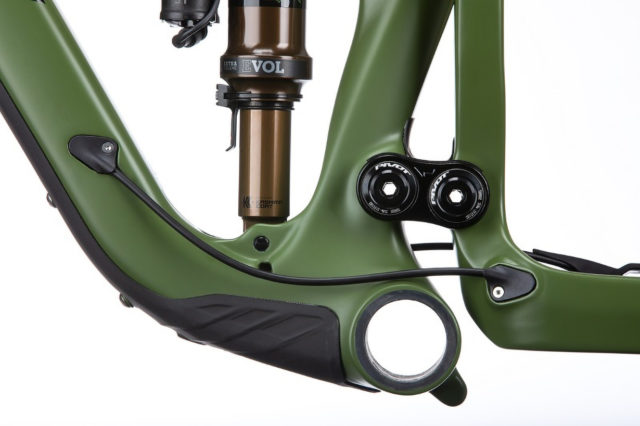 The new Switchblade, as is standard for most high-end carbon bikes, has internal cable routing and cable ports that seal the frame from the elements. The cable port covers themselves are secured by a fastener, which is a nice touch that would indicate a greater amount of security and lack of movement from the cables inside their mounts.
Pivot offers a ten-year limited warranty on all of their new bikes (sold after Jan 1, 2017) from the date of purchase for the original owner. In a departure from the warranty information from many other brands, the warranty section of Pivot's website is relatively detailed, even going so far as to include a FAQ area. It seems Pivot doesn't want their customers making a warranty claim and then being surprised by the results, whether positive or negative. If you've ever made a warranty claim on a mountain bike, you'll recognize that removing ambiguity is a good thing.
The Builds
Apart from the frame-only option, the new Switchblade comes in three general build levels: Race, Pro, and Team (listed from least to most expensive). These vary from $5,499 all the way up to $12,399, with lower-budget builds not really being available. The overall naming convention of the builds themselves can be a bit confusing, made even more so by the additional options / variables that Pivot offers within each build level. I'll try and break it down as simply as I can…
The first choice is the drivetrain. Each build level (again, Race, Pro, and Team) can be ordered with an option from SRAM or Shimano. For instance, a "Race" level build can be ordered with a SRAM X01 groupset or Shimano XT groupset.
Then, you can decide on whether you want Fox Live Valve on your build. Without delving too deeply, Fox Live Valve is a constantly functioning, electronic control of your bike's suspension; you can read more about it in our review of the Pivot Mach 5.5. The new Switchblade is set up to work with Live Valve and it can be spec'd only on Pro and Team builds.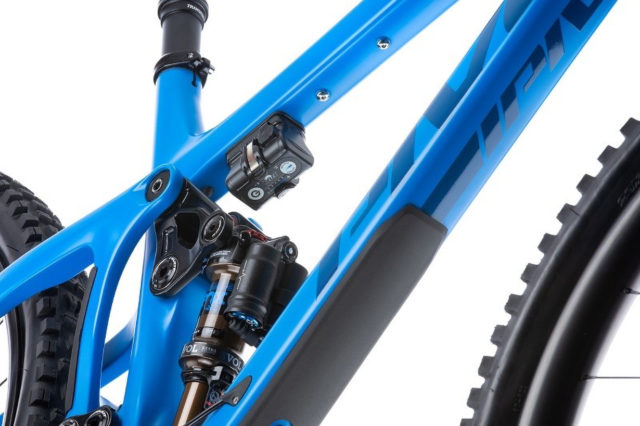 Seems simple enough, but not so much. Inside the builds themselves, there are some anomalies. E.g., on the Race X01 build, the shifters, cassette (SRAM 1275), and chain are SRAM GX-level components and only the rear derailleur is SRAM X01. Similar story on the Race XT build, with several Shimano SLX level components included in that build, apart from the derailleur.
As for stopping power, every build comes with some form of 4-piston brakes, but again, there's a good deal of variety. The Race XT actually comes with SLX brakes, the Race X01 comes with Guide RE's, the Pro XT/XTR build gets you XT brakes, the Pro X01 comes with the G2 RSC, Team XTR comes with XTRs, and the Team XX1 AXS comes with G2 Ultimates. Simple, right?
From a suspension perspective, all non-Live-Valve builds feature a 44mm-offset Fox 36 fork and a Fox DPX2 shock. The Race-level builds have Fox's Performance 36 (GRIP damper) and Performance DPX2, while all other builds have the Fox Factory kit, with the Factory 36 forks coming with Fox's GRIP2 damper.
Race builds come with a Fox Performance Transfer dropper, Pro builds and Team XTR builds get a Fox Factory Transfer, and Team XX1 AXS builds get you a Rock Shox Reverb AXS wireless dropper. Dropper travel ranges from 100 mm on an Extra Small to 175 mm on size Medium and above, with exact travel depending on whether you're on a Transfer or a Reverb.
As I said earlier, the Switchblade is capable of running a pair of 29" tires, 27.5"+ tires, or even a 29" front / 27.5" rear combo. Currently, only the 29" builds are shown on their site. But as we've just demonstrated, when you take into account the choices of drivetrain, brakes, Fox Live Valve or no Fox Live Valve, and 29er vs. 27.5+ vs. mullet … there are lots of combinations of builds available to consumers.
Mercifully for this reviewer, Pivot kept it simple with tires. Every build comes with a Maxxis Minion DHF 29"x2.5" Wide Trail with the MaxxTerra 3C compound and Exo+ casing on the front, and a Maxxis Minion DHR II 29"x2.4" Wide Trail with the same compound and casing on the rear.
This is where I stop diving into the minutiae of the individual builds and remind you, dear reader, to do your research when it comes to ordering your new bike. The naming convention of Pivot's build kits isn't misleading per se', but it isn't simple either. It's worth reading the fine print.
So, with all that said, we've been testing the Team XTR build, which retails for a hefty $8,999. Our test bike came with Reynolds carbon, 34mm-internal-width Black Label Wide Trail 349 rims laced to Industry Nine Hydra hubs. They look great and we've already said nice things about those hubs. Problem is, that's not the wheelset that is on Pivot's website for the Team XTR build. They've subbed in the DT Swiss XMC1501 with DT Swiss 240 hubs and 36-tooth Star Ratchet. We'll ask Pivot the details on this and get back with you.
Aside from the wheelset, the Team XTR bike we've been riding is standard, with the highlights listed below for our size Medium:
Drivetrain: Shimano XTR (derailleur, shifter, & cassette)
Brakes: Shimano XTR M9120 4-piston
Fork: Fox Factory 36, GRIP2 damper
Shock: Fox Factory DPX2
Front Tire: Maxxis Minion DHF, 2.5", EXO+ casing, 3C Maxterra compound
Rear Tire: Maxxis Minion DHR II, 2.4", EXO+ casing, 3C Maxterra compound
Dropper Post: Fox Transfer Factory, 175 mm
Crankset: Race Face Next R 32-tooth
Handlebar: Pivot Phoenix Team Low Rise Carbon, 780 mm
Rotors: Shimano XTR, 203 mm front / 180 mm rear
The Geometry
Long story short, Pivot isn't entering the geometry wars with its new Switchblade. It's rare that we review a bike and don't write that the new model is longer and slacker. And the new Switchblade is no doubt longer and slacker than its predecessor — but it's a smaller change in geometry than you might guess, given industry trends. And that more pragmatic approach is demonstrated in how Pivot is choosing to position their bike both within their own lineup, and in the market at large.
For a size Medium, with 142 mm of rear travel and a 160mm-travel fork, Pivot seems to be positioning their bike solidly in the middle ground between "Trail" and "Enduro." But with the Switchblade, it's not just travel that potential buyers should be focusing on. When the Switchblade's flip chip (more on this later) is in its low setting, the head angle is 66° and the effective seat tube angle is 75.5°. Looking at reach, a size Medium is 455 mm, and the wheelbase is 1193 mm.
After that cursory glance, it's not entirely clear to me where exactly the Switchblade slots into the mid-travel mountain bike world except to say, lots of places. In particular, it's not nearly as long as some other bikes in its travel range. For example, two benchmark comparison bikes for the new Switchblade are Yeti's SB130 Lunch Ride and Santa Cruz's Hightower. Those bikes both have seat tube angles that are a degree steeper, head tube angles that are about degree slacker, and wheelbases that are 15-18 mm longer. And looking outside of those two particular comparisons, there are significantly longer and slacker ~140mm-travel bikes out there.
But Pivot, on its website, lists the Switchblade under the "Enduro" tab. Wait, what? Aren't modern Enduro bikes just mini-DH sleds with super long wheelbases, and long reach, and long … everything? With the Switchblade at least, Pivot says no. And in this reviewer's opinion, that is a solid move. Pivot already has dedicated DH bikes (Phoenix 29 and Phoenix V2), and longer-travel Enduro sleds (Firebird 29 and Mach 6). Pivot's positioning of the Switchblade seems considerably more nuanced than merely taking its geometry or travel numbers and slotting it against obvious competitors. Now, you may not agree with the market-research exercise we've just undertaken. But providing context to a new bike's geometry can be extremely valuable once we start parsing out the ride characteristics of a new bike.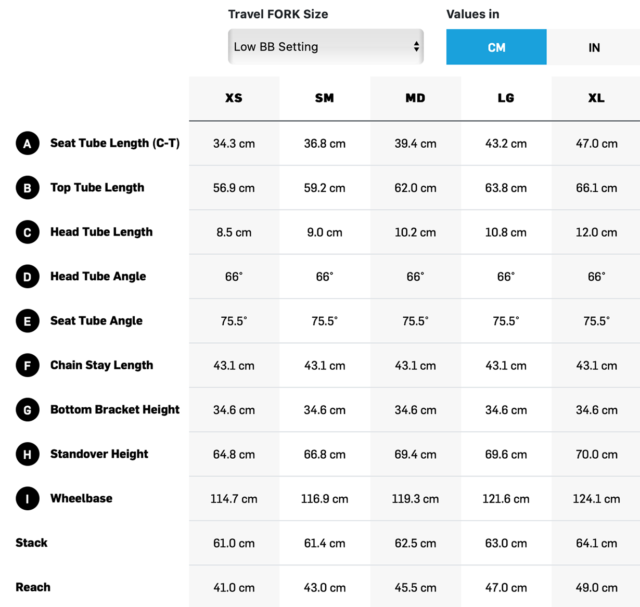 Another notable geometry feature of the new Switchblade is the inclusion of a flip-chip where the seatstay meets the upper shock linkage, something we see on many bikes these days. On the Switchblade, this allows the head tube angle and seat tube angle to be steepened or slackened by a half degree. The bottom bracket height also goes from 346 mm in the Low setting to 352 mm in the High setting, and the reach goes from 455 mm in the Low setting to 460 mm in the High setting. As previously mentioned, the flip-chip also allows flexibility with wheel and tire size, and allows riders to dial in their preferred ride characteristics with a bit finer detail.
Initial On-Trail Impressions
I've now got a handful of rides and a few dozen miles on the Switchblade, and while we'll post a long-term update in the future, I have some initial thoughts.
So far the Switchblade is fulfilling its mantra of versatility. I haven't really found a time or place on any of my rides where it was clearly lacking compared to other bikes in its travel category. In fact, there are some areas where the new Switchblade is downright surprising (in a good way).
Most of those surprises come from a climbing perspective. I've climbed a long fire road to get to a backcountry route on the Front Range multiple times on the Switchblade and it was very efficient. I've also taken it on some shorter, very technical climbs and found myself out of the saddle and powering up and through sections where I've really had to muscle other bikes in this travel category. The new Switchblade is a very supportive and efficient climber. Notice I didn't write, "for what it is." In my opinion, the new Switchblade is a good climber. Full stop. I don't expect that this particular impression will change much as I get more time with this machine.
Flatter and "up-and-down" trails have also left me appreciating the Switchblade's overall design. Its suspension is very supportive and pedaling effort results in greater forward momentum than I'm accustomed to from a bike in this bike category. Its ability to maintain momentum and its progressive and supportive suspension creates a sensation that the Switchblade is extremely light on its feet. Some would simply call it "poppy," but I think that might be oversimplifying things. To me, it feels more like the Switchblade is balanced and ready for rider input, rather than being ready to jib all over the trail. It is not a jibby Trail bike that feels inclined to boost off any and all features. But thus far, the new Switchblade does feel like less of a "big bike" than I expected.
On the downs, the Switchblade's supportive and progressive suspension qualities have some competing interests. Out-of-saddle sprinting between features is excellent. I find myself enjoying the pedaling ability of the new Switchblade on the descents just as much as climbing and on flatter trails.
But that support comes with a cost. There's a certain level of "plushness" that is missing when hauling through a chunky trail with repeated mid-sized hits at speed. The Switchblade tends to feel a bit more violent than other bikes in its travel class when put in these situations. I want to be clear, however, that I don't necessarily view this as a bad thing. That slight lack of plushness is welcome when the trail is smoother or large g-outs occur, where the Switchblade feels supportive and not "mushy." Going forward, I'll be changing some suspension settings to see if I can get a slightly more muted ride in chunky descents while maintaining the supportive platform for pedaling.
Also, for a reason I can't yet pin down, the Switchblade is just plain noisier on descents than I'm used to. Sometimes it's easy to isolate these noises as something I did wrong during assembly and sometimes I think it's due to the inherent design elements of a component. I'll be sure to update this aspect of the review after I'm able to do a bit more detective work.
As for the drivetrain, the Shimano XTR components have been flawless so far. As is typical in my experience, the noise of the Shimano drivetrain is muted compared to SRAM and the XTR shifts much more effortlessly, though a part of me does miss the positive ka-clunk from SRAM drivetrains. The XTR's shifting under load is also greatly improved compared to competing drivetrains (and past Shimano drivetrains).
The four-piston XTR brakes have been perhaps the biggest surprise. I'm usually extremely wary of any non-gravity-oriented brakes on a bike (Codes and Saints for life!), but the XTR M9120 brakes have been, thus far, pretty good with a solid initial bite and more modulation than I expected.
As we get more time with the Switchblade, we will be updating our ride impressions. We also have a few questions out to Pivot for clarification on some details regarding the builds and the frame itself, so stay tuned for those updates.
Some Questions / Things We're Curious About
(1) Can we get a more "plush" feel out of the Switchblade on the descents while maintaining the awesome pedaling efficiency it has demonstrated so far?
(2) Over the course of the review, will we find any changes in terms of how noisy the bike is, or find some solutions?
(3) Will the Switchblade's more tame, less extreme geometry still appeal to us as we get more comfortable on the bike and push it harder, or will we be wishing for slacker and / or longer geometry?
(4) This bike is billed as a middle-of-the-road, do-everything option. Given that, we're curious about the kind(s) of riders we think will get along best with the Switchblade, and if it excels or falls short in any particular scenario.
Bottom Line (For Now)
Pivot Cycles has re-released their do-everything bike, and initially, the new Switchblade seems like a very competitive option in the "Goldilocks" category. We are looking forward to getting more trail time with the Switchblade to further figure out who would appreciate it the most, so stay tuned for our long-term review.