2019 Nicolai / GeoMetron G16
Size Tested: Longer
Geometry: (Here)
Build Overview:
Fork: Fox 40 RC2, Float, 26" (for the shorter 44mm offset, as compared to 52mm on the 27.5″ fork), lowered to 180 mm travel
Shock (two tested): Fox Float X2 and Fox RC4
Drivetrain: Shimano XTR M9000
Brakes: Formula R0 Racing
Wheels: We Are One Agent rims, DT 240s hubs, DT Supercomp spokes
Wheel Size: 27.5″
Travel (as tested): 155 or 175 mm rear depending on shock configuration / 180 mm front
Blister's Measured Weight: 34.2 lbs as pictured
MSRP (frame only, no shock): £2300 (~$2,999 at the time of writing)
Reviewer: 6', 165 lbs
Test Location: Primarily Western WA, but all over the Western US
Test Duration: ~2 years
[Note: our review was conducted on a 2017 G16, which is unchanged for 2018 and 2019. Nicolai and GeoMetron both sell the G16 with very subtle differences that we discuss below.]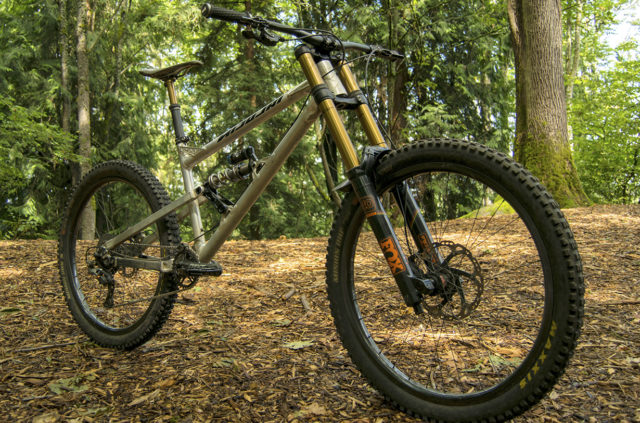 Intro
Mountain bike geometry has trended dramatically towards longer, lower, and slacker over the course of this decade. The clear leader of that trend has been Nicolai, with their GeoMetron series of bikes, co-developed with Chris Porter at Mojo in the UK. The 2017 G16 slotted into their lineup as the 155mm-travel, 27.5-wheeled Enduro bike, between the G13 (130mm-travel, 29" Trail bike) and G19 (190mm-travel, 27.5" DH bike).
There exists on the market a pretty broad spectrum of bikes with ~6" of travel, from lightweight, long-legged Trail bikes to beefy, downhill-oriented Enduro brawlers. The G16 is emphatically and unapologetically the latter, both with its exceptionally aggressive geometry and its very burly construction. I've spent a lot of time on the G16 and also made some changes to the build over the course of that time, so here, I'll go over how this ultra-long, ultra-slack bike actually performs on the trail, and how it compares to the more moderate competition.
Note on Models: G16 vs. G1, and Nicolai vs. GeoMetron
This review was conducted on a 2017-model-year G16 frame, but the G16 remains unchanged for 2018 and 2019. For 2019, Nicolai has also introduced the G1, which has 162 mm or 175 mm of rear travel (adjustable via flip chip), and slightly tweaked geometry. The G1 also adds a few extra features, including some extra geometry adjustability and a molded rubber chainstay guard. Despite the name change, I think it's fair to look at the G1 as a moderate update to the G16, and almost everything we have to say about the G16 should hold true for the G1.
Both Nicolai and GeoMetron sell the G16 and the new G1. The G16 from Nicolai and the G16 from GeoMetron (which used to / kind of still does go by the name "Mojo") differ very slightly, which I'll discuss below. But for the most part, the Nicolai G16 and GeoMetron G16 are the same bikes.
The Frame
Nicolai has long had a pretty strongly defined brand aesthetic, with aluminum frames featuring enormous, gorgeously scalloped welds and big, beefy tubes.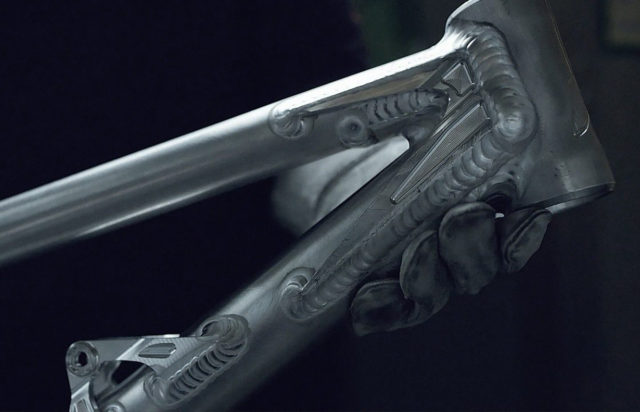 Nicolai frames are all hand-made in Germany, and Nicolai does all of their machining, welding, finishing, and assembly in house. My frame came with the slogan "MADE BY NICOLAI PEOPLE" proudly machined into the non-drive side chainstay. (Others I've seen say "MADE IN GERMANY," instead). Whether you buy from Nicolai or GeoMetron, all G16s are made by Nicolai.
The G16 uses a conventional Horst-link suspension layout, with beautifully machined hardware and fittings that include some cleverly designed secondary sealing for all of the (huge) pivot bearings. Two years in with countless days in wet Pacific Northwest conditions, and the pivot bearings on my G16 are all still spinning smoothly and the grease in them is spotless. Other details, such as the cable routing and elegantly CNC-designed, bolt-on cable guides are similarly top notch. Cables are all routed externally on top of the downtube, though the dropper cable enters the seat tube just above the bottom bracket for use with an internally routed seatpost.

Annoyingly, the rear-shock layout on the G16 doesn't leave room for a water bottle cage inside the front triangle. I've fully embraced the fanny-pack trend for mountain biking and greatly prefer to not have a full backpack on if I can help it. So a water-bottle cage would be a very welcome addition, but I've made do.
The G16 has a couple extra interesting design elements. With the reversal of a flip chip and the addition of a longer-stroke shock, it can be bumped up from 155 mm to 175 mm of rear travel. It also happens to clear a 29" rear wheel, if you're so inclined, though this wasn't officially marketed when it was released and running 29" wheels does result in a fairly high bottom bracket. More recently, GeoMetron has started describing it as a 27.5" / 29" frame, though the frame itself hasn't changed. The G16 is available directly from Nicolai, or GeoMetron offers a nearly identical version that features a couple of minor tweaks that I'll describe below. This review was conducted on the Mojo version distributed by GeoMetron.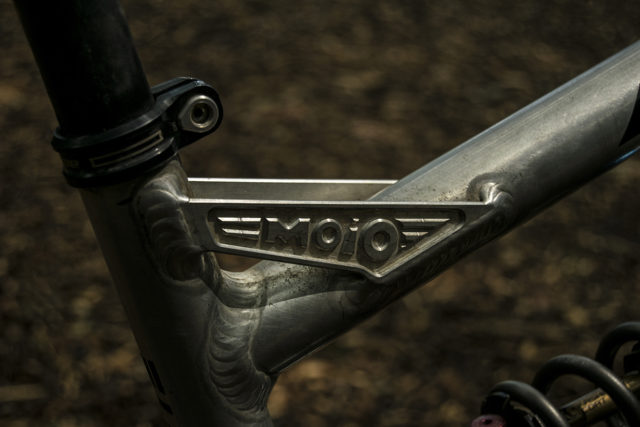 The G16 comes with a 5-year warranty, and Nicolai guarantees availability of spare parts for at least 10 years. The Nicolai version of the frame comes with a slightly steeper head tube angle (63° for the Nicolai vs. 62.5° for the Mojo edition), and has the option for a Pinion gearbox in place of the conventional derailleur drivetrain. (For more on the Pinion drivetrain, check out Xan Marshland's review of the G13 GPI.)
The Build
The build for this bike is of my own choosing as I bought the frame only. But apart from the inclusion of a lowered Fox 40 in place of a single-crown fork, the build I tested is mostly standard fare for a modern Enduro bike.
It comes as no surprise that the G16 does not support a front derailleur, and I built it up with a 1×11 Shimano XTR M9000 drivetrain. One oddity is that the Mojo version of the frame uses an 83mm-wide bottom bracket, which is more commonly seen on DH bikes, and I've ended up running a slightly cobbled-together setup of a Race Face Next SL crank with a 143mm-wide spindle to bring the Q factor down and improve the chainline, since the G16 uses a boost 148 mm rear wheel, instead of the 157 mm that would typically pair with an 83mm BB shell. The Race Face 143 spindle is meant for "super boost" 157 mm rear Trail bikes with a 73 mm BB shell (e.g., the Pivot Switchblade) and isn't meant to fit on an 83 mm shell, but it does work with the removal of some spacers. It's not a setup that Race Face would endorse, and I wish Mojo had opted for a standard 73 mm BB shell. The version of the G16 supplied direct from Nicolai went the 73 mm route, which in my mind makes much more sense for an Enduro frame. This, along with the slightly slacker head tube angle, is what makes the GeoMetron / Mojo version different from the Nicolai.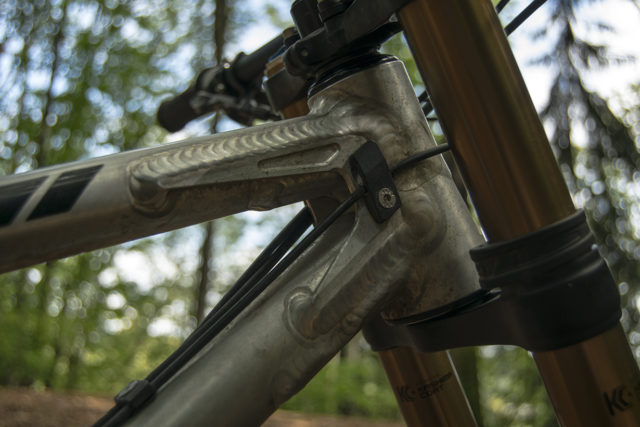 On my G16 I'm running We Are One Composites' excellent Agent rims on DT Swiss 240 hubs and Formula R0 Racing brakes. Mojo supplied my frame with an 8.5"x2.5" Fox Float X2, which yields 155 mm of rear travel, and I've also experimented with a Fox RC4 coil shock in that same size. I've also got an 8.75"x2.75" Fox RC4 which, combined with a flip chip in the rear linkage, keeps the same geometry but bumps the rear travel up to 175 mm, which I use a bit for bike park and shuttle use.
[Note: One of the main ways in which the newer G1 differs from the G16 is that it uses the same size shock for both travel options. Most riders would likely need to either change air pressure or change to a different-weight coil spring when toggling between the travel settings depending which style of shock is used, but switching the actual shocks is no longer required with the G1.]
I originally ran a 170 mm Fox 36 RC2 on the G16, but ended up trying a 26″ Fox 40 RC2 lowered to 180 mm of travel on it as an experiment, and found it to be a positive one. The axle-to-crown and offset numbers are very similar (comparing the lowered, 26" Fox 40 to a 170mm-travel 27.5" Fox 36), but the fore-aft stiffness of the dual crown is much greater, and the extra pound or so hasn't bothered me much. The limited steering angles imposed by the dual crown have been a non-issue, and clearance for a 27.5×2.5" tire is totally adequate, despite officially being a 26" fork.
Geometry & Fit
The G16 is a long, slack bike.
Mojo offers it in four different sizes: "Long," "Longer," "Longest," and the hilarious "Extra Longest." Nicolai calls them "Small," "Medium," "Large," and "Extra Large," and then adds an "XXL" option.
My size "Longer" (which is effectively the Medium in the range) has a 502 mm reach, which puts it in line with or longer than a lot of brands' XL frames, and the "Extra Longest" size comes with an almost unheard of 535 mm reach (The Nicolai XXL's reach comes in at 555 mm). The Geometron / Mojo G16 has a suitably out-there 62.5° head tube angle to match, a stated 77° actual seat tube angle (roughly 75° effective seat tube angle), and 445 mm chainstays. All of these are pretty extreme for a 155mm-travel bike, but I think that, taken together, they actually make a lot of sense and work together well.
An overly slack head angle paired with shorter chainstays and reach will shift the rider's weight bias rearwards and make it hard to weight the front wheel adequately. An excessively long reach on an otherwise more conventional bike (in terms of geometry) pulls the rider forward and again results in a less than ideal front / rear weight bias. Cherry-picking one or two of the more extreme aspects of the G16's geometry and applying them to a more conventional bike isn't likely to work well, but in concert with each other, I think the G16's consistently long and slack numbers make for a bike that I very quickly felt at home on, despite it being a significant departure from anything I'd ridden to that point.
The Ride
When people see the G16 on the trail, the first question I usually hear is: "how does it climb?"
The answer, genuinely, is "fine." It's not a light bike (especially when built up with a Fox 40), but the combination of long reach, long chainstays, and a steep seat tube angle create a very easy, neutral body position for grinding out climbs.
Unlike a lot of other bikes that have slacker seat tube angles and / or shorter chainstays, on the G16 it doesn't take much effort to keep my weight centered between the wheels and keep the front wheel planted, and the overall length of the bike lets me move around and adjust body position pretty significantly without upsetting that balance. In that sense, I'd describe the G16 as having a huge sweet spot. The prior generation Transition Patrol and Santa Cruz Hightower LT are two bikes where this was notably an issue for me. With their comparatively short chainstays and slack actual seat tube angles, keeping the front wheel planted on climbs took considerable concentration to keep my weight forward and balanced. It works, but it requires more effort and is less comfortable than the G16. The Transition Sentinel (I haven't ridden the latest Patrol enough to say much there, and haven't yet gotten on the Santa Cruz Megatower) does significantly improve on this issue, but I think it still can't match the G16 in this regard.
The G16's rear suspension has a moderately high main pivot that produces solid anti-squat numbers (roughly 115-130% at sag, depending on gearing), and consequently quite good pedaling performance. It's not a bike that anybody is going to call sprightly, or one that encourages you to really put the hammer down and try to race your buddies on the way up. But if your climbing style is more "grind it out and save your legs for the descent" and less "I want to be Nino Schurter," I don't think you'll have any complaints about how the G16 climbs.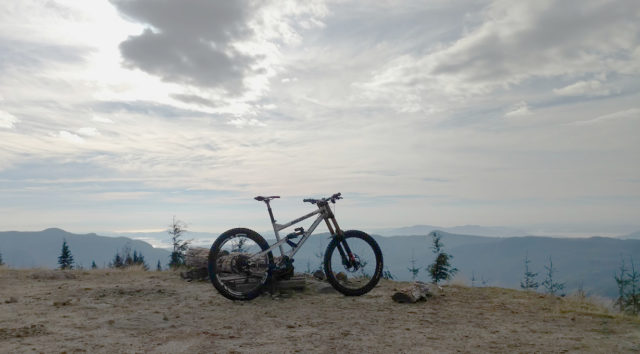 While the G16 is a solidly competent climber, this is a bike that's unapologetically built to descend. And put bluntly, I haven't ridden another ~6"-travel bike that comes close to being as capable when pointed down something steep and rowdy.
The G16's geometry is closer to that of a lot of DH bikes than it is to most 6"-travel Enduro bikes, and the chassis is stiff, burly, and confidence inspiring. The G16's suspension is also excellent; the leverage curve is straight, with no inflection points to tune around. But it's very progressive, going from 3:1 to 2:1 at bottom-out. I think this is a sensible decision, even for a bike that's likely to be run with an air shock. Despite what many companies claim about "air-shock optimized" leverage curves that become digressive deep in their travel, I've personally found that such designs can feel unpredictable and wallowy deep in their travel, as the leverage rate gradient changes pretty dramatically over a short area. Such designs might have made a bit more sense 10 years ago in order to get full travel out of super progressive, small-volume air shocks, but those days are behind us.
The G16 is not the first bike I would choose for areas that lack significant elevation changes and fairly steep trails with extended descents, as the overall length makes for a fairly ponderous ride on low-angle or rolling, tight terrain. That's not to say that it can't negotiate tight switchbacks or the odd tight section; I've actually been pleasantly surprised by how normal it feels getting around super tight switchbacks and the like, given its length. It's more that the G16 is just a bit more work than other lighter, snappier-feeling bikes when it comes to accelerating up to speed. Bikes with shorter chainstays, such as the Guerrilla Gravity Megatrail, do feel better and more sprightly in tight sections and when accelerating out of flat corners without much gravity assist, but that comes at the expense of a bit of high-speed stability.
The steeper your trails are and the more you can let gravity do that work, the less this matters with the G16. The G16 is very much a bike that needs a little room to open up in order to really come alive, so this is a time to honestly assess your riding style and home trails. If your normal ride has long, continuous climbs, followed by big, sustained descents where you can carry some speed, the G16 excels. It would also really merit consideration for someone who spends quite a bit of time in the bike park, but who still wants a bike that can happily be pedaled to the top as well (especially if outfitted with a second shock to take advantage of the 175mm-rear-travel mode for lift-served duty). People in flatter areas, or riders who don't need or want their Enduro bike to be a no-holds-barred charger on the descent that comes at the expense of some nimbleness and a livelier ride at lower speeds are probably better off looking elsewhere. The Guerrilla Gravity Megatrail, in particular, is a bike that I think balances these traits really well; it's a lot more fun than the G16 on flatter, mellower trails while still being able to hold its own when things open up. It's not as composed or capable at bike-park speeds or on really steep terrain, but it is very likely a better compromise for a lot of riders.
Bottom Line
The Nicolai / GeoMetron G16 is singular in its purpose as an Enduro bike that prioritizes descending prowess at speed above all else, while maintaining adequate pedaling performance on the uphill to get you back to the top for another lap.
Strong, aggressive riders with regular access to long, steep descents and who want a bike that approximates a DH bike on the descent better than anything else that climbs this well should take note, as should really tall riders who can take advantage of the G16's enormous bigger sizes. (The shorter-travel G13 and new Saturn 14 would also be worth a look for very-tall riders who think the G16 might be too much bike.) The G16 should also be on the radar of anyone who wants one bike for both bike park and pedal-powered duty, especially if budget allows for an extra rear shock to use both the 155mm and 175mm-rear-travel configurations. The G16 isn't cheap, especially for an aluminum frame, but the build quality, fit, and finish are truly second to none in my opinion, and the frame is built to last for the long haul. In the hands of the right rider on the right terrain, the G16 is a truly impressive weapon.