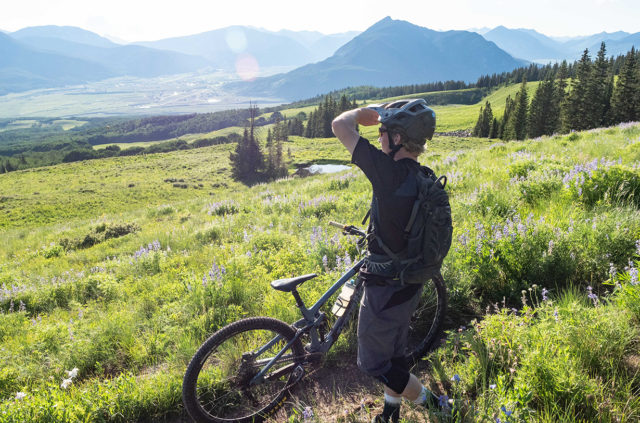 Intro
Everyone wears t-shirts. Whether you got most of yours for free at your most recent 5K or dropped serious dough on some high-performance, technical T's, t-shirts are a staple piece.
They've also gotten a lot more complicated over the past few years. Yes, the silhouette has remained the same, but t-shirts are now available in a wider variety of fabrics, fits, and price-points than ever before.
So here we've rounded up a lot of different options for men and women (and one for kids) that span from super breathable tops that you can use on hot runs and bike rides, to standard, cozy, cotton shirts that we wear all the time.
Mons Royale Vapour Lite 3/4
Fabric: 60% Merino Wool / 40% Tencel (140 gsm)
Reviewer: 5'8", 155 lbs
Size Tested: Medium
MSRP: $80
Best For: retro style with modern performance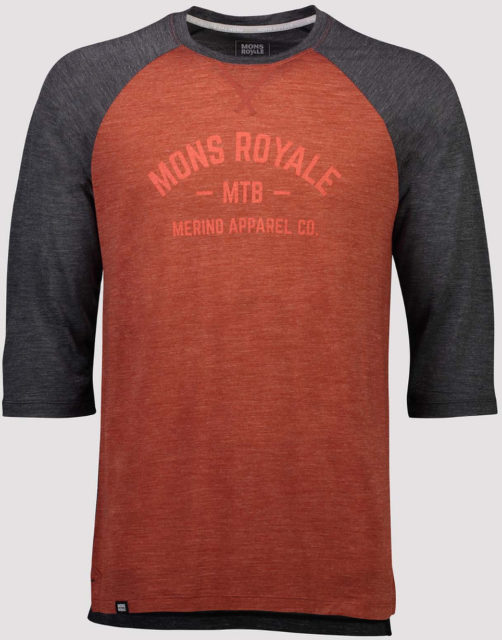 Luke Koppa: Mons Royale designed the Vapour Lite ¾ with biking in mind, but I've found myself wearing it just as often off the trail as I do on it.
The Vapour Lite's merino / Tencel fabric is extremely soft and smooth, and the addition of Tencel makes it even softer than most predominantly merino fabrics. It also breathes really well, though it doesn't dry or wick moisture quite as well as the synthetic options here.
But I think the style and fit — combined with that awesome fabric — is what makes this shirt stand out. The fit is just really flattering. It's on the slimmer side, but nowhere near skin-tight, and it drapes really nicely. Add in the raglan, baseball-style silhouette, and you've got a shirt that looks awesome and that can easily handle time on the trails.
Mons Royale Redwood Enduro VT
Fabric: 83% Merino Wool / 13% Nylon / 4% Elastane
Reviewer: 5'8", 155 lbs
Size Tested: Medium
MSRP: $90
Best For: before, after, and during bike rides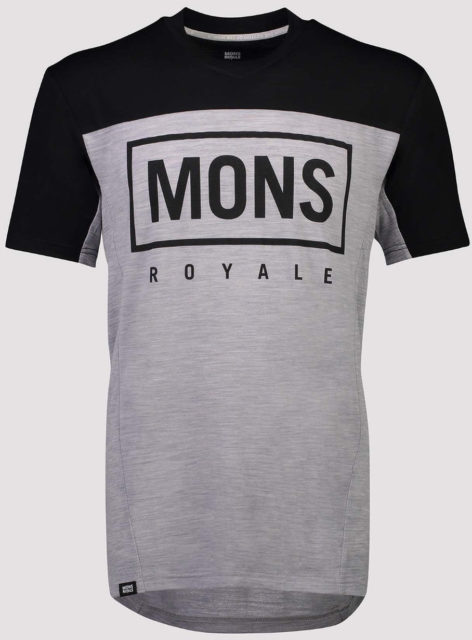 Luke: This piece is a bit more biking-oriented than the others here, with a long drop-tail hem, integrated microfiber sunglasses wipe, and a small, nearly unnoticeable zippered pocket on the back. And yes, it's great on the trail. The fit works well when hunched over the bars, the zip pocket is nice for a pass or credit card, and I've used the sunglasses wipe much more often than I figured I would.
But the slimmer fit and sharp styling of the Redwood Enduro VT also means I'll toss it on even when I'm not biking. Like all of Mons Royale's merino pieces, the Redwood Enduro VT is super breathable, soft for a wool piece, and you can wear it for days without it stinking. Like the Vapour Lite ¾, the Redwood isn't the best option if you tend to crash a lot and tear up your shirts / jerseys quickly, but if you want something you can wear for your pre-ride breakfast, for long rides in hot weather, and at post-ride drinks, the Redwood Enduro VT is my top pick.
Patagonia Men's Capilene Cool Daily Graphic Shirt
Fabric:
Solids: 3.7-oz 100% recycled polyester jersey.
Heathers and cross-dyes: 4.1-oz 100% polyester (50% recycled) jersey.
Reviewer: 5'8", 155 lbs
Size Tested: Medium
MSRP: $45
Best For: cost-effective versatility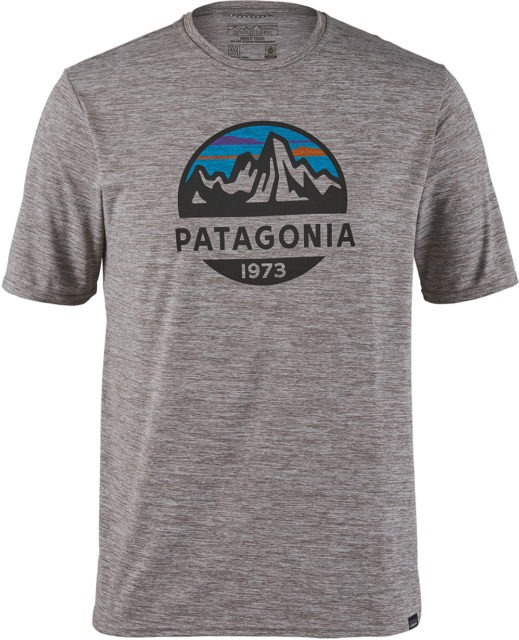 Luke: Part of Patagonia's new Capilene Cool collection, their Capilene Cool Daily Graphic Shirt uses a breathable, moisture-wicking, and recycled synthetic fabric that makes it a great option for hot and / or wet weather.
The Capilene Cool Daily fabric wicks moisture better than wool options, and it still resists odor pretty well thanks to a HeiQ anti-microbial treatment. Its fit is on the baggier end compared to the other options I reviewed, so I'd recommend sizing down if you want a shorter and slimmer fit. Lastly, it comes in at a price that makes it a much more feasible option to stock up on if you need several casual-looking, but high-performing shirts.
Trew Superlight Merino Pocket T
Fabric: 85% merino wool / 15% nylon NuYarn (125 gsm)
Reviewer: 5'8", 155 lbs
Size Tested: Medium
MSRP: $69
Best For: travel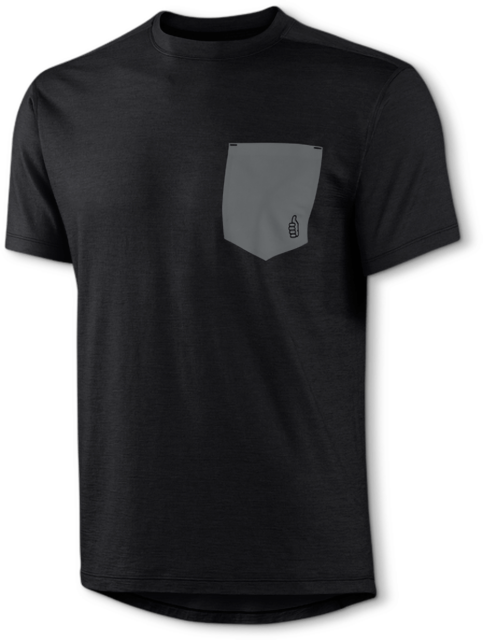 Luke: This has been one of my favorite shirts for years. Its very lightweight NuYarn merino fabric feels lighter on skin, is softer, more breathable, and wicks moisture better than most predominantly merino fabrics, but it retains merino's anti-odor properties. Because of all that, I've taken the Superlight Merino Pocket T on just about every trip I've taken in the past two years.
The fit is fairly short and slim, though not as much as the Mons Royale, Topo Designs, and Everlane shirts. This versatile fit and versatile fabric make this shirt … well, versatile. And the inclusion of a chest pocket is just the cherry on top (I really, really like chest pockets…).
Everlane Cotton Crew
Fabric: 100% cotton
Reviewer: 5'8", 155 lbs
Size Tested: Medium
MSRP: $20
Best For: luxury-level quality at a department-store price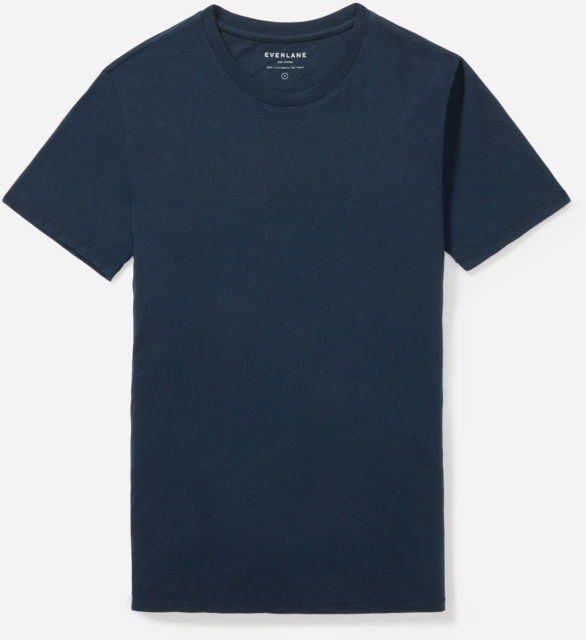 Luke: If I had to choose one casual t-shirt for the rest of my life, I'd go with Everlane's classic Cotton Crew.
Everlane's mission is to provide high-end quality at non-high-end prices, doing so by selling directly to the consumer and being as transparent as possible about how they run their business. Their Cotton Crew was their first piece, and I think it's still one of their best.
The Cotton Crew's average-weight cotton fabric is incredibly soft, the fit is slim and flattering, and the cost is a lot more palpable than any other similarly nice cotton t-shirt I've used.
If you want to stock up on simple, comfortable, and good-looking cotton t-shirts, I can't recommend the Everlane Cotton Crew enough. Plus, they now also offer it in a ton of different colors, fabric weights, and styles.
Topo Designs Tech Popover
Fabric: 100% nylon ripstop
Reviewer: 5'8", 155 lbs
Size Tested: Medium
MSRP: $69
Best For: packability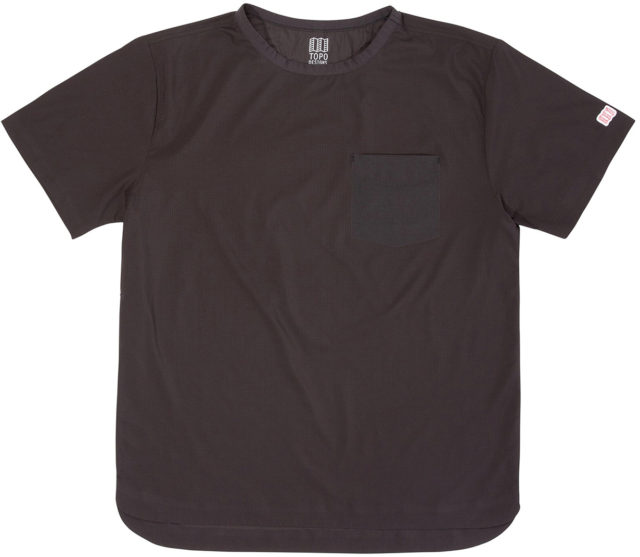 Luke: The Tech Popover clearly stands out here due to its fabric. Rather than a jersey-knit fabric that pretty much every other t-shirt uses, the Tech Popover is made of a woven nylon ripstop — kind of like an ultralight windbreaker.
The result is a t-shirt that's water-resistant, wind-resistant, and super packable. The main downside to the fabric is that it's a lot less breathable than a typical jersey knit, and not as comfortable on skin. So, I tend to treat the Tech Popover as an emergency layer to toss in my pack or suitcase, or as a colder-weather layer. It actually works really well as a windbreaker and packs down so small that I've been taking with me everywhere, though most of the time it's in my pack.
Topo Designs Graphic Tees
Fabric: 100% cotton
Reviewer: 5'8", 155 lbs
Size Tested: Medium
MSRP: $36-$44
Best For: comfort & modern style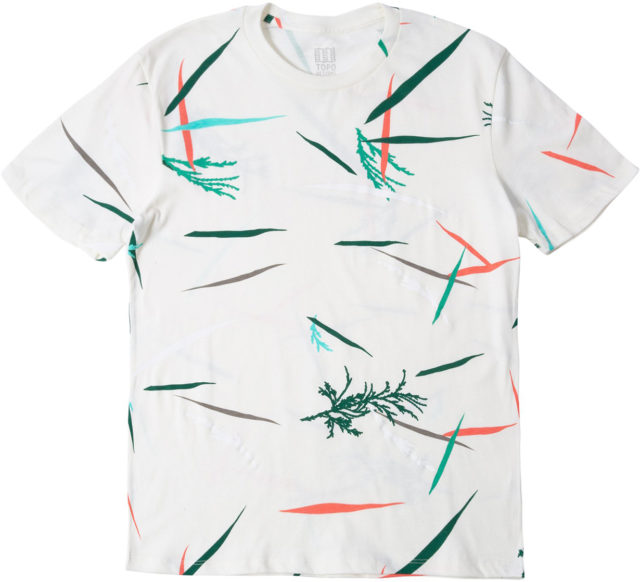 Luke: While I love Everlane's Cotton Crew for its simplicity and price, Topo Designs is where I turn if I want an equally comfortable t-shirt with a bit more style.
Topo's graphic tees' fabric feels very similar to Everlane's Cotton Crew, and the fit is pretty similar, too. But Topo makes a bunch of louder, brighter, and more attention-grabbing styles — plus, they have several styles available in 100% organic cotton.
Patagonia Women's Long Sleeve Capilene Cool Daily Shirt
Fabric:
Solids: 3.7-oz 100% recycled polyester jersey
Heathers and cross-dyes: 4.1-oz 100% polyester (50% recycled) jersey
Reviewer: 5'8", 125 lbs
Size Tested: Medium
MSRP: $45
Best For: all activities
Kristin Sinnott: Since first seeing this fabric at the Outdoor Retailer Show this past January I've been dreaming about this shirt. Exceptionally soft hand feel, nice color options, moisture wicking, and odor resistant, this shirt seemed just about ideal — at least on the hanger.
Now, after many days testing it while hiking, biking, and wearing it around town, I love it even more. I just spent four hours tromping around the woods mushroom-hunting in this shirt and hit more branches than my son or I would like to remember and the Capilene Cool Daily shirt came out unscathed. Not even the smallest snag.
The sleeves on the size Medium hit below my wrist and the torso length sits just below my hips — an ideal fit for me. Unlike other polyester shirts I've worn, the Cool Daily doesn't pick up BO quickly thanks to the HeiQ odor-resistant finish. I've worn it through multiple sweaty activities prior to washing and have yet to detect a smell. The Cool Daily fabric comes in short-sleeve and long-sleeve versions and Patagonia just released a women's hoody version, so you can now get this great fabric in multiple silhouettes.
Patagonia Women's Capilene Cool Trail Bike Henley
Fabric: 4-oz 100% polyester spun jersey with Polygiene® permanent odor control
Reviewer: 5'8", 125 lbs
Size Tested: Medium
MSRP: $45
Best For: outdoor adventures with apres potential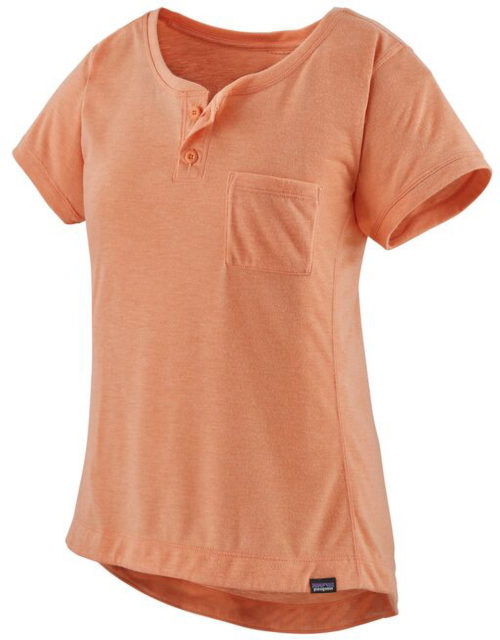 Kristin: The chest pocket and two-button henley silhouette of this shirt changes the profile from ordinary tee to something a bit more refined. Labeled as a bike jersey, I've actually spent more time hiking and running than biking in this shirt. But the longer-back hem that helps while on the bike also looks good off it. And while some might think the buttons are just for show, I find myself unbuttoning them often for a little extra breeze, especially on hot days.
The polyester jersey fabric isn't as soft as the Capilene Cool Daily Shirt or the Free Fly Bamboo Channel Pocket Tee, but that doesn't mean it isn't soft in general. The Capilene Trail's fabric is slightly stretchy, breathable, quick drying, and odor resistant. This is a great shirt for when you want to branch out a little from the standard t-shirt style.
Free Fly Apparel Women's Bamboo Channel Pocket Tee
Fabric: 68% Viscose from Bamboo, 29% Polyester, 3% Spandex
Reviewer: 5'8", 125 lbs
Size Tested: Medium
MSRP: $44.95
Best For: everyday use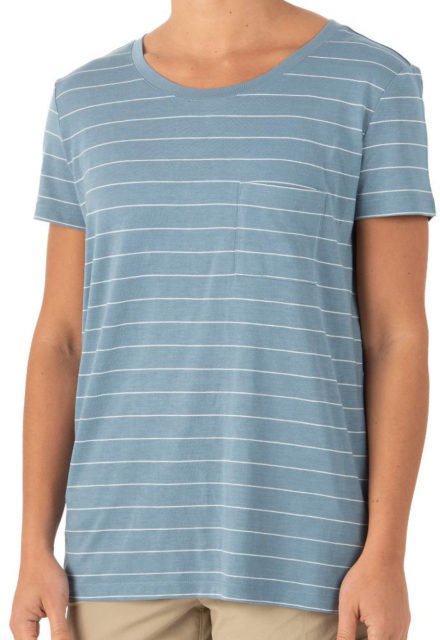 Kristin: This is the third Free Fly shirt I've tested and I'm still blown away by how soft their products feel. The bamboo / polyester / spandex blend is not only soft, it's also stain resistant (my son helped me test this on the white shirt — you don't want to know the details), odor resistant, and durable. I opted for the size Medium as I was looking for a relaxed-fit tee, and I love the fit. It's large enough for air to flow up it to cool me but not so large that it looks too big. If I could only pack one tee for an adventurous weekend getaway, I'd throw this is my luggage without a second thought.
I tend to use this top in the morning and it's able to roll with any of the day's activities — hiking, running, errands around town, or even a lunch date. The tight knit and bamboo fabric that help give this white tee its UPF 40 rating do mean it's not the fastest-drying shirt. But that also means the shirt isn't tissue-paper-thin and see-through.
Patagonia Baby Capilene Silkweight T-Shirt
Fabric: 4.6-oz 94% polyester (35% recycled)/6% spandex
Reviewer: 2'4.5", 18.4 lbs
Size: 6-12 mos
MSRP: $25
Best For: everyday use but especially sunny days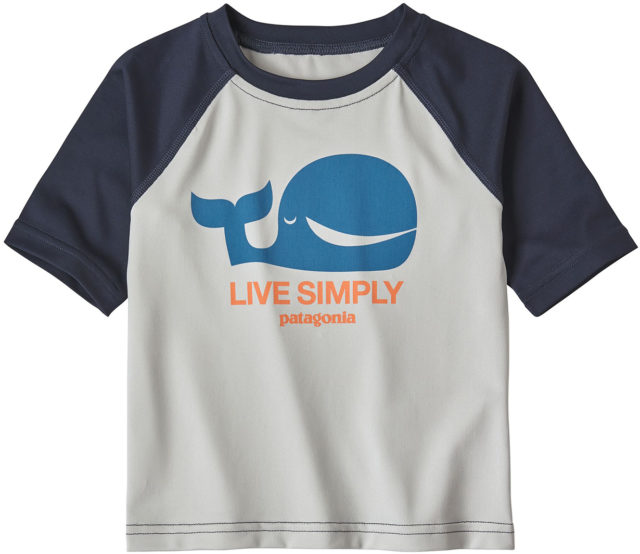 If you've read any of our recent posts, you know that my son, Linden, has been very busy testing a number of baby products. At 11-months old, he's currently wearing the 6-12-month-old size in this shirt and it is big. But it's cute big — not "my-parents-don't-know-how-to-dress-me" big. Contrasting raglan sleeves are more ¾-length than standard short-sleeve-tee length but it still looks good. I've said this before, but when purchasing any Patagonia baby products, I recommend taking a look at their size charts as their sizing doesn't always match up with other baby apparel sizing.
The biggest difference I've noticed with the Capilene Silkweight products versus other baby shirts is that the Patagonia ones don't seem to age / deteriorate. We've received a number of them as hand-me-downs and they look as good as the new ones. This shirt (and the other Capilene Silkweight Shirts) have been my go-to shirts for hiking with my son. Lightweight, soft, and quick to dry means we can go play on a hot day and he doesn't need to sit in a soggy shirt the whole time. This is especially true when I'm hiking with him in a chest carrier and we both get super sweaty. If you're looking for a baby shirt that's well designed, cute, and durable, this is a good option.
Icebreaker Cool-Lite Solace Short Sleeve
Fabric: 52% Merino Wool / 35% Tencel / 13% Nylon (130 gsm)
Reviewer: 5'10", 145 lbs
Size Tested: Medium
MSRP: $80
Best For: high performance + classic style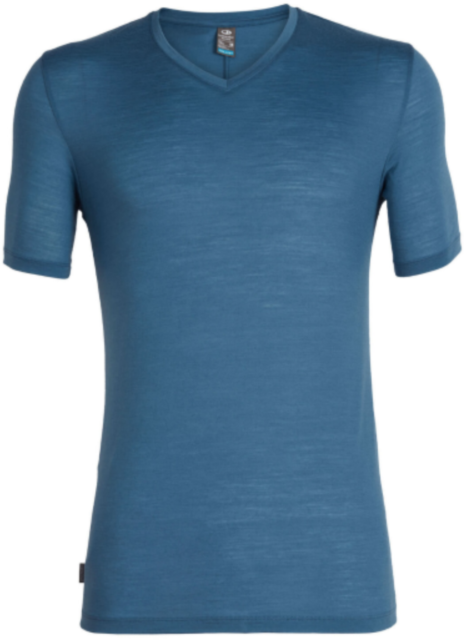 Sam Shaheen: This is my favorite wool T-shirt. It is very lightweight, has a soft hand feel, and an excellent fit. The fit is a touch on the larger side, but after a few wash / dry cycles, it has shrunk to be very comfortable. I'm typically between a Small and a Medium in t-shirts and the Medium Cool-Lite T is the right size for me.
Of all of the T's I've been wearing this summer, this is one of my highest-performing options. It wicks and dries really well while still remaining relatively stink free. Like the other Icebreaker t-shirt I've been testing (see below), the Cool-Lite T does have a tendency to pick up a bit of static electricity in the dryer, but I've never been bothered by this while wearing it.
If you're looking for a high-performance (and high-price) t-shirt that is just as home on the trail as it is at the bars, the Icebreaker Cool-Lite is my top pick.
Icebreaker Tech Lite Short Sleeve Crewe Sequence
Fabric: 87% Merino Wool / 13% Nylon (150 gsm)
Reviewer: 5'10", 145 lbs
Size Tested: Medium
MSRP: $85
Best For: colder climates, high performance, and style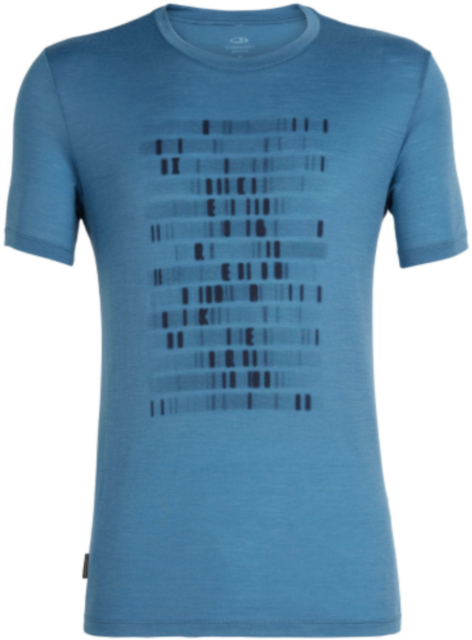 Sam: This shirt is very similar to the Cool-Lite T. The main difference is that the Tech Lite is a bit thicker and therefore a bit warmer. On the hottest days, this shirt is just too warm for me. That said, it retains a lot of what I really like about the Cool-Lite T — it has a great fit, soft hand feel, and nice-looking fabric that doesn't look too techy.
If you live in a colder climate or tend to get cold and want a t-shirt with the performance characteristics of wool, then the Tech Lite is worth a look.
Marine Layer Re-Spun Baseball T
Fabric: 100% Cotton
Reviewer: 5'10", 145 lbs
Size Tested: Small
MSRP: $72
Best For: super soft hand feel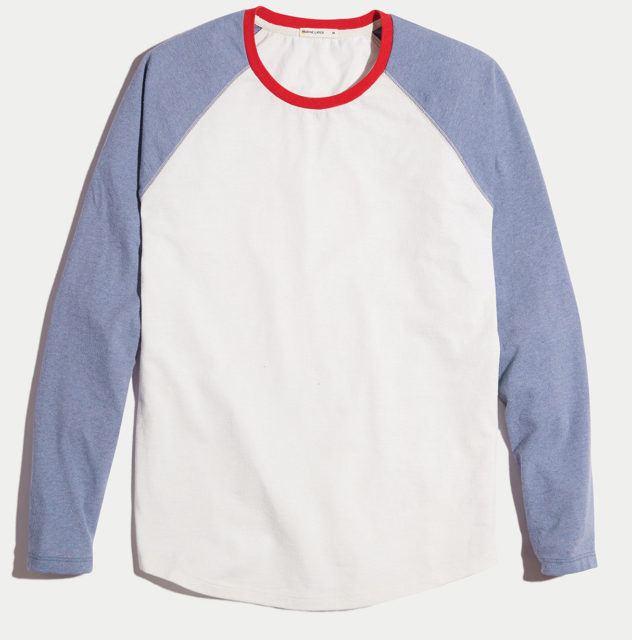 Sam: Marine Layer's Re-Spun program is extremely cool. You can send in your old, beat-up t-shirts to them and they will turn them into super soft, stylish, new t-shirts in a completely closed-loop recycling process. That's pretty awesome, and something we'd love to see from other brands.
The Re-Spun T that I've been wearing is a baseball-style t-shirt that is incredibly soft and comfortable. This is definitely the softest t-shirt in my closet, which is crazy given that it's made from recycled t-shirts. The fabric is what I'd call a nice medium-weight that I'll be able to wear year round, though on the hottest summer days, the 3/4-length sleeves are a bit too warm. While it's a really impressive piece in terms of both comfort and sustainability, that does come at a high cost ($72).
Jungmaven Classic Hemp Jung Tee
Fabric: 55% Hemp, 45% Cotton
Reviewer: 5'10", 145 lbs
Size Tested: Medium
MSRP: $48
Best For: saving the world with hemp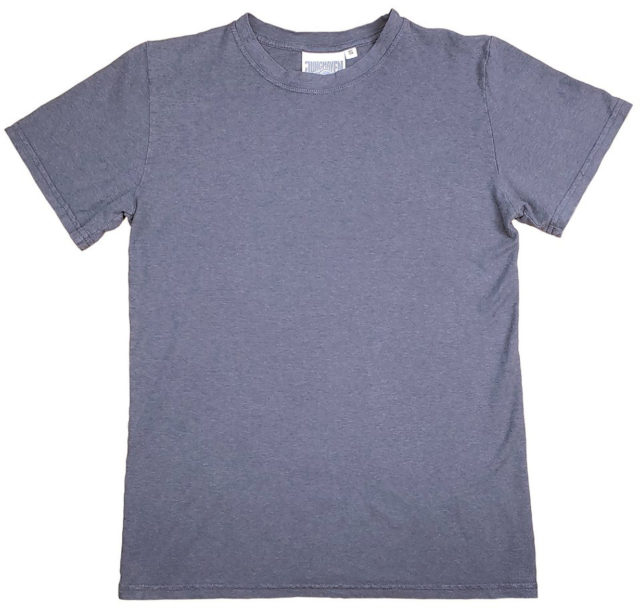 Sam: Hemp is being used in more and more pieces of apparel and the Jungmaven Classic T is one of the few t-shirts using a high-hemp blend.
Why choose hemp? There are a lot of reasons, but a big one is that it requires a lot less water and pesticides to grow than cotton. It can also be used in a lot of different ways, and we'll probably be seeing a rise in hemp apparel now that the US has legalized industrial hemp.
As you might expect, this is not the softest of shirt of the bunch. But that doesn't keep it from being comfortable. It has a heavier feel and a heavier drape, but after wearing it for a few minutes I don't really notice the slightly rougher hand feel. The Jung Hemp T doesn't hold its shape quite as well as synthetic or cotton blends, but it's very similar to my 100% cotton T's in this regard.
The size Small Jung Tee is a touch too small for me — I would be more comfortable with a Medium. Overall though, I've been very happy with this shirt and have introduced it into my regular rotation. It isn't the softest, but I'm becoming a bigger and bigger fan of hemp apparel with each new piece I test.
Black Diamond Rhythm Tee
Fabric: 43% merino wool / 57% nylon NuYarn (95 gsm)
Reviewer: 5'10", 145 lbs
Size Tested: Medium
MSRP: $75
Best For: high-output activities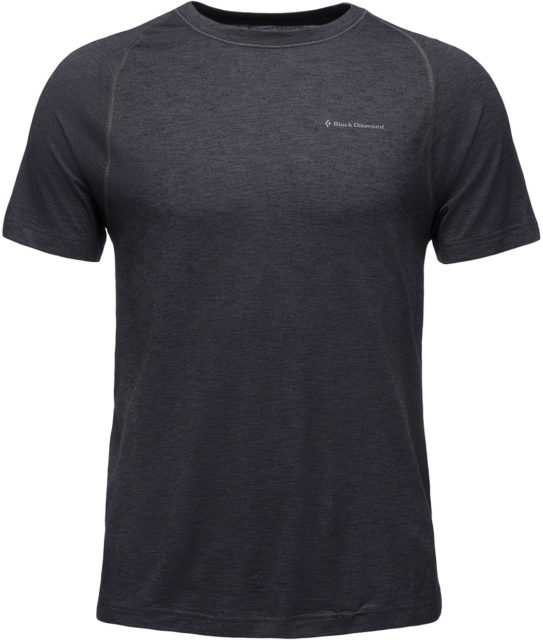 Sam: The Black Diamond Rhythm Tee claims to be the lightest merino wool t-shirt on the market and it certainly is light. The 95 gsm NuYarn wool / nylon blend is extremely lightweight and impressively stretchy — it is the lightest and stretchiest shirt in my collection.
The Rhythm Tee has a very athletic look and fit. It is cut slim, a bit longer, and looks more at home in the gym or on the trail than at the bars (unlike the Icebreaker wool T's that have a more classic t-shirt silhouette). The Rhythm's fabric is quite supple, but has a distinctly scratchy wool feel against the skin. This certainly isn't a dealbreaker for me, but it is noticeable, especially when compared to some super soft cotton options like the Marine Layer Re-Spun shirt.
The NuYarn fabric that Black Diamond uses on the Rhythm Tee uses a much lower percentage of merino wool than the Trew Superlight Merino Pocket T, which probably contributes to the huge amount of stretch in the Rhythm Tee, though the Superlight probably keeps the odor at bay a bit better.
For high-output activities where I know I'll be sweating a lot or when I know I'll be outside in hot temperatures, the Rhythm Tee is the shirt I'll be grabbing.
Share this post:
Share on facebook
Share on twitter
Share on pinterest
Share on reddit
Share on email