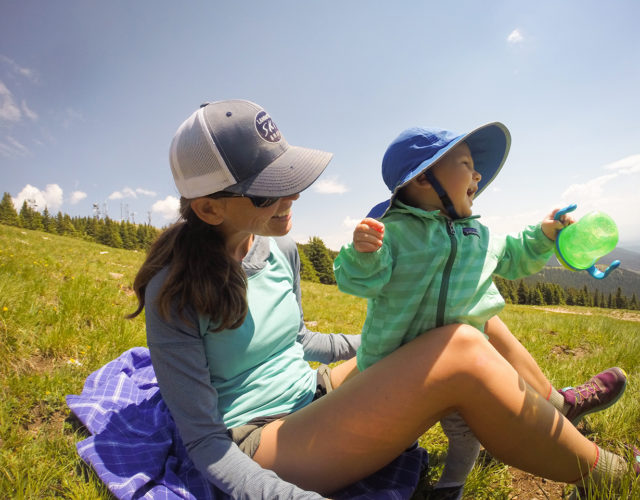 Review Navigation:
Intro //
Tops //
Bottoms //
Accessories
Intro
You've probably heard the expression "soft as a baby's bottom," but their soft skin is also very sensitive to chemicals and sun exposure.
Living at 7,000 feet, I am acutely aware of sun exposure but I'm also someone who hates to apply sunscreen to myself, let alone a squirming baby. Fortunately, there's an alternative — lightweight, breathable, UPF-rated clothing for babies. It has saved me a lot of time and helped me maintain a bit of my sanity.
This roundup focuses on clothing that can be worn hiking, traveling, or just hanging out in the backyard. We're including here apparel & accessories that fit the youngest children (0-12 months), with an emphasis on products that are breathable, lightweight, and moisture wicking. I've had a difficult time finding non-swim-specific sun-protective clothing for kids younger than 12 months, so I wanted to highlight in this roundup pieces that aren't only designed for use on the water. And since pediatricians typically recommend avoiding sunscreen for babies younger than 6 months old, it seems like sun-protective clothing is key for this age group.
For reference, almost all fabrics (apart from very open-knit mesh) have some form of UPF (Ultraviolet Protection Factor) protection, but not every company tests the UPF ratings of their fabrics.
Per the Skin Cancer Foundation website, SPF (Sun Protection Factor) "is the rating you're familiar with for sunscreen and other sun-protective products. It measures the amount of time it takes for sun-exposed skin to redden, while UPF measures the amount of UV radiation that penetrates a fabric and reaches the skin."
As an example, a fabric with a UPF 50 rating will let 1/50th (2%) of UV radiation through to your skin, and the Skin Cancer Foundation gives their "Seal of Recommendation" to fabrics that have UPF ratings of 30 or higher. For reference, an average white cotton T-shirt has a UPF rating of ~5 but it drops down to ~3 when wet.
Reviews here are based on a baby that is currently 18.4 lbs, 28.5 inches long, and 11 months old.
Tops
Patagonia Baby Capilene Silkweight Crew
Fabric: 94% polyester (35% recycled) / 6% spandex
UPF Rating: 50+
Size: 6-12 mos
MSRP: $29
Best For: everyday use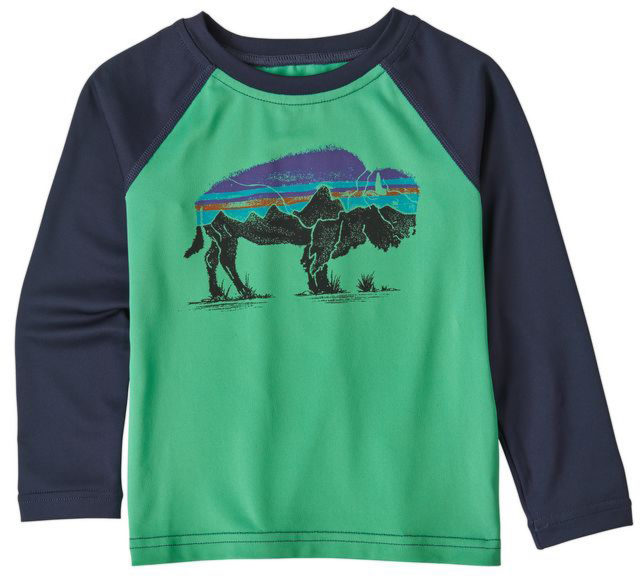 Patagonia is one of the few outdoor apparel companies making UPF-rated baby clothes that are as breathable and lightweight as their adult options. If the Baby Capilene Silkweight Crew came in my size, I would happily wear it. But alas, this one is only available for the little guys and gals.
Prior to becoming a parent, I thought moisture-wicking, breathable clothing for babies was unnecessary. But after many hours spent hiking and skiing with my son on my back or in a chest carrier, I've come to realize that babies do indeed sweat. The idea of my son sitting in a soggy cotton onesie for hours while on a mountainside had me looking for alternative fabrics and I was delighted to find the Capilene Silkweight Crew. The shirt is lightweight, silky soft, and helps him stay dry even when strapped to my chest while I sweat profusely (thanks in part to the little heater that is my son).
The Capilene Silkweight Crew's stetchy polyester / Spandex blend fabric and crewneck design makes it easy to get the shirt on and off and the UPF 50+ rating provides peace of mind for big adventure days in the sun. I do highly recommend checking out the size chart before ordering any Patagonia baby items as their sizes are a little different than other baby apparel. But I have found that, if I order based on their chart, the fit is great. The Silkweight Crew has been a great summer shirt that will transition nicely into a baselayer as the temperatures start to drop in the fall.
Patagonia Baby Capilene Silkweight Sun Hoody
Fabric: 94% polyester (35% recycled) / 6% spandex
UPF Rating: 50+
Size: 3-6 months & 6-12 months
MSRP: $39
Best For: everyday use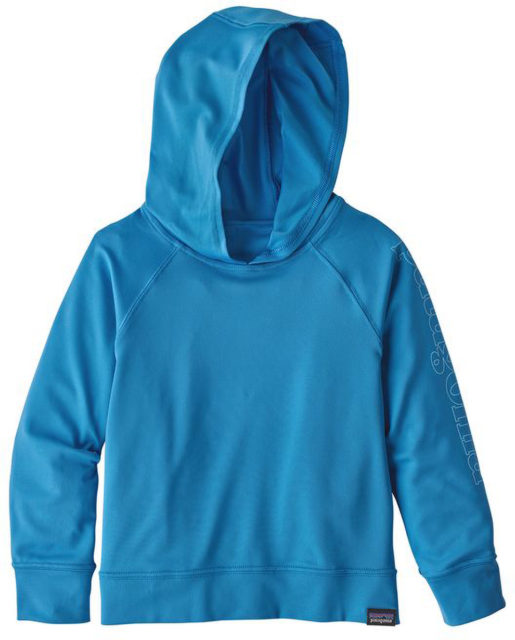 The Capilene Silkweight Sun Hoody has been my son's go-to shirt for the last three months. It's lightweight, has a relaxed fit in the torso and sleeves, and has a hood that can be worn with or without a hat. We actually received one as a hand me down in the 6-12 month size and since it was a little big, we opted to buy a smaller size. We currently use both and love having one as a backup. While the larger size is a bit big for him, it's easy to roll up the sleeves and the longer torso just covers more of his lower body.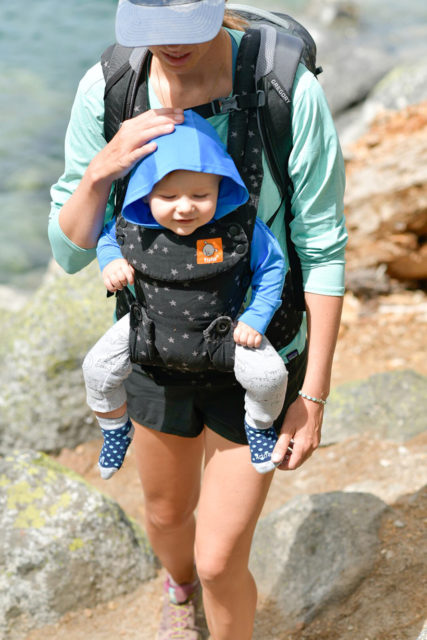 As our go-to sun shirt, we usually throw it on him with a ball cap and put up the hood for great coverage. Knowing he is well covered from the sun — especially while hiking at altitude — is critical to enjoying the trail. The Sun Hoody was also the first over-the-head piece that my son didn't fuss about putting on, thanks to the stretchy fabric and easy entry.
Lark AdventureWear Short Romper
Fabric: 60% Bamboo / 40% Cotton
UPF Rating: 50+
Size: 12 months
MSRP: $39.95
Best For: simplicity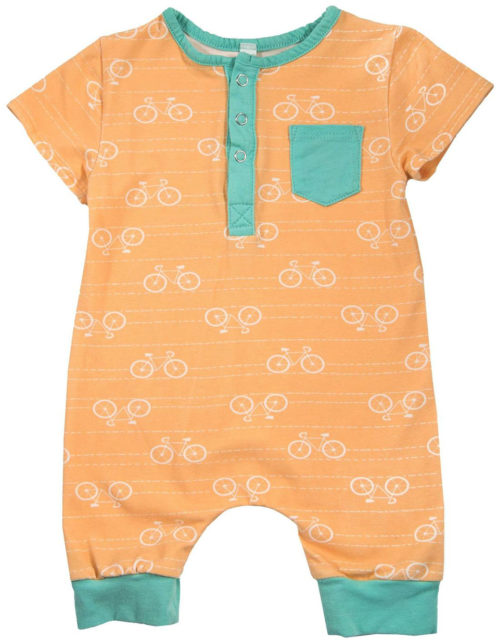 Yes, this is a one-piece. Or as Lark Adventurewear calls it — a short romper. It's cute, soft, lightweight, and provides good sun protection. Very few baby clothes that I've come across use bamboo in their fabric and I was happy to learn the Short Romper was primarily bamboo with a mix of cotton. The fabric is breathable, moisture wicking, soft, and thus far, it's been quite durable. The one downside to the Short Romper is the lack of snaps on the lower half which makes it a pain to change a diaper without completely undressing him.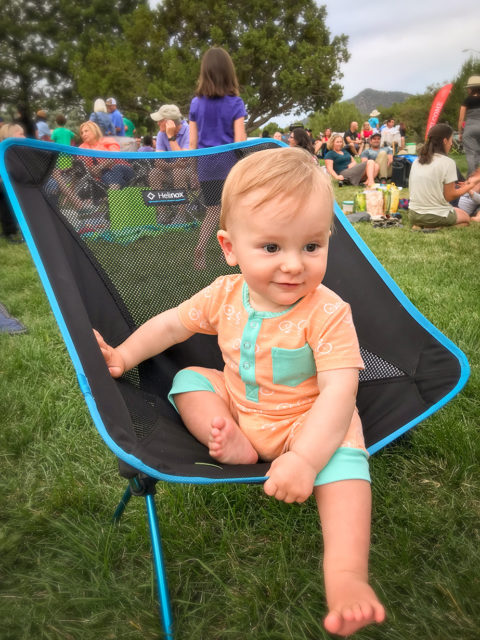 While the short sleeves and ¾-length legs don't provide complete coverage, I like that sunscreen application is limited to just part of the arms and legs. I also appreciate that the fabric extends over the knees to provide a little cushioning for crawling. My son has been putting it to the test while crawling over smooth and somewhat rough surfaces and the fabric has yet to show any signs of wear or tear. Lark AdventureWear does note that the romper runs slim and they recommend sizing up if in between sizes. We purchased the 12-month size for my 18.5 lb, 28", 11-month-old son and it fits him perfectly.
Patagonia Baby High Sun Jacket
Fabric: 2.5-oz 57% recycled polyester/43% nylon
UPF Rating: 50+
Size Tested: 6-12 mos
MSRP: $49
Best For: hiking, outdoor adventures, or cool days in the sun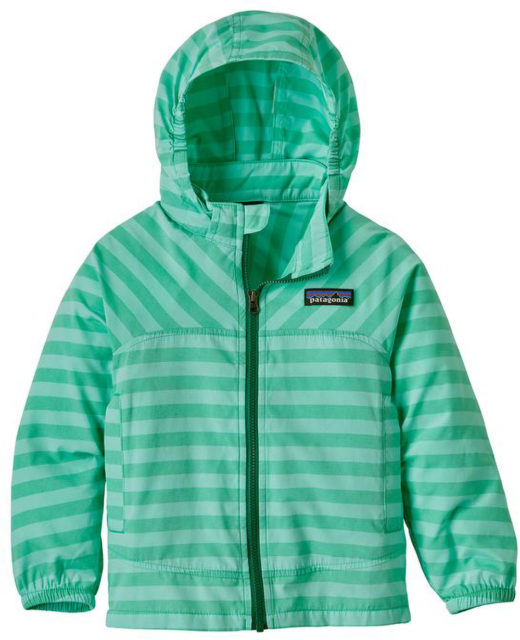 On a recent hike, my son and I left the 73°F parking lot and after 2,000 feet of climbing, the temperature had dropped 10-15°F and a pretty stiff breeze had picked up. Fortunately, I had anticipated the temperature change and dressed him in the High Sun Jacket. Thanks to the windproof, UPF 50+ fabric, I was able to hike non-stop without worrying about his comfort or the need to reapply sunscreen. When we did stop, I noticed his hands were slightly cool but his body was warm thanks to the wind-resistant fabric.
The High Sun Jacket, a windbreaker for babies through toddlers (3 months – 5T), is made of a nylon / polyester blend. With a UPF rating of 50+ there's no need to worry about applying sunscreen under the jacket and unlike other windbreakers, the fabric is breathable so it won't become a sweat fest on warmer days.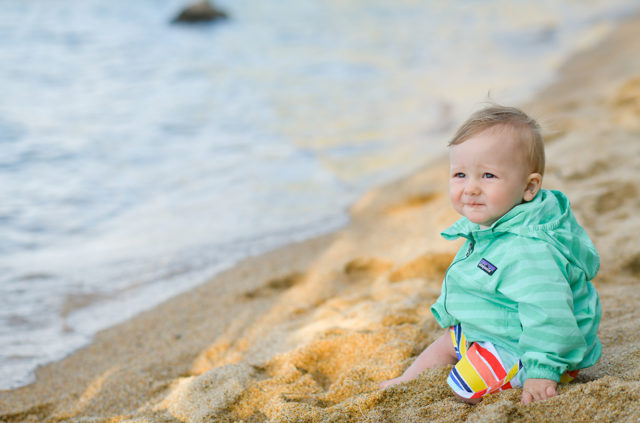 The full-zip design makes getting the jacket on and off a breeze and the removable three-panel hood is a nice feature. My son is currently 18 lbs and 28″ tall and the 6-12 month size is a bit long for him, but not so long that we don't use it often. As mentioned earlier, when buying any Patagonia baby products it is always best to consult their size charts as their sizing doesn't always match up with other baby apparel but their size chart does a great job characterizing their fits.
Bottoms
Coolibar Baby Wave Swim Tights
Fabric: Polyester / Spandex
UPF Rating: 50+
Size: 6-12 mos
MSRP: $19.50
Best For: swimming or cool-ish days in the sun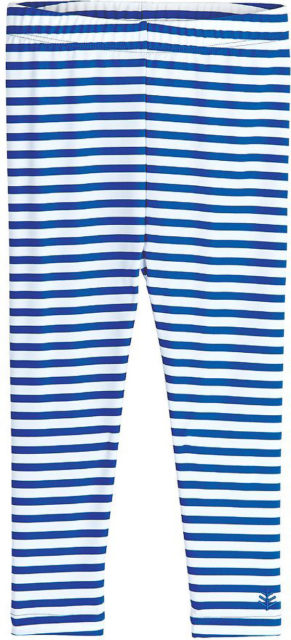 The Baby Wave Swim Tights are leggings designed to protect babies from the sun while in or around the water. I hadn't planned on testing any swim-oriented items as there are lots of UPF-rated rash guards and swim trunks on the market, but I've found myself reaching for the Swim Tights for activities beyond the pool. He wears them for hikes, park days, and morning strolls when it's not too hot (the fabric is not designed to wick away moisture and Coolibar states that they may cause overheating).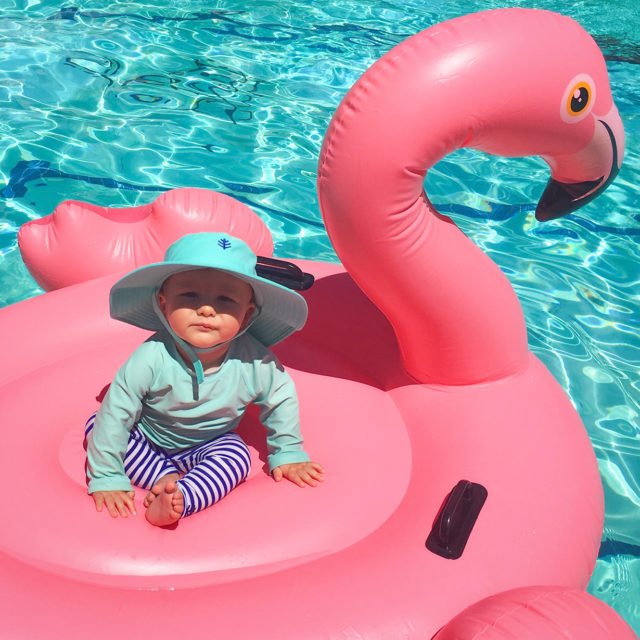 The fit is great (tight but not too tight) and the color options are almost endless. The 6-12 month size fits my son perfectly and there's still some length to allow for a growth spurt. Unlike other leggings, the fabric easily stretches over bulky cloth diapers but hasn't stretched out.
Shedo Lane Baby Joggers
Fabric: bamboo
UPF Rating: 50+
Size: 12-18 months
MSRP: $20
Best For: everyday use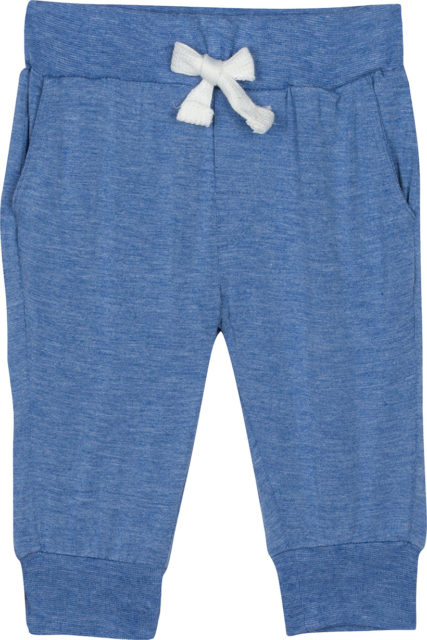 These are the softest pants I've seen for babies and that soft and light fabric, combined with a cute jogger silhouette, has quickly made these one of my favorites even though they are huge on my son. I purchased the 12-18 month size as I didn't want my son to outgrow them too quickly and I was unable to locate a size chart on Shedo Lane's website. The 12-18-month size is extremely long on my 11-month-old son and the waist is too wide, even when fully cinched down. The extra width and length are fine when strapped into a stroller or baby carrier as the extra length helps keep his toes and ankles covered. With the high UPF rating and lightweight fabric, I now dress my son in these for every warm-weather hike and I know they will transition nicely for warm fall days. The downside to ordering the large size is that I have found them to be too large for crawling around.
Hats
Coolibar Baby Splashy Bucket Hat
Fabric: Polyester / Spandex
UPF Rating: 50+
Size: 12-24 mos
MSRP: $22
Best For: Pool days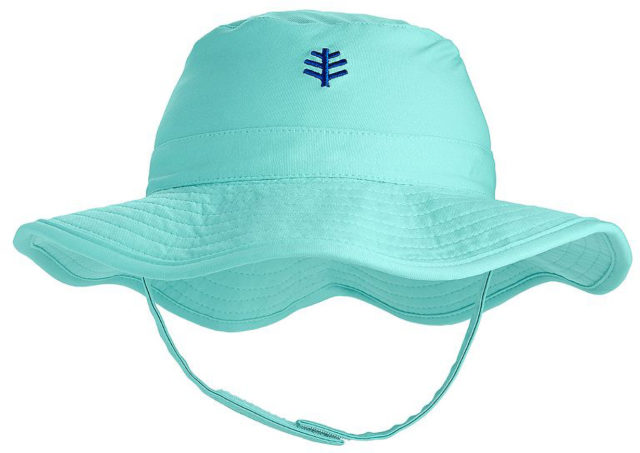 Coolibar is known for making quality UV-protective apparel and accessories and if you ever visit their website, you might be blown away by the sheer number of products they offer.
The Baby Splashy Bucket Hat is a soft, lightweight, and foldable hat that provides good sun protection for your baby. The Bucket Hat comes in three different sizes ranging from 18.5" to 20" circumferences. The medium size, or 12-24-month size, fit my 11-month-old son perfectly around his head, though the chin strap is a bit too big. But I was able to secure the Velcro chin strap by using the smallest setting and it worked fine. As the hat is stretchy, I imagine it will continue to fit him for quite a while and he will eventually grow into the chin strap.
This hat is designed to be worn in and around water. When wet, the fabric gets weighed down just enough to stretch the hat out a little. The hat still fit but it was noticeably bigger. As I ordered up a size, I imagine this won't be an issue as he grows into the hat.
Sunday Afternoon Kids' Play Hat
Fabric:
Solids: 100% Nylon
Prints: 100% Polyester
Size: Small/Baby (fits 6-24 mos)
UPF Rating: N/A
MSRP: $28
Best For: active outdoor activities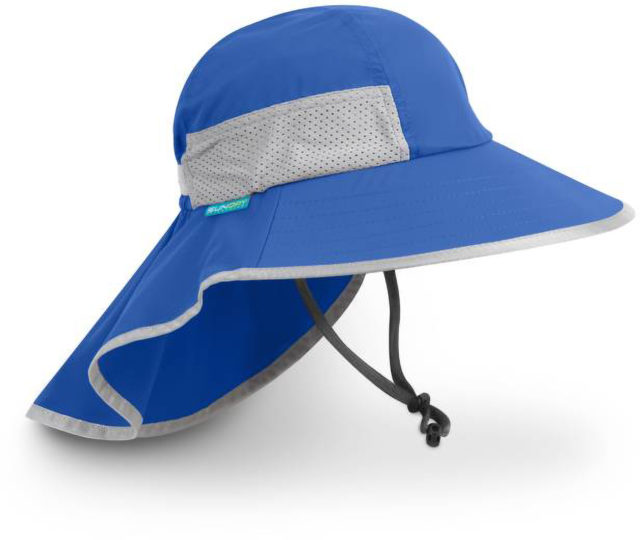 I'm not sure how many hours I spent looking for a good sun hat for my son but I assure you that it was a lot. And while there are slews of baby sun hats on the market, most of them are either made cheaply and / or looked ridiculous. The Kid's Play Hat by Sunday Afternoon was one of the exceptions. With a variety of colors to choose from, an adjustable, breakaway chin strap, and adjustable sizing that allows the smallest hat to fit ages 6 months to 2 years old, this hat stood out.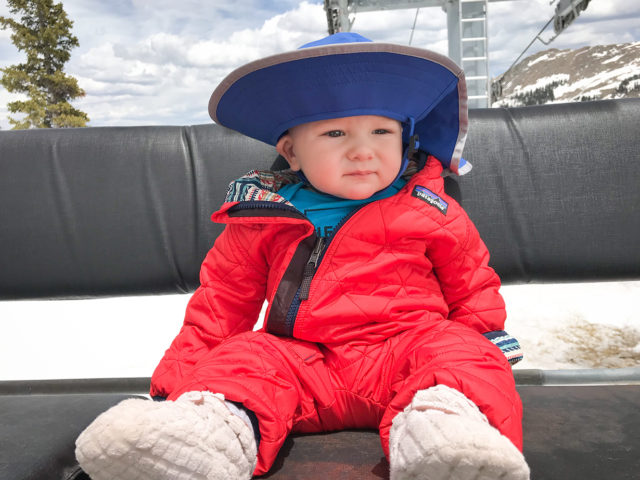 Thanks to a brim that can be worn up or down, both of which allow full visibility for the baby, and the flat-back design, the Play Hat is ideal for backpack carriers and strollers. When I first started putting my son in a kid-carrier backpack, he wore a ball cap. But when he fell asleep and lean forward, the bill would poke me in the back of the head. With the Play Hat, I could flip the bill up without waking him and I no longer dreaded his nap time in the pack.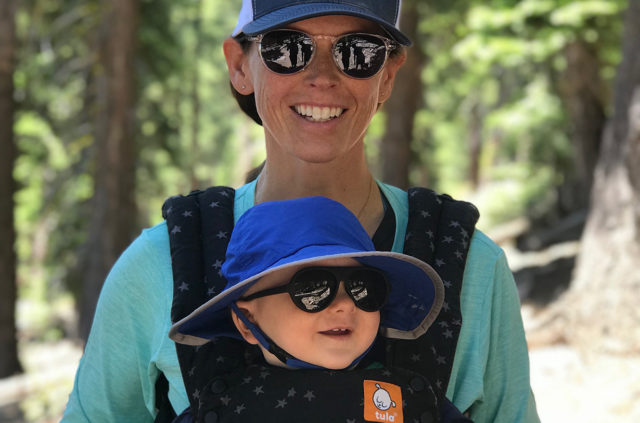 The Play Hat is great in the water as it dries quickly and doesn't get weighed down or stretched out when wet. The down-sloping brim provides great sun protection and it packs flat, making it easy to bring everywhere.
Sun Blankets / Towels
Coolibar Sun Blanket
Fabric: Cotton / Viscose from Bamboo / Spandex
UPF Rating: 50+
Size: O/S
MSRP: $28
Best For: everyday use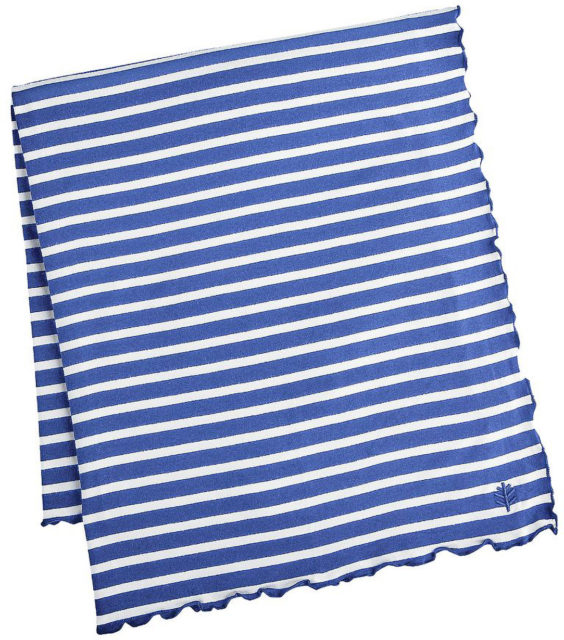 As a new parent, you will most definitely receive slews of baby blankets and yes, they will all be adorable. But few I've used have been as good as the Coolibar Sun Blanket.
With its UPF 50+ rating, this blanket has found its way into my stroller and diaper bag just about every day. I've used it to cover my son as he slept through a sunny park outing and to throw across his legs in the stroller when I forgot to pack the sunscreen. At 40" by 30", the Sun Blanket is large enough to cover an infant car seat but the thin fabric means it will easily fit into a diaper bag. The soft, lightweight, and stretchy fabric make the Sun Blanket an easy choice when choosing which baby blanket to pack.
Coolibar Palatine Scarf
Fabric: Polyester
UPF Rating: 50+
Size: O/S
MSRP: $39.50
Best For: nursing cover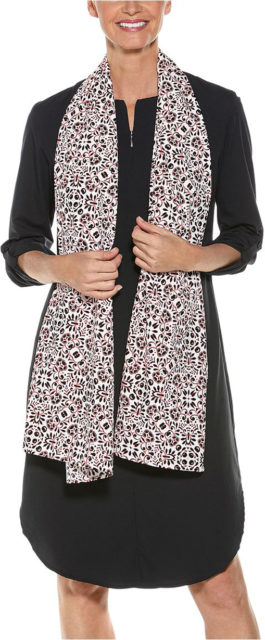 If you read my nursing-friendly summer apparel roundup you'll know that I appreciate clothing and accessories that provide some discretion. The Palatine Scarf is lightweight, silky soft, and light colored, yet it still provides UPF 50+ sun protection. On the hottest of days, I used this while nursing in the sun and was pleased to stay cool. And at 71" x 20.75", there is plenty of fabric to keep the little guy covered. The Palantine Scarf is far and away the lightest, most packable, and most versatile item on this list. I've worn the scarf out to dinner and I've also used it to cover my son while carrying him in a chest pack while hiking. No special washing is needed, so no need to save the Palatine for just special occasions.
LuvBug UPF 50+ Sunscreen Towel with Hood
Fabric: N/A
UPF Rating: 50+
Size: O/S
MSRP: $28
Best For: travel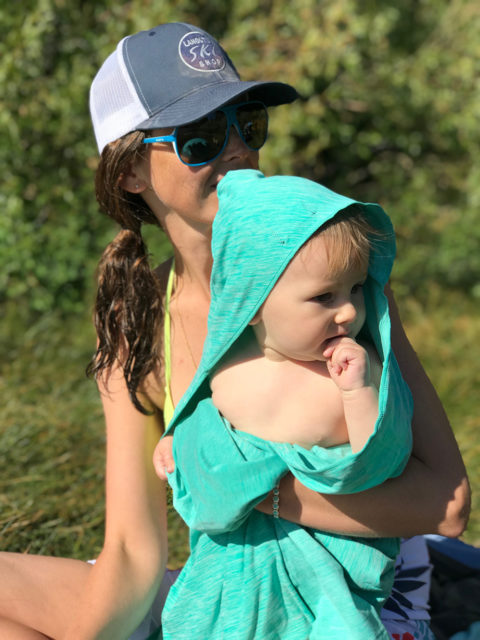 You can find hooded baby / kid towels just about anywhere and you might be lucky enough to receive one or many of these as gifts from loved ones. From light and soft to thick and warm, we probably have 5 or more of these kinds of towels and we have used them many times in the last 11 months.
While we love the ones we have, none are as practical as the LuvBug Sunscreen Towel with Hood. It is by far the most compact and quick-drying towel we have for my son, which was super helpful for hiking around Lake Tahoe. Each day we packed our suits and towels and headed out on a trail. More often than not, we ended up taking a quick dip somewhere along the way. Hiking with a baby requires a bit of gear and to be able to pack a lightweight towel that can do double duty as sun protection kept our packs a little lighter.
Share this post:
Share on facebook
Share on twitter
Share on pinterest
Share on reddit
Share on email