2019 Santa Cruz Hightower LT
Size Tested: Large
Geometry: (Here)
Build Overview (as tested):
Drivetrain: SRAM XO1 Eagle
Brakes: SRAM Code RSC
Fork: Fox 36 Float Factory GRIP2 170mm 51 mm offset
Rear Shock: Fox Factory DHX2 Coil, SLS Spring
Wheels: DT Swiss 350 Hubs, Santa Cruz Reserve 30 Carbon rims
Wheels: 29"
Travel
Stock: 150 mm Rear / 150 mm Front
As Tested: 150 mm Rear / 170 mm Front
Measured Weight (as tested, without pedals): 32.6 lbs
MSRP:
Hightower LT Carbon CC XO1 Reserve: $7999
Hightower LT Carbon CC Frame Only: $2999
Reviewer: 5'11", 155 lbs.
Test Locations: Gunnison–Crested Butte, CO; various spots around New Mexico & Montana
Duration of Test: ~5 Months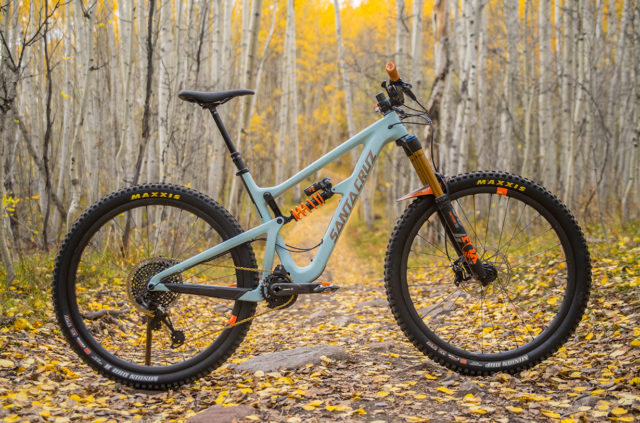 Intro / Backstory of the Hightower LT
Santa Cruz has been in the mountain bike game since 1994. They only make off-road bikes, so all of their R&D goes into making bikes that are at home on dirt, rocks, and other off-road surfaces.
Santa Cruz's Hightower LT is the "Long Travel" version of their Hightower, which was originally released in early 2016. After many Santa Cruz Enduro and Downhill racers experimented with the existing Hightower, they found a way to add more rear travel to the bike.
So in the summer of 2017, the Hightower LT was launched as a completely distinct bike from the original Hightower (though by that point, many Santa Cruz athletes had already been riding and racing it). In short, the LT catered to those who were looking for more downhill capability in a full-suspension 29er.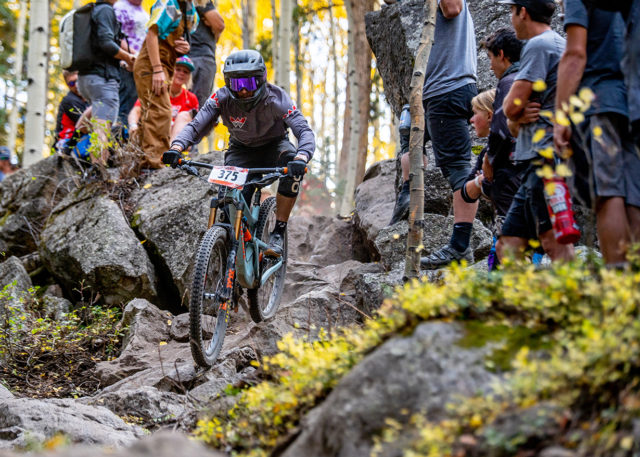 Then in March, 2019, Santa Cruz released their new Megatower. It features the same 29" platform as the Hightower LT, but with 10 mm more travel front and rear, along with a lower-link-mounted shock and updated geometry. So the Hightower LT was then dropped for the 2020 model year, and Santa Cruz has also updated the standard Hightower, which still has the 29" platform and similar travel to the Hightower LT, but uses a lower-link-mounted shock and updated geometry.
So while the Hightower LT is no longer in production, it can still be found at many Santa Cruz dealers, and we imagine that you'll be seeing a lot of Hightower LTs on the used market over the next few years. Given that, we wanted to do a full review of the Hightower LT, talk about how it performs, how its design compares to the current market, and how its design compares to the new Megatower and redesigned Hightower.
Background
I purchased a 2019 Hightower LT in the XO1 Reserve build in August of 2018, then made a few changes and additions upon building it.
The 2018 and 2019 Hightower LT frames are the same, except for the color options.
I have also ridden a stock 2018 Hightower LT XO1 Reserve for about 100 miles, and it was my time on it that inspired my purchase of the 2019 Hightower LT XO1 Reserve. I have spent about 5 months of riding on my current Hightower LT, most of which has been on singletrack trails in the Gunnison–Crested Butte, CO area. Another significant portion of my ride time has been on downhill-specific trails at various lift-accessed bike parks throughout Colorado, New Mexico, and Montana.
The Frame
The Hightower LT CC frame has great visual appeal. Its internal cable routing and integrated chainstay and downtube protection provide a clean look and help prevent loose trail debris and chain slap from damaging the frame. I also think the colors are ideal and different from some of the flashy "look at me" paint jobs out there. It is available in a "Skye Blue and Gold" colorway (tested) and a "Clay and Carbon" option. The frame also features a threaded bottom bracket, integrated headset, and Boost rear hub spacing.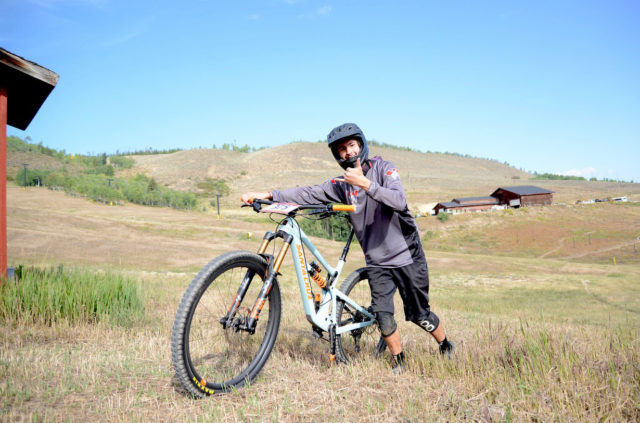 The Hightower LT can fit up to a 2.4" tire in the rear, and I've been running a 2.4 inch Maxxis Minion DHR II with no problems. There's room for a water bottle in the front triangle, and Santa Cruz offers a lifetime warranty on all frames for the original owner, including bearings, and discounted replacement frame parts in the case of incidents not covered under warranty.
Suspension
The Hightower LT features Santa Cruz's VPP (Virtual Pivot Point) suspension platform, which features a one-piece rear triangle that connects to the front triangle with a pair of short, counter-rotating links. The Hightower LT drives the shock from the upper link, a layout Santa Cruz used on their entire lineup, apart from their V-10 DH bike, until a recent change to lower-link-driven shocks on their longer-travel Trail / Enduro models (Nomad, Megatower, Bronson, & 2020 Hightower).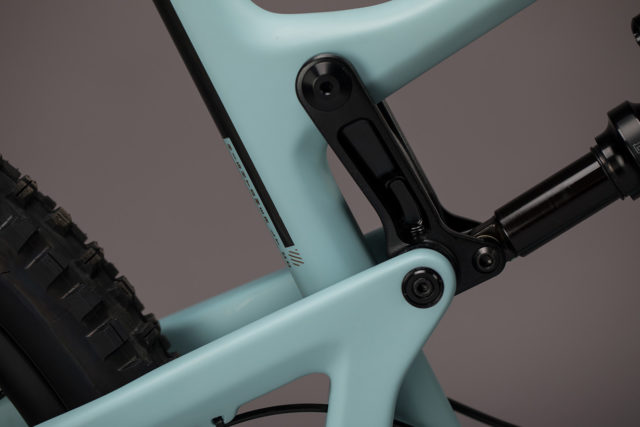 Pedaling was kept in mind in the Hightower LT's suspension design, with 103-109% anti-squat around 25% sag for the lowest four climbing gears.
The Hightower LT's suspension design is more linear than most bikes in its class. Because of this, Santa Cruz recommends the use of an air shock with the Hightower LT. Nevertheless, I decided to run a coil, and I will talk more about that decision below.
For more on different suspension designs and how they work, check out our Suspension 101 article.
Build Options
The Hightower LT only comes in a carbon frame, but in two different layups: C and CC. The CC frame comes on higher-end builds and saves a stated ~250 grams, allegedly without sacrificing stiffness, durability, or ride quality. The Hightower LT CC frame is also available with a Fox Float Factory DPX rear shock for $2999.
For reference, here are the available build options for the Hightower LT and some of their notable components.
C R Build
SRAM NX Eagle drivetrain
Rock Shox Revelation fork
Fox Float Performance DPS shock
SRAM Guide T Brakes
$3999 MSRP
C S Build
SRAM GX Eagle drivetrain
Fox 36 Float Performance fork
Fox Float Performance DPS shock
SRAM Code R brakes
$4899 MSRP ($6099 with Santa Cruz Reserve 30 carbon rim upgrade)
CC XO1 Build
SRAM XO1 Eagle drivetrain
Fox 36 Float Performance Elite fork
Fox Float Performance Elite DPX2 shock
SRAM Code RSC brakes
$6799 MSRP ($7999 with Santa Cruz Reserve 30 carbon rim upgrade)
CC XX1 Reserve Build
SRAM XX1 Eagle drivetrain
Fox 36 Float Factory fork
Fox Float Factory DPX2 shock
SRAM Code RSC brakes
Santa Cruz Reserve 30 carbon rims
$9299 MSRP
XTR Reserve Build
Shimano XTR 12-speed drivetrain
Fox 36 Float Factory fork
Fox Float Factory DPX2 shock
Shimano XTR M9120 brakes
Santa Cruz Reserve 30 carbon rims
$9599 MSRP
My Build
My build started as a stock 2019 Hightower LT CC XO1 Reserve, and I then made changes in suspension to add a touch more downhill capability. Switching to a 170 mm travel fork (from the stock 150 mm) resulted in a change of head tube angle from 66.4º to about 65.5º and slightly lengthened the wheelbase. This gave me a little bit more suspension up front and stability at high speeds. I decided to change from air to coil suspension as I saw a few Santa Cruz / SRAM Enduro racers doing the same, and I wanted the benefits of a coil.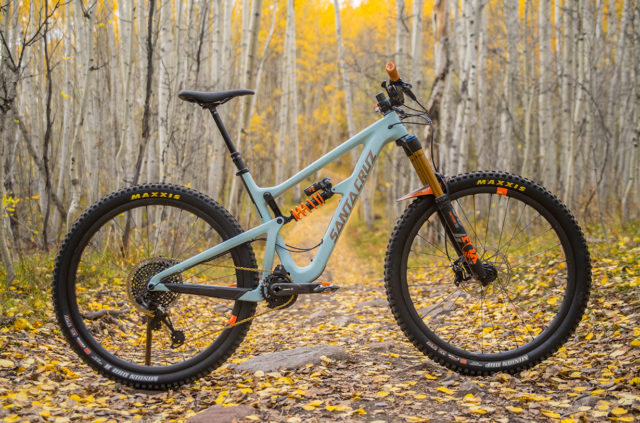 I often ride trails with lots of roots, rocks, and braking bumps that make for a very chattery ride down. Air shocks can overheat and "fade" over long, bumpy descents, causing a decrease in shock performance. I've personally experienced this on a Hightower LT with a Fox Float Performance Elite DPX2 air shock, and I wanted the consistency of a coil since I'm often spinning laps at a lift-served bike park. Coils can also encourage firmer setups on bikes with more linear leverage ratios, since the coils themselves are linear, with less bottom-out resistance. This can lead to improved mid-stroke support in compressions, berms, and bike-park riding in general. A coil has a more responsive, firmer feel, and whether or not you enjoy this comes down to personal preference. I'll discuss the coil vs. air decision more below, now that I've spent time on both.
My Setup
Front Fork: Fox 36 Float Factory 170 mm Grip 2
Pressure: 56 psi
High-speed rebound: 8 clicks out
Low-speed rebound: 10 clicks out
High-speed compression: 18 clicks out
Low-speed compression: 10 clicks out
I also added two volume spacer tokens to my fork as I had trouble with bottoming out, despite running about 25% sag for the fork.
Rear Shock: Fox Factory DHX2 with SLS (Super Light Steel) spring
Spring Rate: 450 lbs
Preload: 1 and 3/4ths rotations clockwise
High-speed rebound: 23 clicks out
Low-speed rebound: 13 clicks out
High-speed compression: 16 clicks out
Low-speed compression: 16 clicks out
Note: All positions are from a fully closed (clockwise) starting point, then backed off counter-clockwise.
Because the Hightower LT's rear suspension leverage ratio is relatively linear, it was tricky to optimize my coil setup (which is not much of a surprise, given that it's designed for an air shock). I've been running my sag at about 20%, despite Santa Cruz recommending running 28-33% sag. Running the recommended amount of sag would likely result in frequent bottom-outs without the progressive support of an air shock. With 20% sag, I do occasionally bottom out the rear, but not often enough to concern me.
Tires:
Front: Maxxis Minion DHF 3C EXO 2.5 inch; 22 psi
Rear: Maxxis Minion DHR II 3C EXO 2.4 inch; 26 psi
I also ran CushCore tire inserts front and rear to provide a little bit more support, flat protection, and rim protection.
As far as the drivetrain goes, I've been running the stock SRAM XO1 Eagle drivetrain with a 30-tooth front chainring and an MRP AMg alloy chain guide / bash guard (the chain guide / bash guard does not come with the stock options).
Fit & Geometry
The Hightower LT's geometry isn't anything radical for a long-travel 29er, particularly now, a few years after its introduction. With the stock 150 mm fork, the head tube angle is 66.4º, reach is 443 mm on a size Large, and wheelbase is 1195 mm. Compared to many other bikes I've ridden, I feel as if these numbers create a comfortable and functional fit.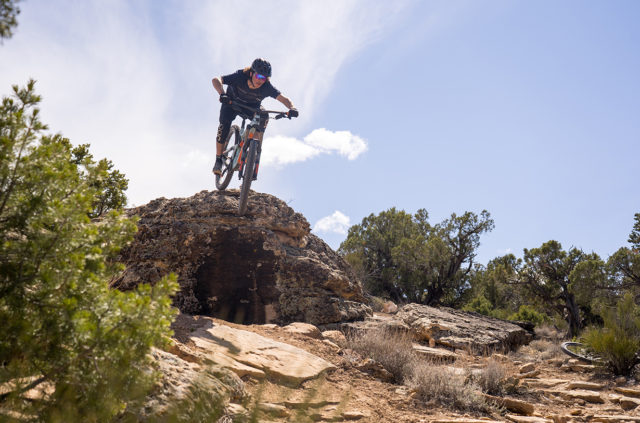 However, I have one complaint with the geometry that seems to be shared by many other Hightower LT owners. The effective seat tube angle is 73.7º in the stock configuration, which is quite slack to begin with, and adding 20 mm of suspension up front only slackened it further. I compensated for this by sliding my seat all the way forward on the rails, but I still feel as if I need to sit on the very nose of the saddle anytime the trail goes aggressively uphill.
Compared to the new Megatower, the Hightower LT is, unsurprisingly, shorter and a bit steeper. The Megatower has a 64.7-65° head angle (depending on the flip-chip setting), 467-470 mm reach, and ~1231 mm wheelbase for a size Large.
The new 2020 Hightower is also a bit longer, with a reach of 470-473 mm and 1231 mm wheelbase for a size Large, and the head angle is a bit slacker at 65.2-65.5°.
Both the Megatower and new Hightower also seem to address the Hightower LT's slacker seat-tube angle, with the Megatower's being 76.3-76.6°, and the Hightower's being 76.5-76.8° for a size Large.
For more on geometry numbers and how they affect the ride and fit of a bike, check out our Geometry 101 article.
The Ride
The Hightower LT was designed to carry a lot of speed on Enduro-like descents. So the question was exactly how well do the big wheels and 6 inches of travel fare?
Descending
Before the Hightower LT, I owned a Version-2 Santa Cruz Bronson C XE build (in production 2016-2018). I was curious to see how the Hightower LT compared, so I took both bikes to the bike park to find out.
The two bikes are very similar in suspension and geometry, but the Bronson has 27.5" wheels while the Hightower LT has 29". I took the Bronson and stock Hightower LT CC XO1 Reserve to Keystone Bike Park and alternated laps on them, eventually finding that the Hightower LT carried speed more efficiently in fast, straight, and rocky sections of the park — a trait I would attribute to the bigger 29" wheels.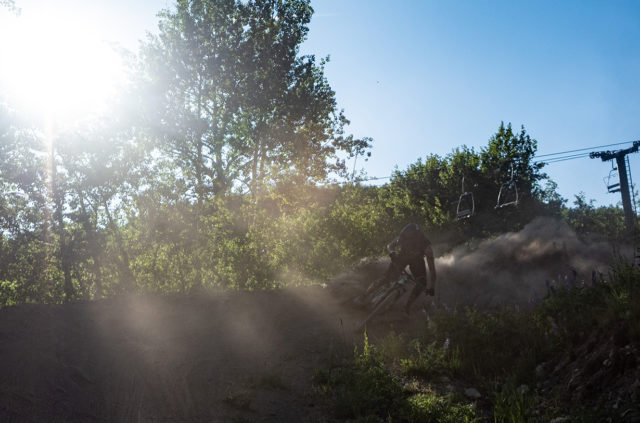 It was clear that the Hightower LT was made to go downhill – fast. The big wheels love to roll over everything, and the ample suspension backs them up very nicely. On the Hightower LT I feel okay going into rock gardens with a little bit more speed than I am comfortable with, and the only other comparable bike I've ridden that has felt more capable in big rock gardens has been the Version-4 Santa Cruz Nomad (in production 2017 – present, as of July, 2019), which has 170 mm travel front and rear and a longer wheelbase. That said, the Hightower LT's big wheels felt faster overall, as the Nomad has 27.5" wheels.
The Hightower LT is also no slouch when it comes to air time; it feels great popping off of roots, rocks, and rollers. It also handles the landings well, so if you are like me and often miss landings, case, and huck-to-flat, the Hightower LT has your back. The bike also feels very nimble and trickable in the air. Despite the big wheels, the Hightower LT feels at home on jump trails and dirt jumps, which I think is a big part of what makes this bike stand out from other ~150mm-travel 29ers.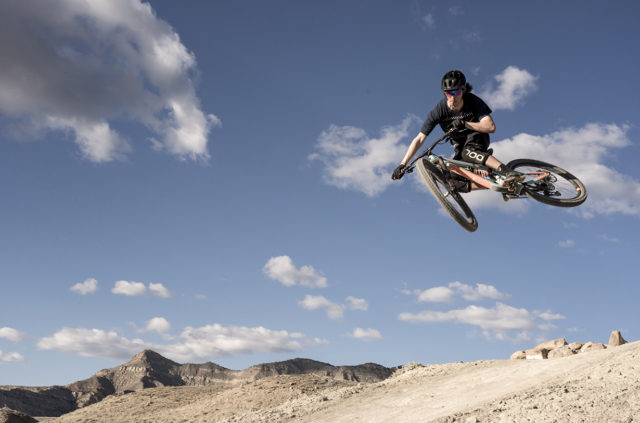 Over the past five months, I've found the Hightower LT to be very enjoyable no matter the terrain, which is what makes it stand out to me. Coming from the Bronson — a bike I loved for how poppy and playful it was — I was uncertain whether the Hightower LT would deliver in this category. But after my first couple of rides, I was very impressed by how similar it felt to the 27.5" Bronson in this regard, especially compared to other long-travel 29ers I have ridden.
One area where I found the Hightower LT's handling a little less than ideal was in rooty, rocky corners. It mostly felt a little uncertain in off-camber turns, especially chunky ones. The Hightower LT doesn't feel quite as planted as I would like in order to take loose or imperfect corners as fast as I can. However, based on my time on other bikes, this seems to be a common issue for me with 29ers. Many bikes with 27.5" wheels feel better to me when taking on weird, loose corners, and I feel like the Hightower LT is on-par in this regard with to other bikes in the longer-travel 29er category. (I've had similar experiences in off-camber, loose corners on other 29ers like the Yeti SB5.5, Trek Slash, and Specialized Stumpjumper 29.)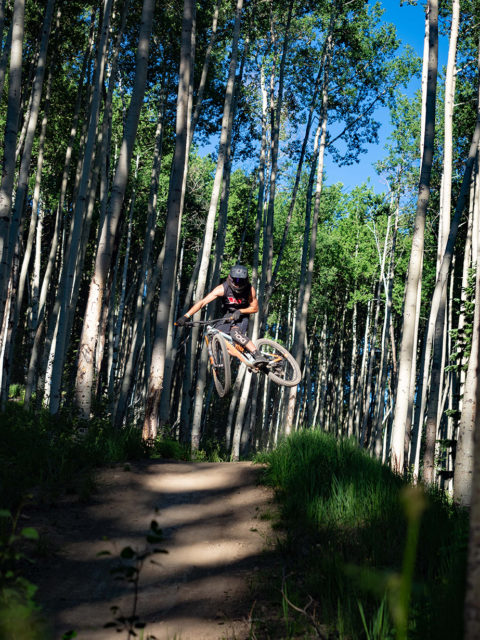 Air vs. Coil Shock
As far as the air vs. coil debate, after using both, I'd suggest air for most people. Santa Cruz designed this bike to work well with air shocks, and it does. If I got this bike again, I would use a Fox Float X2 rather than a coil shock. In my opinion, most people will enjoy air more than coil on the Hightower LT. Air shocks are easier to tune, lighter, and more practical for this bike — it was difficult to get the coil to feel the way I wanted it to. This mostly comes down to personal preference, so if you can, trying both will give you a better understanding of what works for you.
Climbing
When I buy a bike, I usually go for something that has all the downhill capability I am looking for, and I am not too worried about getting something that can zip up climbs. The Hightower LT has good anti-squat suspension that doesn't take all your energy away with each pedal stroke – better than many bikes in its class that I have ridden. I also have a "climb switch" on my rear coil shock that adds low-speed compression damping. The only time I use this is for climbing up dirt and paved roads or any other very smooth and consistent climb. For everything else, I leave it open; I don't feel it is needed.
That being said, climbing isn't this bike's strong suit. A slack seat tube angle makes extended steep climbs very difficult – I find myself wishing I was a bit further over the cranks so I could put the power down when needed. The front end also tends to wander on those technical, punchy sections, and I find myself putting a foot down often. The bike is also not very light for its class — you can feel it on the way up. So if climbing is a priority for you, I'd check out some of the other options in our 29er and 27.5 Trail Bike Guides.
Durability and Maintenance
After a full season's worth of riding, I have had no issues with my Hightower LT CC frame. I am very satisfied with this, considering I ride it at lift-served parks several times each month.
That said, I am a freak when it comes to maintaining my bike. I will carefully lube, true, and bolt-check my bike before each ride. I will spend up to an hour meticulously cleaning it and re-greasing bolts. Add some frame protection and electric tape to this, and my frame looks nearly new — free of creaks and scratches, except a few small nicks around the rear triangle.
Who's It For?
If your idea of a good ride means getting loose, spending time in the air, and pushing your limits of speed and line choice, the Hightower LT is worth a look. It also has fairly good climbing capabilities for getting you to the top of your favorite downhill or the next stage of your Enduro race.
But again, if climbing performance is a priority for you, there are better options out there — most of which have less travel. So be prepared to sacrifice some uphill capability for forgiveness on sketchy lines on the way down. It's not that I think this bike is radically worse than any bike in its class when it comes to climbing, but its forte is definitely descending.
So, why would you get a Hightower LT over the growing options of longer-travel 29ers out there? For me, it was the combination of big-terrain capability and playfulness. This balance between rock-crushing ability and poppiness was something I haven't yet found in other bikes in the longer-travel 29er category.
I don't always take the fastest lines on the trail; most of the time I'm looking for fun gaps and transitions. The Hightower LT seemed to be more fitting in this regard compared to other big 29ers. It felt poppier, more lively, and more playful — all while still sucking up impacts pretty well for a ~150mm-travel bike.
Bottom Line
The Hightower LT is still a competitive option in the Trail / Enduro category, and it is best suited for long, technical, fast descents.
There are certain bikes out there that are more playful than the Hightower LT, and there are bikes that climb better. But if you're looking to go fast, get in the air, and push your limits of descending inside and outside of the tape, the Hightower LT is still very much worth a look.
And keep an eye out for our upcoming reviews of the new 2020 Megatower and redesigned Hightower, where we will discuss the difference between these new bikes and the Hightower LT.