WTB Ranger 2.4
Stated Size: 29" x 2.4"
Measured Dimensions (on a 25.5 mm internal-width rim):
Knob width: 62 mm (2.44")
Casing width: 58 mm (2.28")
Casing: WTB Light
Rubber Compounds:
Front: WTB High Grip
Rear: Fast Rolling
Blister's Measured Weight:
High Grip: 1078 g
Fast Rolling: 1055 g
Mounted to: Spot Rocker 29 / Stan's Flow EX rims
Recommended for: XC / Trail
Stated Features:
Multidirectional siping provides increased traction whether accelerating, braking or cornering.
Well-spaced lugs clear out quickly in wet conditions.
Lightweight, rounded casing conserves energy and feels quick to respond.
MSRP: $72.95
Rider: 5'10", 143 lbs
Test Location: Northern California
Test Duration: ~3 months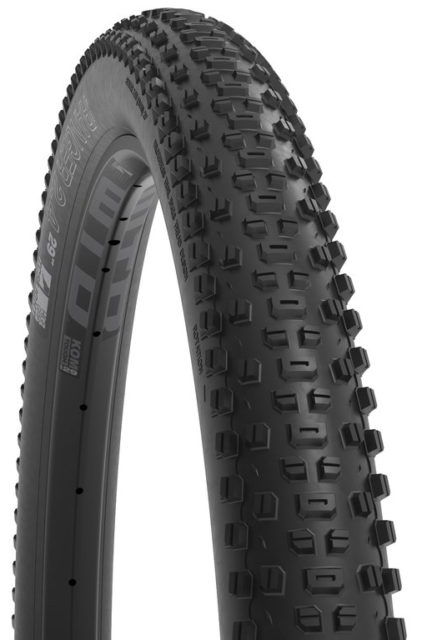 Intro
WTB's Ranger tread has been around for a few seasons now as a 2.8" or 3.0" plus tire. It's remained a fairly popular choice for the plus category, offering large-volume, fairly predictable grip in a wide range of conditions.
Last year, WTB rolled out new versions of the Ranger in more traditional 2.0", 2.25", and 2.4″ sizes. While they clearly look similar, it's fair to say that these narrower Rangers are pretty different beasts compared to their bigger siblings. WTB positions the 2.0" and 2.25" versions as appropriate for XC racing, while the higher-volume 2.4" version that I tested is aimed squarely at the ever-growing XC / Trail segment.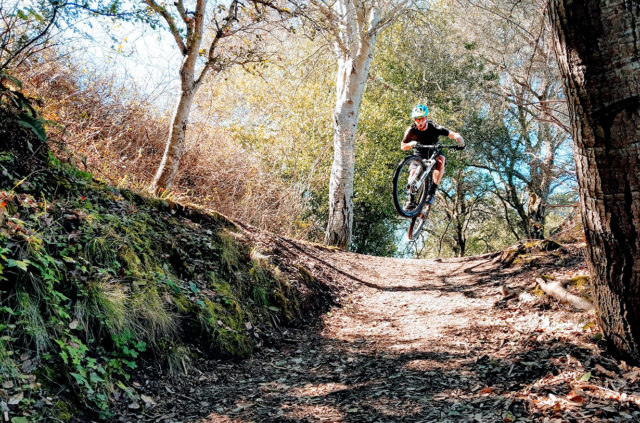 Design and Construction
Overall, the Ranger 2.4 uses a pretty orthodox tread design. Two rows of low-profile, angled knobs run along the center of the tire to keep rolling resistance low, while taller side knobs stay out of the way in a straight line, but engage in corners when the bike is leaned over aggressively. A row of transitional knobs occupies the space between the center and side knobs, offering some support in moderate cornering situations. Every knob on the tire is siped.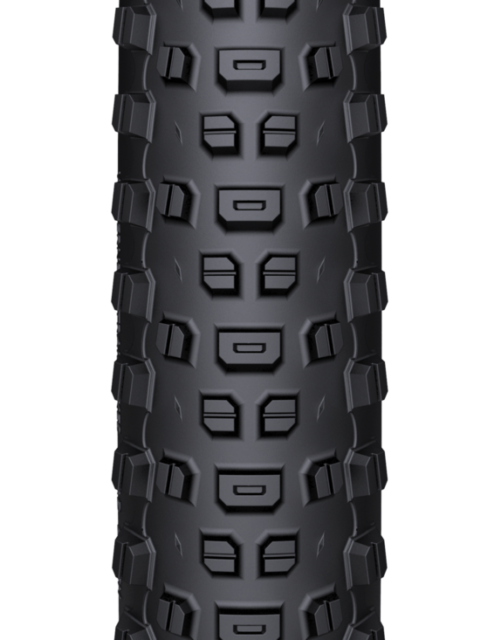 Like pretty much all of WTB's offerings, the Ranger 2.4 is offered in two casing constructions (Light and Tough) and two rubber compounds (High Grip and Fast Rolling). Since I was putting these tires on my fairly XC-oriented hardtail, I ran the High Grip compound on the front and the Fast Rolling on the rear, and opted for the Light casing on both ends.
That said, at 1078 and 1055 grams and for the High Grip and Fast Rolling compounds, respectively, the "Light" casing Ranger 2.4 really isn't all that light. This is a bit surprising, given the tire's XC / Trail positioning in WTB's lineup. However, it's worth noting that the 2.25" version of the tire comes in at sub-800 grams in a 29" diameter, so more weight-conscious riders can still get in on the fun.
For more on tire designs, different casings, and rubber compounds, check out our Tires 101 article.
Mounting and Setup
The Ranger 2.4 felt extremely tight when prying it onto a Stan's Flow EX rim. Having tried this in the past with other WTB tires and Stan's rims, this is pretty typical. Regardless of which casing I've used, WTB beads have always taken some serious aggression to mount, which theoretically should help them resist burping air when it comes time to load the bike up and slap a corner.
Once the Ranger 2.4 was on the rim with a bit of sealant in it, it was a breeze to get seated. I haven't tried this with this particular rim / tire combo, but it's such a tight seal that you could probably even get it to mount with an air compressor and no sealant.
The Ride
Rolling Resistance
With any XC-oriented tire, minimizing rolling resistance is the name of the game, so we'll start there.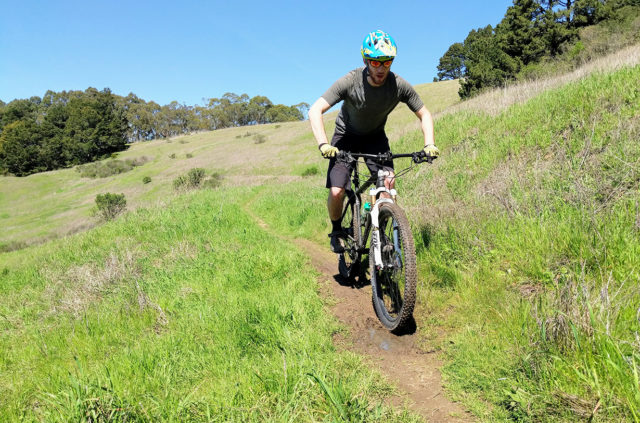 The low-profile knobs on the center of the Ranger worked as desired. The Fast Rolling / High Grip combo that I tested had no problem holding speed on gravel, hardpack, or asphalt. In an unscientific attempt to quantify this, I'd say that the Ranger 2.4 rolls noticeably faster than a WTB Trail Boss, and maybe a tiny bit slower than Maxxis Ikon.
Braking
I'd rate braking traction on the Ranger 2.4 as acceptable overall. In a straight line on hardpack, the tire's relatively minimal center knobs do great. Grab a lot of brake on something chattery or loose, and it's pretty easy to start skidding.
Still, the tires never did anything weird or scary, so I can comfortably say that the braking traction is manageable, once you learn its limits.
Cornering
Speaking of limits, I found mine early on in the test while taking way too much speed into a flat gravel corner, emboldened after a big weekend on the Enduro bike (and much nobbier tires). Well, it turns out a fast-rolling XC / Trail tire doesn't hook up quite like a 2.5" Minion DHF. Surprising, right?
In all seriousness, the cornering traction the Ranger 2.4 offers is commendable given its intended use and low rolling resistance. My confidence in the tire increased throughout the test, to the point where I was hitting corners at speeds that I usually reserve for bigger bikes and knobbier tires. I can't say I've been this happy in corners with other fast-rolling treads, notably the Maxxis Ikon.
The heavily rounded profile of the Ranger's casing means that it needs full commitment to really get the side knobs engaged. For beginner / intermediate riders who are still working on getting a bike leaned over in corners, the Ranger 2.4 isn't going to offer the most confidence-inspiring ride. Those who utilize some better technique and aggression will be much better off when it comes to engaging its side knobs in corners.
Some tires have a larger, more controllable sweet spot that makes them genuinely fun when oversteering into corners, and I never really found that with the Ranger 2.4. The tire still drifts, just less predictably than I would have liked. Ride smoothly and corner to optimize your exit speed, and you'll be better off. Again, this fits well with the tire's XC leanings.
Intended Use
Unsurprisingly, I found myself most at home on the Ranger 2.4 on fast hardpack trails — the kind where a fast-rolling tire allows you to squeeze more out each pedal stroke as you sprint out of corners. On gravel, damp singletrack, or wet roots, the Ranger 2.4 also does quite well, rolling fast without doing anything scary or unpredictable where traction is lacking.
If you're doing a lot of riding on deeper gravel, sloppy mud, or really any softer surface, you'll likely want to opt for something with taller knobs, at the cost of some added rolling resistance.
Durability
So far, the Ranger 2.4 has held up great. No punctures to report, with the caveat that the majority of my riding on the tire has been on a mix of flowy and rooty singletrack without a ton of sharp rocks.
The tread is showing some wear, but nothing surprising or concerning after around 3 months of sliding around on them.
Bottom Line
The Ranger 2.4 retains most of the fast-rolling intentions of a true XC race tread, but in a volume that makes more technical Trail riding fun. The Ranger 2.4 certainly shines on dusty or hardpack trails, and aside from deepest mud and loosest gravel, there wasn't really any condition where the tire felt completely out of its element. So for Trail riders who cover a lot of ground on primarily dry, primarily hardpacked trails, the Ranger 2.4 is worth a good look.
And while we haven't yet spent any time on the Ranger 2.4's narrower siblings, I'd be willing to bet that the lighter, skinnier Ranger 2.0 and 2.25 would be great options for many race courses.