Hayes Dominion A4 Brakes
Blister's Measured Weight:
Front, uncut hose: 291 g (no adapter or rotor)
Rear, uncut hose: 326 g (no adapter or rotor)
MSRP: $230 per brake, without rotors or adapters
Bolted to: Guerrilla Gravity Smash and Guerrilla Gravity Gnarvana
Reviewer: 6', 170 lbs / 183 cm, 77.1 kg
Test Locations: Washington, Oregon
Test Duration: ~6 months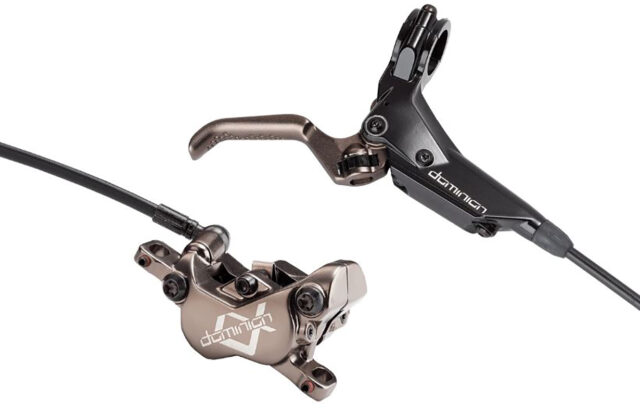 Intro
Hayes was one of the first brands to offer a hydraulic disc brake for mountain bikes, and their HFX-9 and HFX-Mag brakes were everywhere in the early 2000s. Hayes lost the plot a little bit in subsequent years and their popularity waned, but after a hiatus from the mountain bike brake market, they're back with the Dominion line of brakes.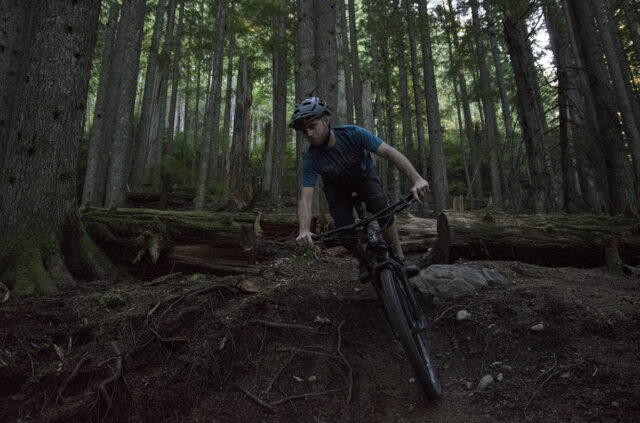 I've been testing their four-piston Dominion A4, a brake intended for Enduro and Downhill bikes, and it is outstanding.
Design
The Dominion family features three models: The A2, A4 (tested), and the recently released T2.
The A2 and A4 share the same lever but have different calipers, with two and four pistons, respectively. The A2 brakes are intended for XC and Trail bikes, with the bigger A4 brakes meant for use on Enduro and Downhill bikes.
The new T2 is essentially an A2 on a diet — the T2 gets titanium hardware, a carbon-fiber lever blade, aluminum-backed pads, a bit of extra machining on the caliper, and it loses the tool-free reach adjustment. That gets you a stated weight savings of 50 g per brake (and a price increase of $60 per wheel).
The Dominion family of brakes all use DOT 5.1 fluid and feature newly revised, Kevlar-wrapped hoses that Hayes says are stiffer than before, reducing sponginess in the brakes by reducing their expansion under pressure.
At the lever end, the Dominion A4 brakes that I've been testing feature a symmetric lever body (no need to swap hoses depending on your preferred brake orientation); a tool-free reach adjuster; and a split clamp with options for SRAM Matchmaker and Shimano I-Spec II compatible mounts, in addition to a conventional standalone clamp (tested).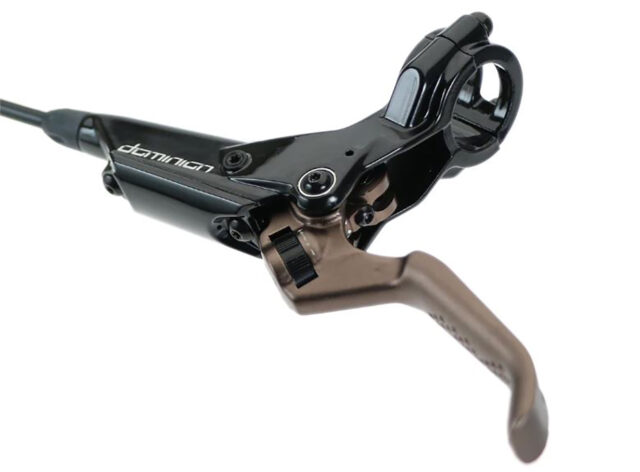 There's notably not a contact-point adjustment (at least not a typical one), since Hayes argues that they're a bad idea, and I couldn't agree more. I'll explain (but if you don't feel the need to get into the nitty gritty, keep scrolling).
Modern hydraulic disc brakes for bikes operate on a semi-open system, meaning that the lever features a reservoir of "extra" hydraulic fluid that's connected to the brake line when the lever isn't being squeezed. This allows them, in part, to compensate for things like pad wear and thermal expansion of the brake fluid, as well as having a greater volume of brake fluid available to better transfer heat out of the system. When you squeeze the brake lever, the lever piston moves past the hole connecting this reservoir to the brake line (called the "timing port") and closes it off. Only once the timing port is closed does the brake start to move fluid through the hose to the caliper, and build pressure to provide braking force. You can see the timing port of the A4 in the cutaway image below — it's the little, tapered hole at the edge of the lever seal (black) in the bottom right corner.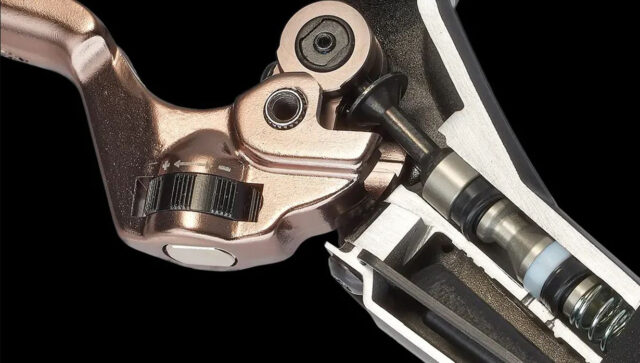 Contact-point adjusters work by changing the distance between the seal and the timing port when the lever is at its resting point (i.e. not being squeezed). Of course, they can't move the seal past the timing port, or the brakes wouldn't operate properly — they can only open up a gap between the two. What that means is that contact-point adjusters create a section of the stroke where the brake doesn't do anything. Until the timing port is closed off, all that squeezing of the lever does is push fluid back into the reservoir in the lever, rather than down the line and to the caliper, since it follows the path of least resistance.
Contact-point adjusters tend to get marketed as letting you set the position that the brake lever engages, but I'd argue that reach adjusters already do that. And since a contact-point adjuster can only make the total lever stroke longer than the "default" position, all they can do is push the starting point of the lever farther out from the bar, at a given final bite point.
The Dominions do, technically, feature a contact-point adjuster, but it's not meant to be changed by the user. Rather, it allows the factory to fine-tune the position of the seal to set it as close to the timing port as possible, to compensate for manufacturing tolerances and so on. Hayes argues, and I agree (for the reasons stated in the previous paragraph), that there's no good reason to move it from there. But if you absolutely insist on backing it off, there is a small screw hidden behind the lever blade to fiddle with.
The Dominion A4 does feature a tool-free reach adjuster. I tend to prefer a simple screw for reach adjustment, since reach tends to be pretty set-and-forget as long as your brakes are working properly. And tool-free adjusters tend to be bulkier, heavier, and more exposed to being damaged in a crash, but the Dominion's version is quite neatly integrated into the lever blade.
Speaking of the lever blade, Hayes goes so far as to offer two versions of it — the "Standard" version, and an "SFL" or "Small Finger Lever" version, meant for riders with smaller hands who run their levers closer to the bar.
I tested the A4 brakes with the standard lever and it is substantial, with a fairly large, flat, dimpled face and a deep hook that a single finger nestles into securely. The lever pivots on a pair of sealed cartridge bearings and has remained smooth and free of play in my time with the brakes. I wouldn't mind if the lever blade was a little slimmer, with less of a broad, flat contact surface, but it's a minor gripe and didn't give me any real trouble. The SFL is thinner, shorter, and shaped to be run closer to the bar. The Dominion A4 brakes can be ordered with either lever blade installed, and both are also available aftermarket if you're inclined to experiment (or just happen to break one).
The Dominion A4 caliper is a mostly conventional design: two-pieces, four-pistons, and with a pivoting banjo fitting for the brake line to allow for adjustment of the hose routing. That said, it has a couple of unique features designed with serviceability in mind.
First, unlike most brakes, which have a single bleed port at the caliper, the Dominion A4 brakes have two (one on each side), which Hayes refers to as "2-Stroke." The idea is that the second port makes it easier to get every last air bubble out of the caliper, since the small passages between the two halves of a caliper can trap bubbles, and having a bleed port on each side makes it easier to draw them out. It's a great idea, and, of course, you don't necessarily need to use both — you can always do a more standard bleed procedure through one of the ports, but the other one is there if you need it.
The A4 caliper also features what Hayes calls "Crosshair Caliper Adjustment," which is, in essence, a pair of set screws on the brake-mount tabs that push against the brake mounting bolts and make it easier to fine-tune the caliper alignment. If you back off the screws, push the caliper inboard with one hand, and then tighten the screws with the other, you can accurately align both ends of the caliper and then tighten down the main mounting bolts to secure it. It's a simple system that works well, and makes fine-tuning the caliper alignment much easier.
The Dominion A4 uses a proprietary pad shape with an exceptionally large surface area — they're notably bigger than even Shimano Saint or SRAM Code pads, and they should theoretically help with heat management.
Aftermarket versions of the Dominion A4 brakes come with two sets of brake pads, in sintered metallic (Hayes calls these "T100") and semi-metallic ("T106") versions. I tend to prefer metallic pads to organic and semi-metallic versions since metallic pads generally offer more power and better wet-weather performance, at the expense of a bit of noise and sometimes a little less modulation. This held true for the Dominion pads as well, though the semi-metallic T106 pads do have better than average wet-weather performance for a semi-metallic offering, and greatly exceed most organic pads on that front.
As with most metallic pads, the T100 sintered pads do work best when they're warmed up a little bit — braking power does suffer when they're truly cold. But I've found the dropoff to be well within the normal range, and they've been quick and easy to get up to temperature, even in fairly cool ambient temperatures, with a 203 mm front / 180 mm rear rotor combo.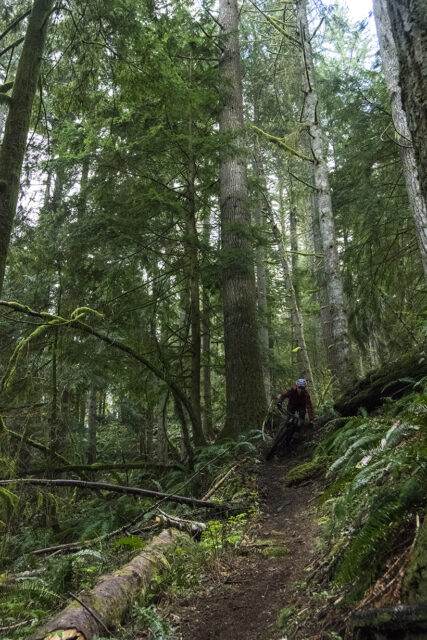 I did notice a little quirk of the T100 sintered pads. On a few occasions, when I'd been riding an extended, steep descent and gotten the brakes quite hot, if I took a short break but resumed riding before the brakes had a chance to properly cool down, they'd make a lot of noise and offered significantly reduced performance the first time I really got on them hard after resuming riding, which I'd attribute to them glazing over slightly. They'd quickly settle back in and resume normal performance, and despite that slight downside, I generally prefer the T100 pads for their overall improved power.
To go with the Dominion brakes, Hayes released a revised rotor design, which they call D-Series. The D-Series rotors are 1.95 mm thick and are available in 160, 180, and 203 mm diameters with six-bolt mounting. Hayes says their geometry has been carefully designed to mitigate noise and vibration, and apart from the brief bursts of noise when resuming riding on hot brakes described above, they've been fairly quiet overall, including when wet.
On the Trail
The lever feel of the Dominion A4 brakes is exceptionally light in the early stroke and ramps up quickly and firmly upon reaching the bite point. The A4's total lever stroke is, if anything, slightly on the shorter side for a big, four-piston DH brake. DH-oriented brakes often have slightly longer strokes than lighter-duty brakes, due to the higher leverage ratio required to get more power from the brakes. I absolutely love the lever feel on the Dominion A4. I generally prefer brakes with short strokes and firm bite points, and the A4 perfectly hits the mark in those regards.
The A4's feel is much closer to Shimano Saint brakes than SRAM Code brakes (Codes have a much more linear and gradual ramp-up in firmness). Preferences on lever feel are undeniably subjective, and riders who have found themselves getting along better with brakes with a less abrupt bite point might not be best served by the Dominion A4. But for my preferences, they're fantastic.
Where the lever feel of the Dominion A4 really differs from Shimano Saints (and Shimano brakes in general) is in terms of consistency. As has been noted widely (by myself and others) for years, Shimano has really struggled to get their brakes to maintain a consistent bite point. I've gotten along well with their recent four-piston brakes (having mostly spent time on Saint, XT, and XTR brakes) when they're relatively new and working well. But they've inevitably developed issues with the bite point wandering at random after a period of hard use. Going in for a quick stab of brake and having it go to the bar is, to put it mildly, disconcerting, and I've given up on running Shimano brakes on my personal bikes for that reason.
The Dominion A4, on the other hand, has been absolutely dead consistent in my time with them so far. And apart from a quick lever-end bleed when I trimmed the hoses upon installation, all I've had to do to them is swap pads as they've worn out.
Compared to Shimano Saints, the top-end power of the Dominion A4 is a touch less strong, but only just. And while the lever feel between the two is fairly similar in terms of a light initial stroke (the Dominion A4's is even lighter) with a quick transition into a firm bite point, the power delivery of the Dominion A4s is notably more linear. Though the A4's bite point hits hard in terms of lever feel, the power doesn't come on in such a binary on / off manner. Extremely sensitive modulation doesn't tend to be at the top of my list of priorities when it comes to brakes — I'm far more likely to find a brake lacking in terms of outright power than modulation. But the Dominion A4 is definitely easier to modulate than Saints, especially when using the A4's semi-metallic T106 pads. And while we've had generally good luck with several pairs of SRAM Code RSCs from a reliability standpoint, the Dominion A4s clearly beat them when it comes to outright power.
Durability has been good on other fronts as well. I don't think I've hit the levers massively hard in my time with them, but I have crashed with them a number of times, and apart from some minor cosmetic scuffing, they're no worse for the wear. I was recently on a ride with K2 / Line Skis designer Jed Yeiser, where he crashed and broke one of his own Dominion A4 levers at the clamp. But we were able to cobble it together well enough with a Voile strap to be useable, and Jed has a documented history of finding creative ways to break things (skip to 13:24 for the relevant bit), so I'm not inclined to hold this one against the brakes.
Bottom Line
Put simply, the Hayes Dominion A4 brakes are my current benchmark for a burly, four-piston Enduro / Downhill brake. The lever feel is outstanding (especially for my preferences), power is abundant, and they've been completely reliable and consistent throughout six months of hard use. They're a bit heavy and probably overkill for lighter Trail duty (Hayes offers the Dominion A2 and T2 for that role). But for longer-travel bikes and / or bigger riders that need serious braking power in a reliable package, the Dominion A4 is excellent.