2020 Yeti SB130 T1
Size Tested: Large
Geometry: See Below
Build Overview (T1 Build):
Drivetrain: Shimano XT M8100 12 speed
Brakes: Shimano XT M8120 4 piston
Fork: Fox Factory FIT4 36 
Shock: Fox Factory DPX2
Wheels: DT Swiss M1700
Wheel Size: 29"
Travel: 130 mm rear / 150 mm front
Blister's Measured Weight: 30.375 lbs / 13.78 kg
MSRP: $6,799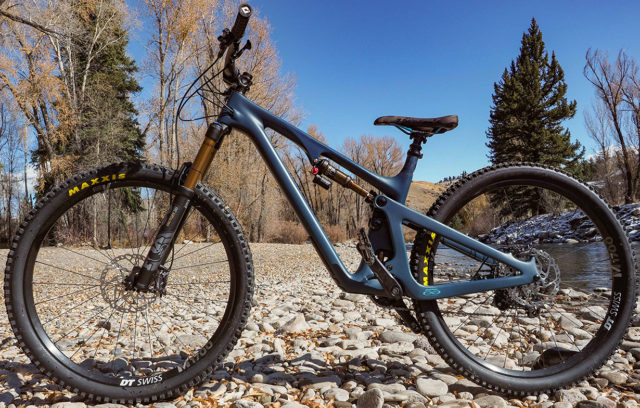 Intro
We're finally getting time on the SB130, Yeti's 130mm-travel 29er Trail bike, and will soon be posting our initial on-trail impressions. But in the meantime, we wanted to talk a bit about the specs of the bike, what sets it apart from the crowded field of ~130mm-travel Trail bikes, and what we're most excited to find out about the bike.
Yeti says this about the SB 130: "The rebel yell of the middle child. Fed a steady diet of super-tech climbs. The SB130 was built to crush the biggest terrain. No trail 'too' anything. Point it up or down. Enter a last-minute enduro just for the eff of it. We say no one bike can rule all. But the SB130? One bike that rules."
Weird syntax aside, they seem to be positioning the SB130 as a versatile bike that can cover a lot of bases, which makes sense for a mid-travel bike with modern geometry.
While it's not a totally apples-to-apples comparison, the SB130 could be thought of as a 29er replacement for the SB5 (at least in terms of how Yeti markets both bikes), which we reviewed and found to be a capable all-arounder, but one that was a bit more game-on and less cushy than some other bikes in the class. Compared to the SB5, the SB130 gets a slightly more progressive leverage curve, a slacker headtube angle (65.5° vs 66.5°), a longer reach (by ~25 mm, depending on size), and slightly shorter chainstays. That should change the balance and character of the bike significantly – the front center got much longer, while the chainstays lost a few mm – so we're excited to see how the SB130 compares.
The Frame
Yeti debuted their SB – as in "Super Bike" – series of bikes with the SB66, in 2011. The defining feature of the line is Yeti's patented "Switch Infinity" suspension linkage, a design that features a lower link that reverses the direction of travel in the middle of the stroke. The result is, in effect, a linkage-driven single pivot, but one where the main pivot location moves up and down slightly as the bike cycles through its travel. Or you could think of it as a parallel link design, a-la the DW-Link design, but with a lower link that reverses its direction of rotation mid-stroke.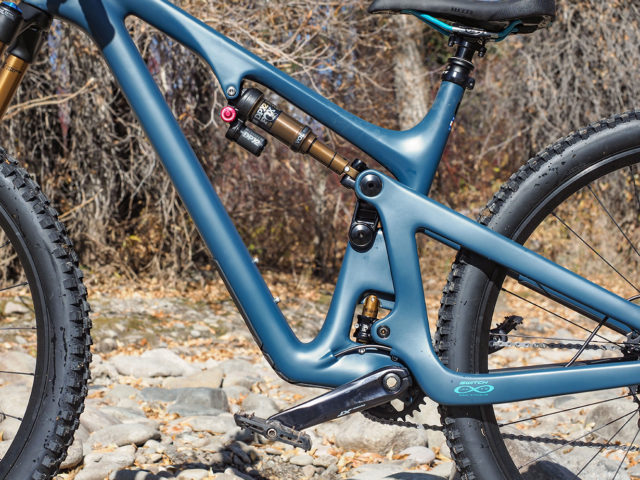 Yeti offers the SB130 only with carbon frames (amusingly, the page for the SB130 on the Yeti website features a welding photo as one of the background images), but with two varieties of carbon layup. The base "C" carbon frame is offered on the three least-expensive complete builds, and the higher-end "Turq" frame comes in a couple hundred grams lighter, and is specced on the higher-end builds, as well as the frame-only option.
The SB130 uses internal cable routing all around, a press-fit BB92 bottom bracket, and ISCG '05 tabs. The downtube features a large rubber guard, which includes a port with a bolt-on cover just in front of the bottom bracket to help make cable routing easier, and a water bottle can be mounted down low inside the front triangle.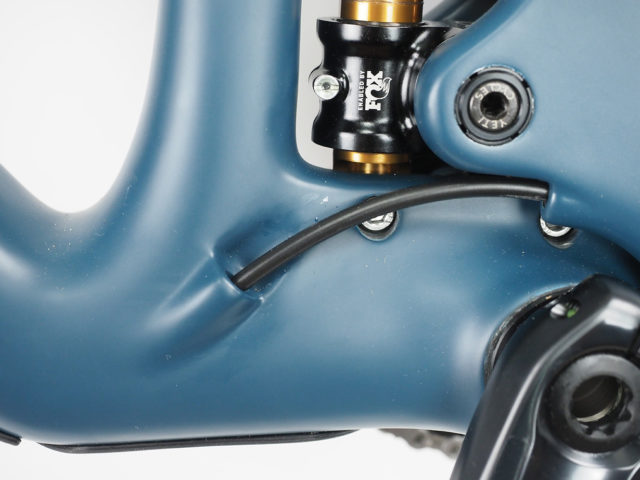 The leverage curve of the SB130 is moderately progressive — roughly 2.6:1 to 2.3:1, which is considerably less progressive than the Santa Cruz Hightower or Specialized Stumpjumper, but more progressive than the Ibis Ripmo. The SB130's leverage curve is also pretty straight, without any weird inflection points to tune around. Its anti-squat values are a little over 110% through the first 40% of the travel, and then fall off dramatically from there – a setup that should result in solid pedaling performance, with a bit better than average decoupling of suspension action from the pedals deeper in the travel.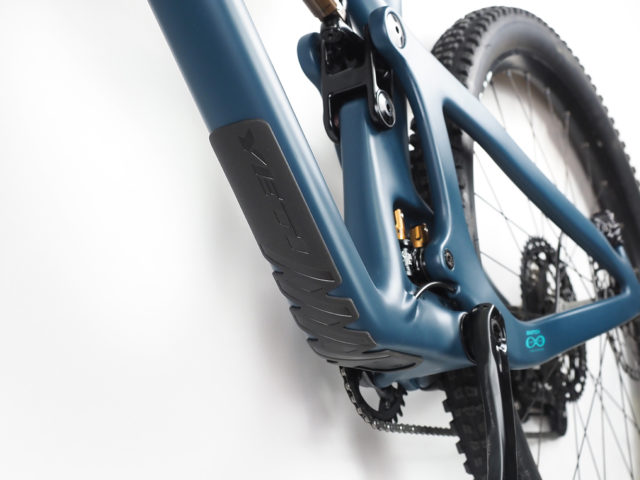 The Builds
The SB130 is offered in seven complete builds, starting with the C1 that's equipped with a Sram GX drivetrain and Fox Performance 36 and DPX2 suspension for $5399. At the top end, there's the T3 build that comes with a Sram XX1 drivetrain and Fox Factory suspension at $8199. We're testing the mid-spec T1 build, with a Shimano XT 12-speed drivetrain and XT brakes, and a Fox Factory 36 Fit4 and Factory DPX2, which retails for $6799.
Yeti also offers two "LR" (stands for "lunch ride") builds for the SB130, the CLR and TLR, which bump up the rear travel to 137 mm via a longer-stroke shock, come with 160mm-travel forks, and include beefier brakes (Sram Codes) and tires (Exo+ casings, and a 2.4" DHR II rear tire in place of a 2.3" Aggressor). An SB 130 frame with a Fox Factory DPX2 (in the 130mm-travel size) goes for $3499.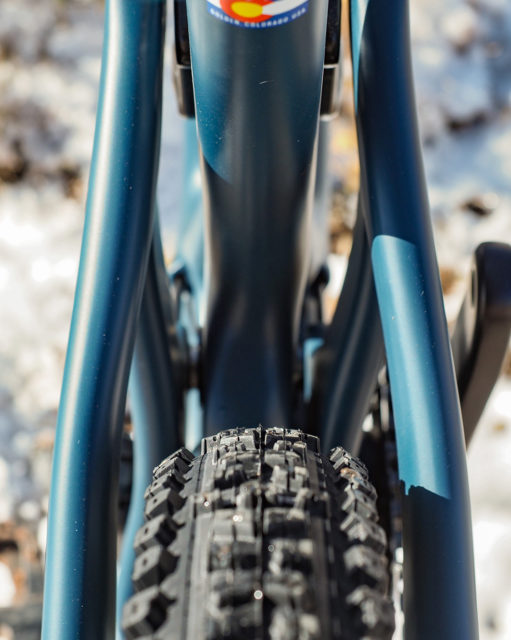 For reference, here are all the currently available SB130 builds and some of their most notable specs:
SB130 C1
MSRP: $5399
Fork: Fox Performance 36 (150 mm)
Shock: Fox Performance DPX2
Drivetrain: Sram GX Eagle
Brakes: Sram Guide R
SB130 C2
MSRP: $5999
Fork: Fox Performance 36 (150 mm)
Shock: Fox Performance DPX2
Drivetrain: Sram GX Eagle
Brakes: Sram G2 RSC
SB130 CLR
MSRP: $5499
Fork: Fox Performance 36 (160 mm)
Shock: Fox Performance DPX2 (longer-stroke version)
Drivetrain: Sram GX Eagle
Brakes: Sram Code R
SB130 T1
MSRP: $6799
Fork: Fox Factory FIT4 36 (150 mm)
Shock: Fox Factory DPX2
Drivetrain: Shimano XT
Brakes: Shimano XT
SB130 T2
MSRP: $7299
Fork: Fox Factory FIT4 36 (150 mm)
Shock: Fox Factory DPX2
Drivetrain: Sram X01 Eagle
Brakes: Sram G2 RSC
SB130 T3
MSRP: $8199
Fork: Fox Factory FIT4 36 (150 mm)
Shock: Fox Factory DPX2
Drivetrain: Sram XX1 Eagle
Brakes: Sram G2 RSC
SB130 TLR
MSRP: $7599
Fork: Fox Factory GRIP2 36 (160 mm)
Shock: Fox Factory DPX2 (longer-stroke version)
Drivetrain: Sram X01 Eagle
Brakes: Sram Code RSC
SB130 Frame-Only
MSRP: $3499
Shock: Fox Factory DPX2
Fit and Geometry
As with most modern bikes in the class, the SB130 features reach and seattube angle numbers that would have seemed quite long and steep (respectively) just a few years ago. The size Large SB 130's reach comes in at 480.2 mm and it offers an effective seattube angle around 77° on all sizes – with an unpublished, but steep actual angle to boot. The headtube angle sits at 65.5° across the board, and all sizes get 433 mm chainstays. The CLR and TLR builds' geometry is slightly different due to the longer fork, slackening the head angle to 65.1°, the effective seattube angle to 76.6°, and shortening the reach slightly to 475.6 mm (size Large).
All of this is is pretty conventional stuff for a contemporary Trail bike, and should make for a versatile ride. There are certainly more aggressive ~130mm-travel bikes out there, and others with more of an XC bent, but the SB130 looks to sit in a middle ground that should work well for a lot of riders.
For reference, here's the geo chart for the standard SB130 frame. You can find the geometry chart for the CLR and TLR versions here.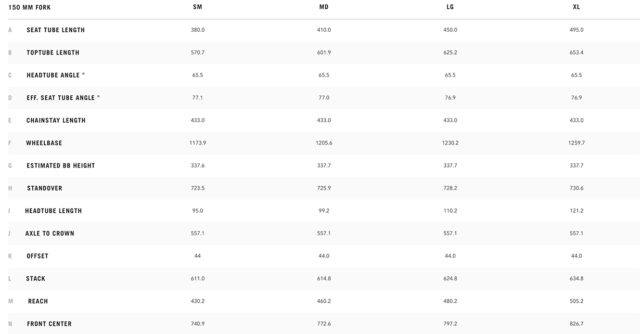 Some Questions / Things We're Curious About
What sort of riders are going to get along best with the SB130, and where does it fit into the range of mid-travel Trail bikes on the market? Does it punch a bit above its travel (especially given that it's a bit over-forked, at 150 mm of front travel), or does it feel like a conventional 130mm-travel bike?
How similar or different does the SB130 feel compared to the SB5 that it replaced? On paper, the geometry changes are significant, but not totally night and day, and Yeti seems to be describing them in similar terms.
How does the new Shimano XT 12-speed drivetrain compare to Sram's Eagle offerings?
Bottom Line (For Now)
The SB130 looks like a solid update to the old SB5, and one that should be appealing to a lot of riders. But how does it compare to the old bike, and the current crop of mid-travel 29er trail bikes? We're getting time on the SB130 over the coming weeks, and will soon be updating this review with our initial impressions.
Update, 11.12.2019
I've now got three days on the SB130, unfortunately in less than ideal conditions (it's starting to look more like ski season than bike season in Crested Butte…). So we'll need to do a lot more testing before we put together a full review, but for now, with the snow line closing in, here are some of my initial ride impressions of the SB130.
Fit and Geometry
At 6' 0" tall, I'm squarely in the middle of Yeti's recommended height range for a size Large, and I'd agree with that sizing for my height; at 480.2 mm, its reach is on the long side of average for a size Large, but a bit shorter than some other bikes I've been spending time on lately (notably my Nicolai G16, which has a reach of 500 mm). With a 50 mm stem, the sizing of the SB130 felt appropriate for a more nimble, mid-travel Trail bike.
Yeti's recommended sizing band for the Large goes up to 6' 3", but I think that most riders that tall will be better served by the XL. The recommended range for that size starts at 6' 1", so there's a bit of overlap. If you're in the overlapping region between sizes, I wouldn't be shy about bumping up, especially if you've got some time on longer modern bikes and have gotten along with that kind of geometry.
I wouldn't mind seeing the SB130 come specced with an 800mm-wide bar (which the TLR build does; all others get a 780 mm). It's easy to cut a bar down, but going the other way requires a swap, so going big makes it a little easier to set up to a rider's preferences. That said, the 780 mm is probably adequate for a lot of people on a Trail bike – I'd feel a lot more strongly about this on a longer-travel Enduro bike than I do with a Trail bike like the SB130.
The Ride
For a mid-travel 29er Trail bike with fairly progressive (i.e., long) geometry, the SB130 feels like it falls near the middle of the spectrum, from nimble / poppy to stable / hard charging. Its pedaling performance is respectable, but it's clearly set up to perform well on the way back down more than it wants to be a rocket ship under power. With the climb switch on the DPX2 disengaged, there was an appreciable, but not excessive amount of rear suspension movement under hard, seated pedaling efforts. Locking out the shock mitigated this a bit, but the DPX2 (at least in the tune spec'd on the SB130) doesn't have an especially firm climb mode — it firms things up a touch, but isn't anything close to a true lockout.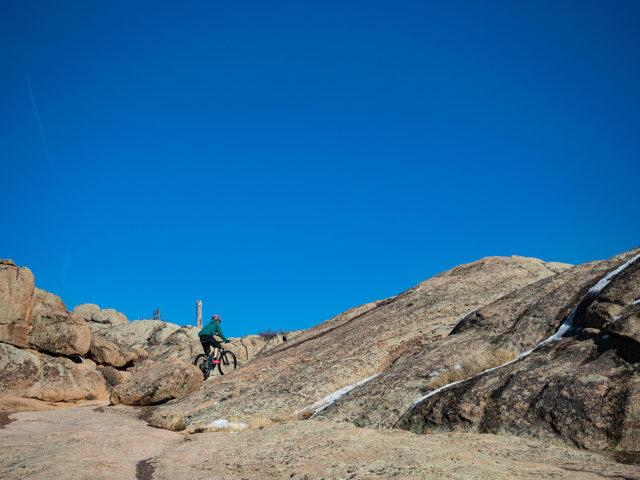 That said, I wouldn't characterize the suspension performance of the SB130 as being exceptionally plush, either. Mid-stroke support is solid, but the SB130 accomplishes this without a hugely progressive leverage curve, which makes the bike harsher on mid-size hits. I think it's a good balance between supportive and compliant for a bike in this travel range; riders looking for the most supple, easy-going Trail bike might be better off looking elsewhere, but the SB130 strikes a great balance of being able to be pushed hard, without being so demanding that it requires it at every moment.
The Fox Factory 36 Fit4 also performed well for the most part, though I wish the Grip2 damper was an option. Unfortunately, Fox doesn't currently offer the 36 in a 29er, 150mm-travel version (at least in aftermarket options), though I imagine that Fox could make one for Yeti since they're much more flexible when it comes to OEM products (e.g., Transition specs a 140mm-travel 36 with a Grip2 damper on the Smuggler, and Orbea specs a 150mm-travel 36 with a Grip2 damper on their Occam). Regarding the Fit4, I'm all for climb modes on rear shocks on Trail bikes, where they do make a significant difference in pedaling performance. But (1) front suspension movement under pedaling input tends to be much less pronounced than it is in the rear shock and (2) firming up the front suspension for climbing has the undesirable side effect of causing the fork to ride higher in its travel, making it harder to keep the front wheel planted on steeper climbs.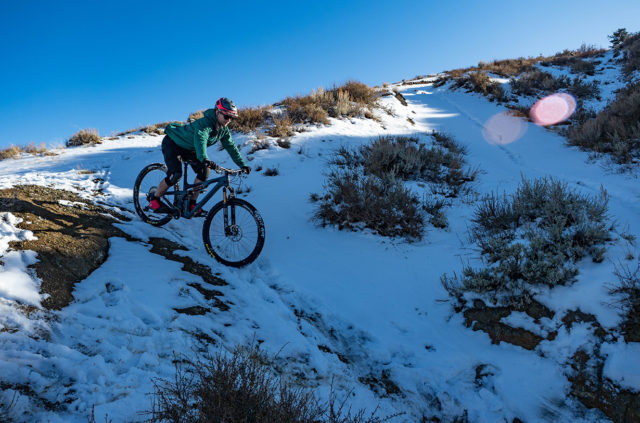 I didn't have many specific gripes with the Fit4 damper in my brief time on the SB130, but I was never tempted in the slightest to take the fork out of open mode, and so there'd be no real drawback (for me, anyway) to Fox offering the better performing and more tunable Grip2 damper for a bike like the SB130. (The TLR build does get a 36 Grip2 with 160 mm of travel; the other Turq builds come with the Fit4 fork, and the C builds all get a Performance version with the base Grip damper.)
The handling of the SB130, once again, felt like a good, versatile middle ground. It certainly doesn't offer the razor-sharp handling of a shorter, steeper bike, but feels much more composed at speed and on steep terrain than the most nimble, XC-oriented Trail bikes, while still being sprightly enough to be fun on more rolling, mellow terrain.
The Drivetrain
While we certainly don't yet have enough time on the Shimano XT 12-speed drivetrain to comment on its long-term durability, its shifting performance — especially under load — is impressive. Compared to Sram's Eagle offerings, shifter action is lighter, and the ability to upshift two gears with a single stroke is welcome.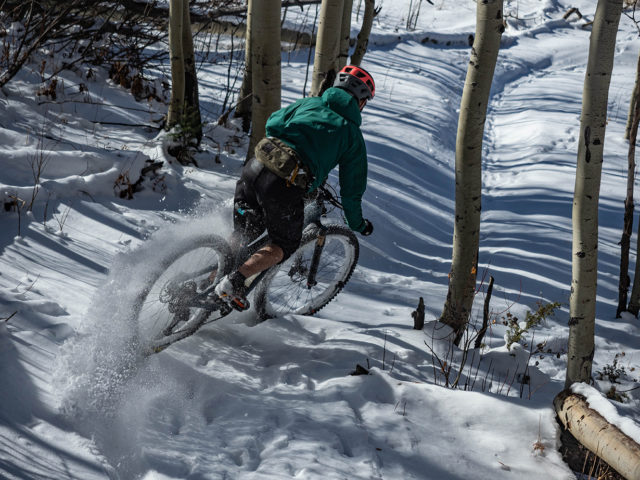 The only issue I had is that the unusually wide clamp of the XT brakes meant that the shifter needed to be set a touch further inboard than I would have liked, for optimal ergonomics. The brake lever's clamp sits unusually far inboard, and has a small nub that rests against the bar to reduce flex, just inboard of the grip, preventing the brake lever from being moved further out. Using the integrated iSpec shifter / brake mount might have taken care of this, but the SB130 wasn't spec'd as such. It wasn't a major issue, and the shifter wasn't far off from where I would have ideally placed it, but it did strike me as a surprising rough edge on what was otherwise a very well polished product. (Reviewer Banks Kriz has also been using the XT 12-speed drivetrain on the Trek Fuel EX, so we'll both be weighing in on it after we've spent much more time using these bikes.)
Bottom Line (For Now)
We'll be getting much more ride time and more reviewers on the Yeti SB130 to offer a more complete review, but my initial impression is that it's a very competent mid-travel Trail bike that would be easy to recommend to a lot or riders looking for a versatile 29er Trail bike, particularly for those who'd happily trade a little plushness for more poppy, supportive suspension. We'll be posting more updates once we're able to get more time on the bike, so stay tuned.