2022 Norco Range
Test Location: Washington
Test Duration: 2 Months
Size Tested: Large
Geometry: See below
Wheel Size: 29''
Frame: Carbon fiber
Travel: 170 mm rear / 170 mm front
Blister's Measured Weight: 38.4 lb / 17.4 kg (Range C2, Size Large, w/o pedals)
[Note: measured weight includes one CushCore Pro tire insert, which is not part of the standard spec.]
Reviewers:
David Golay: 6', 165 lb / 183 cm, 74.8 kg
Dylan Wood: 5'11'', 155 lb / 180 cm, 70 kg
MSRP:
Frame kit with Fox DHX2 Factory Shock: $3,799
Complete bikes: $5,599 – $8,999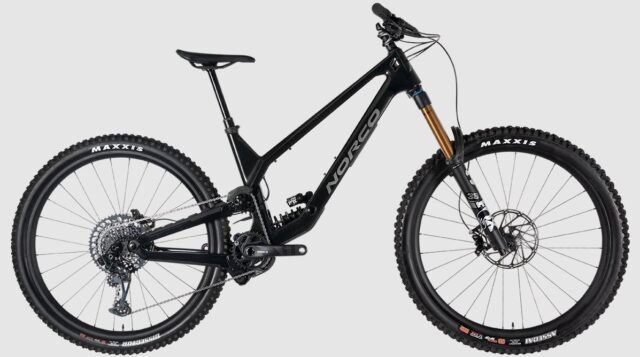 Intro
The Range has been a longstanding model in Norco's lineup, serving as their long-travel Enduro bike. It just got a major update, the highlight of which is a new high-virtual-pivot suspension layout. But there's a ton more that's new and interesting about the new Range, including size-specific geometry, size-specific suspension kinematics, and a whole lot more.
The Frame
The Range frame is offered in carbon only. Norco has historically offered both aluminum and carbon versions of many of their models but they say that the complex shapes required for the Range are better suited to carbon construction.
The biggest and most obvious change is that the Range has gone to a high-pivot suspension layout. It's essentially an upside-down Horst link arrangement, with the main pivot located high up on the seat tube and a rocker link near the bottom bracket actuating the shock. As you'd expect for a high-pivot bike, an idler pulley routes the chain upward between the crank and rear wheel in order to keep anti-squat and pedal kickback in check. [For more on high-pivot layouts in general, and the various suspension terms covered here, check out the "Suspension Kinematics" section of our Mountain Bike Buyer's Guide, starting on page 68.]
The Range gets 170 mm of rear-wheel travel from a 205×62.5 mm trunnion-mount rear shock, slung low in the frame to keep the center of gravity low. Norco specs all versions of the Range with a coil shock (and a high-end one at that), and say that air shocks aren't recommended. The Fox DHX2 and RockShox Super Deluxe coil are the only two officially recommended models, due to their fit through the shock tunnel being guaranteed, but Norco rider Lew Buchanan has been spotted riding a DVO Jade X on his Range, and other models may fit as well.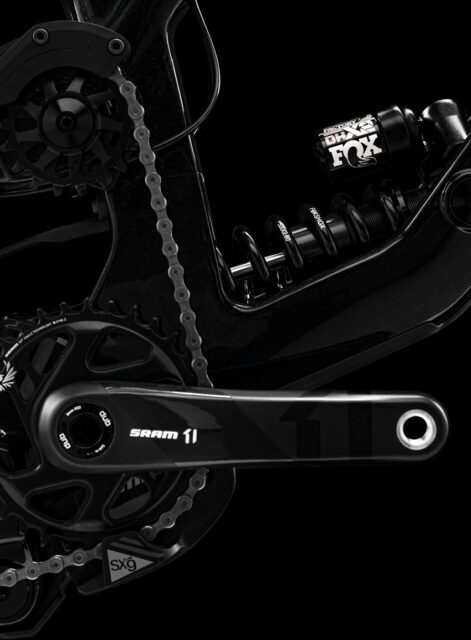 Cable routing on the Range is all internal and comes with options to run the front brake on either the right- or left-hand side. The lower two bosses of ISCG-05 chainguide tabs are included; with the high-pivot layout and idler pulley, an upper guide would be incompatible. The idler pulley does feature its own integrated chainguide and the seatstay includes a rubber guard to protect from chain slap. The Range features a BB92 press-fit bottom bracket shell, and the rear brake mount is sized for a 200 mm rotor. Rubber protection is added to the underside of the downtube and chainstays as well.
Norco doesn't publish suspension kinematic graphs for the Range, but say that they've tweaked the suspension layout across the size range to keep performance consistent for different-sized riders. The Range comes with different-sized dropouts to vary the chainstay length by size (more on that in a minute) and Norco also change the rocker link by size to compensate for the difference in swingarm length. There's room for a 750 ml water bottle inside the front triangle on all sizes, plus a second set of accessory mounts underneath the top tube.
Finally, complete versions of the Range come with single-crown forks, but Norco says that it's compatible with a dual-crown fork up to 180 mm travel, if desired.
Fit and Geometry
Varying chainstay length by frame size is an increasingly common tactic that we at Blister heartily endorse, but Norco takes things a step further by also tweaking the headtube angle by size. The Range is available in four sizes, from Small through Extra Large, with the latter getting a very-slack 63° headtube angle, which increases by 0.25° with each successive step smaller in size (i.e., 63.75° on the Small). Norco argues that, while slack headtube angles are great for high-speed stability, they can also make it harder for shorter riders to keep their weight over the front wheel, so varying them by size is Norco's attempt to strike a more optimal balance for riders of all sizes.
The Small and Medium frames both get already long-ish 440 mm chainstays, which bump up to 442.5 mm on the Large and 447.5 mm on the XL. Reach numbers range from 420 to 510 mm, in 30 mm increments between sizes. All of that adds up to wheelbases that vary from 1203 mm on the Small, through a massive 1329 mm on the XL; the Medium and Large come in at 1243 and 1285 mm, respectively. Here's the full geometry chart:
The seat tube angle on the Range is relatively steep, at 76.5 to 77.25 degrees (effective), and it's great to see Norco giving the larger sizes a steeper seat tube angle. It's fair to assume that taller riders will generally have more seatpost extension, and therefore a more rearward seating position for a given effective seat tube angle; going this route makes a ton of sense as a way to compensate.
All told, the Range geometry looks bang-on for a modern, very aggressive Enduro bike, and Norco seems to have put some real thought into the details of their size-specific geometry. It's a very compelling offering and one that we expect to be ultra-capable at higher speeds and steeper terrain.
The Builds
Norco offers the Range as a frame kit with a Fox DHX2 Factory rear shock for $3,799, or as one of three complete builds. Here's the breakdown of the builds:
Range C3: $5,599
Drivetrain: Shimano SLX shifter and rear derailleur; Deore cassette, chain, & crankset
Brakes: Shimano MT520 4-piston
Fork: RockShox ZEB
Shock: Fox DHX2 Factory
Wheels: Stan's Flow D rims w/ Shimano MT410 front / MT510 rear hubs
Dropper Post: TransX (S: 150 mm; M: 170 mm; L/XL: 200 mm)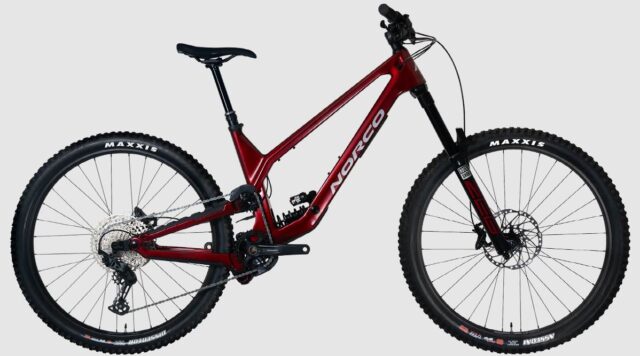 Range C2: $6,999
Drivetrain: SRAM GX Eagle
Brakes: SRAM Code R
Fork: RockShox ZEB Ultimate
Shock: Fox DHX2 Factory
Wheels: e*thirteen LG1 EN rims, w/ DT Swiss 350 hubs
Dropper Post: TransX (S: 150 mm; M: 170 mm; L/XL: 200 mm)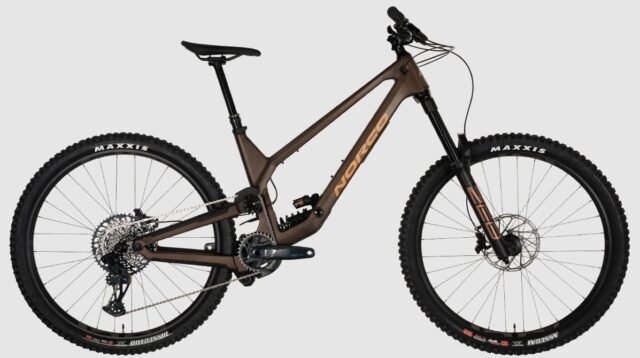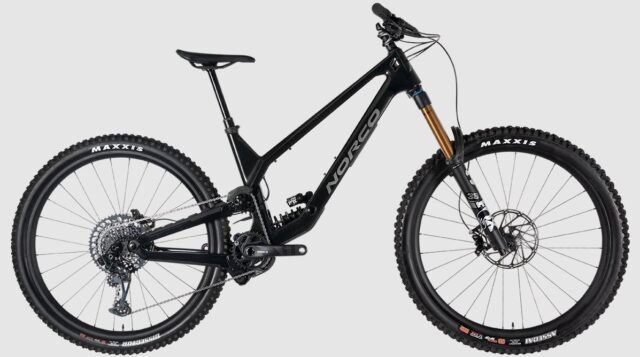 All the complete builds come with a custom MRP SXg chainguide, my personal-favorite DMR Deathgrip grips, and Maxxis Assegai front / Dissector rear tires (DoubleDown casings and 3C MaxxGrip rubber). It's great to see Norco including long-travel dropper posts on all sizes, as well as burly DoubleDown tires on a bike that's meant to be ridden as aggressively as the Range. The top-spec Fox DHX2 Factory rear shock is also a welcome offering on all three build levels.
Some Questions / Things We're Curious About
(1) How does the Range stack up in the increasingly competitive class of high-pivot Enduro bikes, including the Cannondale Jekyll and Forbidden Dreadnought?
(2) Who will be best served by these sorts of high-pivot bikes, and who might be better off with a more traditional offering?
(3) We don't doubt that the Range is going to be exceptionally capable at high speeds in rowdy terrain, but how will it feel on the way back up, and in more varied, rolling terrain?
Flash Review
Blister Members can read our Flash Review of the Range for our initial on-trail impressions. Become a Blister member now to check out this and all of our Flash Reviews, plus get exclusive deals and discounts on gear, and personalized gear recommendations from us.
Bottom Line (For Now)
The new Norco Range looks like an ultra-capable descender for hard-charging riders and Enduro racers, and a compelling option in the burgeoning class of high-pivot bikes that are meant to be pedaled back to the top to earn their turns. We're very excited to get on one to find out more, and hope to make that happen soon.
FULL REVIEW
David Golay (6′, 165 lb / 183 cm, 74.8 kg): I've spent a lot of time on the new high-pivot Norco Range in the last few months, and compared to other ~170 mm travel Enduro bikes, the Range is a lot of bike. The one-sentence review of the Range could be "the closest thing to a true DH bike that you can still pedal."
One-sentence reviews aren't really how we do things at Blister, though, so let's go a bit deeper, and see who the Range will and won't suit.
Fit & Sizing
At 6' (183 cm) tall, I've been riding the size Large Range, and I suspect that I'm on the brink between the sizing for the Large and XL. The 480mm reach on the size Large is not exactly short, and the 510 mm on the XL is huge — I'd be hesitant to size up, at least without trying one first. But that said, the cockpit on the Large does at times feel a little cramped for me when climbing, and I wouldn't mind a little extra room to move around on the bike when descending particularly fast, wide-open trails, too.
Norco's Ride Aligned setup guide agrees, recommending a "L/XL" frame for me; if I bump my height up to 6'1'' in the calculator, it squarely recommends the XL. And while I bet I could make the XL work, I'd have some reservations about both the reach and the stack height — they're both very large, at 510 and 653 mm, respectively.
That stack height does make a certain amount of sense, though. As we'll get into more below, the Range does feel like it has a fairly clear preference for being ridden with a relatively upright, centered stance, rather than aggressively getting forward and heavily weighting the front wheel. A relatively high handlebar position is conducive to that former approach, so the taller-than-average stack is a sensible choice.
Speaking of sensible choices, Norco takes the size-specific geometry concept a lot further than most brands, varying the headtube angle, seat tube angle, and chainstay length by frame size. We already talked about this a bit up top in our First Look, but I wanted to re-emphasize that I really approve of the thinking behind it. We've discussed at length why varying chainstay length by frame size makes sense — in short, as the reach and therefore wheelbase grows longer, it makes sense to also increase the chainstay length to maintain a more similar balance between the front and rear wheels on different sizes. I've used the analogy of not having size-specific chainstays being a bit like a ski manufacturer making different length skis by just adding all the extra length in front of the bindings. There's a reason that nobody does that, and it's great to see
bike companies getting on board, too.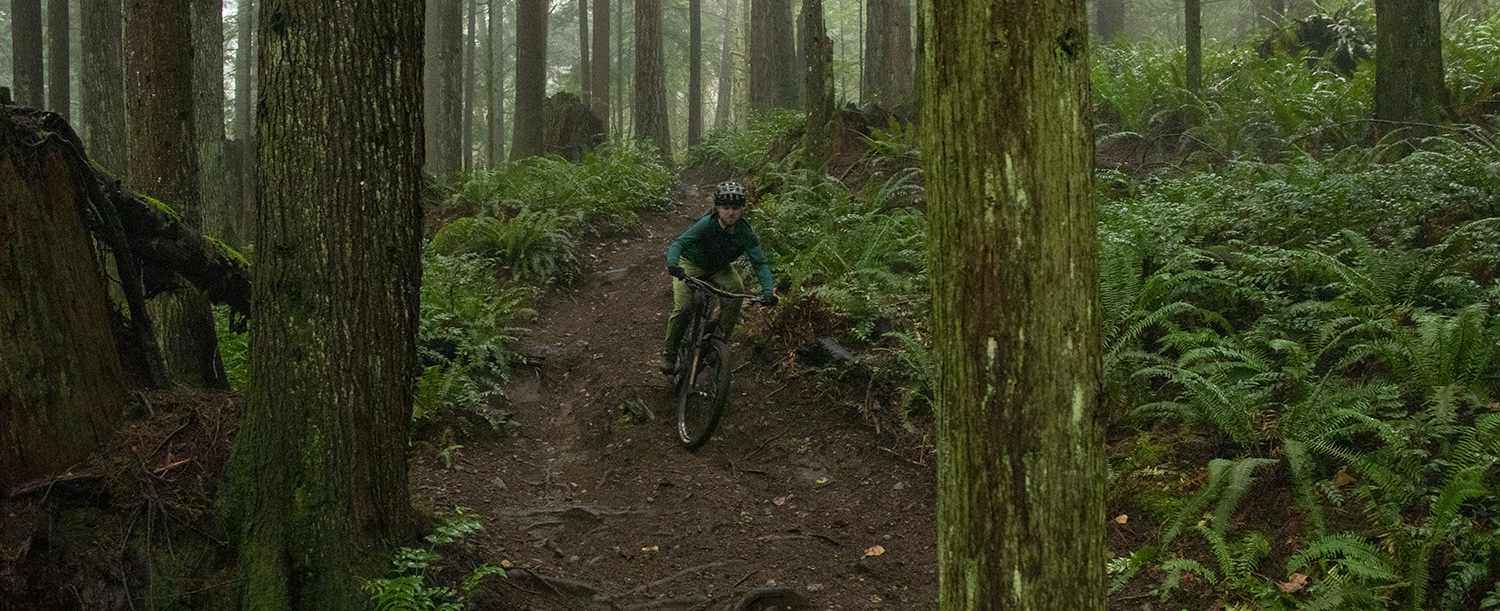 But that's not all. In addition to size-specific chainstays (which are accomplished by a mix of different dropouts and size-specific shock links), the headtube and seat tube angles vary by size, with the former getting slacker and the latter getting steeper as you move up to bigger frame sizes. And I think that's a really good call, too. A lot of companies give a full run of sizes the same actual seat tube angle, and/or the same effective seat tube angle, as measured at the height of the top of the headtube.
[If a refresher on what all that means would help, check out page 61 of our Mountain Bike Buyer's Guide, which covers seat tube angles in detail.]
But that fails to account for the fact that taller riders on bigger sizes are going to have a whole lot more seatpost sticking out of the frame, too. By the time you account for all that extra length, the, uh, effective-effective seat tube gets a whole lot slacker than it is on smaller sizes. Norco recognized that and made the effective seat tube angle slightly steeper on each successive size. And then they went ahead and made the headtube angle 0.25° slacker in each size while they were at it. I don't have as clear an opinion on that one, but Norco's argument is that it can be hard for shorter riders to adequately weight the front wheel on very slack bikes (especially with a tall 29'' front wheel and long-travel 29er fork), which makes sense in theory.
That's all a very long way of saying that Norco has put some real effort into tweaking the Range's geometry to make it feel more consistent across the size range — and I thoroughly approve of what they've done there, apart from not making a DG Pro Model size between the Large and XL.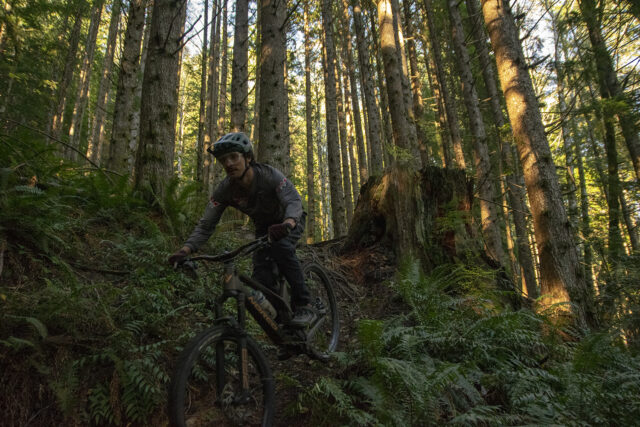 Dylan Wood (5'11", 155 lbs / 180 cm, 70 kg): I'm a bit shorter than David, and I was very comfortable on the size Large Range. The Range, with its 480 mm reach, isn't the longest bike I've ever been on, and I found myself really liking its geometry from a fit perspective. As David mentioned, its stack height is a bit higher than normal, and combined with its modest effective top tube length, this resulted in a very comfortable pedaling position that felt slightly more upright than other bikes I've been spending time on recently (like the size Large Canyon Spectral 29). I mostly rode up moderately steep fire roads on the Range, and I really liked the body position that it created, allowing me to enjoy both steep and flatter sections of road.
When going downhill, I also found that I had plenty of room to move around on the Range. The high handlebar height allowed me to also keep an ideal body position on the way down on the steep trails that David showed me around on, but we will get more into this later.
The Build
David: We've been riding the Range C2, which is the middle of the three builds offered by Norco. You can read more about the full spec above, but overall, it's really well chosen for the intentions of the bike. In particular, Norco gets real kudos for specing top-tier suspension on the mid-range build (and even the entry-level C3 build gets a Fox DHX2 Factory rear shock). The C2's SRAM GX drivetrain works just fine, and while the e*thirteen wheelset would be one of my first targets for an upgrade on the Range C2, I'm not mad about it as a spec choice — you have to make some compromises on a mid-range build, after all.
One small quibble I'll raise is that I'd like to see Norco put a 220 mm rotor up front (if not on both ends). The SRAM Code R brakes aren't exactly the most powerful DH brake out there, and on a bike like the Range, I'm looking for all the brake performance I can get. I get making a tradeoff to save weight on bikes that are supposed to be more XC-oriented, but I've never thought a brake was too powerful, no matter what bike it was bolted to.
Overall though, Norco has done a good job of putting together a thoughtful spec that spends money where it's most needed on this sort of bike (suspension) and opting for more modest choices in some other areas (drivetrain, wheels). And I'm also very glad to see Maxxis' beefy DoubleDown casings and sticky MaxxGrip rubber at both ends (Assegai front, Dissector rear). The Range is a bike that's meant to prioritize downhill performance, and grippy rubber and stout casings are clearly the right choices for that application. All of that adds up to a bike that certainly isn't light, but going all weight-weenie on a Range would be missing the point. It's not a bike that puts much emphasis on climbing performance — as Dylan joked at one point, it's a bike that wants to go really fast downhill, even when it's pointed back up.
Dylan: Yep, I don't have much to add here. I think the build kit on the Range C2 makes a lot of sense, and I am happy to see an emphasis placed on suspension and to see Maxxis DD tires stock.
I don't think I ever felt the need for a 220 mm rotor up front on the Range, and I found that I had enough braking power up front even on long, sustained descents. I'm usually happy with 200 mm rotors front and back, and the Range was no exception.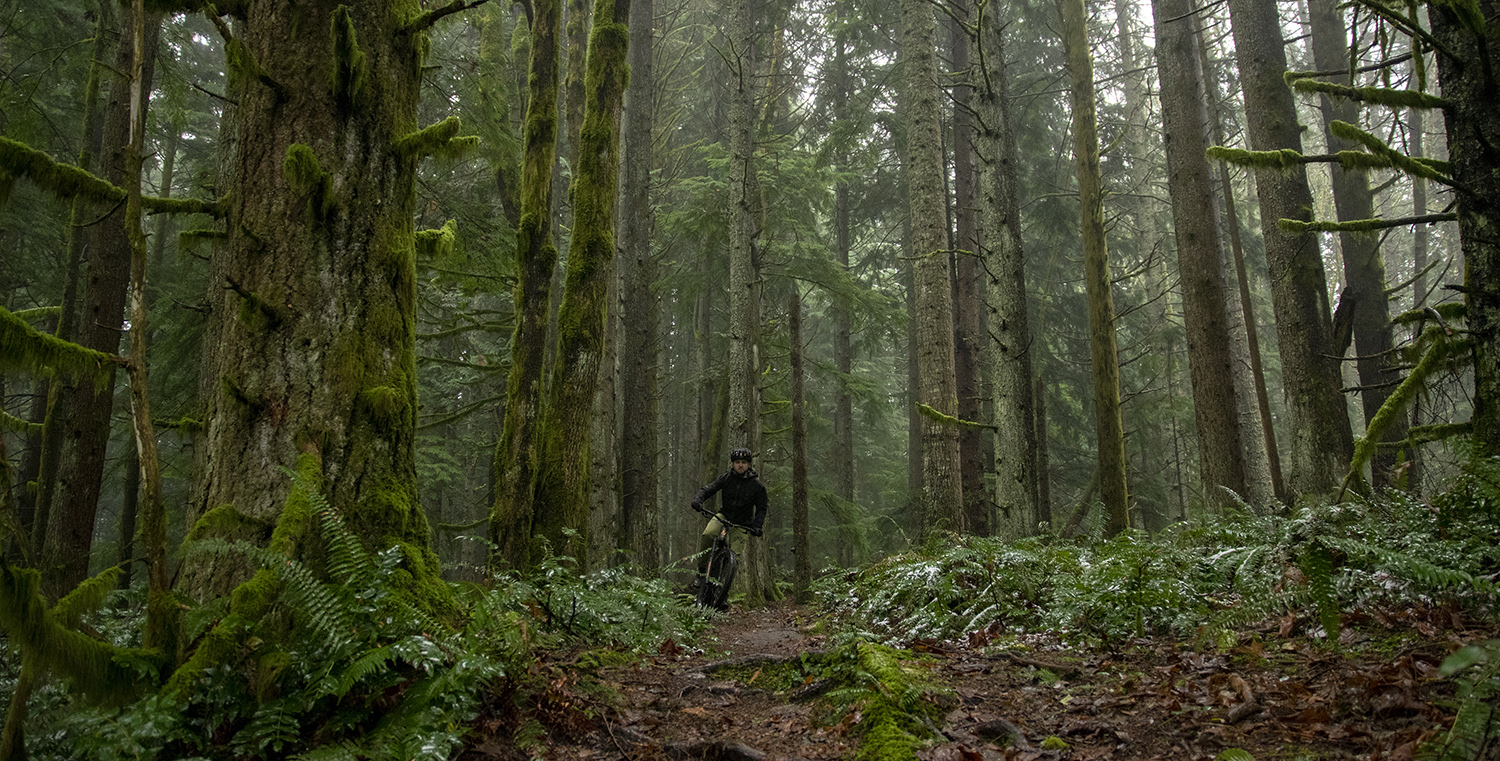 Climbing
David: Remember when I said that the Range might be the closest thing to an honest-to-god DH bike that you can still pedal to the top? Well, there's no magic at play here — getting there did involve some compromises. The Range is not a sprightly climber, even by the standards of ~170mm-travel Enduro bikes. Its hefty weight doesn't help any, but the Range's suspension isn't very efficient under pedaling inputs, either. The Range makes its preference for taking it easy and spinning its way up climbs clear from the jump. Pick a low gear, put a podcast on (may I recommend Bikes & Big Ideas?), take your time, and the Range does climb alright. But it's definitely not interested in doing that quickly, and if your pedal stroke gets a bit choppy, the efficiency drops off substantially.
The added drag from the Range's idler pulley doesn't help either, though there's notably less noise from the idler on the Range, compared to the other high-pivot Enduro bikes I've been on this year (the Forbidden Dreadnought and Cannondale Jekyll). And I think the fact that Norco has forgone a narrow-wide tooth profile on the idler deserves a lot of the credit. Narrow-wide chainrings were a great innovation when 1x drivetrains came onto the scene, but there's just not the same need for chain retention on an idler pulley. The Range, and every other bike with one that I can think of, comes with a very effective built-in guide to keep the chain secured on the idler, and I've never had a chain come off the idler on any of them, the Range included. So kudos to Norco for not just putting the trendy tooth pattern on the Range's idler pulley, and using the right tool for the job.
The pedaling position of the Range is quite good, though as I mentioned above, I personally could have used a slightly roomier cockpit at times — mostly a consequence of me being at the very top end of the sizing range for the Large frame. The quite-steep seat tube of course contributes, too, but I definitely would not be tempted to slacken that out any. It's very easy to stay centered and grind your way up on the Range, just expect it to take a little longer and involve a little more effort than it would on most other bikes.
This is especially true when the climbs get more technical — grinding your way up a fire road at an even cadence is one thing, but the more you need to accelerate up and over obstacles, the more the Range feels out of its element. And to be very clear, I don't just mean in the way that technical climbing isn't the #1 top priority of any given 170mm-travel Enduro bike. Even by that standard, the Range is notably ponderous and requires some extra effort to get up to the top.
Dylan: After coming down from ~8000 feet of elevation to ride with David in Washington, I thought I might have a fitness and conditioning advantage over him. However, hopping on the Range was a great way to make sure that I couldn't keep up with David as he rode the We Are One Arrival. I didn't realize how sluggish the Range was on the way up until I hopped on the Santa Cruz Bronson and started to keep up with David without gasping for air.
So yeah, the Range isn't a great climber. Do I think this is a deal-breaker? No, I think that Norco optimized descending performance on the Range and this created some compromises for the way up. Kudos to Norco for doing so, and this only further exemplifies how the Range is a game-on Enduro race bike. I thought the Range was fine for grinding up fire roads, but it was a bike that I was not hesitant to step off if I saw a very steep section of trail approaching or some technical uphill feature.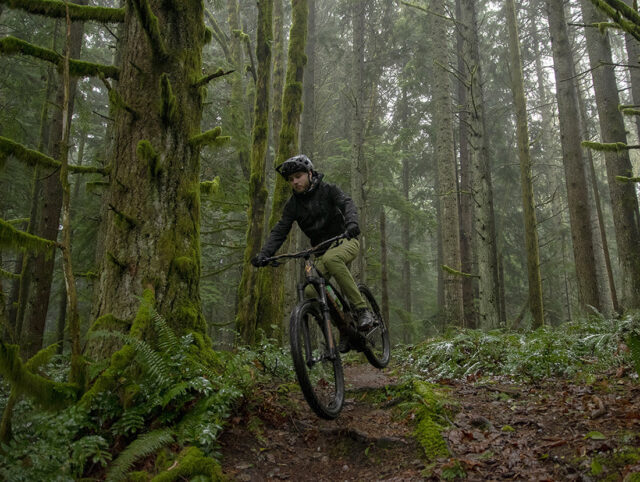 Descending
David: Given that the Range's shortcomings on the climbing front, you'd hope that it would make up for it on the way back down — and it does. The Range is exceptionally stable, composed, and confidence-inspiring when going very, very fast in rough terrain.
Even compared to the other high-pivot Enduro bikes that I've spent time on this year, the Range feels especially composed and forgiving when it's being pushed as hard as possible. A big part of that is its suspension — it's not super plush, exactly, but does an exceptional job of keeping the bike composed and tracking smoothly, without feeling wallowy or unsupportive. Again, the Range is a bike that clearly wants to be going fast downhill, and it doesn't really come alive, both in terms of suspension performance and when it comes to handling, until it's picked up some pace.
Once you do, though, the Range feels unflappable. It's extremely stable and planted, and is much more interested in just steamrolling everything in its path than it is in taking a more delicate approach and popping off or over things. Trust the bike, stay off the brakes, and just smash things harder. But when you do inevitably need to start slowing down, the Range's performance under braking is also excellent. The suspension remains fairly active, and the bike stays level and neutral — there's seemingly very little interaction between the brakes and the suspension.
And speaking of the suspension, Norco offers a far more detailed setup guide on their site than most brands. In addition to just height and weight, the Ride Aligned calculator takes into account your stated ability level and a preference for more forward or more rearward weight bias into account when making suggestions — which include handlebar and stem configurations and tire pressures, in addition to suspension settings. In my case, the recommended settings for the Fox DHX2 Factory rear shock were very close to the ones that I settled on, but I ended up stiffening the RockShox ZEB Ultimate fork substantially over the recommended baseline, both in terms of compression damping and air pressure settings.
Norco's recommended bar width and height were fairly close, too, but it is worth noting that the Range prefers a somewhat more upright, neutral stance than some other bikes that I've been spending time on recently — notably the Nicolai G1 and We Are One Arrival. The Range's long-ish chainstays, coupled with its significantly rearward axle path, likely play a role here, as does the fact that the size Large Range is a touch smaller than would probably be strictly ideal for me. That said, I'd say the same thing about the sizing of the SZ2 Arrival I've been on, and it's still dramatically different from the Range in terms of what kind of body positioning it prefers. Once I got my setup worked out — which resulted in the bars on the Range being significantly higher than the other two, even once you account for its higher bottom bracket — I didn't have any trouble switching back and forth between them. The Range just favors a more upright, centered setup, but it's very intuitive once you get that dialed in.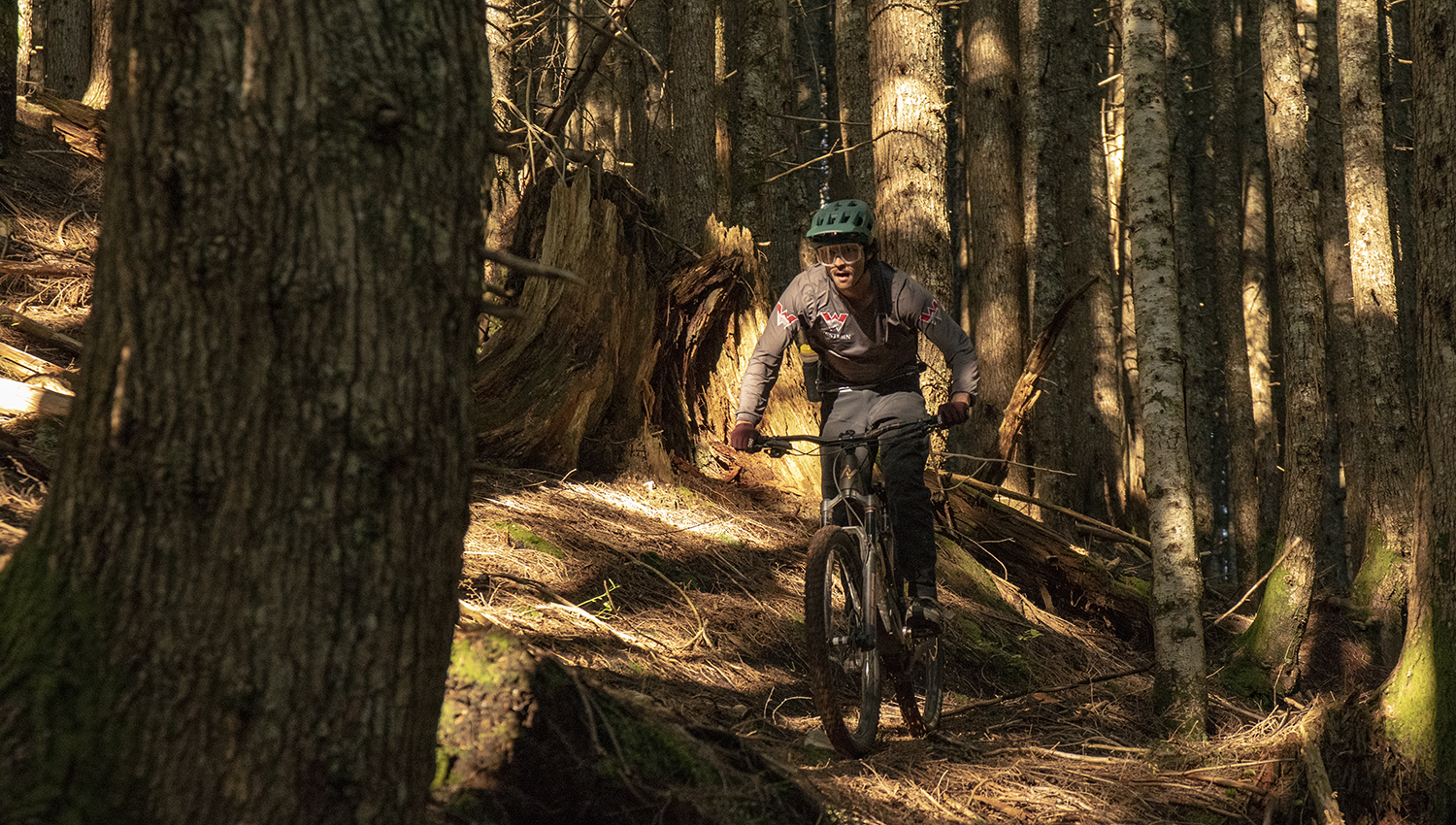 I'm also quite impressed with how the Range corners. Of course, it's a big, long, slack bike, and it's not a quick-handling one as a result. But it also doesn't display any of the quirkiness that I felt from the high-pivot suspension on the Forbidden Dreadnought when I tested that earlier this year. As in other areas, the Range does work best when it's up to a bit of speed, and it can take some work to muscle around in very tight spots. But it feels predictable and intuitive in a wide range of corners, and the grip on offer is impressive. Norco makes it clear from the way that they talk about the Range that it's a bike that's meant to go fast on big descents while maintaining enough pedal-ability to make it back up to the top under its own power (just not quickly) and they've nailed that mark. Even compared to other long-travel Enduro bikes, it descends at speed extremely well — I was honestly surprised at how much "more" bike it feels like than most other bikes in the class, both on the way up and back down.
Its place in Norco's lineup offers a pretty strong clue to the intentions of the Range, too. The next bike below it, the Sight, is a 150/160mm-travel bike with a 63.5° headtube angle — numbers that would make it the burliest Enduro bike from a lot of other brands. Given that, Norco had a lot of headroom to make the Range very, very focused on aggressive descending. They've certainly done that, and the result is something of a niche bike that won't be for everyone — if you're unclear on that, go read what I wrote about the Range's climbing performance again — but also truly stands out from the rest of the market.
Dylan: David basically covered everything I think someone ought to know about how the Range descends. It is designed for high speeds, fingers off the brakes, staying on the ground, and just plowing over whatever might be in its path.
I was a bit worried about the Range throwing any surprises my way since I hadn't ridden a high-pivot bike before hopping on it. Interestingly, it felt surprisingly normal and didn't really make me adjust my riding style much at all. I did feel that it was really comfortable with an upright, pretty balanced position, and I didn't feel much of the need to get really low or over the back of the bike; it kind of just let me pilot it pretty casually and took care of everything else, which was also somewhat of a surprise.
The Range would definitely not be my first choice if I rode a bunch of low-speed, technical trails. You don't really get the benefits of its aggressive design until you really start to get it up to speed, which, as David mentioned, makes a lot of sense given the still-aggressive Sight in Norco's lineup. After letting off the brakes more and more and letting the Range do what it needs to do, I found myself taking generous amounts of speed into root gardens, blind rollers, and even tricky corners, and just trusting the bike. And it never let me down.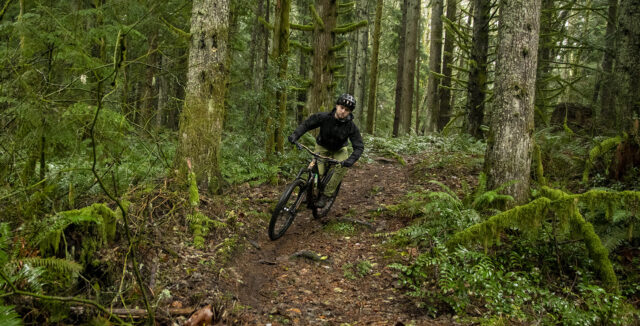 Who's It For?
David: When I wrote the Flash Review of the Range, I was wrestling with whether I'd want to have a Range in my personal bike quiver. I'm incredibly impressed with the way it descends, given an appropriately steep and burly trail to put it to work, but it's a lot of bike to be dragging back up to the top for each lap. Having spent more time on it, I think the answer — at least given how my quiver is currently constructed, with one big Enduro bike and a hardtail — is no. If I added a third bike in the middle (a We Are One Arrival, perhaps) that answer probably changes. The Range is the closest thing to a legit DH bike that you can still pedal that I've tried to date, and that's pretty special. I just like doing big 6000–8000' vertical days to link up a bunch of big descents too much to want to use the Range in that role.
But if you're looking for a park / shuttle bike that you can still pedal on from time to time? The Range is outstanding. And if I was a serious Enduro racer who had more time to train in a serious, organized fashion than I do currently, it would be a very compelling weapon there, too. Just keep in mind that the Range is a whole lot of bike, even by the standards of ~170 mm travel Enduro rigs, and be honest in your assessment of whether or not that really makes sense for the riding you do. The answer will be "no" for quite a few people, but if you're in the "yes" camp, the Range is something special.
Dylan: Totally. I don't think the Range is for everybody, and I think a lot of people would be better off on a more versatile long-travel trail bike like the Canyon Spectral 29 or Santa Cruz Bronson. But, for the group of riders who need the edge that the Range provides, it could really encourage you to take your riding up a level. Just don't curse at it too much on the way up.
Bottom Line
Modern Enduro bikes have gotten remarkably capable, but they still can't match the high-speed descending performance of true DH bikes. Norco has done something unique with the Range and made a bike that splits the difference between the two. It's a lot of bike, but for people who have the terrain to put it to work — and the legs (or a mechanical assist) to get it to the top — there aren't many ~170mm-travel bikes that can match how capable, composed, and confidence-inspiring it is at full throttle. It's not versatile, but it is something special.