2022 Norco Range
Geometry: See below
Wheel Size: 29''
Frame: Carbon fiber
Travel: 170 mm rear / 170 mm front
MSRP:
Frame kit with Fox DHX2 Factory Shock: $3,799
Complete bikes: $5,599 – $8,999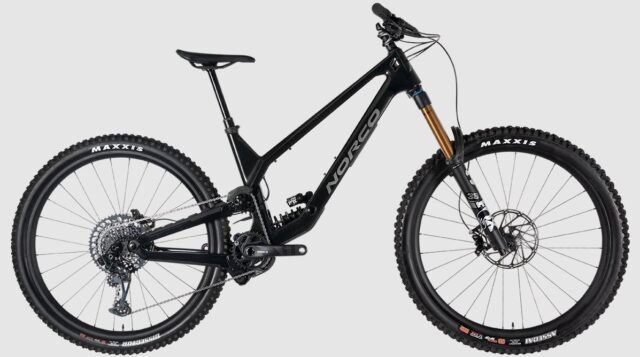 Intro
The Range has been a longstanding model in Norco's lineup, serving as their long-travel Enduro bike. It just got a major update, the highlight of which is a new high-virtual-pivot suspension layout. But there's a ton more that's new and interesting about the new Range, including size-specific geometry, size-specific suspension kinematics, and a whole lot more.
The Frame
The Range frame is offered in carbon only. Norco has historically offered both aluminum and carbon versions of many of their models but they say that the complex shapes required for the Range are better suited to carbon construction.
The biggest and most obvious change is that the Range has gone to a high-pivot suspension layout. It's essentially an upside-down Horst link arrangement, with the main pivot located high up on the seat tube and a rocker link near the bottom bracket actuating the shock. As you'd expect for a high-pivot bike, an idler pulley routes the chain upward between the crank and rear wheel in order to keep anti-squat and pedal kickback in check. [For more on high-pivot layouts in general, and the various suspension terms covered here, check out the "Suspension Kinematics" section of our Mountain Bike Buyer's Guide, starting on page 68.]
The Range gets 170 mm of rear-wheel travel from a 205×62.5 mm trunnion-mount rear shock, slung low in the frame to keep the center of gravity low. Norco specs all versions of the Range with a coil shock (and a high-end one at that), and say that air shocks aren't recommended. The Fox DHX2 and RockShox Super Deluxe coil are the only two officially recommended models, due to their fit through the shock tunnel being guaranteed, but Norco rider Lew Buchanan has been spotted riding a DVO Jade X on his Range, and other models may fit as well.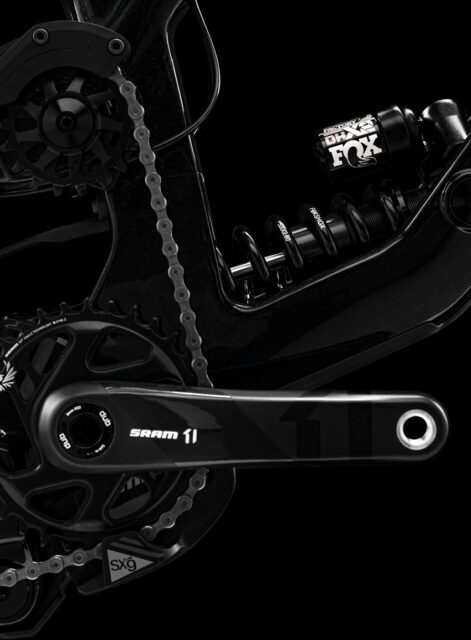 Cable routing on the Range is all internal and comes with options to run the front brake on either the right- or left-hand side. The lower two bosses of ISCG-05 chainguide tabs are included; with the high-pivot layout and idler pulley, an upper guide would be incompatible. The idler pulley does feature its own integrated chainguide and the seatstay includes a rubber guard to protect from chain slap. The Range features a BB92 press-fit bottom bracket shell, and the rear brake mount is sized for a 200 mm rotor. Rubber protection is added to the underside of the downtube and chainstays as well.
Norco doesn't publish suspension kinematic graphs for the Range, but say that they've tweaked the suspension layout across the size range to keep performance consistent for different-sized riders. The Range comes with different-sized dropouts to vary the chainstay length by size (more on that in a minute) and Norco also change the rocker link by size to compensate for the difference in swingarm length. There's room for a 750 ml water bottle inside the front triangle on all sizes, plus a second set of accessory mounts underneath the top tube.
Finally, complete versions of the Range come with single-crown forks, but Norco says that it's compatible with a dual-crown fork up to 180 mm travel, if desired.
Fit and Geometry
Varying chainstay length by frame size is an increasingly common tactic that we at Blister heartily endorse, but Norco takes things a step further by also tweaking the headtube angle by size. The Range is available in four sizes, from Small through Extra Large, with the latter getting a very-slack 63° headtube angle, which increases by 0.25° with each successive step smaller in size (i.e., 63.75° on the Small). Norco argues that, while slack headtube angles are great for high-speed stability, they can also make it harder for shorter riders to keep their weight over the front wheel, so varying them by size is Norco's attempt to strike a more optimal balance for riders of all sizes.
The Small and Medium frames both get already long-ish 440 mm chainstays, which bump up to 442.5 mm on the Large and 447.5 mm on the XL. Reach numbers range from 420 to 510 mm, in 30 mm increments between sizes. All of that adds up to wheelbases that vary from 1203 mm on the Small, through a massive 1329 mm on the XL; the Medium and Large come in at 1243 and 1285 mm, respectively. Here's the full geometry chart:
The seat tube angle on the Range is relatively steep, at 76.5 to 77.25 degrees (effective), and it's great to see Norco giving the larger sizes a steeper seat tube angle. It's fair to assume that taller riders will generally have more seatpost extension, and therefore a more rearward seating position for a given effective seat tube angle; going this route makes a ton of sense as a way to compensate.
All told, the Range geometry looks bang-on for a modern, very aggressive Enduro bike, and Norco seems to have put some real thought into the details of their size-specific geometry. It's a very compelling offering and one that we expect to be ultra-capable at higher speeds and steeper terrain.
The Builds
Norco offers the Range as a frame kit with a Fox DHX2 Factory rear shock for $3,799, or as one of three complete builds. Here's the breakdown of the builds:
Range C3: $5,599
Drivetrain: Shimano SLX shifter and rear derailleur; Deore cassette, chain, & crankset
Brakes: Shimano MT520 4-piston
Fork: RockShox ZEB
Shock: Fox DHX2 Factory
Wheels: Stan's Flow D rims w/ Shimano MT410 front / MT510 rear hubs
Dropper Post: TransX (S: 150 mm; M: 170 mm; L/XL: 200 mm)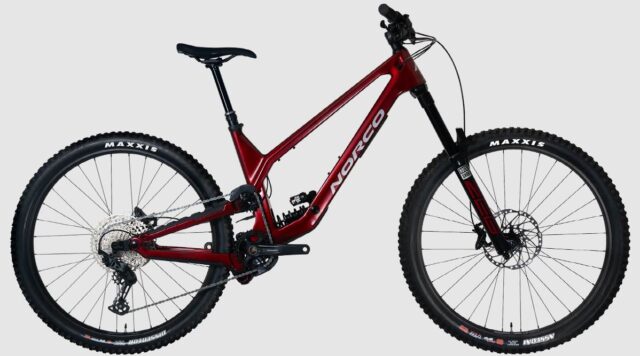 Range C2: $6,999
Drivetrain: SRAM GX Eagle
Brakes: SRAM Code R
Fork: RockShox ZEB Ultimate
Shock: Fox DHX2 Factory
Wheels: e*thirteen LG1 EN rims, w/ DT Swiss 350 hubs
Dropper Post: TransX (S: 150 mm; M: 170 mm; L/XL: 200 mm)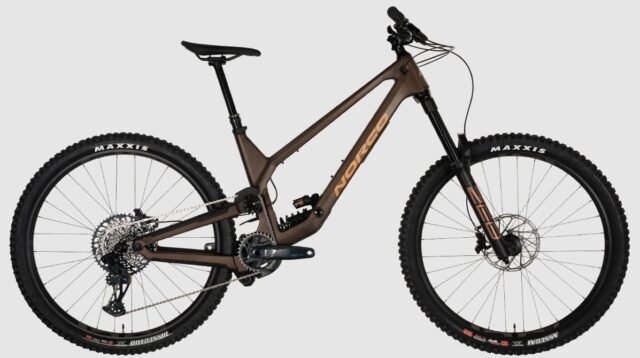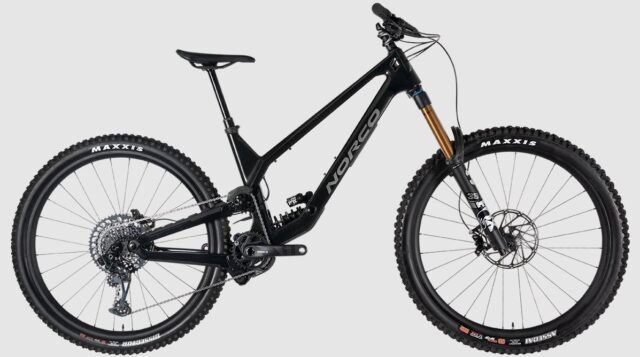 All the complete builds come with a custom MRP SXg chainguide, my personal-favorite DMR Deathgrip grips, and Maxxis Assegai front / Dissector rear tires (DoubleDown casings and 3C MaxxGrip rubber). It's great to see Norco including long-travel dropper posts on all sizes, as well as burly DoubleDown tires on a bike that's meant to be ridden as aggressively as the Range. The top-spec Fox DHX2 Factory rear shock is also a welcome offering on all three build levels.
Some Questions / Things We're Curious About
(1) How does the Range stack up in the increasingly competitive class of high-pivot Enduro bikes, including the Cannondale Jekyll and Forbidden Dreadnought?
(2) Who will be best served by these sorts of high-pivot bikes, and who might be better off with a more traditional offering?
(3) We don't doubt that the Range is going to be exceptionally capable at high speeds in rowdy terrain, but how will it feel on the way back up, and in more varied, rolling terrain?
Bottom Line (For Now)
The new Norco Range looks like an ultra-capable descender for hard-charging riders and Enduro racers, and a compelling option in the burgeoning class of high-pivot bikes that are meant to be pedaled back to the top to earn their turns. We're very excited to get on one to find out more, and hope to make that happen soon.