RockShox ZEB Ultimate
Travel Options: 160, 170, 180, 190 mm
Wheel Sizes: 27.5" & 29"
Available Offset Options:
27.5″: 38 mm & 44 mm
29″: 44 mm & 51 mm
Stanchions: 38 mm
Version Tested: 170 mm travel; 29" wheel; 44 mm offset
Stated Weight: 2265 g
Blister's Measured Weight: 2264 g (steerer tube cut to 185 mm, w/ star nut)
MSRP: $999
Mounted To: Guerrilla Gravity Gnarvana
Test Duration: 2.5 months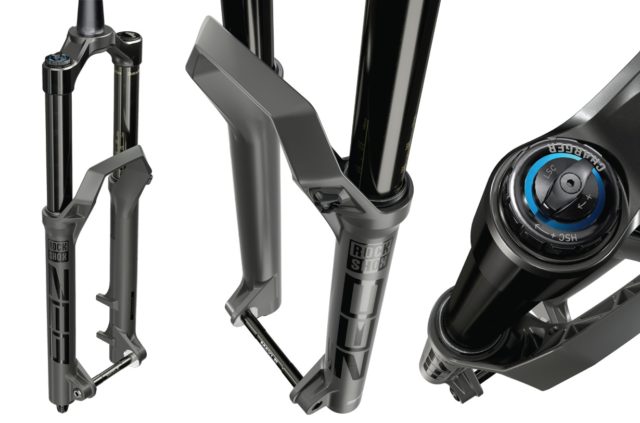 This year RockShox released the ZEB, a new, 38mm-stanchion, single-crown fork that's designed for long-travel Enduro bikes and e-bikes, slotting between the Lyrik and the dual-crown Boxxer in their lineup.
We sat down with Chris Mandell, the North American Public Relations Manager for SRAM and RockShox, to talk about the new fork, why RockShox saw a need for a new fork model within their lineup, and who it's best suited for. You can listen to that conversation on our Bikes & Big Ideas podcast.
Since we talked with Chris, I've spent a lot more time using the ZEB and have updated this review with my thoughts on how well it lives up to RockShox's claims, and which types of riders should be considering it for their bike.
Design
The most obvious difference between the Lyrik and the ZEB — named for Zebulon Pike, the namesake of Pike's Peak, which looms large over RockShox's Colorado Springs headquarters — is the stanchion size, which grew from 35 mm on the Lyrik to 38 mm on the ZEB. The crown and lowers — especially at the arch — also grew considerably, making the ZEB look much larger overall.
As would be expected, all of this came with a bump up in weight, as well as stiffness. RockShox's stated weight for the ZEB is 262 g heavier than the Lyrik (and our measured weight for the ZEB is only a gram off that stated one), and they claim a 21.5% increase in torsional stiffness. Fore-aft and lateral stiffness have also increased, albeit more modestly, at a claimed 2% and 7%, respectively.
The ZEB's tire clearance is enormous — RockShox states compatibility with tires up to 81 mm / ~3.19" wide. Chris Mandell stated a goal to "never have to talk about tire clearance" on this fork, even in especially gloppy, muddy conditions. Given how much the arch of the ZEB dwarfs the 2.4" Maxxis Minion DHR II tire I'm currently running up front with it, it's hard to imagine how tire clearance would ever become an issue.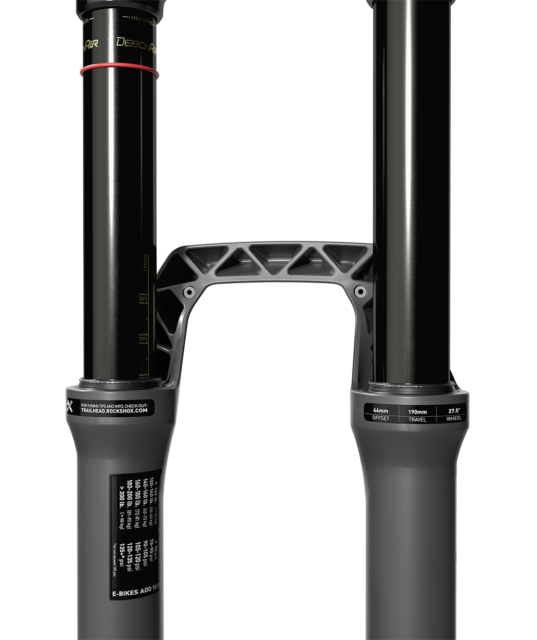 The lower casting of the ZEB also features three threaded holes to accommodate a bolt-on fender (sold separately for $20), a feature that has seemed, to me, long overdue on mountain bike forks in general.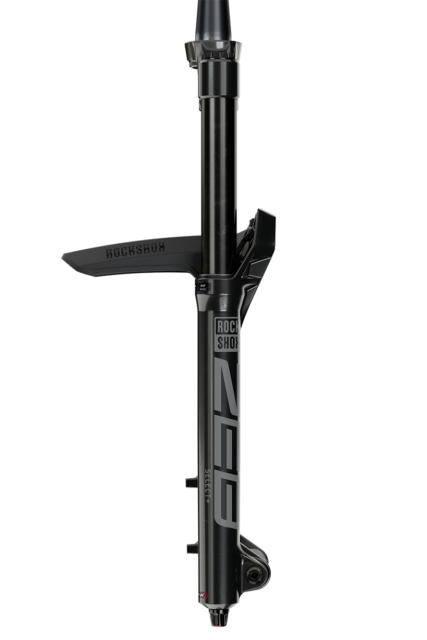 The beefed-up chassis of the ZEB is a touch taller than the Lyrik as well, gaining 5 mm of axle-to-crown height when comparing versions of the same wheel size and travel, bringing our 170mm-travel, 29er version of the ZEB's axle-to-crown height to 587 mm.
The ZEB features a brake mount for a 200 mm rotor directly, without using an adapter. RockShox says it will fit up to a 220 mm rotor.
While I'm fully on board with going big with the rotors for any bike that warrants a burly fork like the ZEB, it is irritating that the bike industry has gotten to a point where both 200 and 203 mm rotors are commonplace. Accommodating the 203 mm rotors of the Hayes Dominion A4 brakes I'm currently testing on the ZEB required finding a pair of 1.5 mm washers to space out the caliper. While SRAM very much has a point that the long-standing system of 160 mm / 180 mm / 203 mm rotors is dumb and makes adapters needlessly complicated by requiring an extra size, introducing 200 mm rotors to the mix only further complicates things. This is, I'm sure, a futile plea, but dear bike industry, please just pick one.
Different Versions
The ZEB is offered in four levels / versions, all of which use RockShox's updated DebonAir C1 spring, which was recently revised with the goal of making the forks ride slightly higher in their travel. The new DebonAir C1 spring rolled out in the RockShox Revelation, Pike, Yari, and Lyrik in April of 2020, and it carries over to the ZEB (in a version sized for the ZEB's bigger 38 mm chassis). And if talk of different springs, dampers, stanchions, etc. all sounds like a foreign language, we'd recommend checking out our Suspension 101 and Suspension 201 articles.
According to RockShox's website, you can get the ZEB with anywhere from 150 mm to 190 mm of travel, in 10 mm increments. We're currently awaiting clarification on the 150mm-travel option, as there's a bit of conflicting info out there on that version.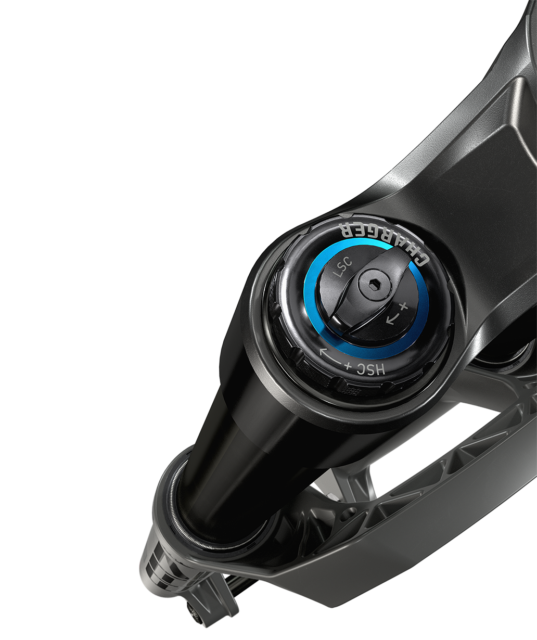 The ZEB's damper options will be familiar to folks with some knowledge of RockShox's current product offerings, as they mirror many of their other current forks. We're testing the top-spec ZEB Ultimate, and here's the breakdown of the different versions of the ZEB:
ZEB Ultimate
Charger 2.1 RC2 damper
Adjustable rebound
Adjustable high-speed and low-speed compression
MSRP: $999
ZEB Select+
Charger 2.1 RC damper
Adjustable rebound
Adjustable low-speed compression
Available OE only (i.e., only on full bike builds, cannot be purchased aftermarket)
ZEB Select
Charger RC damper
Adjustable rebound
Adjustable compression, in a knob that sweeps from open to near-lockout
MSRP: $799
ZEB
Charger R damper
Adjustable rebound
MSRP: $699
7.22.20: Initial Ride Impressions
I've got four rides on the ZEB Ultimate so far, and while we'll need a lot more time on the fork before writing our full review, I can share a few early impressions.
Regarding setup, the ZEB's larger air spring runs notably lower air pressure, given the larger piston area in the larger stanchion, which equates to some different settings vs. what I'd use on a Lyrik. For the ZEB, I'm settling in at about 61 psi for my 170 lb self, which is 3 psi more than what the RockShox Trailhead tuning app recommends. I can't remember exactly what I last ran in a 170 mm Lyrik, but Trailhead suggests 70 psi as a starting point for me in the latest Lyrik Ultimate. Despite some different settings, there's a familial resemblance in the feel and performance of both the spring and damper, coming from a Lyrik.
Given their similar damper and spring configurations, the ZEB does feel a lot like a stiffer, burlier Lyrik. The ZEB's overall stiffness is impressive; in particular, one trail I've ridden a few times on it features a high-speed section of side-hilling over a ton of exposed roots, and fighting to keep the bike on the high line can be a challenge. I'm not yet ready to comment on how exactly it compares to some of the other burly, single-crown forks or the dual-crown Fox 40 I frequently use on one of my Enduro bikes (we will be doing that in the future), but the ZEB is notably stiffer and holds a line more confidently than the previous "top class" of single-crown, Enduro-oriented forks (e.g., Fox 36 and RockShox Lyrik). There is a noticeable difference, and I'm very eager to keep spending time on the ZEB going forward.
Update 10.8.20: Full Review
Since we first posted those initial impressions, I've now spent about two and half months riding the ZEB and comparing it to other forks like the Manitou Mezzer Pro, RockShox Lyrik, and even the dual-crown Fox 40. So now it's time for a more in-depth review: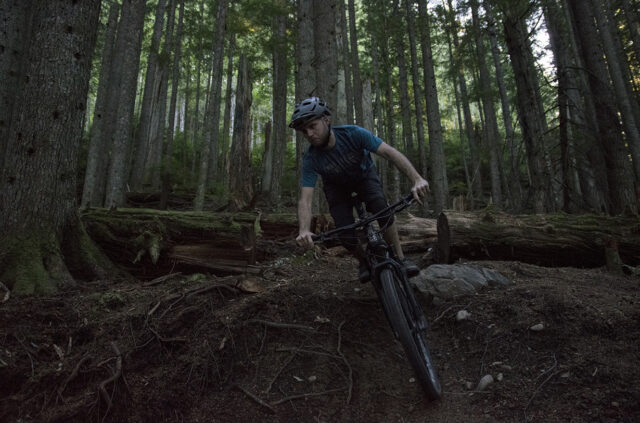 Chassis & Stiffness
As I said in the initial review, the biggest story with the ZEB is the chassis. It's notably stiffer (and visually much beefier) than a RockShox Lyrik, Fox 36, or Manitou Mezzer Pro — and weighs roughly 200 g more than those three. Of course, the real test on stiffness will be how the ZEB stacks up against the Fox 38 and… well, stay tuned for more on that soon. (Reviewer Noah Bodman and I recently swapped the ZEB and 38, so we'll be teaming up for an in-depth comparison in the future.)
My initial impressions about the ZEB's stiffness have held up, in that the added beef of the bigger chassis mostly shows up in torsional rigidity — compared to a Lyrik or 36, the ZEB holds a line more confidently through rough and / or off-camber terrain. Any differences in fore-aft stiffness aren't as apparent, but for a single-crown fork, it's quite solid.
[If you were paying attention earlier, you've probably noted that a significant increase in torsional stiffness, but a minor one in fore-aft stiffness is exactly what RockShox claimed about the ZEB, as compared to a Lyrik. It's nice to see marketing claims borne out neatly in terms of real-world feel.]
For those who were wondering, the ZEB is definitely, clearly not as stiff as the current crop of dual-crown Downhill forks (e.g. RockShox Boxxer and Fox 40), especially fore-aft, but that's to be expected given their respective layouts.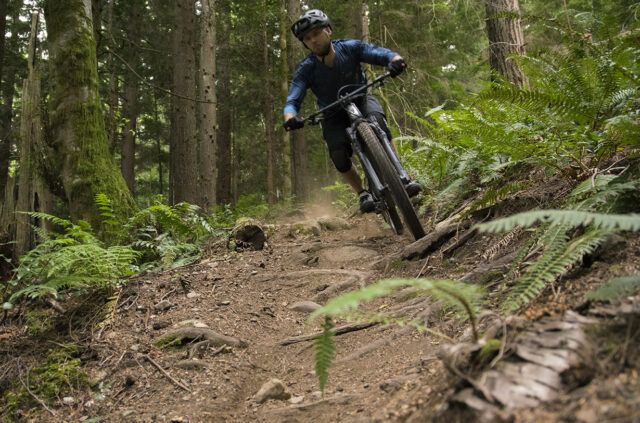 I think there's a bit of a balance to strike when it comes to fork stiffness, and given its intentions, I really like what RockShox has done with the ZEB. A stiffer fork (especially a torsionally stiff one) definitely feels more precise in its ability to hold a line. And a fork that's very stiff fore-aft feels more solid and less prone to deflection under hard braking, especially when doing so on steep terrain when the front wheel is heavily weighted.
Minimizing deflection of the fork not only helps provide a sense of control over the front wheel, but also helps reduce binding in a telescoping fork. The bushings moving on a sliding interface are awfully sensitive to alignment (if they are to keep moving smoothly), and combining a sliding interface into a heavily loaded, structural part — as is the case in a telescoping fork — presents a rather thorny engineering challenge. A stiffer chassis can help prevent this sort of bending and binding, and the ZEB seems a touch better than smaller-stanchion forks in that regard (but again, it's subtle compared to the difference in torsional stiffness).
So why not go stiffer, always? For one, there's weight. RockShox's stated weight for a Boxxer is about 300 g heavier than the ZEB, and a Fox 40 is more than 200 g heavier than a Boxxer. But even when the trail points back down and concerns about weight fade into the background, stiffer isn't always better. A certain amount of flex, especially fore-aft, can help mute certain impacts and provide a slightly smoother ride — provided that the flex isn't so considerable that the aforementioned binding issues begin to creep into the picture.
Until you ride a stiffer one, it's difficult to notice how much a telescoping fork is binding up and not moving as smoothly as it could. As the world has moved to longer-travel single-crown forks (what's old is new again) and bikes with slacker head angles (which introduce more fore-aft loading to the fork) it's getting easier to overwhelm what used to be the burliest single-crown forks available.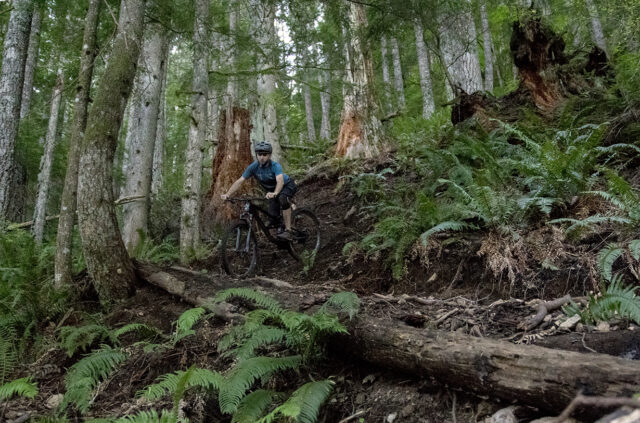 So, with all that talk of stiffness in mind, the ZEB chassis is excellent. It's stiff and precise, but doesn't feel so unyielding that it starts to feel harsh on smaller, more chatter-y impacts like the very stiffest Downhill forks can. It's a balance that I think is excellent for the class of long-travel Enduro bikes for which the ZEB is intended.
As Noah said in his Fox 38 review, though Enduro bikes have come a long way in recent years, even the best Enduro bikes don't descend like a real Downhill bike. So, a class of fork that bridges the gap between Downhill forks and the prior class of burly single-crowns absolutely makes sense to match the capability of the new crop of Enduro bikes. The ZEB slots in there neatly.
Damper, Air Spring, & General Performance
I've been riding a 170mm-travel ZEB Ultimate on a Guerrilla Gravity Gnarvana. This top-spec version of the ZEB comes with RockShox's Charger 2.1 damper: a bladder-style unit with adjustable low-speed compression, high-speed compression, and rebound. It's been around for a few years in versions sized for the Pike, Lyrik and Boxxer.
In the spring side of the ZEB Ultimate, there's RockShox's DebonAir air spring, which uses an auto-equalizing negative spring. (It's equalized via a dimple machined into the inside of the stanchion, like Fox and RockShox have both been doing in their air-sprung forks for a while now.)
The Charger 2.1 is a very good damper. There's nothing too wild going on with its design — the overall architecture is similar to Fox's RC2 from a few years ago, or the Manitou MC2 damper used in the Mezzer Pro (albeit without the MC2's hydraulic bottom out circuit). Even though the Charger 2.1 doesn't have some crazy new features, I don't see any need to reinvent the wheel here.
Compared to the Manitou MC2 damper, the Charger 2.1's range of high-speed compression in particular isn't quite as broad — at the firm end, the Manitou MC2 feels more heavily damped. But the Charger still offers a good usable range, and somewhat finer steps between settings. The tuning range should be plenty for most people, but isn't so massive that it's possible to end up on a totally wrong setting, and it has performed admirably without any notable spiking or harshness. I have noticed a little bit of noise of oil flowing through the damper on rebound, but it's been minor.
What's all that translate to? Most notably, the ZEB's small-bump sensitivity and general ability to iron-out small chatter is excellent. There's impressively little friction in the bushings and seals, which, coupled with the excellent stiffness of the chassis, keeps the fork moving freely and smoothly, even when plowing into off-camber roots and the like. This translates into a particularly comfortable ride, and a whole lot of front-wheel traction. It's especially noticeable when you're able to carry some speed into a rougher section of trail, but not enough to really commit to boosting and skimming over a lot of the chunk. The ZEB is remarkably good in terms of soaking up small- and medium-sized impacts (e.g., sections of big, exposed roots; baby-head rocks, etc.).
Of course, really outstanding small-bump sensitivity and firm midstroke support tend to come as tradeoffs to some extent, and the ZEB Ultimate is no exception there.
When pointed down something very steep, and therefore heavily weighting the front wheel, I've found the ZEB diving deeper in its travel, and thereby pitching the bike even farther forward than I'd like. I'd put a lot of this down to the shape of the ZEB's spring curve. I've experimented with a range of spring and damper settings, and what helped the most was running zero volume tokens (the 170mm-travel ZEB ships with one installed) and a bit more air pressure to compensate. The result is, of course, somewhat decreased small-bump compliance, but the ZEB excels so strongly on that front that, even when I'm not prioritizing for it with my chosen settings, it's still pretty damn good.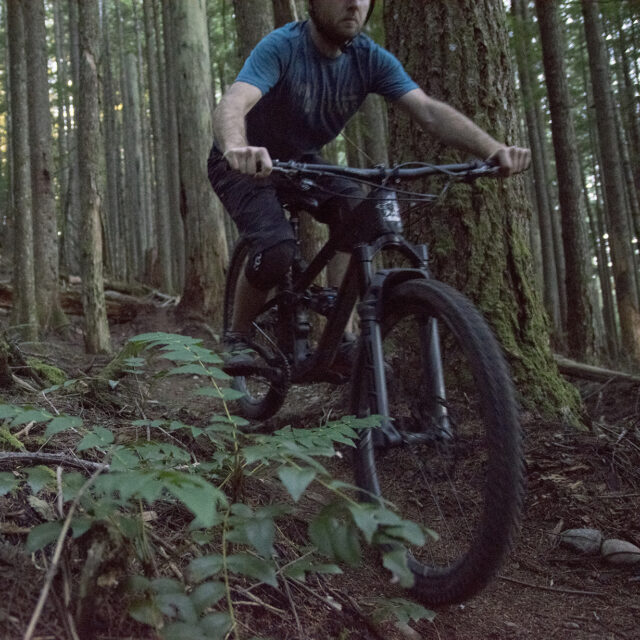 At the high end of the air pressure settings I tried (65 psi, compared to the 58 psi that the RockShox Trailhead app recommends for my weight), the ZEB's midstroke support improved substantially, but I was no longer using the last ~10 mm of travel with any regularity. My most preferred settings for the ZEB's air spring were more like 61 psi and 1 token for not-super-steep trails, and 63 psi and no tokens for very steep ones. Changing air pressure and tokens on a trail-by-trail basis is a bit more hassle than I'm inclined to take on, so I mostly settled with the fork at 63 psi and no tokens, and accepted the tradeoffs that entailed.
On a couple of occasions, both when running zero tokens and one token (at slightly different pressures), I did find myself bottoming out the fork hard enough to really feel it run out of travel, hard. This was when hitting the back edge of a hole in the trail at speed. On the two most obvious instances, I'd been caught off guard by the holes, and hadn't done as much as I could have to absorb them. But going from not reliably using the last 5-10 mm of travel on cleaner runs to finding hard bottom when I made a mistake isn't ideal. I think that a little more midstroke support from the spring would provide a larger margin for error here, so you wouldn't need to rely on the very end stroke ramp-up to avoid bottoming out hard.
[Of course, not routinely using the last few mm of travel is hardly the end of the world. If I were running a ZEB on my own bike, long term, I'd just run another volume spacer and not worry about it. I'm only pointing this out to illustrate the tradeoffs I found in experimenting with various setups on the ZEB.]
With all this talk about midstroke support vs. small-bump compliance, there are two key things to note. First, my general proclivity, personally, is to optimize for midstroke support, and I often find myself wanting more of it from longer-travel air-sprung forks. The second is that I've been A/Bing the ZEB against the Manitou Mezzer Pro, which is truly outstanding in the midstroke-support department. The ZEB definitely can't match the Mezzer when it comes to midstroke support, but I also don't think the ZEB is notably lacking compared to, say, a 170mm-travel Lyrik.
For the folks who really care about this, you know who you are. If you haven't found yourself thinking too hard about midstroke support with other forks you've been riding, I'm pretty sure you won't have any complaints with the ZEB either. And again, the ZEB's small-bump sensitivity is particularly impressive — if you're not as worried about midstroke support, this is a tradeoff that'll be easy to make.
The Bottom Line
The RockShox ZEB Ultimate is a very stiff, burly, single-crown fork with an excellent chassis and remarkably good small-bump sensitivity. The beefed-up chassis comes at a roughly 200-gram weight penalty as compared to a RockShox Lyrik, Fox 36, or Manitou Mezzer Pro, but the corresponding step-up in stiffness is substantial and appreciable — and not just by the biggest, hardest chargers out there. Riders looking for a particularly firm, supportive setup might find the midstroke support to be a little lacking, but the balance the ZEB Ultimate strikes between supportiveness and bump absorption is one that I think will work very well for a whole lot of people.