RockShox ZEB Ultimate
Travel Options: 160, 170, 180, 190 mm
Wheel Sizes: 27.5" & 29"
Available Offset Options:
27.5″: 38 mm & 44 mm
29″: 44 mm & 51 mm
Stanchions: 38 mm
Version Tested: 170 mm travel; 29" wheel; 44 mm offset
Stated Weight: 2265 g
Blister's Measured Weight: 2264 g (steerer tube cut to 185 mm, w/ star nut)
MSRP: $999
Mounted To: Guerrilla Gravity Gnarvana
Test Duration (So Far): 4 rides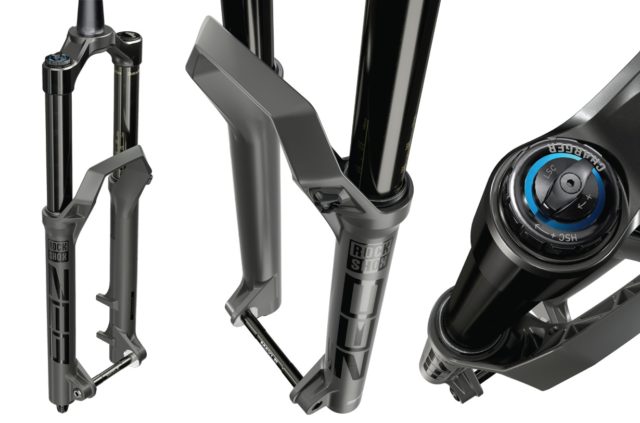 Intro
RockShox recently released the ZEB: a new, 38mm-stanchion, single-crown fork that's designed for long-travel Enduro bikes and e-bikes, slotting between the Lyrik and dual-crown Boxxer in their lineup.
We just sat down with Chris Mandell, the North American Public Relations Manager for SRAM and RockShox, to talk about the new fork; why RockShox saw a need for a new fork model within their lineup; and who it's best suited for. You can check out that conversation on our Bikes & Big Ideas podcast, but for now, here we're going over the details and design of the new fork, as well as some of our initial on-trail impressions.
Design
The most obvious difference between the Lyrik and the ZEB — named for Zebulon Pike, the namesake of Pike's Peak, which looms large over RockShox's Colorado Springs headquarters — is the stanchion size, which grew from 35 mm on the Lyrik to 38 mm on the ZEB. The crown and lowers — especially at the arch — also grew considerably, making the ZEB look much larger overall.
As would be expected, all of this came with a bump up in weight, as well as stiffness. RockShox's stated weight for the ZEB is 262 g heavier than the Lyrik (and our measured weight for the ZEB is only a gram off that stated one), and they claim a 21.5% increase in torsional stiffness. Fore-aft and lateral stiffness have also increased, albeit more modestly, at a claimed 2% and 7%, respectively.
The ZEB's tire clearance is enormous — RockShox states compatibility with tires up to 81 mm / ~3.19" wide. Chris Mandell stated a goal to "never have to talk about tire clearance" on this fork, even in especially gloppy, muddy conditions. Given how much the arch of the ZEB dwarfs the 2.4" Maxxis Minion DHR II tire I'm currently running up front with it, it's hard to imagine how tire clearance would ever become an issue.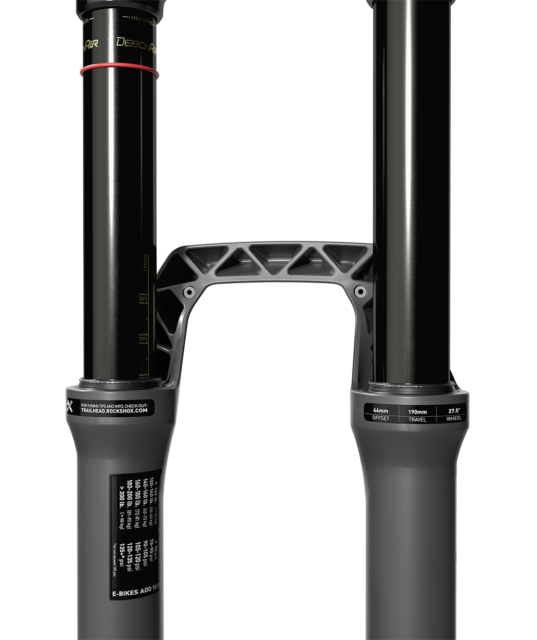 The lower casting of the ZEB also features three threaded holes to accommodate a bolt-on fender (sold separately for $20), a feature that has seemed, to me, long overdue on mountain bike forks in general.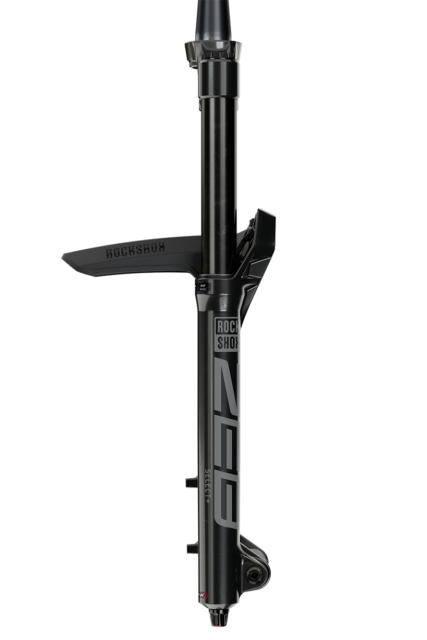 The beefed-up chassis of the ZEB is a touch taller than the Lyrik as well, gaining 5 mm of axle-to-crown height when comparing versions of the same wheel size and travel, bringing our 170mm-travel, 29er version of the ZEB's axle-to-crown height to 587 mm.
The ZEB features a brake mount for a 200 mm rotor directly, without using an adapter. RockShox says it will fit up to a 220 mm rotor.
While I'm fully on board with going big with the rotors for any bike that warrants a burly fork like the ZEB, it is irritating that the bike industry has gotten to a point where both 200 and 203 mm rotors are commonplace. Accommodating the 203 mm rotors of the Hayes Dominion A4 brakes I'm currently testing on the ZEB required finding a pair of 1.5 mm washers to space out the caliper. While SRAM very much has a point that the long-standing system of 160 mm / 180 mm / 203 mm rotors is dumb and makes adapters needlessly complicated by requiring an extra size, introducing 200 mm rotors to the mix only further complicates things. This is, I'm sure, a futile plea, but dear bike industry, please just pick one.
Different Versions
The ZEB is offered in four levels / versions, all of which use RockShox's updated DebonAir C1 spring, which was recently revised with the goal of making the forks ride slightly higher in their travel. The new DebonAir C1 spring rolled out in the RockShox Revelation, Pike, Yari, and Lyrik in April of 2020, and it carries over to the ZEB (in a version sized for the ZEB's bigger 38 mm chassis). And if talk of different springs, dampers, stanchions, etc. all sounds like a foreign language, we'd recommend checking out our Suspension 101 and Suspension 201 articles.
According to RockShox's website, you can get the ZEB with anywhere from 150 mm to 190 mm of travel, in 10 mm increments. We're currently awaiting clarification on the 150mm-travel option, as there's a bit of conflicting info out there on that version.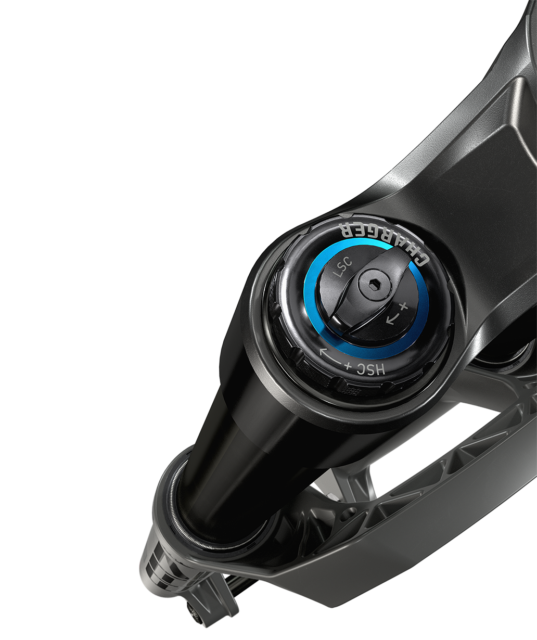 The ZEB's damper options will be familiar to folks with some knowledge of RockShox's current product offerings, as they mirror many of their other current forks. We're testing the top-spec ZEB Ultimate, and here's the breakdown of the different versions of the ZEB:
ZEB Ultimate
Charger 2.1 RC2 damper
Adjustable rebound
Adjustable high-speed and low-speed compression
MSRP: $999
ZEB Select+
Charger 2.1 RC damper
Adjustable rebound
Adjustable low-speed compression
Available OE only (i.e., only on full bike builds, cannot be purchased aftermarket)
ZEB Select
Charger RC damper
Adjustable rebound
Adjustable compression, in a knob that sweeps from open to near-lockout
MSRP: $799
ZEB
Charger R damper
Adjustable rebound
MSRP: $699
Initial Ride Impressions
I've got four rides on the ZEB Ultimate so far, and while we'll need a lot more time on the fork before writing our full review, I can share a few early impressions.
Regarding setup, the ZEB's larger air spring runs notably lower air pressure, given the larger piston area in the larger stanchion, which equates to some different settings vs. what I'd use on a Lyrik. For the ZEB, I'm settling in at about 61 psi for my 170 lb self, which is 3 psi more than what the RockShox Trailhead tuning app recommends. I can't remember exactly what I last ran in a 170 mm Lyrik, but Trailhead suggests 70 psi as a starting point for me in the latest Lyrik Ultimate. Despite some different settings, there's a familial resemblance in the feel and performance of both the spring and damper, coming from a Lyrik.
Given their similar damper and spring configurations, the ZEB does feel a lot like a stiffer, burlier Lyrik. The ZEB's overall stiffness is impressive; in particular, one trail I've ridden a few times on it features a high-speed section of side-hilling over a ton of exposed roots, and fighting to keep the bike on the high line can be a challenge. I'm not yet ready to comment on how exactly it compares to some of the other burly, single-crown forks or the dual-crown Fox 40 I frequently use on one of my Enduro bikes (we will be doing that in the future), but the ZEB is notably stiffer and holds a line more confidently than the previous "top class" of single-crown, Enduro-oriented forks (e.g., Fox 36 and RockShox Lyrik). There is a noticeable difference, and I'm very eager to keep spending time on the ZEB going forward.
Bottom Line (For Now)
The new class of burly, large-stanchioned Enduro forks is an exciting one, and RockShox's ZEB appears to be a strong contender in that class.
We'll be spending a lot more time on the ZEB, and we'll also be comparing it head-to-head against two other forks in this category, the new Fox 38 and Manitou Mezzer. In the meantime, check out our episode of Bikes and Big Ideas, where we go into more detail on the ZEB with Chris Mandell of RockShox, and then stay tuned for a full review in the future.