We Are One Arrival
Wheel Size: 29''
Travel: 150 mm rear / 160 mm front
Material: Carbon fiber
Price:
SP2 Build: $9,999.69 CAD / $8,999 USD
SP1 Build: $12,969.69 CAD / $10,755 USD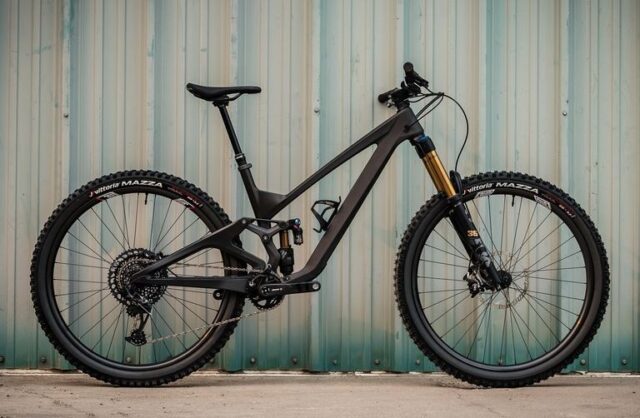 Intro
We Are One have been teasing an upcoming bike for some time now, and today the Arrival has, uh, arrived. We Are One says the Arrival is "for the aggressive rider who wants a playful bike that balances the ability to hold a line, rail corners and handle race speeds with confidence" — about what you'd expect for a 150 / 160 mm travel 29er Trail / Enduro bike.
Intriguingly, We Are One also ends their description of the Arrival by saying "and we're just getting started." But there's plenty to get excited about with the Arrival, so let's dig in.
The Frame
As you'd expect from We Are One, the Arrival is a carbon frame, made in their Kamloops, British Columbia headquarters. It's a dedicated 29er, with 150 mm of rear-wheel travel, designed around a 160 mm fork, using a parallel mini-link suspension layout. Cable routing is fully internal, and there's room for a water bottle inside the front triangle. The now-standard molded rubber chainstay protection that you'd expect is included, as is a downtube guard just in front of the bottom bracket.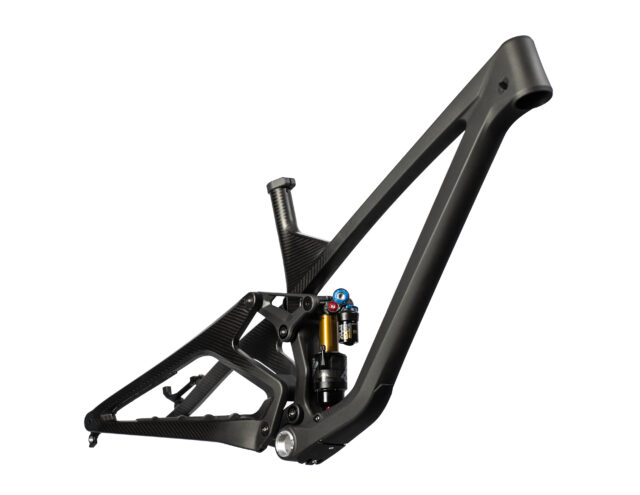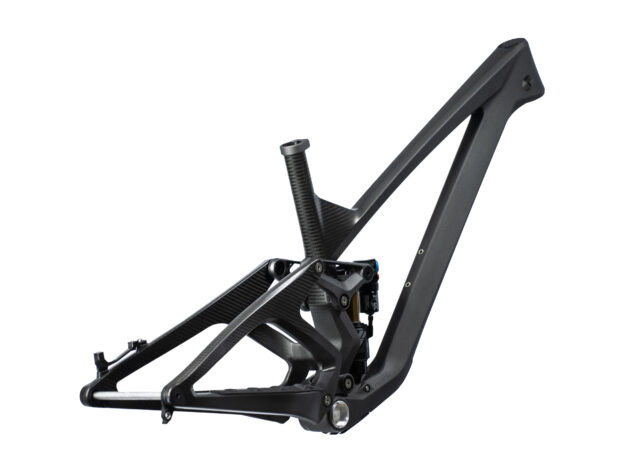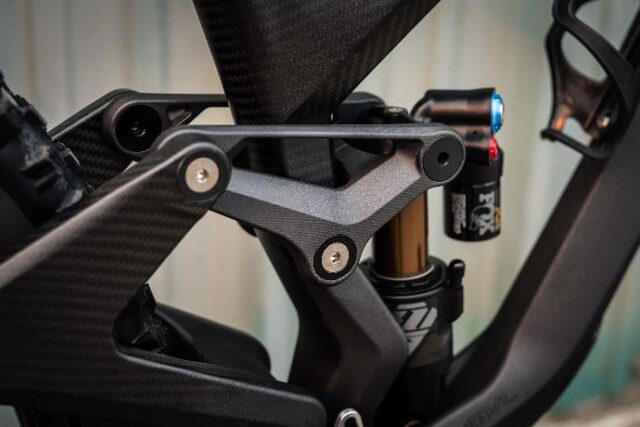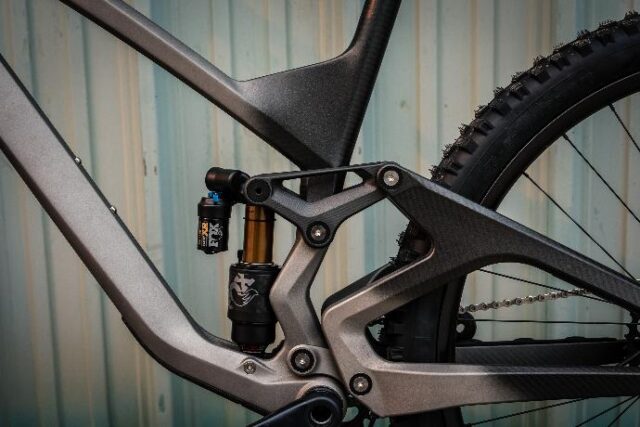 We Are One chose to go with a Superboost 157 mm rear end for the Arrival, and apparently expect that to be a bit controversial — their blurb on that detail begins with "157… Hear us out." Their argument is that the wider rear end makes for a more stable bike, but the narrower q-factor of a standard Boost crankset makes for more efficient pedalling and a better chainline with modern wide-range cassettes. The chainline argument in particular seems on the money; for a Trail / Enduro bike, where the majority of the pedalling effort is done in the lower half of the cassette, it makes sense to optimize for that part of the range. I've also done more than my fair share of climbing on a bike with an 83 mm bottom bracket shell, and completely agree that I'd prefer a narrower stance.
We Are One also opted to make their own custom brake mount for the Arrival. The tabs on the frame are a bit like a Post Mount pair of tabs, but with the two tabs offset from one another. A bolt-on adapter for a 180 mm rotor is included, and We Are One says they'll make a 203 mm option available as well.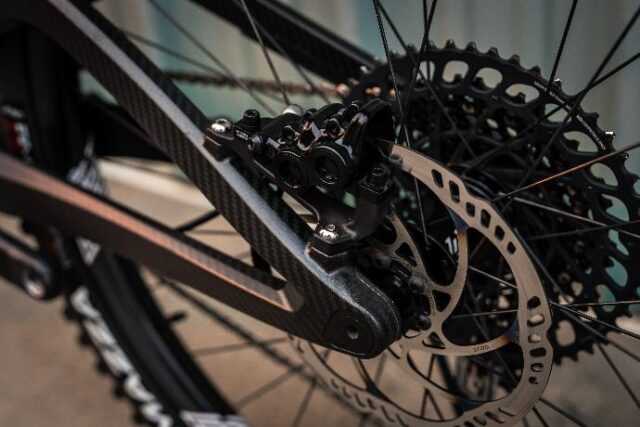 The finish on the Arrival is also a bit different than on most bikes. We Are One uses a Cerakote H Series coating on the frames and says that "each frame is hand blended at our painter's discretion." Both build levels get a fade finish from a solid color up front to raw carbon in the rear, but the exact fade might vary a bit from frame to frame. The stock color on the SP1 build is a light gray, while the SP2 gets a black finish, but We Are One also offer custom color selections if desired.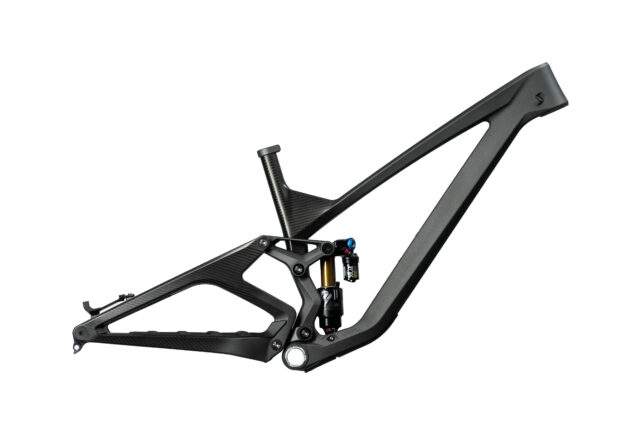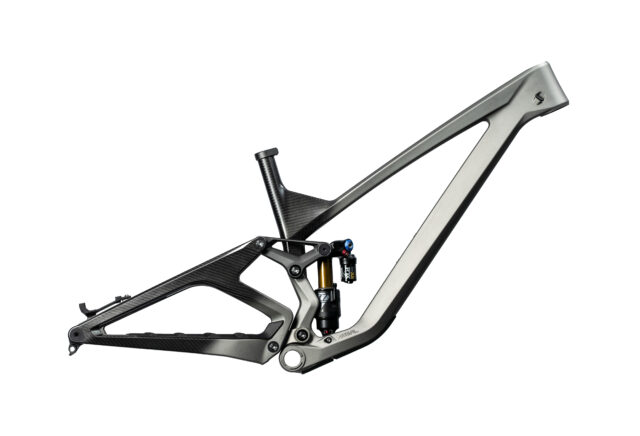 We Are One also note that almost all of the frame materials are sourced in North America — titanium hardware from China being the one exception — and that all of their products are shipped in recycled cardboard packaging, with no plastic.
Finally, We Are One offer a lifetime warranty on the Arrival frame and also mention that they have the ability to perform repairs for certain types of damage: "This process is more labour intensive than building a new frame. However, the result isn't about labour and costs; it is about our impact on the environment and keeping our products rolling longer than others. The repair program will assign a cost to repair the frame or rear triangle and will be not-for-profit, meaning our costs will be covered, and the customer gets to keep riding the product after the repair."
Fit & Geometry
We Are One offers the Arrival in three sizes, dubbed SZ1, SZ2, and SZ3, which they say cover riders from 5'3'' to 6'4'' (160–193 cm). All get a 64° headtube angle, 77° effective seat tube angle, and reach ranges from 450 to 500 mm in neat 25 mm increments. The smaller SZ1 and SZ2 get short-ish 437 mm chainstays, which grow to 441 mm on the SZ3. All of that adds up to wheelbases ranging from 1220 mm on the SZ1 through 1277 mm on the SZ3; the SZ2 comes in at 1246mm. You can see the full geometry chart here:
All of that is pretty standard for a modern, aggressive-but-not-over-the-top Trail / Enduro bike. Perhaps the most noteworthy detail is the 37 mm bottom bracket drop. While it's not an unheard-of number by any stretch, it's a bit lower than most bikes in this travel range. We'd expect all of that to add up to a very capable, but still reasonably versatile bike, and are looking forward to throwing a leg over one to find out more.
The Builds
At least for now, the Arrival is only available as a complete bike in one of two build specs, and they're both emphatically high end. Both come with We Are One's in-house Da Package bar and stem, a Chris King headset, and We Are One carbon rims. The build specs and prices are as follows:
Arrival SP2: $9,999.69 CAD ($7,958 USD at time of publishing)
Arrival SP1: $12,969.69 CAD ($10,322 USD at time of publishing)
There's certainly no budget option here. Even the more basic SP2 comes with Fox Factory suspension front and rear, high-end carbon wheels, and a SRAM X01 drivetrain. But while the Arrival is undeniably expensive, it's actually a pretty impressive value for what you get.
The Arrival SP2 build is significantly cheaper than similar spec packages from a lot of mainstream brands, including the Santa Cruz Hightower X01 ($8,049, with aluminum wheels), the Yeti SB150 X01 build with a DT Swiss carbon wheel upgrade ($9,300), and the Specialized Stumpjumper Evo X01 build with Roval carbon wheels ($8,600). Couple that with the fact that We Are One throw in some bling-y extras (Chris King headset, Da Package bar and stem, etc.) and does all that while making the frame in British Columbia? Color us impressed.
We Are One also mentions the option to upgrade to a Push Elevensix rear shock, but pricing for that upgrade isn't specified. We'll check in with them and update on that point when we hear back.
In an age of pandemic-induced bike shortages, We Are One is also refreshingly upfront about bike availability. They've allocated 75% of their production to their dealers, and have a list on their site to see if there's one in your area.
The remaining 25% will be sold directly by We Are One and are available to order through their site, with individual production "blocks" for each month, starting in September. Once a given month's block is sold out, you can move on to the next.
Some Questions / Things We're Curious About
With travel and geometry numbers that blur the line between Trail and Enduro bikes, where does the Arrival fall on that spectrum?
And how does the Arrival stack up against some of the other very strong contenders in that class of bikes, including the Guerrilla Gravity Smash and Canyon Spectral?
Bottom Line (For Now)
The Arrival is a very interesting (and really good looking) new offering from We Are One, and a big step forward for a brand that hasn't made a bike before. It's also an impressively good value for money, if admittedly only in the very high-end range, and does that despite being made in Canada. We're very excited to get on one to learn more, so stay tuned for a full review to come.