2022 Santa Cruz Bronson / Juliana Roubion
Wheel Size:
27.5'' for size XS
29'' front, 27.5'' rear for sizes S–XL
Travel: 150 mm rear / 160 mm front
Frame Material: Carbon fiber
Price:
Carbon CC Frame with RockShox SuperDeluxe Ultimate Shock: $3,699
Complete bikes: $5,049 to $11,399 (see below for details)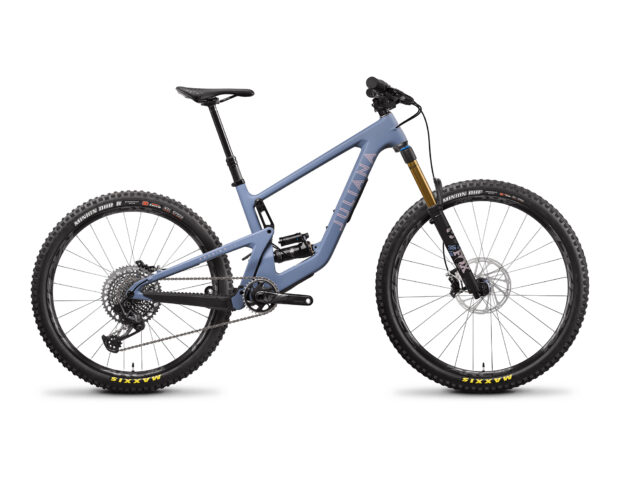 Intro
The Bronson has been in Santa Cruz's lineup for quite some time as the 27.5''-wheeled bike with a bit less travel than the Nomad, and today they've released a new "version 4.0" — with a twist: the Bronson has grown a mullet. The Juliana Roubion — the women-specific model from Santa Cruz's sister brand — gets all the same updates, and actually shares its frame with the Bronson. Suspension travel still sits at 150 mm rear, 160 mm front (and the XS size keeps the 27.5'' front wheel) but the Bronson / Roubion is now designed expressly to be run with mixed wheel sizes. But what else is new, besides the bigger front wheel?
The Frame
The Bronson carries over the design language that has been common in Santa Cruz's Trail / Enduro bikes for quite some time now. The familiar VPP suspension with a lower-link-driven shock is still there, and the overall lines of the bike share a strong family resemblance as well. From far away, most of Santa Cruz's current bikes look strikingly similar to one another. The Juliana Roubion still shares its frame with the Bronson but gets different paint, and complete versions come with women-specific grips and seats.
The Bronson and Roubion are offered in carbon only, but as per usual for Santa Cruz, there are two versions of the carbon layup on offer: the more basic, heavier Carbon C, and the lighter, more expensive carbon CC. Santa Cruz claims that the Carbon CC frame simply cuts a bit of weight without any loss of strength or stiffness, but don't state exactly how much lighter the Carbon CC version is for the new Bronson / Roubion. Past bikes have been stated to shave about 280 g with the fancier layup, and we'd expect the Bronson to be similar.
As with the last-gen Bronson, the new one gets 150 mm of rear-wheel travel, paired with a 160mm-travel fork.
The Bronson frame features fully internal cable routing, room for a water bottle inside the front triangle on all sizes, ISCG-05 chain guide tabs at the (threaded) bottom bracket shell, and abundant armor in key areas on the frame. Molded rubber chainstay and seatstay guards are included, along with additional protection on the downtube near the bottom bracket, and below the headtube to protect from shuttle damage. A small bolt-on fender covers the rear shock to protect it from dirt thrown off the rear wheel. Tire clearance is stated at 2.6'', and there's a flip chip to (subtly) toggle between two geometry settings — more on that below. Apart from the XS size, the new Bronson / Roubion are meant to be run as a mullet only. There's not enough variation in the flip chip to make that a viable option for changing the wheel sizes up.
The Builds
Both the Bronson and the Roubion are available as a Carbon CC frame with a RockShox SuperDeluxe Ultimate rear shock for $3,699. The Bronson is available in six different complete builds, ranging from $5,049 to an eye-watering $11,399; the Roubion drops the top-spec XX1 AXS build from the Bronson, but the other five builds are on offer at the same pricing, and only differ in the grips and seat. The full details of the builds are as follows (click each to expand):
Drivetrain: SRAM NX Eagle
Brakes: SRAM G2 R
Fork: RockShox Lyrik Select
Shock: Fox Float X Performance
Wheels: RaceFace AR 30 with SRAM MTH hubs
Dropper Post: SDG Tellis
Drivetrain: SRAM GX Eagle
Brakes: SRAM Code R
Fork: Fox 36 Performance
Shock: RockShox Super Deluxe Select+
Wheels: RaceFace AR 30 with DT Swiss 370 Hubs
Dropper Post: RockShox Reverb
Drivetrain: Shimano XT
Brakes: Shimano XT 4 Piston
Fork: Fox 36 Performance Elite
Shock: RockShox Super Deluxe Select+
Wheels: RaceFace AR 30 with Industry Nine 1/1 Hubs

$8,249 with Reserve Carbon Wheel upgrade

Dropper Post: RockShox Reverb
Drivetrain: SRAM X01 Eagle
Brakes: SRAM Code RSC
Fork: Fox 36 Factory
Shock: RockShox Super Deluxe Ultimate
Wheels: RaceFace AR 30 with Industry Nine 1/1 Hubs
Dropper Post: RockShox Reverb
Drivetrain: SRAM X01 Eagle AXS / GX AXS Shifter
Brakes: SRAM Code RSC
Fork: Fox 36 Factory
Shock: RockShox Super Deluxe Ultimate
Wheels: Santa Cruz Reserve 30 rims with Industry Nine 1/1 Hubs
Dropper Post: RockShox Reverb
Drivetrain: SRAM XX1 Eagle AXS
Brakes: SRAM Code RSC
Fork: Fox 36 Factory
Shock: RockShox Super Deluxe Ultimate
Wheels: Santa Cruz Reserve 30 rims with Industry Nine Hydra Hubs
Dropper Post: RockShox Reverb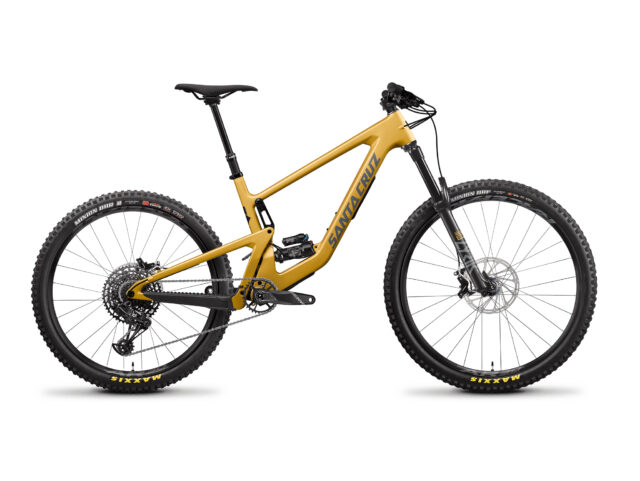 Fit & Geometry
As we mentioned up top, the Bronson and Juliana Roubion share the same frame, but the Roubion is offered in a narrower range of sizes. The Bronson can be had in sizes ranging from XS through XL; the Roubion drops the L and XL options. Reach on the XS frame starts at a very short 405 mm, and Santa Cruz / Juliana recommend it for riders as short as 4'8'' / 142 cm. The XS size gets a 27.5'' front wheel, to keep the bar height manageable for the shorter riders out there, and it's great to see such a small size on offer. The Medium bike gets 455 mm reach, which grows to 500 mm on the XL — with all numbers stated in the high geometry position. The low one shortens the reach by a modest 3 mm.
The headtube angle sits at 64.5° in the low position, and the high one steepens it by just 0.2° — we're talking subtle changes here. Santa Cruz only states an effective seat tube angle for the Bronson / Roubion, but it's around 77°, varying slightly by size. The chainstay length also changes across the frame sizes — starting at a quite short 427 mm on the XS, and increasing by 3 to 4 mm per size, to a still-not-that huge 442 mm on the XL. All of this adds up to wheelbases that range from 1149 mm on the XS through 1284 mm on the XL, with the Medium falling in at 1221 mm. You can see the full geometry chart below:
Santa Cruz are clearly positioning the Bronson / Roubion to be an extremely versatile option — their demo department is apparently fond of saying "when in doubt, take a Bronson out" — and the geometry looks like it should make for a well-rounded offering that we'd expect to be relatively stable and capable, but far from some ultra-long-wheelbase sled that's only at home at high speeds in gnarly terrain. And again, it's really nice to see such a wide range of sizes on offer, especially for a bike that comes in both men's/unisex and women-specific versions.
Some Questions / Things We're Curious About
(1) Mixed wheel / mullet setups are undeniably trendy, but who will be best suited by that arrangement on the Bronson / Roubion, and who will be better off with a 27.5'' or 29'' bike?
(2) What kind of blend of stability and quickness does the Bronson / Roubion bring to the table, between their mixed wheel size and modern, but somewhat moderate geometry? And how does it compare to the longer-travel Santa Cruz Nomad and shorter-travel 5010?
Flash Review
Blister Members can read our Flash Review of the Bronson for our initial on-trail impressions. Become a Blister member now to check out this and all of our Flash Reviews, plus get exclusive deals and discounts on gear, and personalized gear recommendations from us.
The Bottom Line (For Now)
The new Bronson and Roubion are very interesting new offerings from Santa Cruz and Juliana, and bring a mullet wheel configuration to a shorter-travel, more Trail-oriented configuration than we've seen on most mixed-wheel bikes to date — which have predominantly been DH bikes and a few Enduro / Freeride bikes, like the new Transition Patrol. We're very interested to throw a leg over one to see how it stacks up on the trail, and hope to have a full review to come.
FULL REVIEW
David Golay (6', 170 lb / 183 cm, 77 kg): I've spent a lot more time on the newly-mulleted Santa Cruz Bronson in the last few months, and I think it's a very versatile bike that'll work well for a big swath of riders. But that could be said of a lot of different bikes, so let's take a closer look at what exactly the Bronson does (and doesn't) do well.
Dylan Wood (5'10", 155 lbs / 178 cm, 70 kg): I had two solid rides on the Santa Cruz Bronson, so while I'll be keeping things brief, I'll be adding some thoughts to David's throughout the review.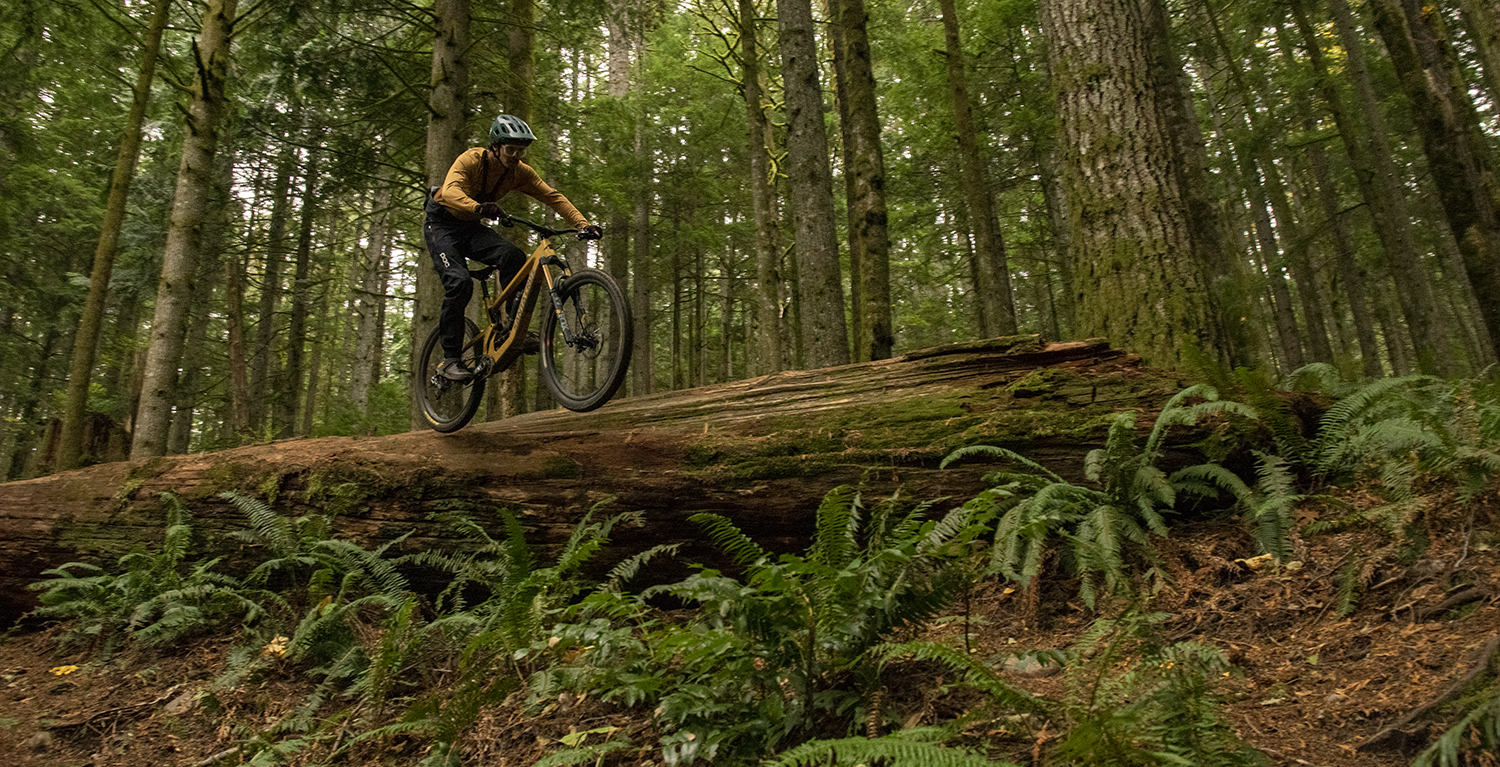 Fit & Geometry
David: I'm 6' (183 cm) tall, which puts me at the taller end of Santa Cruz's recommended range for the size Large, but short of the band for the XL, and that feels exactly right. I wasn't ever tempted to size up by a full size, but I definitely wouldn't want the Bronson to be any smaller, either. The 472 mm reach (low setting) is a touch on the shorter side for my normal preferences, but as we'll get into more when we discuss the Bronson's handling, below, I think that's not such a bad thing.
The seated pedaling position feels really good on all but the very steepest of fire road climbs. At 76.5° (effective, low position) the Bronson's seat tube angle isn't crazy steep, but it results in a nice, neutral position for all-around riding. Between the fairly moderate chainstay length and seat tube angle that's just a tick slacker than many more winch-and-plummet-focused Enduro bikes, the Bronson does require just a little more effort to keep the front wheel planted when climbs get especially steep, but the tradeoff is a much more natural-feeling position the rest of the time, especially on more rolling, varied terrain. For a bike that's supposed to be more versatile than ultra-aggressive, I think that's absolutely the right call.
I spend most of my time with the Bronson in the low geometry setting and wasn't ever tempted to move it from there, which is probably a good thing because the changes it makes are quite subtle anyway — just 0.2° of headtube angle and 3 mm of bottom bracket height. As with other recent Santa Cruz bikes with a flip-chip on the lower rocker link, toggling the two geometry positions isn't entirely straightforward, with tight access to both the bolt and the flip chips themselves. It's not a big deal (again, it's not like I found myself wanting to toggle back and forth a whole bunch anyway) but it is one minor detail that could be improved.
It's also worth noting that the bar height on the Bronson is quite high — due to a combination of a slightly tall-ish stack height, and the quite-tall 35mm-rise handlebar spec'd on our X01 AXS review bike. I wound up running no spacers underneath the stem, which resulted in a setup I was happy with, but shorter folks or those who just prefer a low bar height might need to swap to a lower bar. And speaking of the handlebar, despite my recent carping about 35mm-diameter carbon bars being a bad idea, the Santa Cruz-branded one that came on the Bronson actually rides pretty well. I stand by that take in general, but the Santa Cruz bar proves that it's possible to make a good one.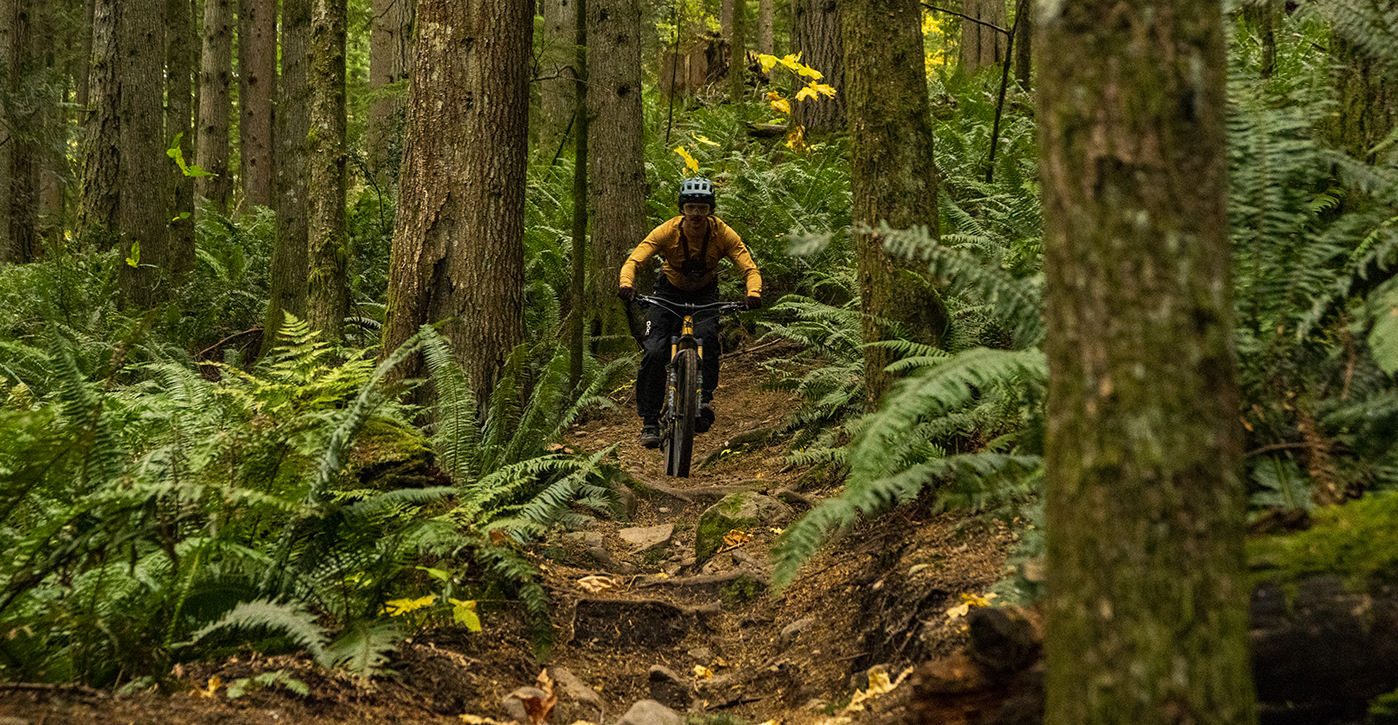 Dylan: I'm a bit shorter than David at 5'10", and I've gotten along best with bikes with reaches in the 465-485 mm range. I'm pretty squarely in the center of Santa Cruz's sizing for Large bikes (and have gotten along well with several Large Santa Cruz bikes over the years). So, unsurprisingly, the Large Bronson fit me really well.
I kept things in the "low" geometry setting for my entire time on the Bronson since David and I were riding a lot of steep and fast trails. The 472 mm reach felt just about perfect, and it gave me plenty of room to move about the bike without feeling stretched out. Additionally, I could pedal in a pretty upright, comfortable position on flatter trails as well as drop my chest and get more aggressive without feeling cramped.
The 76.5º effective STA felt very familiar, as I've spent a lot of time in recent years on bikes with similar STAs, and I agree with David that is a very practical and versatile number that results in feeling comfortable on just about anything but very steep sections of trail/road. And by "very steep," I mean the kind of steep that makes you just want to get off your bike and push (which I did).
I would say that I also felt like the bars were high on the Bronson, but I think this makes a lot of sense for this bike given the reasons we will be discussing below, mostly in the "descending" section.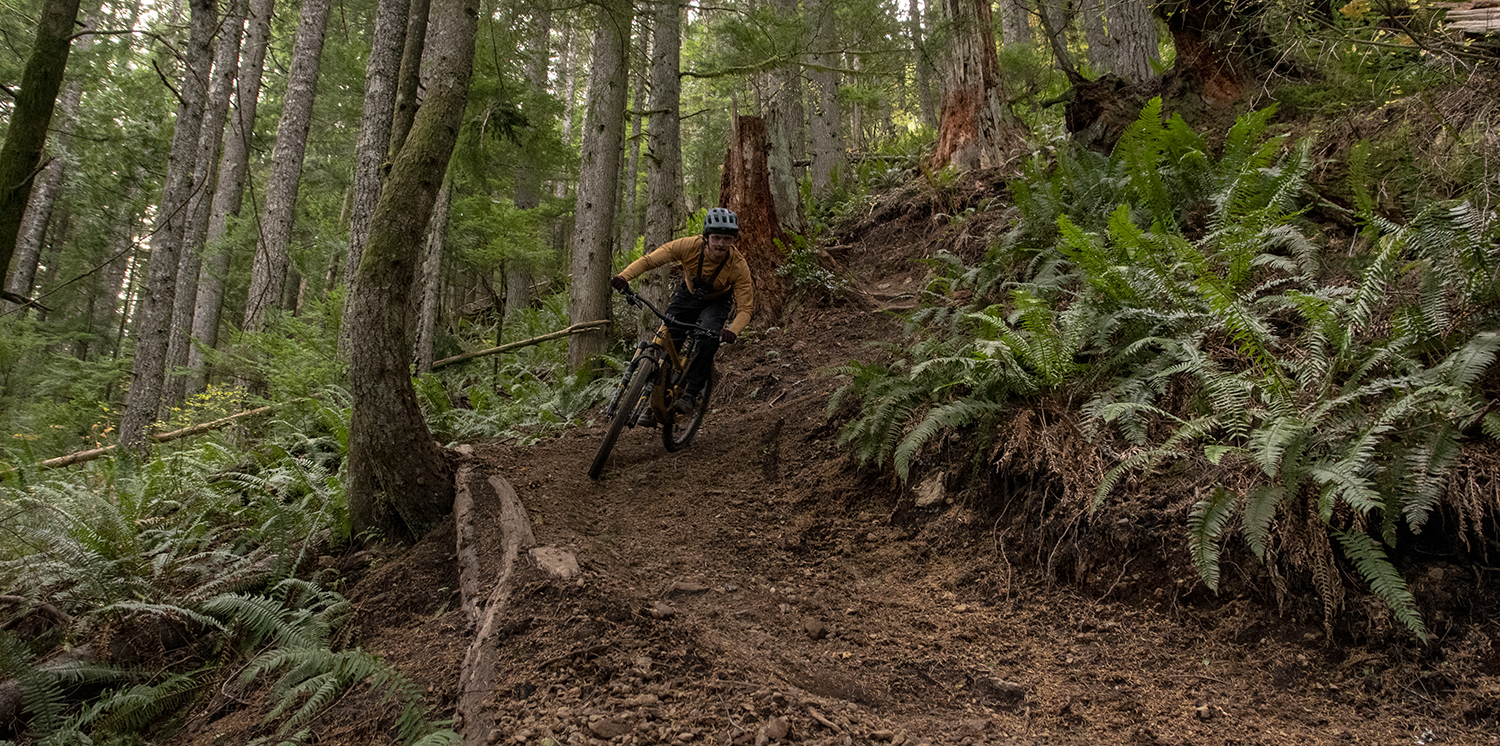 Climbing
David: In short, the Bronson does an excellent job of maintaining an efficient pedaling platform without fully selling out in search of efficiency and giving up a ton of compliance and traction as a result. It's still got 150 mm of rear travel and isn't going to be the best bet for riders looking to set a ton of climbing KOMs, but for what it is, the Bronson pedals very well.
That blend of above-average efficiency and pretty good traction serves the Bronson very well when the climbing gets more technical. The pedaling position is good, and it's easy to put down power when needed to get up and over an obstacle mid-climb. Again, I'm describing the Bronson relative to other ~150mm-travel Trail bikes — if ultra-efficient pedaling is truly a top priority, you're better off with less travel.
The low-ish bottom bracket on the Bronson can make it a touch trickier than some other, higher bikes when you need to link up a bunch of pedal strokes to keep up your momentum on technical, stair-step-y climbing, but it's not especially an outlier in that regard. The extra 3 mm to be gleaned from the high setting isn't enough to make a huge difference there, but I'm not advocating for a higher bottom bracket on the Bronson, given what I'm about to say about how it corners. Just be warned that it takes a bit of extra focus in certain technical climbing situations.
Overall, though, the Bronson climbs really well for a 150mm-travel Trail bike. The low-ish weight of our X01 AXS review bike certainly doesn't hurt, and the Bronson offers up a really nice blend of excellent efficiency and solid traction that makes it feel quite sprightly without being so firm and unforgiving as to become a handful when the climbing gets more technical, and the not-crazy-long wheelbase certainly helps.
Dylan: Yep, the Bronson is a good climber for a 150 mm Trail bike. It has a nice blend of traction and efficiency that doesn't leave me wanting more of either one, and while it is certainly happy to mosey up a fire road, it really does shine when climbing up technical bits of trail. Most of the power put down into the pedals goes directly to the rear wheel, and with well-anticipated pedal strokes, the Bronson can make its way up rough and steep climbs impressively well.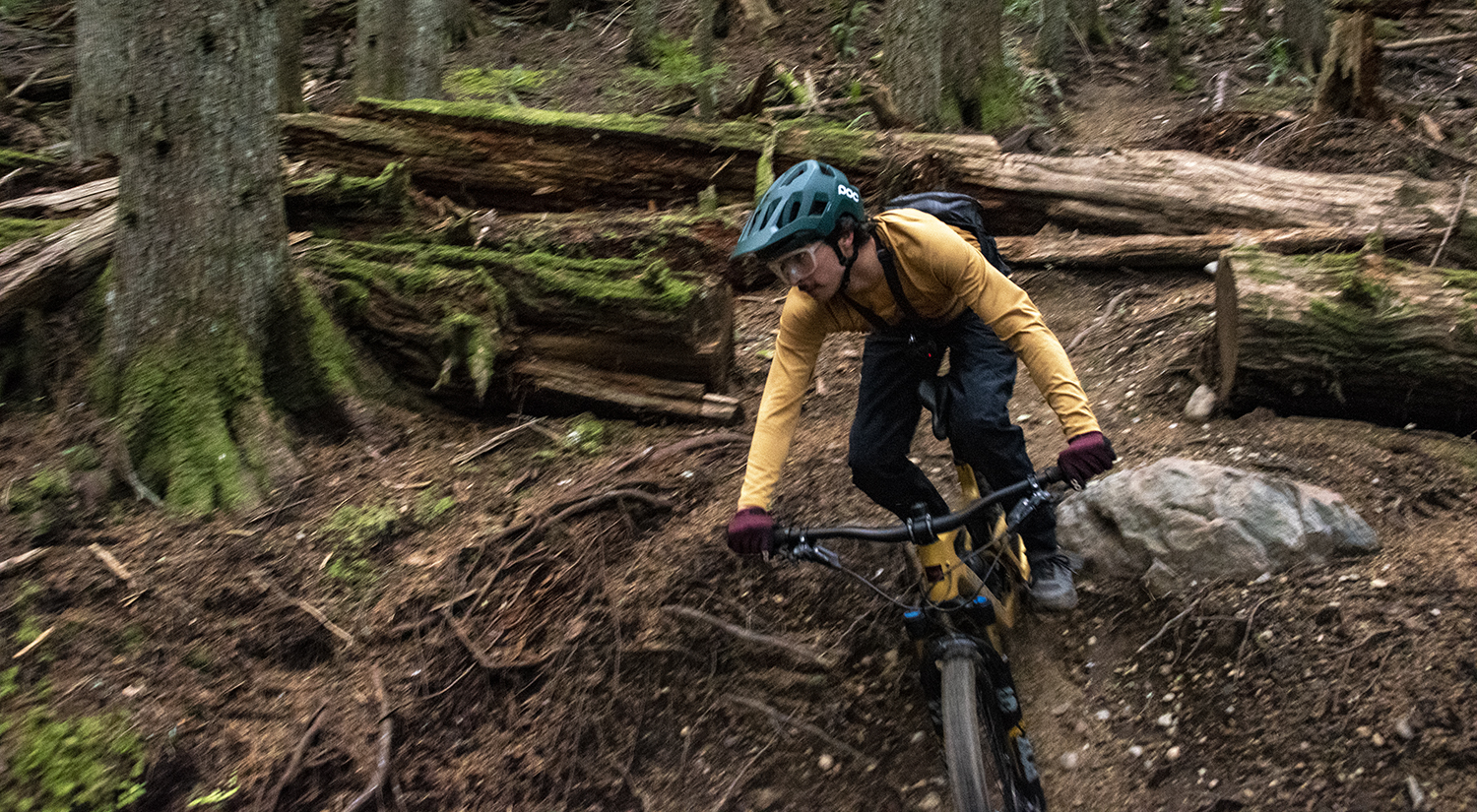 Descending
David: The versatility of the Bronson continues to be the main throughline on the way back down, too. It's not a bike that feels like it's trying to excel super-strongly at any one particular attribute and instead is happy to do a little bit of everything. But the Bronson makes a strong case for folks looking for a bike that is both fairly capable at speed and in steeper terrain while being a lot more engaging at lower speeds than most full-blown Enduro bikes. In particular, the Bronson feels quite quick-handling and agile for a bike that's as stable as speed as it is. It's definitely not as stable as a lot of full-blown Enduro bikes, but it's way quicker handling than anything I can think of that's appreciably more stable, and that's a middle ground that I think a ton of people will get along with.
The Bronson isn't a bike that needs the rider to take great pains to weight the front wheel aggressively, but it can start to feel a little out of joint if you get far off the back of the bike in flatter terrain. The combination of short-ish chainstays and somewhat higher than average front end feel like they contribute to there being a slightly smaller window to move around on the bike than some (mostly longer, more stable, more sluggish) bikes but it's happy being ridden from a fairly centered stance, too. The Bronson is just slightly less forgiving of getting lazy and off the back than, say, the Guerrilla Gravity Smash, for example. I bet that sizing is a factor there, too — I'm on the tall side of the range for the Large Bronson, which likely gives me a touch less room to work with. Folks who are a little farther down the sizing band for a given size might not notice that difference at all. On a more aggressive Enduro bike, I might be tempted to size up to the XL and lean into the ultra-stable ride, but given the more versatile, playful nature of the Bronson, I really wasn't tempted to.
The geometry of the Bronson isn't anything crazy, but it all adds up to a really well-rounded bike that works well in a ton of different situations, and is easy to imagine a whole lot of different riders getting along with. But what about the mullet wheel configuration?
In short, the mixed wheel sizes do feel like they significantly contribute to the overall character of the Bronson, but they're not exactly a best-of-all-worlds silver bullet. In particular, the smaller rear wheel feels like it wants to turn in more quickly when leaning the bike over, and that sensation lends itself to using more steering input (i.e., turning the bars more, instead of just leaning the bike over) in certain corners, especially in some tighter spots at lower to medium speeds. You know the sensation you can get — especially when you're traversing across the fall line, and then turning back down the hill — where you start to turn in, and as the bike leans over into the turn, it hits a point where it starts to accelerate and feels like it's pulling you into the corner? The mixed wheel setup on the Bronson feels like it does that just a bit more readily and in more situations than otherwise similar bikes with a single wheel size, and the result is that it takes a touch less effort to turn really hard than a lot of other bikes with similar overall geometry.
Another way to think about it is that mullet bikes, in general, tend to feel like they've got a bit shorter chainstays than the number in the geometry chart might suggest — and that's true of the Bronson, too. To be clear, I mean that in terms of handling feel, but not when it comes to the propensity of bikes with super short chainstays to want to lift the front wheel when climbing and the like. And at 439 mm (size Large, low position), the chainstays on the Bronson are about the middle of the road for this sort of bike, but the rear end does feel notably compact and quick to turn in.
Whether that manifests itself as a really appealing blend of both good stability in a straight line and sharper handling than many similarly stable bikes, or more as a slightly twitchy feel in certain situations is, I think, largely going to be a matter of personal preference and riding style. To be honest, I personally trend a little more towards the latter camp, but I've had similar thoughts about every mullet bike I've tried to date, and I think the Bronson does an excellent job of feeling balanced and intuitive overall, displaying the very real upsides of a mixed wheel setup while minimizing the quirks. And to be clear, those benefits will be very real for certain riders — particularly folks who want a bit more straight-line stability than many (generally shorter, steeper) bikes, but find a lot of super-stable Enduro bikes to be too sluggish and hard to muscle around.
To be even more clear, it's also not like the differences I'm describing in how the Bronson handles compared to an otherwise-similar 29er are totally night-and-day in terms of their impact on the overall ride of the bike. They exist, for sure, and I stand by how I've characterized them, but we're very much talking shades of gray as opposed to a black and white wholesale change in the handling. The Bronson felt intuitive from when I first hopped on it, and I absolutely think that it's a very easy bike to recommend to a whole lot of different people who don't have super-specific, well-defined preferences that would push them towards something else.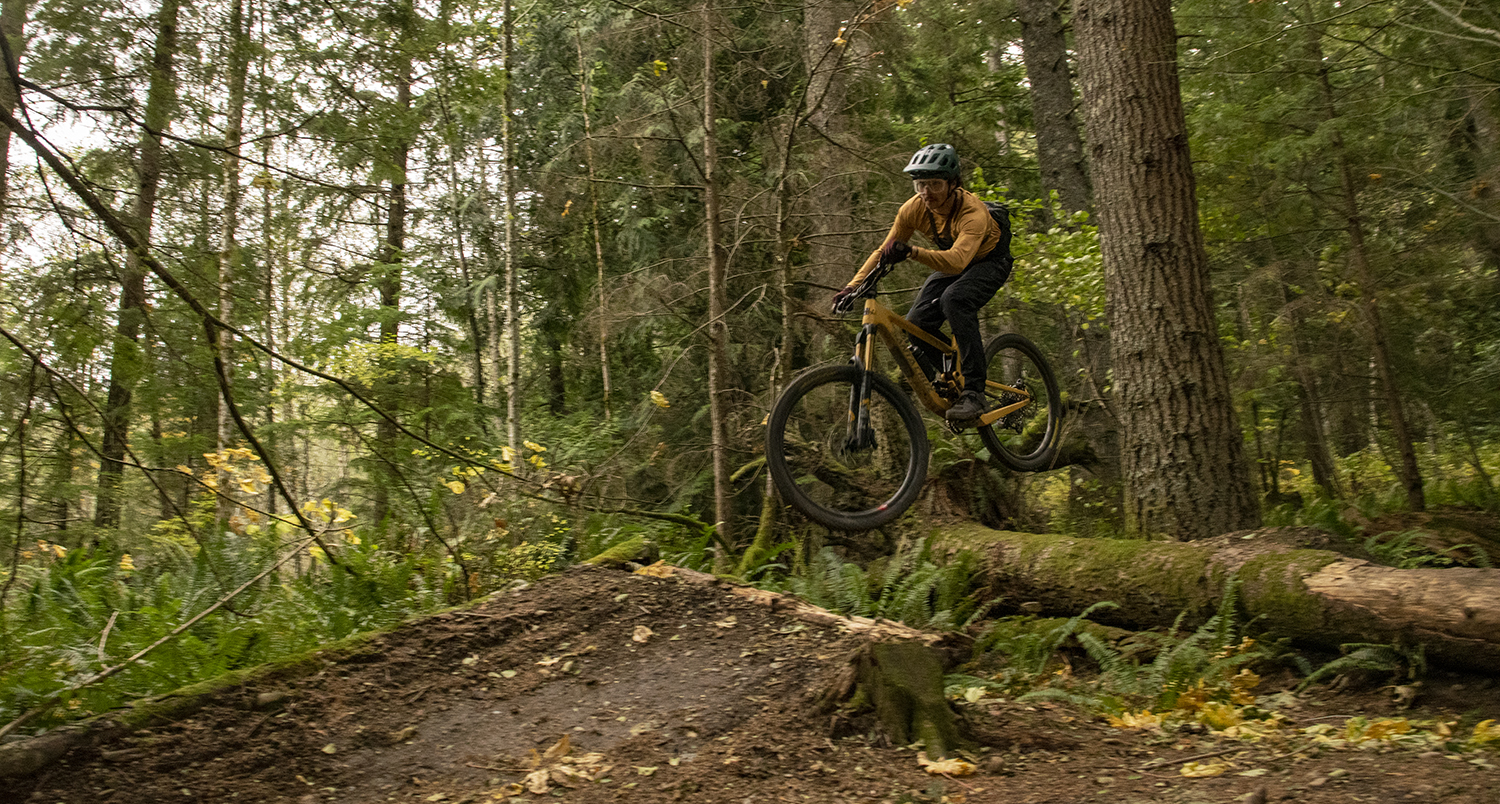 The smaller rear wheel also, of course, affords a bit of extra butt-to-tire clearance when getting off the back of the bike in very steep terrain. At 6' (183 cm) tall with a 32'' (81 cm) inseam length, I'm tall enough that this isn't generally a huge issue for me, but there's definitely a difference, and it's easy to imagine the benefit for some shorter-legged riders. This will be most true for riders spending a bunch of time in fairly steep terrain, where getting way off the back of the bike is a key consideration, but a little extra room there certainly can't hurt.
And though improved bump roll-over gets widely touted as a benefit of 29'' wheels, the smaller rear wheel on the Bronson feels like it makes a very, very minor difference on that front. The changes in handling and stability are a lot more significant, and if you're coming off a 29er and worried about the Bronson getting swallowed up by bigger bumps, I wouldn't be. Go read the stuff I just said about the handling again and decide if that makes sense for you or not, but don't sweat the rollover question.
I didn't do a ton of jumping on the Bronson, but its suspension is supportive enough to feel responsive when trying to preload off a lip, and it's nicely balanced in the air. Throwing a bike around a whole bunch mid-air definitely isn't my strong suit as a rider, but the smaller rear wheel on the Bronson does feel like it's got a bit less inertia and is a little easier to push out than a bigger 29'' one.
The suspension performance of the Bronson is quite good. And once again, it's much more balanced and well-rounded than it is strongly emphasizing any one particular trait. Small bump sensitivity is good, if not strictly best-in-class (see the "Comparisons" section, below, for more on that), but it's also nicely supportive and lively when trying to pump through rollers or off of lips in a way that the most ultra-plush bikes generally aren't.
I did find myself running somewhat firm compression settings on the rear shock (in terms of the range on the adjuster — but not a super firm feeling setup) which I'd attribute to the compression tune being somewhat on the lighter side. There's a broad range of adjustment available, and I did still have a bit of headroom to go firmer, but especially heavy and/or aggressive riders might find the stock tune a little bit lacking there. That said, I think it'll be fine for the overwhelming majority of people. If you're one of the few who will need a firmer compression tune, you already know who you are.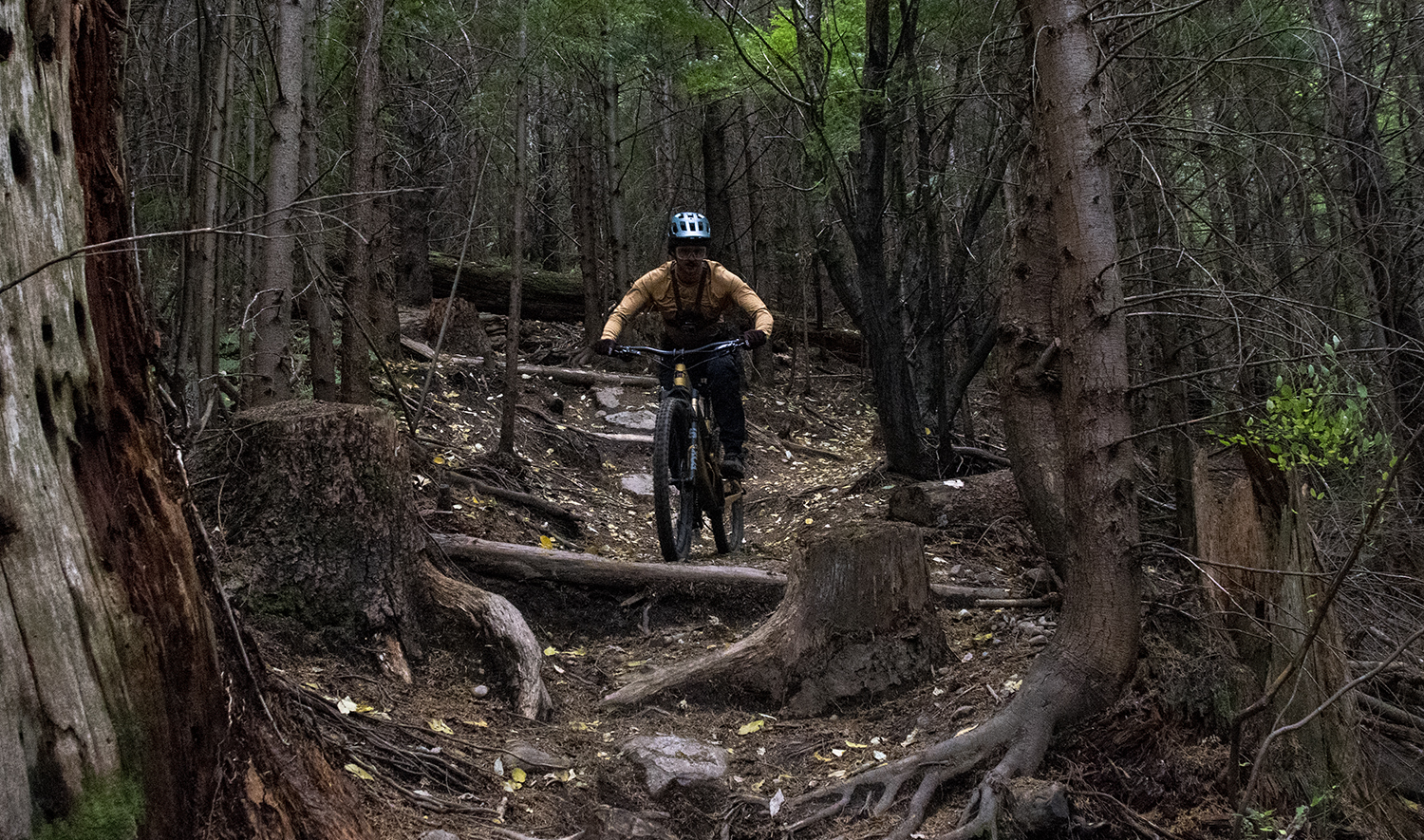 Dylan: I want to emphasize David's point on the versatility of the Bronson. While the Bronson can be ridden quite hard and remains composed on everything but the steepest and rowdiest trails, it is also really happy to just cruise along at slower speeds without feeling really dead or sluggish. It is agile and easy to get into the air, without feeling twitchy at high speeds.
I also agree with David when he speculated that riders shorter than him would be less sensitive to which weight distributions work best on the Bronson. I found that I could ride the Bronson with a pretty aggressive forward stance on flatter trails, and its high bars and smaller 27.5" rear wheel definitely allowed me to get as far off the back of the bike as I wanted to. Not only did these both feel comfortable, but I found that the Bronson's handling and performance weren't super sensitive to my body position, and it felt quite forgiving and predictable regardless. I think what might have been most impressive was the Bronson's tolerance for a centered, more casual riding stance. I could rip the Bronson aggressively from a pretty upright stance without feeling like I needed more weight on the front wheel.
I also think it's important to emphasize just how normal and intuitive the Bronson feels, despite having a mixed-wheel configuration. The Bronson isn't a mullet bike that also happens to feel really versatile and intuitive, it's a versatile and intuitive trail bike that also happens to be a mullet bike.
Having said this, the Bronson does have some characteristics that can be attributed to its mixed-wheel setup, and David hit the main one with its cornering feel. Overall, it feels more eager to initiate leaned-over turns, and more clear and clean when coming out of them. Sometimes when I am riding a 29er and hitting some awkward corners, it is hard to nail the balance of working with the bike to nail the ideal corner entrance and exit. Sometimes I feel like my bike doesn't want to be cornering when I want it to be, and other times I feel like the bike wants to continue out of a corner when I don't want it to. On the Bronson, the line between cornering and not cornering felt more clear, and lead to a more precise, intuitive, and clean feel in corners. While I am not quite ready to attribute this 100% to the fact that the rear wheel is smaller than the front, I do think that it is part of the equation, at the very least.
I am also in agreement with David in that I am fairly tall with long legs and I generally don't struggle with rear-tire-to-butt clearance, even on the very steep and sometimes sustained rock rolls of Hartman Rocks. While I haven't felt the frightening rush of the buzz of a tire to my rear in ages, I wouldn't expect to anytime soon on the Bronson.
During my second day on the bike, I ended up dropping into a pretty considerably sized and somewhat tricky jump line on the Bronson that I was admittedly a bit nervous about, and the Bronson immediately felt intuitive and predictable. I didn't feel any weird characteristics, and I think the Bronson is a very solid choice for those who like to get their bike in the air.
Like David, I found the suspension to be quite good overall and again, very versatile. It handled a mix of fast, small bumps to slower, big compressions well, and didn't really stand out for any one reason or another — in a very good way. I mostly rode steep trails where I was riding the brakes the entire time, and I thought the traction under braking was very good and it allowed me to keep the bike in control even though rough and loose sections of trail.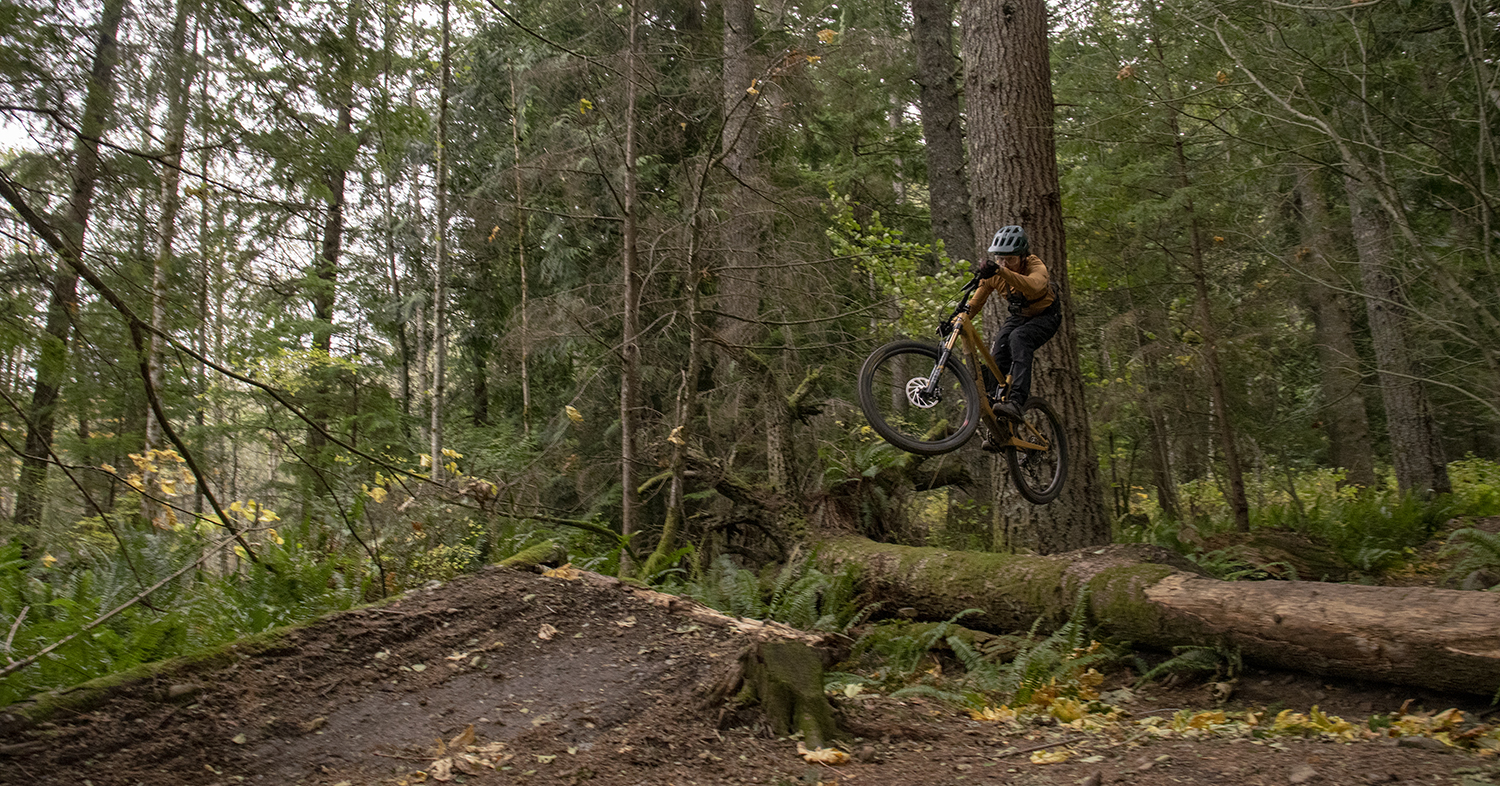 The Build
David: No surprises here — the $9,849 X01 AXS build is really nice. You get a SRAM X01 AXS drivetrain (with a GX AXS shifter), SRAM Code RSC brakes, carbon Reserve 30 wheels with Industry Nine 1/1 hubs, and a Fox 36 Factory Grip 2 / RockShox Super Deluxe Ultimate suspension combo — super nice parts all around.
While the X01 AXS drivetrain shifts really well — notably faster than the cable-actuated version — I'm a little more on the fence about whether I'd personally choose to spring for it. The shifter ergonomics are the biggest hangup for me; it'd probably be better if I was only riding bikes with an AXS shifter instead of bouncing back and forth, but I've apparently got too much ingrained muscle memory for more conventional paddle shifter layouts to make jumping back and forth seamless. And I also like the increased tactile feedback you get from a mechanical shifter, particularly when descending at speed and needing to hunt around a little bit for the shifter with my thumb. The more clearly separated paddle positions on a mechanical shifter are easier to find, for me.
We're way off into the realm of personal preference here, though — I've got no complaints whatsoever about the drivetrain's overall performance, and battery life is plenty good to be easy to manage. I never tempted fate too badly and ran the derailleur battery fully into the ground, but it reliably made it through 15+ hours of ride time before I got nervous and recharged it.
The Fox 36 Factory Grip 2 and RockShox SuperDeluxe Ultimate suspension bits are both familiar favorites, and while it's somewhat unusual to see a mix of brands on a stock bike, their performance is still very well matched. Santa Cruz's setup guide for the suspension recommended much lighter compression settings and a touch lower air pressure on both ends of the bike than I wound up running — as I mentioned earlier, the compression tune on the rear shock feels relatively light, and the same is certainly true for the newer VVC Grip 2 damper in the Fox 36 — but with things firmed up a fair bit, I was happy with the performance all around.
The climb switch on the SuperDeluxe Ultimate is quite firm, as we've found on a number of different versions of that shock on various bikes. Given the Bronson's strong pedaling performance, I didn't use it all that much, but it was nice to have the climb mode make a big difference when I really wanted it.
I did find myself wanting a bit more seatpost drop than the 170 mm RockShox Reverb that came spec'd on the Bronson at times, though to be fair, I am on the taller side of the size range for the size Large. It's not hard to imagine that some folks on the shorter end of the range wouldn't be able to fit the 200 mm version. If was to buy a Bronson I'd swap something longer on, but I'm spoiled by long droppers, and I had plenty of post length to get the seat as high as I needed to.
Dylan: I don't have much to add here; the CC XO1 AXS RSV kit is really nice and leaves very little to be desired. I think that overall, the AXS shifter was my least favorite thing about the Bronson, which is a complement to Santa Cruz and probably an indication that like David, I'm just really used to a normal shifter.
Comparisons
David: There's a strong family resemblance between the Hightower and Bronson, and the differences are about what you'd expect. The Bronson has a little more suspension travel and slightly longer, slacker geometry, and in keeping with that, it's slightly more plush and forgiving, a little more stable at speed, and a little less snappy under hard pedaling inputs. The more you're worried about the bike feeling too sluggish under power, the stronger the case for the Hightower; if you want a bit cushier ride, the Bronson makes sense.
Dylan: I agree, these two bikes feel more similar than they are different. Although, I'd say the Bronson felt more eager to get into the air and a bit more nimble in terms of handling, while the Hightower felt a bit more planted and like it wanted to stay on the ground. It is worth noting that the Bronson we reviewed is a couple of pounds lighter than the Hightower we spent time on.
David: Despite fairly similar travel and geometry numbers, the Bronson and Arrival feel pretty different. The Arrival is much more lively and poppy, and a bit more stable at speed than the Bronson, but significantly less plush and forgiving. Both pedal pretty well for their travel class, but the Bronson offers a bit better traction for more technical climbing, and overall feels more easy-going and less game-on than the Arrival — while still being quite capable for a more aggressive rider, too. Overall, the Bronson is probably the better choice for more people, but if you specifically like the sound of a super lively 150mm-travel Trail/Enduro bike that really rewards an aggressive approach, the Arrival is very special.
David: The Smash also feels like slightly more bike than the Bronson, but in a significantly different way than the Arrival. The Smash isn't quite as efficient under pedaling, and feels a little more stable and composed at speed, but — like the Bronson, in and in contrast to the Arrival — feels more in the middle of the spectrum when it comes to liveliness vs. plushness / muting all trail inputs. That said, the Smash does edge the Bronson out when it comes to small bump sensitivity, and is still very supportive and composed if you're pushing it harder. If you're looking for a bike that blurs the line between longer-travel Trail and Enduro bikes, the Smash is probably the better call. The Bronson feels more like a (very good) example of a down-the-middle long travel Trail bike if you don't want quite as much stability and top-end capability, and would trade that off for a little extra sprightliness.
David: This one's an interesting comparison. The Bronson and Alpine Trail both feel relatively nimble and easy to throw around, and both encourage a somewhat more forward stance to feel balanced (though the Alpine Trail does so to a much larger degree). But the Alpine Trail is a bit more stable and doesn't have nearly as good small bump sensitivity as the Bronson. There's also a substantial difference in the build tiers and pricing between the two — the Alpine Trail is, frankly, a better deal in terms of parts spec compared to the more entry-level Bronson offerings, but doesn't have options for high-end builds that the Bronson does.
Dylan: This is actually a great comparison. Both bikes are pretty nimble, easy to get into the air, quite versatile, and would work well with a wide range of riders. The Spectral does feel a bit more stable, especially at higher speeds and on chunky trails. The Bronson feels like it initiates turns and exits corners with a cleaner feel and is much more comfortable with a more rearward weight bias. The Bronson is also a solid alternative to the Spectral if you feel like you are between sizes, or vice-versa. Overall, if you'd be riding lots of steep trails, and especially if you are a shorter rider, the Bronson is probably the better bike. If you're more concerned with all-out speed, the Spectral is the more stable of these two relatively light and agile trail bikes. It would be very interesting to compare the Spectral Mullet to the Bronson…
Dylan: These bikes didn't really remind me of each other. The notably heavier Meta TR, which we tested with a coil, feels much more planted and glued to the trail, while the Bronson feels much more agile and lively. The Bronson also feels more comfortable with a rearward weight bias and in steep terrain. While the Meta TR actually does have less travel, I do feel like it is the more downhill-capable bike of the two and I'd be more inclined to enter an Enduro/Casual DH race on the Meta TR.
David: These two aren't very similar. The Occam LT is much more efficient and quicker handling than the Bronson, but less stable at speed, and less confidence-inspiring in really steep, technical terrain. The Occam LT is a really good option for riders who prioritize snappy acceleration and sharp handling but want a bit more cushy suspension than most shorter-travel Trail bikes that would typically fill that role. The Bronson is significantly more bike, overall.
David: There's some family resemblance here, too, but the Nomad is clearly a much longer-travel, more aggressive bike. It's more planted and cushy than the Bronson, doesn't pedal as well, and is more stable at speed but a bit more ponderous at lower speeds and in tighter spots. The Nomad is notably versatile for a 170mm-travel Enduro bike, but that's still a major qualifier. It's also pretty accurate to think of the Nomad as a modern take on a freeride bike — it's not as stable and focused on speed as a lot of big Enduro sleds, but is more nimble and easier to throw around than those sorts of bikes. The Bronson is much more of a versatile all-rounder.
David: The Megatower is significantly more game-on than the Bronson. Its suspension is firmer and more supportive, but not as forgiving at lower speeds if you're taking it easy, and it wants more speed and aggression to come alive. That said, if you do push it hard, the Megatower feels more stable and capable. The decision here should really come down to whether you want a race-y feeling bike that wants to be pushed hard most of the time (Megatower) or something a bit more easy-going and versatile while still having a solid top end (Bronson).
Dylan: Truth! I'd be much more inclined to race the Megatower, while I'd be happier on the Bronson if I were jibbing around and taking it easy.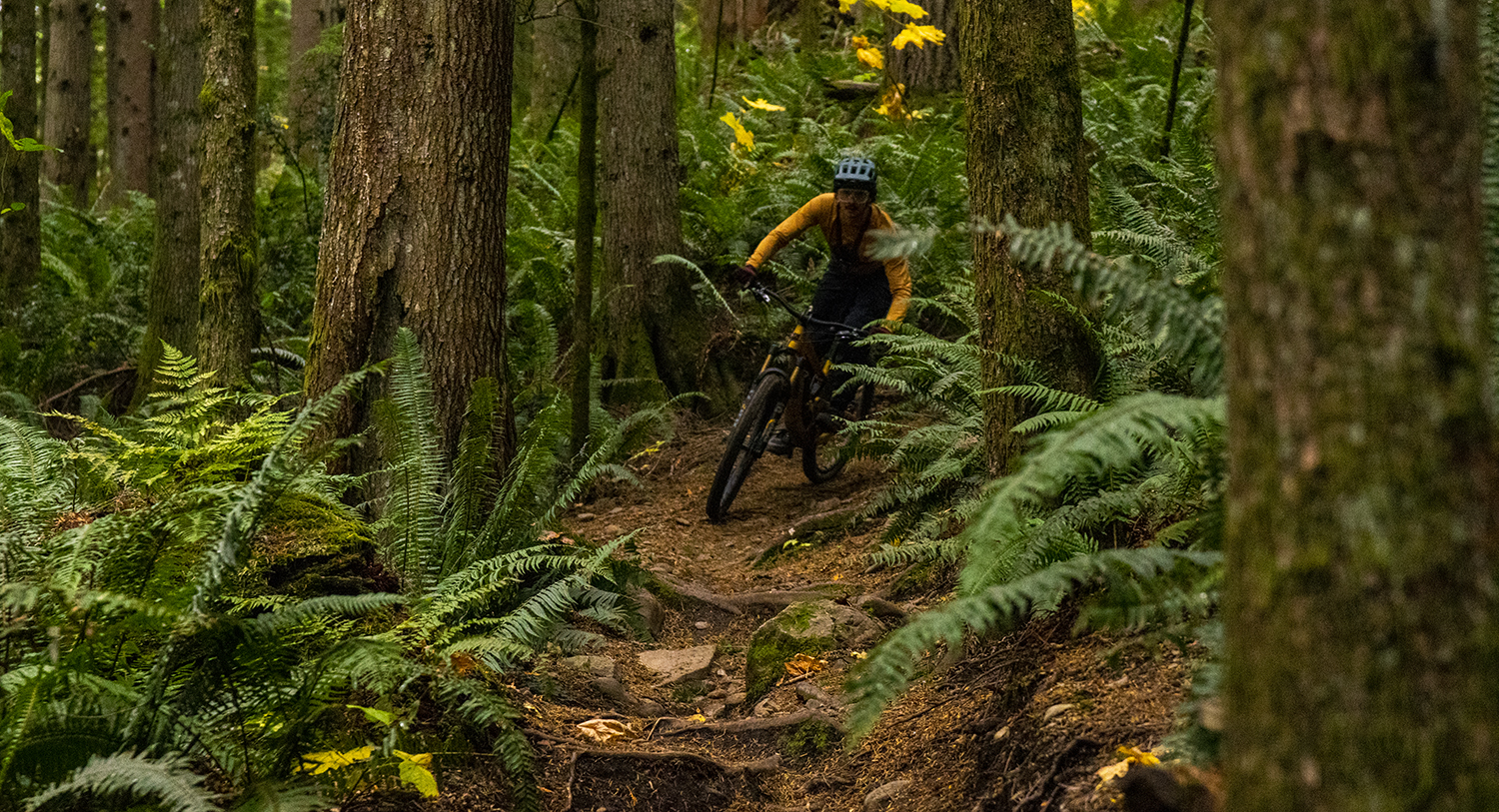 Who's It For?
David: The Bronson stands out most for its versatility — it's a bike that does a lot of things pretty well, and so it's a great option as a one-bike quiver for a lot of riders. In particular, folks who want a bike that combines that versatility with notably quick handling for how stable and capable it is at higher speeds will find a lot to like in the Bronson. The mixed wheel sizes do handle slightly differently from a full 29er — in a way that it's easy to imagine a lot of people liking, especially folks who find a lot of big Enduro bikes to be too stable and sluggish, but also might feel a little quirky to some. But mostly, the Bronson is a really well-executed do-it-all Trail bike, and that's a segment that will suit a whole lot of riders.
Bottom Line
Santa Cruz has the right idea with their "when in doubt, take a Bronson out" catchphrase. The Bronson is a very versatile longer-travel Trail bike that doesn't specifically excel at any one given attribute, but instead does a whole lot of things well. It's super well rounded and makes a strong case as a one-bike quiver for a whole lot of riders — especially if you're mullet-curious, or know that you get along with mixed wheels.