2022 Orbea Occam & Occam LT
Size Tested: Large
Reviewer: 6', 170 lb / 183 cm, 77.1 kg
Test Location: Washington
Test Duration: 4 months
Wheel Size: 29''
Travel:
Occam: 140 mm rear / 140 mm front
Occam LT: 150 mm rear / 150 mm front
Material: Carbon fiber and aluminum versions available
Blister's Measured Weight (Occam LT M10, size Large): 31.2 lb / 14.2 kg
Price: Complete bikes $3,299 to $9,499; see below for details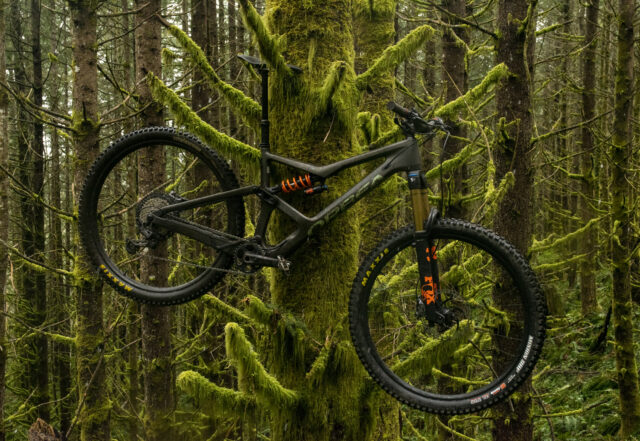 Intro
This past year, Orbea launched not only their overhauled Rallon Enduro bike, but also gave their Occam Trail bike a refresh, too. This update is a bit more subdued than the all-new frame that the Rallon got, but there's still some interesting stuff going on here as well — first and foremost that it's actually been split into two separate models, the Occam and the Occam LT.
I've spent the past several months riding the new Occam LT, and it brings something pretty different to the table compared to many modern long-travel Trail bikes. Let's dive in:
The Frame
The Occam is still available in four sizes, in both aluminum and carbon versions — and that's because the front and rear triangles actually carry over from the prior iteration of the bike. The links are new though, and that update allows Orbea to add the nifty multi-tool storage inside the rocker link pivot that we just saw on the new Rallon.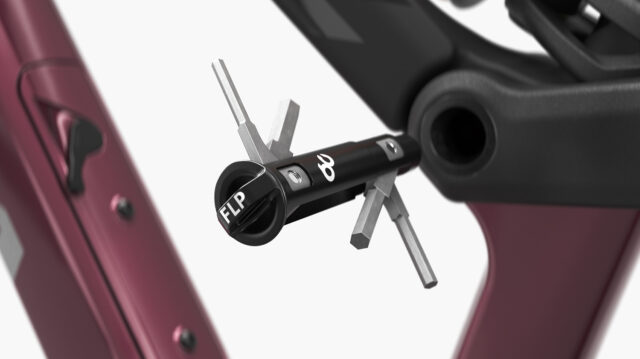 Since the front triangle carries over from the prior model, the Occam doesn't get the "Lockr" downtube storage compartment that was just added to the Rallon, and the geometry hasn't changed, either. What is new is that the Occam line has been split into two separate models, the Occam and the Occam LT. As you probably guessed, LT stands for "Long Travel," and the Occam LT adds 10 mm of wheel travel to each end, by use of a different fork and shock. The longer fork on the LT also alters the geometry slightly, as we'll describe more below.
And speaking of geometry, there's no longer a flip chip to toggle between different settings — it's all handled by changing the length of the fork. The Occam and Occam LT keep mostly the same geometry as the high and low settings on the outgoing Occam, respectively.
A lot of brands are making big claims about how hard their shorter-travel bikes can charge, but Orbea is refreshingly straightforward in saying that the Occam LT "is NOT a mini Rallon." They're clearly targeting both versions of the Occam to be true Trail bikes, meant for long days in the saddle with an emphasis on efficiency. And while the 10 mm travel change between the standard Rallon and the LT might sound minor, there are also some significant differences in parts spec between the two (which we'll describe in more detail below) that further separate them when it comes to their ideal use case.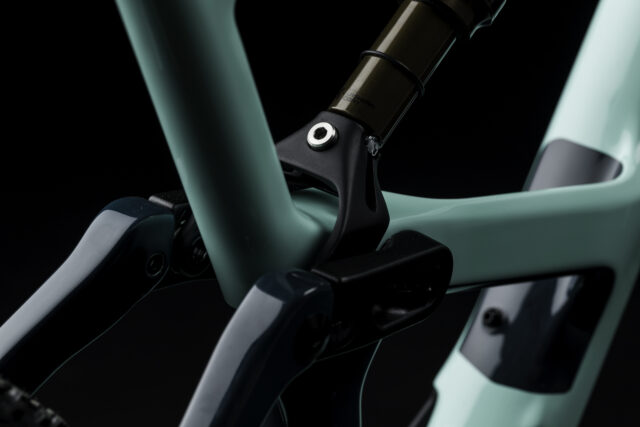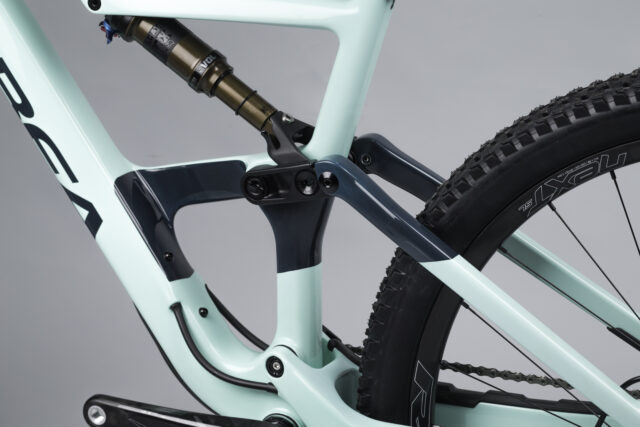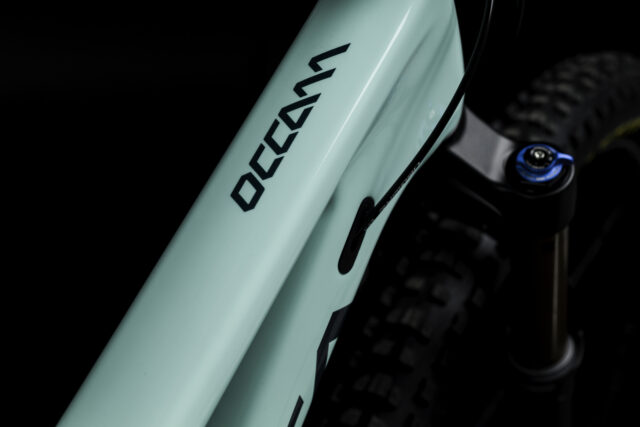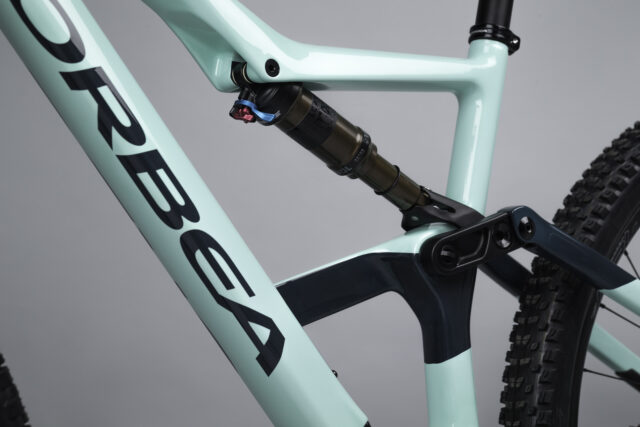 The Occam has a slightly higher than average overall leverage ratio, which Orbea says is intended to help with small-bump sensitivity. The overall leverage curve is somewhat progressive, going from about 3.14:1 to 2.56:1 in a fairly straight line, though it does flatten off somewhat near bottom-out. Anti-squat sits at about 120% near sag, and the anti-rise curve is fairly flat, starting just over 60% and reaching about 70% by the end of travel. All three graphs can be seen below: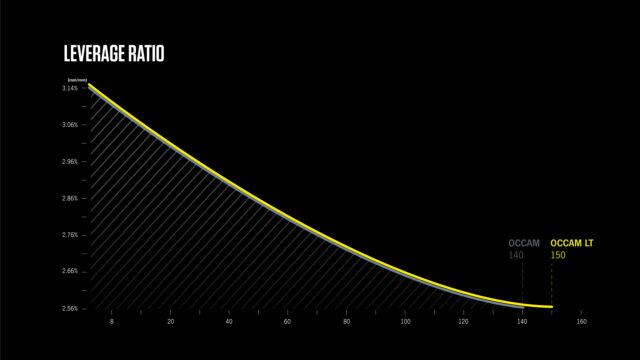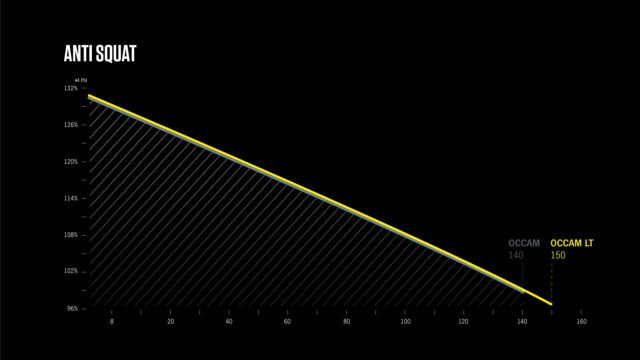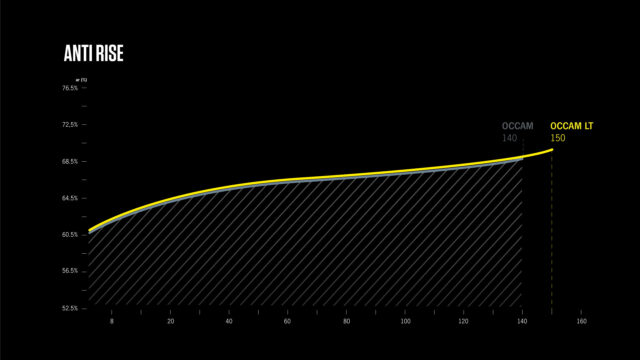 That's all fairly "normal" for this sort of Trail bike, but looks well sorted and should make for a straightforward shock setup. The Occam is only available with air shocks, but Orbea offers both air and coil options on the Occam LT. Cable routing is internal across the board, there's ample rubber protection on the chainstay and downtube, and a small integrated upper chainguide is included, in lieu of full ISCG tabs. A full-size water bottle fits inside the front triangle off all four sizes, alongside the asymmetric brace between the seat tube and downtube.
Fit & Geometry
The Occam hasn't gotten a geometry refresh in this update cycle, and while that might seem odd amid other bike releases these days, it's not like it was looking long in the tooth before today. Reach ranges from 425 to 500 mm in neat 25 mm increments and all four sizes get 440 mm chainstays, paired with a 66° head tube angle and 77° effective seat tube angle on the standard Occam.
The LT version slackens both angles by 0.5° and raises the bottom bracket drop to 32 mm (from 35 mm). That's pretty bang-on for a modern Trail bike, and while there are definitely competitors out there with a more slack headtube angle, given what Orbea is saying about the Occam and Occam LT not being mini-Enduro sleds, keeping things a little steeper and more nimble makes good sense. The full geometry chart can be seen below:
The Builds
Orbea offers ten different builds between the Occam and Occam LT, with prices ranging from $2,999 to $8,699.
In addition to having 10 mm of extra travel at each end, the LT builds come with generally beefier parts specs — including Fox 36 forks in place of 34s, heavier-duty rear shocks, bigger tires, and 203 mm front brake rotors over 180 mm. But as per usual for Orbea, you can heavily customize any of the builds through their MyO program, with options to swap out brakes, suspension, wheels, and more — as well as custom paint selections on some of the higher-end builds. The "H" builds listed below come with an aluminum frame, whereas the "M" builds get the carbon option.
For reference, the complete build options are as follows:
That's a nice range of builds at a big spread of price points. Especially given the high degree of customization available from the MyO program, there should be something for most people in there.
FULL REVIEW
It feels like these days everybody wants to tout just how capable their Trail bikes are on super rowdy, steep trails, and if I had to pinpoint the genesis of that trend, I'd probably peg it to the original Evil Following. They certainly had a point — the mountain bike geometry revolution was well underway, and as bikes got longer, lower, and slacker, their stability and capability in big terrain absolutely did improve. But there's also a reason that not everybody wants a full-on Enduro sled with a 63° headtube angle and a wheelbase that can be measured in furlongs, and Orbea cut right to the chase in declaring that their new Occam LT is "NOT a mini Rallon" (their Enduro bike), despite what its travel numbers might suggest. And having now spent a few months on the Occam LT, they're absolutely right — and that's exactly what makes the Occam LT so compelling for the right rider.
Fit and Sizing
I don't want to give the idea that the Occam LT feels dated — far from it. There are a whole lot of bikes from years gone by that are a lot quicker handling than their modern counterparts, but also frankly pretty terrible by our current standards. Steeper seat tube angles, longer reaches, better suspension kinematics, and so on have absolutely changed mountain bikes for the better, and the Occam LT gets all that good stuff. But it rolls them up into a package that's a whole lot quicker handling than most contemporary 150mm-travel Trail bikes, and the results are a whole lot of fun.
I've been riding the Occam LT in a size Large, and at 6' / 183 cm tall, Orbea's sizing guide says I could ride either that or the XL. And while I think they're generally right, I really wasn't tempted to size up. For one thing, the Large Occam LT isn't a small bike — it's got a 474 mm reach, and a steep-ish but not crazy 76.5° effective seat tube angle that results in a fairly roomy 619 mm effective top tube. And it's not like the Occam LT is trying to be an ultra-stable charger of a bike. Being able to throw it around more easily and move around on the bike more is a big part of what makes it do what it does so well. My hunch is that I could make the fit on the XL work, but going up a size would add a little stability at the expense of a bunch of the nimbleness that sets the Occam LT apart, and that's not a tradeoff I'm interested in for this bike.
The Large Occam LT does come with a 150mm-drop seatpost and that's a bit on the short side for my preferences — though if you're so inclined, you can swap in a longer option through Orbea's My O customization program. I had plenty of room to get the seat height set with the stock post, but am just used to longer options and swapped in a 170 mm post to get a little more comfortable. On the flip side, the stock 780 mm bar and 50 mm stem felt perfectly suited to the Occam LT. I'd typically prefer a slightly wider bar and shorter stem on more gravity-oriented bikes but the quicker handling afforded by the Occam LT's part spec felt nicely in keeping with its overall intentions.
Climbing
I wasn't totally sure what to expect from the Occam LT on the way up. On one hand, it's a 150mm-travel Trail bike — a class of bike that you'd normally expect to climb reasonably well, but maybe not be super sprightly about it. On the other, Orbea talks a lot about the Occam LT being efficient and agile, and if the Occam LT isn't trying to be a super game-on charger first and foremost, maybe that opens up some room for it to climb better than a lot of bikes with similar suspension travel?
The answer to that question is a resounding "yes." The Occam LT pedals extremely well for a 150mm-travel Trail bike. If I'd hopped on it blind and started pedaling, I'd have guessed that it had significantly less suspension travel. But it's not just efficiency where the Occam LT stands out — it's also an outstanding technical climber. The Occam LT pairs very good efficiency under power with a whole bunch of traction and reasonably active suspension when you need it, which serves it very well when the climbing gets chunkier and more challenging. But I also think that the combination of steep-ish 65.5° headtube and 76.5° seat tube angles, plus moderately long 440 mm chainstays deserves a lot of the credit. That all adds up to a bike that's reasonably quick handling and easy to maneuver at low speeds but also feels super planted and easy to stay centered on, without needing to take care to weight the front wheel and avoid wheeling out. The Occam LT isn't even all that light — 31.2 lb / 14.2 kg as tested, without pedals — but it's still one of the best climbing bikes I've been on in recent memory, whether the climb is a mellow fire road or much more technical.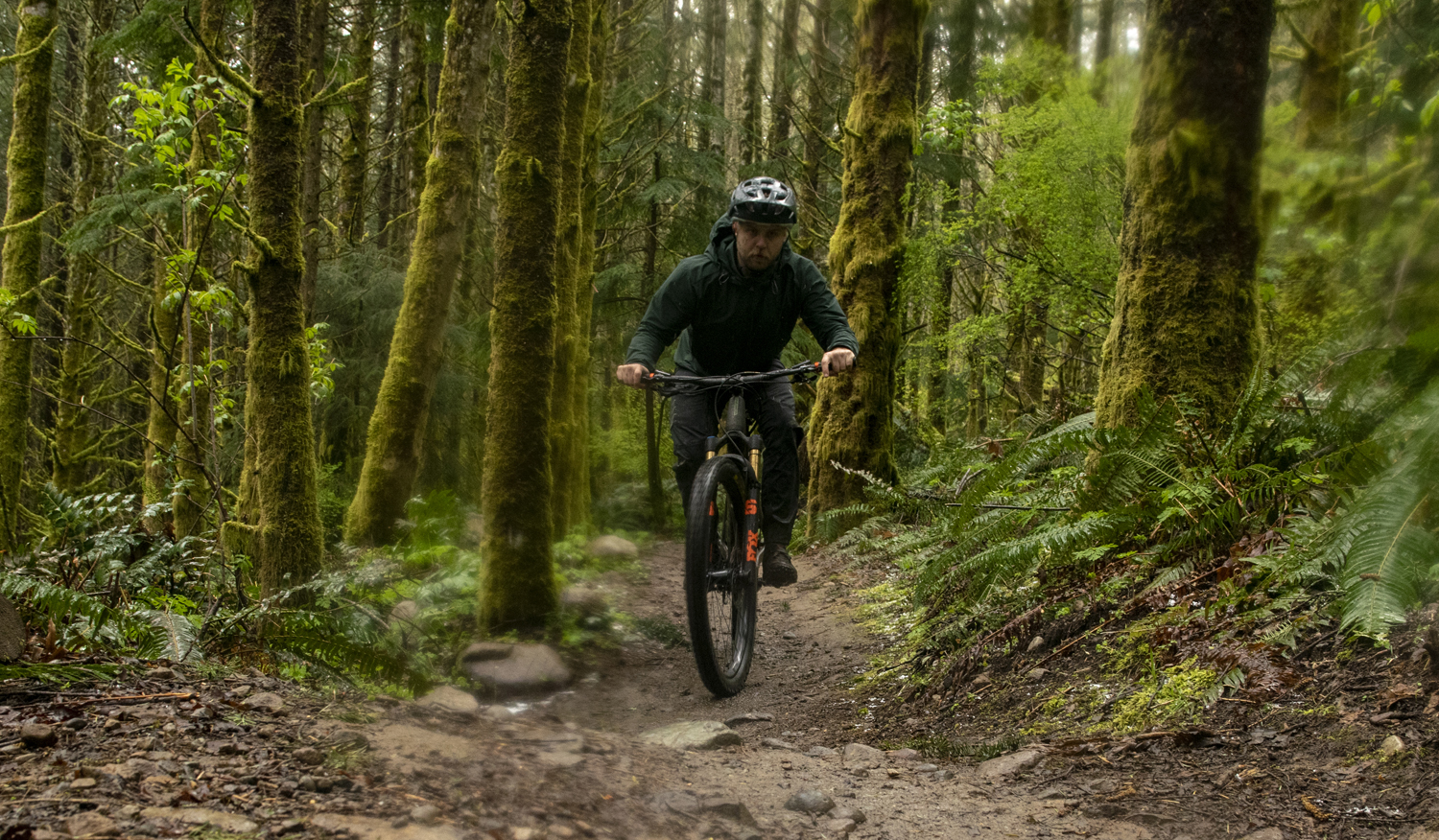 The Occam LT isn't necessarily a bike that encourages you to really hammer and attack at every opportunity in the same way that a true XC bike does, but for the way I think that most people try to climb, it's really excellent. Rather than being some super highly-strung race bike that prioritizes efficiency above all else, it blends a lot of efficiency with a comfortable pedaling position, very good traction, and easy-going handling that feels super intuitive and fairly agile without being twitchy or unstable.
Descending
As with on the way up, the Occam LT feels lively and quick-handling, while still having good suspension performance, and a bit cushier, more forgiving ride than most bikes with similar handling characteristics. For a 150mm-travel Trail bike, the Occam LT is definitely less stable and more agile than most, but its handling feels very natural and intuitive. I had wondered if the combination of relatively long chainstays with a not super long front-center was going to result in a bike that felt like you needed to stay relatively rearward on, but that hasn't been the case. In terms of the body positioning that it encourages, the Occam LT feels pretty neutral and balanced, rather than favoring one extreme or the other.
Now, when you start to get into very steep, high-speed terrain, the Occam LT can start to feel a little under-gunned. In particular, the front wheel does start to feel a little twitchy and prone to getting deflected when you're in terrain that really forces you to hang off the back of the bike. But I think that's a totally reasonable tradeoff given the intentions of the Occam line — once again, it's not a mini Enduro bike, but really meant to be a true Trail option. In keeping with that, the suspension performance of the Occam LT feels slightly firmer and more supportive but a little less cushy and planted than a lot of bikes with similar travel, but that feels nicely in keeping with the other facets of its performance.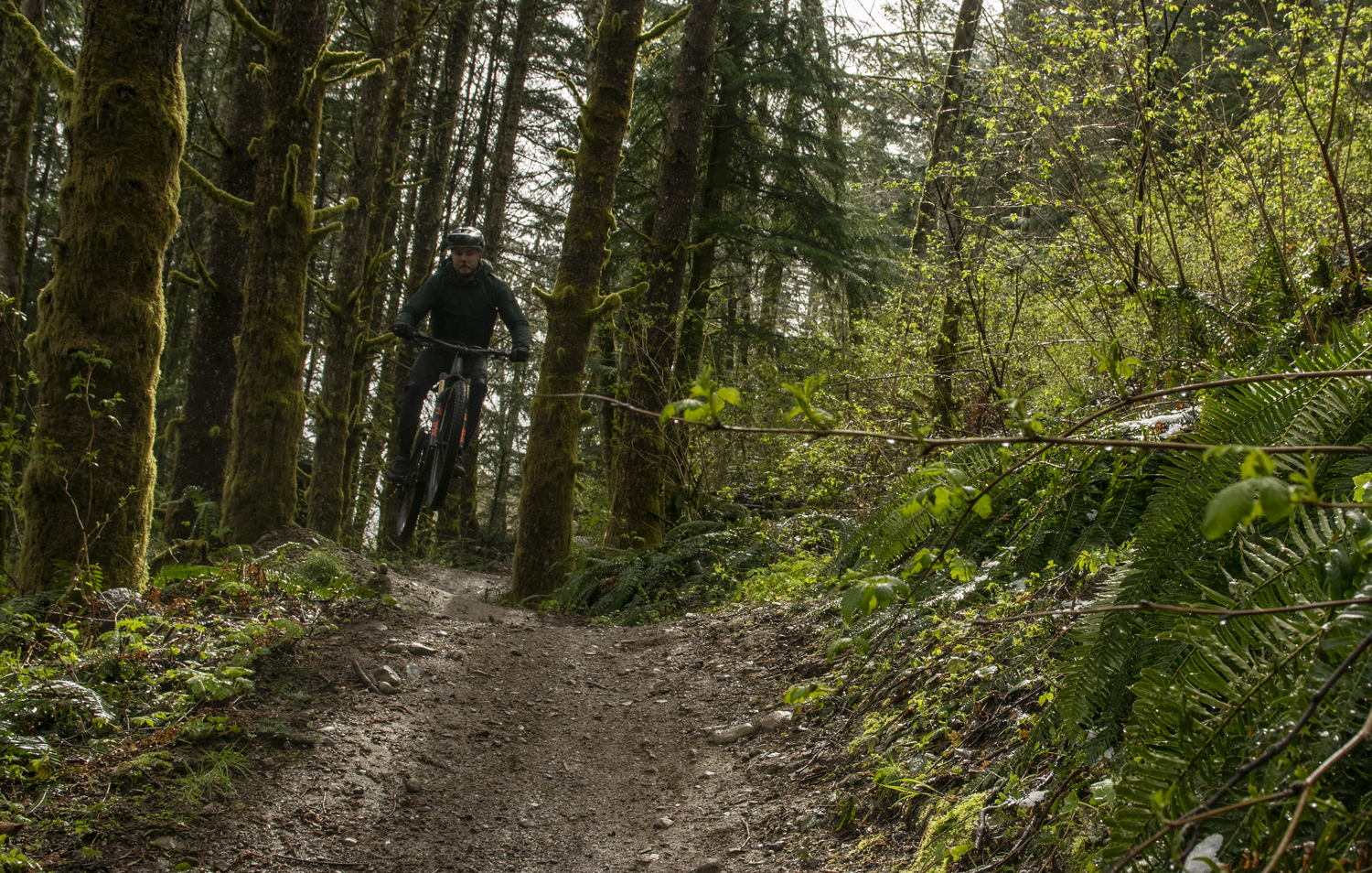 And when you're not subjecting it to ultra-steep, high-speed riding, the Occam LT is a blast. Especially in more rolling, varied terrain, its combination of excellent pedalling efficiency, fairly quick handling, and good suspension performance means that it's really easy to build and maintain speed, even when you don't have a ton of pitch to let gravity do the work. For a 150mm-travel bike, the Occam LT is also great at pumping and building speed that way — the slightly firmer than average suspension performance and probably also the more moderate wheelbase really go a long way there. It's the blend of those handling characteristics plus just a bit more suspension travel than most similar-handling bikes, and the extra forgiveness and margin for error that affords, that really set the Occam LT apart.
I've only ridden the LT version of the Occam, but my hunch is that the differences in build spec between it and the standard Occam are going to make a bigger difference in how the bikes feel than the extra 10 mm of travel at each end, and minor geometry tweaks that result from the taller fork. The standard Occam builds all come with lighter suspension parts (e.g. Fox 34s and DPS rear shocks instead of the 36 / DHX combo on our test bike), smaller brakes, and faster-rolling, less-grippy tires. That should make for a bike that's even quicker under power and more sprightly feeling than the Occam LT that I've been testing, but also make it less cushy and forgiving on the way back down.
And speaking of the build, the spec on the Occam LT M10 that I've been riding is excellent. I'm a big fan of the Shimano XT drivetrain, and while I've griped about wandering bite point issues on Shimano's brakes a number of times, this particular pair has been solid, at least so far. The Fox 36 Factory and DHX Factory suspension is also super nice, and while a coil shock might sound like a slightly surprising spec choice given the intentions of the Occam LT, it worked very well, and unlike the version that Noah Bodman tested for us, the stock tune felt on the money. The stock 500 lb spring did feel a touch firm for me, at 170 lb, and after a bit, I swapped in a 475 lb one which suited me better. My only real gripes are that I wouldn't mind a longer dropper post (though as I mentioned before, you can swap in a 170 mm model through Orbea's customization program) and I happened to not get along with the stock Fizik seat. That last one's 100% personal preference, though, so your mileage may vary.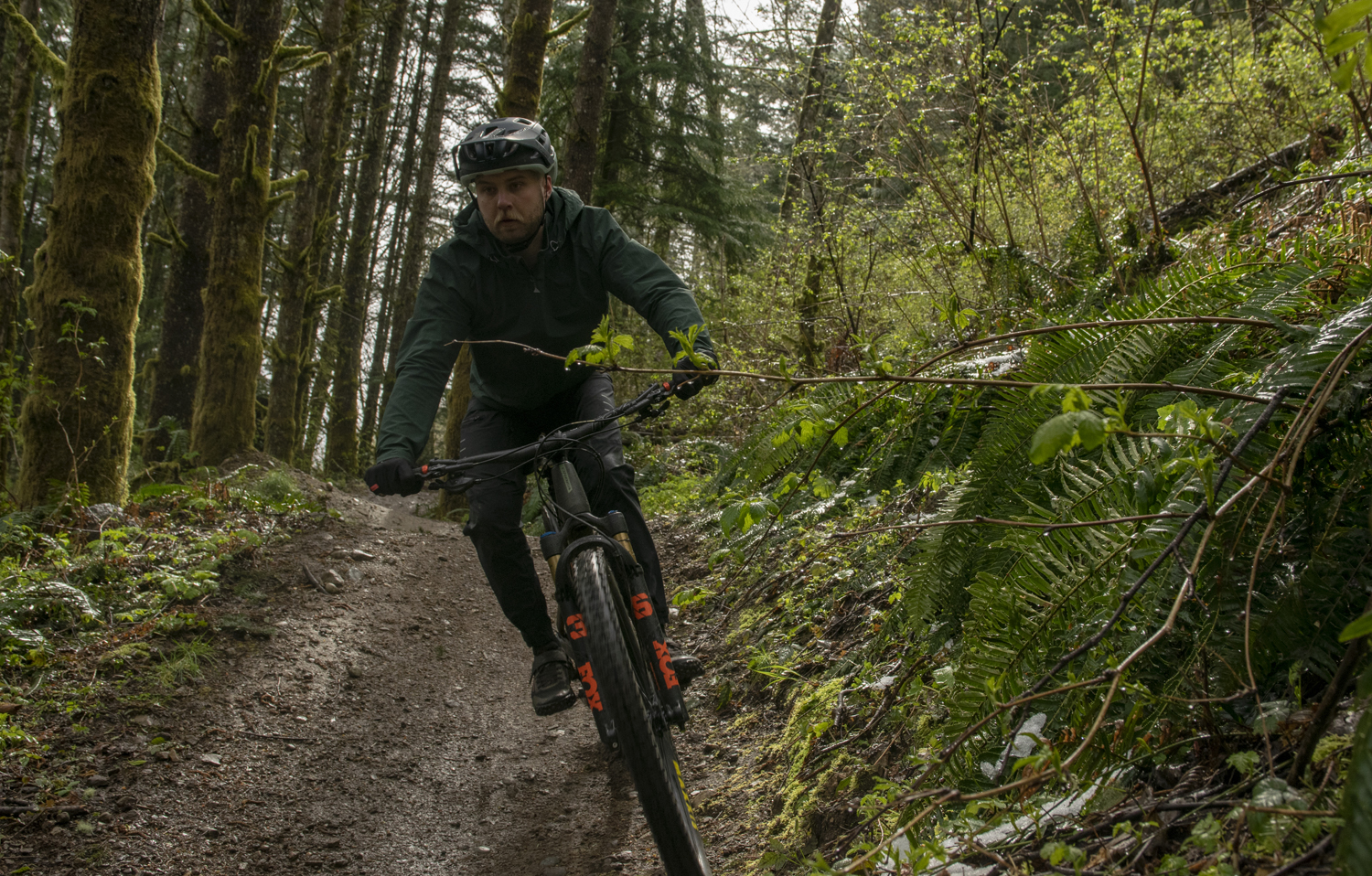 I haven't dabbled in on-bike tool storage all that much — the fact that I'm switching between so many bikes so often makes managing add-on tools a headache — but Orbea's integrated multitool is very slick. It's fairly bare-bones (just 2, 3, 4, and 5 mm Allen wrenches) but that's enough for a lot of basic adjustments, and it's neatly stored inside the rocker pivot axle, with a secure magnetic attachment. It's a nice touch. The only detail I've found a little lacking from a fit and finish perspective is the chain slap protection — its coverage is ample, but the guards feel just a little too firm and don't do as much as I might like to quiet things down entirely. A bit of rubber mastic tape over the top of them would almost certainly do the trick, but it'd be nice to see that detail improved a little.
Overall though, the Occam LT is a ton of fun in a big range of terrain. It's definitely not the hardest-charging, burliest 150mm-travel Trail bike out there, but it's more efficient, lively, and nimble than most. That's a super compelling recipe for a lot of riders who want a bike that doesn't take a ton of speed or super burly terrain to come alive, but would appreciate a little more suspension travel than the generally shorter-travel options that would typically fit that bill.
Comparisons
This is probably the best comparison here, but it's not a perfect 1:1 either. The Occam LT is more efficient under power than the Hightower, quicker handling, less stable at speed, and a little more lively and supportive, whereas the Hightower is slightly more plush and cushy. None of those differences are huge, by any stretch — and it's overall a good comparison — but the Hightower feels like a little bit more cushy, easy-going bike, whereas the Occam LT is a bit sharper and more energetic.
This one is also interesting — the SB130 and Occam LT feel more similar in terms of suspension performance, and both pedal a bit more efficiently than the Hightower. But the Occam LT is the better technical climber, with considerably more traction on offer and a much bigger sweet spot to move around on the bike and muscle it up ledges and the like without wheelieing out. The SB130 is a little more stable and calmer at speed.
Guerrilla Gravity Trail Pistol
Despite their differences in suspension travel, the Trail Pistol actually feels like more bike in some ways — it's a little more stable and composed at speed and a little less agile and quick handling. That said, the Occam LT is a bit cushier and more forgiving in terms of suspension performance, and pedals just about as well. Put differently, the Trail Pistol feels like a better option for a fairly aggressive rider who wants a shorter-travel, more efficient bike and is willing to do a bit more work to soak up bumps themselves, in exchange for more stable, calmer handling. The Occam LT is a bit easier going and more forgiving if you're not trying to charge super hard, and is the better technical climber of the two.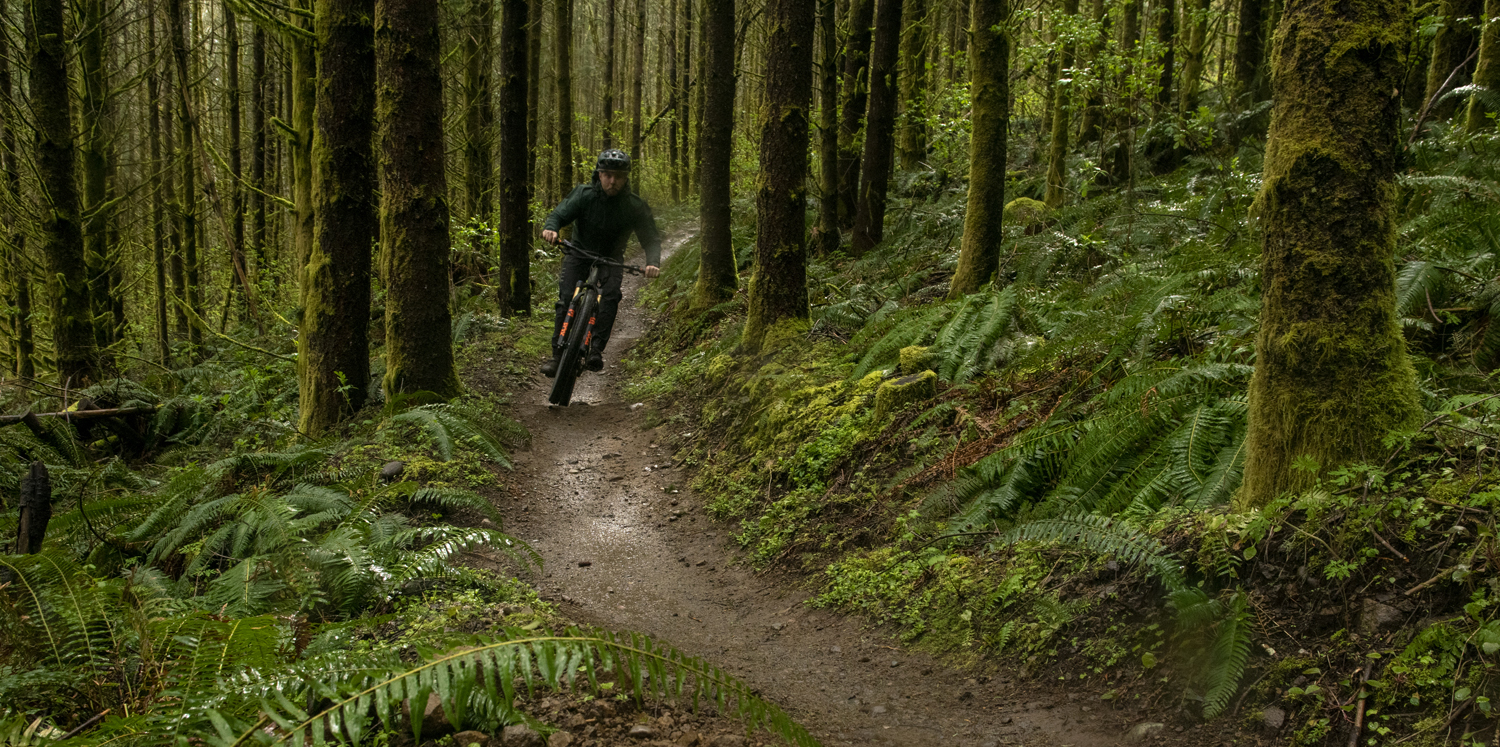 This is a less weird comparison than it looks on paper. The Occam LT is definitely more bike than the Ripley — cushier, more planted, more stable — but by a smaller margin than their travel numbers might suggest. Both pedal great, though the Ripley takes the edge there. The standard non-LT version of the Occam would presumably narrow the gap. Comparing the Occam LT that I tested, though, the biggest difference is in terms of build — the Occam LT gets burlier suspension, bigger tires, and so on. My hunch is that the standard Occam is likely to be a really good comparison to the Ripley, though it'll probably still be a little more plush and cushy due to the extra suspension travel.
Similar story to the Ripley. The Spur punches a bit over its travel class in terms of capability, and the Occam LT is a lot more efficient and agile than most 150mm-travel Trail bikes, and the result is that they converge on a more similar ride feel than you might expect. But the Occam LT definitely has more suspension travel and feels like it — it's significantly more plush and more planted. It's also heavier, a little more stable, and comes with burlier suspension and tires.
The Bronson is a bunch more bike than the Occam LT. It's cushier and more planted, more stable and calmer handling, and significantly less efficient under power. The Occam LT pedals better, is sharper handling and more agile, and is more lively and energetic when pumping through and popping off of stuff.
Same story as the Bronson, to an even greater degree. Orbea is right to say that the Occam LT is "NOT a mini Rallon [Enduro bike]". The Smash is.
The Arrival is a little closer than the Bronson or Smash, but it's still pretty different. Like the Arrival, the Occam LT's suspension is on the lively, supportive end of the spectrum for a ~150-mm-travel Trail bike, but the Arrival is much more game-on and substantially more stable at speed, whereas the Occam LT is sharper handling, more agile, and needs less speed and aggression to come alive.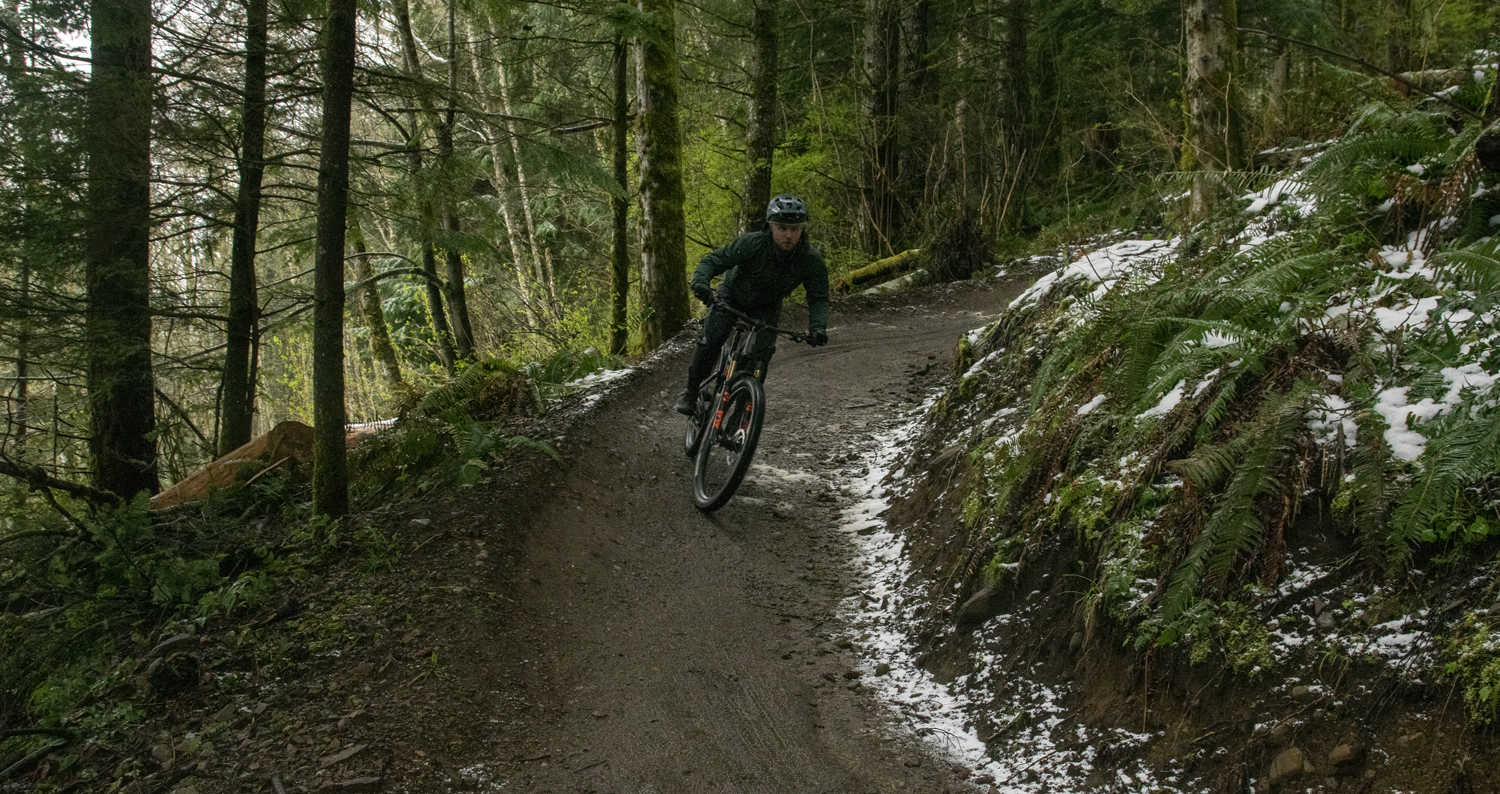 The SCOR 4060 LT is a pretty quick-handling, easy-going Enduro bike, but it's significantly different from the Occam LT. The SCOR is somewhat more stable at speed, and significantly more planted and cushy — it's a longer travel bike, and definitely feels like it. The Occam LT pedals a lot better, is more poppy and lively, and a bit quicker handling.
The 4060 ST would definitely be the more natural comparison to the Occam LT, and while I've only ridden the 4060 LT, it's the same frame as the ST version with different suspension and some geometry tweaks via a flip-chip and angle adjust headset, so I can make some informed guesses. My hunch is that going to the 4060 ST will close the gap between the SCOR and the Orbea significantly, but I'd expect the Occam LT to pedal better and feel a bit more lively, as opposed to a slightly more planted, plush ride from the SCOR. The 4060 LT also wants a pretty forward stance and aggressive weighting of the front wheel to work best, and while I think the steeper headtube angle (and consequently shorter front-center) on the ST version will mitigate that somewhat, I still think the 4060 ST will favor a slightly more forward stance than the Occam LT.
Who's It For?
The Occam LT occupies an interesting slot in the modern bike market, but one that I think will work well for a whole lot of people. If you want a bit more suspension travel and a more forgiving ride than most short-travel Trail bikes, but in a package that still pedals really well and has relatively quick, agile handling, the Occam LT is a great option.
Bottom Line
The Orbea Occam LT is the best technical climber I've been on in a long time. It pedals great and still also offers up a ton of traction, without requiring a lot of care to manage weight distribution and balance, and is quick enough handling to get through tighter spots easily without feeling twitchy or unstable. On the way back down, it's sharp-handling and precise-feeling, while offering very good suspension performance, though it does definitely give up some stability and composure at high speeds and on very steep trails compared to a lot of other ~150mm-travel Trail bikes to get that sharper handling.
In an era where Trail bikes are getting longer, slacker, and more descending-oriented, that might sound like a bit of a throwback, but the Occam LT manages to do it while still feeling thoroughly modern. It's just a different take on a longer travel Trail bike than a lot of what's out there, but one that I think is very compelling for the right rider.