2022 Orbea Occam & Occam LT
Wheel Size: 29''
Travel:
Occam: 140 mm rear / 140 mm front
Occam LT: 150 mm rear / 150 mm front
Material: Carbon fiber and aluminum versions available
Price: Complete bikes $2,999 to $8,699; see below for details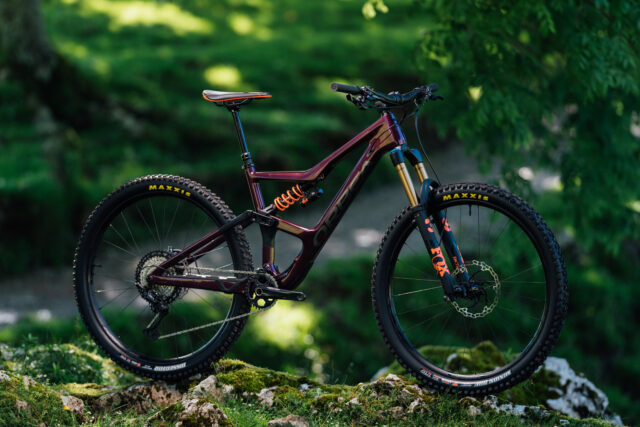 Intro
Last week Orbea launched their overhauled Rallon Enduro bike, and now it's the Occam Trail bike's turn for a refresh, too. This update is a bit more subdued than the all-new frame that the Rallon got, but there's still some interesting stuff going on here as well — first and foremost that it's actually been split into two separate models, the Occam and the Occam LT. Read on for all the info.
The Frame
The Occam is still available in four sizes, in both aluminum and carbon versions — and that's because the front and rear triangles actually carry over from the prior iteration of the bike. The links are new though, and that update allows Orbea to add the nifty multi-tool storage inside the rocker link pivot that we just saw on the new Rallon.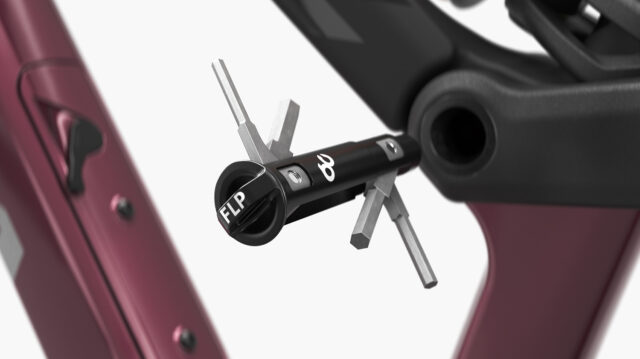 Since the front triangle carries over from the prior model, the Occam doesn't get the "Lockr" downtube storage compartment that was just added to the Rallon, and the geometry hasn't changed, either. What is new is that the Occam line has been split into two separate models, the Occam and the Occam LT. As you probably guessed, LT stands for "Long Travel," and the Occam LT adds 10 mm of wheel travel to each end, by use of a different fork and shock. The longer fork on the LT also alters the geometry slightly, as we'll describe more below.
And speaking of geometry, there's no longer a flip chip to toggle between different settings — it's all handled by changing the length of the fork. The Occam and Occam LT keep mostly the same geometry as the high and low settings on the outgoing Occam, respectively.
A lot of brands are making big claims about how hard their shorter-travel bikes can charge, but Orbea is refreshingly straightforward in saying that the Occam LT "is NOT a mini Rallon." They're clearly targeting both versions of the Occam to be true Trail bikes, meant for long days in the saddle with an emphasis on efficiency. And while the 10 mm travel change between the standard Rallon and the LT might sound minor, there are also some significant differences in parts spec between the two (which we'll describe in more detail below) that further separate them when it comes to their ideal use case.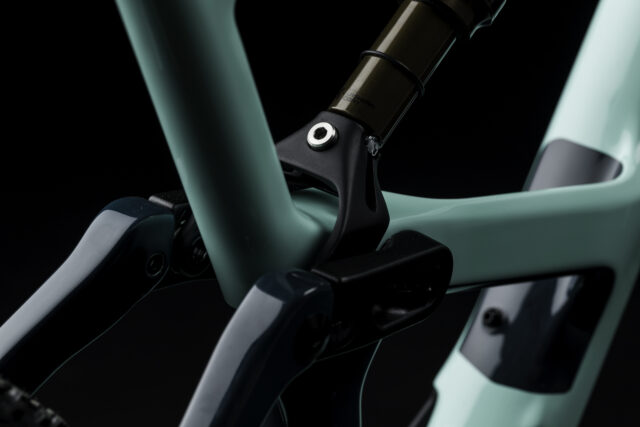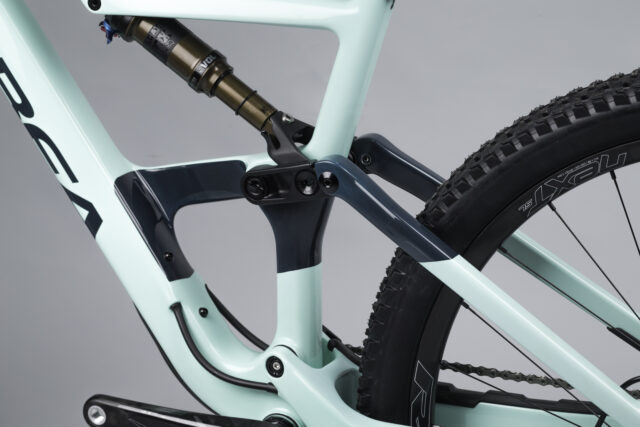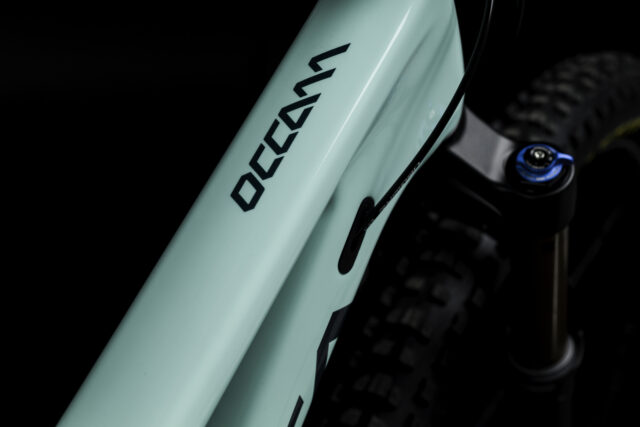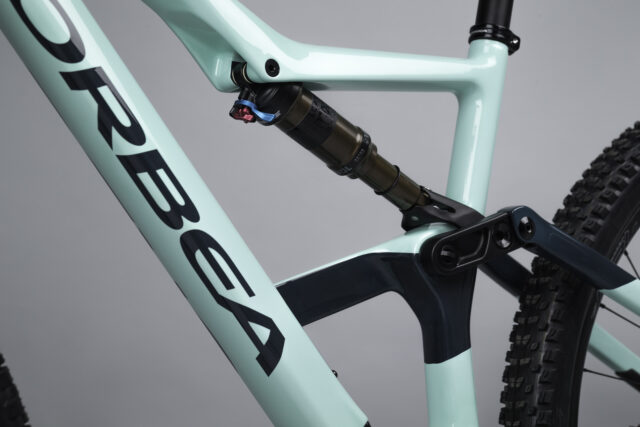 The Occam has a slightly higher than average overall leverage ratio, which Orbea says is intended to help with small-bump sensitivity. The overall leverage curve is somewhat progressive, going from about 3.14:1 to 2.56:1 in a fairly straight line, though it does flatten off somewhat near bottom-out. Anti-squat sits at about 120% near sag, and the anti-rise curve is fairly flat, starting just over 60% and reaching about 70% by the end of travel. All three graphs can be seen below: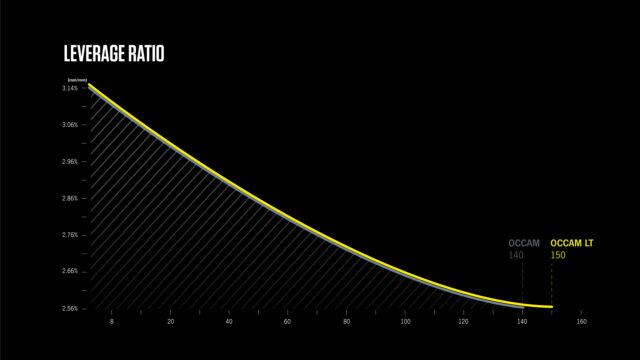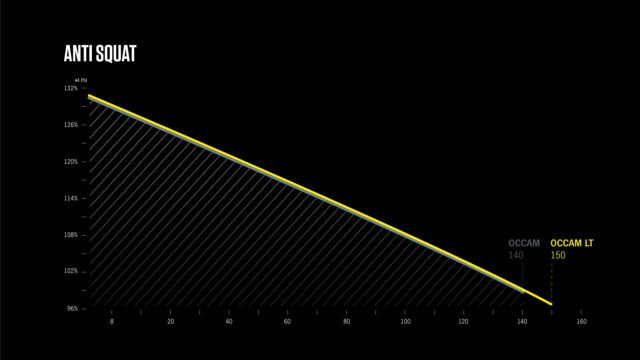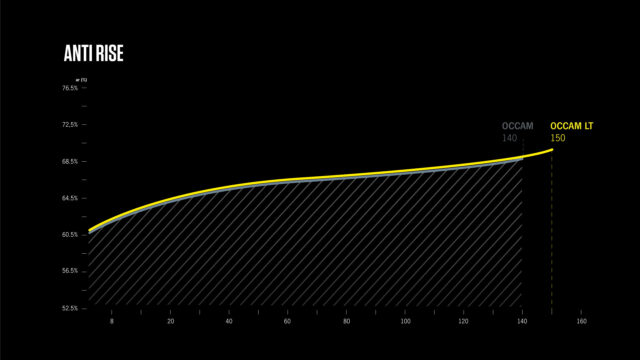 That's all fairly "normal" for this sort of Trail bike, but looks well sorted and should make for a straightforward shock setup. The Occam is only available with air shocks, but Orbea offers both air and coil options on the Occam LT. Cable routing is internal across the board, there's ample rubber protection on the chainstay and downtube, and a small integrated upper chainguide is included, in lieu of full ISCG tabs. A full-size water bottle fits inside the front triangle off all four sizes, alongside the asymmetric brace between the seat tube and downtube.
Fit & Geometry
The Occam hasn't gotten a geometry refresh in this update cycle, and while that might seem odd amid other bike releases these days, it's not like it was looking long in the tooth before today. Reach ranges from 425 to 500 mm in neat 25 mm increments and all four sizes get 440 mm chainstays, paired with a 66° head tube angle and 77° effective seat tube angle on the standard Occam.
The LT version slackens both angles by 0.5° and raises the bottom bracket drop to 32 mm (from 35 mm). That's pretty bang-on for a modern Trail bike, and while there are definitely competitors out there with a more slack headtube angle, given what Orbea is saying about the Occam and Occam LT not being mini-Enduro sleds, keeping things a little steeper and more nimble makes good sense. The full geometry chart can be seen below:
The Builds
Orbea offers ten different builds between the Occam and Occam LT, with prices ranging from $2,999 to $8,699.
In addition to having 10 mm of extra travel at each end, the LT builds come with generally beefier parts specs — including Fox 36 forks in place of 34s, heavier-duty rear shocks, bigger tires, and 203 mm front brake rotors over 180 mm. But as per usual for Orbea, you can heavily customize any of the builds through their MyO program, with options to swap out brakes, suspension, wheels, and more — as well as custom paint selections on some of the higher-end builds. The "H" builds listed below come with an aluminum frame, whereas the "M" builds get the carbon option.
For reference, the complete build options are as follows:
That's a nice range of builds at a big spread of price points. Especially given the high degree of customization available from the MyO program, there should be something for most people in there.
Some Questions / Things We're Curious About
(1) On paper, the Occam and Occam LT look like very strong options for riders looking for highly versatile bikes for long days in the saddle, while still keeping a healthy dose of capability on the way back down. But how do they stack up against a lot of the other contenders in that space, such as the Santa Cruz Hightower and Guerrilla Gravity Smash?
(2) Who should be opting for the Occam LT over the standard version, and vice versa?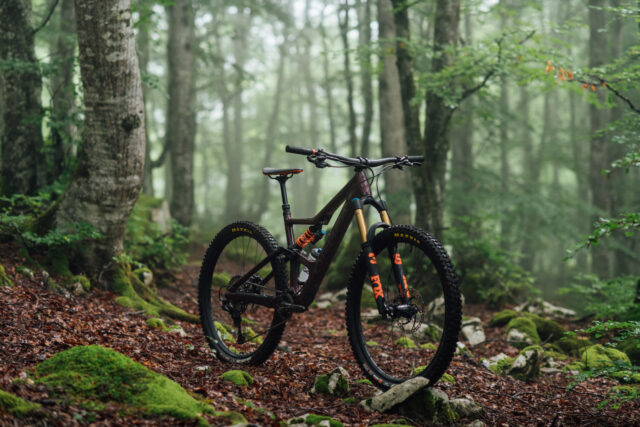 Bottom Line (For Now)
The new Orbea Occam and Occam LT occupy an interesting middle ground between shorter-travel Trail bikes and full-blown Enduro sleds, and we like what Orbea has done in splitting the two models to offer more and less aggressive build specs to cater to both ends of that spectrum. We're looking forward to getting on one to see how they stack up and what sort of riders will get along best with them. Stay tuned for a full review to come.