2021 Ibis Ripley AF
Wheels: 29′′
Travel: 120 mm rear / 130 mm front
Geometry: See Below
Stated Weight (size Medium frame + Fox Float DPS shock): 7.45 lbs / ~3.38 kg
MSRP:
Shimano Deore Build: $2,999
SRAM "NGX" Build: $3,299
Frame and Fox Float DPS Performance: $1,799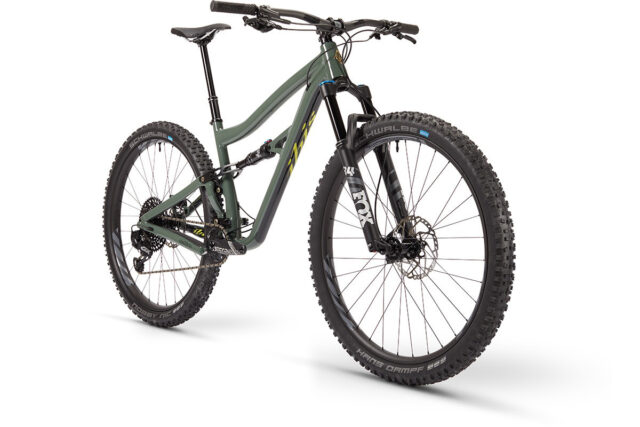 Intro
Ibis just released the Ripley AF — as in, Aluminum Frame — which is the second model in their lineup they've given that treatment, after the longer-travel Ripmo AF. The Ripmo AF was more than just an aluminum Ripmo, though, and the Ripley AF has some additional tweaks compared to its carbon counterpart as well. So what has Ibis created with the Ripley AF?
The Frame
Ibis says that "The Ripley AF is our beloved, category-defying, short-travel, singletrack-scorching Ripley — rendered in aluminum, with more aggressive geometry. All the sizzle and pop of the carbon Ripley, now available as a complete bike at a wallet friendly, sub $3000."
That checks out. The Ripley AF keeps the carbon Ripley's 29" wheels and 130 mm front / 120 mm rear wheel travel, but lops a degree off the headtube angle (to 65.5°, from 66.5°). The geometry is otherwise unchanged, apart from the impact of that slacker headtube angle on the wheelbase, which grew by 10 mm, from 1178 to 1188 mm on the size Medium.
Apart from the expected increase in weight and decrease in cost (a carbon Ripley frame with a Fox DPS Performance shock costs $1,034 more), the Ripley AF doesn't stray too far from the standard Ripley. (Ibis lists the Ripley AF frame at 7.45 lb / 3.38 kg with a shock, and the carbon Ripley at 5.0 lb / 2.3 kg without; the Fox Float DPS shock spec'd on both weights roughly 0.49 lb / 0.22 kg, so call it a ~1.96 lb / 0.89 kg difference between the two.) Both iterations of the Ripley feature DW-Link suspension in a very similar layout and with most of the same features, including removable ISCG-05 tabs for a chainguide, a threaded bottom bracket shell, and internal cable routing throughout.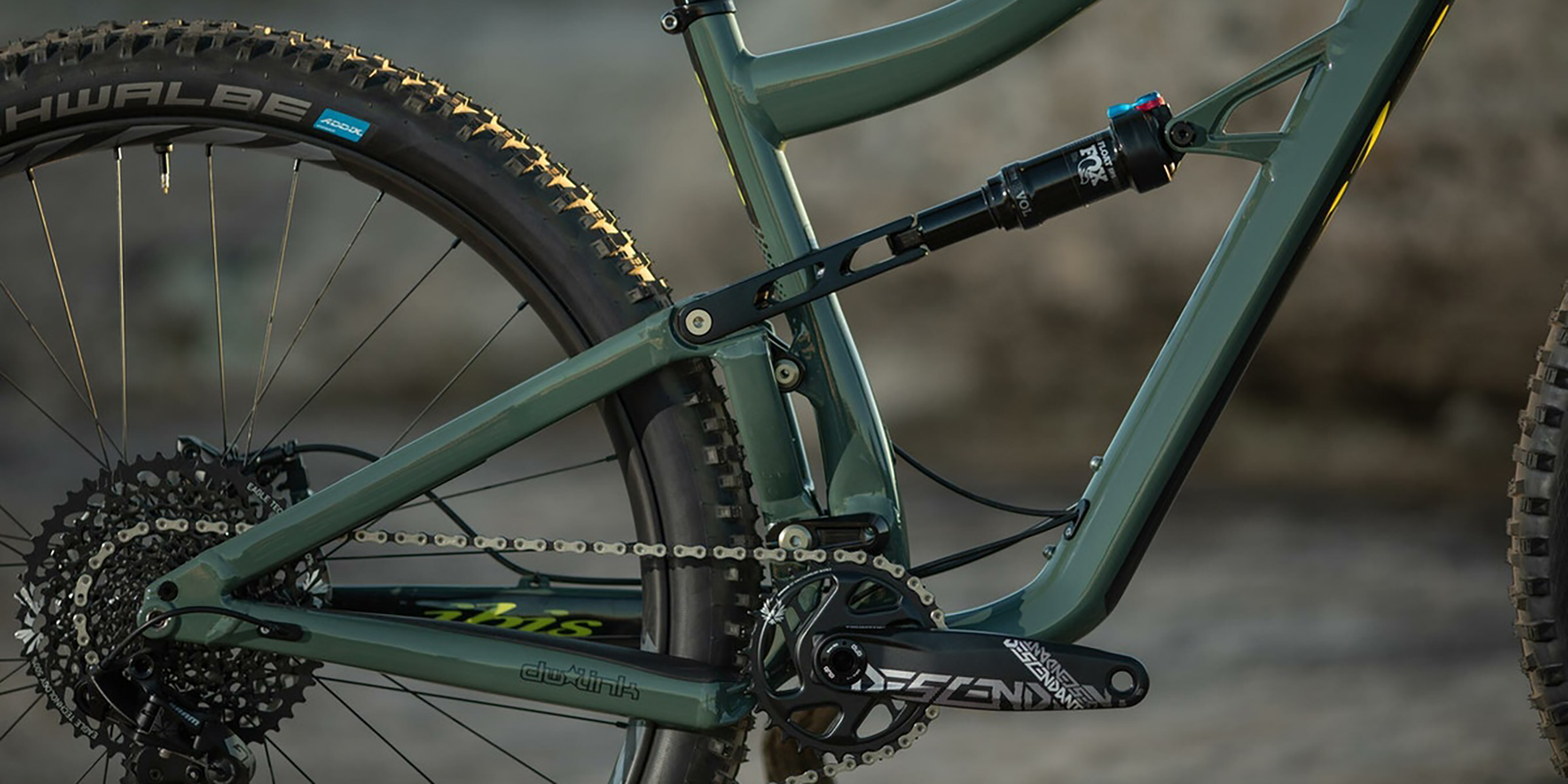 Again in keeping with the standard Ripley, the Ripmo AF comes in four sizes, Small through Extra Large, and Ibis offers a seven-year warranty on the frame. Tire clearance up to 2.6" wide is on offer, and a water bottle fits inside the front triangle on all four sizes.
The Builds
Ibis is currently offering two builds for the Ripley AF — a Shimano Deore option for $2999, and a SRAM "NGX" (i.e., a mix of SRAM NX and GX) spec for $3299. Both come with a Fox 34 Performance fork and Fox Float DPS Performance rear shock, Ibis's house-brand S35 Aluminum wheels, and a KS Rage-i dropper post (125 mm travel on Small frames, 150 mm on Mediums, and 170 mm on the Large and XL sizes).
The Deore build gets the full suite of Shimano Deore drivetrain and brake components, including the M6100 2-piston brakes with 180 mm rotors at both ends, while the NGX build features SRAM NX cranks, shifter, and chain, with a GX cassette and rear derailleur, paired with SRAM 2-piston brakes.
Those are both solid builds for the money, though it's interesting to see the only two options coming at such similar price points. Ibis says they're keeping the options simple for now, to make it easier to manage COVID-related supply chain strain, so we wouldn't be shocked to see another build or two added down the line.
Fit and Geometry
As one would expect for a relatively short-travel bike, the Ripmo AF's geometry isn't wildly aggressive, but it's clearly aimed at being a very capable Trail bike, as opposed to anything akin to a Cross Country race bike. All four sizes get a 76° effective seat tube angle, moderately short 432 mm chainstays, and a 65.5° headtube angle. Reach ranges from 425 mm on the Small through 500 mm for the XL, in 25 mm increments. All that adds up to wheelbases between 1157 mm for the Small, through 1246 mm on the XL. The bottom bracket height comes in at 335 mm across the size range.
Those numbers aren't too far off from the Guerrilla Gravity Trail Pistol, another 120 / 130 mm travel Trail bike that we found to punch well above its travel class in terms of downhill capability, while climbing more efficiently than most longer-travel, Enduro oriented bikes. We're quite interested to see how the Ripley AF stacks up against the Trail Pistol, and whether that comparison makes as much sense on the trail as it does on paper.
For reference, here's the whole geometry chart for the Ripley AF: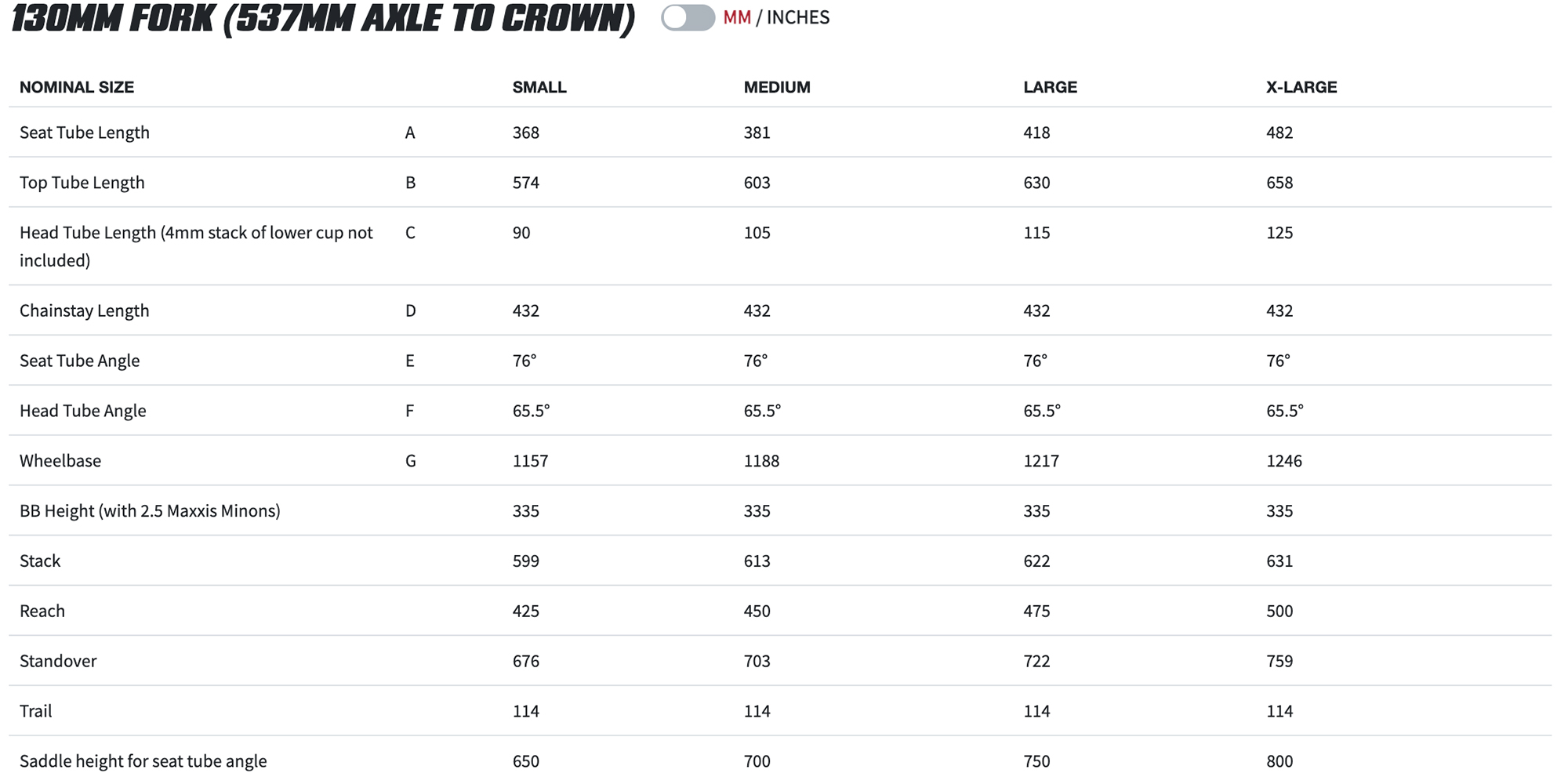 Some Questions / Things We're Curious About
(1) The Ripley AF looks to be a relatively aggressive 120mm-travel Trail bike, in the realm of the Guerrilla Gravity Trail Pistol. How do these two stack up, and how does the Ripley AF fit into the rest of the class of bikes in that sort of travel range?
(2) What sort of riders are going to be best served by a bike like the Ripley AF, as opposed to either a more XC-oriented bike in a similar travel range, or a Trail bike with a bit more travel?
(3) After releasing the Ripmo AF, Ibis followed it up by updating the carbon Ripmo with most of the same geometry tweaks that went into the Ripmo AF. Is a new carbon Ripley on the way as well, or is Ibis going to keep the two models a bit more distinct?
Bottom Line (For Now)
The Ibis Ripley AF is a very interesting new offering from Ibis, bringing a relatively aggressive short-travel Trail bike to market at a competitive price. We're very interested to see how it compares to some other options in that realm, including the Guerrilla Gravity Trail Pistol and Banshee Phantom. We're working to make that happen, so stay tuned for more to come.