2022 Orbea Rallon
Wheel Size: 29''; mixed wheel compatible with alternate shock extender (included)
Travel: 160 mm rear / 170 mm front
Material: Carbon fiber
Size Tested: Large
Blister's Measured Weight:
31.8 lb / 14.4 kg (Rallon M-Team, Size Large)
Reviewers:
David Golay: 6', 170 lb / 183 cm, 77.1 kg
Zack Henderson: 6', 160 lb / 183 cm, 72.6 kg
Test Location: Washington
Test Duration: 2.5 months
Price: Complete bikes $5,499 to $10,999; see below for details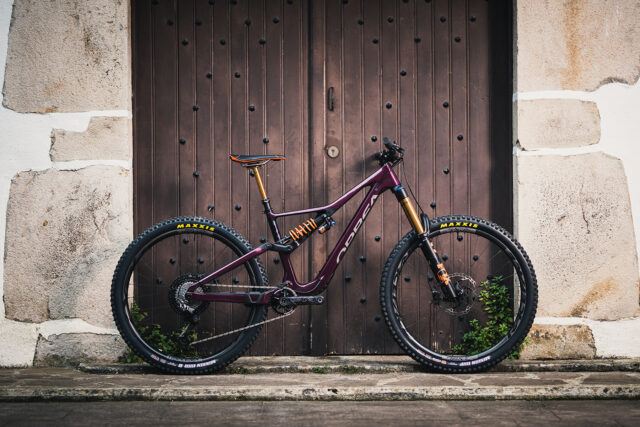 Intro
The Rallon has been in Orbea's lineup for quite some time now as their long-travel Enduro race bike and today they've released the all-new 6th generation. The standard new bike release mantra of longer / lower / slacker certainly applies here too, but there's a whole lot more going on with the new Rallon — including a ton of clever design features, mullet compatibility, and a wild degree of customization available.
The Frame
The overall lines of the Rallon haven't changed too much compared to the prior generation bike, but the frame is all new and features a ton of updates once you dig a little deeper. It's still got 160 mm of rear wheel travel paired with a 170 mm fork, and is available in carbon fiber only. The standard features you'd expect from a modern Enduro bike are all here; cable routing is fully internal, the bottom bracket is threaded, and ISCG-05 tabs are included for a chain guide. There's ample rubber protection on the downtube, chainstay, and seatstay, and a SRAM UDH derailleur hanger is included as well.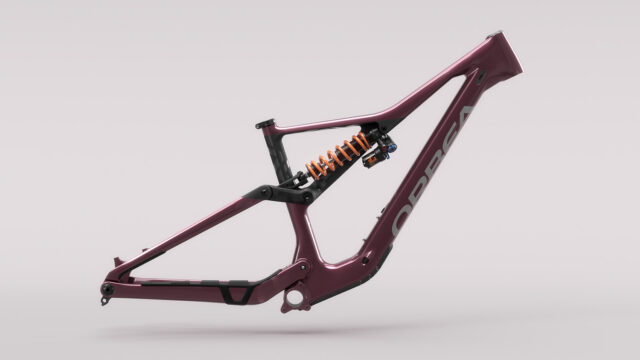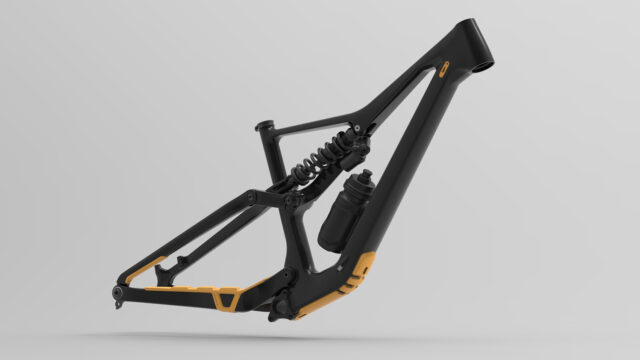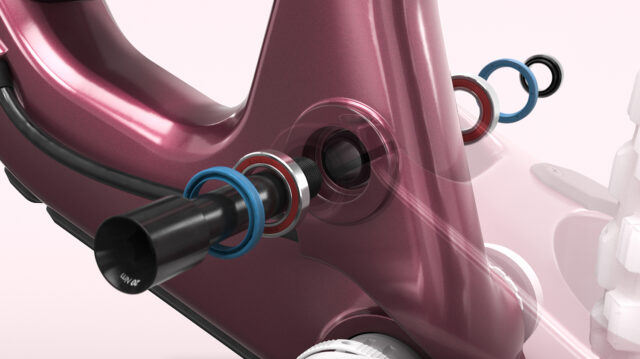 Orbea has also added a great deal of storage and integration into the Rallon frame. There's a large hollow cavity in the downtube, accessed via a hatch underneath the water bottle mount (and all frame sizes fit one inside the front triangle). A single lever secures the "Lockr" hatch, and the Rallon comes with two storage pouches — one nylon, one neoprene — which fit inside the Lockr compartment to keep items from rattling around, and make them easier to remove. Velcro tabs secure the bags inside the compartment, and an elastic pouch on the underside of the lid can be used to store small items such as CO2 cartridges.
The integrated storage doesn't stop there. Orbea also includes a multitool with 3/4/5mm hex wrenches and a T25 Torx driver that fits inside the rocker link pivot, and secures with a magnet. An additional tool with a 6mm hex bit and a spoke wrench serves double duty as the lever to secure the rear axle.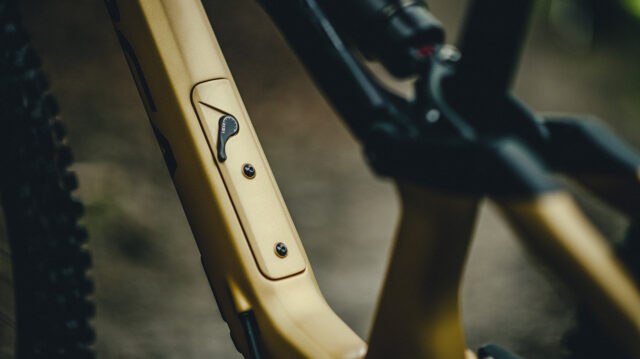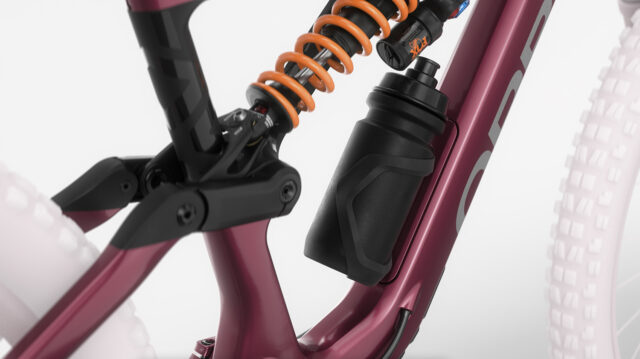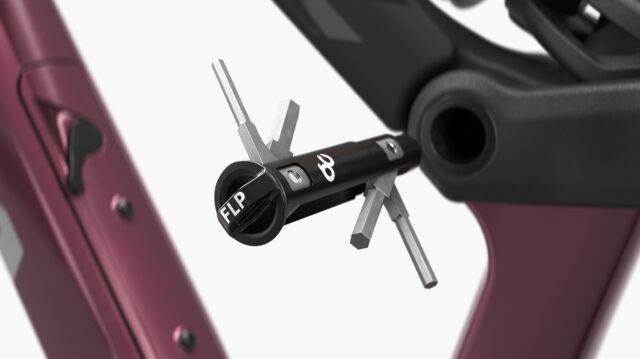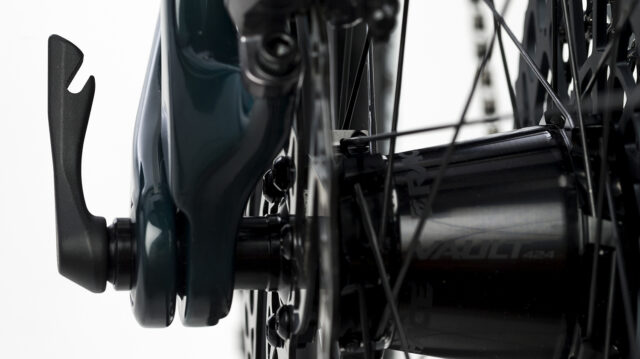 Continuing the thoughtful touches, Orbea has added additional sealing to all of the pivot hardware, including fork-style wiper seals on the main pivot axle. It's a move designed to improve bearing life and extend service intervals by keeping water and gunk out of the pivot bearings, especially at the main pivot which is most directly in the line of fire from the rear wheel.
And speaking of pivots, the Rallon uses a four-bar suspension linkage with a pivot concentric to the rear dropout (similar to Split Pivot or Trek's ABP layouts). Orbea has made the leverage curve of the Rallon significantly more progressive than the outgoing model, with a fairly linearly progressive curve that starts off just over 3:1 and falls off to about 2.4:1 by bottom out. Anti-squat is relatively high, at about 130% near sag (in a 32 / 50 gear, for the graph shown below) and the anti-rise curve is relatively flat, starting at about 50% and increasing to roughly 65% by bottom out. The various kinematic graphs can be seen below (and if you'd like a refresher on what all those terms mean, check out the Suspension Kinematics section of our Mountain Bike Buyer's Guide, starting on page 70).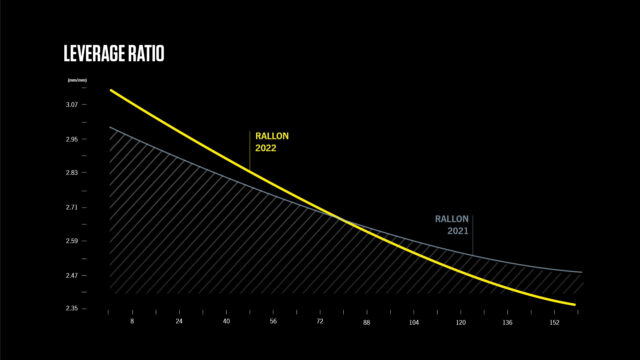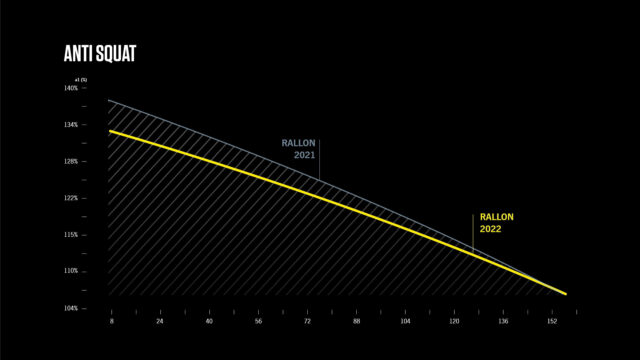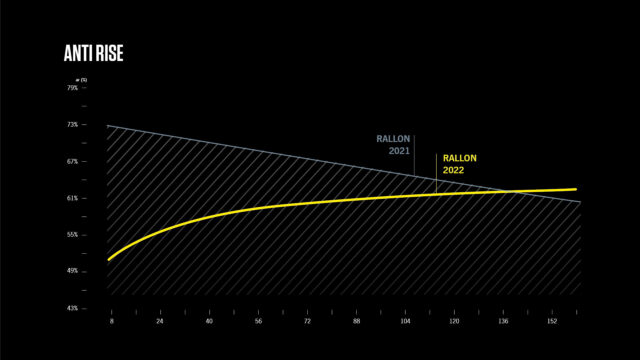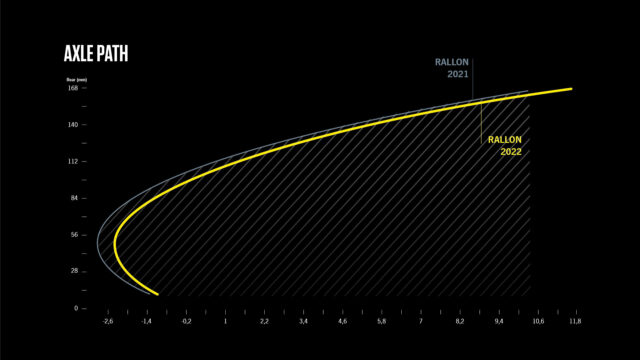 The new Rallon can be set up to run either matching 29'' wheels or a mixed 29'' front / 27.5'' rear mullet setup. The change is accomplished by swapping between two different shock extender links, both of which are included with the bike. The 29'' link also includes a flip chip that toggles between two different geometry settings (more on that in a minute) but the mullet link only offers a single geometry setting, which mirrors the 29'' link in the lower position.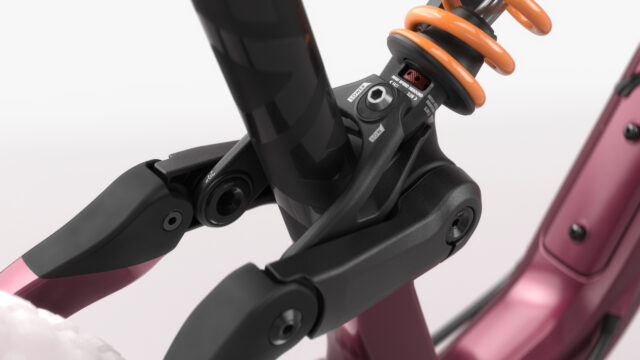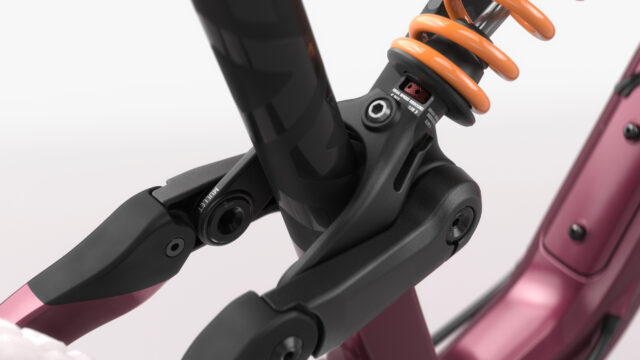 Orbea also talks a lot about the effort they put into fine tuning the flex of the Rallon frame to achieve their desired balance between stiffness and precision, and ride comfort and compliance. As they very rightly note, stiffness is helpful to a point, but there's also such a thing as too stiff, where a bike starts to pinball off of every little bump rather than being able to give a little bit and keep tracking. Orbea actually built prototype frames with provisions for bolt-on inserts on the frame tubes to alter their stiffness and dial in the layup they wanted to go with for the production molds.
Fit & Geometry
The Rallon has gotten longer, lower, and slacker across the board, and Orbea has added a fourth size to the range — the Rallon now comes in sizes from Small through Extra Large. All sizes get a 64° headtube angle and 77° effective seat tube angle with 35 mm of bottom bracket drop in the "lower" position; the "low" setting steepens both angles by 0.5° and reduces the bottom bracket drop to 28 mm. Reach ranges from 435 through 510 mm in 25 mm increments, and all four sizes get 440 mm chainstays in the 29'' configuration. The mullet link shortens the chainstays by 2 mm, but otherwise preserves the same geometry as the "lower" 29'' setting. You can see the full geometry chart here: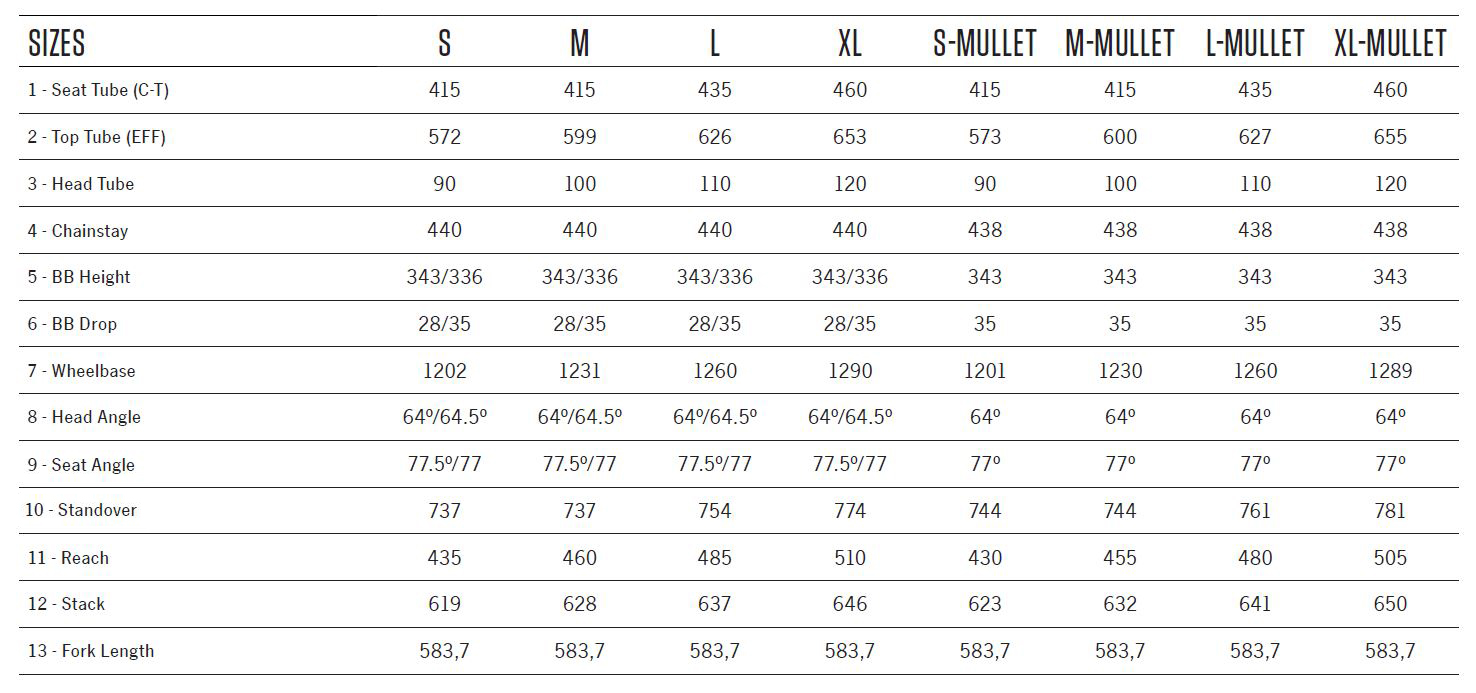 Orbea says that the Rallon fits riders from about 4'11'' through 6'7'' (150 to 200 cm) but their sizing chart also has a great deal of overlap — everyone from 5'3'' through 6'5'' (160 to 195 cm) falls into at least two, if not three of their sizing bands, depending on personal preference and whether they're looking for a more stable or more nimble ride. A big part of that flexibility is down to what Orbea calls "Steep N' Deep" — their term for the exceptionally deep seatpost insertion on the Rallon. A 200 mm travel Fox Transfer can be fully bottomed to the collar in all four sizes, and Orbea provides a helpful chart showing the minimum and maximum seat heights that can be achieved in all four sizes with all four of the available lengths of Fox Transfer. That and the sizing chart can be seen below:
On paper, the Rallon's geometry looks like it should make for a very capable descender that doesn't go so aggressive as to sacrifice a huge amount of versatility either. The numbers are all nicely in line with modern norms for this sort of bike, but we're definitely not complaining. We've got a Rallon on the way and are excited to get on it to find out more — hopefully soon.
The Builds
Orbea offers the Rallon in four standard builds, with pricing ranging from $4,999 to $9,999. But all four can also be customized substantially through Orbea's "MyO" program, which allows you to choose between a number of options for shocks, wheels, seatpost travel, and more. You can also customize the paint through MyO, with a huge range of options for the main and secondary frame colors, as well as logos. There will be three standard color combinations available, which can be seen below: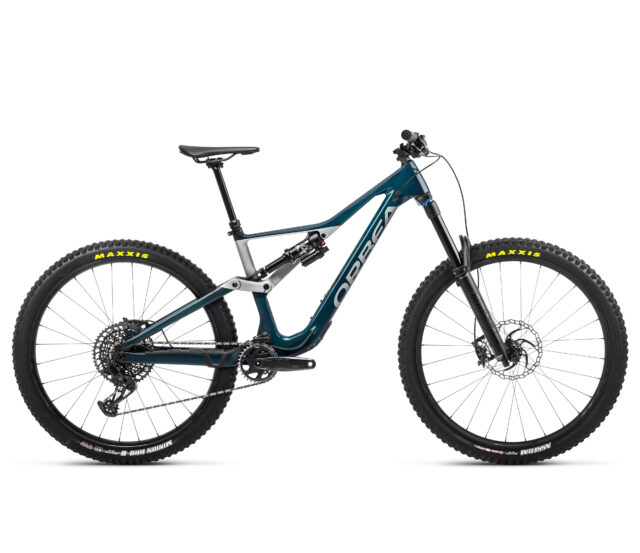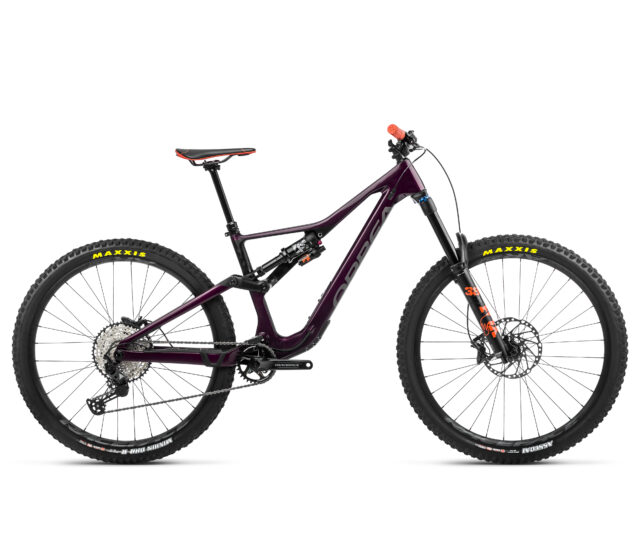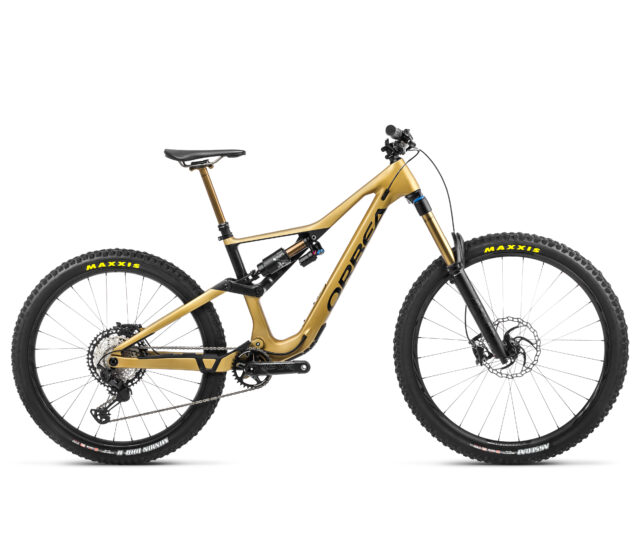 All four builds will be available in any of those three colors as standard, or with custom paint through the MyO program. Orbea says that more than a million different combinations are possible. And then the breakdown of the standard builds is as follows:
The Rallon M-Team also defaults to coming with mixed wheel sizes, while the other three builds are full 29'' as standard, but either option is available on any of the builds through MyO. And as we mentioned up top, all versions of the Rallon will ship with both the mullet and 29'' frame links if you happen to have another wheel already on hand, or want to pick one up down the line.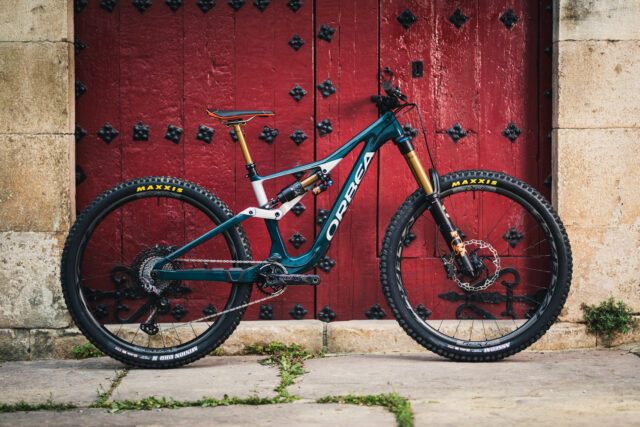 Some Questions / Things We're Curious About
(1) The class of ~160mm-travel Enduro bikes ranges from very game on, highly focused race rigs through surprisingly versatile options that feel a bit more like long travel Trail bikes. We'd guess the Rallon falls somewhere in the middle of that spectrum, but is that really the case?
(2) How do the 29'' and mullet configurations compare, and who should spec their Rallon with which wheel size?
Flash Review
Blister Members can read our Flash Review of the Rallon for our initial on-trail impressions. Become a Blister member now to check out this and all of our Flash Reviews, plus get exclusive deals and discounts on gear, and personalized gear recommendations from us.
Bottom Line (For Now)
The new sixth-generation Rallon looks like a well-thought-out update to Orbea's long standing Enduro bike, with solidly modern geometry and a lot of clever finishing details. We're excited to get on one to find out more, so stay tuned for a full review to come.
FULL REVIEW
Orbea says that the Rallon has a "focus on fast," and for a 160mm-travel Enduro bike, that certainly makes sense. But it's also notably light, and their 150mm-travel Trail bike, the Occam LT, is especially efficient and quick-handling, so would the Rallon follow in that direction, or take an entirely different tack? As it turns out, the Rallon does have a certain family resemblance to the Occam LT, but in a much bigger package, and the results are compelling.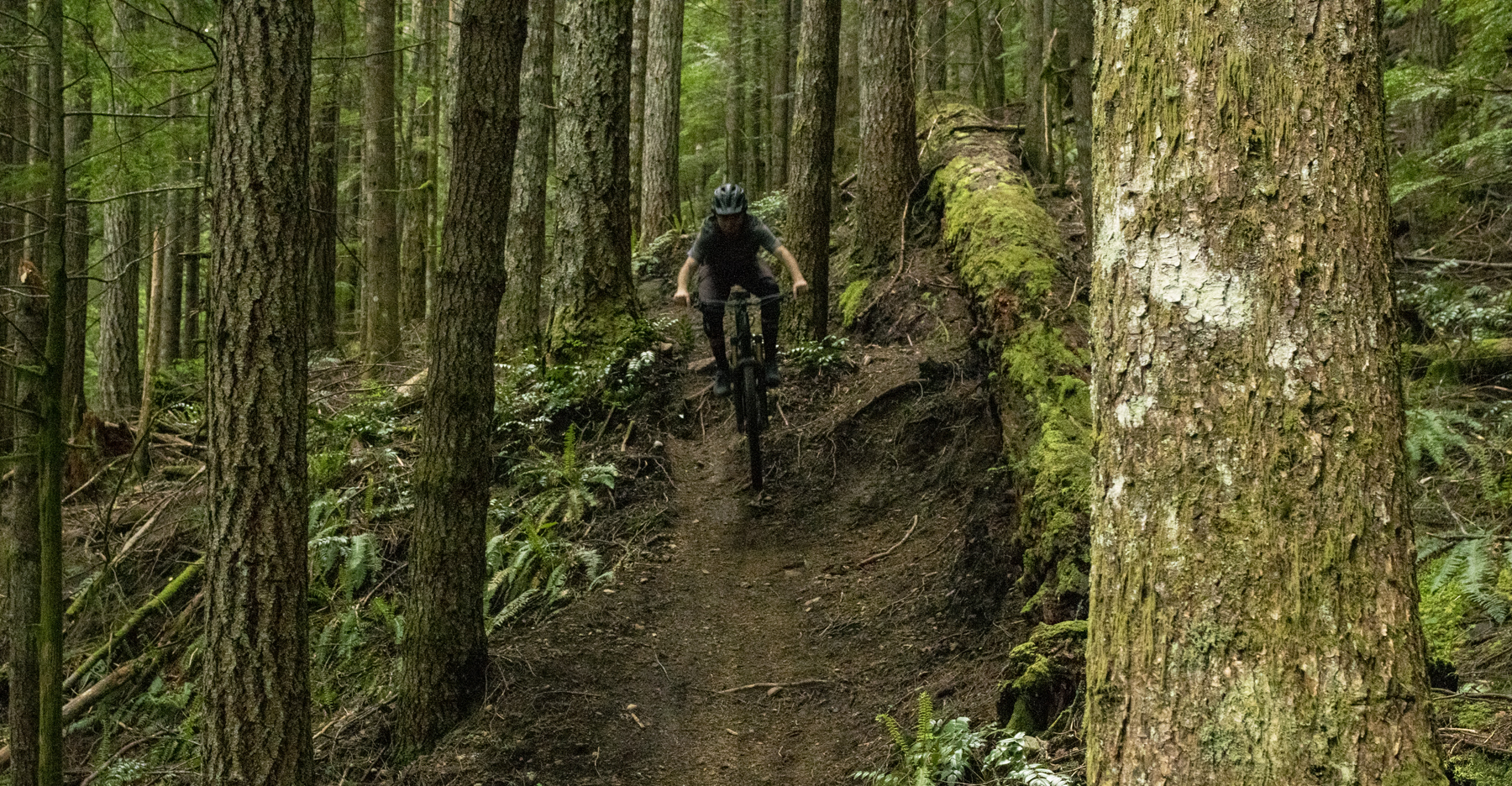 Fit & Sizing
David Golay (6', 170 lb / 183 cm, 77.1 kg): Orbea's recommended sizing puts me squarely in the middle of the band for the size Large, and it does indeed fit me really well. But interestingly, their sizing bands overlap so much that I also fall at the ends of the ranges for both the Medium and XL frames, too. Orbea's point — which I totally agree with — is that just basing bike sizing on height leaves a lot of pertinent information out, including stuff like body proportions, riding style and preferences, and so on.
That said, I personally don't have any interest in deviating from the size Large that we tested, but do think that Orbea has done a nice job of making a bike that affords a good bit of leeway to size up or down as desired. The seat tube is moderately short but has a ton of seatpost insertion — Orbea says that you can bottom a 200mm-drop Fox Transfer to the collar on even a size Small — and the not-super-tall stack heights make sizing up a bit easier for a lot of folks. While I could probably make a Medium or XL work, the fit and handling of the Large felt on the money for me. Sizing down would presumably make for a more compact, quicker-handling ride (Orbea EWS racer Martin Maes does just that, as he explains in Ep. 109 of Bikes & Big Ideas) and I think I could fit on an XL if I really wanted to dial up the stability, but nothing about the ride of the Rallon made me inclined to do either.
After a few rides, I did swap to a 40 mm stem from the stock 50 mm one (more for handling reasons than fit) and went to a 790 mm wide bar (stock is 800 mm) but that's all typical for my preferences on bigger Enduro bikes in general. Orbea does give the option to swap for a 40 mm stem for models ordered through the My-O program if your preferences happen to run that way as well.
Zack Henderson (6', 160 lb / 183 cm, 72.6 kg): Given that David and I measure up at about the same height but have slightly different proportions, I was curious to see how the Orbea would feel. I differ a bit from David in that I have a relatively long torso for my height and correspondingly somewhat shorter legs, which can be a bit tricky on bikes that err on the conservative side in terms of reach, or that have longer seat tubes and/or minimal seatpost insertion.
Fortunately, the Rallon didn't suffer from any of these issues — in fact, I think the out-of-the-box size Large Rallon is maybe the best fitting bike I've ridden for my proportions. The 485 mm reach struck a nice balance of being roomy without leaving me too stretched out, and the short seat tube and near-bottomless seatpost insertion gave me plenty of space to run a 200 mm dropper with insertion depth to spare.
As far as the cockpit goes, I ran the stock 800 mm bars and 50 mm stem for the duration of the test. Both of my personal bikes run 50 mm stems at the moment, so the handling felt familiar on that front, though I could have comfortably gone down to 40 mm as well. Given the not-that-high stack, I ran the stem with a solid inch of spacers under it to buy myself more front-end height for the very steep trails in my area. Were this my personal bike, I would likely swap the stock bars for 780 mm width, 30 mm rise to allow myself to run the stem a bit lower on the steerer, thereby buying back a few millimeters of reach while keeping a confidently high front end for the steeps.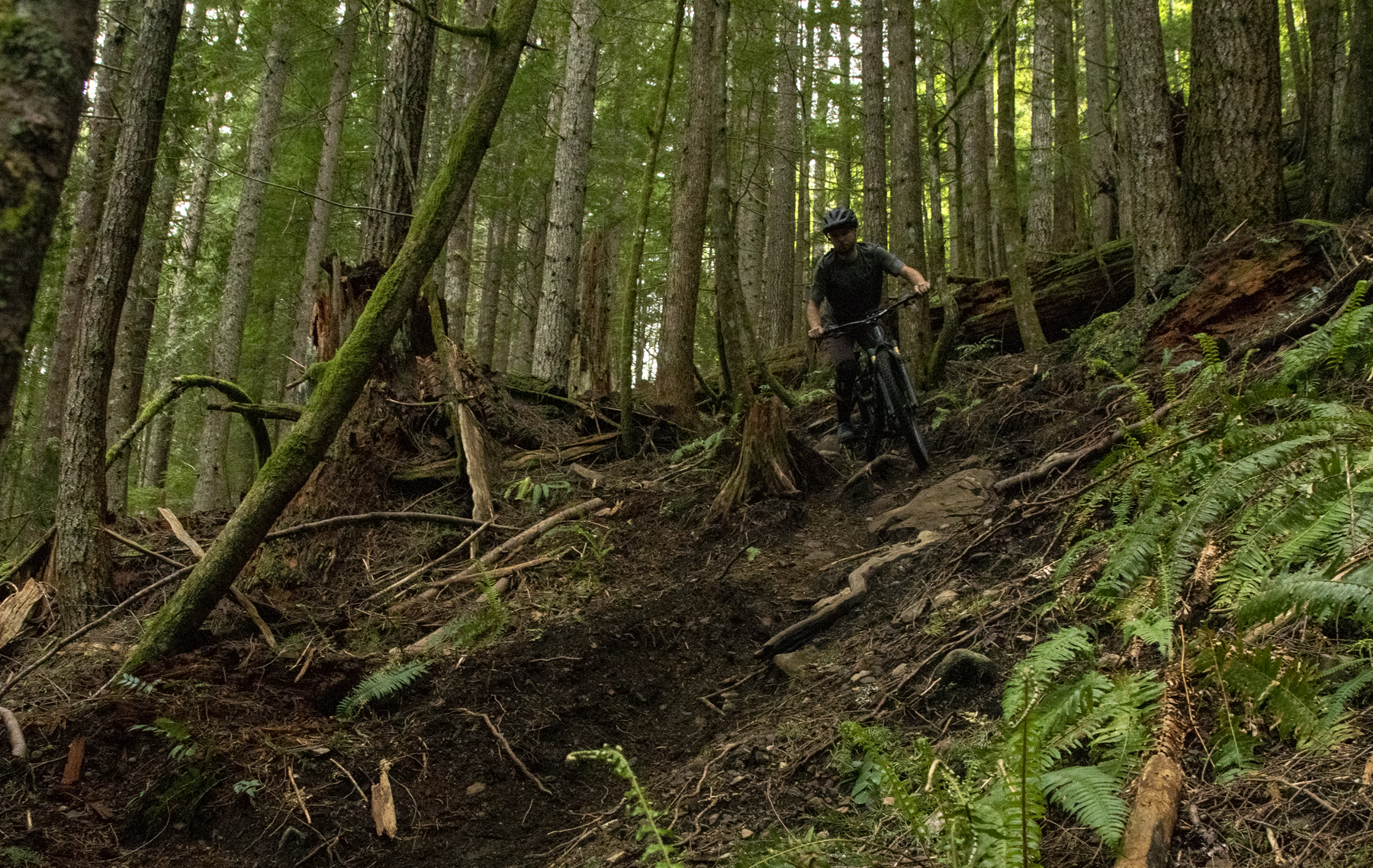 Climbing
David: The Rallon is one of the most efficient pedaling ~160 mm travel Enduro bikes that I've been on recently. Its comparatively low weight (31.8 lb / 14.4 kg for our test bike, without pedals) certainly doesn't hurt, but the suspension performance is a big part of the story, too. As we've consistently found, having spent time on a lot of different Fox Float X2 tunes by this point, the climb mode isn't particularly firm and doesn't make all that huge a difference in how the Rallon pedals, but the Rallon's rear suspension isn't reliant on the rear shock to pedal efficiently, and it does very well for a bike with 160 mm of rear wheel travel with or without the climb switch engaged.
As per usual, the tradeoff there is that the Rallon's suspension isn't especially active under hard pedaling efforts, and rear wheel traction is a little trickier to maintain than on some other more plush, less efficient bikes in its class. The pedaling position is very good, and the overall climbing manners are straightforward and intuitive — keeping the front wheel planted hasn't given me any trouble, and the low-speed handling is calm and relatively easy to manage. The notably low bottom bracket on the Rallon (especially in the low 29er setting or set up as a mullet) might make for a little less pedal clearance on rough, technical climbs than some generally higher bikes, but the relatively firm, supportive suspension of the Rallon means that it isn't prone to wallowing or settling too deeply into its travel while climbing, which helps counteract the low bottom bracket and keep your pedals out of the rocks. Particularly for folks who prefer a relatively efficient, sprightly feeling bike over one that feels especially cushy and offers gobs of traction on the way up, the Rallon is one of the better climbing Enduro bikes out there.
Zack: I'll get right to it — I did not expect the Rallon to feel so close to a shorter-travel Trail bike on the climbs. I entirely agree with David's compliments on the comfortable pedaling position, which isn't too upright but isn't too stretched out, and also regarding the very supportive rear suspension that was refreshingly peppy after I made some tweaks to the X2's setup. The Rallon's combination of reach, seat tube angle, head angle, and bottom bracket height make it a very comfortable place to be for extended uphill efforts. As an added bonus to the comfy dimensions, as Enduro bikes have seen weights creep up into the mid-30 pound range pretty regularly, I definitely noticed and appreciated the lower weight of the Rallon, especially on some of the huge climbs that I was exploring now that the Pacific Northwest summer is finally upon us.
I have some pretty rough and tricky climbs near me that I like to use as testing grounds for climbing composure, and I was pleasantly surprised by how well the Rallon tracked under heavy pedaling loads, resisting excessive diving into the rear travel under hard efforts and keeping the front wheel tracking well. The low bottom bracket did have me smacking pedals, but as I'll describe in the descending section, it was a worthwhile tradeoff for the handling when the trail turned downward.
Descending
David: As it does on the way up, the Rallon feels supportive, lively, and energetic when pointed back downhill. For a 160+ mm travel Enduro bike, it's a little less stable, planted, and cushy than average, but makes up for it by being sharp handling and eager to build speed by pumping through and popping off little terrain features.
A lot of bigger Enduro bikes that I'd say similar things about feel a little dated, and a bit caught in between being a long-travel Trail bike and a true Enduro bike — the original V1 Santa Cruz Megatower being a great example — but that's not the case here. The Rallon is definitely not quite as stable, plush, or cushy as a lot of modern bikes with similar suspension travel, but it also feels very cohesively designed and coherent with that goal in mind. It's just a more lively, efficient, sharper-handling twist on a modern Enduro bike, and hits that mark really nicely.
That's also not to say that the Rallon feels like an overgrown Trail bike masquerading as a burlier Enduro bike — but it does blur that line a little more than many modern 160+ mm travel bikes, which have been growing more stable, planted, and descending-oriented in recent years. Compared to some of those new-school Enduro bikes (see the "Comparisons" section, below, for a whole lot more on that), the Rallon is a little less cushy and doesn't iron out rough sections of trail as completely, but it's also more agile, more nimble, and engaging than those full-on bruisers tend to be, and it's easy to imagine that being a really nice middle ground for a lot of people.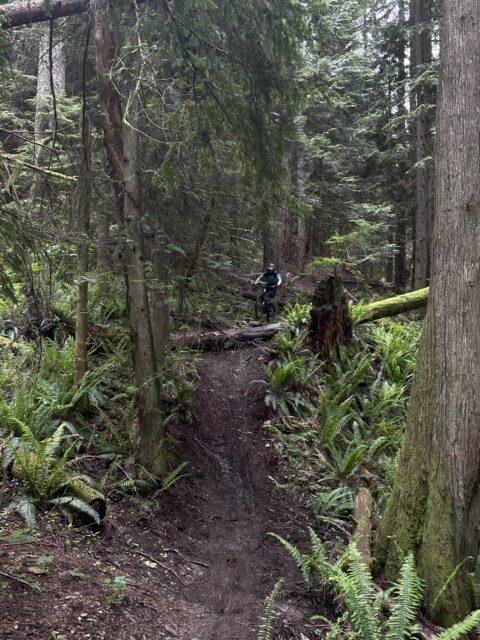 And to be very clear, the Rallon is still highly capable of going very fast in steep, rough terrain — it's just a touch less stable and forgiving, and its suspension is slightly more firm and supportive than the typical big Enduro bike. The Rallon also corners very, very well, both in tighter, more awkward spots and in faster, better-supported turns. It feels impressively precise and works well with a variety of cornering styles depending on the situation at hand — it's not a bike that, for example, demands that you get over the front wheel and slash the rear out to come around quickly, though it can certainly do that. The Rallon is easy and intuitive to load up through the pedals and carve through a well-supported corner or stay light and snake through tighter spots with a bit more steering input, and it doesn't feel like a bike that demands the rider conform to its preferred riding style to start to click — it's really versatile in that regard.
In terms of the body positioning that it encourages, the Rallon feels fairly neutral, and also fairly versatile. If anything, it's maybe biased slightly toward staying a touch forward and over the front wheel, but the sweet spot feels fairly large, and the Rallon doesn't start feeling out of joint until you get a really long way off the back in flatter sections and the front wheel starts to push.
Zack: I covered a particularly wide range of trails in my time on the Rallon, from flatter jump-littered trails for after-work hot laps to longer weekend rides on some of the roughest trails in my northwestern corner of Washington State. From the get-go, the Rallon was a predictable and versatile partner that was enjoyable to ride in just about every type of terrain.
The liveliness that David mentions above was a highlight on flow trails, and I was surprised by how little effort the bike took to maintain speed on flatter rolling terrain, despite its Enduro intentions. The supportive and lively rear suspension encouraged running the Fox 38 with a couple of extra PSI and fairly fast rebound to match the feeling of the rear end, which no doubt lent to the bike's willingness to get airborne and be loaded up into corners. And man, the cornering capabilities of this bike… with the low bottom bracket and supportive suspension combination, this bike was a ton of fun to toss into corners of all sizes, from hardpack to loose and loamy, trusting that aggressive cornering would be rewarded with some extra speed.
I also think that part of the liveliness is attributable to the well-rounded flex of the frame. Coming from some other bikes that are quite overbuilt, the Orbea doesn't have a particularly stiff feeling, and you can see a slight bit of flex at the pivots when pulling on the rear wheel back and forth. The bike had a very smooth ride character, which I attribute to this less rigid frame — it just didn't really deflect off obstacles as much as some other bikes.
It is important to differentiate that sense of smoothness in ride feel from outright stability — a mini downhill bike, the Rallon is not. I found the limit of the Rallon on some particularly fast, steep, and rough trails where the lively suspension and well-rounded geometry couldn't quite keep the bike as stable as some of the burlier new-age Enduro bikes. The low bottom bracket did occasionally pose a challenge, with pedal strikes happening quite frequently in burly terrain and resulting in some sketchy moments. In those situations, it was best to resist the tendency to point-and-pray, and instead make intentional line choices, leveraging the supportive suspension and ease of changing direction to take a more precise riding approach.
While the bike has a smooth ride character, it certainly doesn't have a quiet one. I was a bit surprised that, despite the neat frame details, the Rallon made a racket in rougher terrain, especially on repeated square hits. Some of this was mitigated by adding some tension to the XT derailleur's adjustable clutch, but the chain runs relatively close to the chainstay and it seems that the beefy chainstay protector just wasn't quite enough to keep things silent.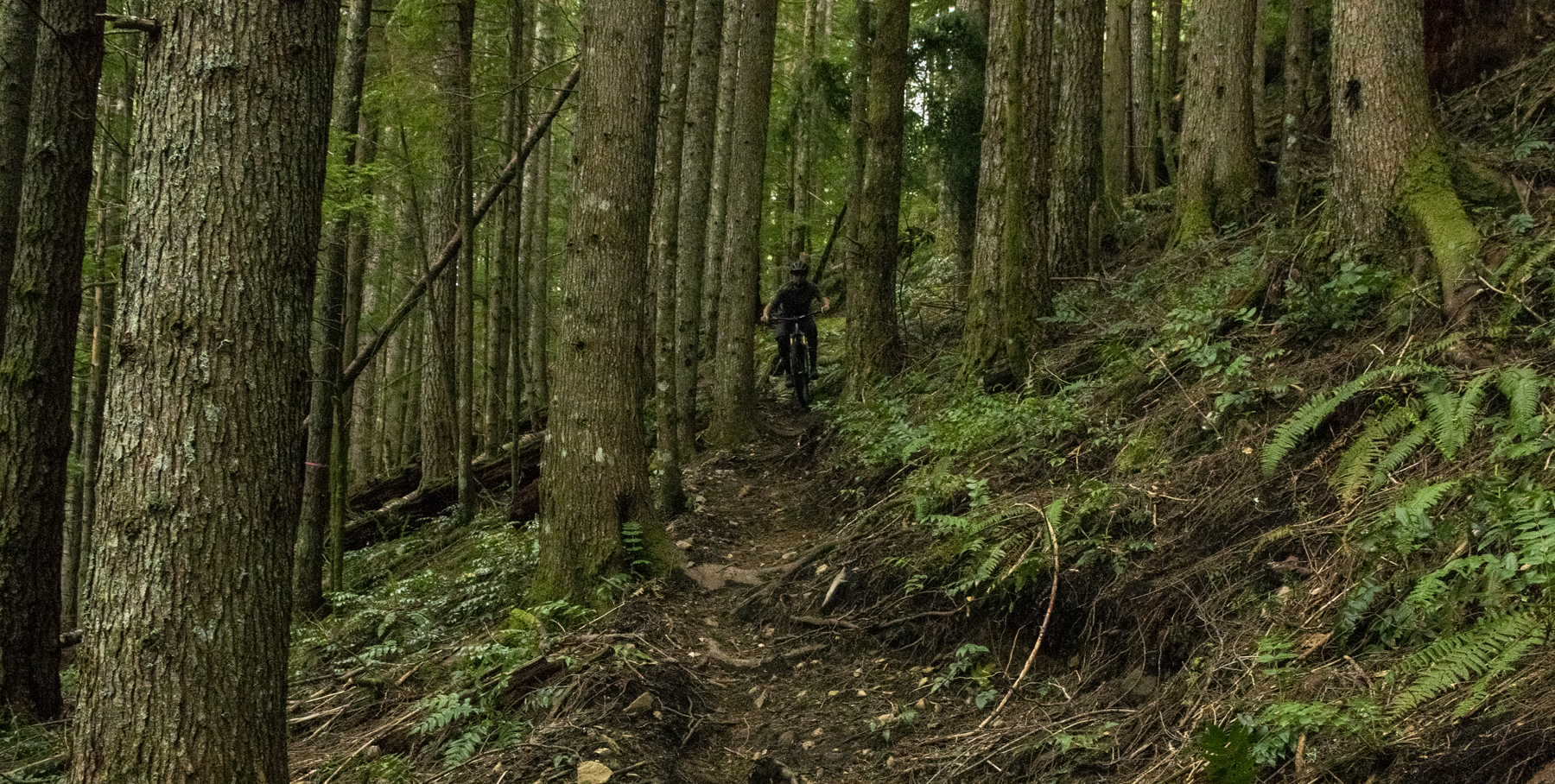 David: I didn't find the bottom bracket height to give me too much trouble in rough sections, but I also spent my time on the Rallon with clipless pedals, which I find tends to make careful control of your foot placement a bit easier than on flat pedals, which Zack typically uses. And if you're running the bike as a 29er, the high bottom bracket setting does afford some extra clearance if desired, though I found myself preferring the low one for a little more stability and to maximize the Rallon's outstanding cornering performance.
Zack is right to note the somewhat noisy chain slap — the rubber guard on the chainstay has good coverage but feels a bit too hard to keep things entirely quiet, and there's a noticeable amount of noise in rougher terrain as things bounce around. You could probably get creative with some mastic tape to help out a bit, but there's not much clearance between the chain and top of the guard in the highest gears, so things like STFU Bike (which I've had great success with on other bikes) might be tough to squeeze in.
The Build
David: Overall, the build on our Rallon M-Team test bike is well thought out and quite nice — the Shimano XT drivetrain is a great option for a high-performing but not wildly expensive setup; the Fox 38 and Float X2 Factory suspension works well; and the stock rear shock tune feels nicely chosen. This particular pair of Shimano XT brakes didn't present any of the wandering bite point issues that they've been known to have (and I like their performance a lot when the bite point is staying consistent). The Race Face Turbine R wheels don't feel especially stiff laterally but held up well over my time on the Rallon, and the little extra flex was more just "noticeable" rather than anything that presented a real issue on trail.
We've had good luck with the Fox Transfer seatpost in general — and have in fact found it to be one of the more reliable droppers out there — but the one on our test bike was defective and ceased to return properly after just a ride or two. I just swapped in another post I had on hand for the remainder of the review, but it would be a warranty case on a brand new bike. I also happened to not get along with the stock Fizik seat and replaced it with a Selle Italia SLR. Of course, that's just down to personal preference and anatomy, and your results will almost certainly vary.
You can debate the relative merits of various tire spec options endlessly, and there's no one-size-fits-all solution on any given bike that's going to make everyone happy, but I would have at least liked to see Orbea spec the stickier 3C MaxxGrip rubber on the front Maxxis Assegai tire for this sort of big Enduro bike, in place of the 3C MaxxTerra option that they went for. Burlier DoubleDown casings would also arguably be more appropriate for a 160mm-travel bike, but I feel a bit less strongly about that on the Rallon than some other bikes they've shown up on recently — the Pivot Firebird and Santa Cruz Megatower, for example — given that the Rallon is a bit lighter, more efficient, and a little more versatile as an all-around Trail bike than either of those two.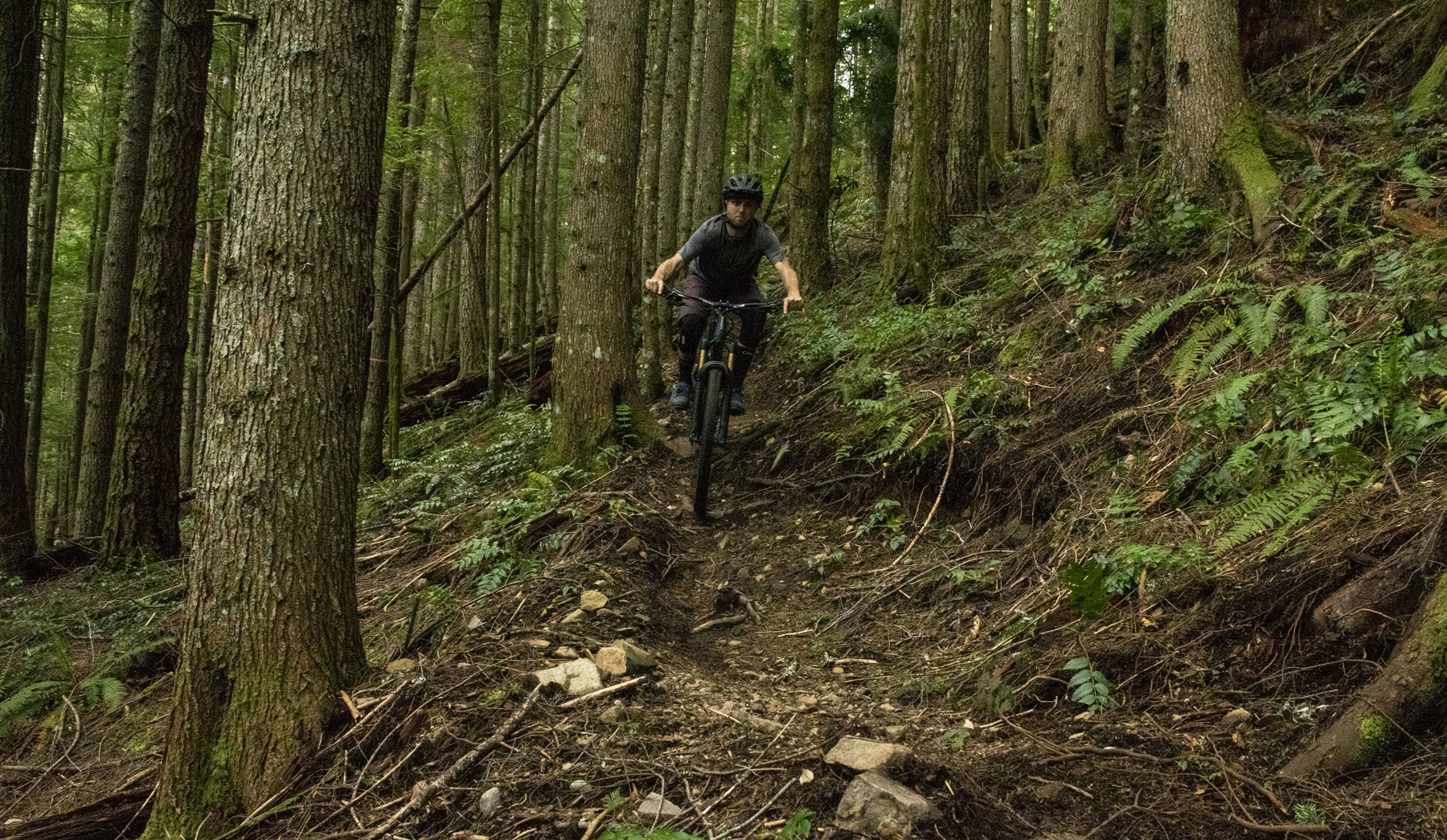 Zack: I don't have that much to add to David's thoughts here, and agree that Orbea has done a great job with the build on the Rallon M-Team. Its MSRP has crept up to $8,000 (Orbea is far from alone in raising prices recently) and while that's hardly a terrible value for the money, it can't quite compete with the value of some other brands, particularly some direct-to-consumer players. It is certainly a personal preference, but I am always glad to see Shimano's latest 12-speed drivetrains on complete builds, and the XT setup on this bike performed without a hitch. I was pleased with the Fox 38's performance, despite having to run the compression dials nearly closed due to the low damping levels in Fox's present iteration of the Grip2 damper. In terms of rear shock duties, while the Float X2 did its job well, I'd be deeply curious to try this bike with a coil to see if the more sensitive nature of the coil could help eke out a bit more grip and composure in really rough terrain while still benefiting from the inherent liveliness of the Rallon's suspension kinematic.
Like David, I found the Fizik saddle to be very uncomfortable — like, caused severe numbness uncomfortable. Again, it's a personal preference item, but it was the one touchpoint on the bike I didn't quite get along with.
On tire spec, I agree with David that Orbea can be forgiven for its lighter casing tire spec, but I would have been very pleased to see a DoubleDown tire at least on the rear tire. I am fortunate to live somewhere where I can mostly get away with Maxxis' Exo+ casing rather than having to step up to DoubleDown, but with a bike that corners this well, you can feel the lack of casing stability on the rear tire.
I don't normally feel the need to comment on frame quality, given that so many manufacturers seem to have a great fit and finish these days, but I couldn't help but notice that the Rallon seems to be a cut above the rest. The paint is gorgeous and appears quite durable, the hardware is nice quality and has rubber seals to keep grit out, and the addition of pinch bolts at some of the larger pivots adds some extra peace of mind that those critical pivot bolts won't be tempted to back out.
David: Yup, the overall fit and finish on the frame is really nice — and the transparent green / blue paint on our test bike looks especially sharp. The addition of a downtube storage compartment is also a nice touch, but the closure on the hatch is pretty sticky and not the easiest to use. The opening is also not especially large, so trying to stuff a jacket or anything that bulky in is pretty much a no-go. But the Rallon comes with some internal organizers to keep smaller items from rattling around, which work nicely. I'm also pretty into the simple mini tool that drops into the rocker link pivot with a little magnetic latch. It's super quick and easy to access and works well, though it's relatively bare bones (just 2, 3, 4, and 5 mm Allen wrenches) so it's not exactly a replacement for a more fully-featured tool. But for quick cockpit adjustments and the like, it's super convenient and effective.
Zack: My final point is less about this bike, but more about Orbea's build options. Orbea offers a broad range of price points for their builds, from $5,499 USD for the M20 build all the way to $10,999 for the M-LTD. All of the builds come with the same very high-quality frame, unlike other manufacturers like Santa Cruz and Yeti which differentiate grades of carbon at different price points. These are all good things, but the frame-only option is eye-wateringly expensive at $4,499. Yes, Orbea offers an extreme amount of customization through their MyO program, and yes, the builds are solid, but this bike has broad appeal and is a top-notch frame that would do well to be a competitive option for folks who like to go the frame-only route.
Wheel Sizes
David: The Rallon makes toggling between a full 29'' and mixed-wheel mullet setup quite straightforward — you just need to remove the rear shock and yoke (secured by a pair of bolts that thread through the yoke into the upper link) and install the other yoke version, and then of course swap in a different rear wheel of the appropriate size. Access to the shock yoke bolts is slightly tight since their heads sit inside the shock yoke, but it's possible, if slightly tedious, to swap with a standard L-key; an 8 mm Allen socket and ratchet make things a lot easier.
Our test bike — the Rallon M-Team build — defaults to a mullet configuration, but you can order any of the builds from the Rallon M10 and up with either rear wheel size through Orbea's My-O program; the Rallon M20 is offered as a 29er only, but all builds come with both shock yokes no matter which wheel size you opt for.
I frankly don't have the best track record of getting along with mullet setups — I tend to find that they make a bike's chainstays feel shorter than you might expect for a bike with equal wheel sizes and require more steering input to corner cleanly. This can make the front wheel feel floppy in certain corners, especially mid-speed, tighter ones where you're carrying a significant amount of speed, but still also need to turn the bars significantly, rather than just relying on leaning the bike over. And while those general trends held true for the Rallon as a mullet as compared to the 29er configuration, they felt a lot more muted on the Rallon than a bunch of the other mixed-wheel bikes I've been on recently. For my preferences and riding style, the Rallon is the most intuitive mixed-wheel bike I've ridden to date.
I think the Rallon's combination of a not-super-steep headtube angle (64° in the mullet setting) and moderately long 440 mm chainstays are a big part of the reason why. Mixed-wheel bikes tend to make the chainstays feel shorter than they are, but the Rallon has some room to play with on that front, and it clicked easily for me. The steering also doesn't feel as floppy as a lot of mullet bikes I've experimented with (especially once I swapped in my preferred 40 mm stem, to calm things down a little).
Going to a full 29er adds a bit of stability, makes the steering feel slightly calmer, and moves the balance point on the bike and its preferred body positioning rearward very slightly, but those differences are all relatively subtle. Orbea has done a really excellent job of designing a bike that works well with either rear-wheel size, and converts cleanly without feeling like either configuration was an afterthought or cobbled together to make for another option to sell more bikes. It's genuinely well done. I still personally preferred the 29er setup overall, for basically the same reasons that I mentioned above for not being totally sold on mullets in general, but the Rallon rides really well with either wheel size configuration, and switching back and forth between the two was impressively seamless.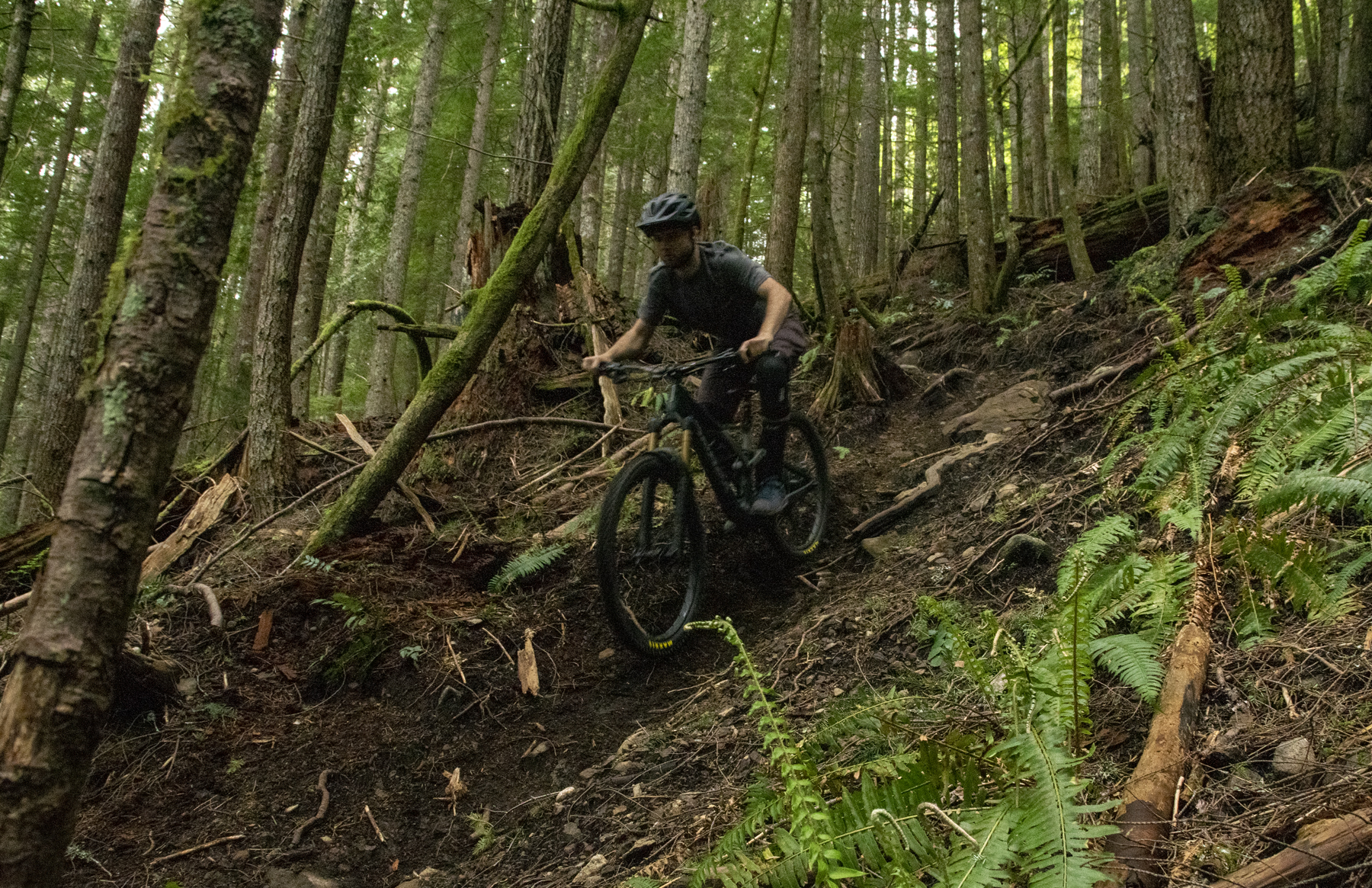 Zack: I was really impressed by the simplicity of the switch between mullet and full 29" wheel configurations on the bike, and appreciated the clean and simple solution of swapping a shock yoke rather than relying on multiple shock bolt holes, adjustable dropouts, or flip chips. Others may disagree, but the fact that Orbea offers 2 geometry settings for the 29" yoke but requires the yoke to be swapped for the mullet has a nice sort of purposefulness and implies that Orbea put a bit more thought into the mullet option.
I haven't spent a whole load of time on mullet bikes, but I generally don't see the merits for my height and riding style. Orbea only offers one geometry setting for mullet mode, but it preserves the geometry from the 29" configuration in the "low" setting almost identically, which makes it very easy to get along with. The steering precision was maintained, though I did notice that the rolling speed seemed a hair slower with the mullet when doing back-to-back testing on the same trail as the 29" setup. On rougher trails, the mullet configuration felt like the rear wheel hung up a bit more easily on square hits, but it also felt the slightest bit easier to initiate a turn at the last minute.
Ultimately, I still have a personal preference for the 29" version, especially on a bike that already has a very lively character and corners with ease, but Orbea has done a nice job of packaging the mullet configuration in such as way that it feels more intentional and well-considered than many competitors.
Comparisons
David: This is the best comparison here — both bikes corner exceptionally well, and are notably lively and energetic instead of being stable and planted. Despite having a little more suspension travel, the Rallon actually pedals a touch more efficiently and the Arrival has slightly better small-bump sensitivity, though neither of those differences is all that great. The Arrival is also biased toward slightly more forward body positioning and aggressive weighting of the front wheel, whereas the Rallon is a little more neutral in that regard, but the two remind me of each other quite a bit — high praise for the Rallon since the Arrival was my personal favorite bike that I reviewed last year.
David: The Rallon does have significantly more suspension travel than the Smash, but it's still not a bad comparison — both are impressively versatile bikes that are really good options for riders looking to cover a lot of different bases with one bike. The Rallon is a bit more stable at speed (though bumping the Smash up to a 160mm-travel fork closes the gap a little), but the Smash is a little more plush and planted in terms of its suspension performance on smaller, more chattery impacts; when you really start hitting things harder, the extra 15 mm rear / 20 mm front travel of the Rallon is readily apparent. There's also not much gap between the two in terms of pedaling efficiency. The Rallon is a little more lively feeling and is biased slightly more toward higher speeds and more aggressive riding (whereas the Smash is slightly more versatile as a true do-it-all Trail bike) but they've got enough in common to at least be worth thinking about cross-shopping for some folks.
David: Orbea says that the Occam LT is "NOT a mini-Rallon" and they're right to draw a clear distinction between the two — the Occam LT is much more of an all-rounder Trail bike and the Rallon is far more stable, planted, capable in burly terrain, and so on. That said, there is a real family resemblance — both pedal exceptionally well for their travel range, favor a more firm, supportive suspension setup, and feel similar in terms of their fit, preferred body positioning, and overall ride quality. So if you like the sound of the Rallon but think it's likely to be overkill for your riding, the Occam LT is worth considering — just bear in mind that it's a significant step toward being quicker handling / less stable, by a bigger margin than the 10 mm difference in rear travel might suggest.
David: The new V2 Megatower is a whole lot different than the Rallon — the Megatower being more stable and planted, significantly less efficient under power, less nimble in tighter spots, and less versatile as an all-arounder Trail bike, but more composed and confidence-inspiring when charging hard in steep, rough terrain. The Rallon is arguably more similar to the V1 Megatower, but it feels like a more cohesive, well-rounded version of that bike — the original Megatower couldn't quite decide if it wanted to be a long-travel Trail bike or a game-on Enduro race one, whereas the Rallon feels very coherent as a relatively efficient, nimble Enduro bike.
David: The Rallon and the 161 are similar in that they're both extremely efficient pedaling Enduro bikes that favor a relatively firm, lively suspension setup, but are significantly different in other respects. The 161 is much more game-on and needs an aggressive approach to start to come alive, and is a bit more stable at speed and when pushing very hard. The Rallon's small-bump sensitivity is better, it's way lighter (and more expensive), and it feels like a much more versatile all-rounder that would still be up to the task of racing the EWS; the 161 feels like it was designed to be an Enduro race bike, period.
David: Similar story to the 161, but the Jekyll is a little more stable and has slightly better small-bump sensitivity than the Privateer. The Rallon is quite a bit sharper handling and quicker feeling, and pedals a little more efficiently than the Jekyll (though both are notably good on that front).
David: Pretty different. Both the Rallon and the Altitude are on the quicker-handling, more nimble end of the spectrum when it comes to modern Enduro bikes, but they go about it rather differently. The Rallon pedals a lot more efficiently, and its suspension is firmer and more supportive; the Altitude is more plush and planted, with significantly better small-bump sensitivity. The Altitude's suspension performance makes it a little more forgiving of mistakes and bad line choices, but the Rallon feels sharper handling and more precise, which, for me, made it the easier bike to really push hard and go fast on.
David: Both are notably quick handling for a 160mm travel Enduro bike, but that's about it — they go about things very differently. The 4060 LT is cushier and more plush, its suspension doesn't feel as lively and supportive, it pedals less efficiently, and it's biased more toward a forward stance that puts a bunch of weight on the front wheel and makes the back end easier to slash around. Put differently, the SCOR is much more of a playful, freeride-oriented bike, whereas the Rallon does indeed feel like it's got more of a "focus on fast," as Orbea puts it.
David: Complete polar opposites, at least as far as 160+ mm travel Enduro bikes are concerned. The Range is exceedingly stable, super planted and glued to the ground, and is the least-efficient pedaling bike here by some margin. Both bikes are very good at what they do but live at the opposite ends of the spectrum of what a modern Enduro bike can be.
David: Super different. The Rallon is quicker handling, more precise, and corners better than the Dreadnought; the Forbidden is more stable and more composed straightlining through rough sections but is more of a handful in a lot of other situations. The Rallon also pedals a bit more efficiently.
David: In some ways, the G1 feels a bit like a bigger, burlier version of the Rallon — it's longer, slacker, has more suspension travel, and so on — and is consequently more stable, more composed going really fast in rough terrain, and is slower-handling and less nimble. But they're similar in that they both pedal extremely well for how much suspension travel they have and favor somewhat firmer, more supportive suspension setups over being super planted and glued to the ground (though the Rallon does so to a greater degree). Both also corner especially well, though the G1 is biased a bit more specifically toward higher speeds, whereas the Rallon doesn't take as much speed to come alive.
Zack: These two are quite a bit different across the board. Both bikes pedal very well and do a nice job of staying high in their travel, but the Titan has 15 mm less reach and 12 mm longer chainstays than the Rallon when comparing Large sizes. The higher stack of the Titan helps the bike feel confident in steeps, and the longer chainstays make a big difference in feeling very stable over rough terrain at speed. The Rallon outdoes the Titan in corners and on flatter trails where carrying speed is key. For true bike smashing on rough and fast trails, the Titan inspires more confidence, but the Rallon is the more well-rounded and overall faster machine on most trails.
David: Pretty different. The Capra isn't as efficient, lively, or energetic as the Rallon, and is more stable and planted at the expense of some handling sharpness and agility. The Capra is especially forgiving when trying to push hard and go fast in steeper, rougher terrain, but isn't nearly as precise as the Rallon, and isn't as versatile as a Trail bike in more varied, rolling terrain.
David: The Gnarvana and the YT Capra remind me of each other quite a bit, so the Gnarvana is also quite different from the Rallon. To reiterate, the Gnarvana is a little more stable, a bit less sharp handling, is not as efficient under power, and is more cushy and planted feeling than the Rallon.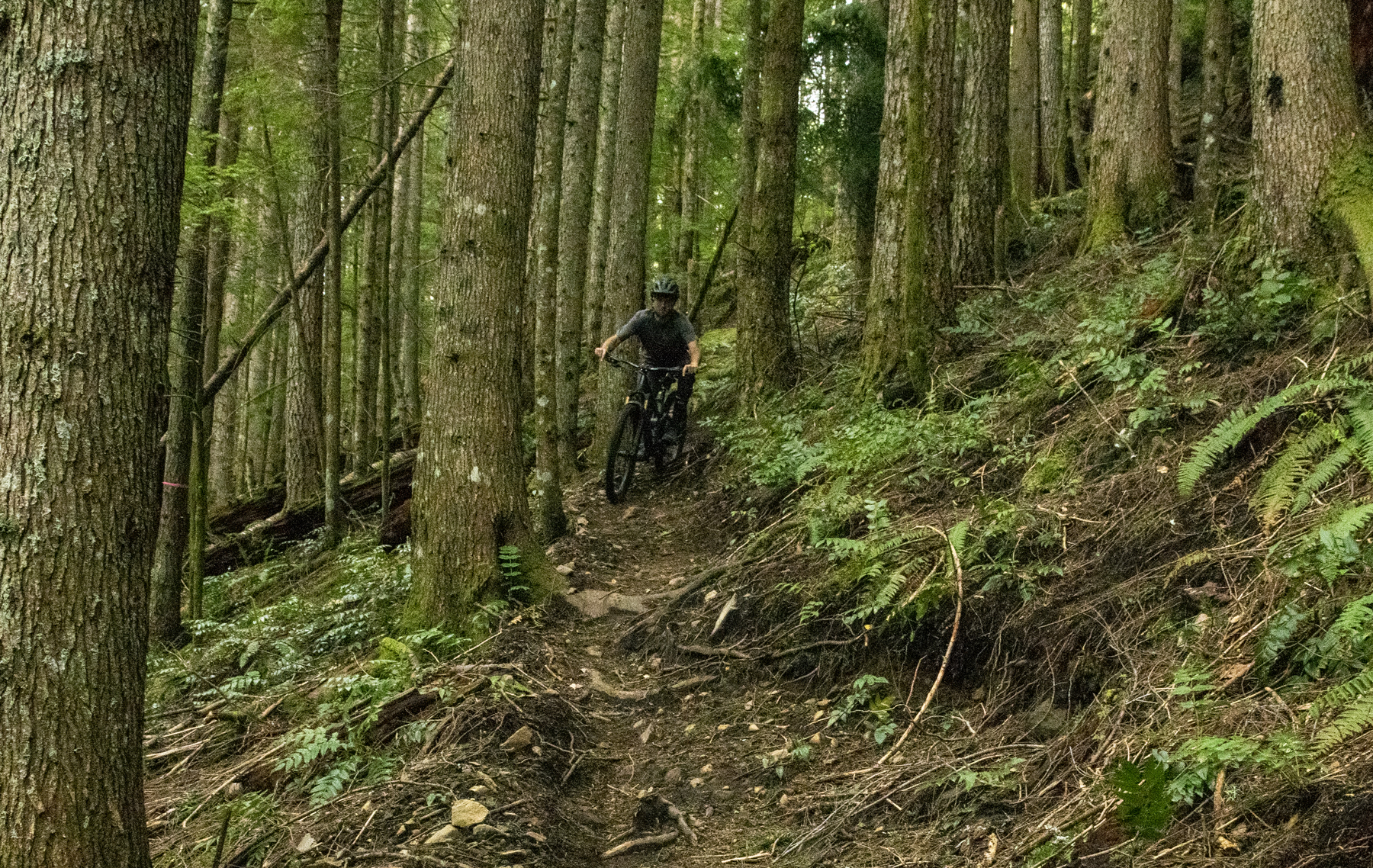 Who's It For?
David: The Rallon is an Enduro bike for people who find a lot of modern Enduro bikes to be too sluggish, inefficient, and/or boring a lot of the time. And while it's just a little less plush, planted, and stable than many of those more full-on options, the Rallon is still more than able to handle going very fast on burly trails, too, albeit with just a little less room for error than some of the most DH-oriented bikes Enduro bikes out there. It's very much a viable race bike for the sort of rider who'd rather be precise in their riding and have a bike that helps them do that over one that just wants to bulldoze everything in its path, and that makes it a more versatile all-rounder than a lot of other big modern Enduro bikes, too.
Zack: The Rallon is a very easy bike to get along with, and in some ways, I'm tempted to use the now out-of-fashion All Mountain descriptor rather than Enduro. The Rallon is a bike that could easily replace many people's two-bike quiver without tons of downsides, and it should appeal to anyone who genuinely wants a bike that goes both up and down very well (with the caveat that it's obviously not your best choice for only riding smooth, flat trails). I also think the Rallon does an admirable job of getting you out of trouble at speed but particularly rewards a precise riding style by offering heaps of speed generation when you hit your lines just right, which gives it a broad appeal from more intermediate trail riders all the way to racer-types chasing efficiency.
Bottom Line
The Orbea Rallon is a notably efficient, lively Enduro bike with relatively sharp handling for that class of bikes, and while it gives up a little bit of plushness and stability to get there, it's still quite capable at speed in rough terrain, all while being a whole lot more fun and engaging the rest of the time than its more DH-focused competitors. And that's a great recipe for an all-rounder that can do everything from long trail rides to some bike park duty and can charge very hard under an experienced rider who's able to ride with some precision rather than looking to the bike to fully iron out the trail.