2022 Orbea Rallon
Wheel Size: 29''; mixed wheel compatible with alternate shock extender (included)
Travel: 160 mm rear / 170 mm front
Material: Carbon fiber
Price: Complete bikes $4,999 to $9,999; see below for details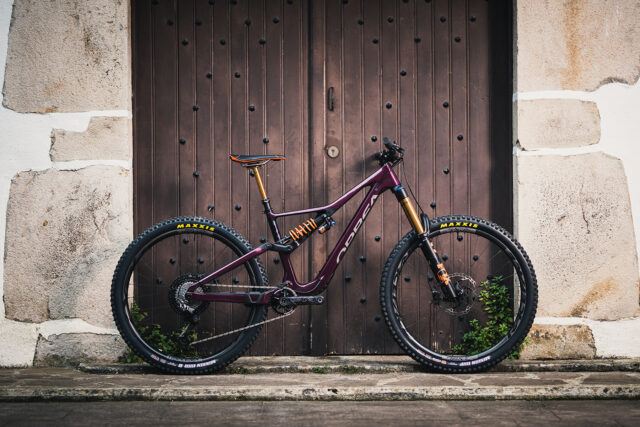 Intro
The Rallon has been in Orbea's lineup for quite some time now as their long-travel Enduro race bike and today they've released the all-new 6th generation. The standard new bike release mantra of longer / lower / slacker certainly applies here too, but there's a whole lot more going on with the new Rallon — including a ton of clever design features, mullet compatibility, and a wild degree of customization available.
The Frame
The overall lines of the Rallon haven't changed too much compared to the prior generation bike, but the frame is all new and features a ton of updates once you dig a little deeper. It's still got 160 mm of rear wheel travel paired with a 170 mm fork, and is available in carbon fiber only. The standard features you'd expect from a modern Enduro bike are all here; cable routing is fully internal, the bottom bracket is threaded, and ISCG-05 tabs are included for a chain guide. There's ample rubber protection on the downtube, chainstay, and seatstay, and a SRAM UDH derailleur hanger is included as well.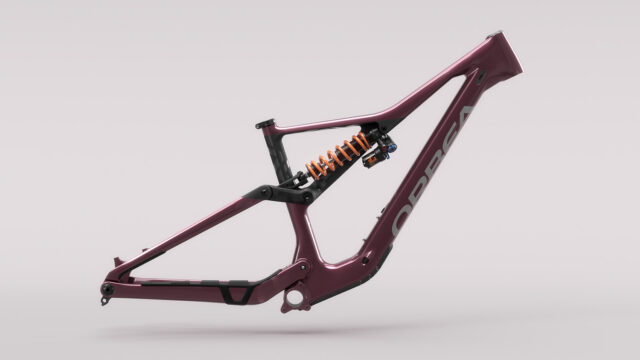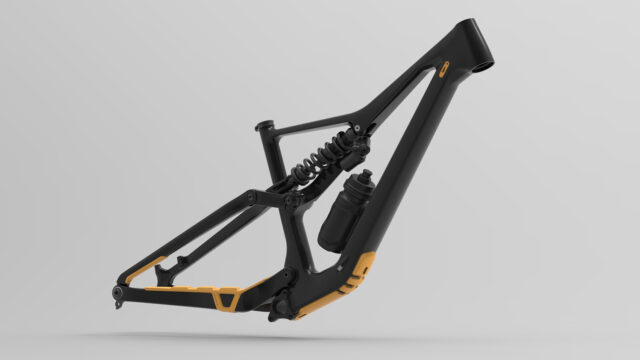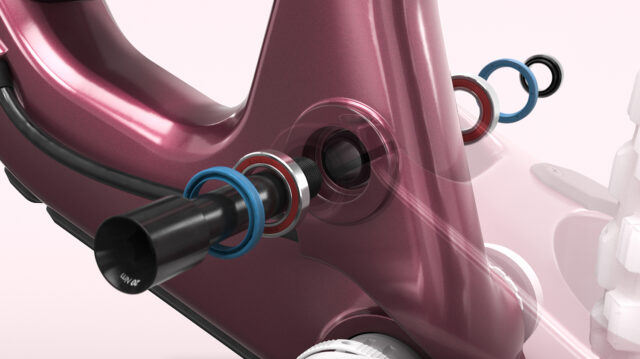 Orbea has also added a great deal of storage and integration into the Rallon frame. There's a large hollow cavity in the downtube, accessed via a hatch underneath the water bottle mount (and all frame sizes fit one inside the front triangle). A single lever secures the "Lockr" hatch, and the Rallon comes with two storage pouches — one nylon, one neoprene — which fit inside the Lockr compartment to keep items from rattling around, and make them easier to remove. Velcro tabs secure the bags inside the compartment, and an elastic pouch on the underside of the lid can be used to store small items such as CO2 cartridges.
The integrated storage doesn't stop there. Orbea also includes a multitool with 3/4/5mm hex wrenches and a T25 Torx driver that fits inside the rocker link pivot, and secures with a magnet. An additional tool with a 6mm hex bit and a spoke wrench serves double duty as the lever to secure the rear axle.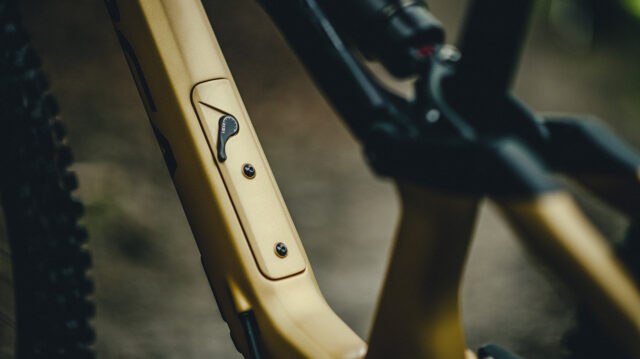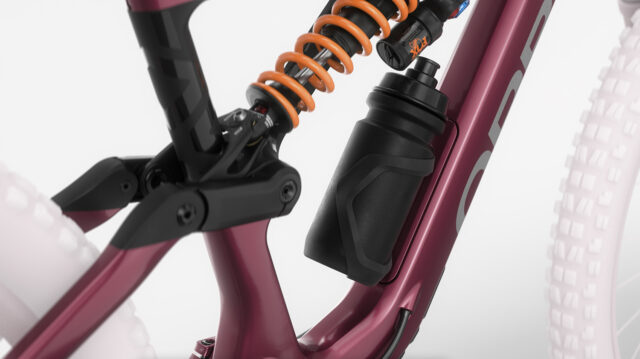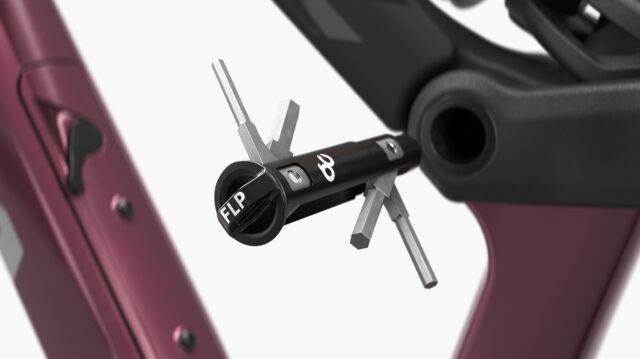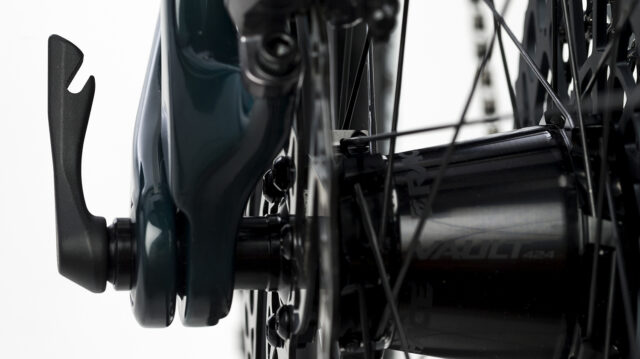 Continuing the thoughtful touches, Orbea has added additional sealing to all of the pivot hardware, including fork-style wiper seals on the main pivot axle. It's a move designed to improve bearing life and extend service intervals by keeping water and gunk out of the pivot bearings, especially at the main pivot which is most directly in the line of fire from the rear wheel.
And speaking of pivots, the Rallon uses a four-bar suspension linkage with a pivot concentric to the rear dropout (similar to Split Pivot or Trek's ABP layouts). Orbea has made the leverage curve of the Rallon significantly more progressive than the outgoing model, with a fairly linearly progressive curve that starts off just over 3:1 and falls off to about 2.4:1 by bottom out. Anti-squat is relatively high, at about 130% near sag (in a 32 / 50 gear, for the graph shown below) and the anti-rise curve is relatively flat, starting at about 50% and increasing to roughly 65% by bottom out. The various kinematic graphs can be seen below (and if you'd like a refresher on what all those terms mean, check out the Suspension Kinematics section of our Mountain Bike Buyer's Guide, starting on page 70).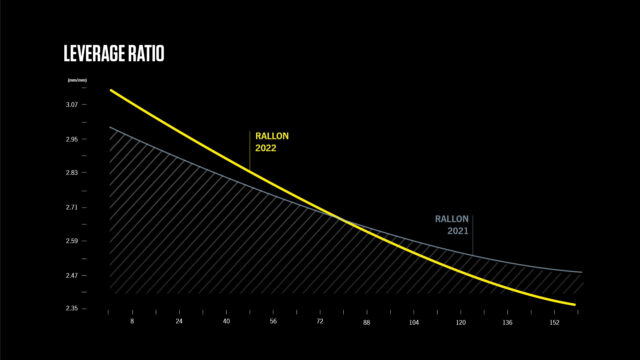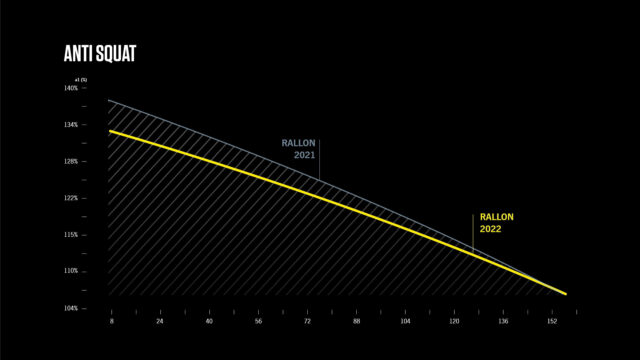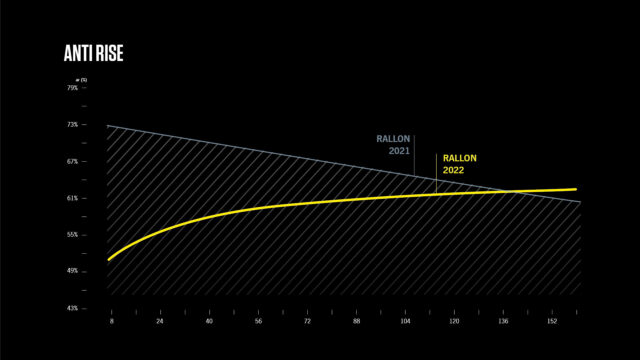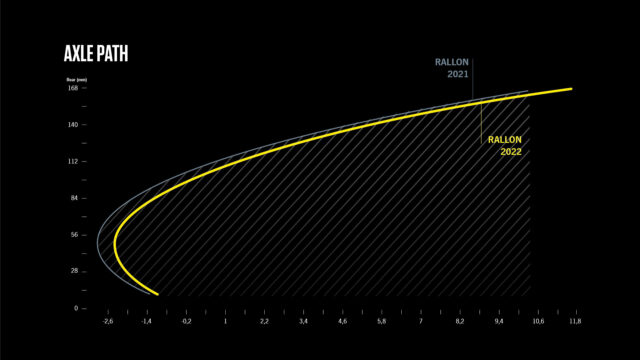 The new Rallon can be set up to run either matching 29'' wheels or a mixed 29'' front / 27.5'' rear mullet setup. The change is accomplished by swapping between two different shock extender links, both of which are included with the bike. The 29'' link also includes a flip chip that toggles between two different geometry settings (more on that in a minute) but the mullet link only offers a single geometry setting, which mirrors the 29'' link in the lower position.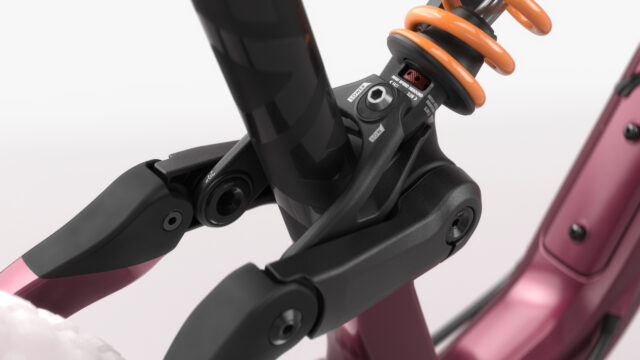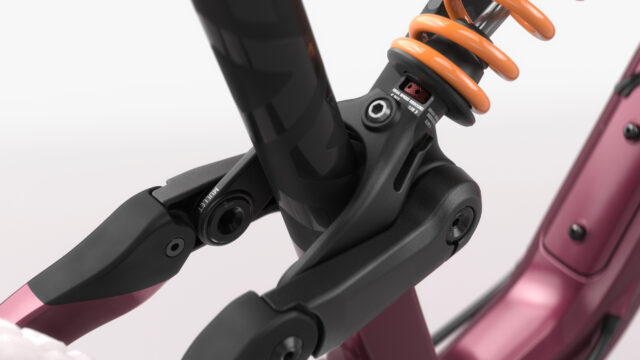 Orbea also talks a lot about the effort they put into fine tuning the flex of the Rallon frame to achieve their desired balance between stiffness and precision, and ride comfort and compliance. As they very rightly note, stiffness is helpful to a point, but there's also such a thing as too stiff, where a bike starts to pinball off of every little bump rather than being able to give a little bit and keep tracking. Orbea actually built prototype frames with provisions for bolt-on inserts on the frame tubes to alter their stiffness and dial in the layup they wanted to go with for the production molds.
Fit & Geometry
The Rallon has gotten longer, lower, and slacker across the board, and Orbea has added a fourth size to the range — the Rallon now comes in sizes from Small through Extra Large. All sizes get a 64° headtube angle and 77° effective seat tube angle with 35 mm of bottom bracket drop in the "lower" position; the "low" setting steepens both angles by 0.5° and reduces the bottom bracket drop to 28 mm. Reach ranges from 435 through 510 mm in 25 mm increments, and all four sizes get 440 mm chainstays in the 29'' configuration. The mullet link shortens the chainstays by 2 mm, but otherwise preserves the same geometry as the "lower" 29'' setting. You can see the full geometry chart here: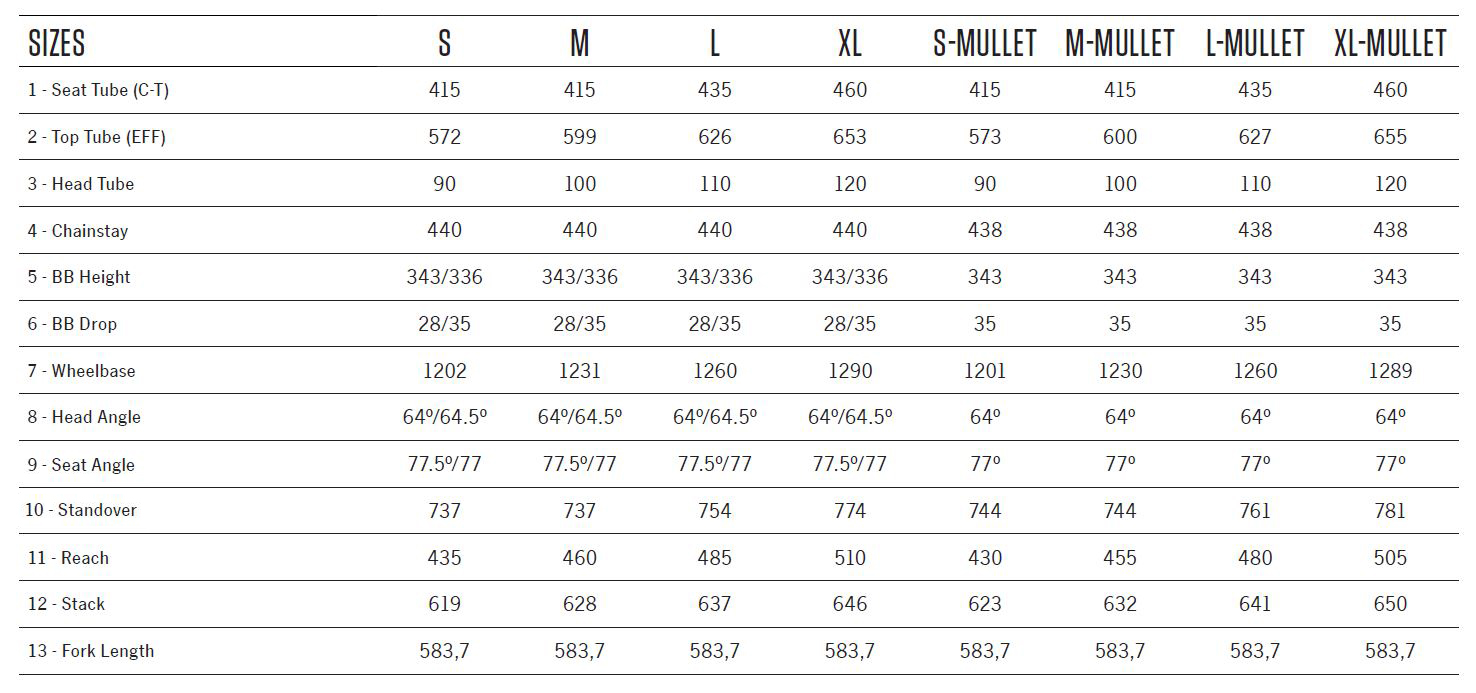 Orbea says that the Rallon fits riders from about 4'11'' through 6'7'' (150 to 200 cm) but their sizing chart also has a great deal of overlap — everyone from 5'3'' through 6'5'' (160 to 195 cm) falls into at least two, if not three of their sizing bands, depending on personal preference and whether they're looking for a more stable or more nimble ride. A big part of that flexibility is down to what Orbea calls "Steep N' Deep" — their term for the exceptionally deep seatpost insertion on the Rallon. A 200 mm travel Fox Transfer can be fully bottomed to the collar in all four sizes, and Orbea provides a helpful chart showing the minimum and maximum seat heights that can be achieved in all four sizes with all four of the available lengths of Fox Transfer. That and the sizing chart can be seen below:
On paper, the Rallon's geometry looks like it should make for a very capable descender that doesn't go so aggressive as to sacrifice a huge amount of versatility either. The numbers are all nicely in line with modern norms for this sort of bike, but we're definitely not complaining. We've got a Rallon on the way and are excited to get on it to find out more — hopefully soon.
The Builds
Orbea offers the Rallon in four standard builds, with pricing ranging from $4,999 to $9,999. But all four can also be customized substantially through Orbea's "MyO" program, which allows you to choose between a number of options for shocks, wheels, seatpost travel, and more. You can also customize the paint through MyO, with a huge range of options for the main and secondary frame colors, as well as logos. There will be three standard color combinations available, which can be seen below: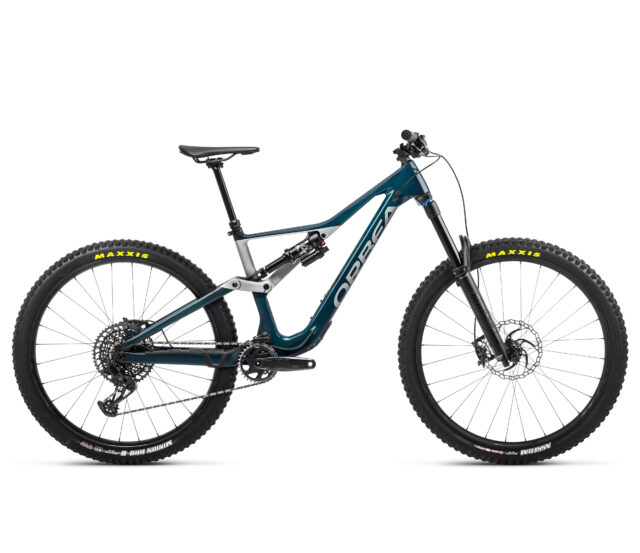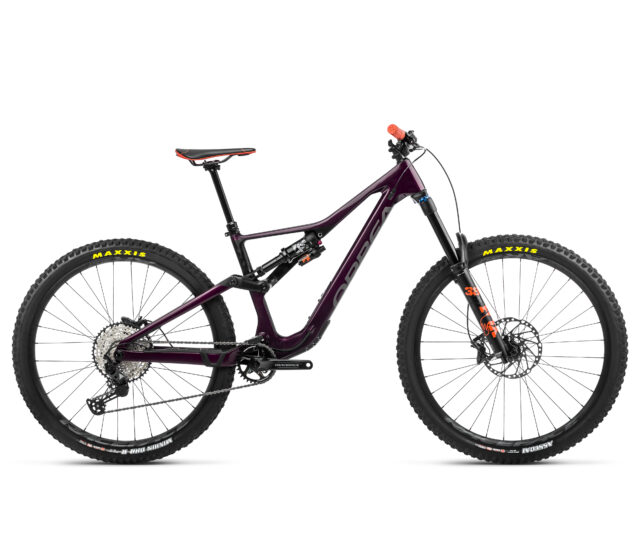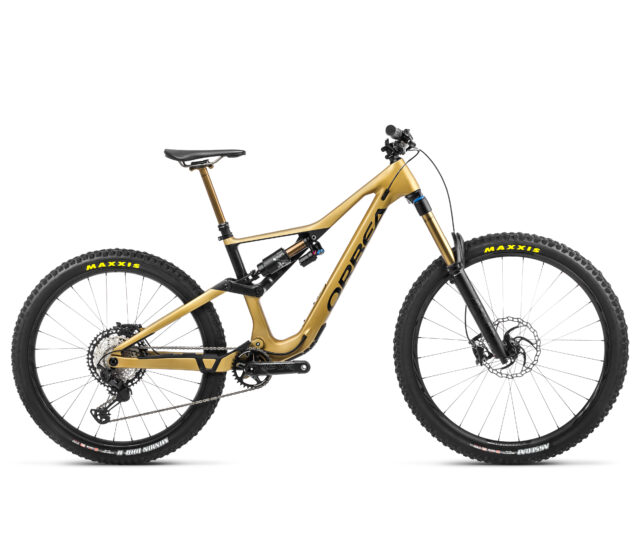 All four builds will be available in any of those three colors as standard, or with custom paint through the MyO program. Orbea says that more than a million different combinations are possible. And then the breakdown of the standard builds is as follows:
The Rallon M-Team also defaults to coming with mixed wheel sizes, while the other three builds are full 29'' as standard, but either option is available on any of the builds through MyO. And as we mentioned up top, all versions of the Rallon will ship with both the mullet and 29'' frame links if you happen to have another wheel already on hand, or want to pick one up down the line.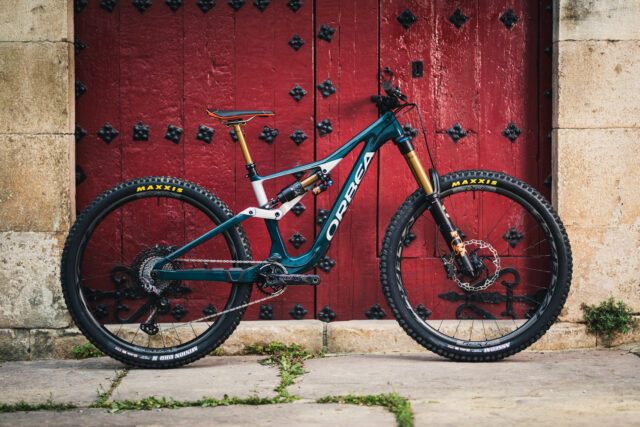 Some Questions / Things We're Curious About
(1) The class of ~160mm-travel Enduro bikes ranges from very game on, highly focused race rigs through surprisingly versatile options that feel a bit more like long travel Trail bikes. We'd guess the Rallon falls somewhere in the middle of that spectrum, but is that really the case?
(2) How do the 29'' and mullet configurations compare, and who should spec their Rallon with which wheel size?
Flash Review
Blister Members can read our Flash Review of the Rallon for our initial on-trail impressions. Become a Blister member now to check out this and all of our Flash Reviews, plus get exclusive deals and discounts on gear, and personalized gear recommendations from us.
Bottom Line (For Now)
The new sixth-generation Rallon looks like a well-thought-out update to Orbea's long standing Enduro bike, with solidly modern geometry and a lot of clever finishing details. We're excited to get on one to find out more, so stay tuned for a full review to come.