SCOR 4060
Test Duration: 2 months
Test Location: Washington
Wheel Size: 29''
Travel:
4060 ST: 140 mm rear / 150 mm front
4060 LT: 160 mm rear / 170 mm front
Material: Carbon fiber
Stated Weight:
Carbon frame: 6.39 lb / 2.90 kg
4060 LT GX: 32.4 lb / 14.7 kg
Blister's Measured Weight:
4060 LT GX, size Large, w/o pedals: 33.2 lb / 15.1 kg
Price:
Frame only: $3,200
Frame and shock: $3,600 – $3,800
Complete bikes: $4,500 – $6,600 (see below for details)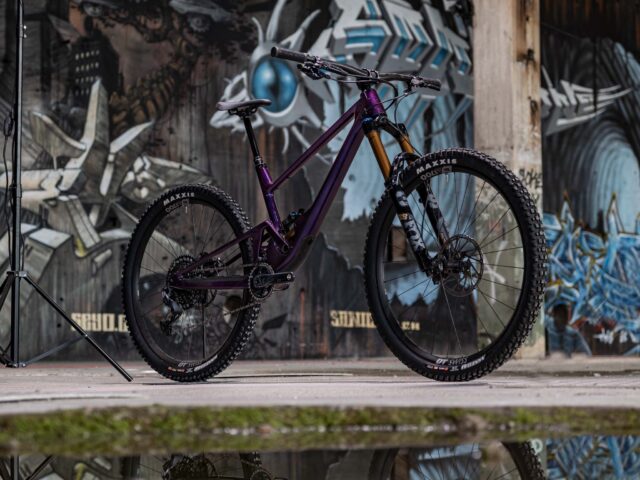 Intro
BMC is a longstanding Swiss brand with a strong reputation for making road and XC bikes, but their focus has traditionally steered away from bigger, burlier mountain bikes. But a pair of BMC employees — a designer and an engineer — found themselves wanting something a bit different from the brand's traditional race-focused offerings, and so they started tinkering in their spare time, modifying existing BMC bikes to better suit their preferences. The project caught the attention of their bosses, one thing lead to another, and before long, a whole new brand was launched — SCOR. (You can listen to our Bikes & Big Ideas podcast episode with the founders for more on the origins of the brand and their bikes.)
SCOR's mission is to make more playful, "fun" mountain bikes, distinct from BMC's road and XC race heritage. To start, they've launched with two models, the 4060 ST and 4060 LT. As you've probably figured out by now, those stand for "Short Travel" and "Long Travel," respectively, and both bikes are built around the same modular frame and can be converted back and forth as we'll describe in more detail below.
We've just gotten a 4060 LT in for testing and will be logging a lot of time on it in the months to come. But let's start with a rundown of the two bikes because there's a lot of interesting stuff going on here.
The Frame
Despite the travel (and geometry — more on that in a minute) differences, the two 4060s share the same frame, apart from paint colors. It's a carbon-only 29er, with a dual mini-link suspension layout and the shock slung very low in the frame. The LT version gets 160 mm of rear-wheel travel and is designed around a 170 mm fork; the ST lops 20 mm of travel off each end, bringing it down to 140 / 150 mm. SCOR only offers the 4060 with air shocks but says that coils are also compatible.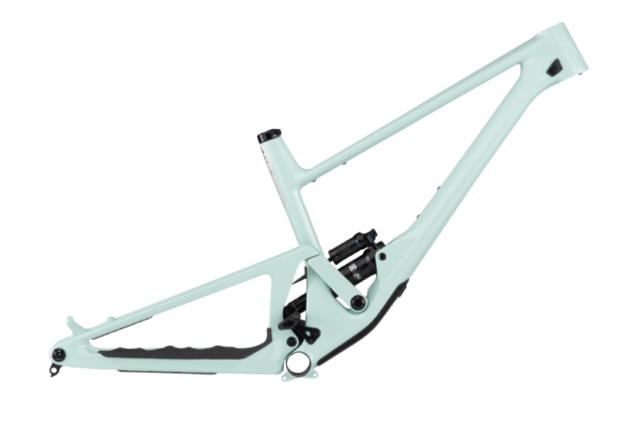 Cable routing is fully internal and features in-molded guides in both the front and rear triangles to make routing straightforward. A water bottle fits inside the front triangle in all sizes, and there's a second accessory mount underneath the top tube. The bottom bracket is a PF92 press-fit version, and the frame uses a SRAM UDH derailleur hanger. The lower two ISCG-05 tabs are included if you want to add a bash guard, and a built-in upper guide takes the place of the top tab.
There's also a storage hatch in the bottom of the downtube, which is secured with a tool-free, quarter-turn closure. It's easy to open and close and has a spot for a replacement derailleur hanger (included) and a bit of extra space for a multi-tool, maybe a small tube, or a snack. It's not nearly as spacious as the downtube box from some other brands (notably Trek and Specialized, on certain models) but it's still a nice addition. There's an ample rubber guard on the chainstay, and that guard is shaped to look like a series of doubles, supposedly modeled after the Chaumont jump trail in SCOR's backyard.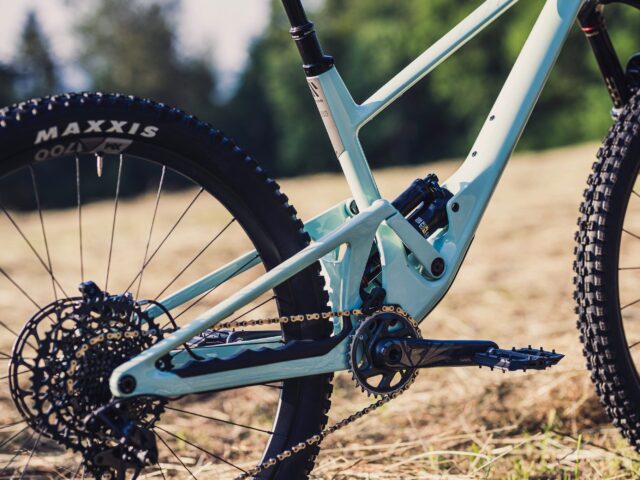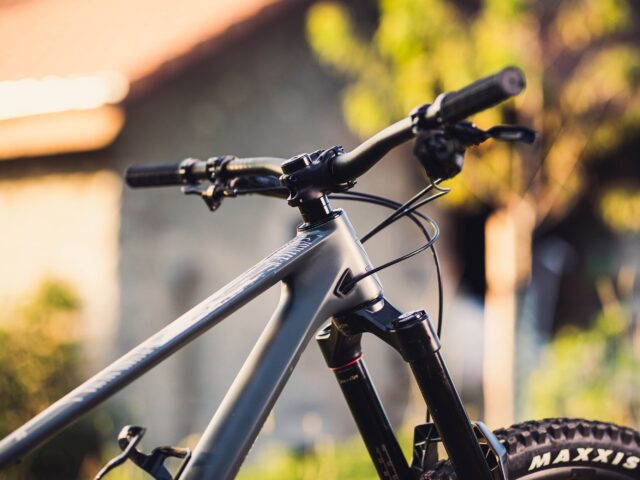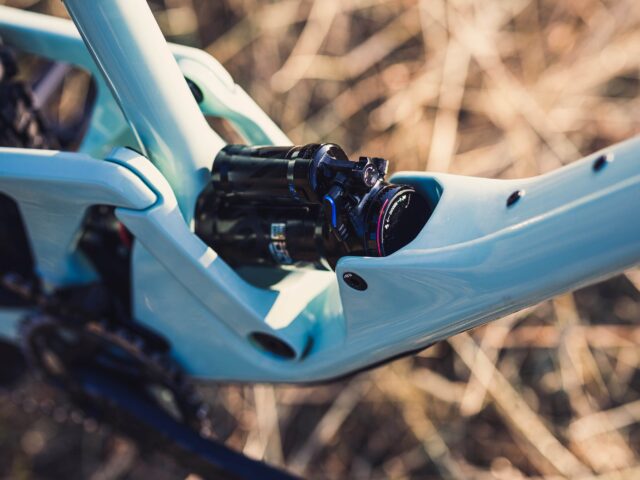 Both the 4060 versions use a 205 eye-to-eye Trunnion-mount shock, but with a 62.5 mm stroke for the LT version, and a 57.5 mm stroke for the ST. A flip-chip at the rear shock mount slightly tweaks the geometry to suit the two different configurations (its two positions are labeled "ST" and "LT"). SCOR has also given the 4060 a custom angle-adjust headset, to further tweak the geometry between the two versions, as we'll describe in more detail below, though either configuration can be run in either headset position, depending on your preferences. The headset cups are specific to the 4060, but they use standard size bearings, so replacements are readily available.
Fit & Geometry
The 4060 is offered in four sizes, Small through Extra Large, though SCOR also refers to them by their reach measurements, in millimeters — 435, 459, 485, and 515. SCOR says that range covers riders from 155 to 200 cm (5'1'' to 6'7'') though their size chart rightly notes that there's some wiggle room for most riders to size up or down to achieve a more stable or more playful ride, as their preferences dictate.
The headtube angle on the 4060 LT is either 63.8° or 65°, depending on headset setting; the LT model defaults to the slacker option. The 4060 ST is, unsurprisingly, steeper at 64.5° or 65.5°, with the latter being the default setting from the factory.
The 4060 LT's chainstays are notably short, at 432 mm in all sizes (the ST adds 1 mm due to the flip-chip setting, for a still-short 433 mm). The effective seat tube angle for both bikes is 78° in their respective default geometry positions; going to the steep headset position on the LT slackens the seat tube by 0.5°, and the slack position on the ST does the reverse. SCOR also helpfully includes an effective seat tube angle at 750 mm of seatpost extension (76.5° for both bikes, give or take 0.5° depending on headset configuration).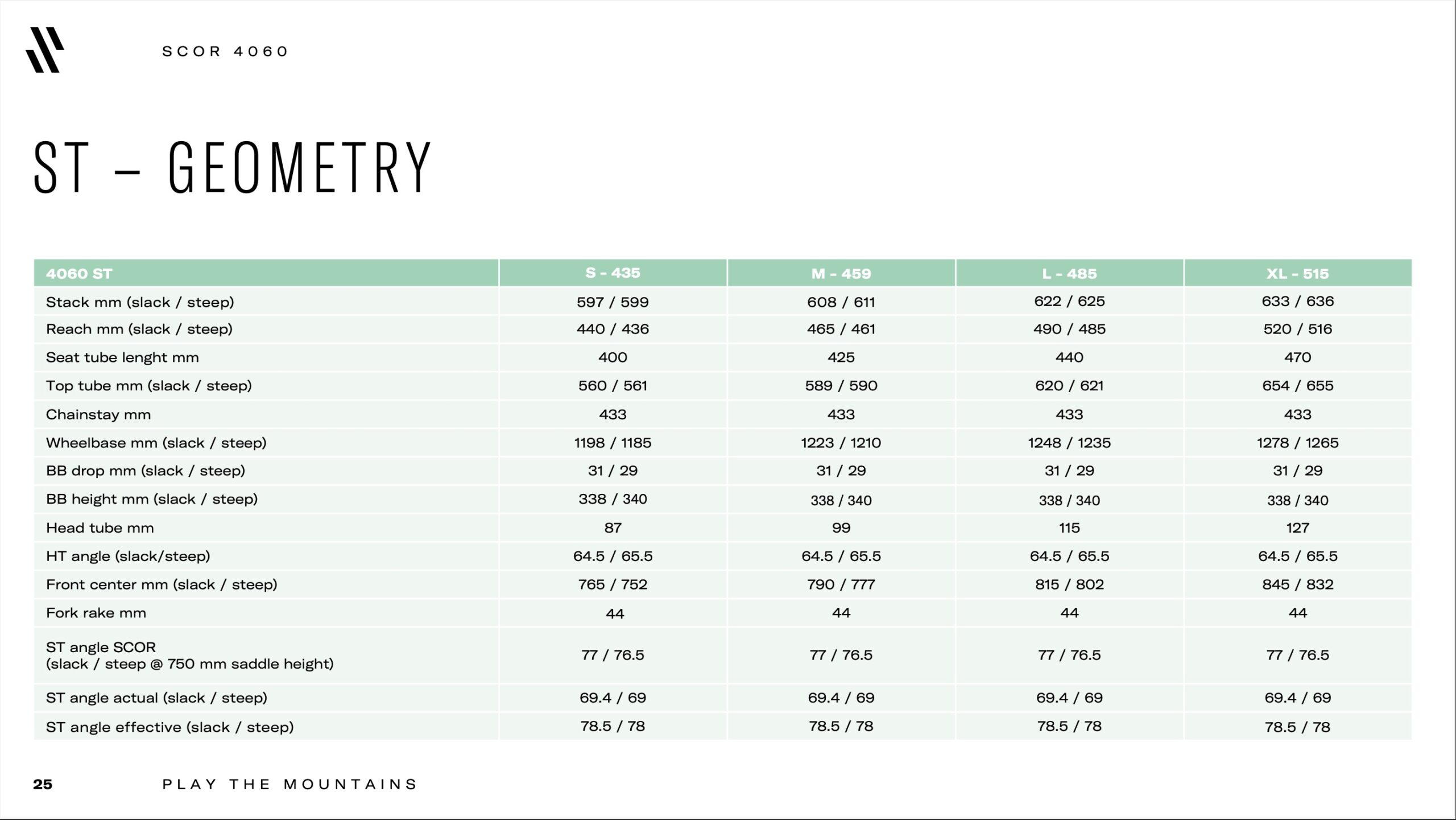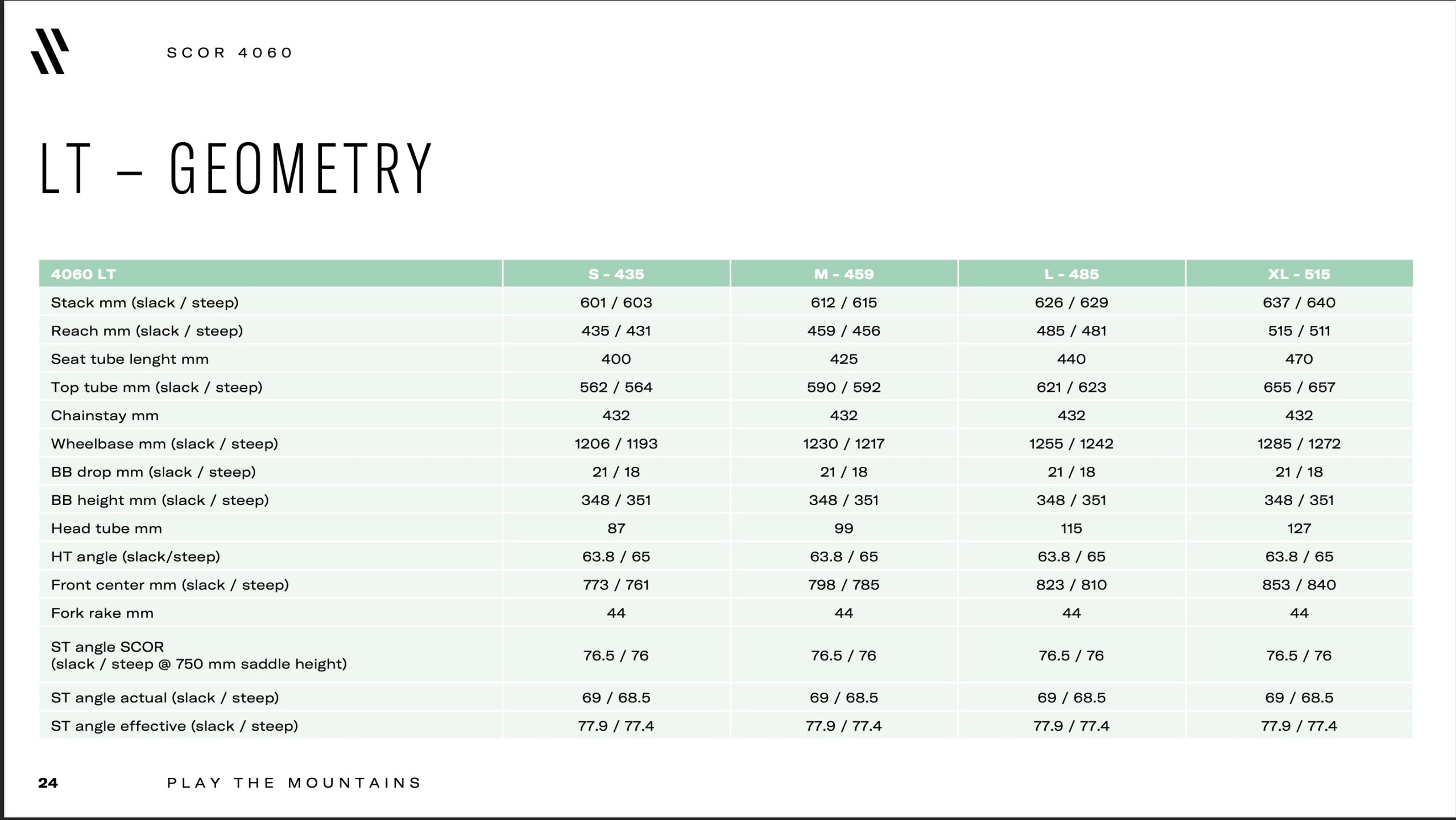 SCOR also says that you can run either bike as a mullet if you're so inclined, though geometry charts for that configuration aren't listed. In the case of the 4060 ST, you'd put the flip chip in the LT setting to raise the bottom bracket back up, and return the headtube angle a bit closer to stock. For the LT, SCOR recommends putting the headset into the steeper position to accomplish the same goal. Our hunch is that this works out a little more cleanly, geometry wise, on the ST than the LT, but we'll experiment and report back.
The Builds
Both versions of the 4060 are available as bare frames, frame and shock packages, or two complete builds, dubbed NX and GX for their drivetrain options. The equivalent builds on the ST and LT bikes are largely similar with some variations — most notably different suspension parts.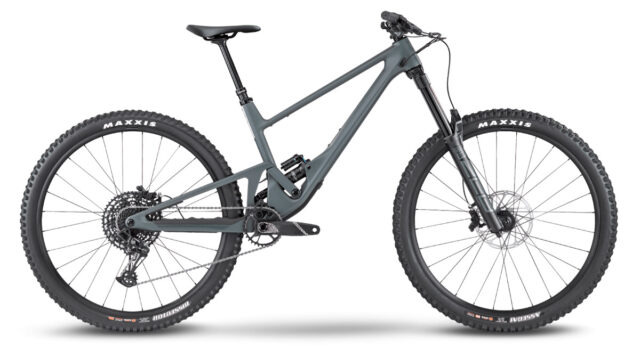 All four also get Maxxis Assegai front / Dissector rear tires, but the ST builds come with MaxxTerra rubber at both ends and an Exo front / Exo+ rear casing combination. The LTs beef things up with an Exo+ / MaxxGrip front tire and a DoubleDown / MaxxTerra rear.
Overall, these are really nicely chosen builds. In particular, the GX builds offer a great combination of top-end suspension and brakes with a middle-of-the-road drivetrain and quality aluminum wheels. It's a very solid way to go about piecing together a very high-performing Trail / Enduro bike without completely breaking the bank, and I very much approve of the thinking behind it.
My only real complaint is that I'd like to see longer dropper posts on the bigger sizes. At 6' / 183 cm, I'm squarely in the middle of SCOR's recommended height range for the size Large that I've been riding, but I'm perilously close to the maximum extension on the 160 mm Bike Yoke Divine dropper, and I'd certainly like more stroke to get the seat farther out of the way. Especially since they've spent the money for a somewhat fancy post on the GX builds, it'd be great to see the bikes come with a longer travel option.
FULL REVIEW
We've now spent a couple of months on SCOR's new 4060 LT, and SCOR has the right idea when they describe the bike: "Long travel bikes have gotten pretty serious. The 4060 LT is just seriously fun." It's a 160 mm rear / 170 mm front travel Enduro bike that feels more focused on being nimble and lively than it is on being outright fast, but that's a combination that we think will work for a lot of people.
And if you want a whole bunch more about the (very interesting) story behind the founding of SCOR and the inspiration behind the bikes, check out Episode 101 of Bikes & Big Ideas with SCOR founders Mariano Schoefer and Christof Bigler. But how well have they hit their mark? Let's dig in.
Fit & Sizing
SCOR's recommended sizing puts me (6' / 183 cm) tall right in the middle of the size range for the Large 4060 LT, and the fit does feel very good. I've fallen on the brink between Large and XL frames with a number of review bikes recently, but that's definitely not the case here. The 485 mm reach is right around my personal sweet spot for this sort of bike, and the seat tube is steep, but not over the top, at 77.9° effective. It is worth noting, though, that the actual seat tube angle is a bit on the slacker side, at 69°; taller / longer-legged folks who need to run their seats on the higher side will end up with a seat tube that feels a bit slacker than the 77.9° effective number might suggest.
I moved the seat somewhat forward on the rails to compensate but didn't have much trouble finding a position that worked for me. The cockpit does feel slightly roomier than otherwise similar bikes with a slightly steeper seat tube angle, which is likely to feel more natural for a lot of people on more rolling terrain and less ultra-steep climbs but might start to feel a touch stretched out when things get super steep. Given the 4060 LT's goals of being more versatile and less game-on than a lot of other big Enduro bikes, I think that's probably a good call, and I'll go deeper on the climbing performance below.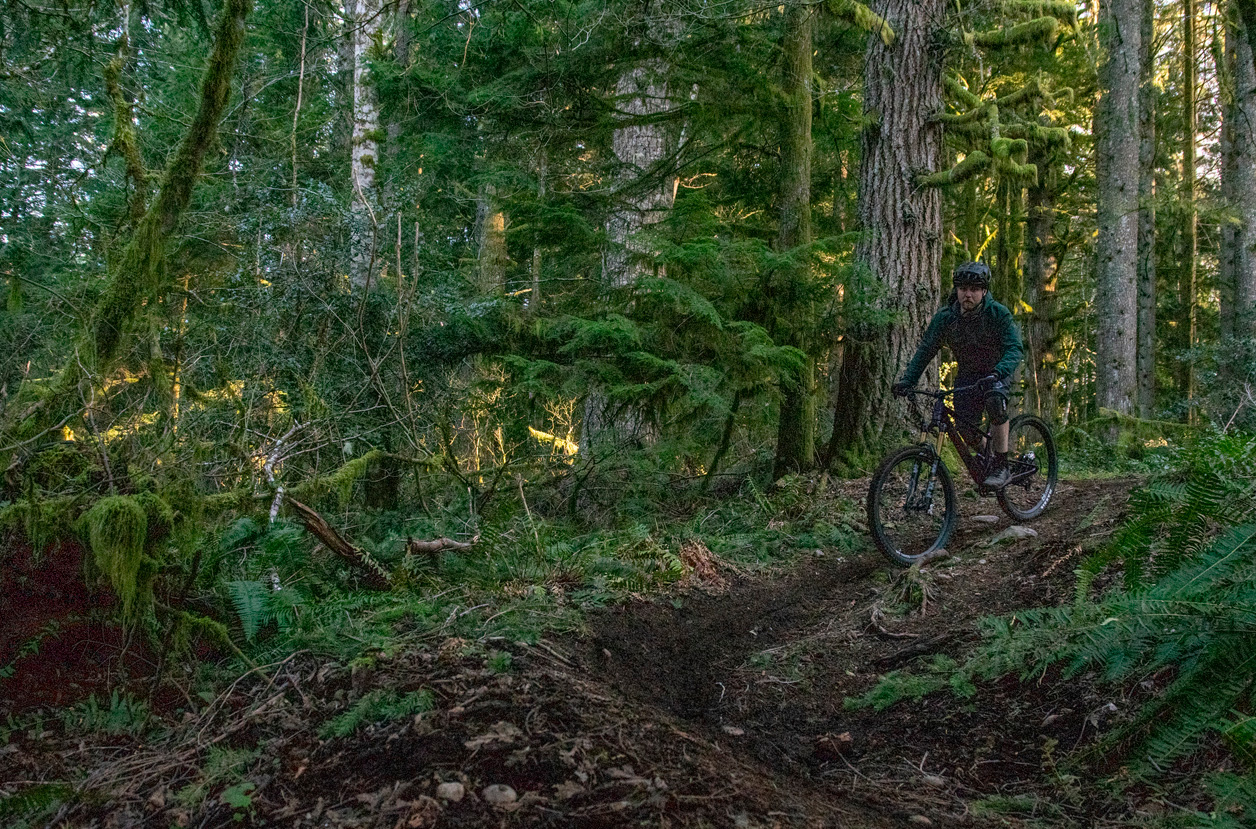 The stack height is also fairly short, at 601 mm, but the 4060 LT does favor a somewhat more forward body position that works well with a not-super-high bar setup, so that feels like a sensible decision. And SCOR spec'd a relatively long steerer tube on the 4060 LT, so there's plenty of room to move the stem up if needed. Overall, the fit is very straightforward and intuitive — pretty normal for a modern Enduro bike, in a good way.
The Build & Frame Details
The build on the 4060 LT GX is really nicely thought out — the combination of top-tier suspension (Fox 38 Factory and Float X2 Factory) and brakes (SRAM Code RSC) with a mid-tier drivetrain and nice aluminum wheels is a great combo for putting together a really nice Enduro bike for a bit less money than a full-bling build would go for. And at $6,600, the 4060 LT GX certainly isn't cheap, but it's a very respectable value for what you get.
My only real complaint is that I'd like to see a longer dropper post come stock on the size Large. I'll grant that I've gotten spoiled by longer options and plenty of other folks won't see the need for more, but the relatively short seat tube meant that I was very close to the maximum extension on the 160mm-stroke Bike Yoke Divine that comes on the size Large. It's not hard to imagine that some taller folks might need to swap in a longer post to get the seat high enough. I swapped in a 200mm-drop 9point8 Fall Line (review coming soon), which got the job done.
But I'm super happy with everything else on the bike — DT's XM1700 wheels are great, 200 mm rotors on both ends are a good call, and I'm glad to see a burlier DoubleDown casing on the rear tire, given the intentions of the bike. SCOR also deserves kudos for sticking with a 31.8 mm clamp on their own carbon bar that the bike comes with — and I'm a fan of the slightly more moderate 7.5° backsweep, too.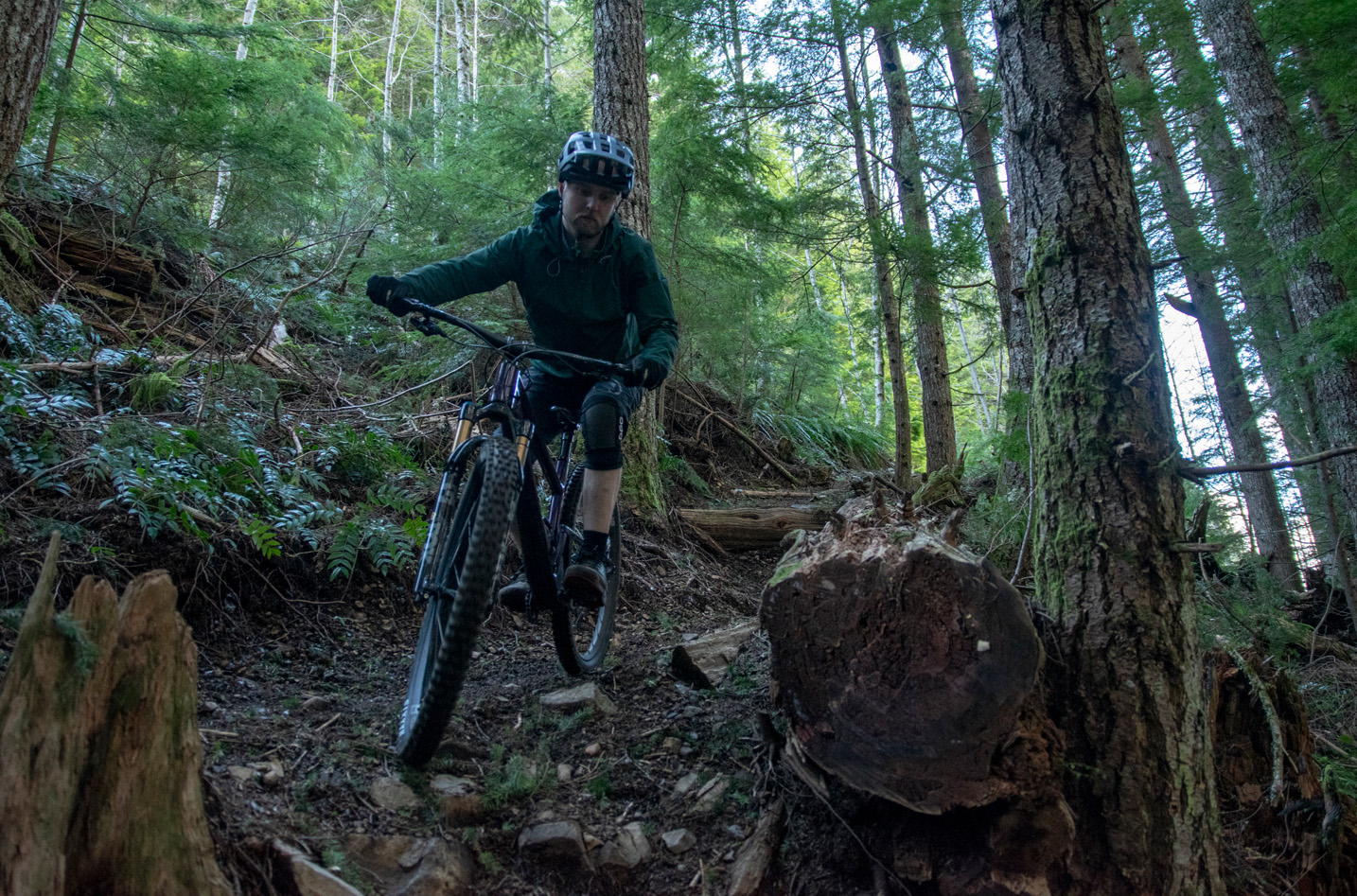 SCOR has also done a nice job with some of the other frame details. The chainstay protection is clean and effective (and it looks like a little jump line, which is fun). And I like that the downtube storage compartment has a dedicated spot for a spare derailleur hanger where it can bolt right into the frame, so that it doesn't rattle around. That downtube compartment isn't all that big, but there's enough room for a tube and a small multi-tool, and is easily accessed with a single quarter-turn knob to open it up.
Climbing
The 4060 LT climbs pretty well for a 160mm-travel Enduro bike — especially if you want something that maintains traction very well, and with suspension that stays fairly active under power while still being reasonably efficient for what it is. The 4060 LT definitely isn't the absolute most efficient bike in this class (see the Comparisons section, below, for more on that) but the combination of very good traction and easy-going manners plus solid efficiency is one that will likely work well for a lot of people.
As is often the case with bikes that feature longer front-centers and shorter chainstays, the 4060 LT does take a little bit of care to keep the front wheel planted on very steep climbs, but it's by no means out of the ordinary on that front, and the steep-ish seat tube angle mostly keeps things in check. If your climbing tends to center around steep fire road climbs, there are other options (mostly with steeper seat tubes and longer chainstays) that make it easier to turn your brain off and just grind your way up, but the 4060 LT does just fine. And once the climbing gets more rolling and technical, its advantages over steeper, firmer, more efficient Enduro bikes really start to come out.
And I think that's all very sensible, given SCOR's intentions for the 4060 LT. It's not supposed to be a hyper-focused, game-on race bike. The 4060 LT is meant to be a bit more versatile and easy-going, while still having a lot of capability on the way back down. So, have they hit that mark, too?
Descending
At least for the right rider, they have. The 4060 LT is still a long-travel Enduro bike, but by the standards of that category, it's a bit quicker handling than most, and notably easy to throw around, slash the rear wheel through corners, and generally ride with a more playful style. I wouldn't characterize it as a long-travel Trail bike — it's still pretty long, pretty slack, and takes a bit of speed to come alive.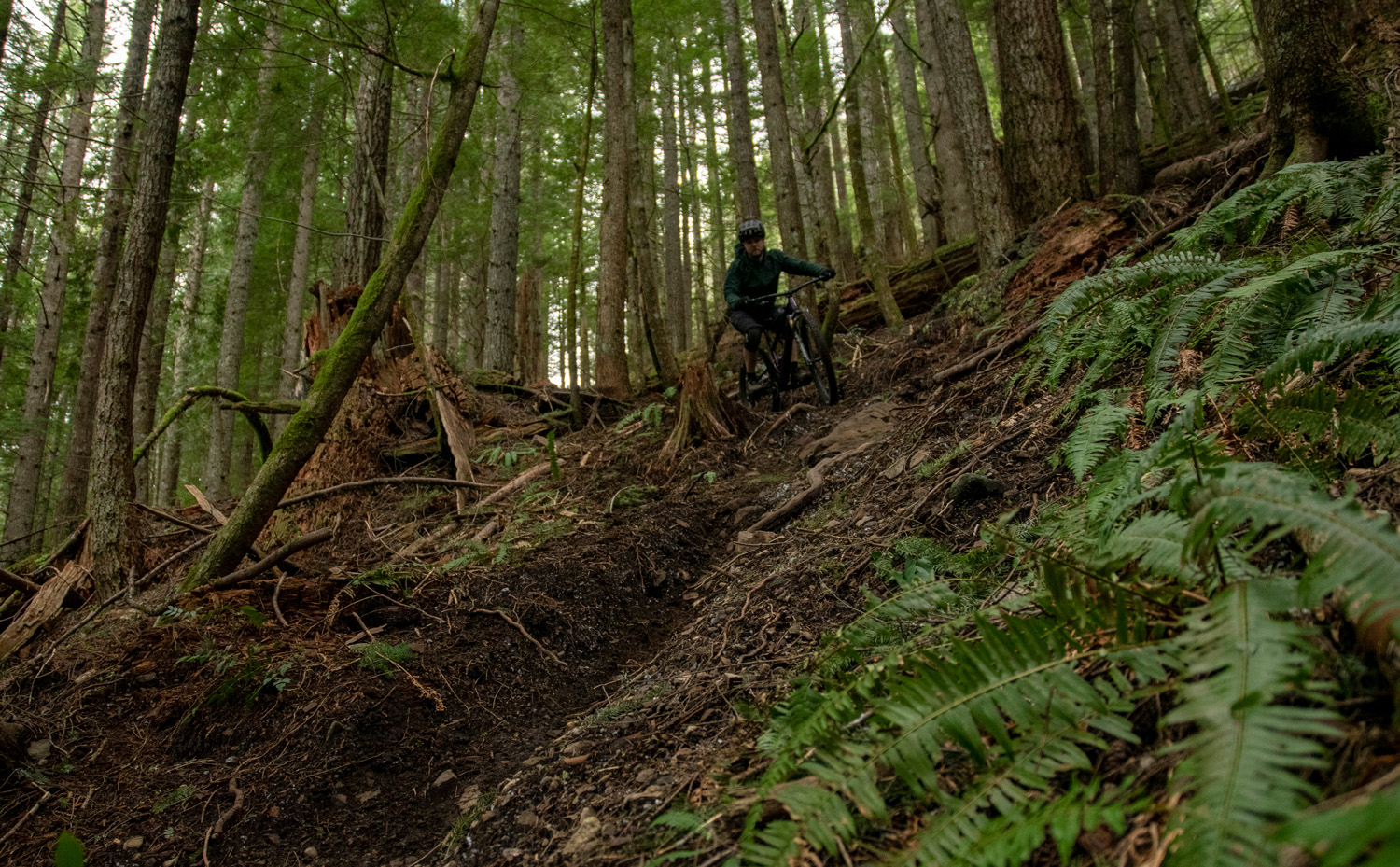 But the 4060 LT doesn't need to be going as fast as a lot of other bikes in a similar travel class to start to feel like it's in its element. And as long it's moving a bit, it's very happy to pop off things and slash the rear end around, and doesn't feel like you need to be pushing it super hard for it to work. For a relatively long-travel bike, the 4060 LT does a really good job of feeling lively and engaging when you're not going flat out. If you're looking for a bike to only ride relatively mellow trails, you're likely to still be better off with something a bit shorter travel, but the more you want a bike that's quite capable in bigger terrain but can still have a good time on flatter trails too, the more it starts to make sense.
The suspension performance is a big part of that. Especially compared to a lot of the more game-on race bikes out there, the 4060 LT is significantly more plush and forgiving. But it does a good job of still being reasonably supportive and somewhat lively despite that — a lot of super plush, cushy bikes can feel wallowy and dead when you start pushing them harder. The 4060 LT is definitely on the more plush side of the median for a bike with this much travel but strikes a nice balance that still feels pretty capable if you decide to get on it.
At speed, the 4060 LT is a tick less stable than a lot of the more aggressive Enduro bikes out there, but that's exactly why it's as easy to throw around as it is — and given the design goals of the 4060 LT, I think that's absolutely the right call. Folks who want a super stable, planted Enduro bike are definitely better off looking elsewhere, but the 4060 LT is for people who are more interested in hitting smoother jump lines, looking for side hits, and generally want a bike that's easier to throw around but still has a bunch of suspension for bigger landings and the like.
And the 4060 LT does jump really well. The suspension isn't super firm and lively, so it's not as eager to take to the air at every possible opportunity as a lot of (mostly shorter-travel) bikes, but it's supportive enough to still pump and pop fairly well for how much travel it has. It's definitely a bigger, longer, longer-travel bike than is ideal for really tight, steep jump lines (very unsurprisingly) but if you're talking about the kinds of jumps that tend to work well on a longer-travel bike, it does really nicely. And though I haven't ridden there, the videos I've seen make the Chaumont jump line that sits in SCOR's backyard (and served as the inspiration for the chainstay protector, apparently) look like a prime example of such a line. Not such a coincidence, perhaps.
The 4060 LT does prefer a somewhat more forward stance to weight the front wheel than a lot of other Enduro bikes (generally with longer chainstays) but doesn't do so to as great an extent as I might have expected. The combination of a slack headtube and short stays is often a recipe for needing to really take care to stay over the front wheel, and while that's true of the 4060 LT to some extent, it's still pretty happy being ridden a bit more neutrally, too. If you get off the back in terrain that's not steep enough to demand it, the front wheel definitely can start to wash. But it's not like the 4060 LT demands constant attention on that point — it's easy and intuitive, just maybe not a great choice for riders who like to ride very centered and upright most of the time.
And as long as you stay at least moderately forward, the 4060 LT corners super well, at least for certain styles of cornering. The bottom bracket is a touch on the higher side, and the 4060 LT isn't a bike that feels like you really get down "in" the bike and carve corners with a ton of grip from both wheels. If you're trying to corner hard and quickly, it responds better to leaning in hard and slashing the rear end out — but it makes doing so super easy. If you're taking things easier, you definitely don't need to be getting drifty all over the place, but it's something of a standout feature of the 4060 LT how readily it does so if you want it to.
Comparisons
This is a good comparison in some ways. The 4060 LT is definitely more bike than the Bronson (more suspension travel, longer / slacker geometry, etc.) but they do have some similarities in terms of the kind of body positioning that they encourage, and the balance that they strike in terms of plushness vs. supportiveness when it comes to suspension performance. If you like the sound of the 4060 LT but think it might be too much bike, the Bronson is very much worth a look as a slightly quicker-handling, more lively version; conversely, if you want something that feels a bit like a beefed up, more stable Bronson, the 4060 LT is a strong option.
Not very similar. The 4060 LT is a lot cushier and more planted than the Arrival, and feels more at home taking it easy and being ridden less aggressively — while still being quite capable at speed. The Arrival pedals a bit better, and if anything is a touch more stable than the 4060 LT, but is less forgiving and less interested in being ridden at less than full throttle.
The Smash is a better comparison to the 4060 LT than the Arrival, but they're still fairly different. The Smash has less suspension travel (145 mm rear / 150 or 160 mm front) and feels like it — both in terms of being more efficient and lively, and a little less cushy and forgiving. The Smash is also a little more neutral in terms of the body positioning / weight bias that it encourages (compared to the moderately forward position that works best on the 4060 LT) but is surprisingly close in terms of stability once you get it up to speed. The Smash is probably a bit more versatile for most people, but the 4060 LT is a really nice option for folks who want more suspension travel but are worried about a lot of big Enduro bikes being too game-on or cumbersome at lower speeds.
The 4060 LT and Gnarvana have some similarities in terms of their suspension performance but feel quite different in terms of handling and the sort of body positioning that they encourage. The Gnarvana is more stable, less nimble, and works best when being ridden with a more centered, upright stance, whereas the 4060 LT prefers the rider to be a bit more forward and weighting the front wheel aggressively. The 4060 LT pedals slightly better, and is a little easier to throw around. In short, the Gnarvana is just a bit more bike, despite their shared travel numbers.
This one is basically the opposite of the Gnarvana — the Alpine Trail and 4060 LT feel somewhat similar in terms of handling, but quite different when it comes to suspension. Both bikes reward a more forward stance and are easy to slash and drift the rear wheel around when ridden as such, but the 4060 LT is much more plush and forgiving and less game-on-feeling than the Alpine Trail. And I'd give the Alpine Trail a slight edge in terms of pedaling efficiency, but the 4060 LT maintains much better traction under power and is the better technical climber of the two.
The Nomad is probably the best comparison to the 4060 LT here. If you're interested in a Nomad 29er, the 4060 LT is the closest thing I've been on to date (or vice versa). But mostly, these two bikes are a great illustration of how the differences between the two remaining wheel sizes are often overblown — the 27.5-wheeled Nomad is probably a little less stable and a touch quicker handling at higher speeds, but they're not far off from each other.
The biggest difference is probably in terms of bottom bracket height — the Nomad's is a bit lower, and it feels it. The Nomad lends itself slightly more to feeling like you're really "in" the bike as opposed to being on it, but can be a little more cumbersome to maneuver at lower speeds in really tight spots. And if anything, the Nomad frame feels a bit stiffer laterally (especially in the rear triangle) than the 4060 LT, but we're not talking about huge differences here.
The Altitude is a decent comparison to the 4060 LT — or at least it can be. The super-adjustable geometry of the Altitude means that it can be a very different bike, depending on how you set it up.
The two feel the most similar when the Altitude is set to the short chainstay setting and the slacker end of the Ride9 chip (check out our full review for more on that). But there are still some differences — the Altitude's rear suspension is a lot more progressive, and it feels it. Both are pretty plush off the top, but the Altitude is probably going to wind up being a little more supportive through the midstroke for most people unless you prefer a very stiff, progressive setup and firm up the Altitude's rear suspension substantially. The Altitude's bottom bracket is also a lot lower (at least when setup as described above), which likely helps explain why it's a bit more stable but also somewhat harder to maneuver at lower speeds.
The longer chainstay setting on the Altitude makes it significantly more stable, and changes the overall balance of the bike a bit; the steeper ones speed up the handling at the expense of stability, as you'd expect.
Not similar. I need to spend some more time on the Carbonjack before putting together our full review, but my take at this point is that it feels something like a version of the We Are One Arrival that works best with a much more centered, neutral stance (whereas the Arrival wants you to weight the front wheel pretty aggressively). The Carbonjack is a whole lot more supportive and lively than the 4060 LT, whereas the SCOR is more plush and forgiving and a bit easier to throw around and ride with a more playful approach.
Also super different. The first-gen Megatower is more stable, more supportive, and a whole lot more game-on than the 4060 LT (we recently started riding the new Megatower). The 4060 LT is more plush and forgiving, easier to throw around, and happier being ridden at less than full gas. The 4060 LT is going to be more versatile for more people, whereas the Megatower feels like one of the bikes SCOR was thinking of when they said that "long travel bikes have gotten pretty serious."
The Jekyll is another example of a much more game-on race bike that doesn't have that much in common with the 4060 LT, despite their similar suspension travel. The Jekyll pedals better and is quite a bit more stable, but is a lot less plush and forgiving, is harder to throw around in the air and at lower speeds, and takes quite a bit more speed and aggression to come alive.
Very different. All the stuff that I said about the Jekyll also applies, though the 161 pedals even better and is a bit more cumbersome at low speeds.
Also extremely different. The Range is way more planted and stable, takes more speed to come alive, and is much, much less playful and easy to throw around. The 4060 LT also pedals a whole lot better. Basically, the Range feels closer to a DH race bike that you can still pedal than just about anything else out there, and the 4060 LT is a much more easy-going, versatile option.
Who's It For?
SCOR is right on the money with their description of the 4060 LT: it's a long-travel Enduro bike that feels aimed more at being versatile and favoring a playful riding style than it does going flat out fast. Kudos for the truth in advertising. And as we've talked about a bit at Blister of late — including in an upcoming episode of Bikes & Big Ideas that I'm quite excited to share soon — the bike world maybe has a bit too much of a fixation on going fast. Most of us aren't racing, and are instead riding our bikes to have a good time, after all. The 4060 LT is for riders who find those sorts of big Enduro race bikes to be too cumbersome and hard to throw around and to require too much speed to come alive, but still want a longer travel bike with good suspension.
Bottom Line
The 4060 LT is an unusually playful offering for a long-travel Enduro bike, but that's exactly what makes it compelling for the right rider. If you're after something that's a bit more easy-going and doesn't need to charge as hard to come alive as a lot of big Enduro bikes, but still has a bunch of suspension and feels more cushy and forgiving than most shorter-travel Trail bikes, it's very much worth a look.