SCOR 4060
Wheel Size: 29''
Travel:
4060 ST: 140 mm rear / 150 mm front
4060 LT: 160 mm rear / 170 mm front
Material: Carbon fiber
Stated Weight:
Carbon frame: 6.39 lb / 2.90 kg
4060 LT GX: 32.4 lb / 14.7 kg
Blister's Measured Weight:
4060 LT GX, size Large, w/o pedals: 33.2 lb / 15.1 kg
Price:
Frame only: $3,200
Frame and shock: $3,600 – $3,800
Complete bikes: $4,500 – $6,600 (see below for details)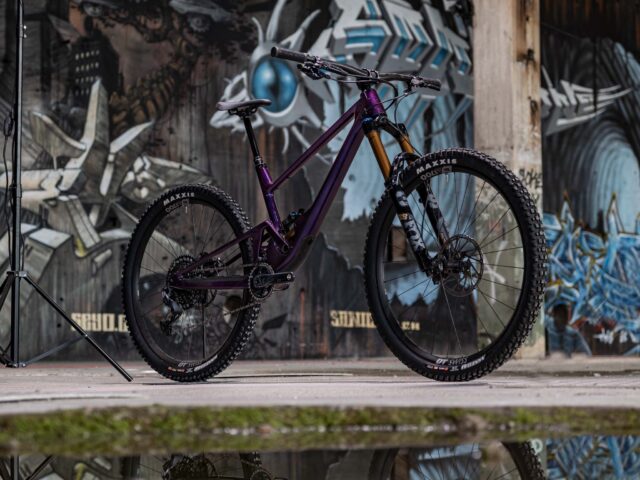 Intro
BMC is a longstanding Swiss brand with a strong reputation for making road and XC bikes, but their focus has traditionally steered away from bigger, burlier mountain bikes. But a pair of BMC employees — a designer and an engineer — found themselves wanting something a bit different from the brand's traditional race-focused offerings, and so they started tinkering in their spare time, modifying existing BMC bikes to better suit their preferences. The project caught the attention of their bosses, one thing lead to another, and before long, a whole new brand was launched — SCOR.
SCOR's mission is to make more playful, "fun" mountain bikes, distinct from BMC's road and XC race heritage. To start, they've launched with two models, the 4060 ST and 4060 LT. As you've probably figured out by now, those stand for "Short Travel" and "Long Travel," respectively, and both bikes are built around the same modular frame and can be converted back and forth as we'll describe in more detail below.
We've just gotten a 4060 LT in for testing and will be logging a lot of time on it in the months to come. But let's start with a rundown of the two bikes because there's a lot of interesting stuff going on here.
The Frame
Despite the travel (and geometry — more on that in a minute) differences, the two 4060s share the same frame, apart from paint colors. It's a carbon-only 29er, with a dual mini-link suspension layout and the shock slung very low in the frame. The LT version gets 160 mm of rear-wheel travel and is designed around a 170 mm fork; the ST lops 20 mm of travel off each end, bringing it down to 140 / 150 mm. SCOR only offers the 4060 with air shocks but says that coils are also compatible.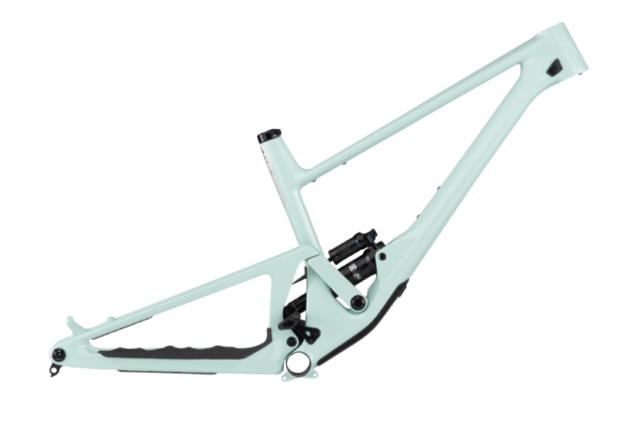 Cable routing is fully internal and features in-molded guides in both the front and rear triangles to make routing straightforward. A water bottle fits inside the front triangle in all sizes, and there's a second accessory mount underneath the top tube. The bottom bracket is a PF92 press-fit version, and the frame uses a SRAM UDH derailleur hanger. The lower two ISCG-05 tabs are included if you want to add a bash guard, and a built-in upper guide takes the place of the top tab.
There's also a storage hatch in the bottom of the downtube, which is secured with a tool-free, quarter-turn closure. It's easy to open and close and has a spot for a replacement derailleur hanger (included) and a bit of extra space for a multi-tool, maybe a small tube, or a snack. It's not nearly as spacious as the downtube box from some other brands (notably Trek and Specialized, on certain models) but it's still a nice addition. There's an ample rubber guard on the chainstay, and that guard is shaped to look like a series of doubles, supposedly modeled after the Chaumont jump trail in SCOR's backyard.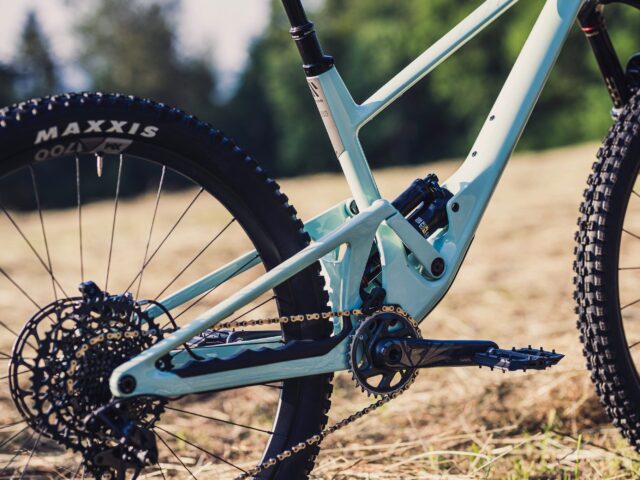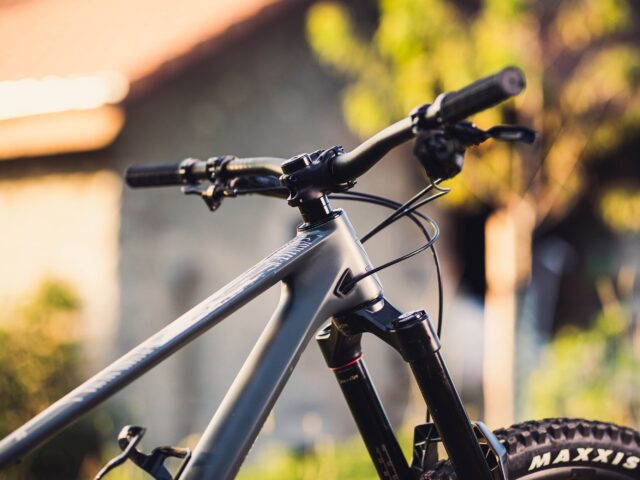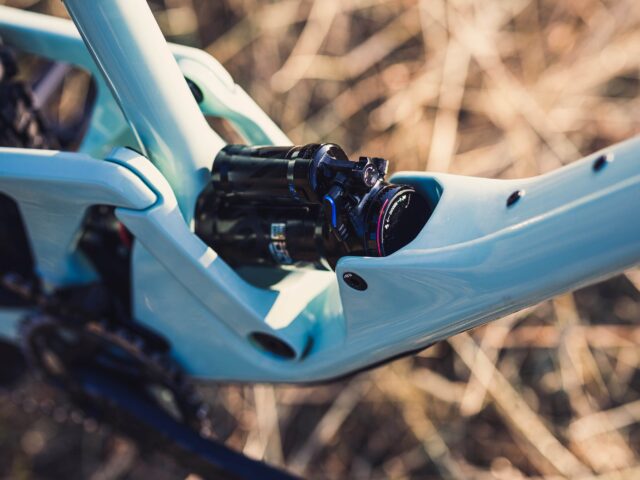 Both the 4060 versions use a 205 eye-to-eye Trunnion-mount shock, but with a 62.5 mm stroke for the LT version, and a 57.5 mm stroke for the ST. A flip-chip at the rear shock mount slightly tweaks the geometry to suit the two different configurations (its two positions are labeled "ST" and "LT"). SCOR has also given the 4060 a custom angle-adjust headset, to further tweak the geometry between the two versions, as we'll describe in more detail below, though either configuration can be run in either headset position, depending on your preferences. The headset cups are specific to the 4060, but they use standard size bearings, so replacements are readily available.
Fit & Geometry
The 4060 is offered in four sizes, Small through Extra Large, though SCOR also refers to them by their reach measurements, in millimeters — 435, 459, 485, and 515. SCOR says that range covers riders from 155 to 200 cm (5'1'' to 6'7'') though their size chart rightly notes that there's some wiggle room for most riders to size up or down to achieve a more stable or more playful ride, as their preferences dictate.
The headtube angle on the 4060 LT is either 63.8° or 65°, depending on headset setting; the LT model defaults to the slacker option. The 4060 ST is, unsurprisingly, steeper at 64.5° or 65.5°, with the latter being the default setting from the factory.
The 4060 LT's chainstays are notably short, at 432 mm in all sizes (the ST adds 1 mm due to the flip-chip setting, for a still-short 433 mm). The effective seat tube angle for both bikes is 78° in their respective default geometry positions; going to the steep headset position on the LT slackens the seat tube by 0.5°, and the slack position on the ST does the reverse. SCOR also helpfully includes an effective seat tube angle at 750 mm of seatpost extension (76.5° for both bikes, give or take 0.5° depending on headset configuration).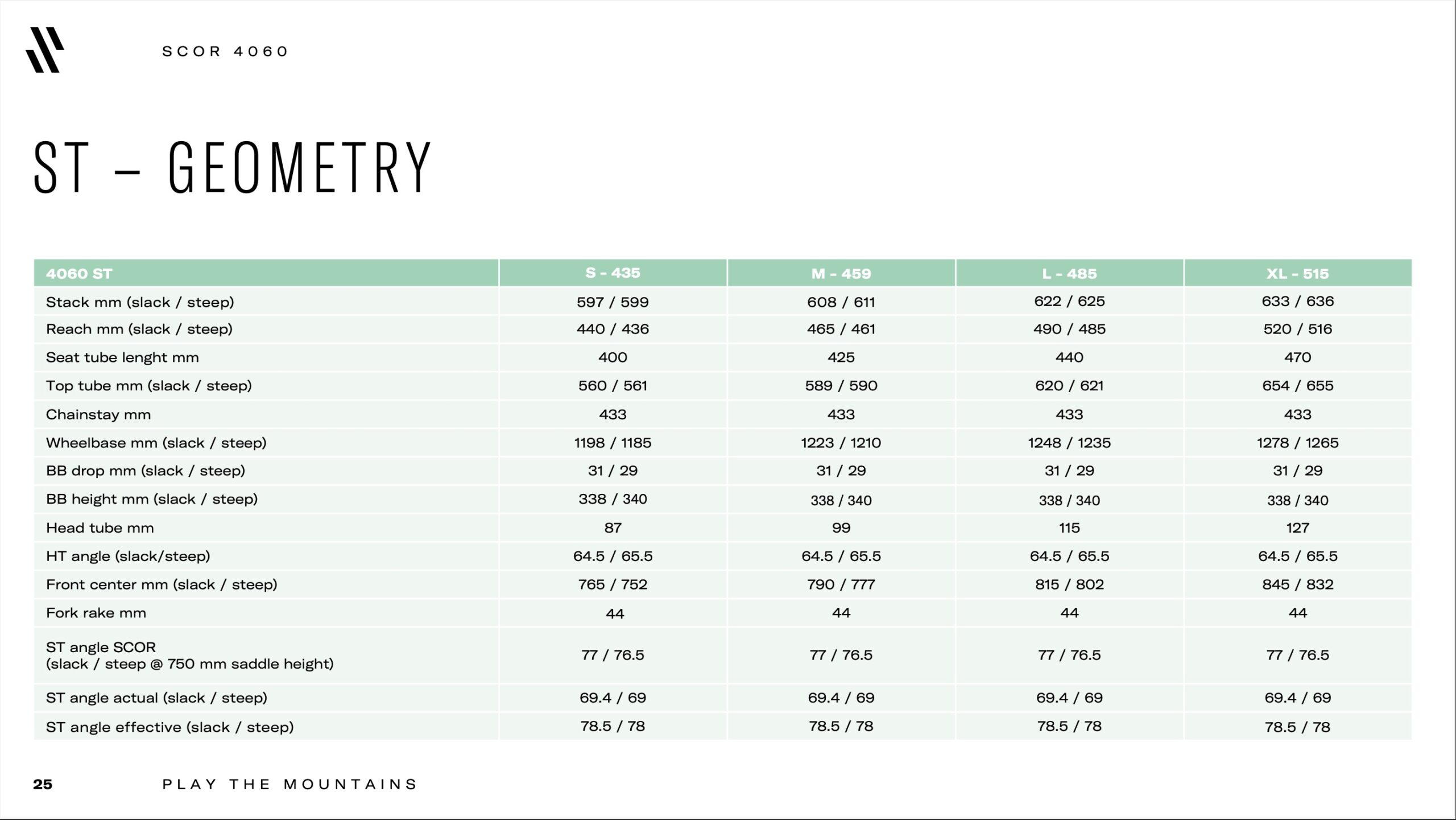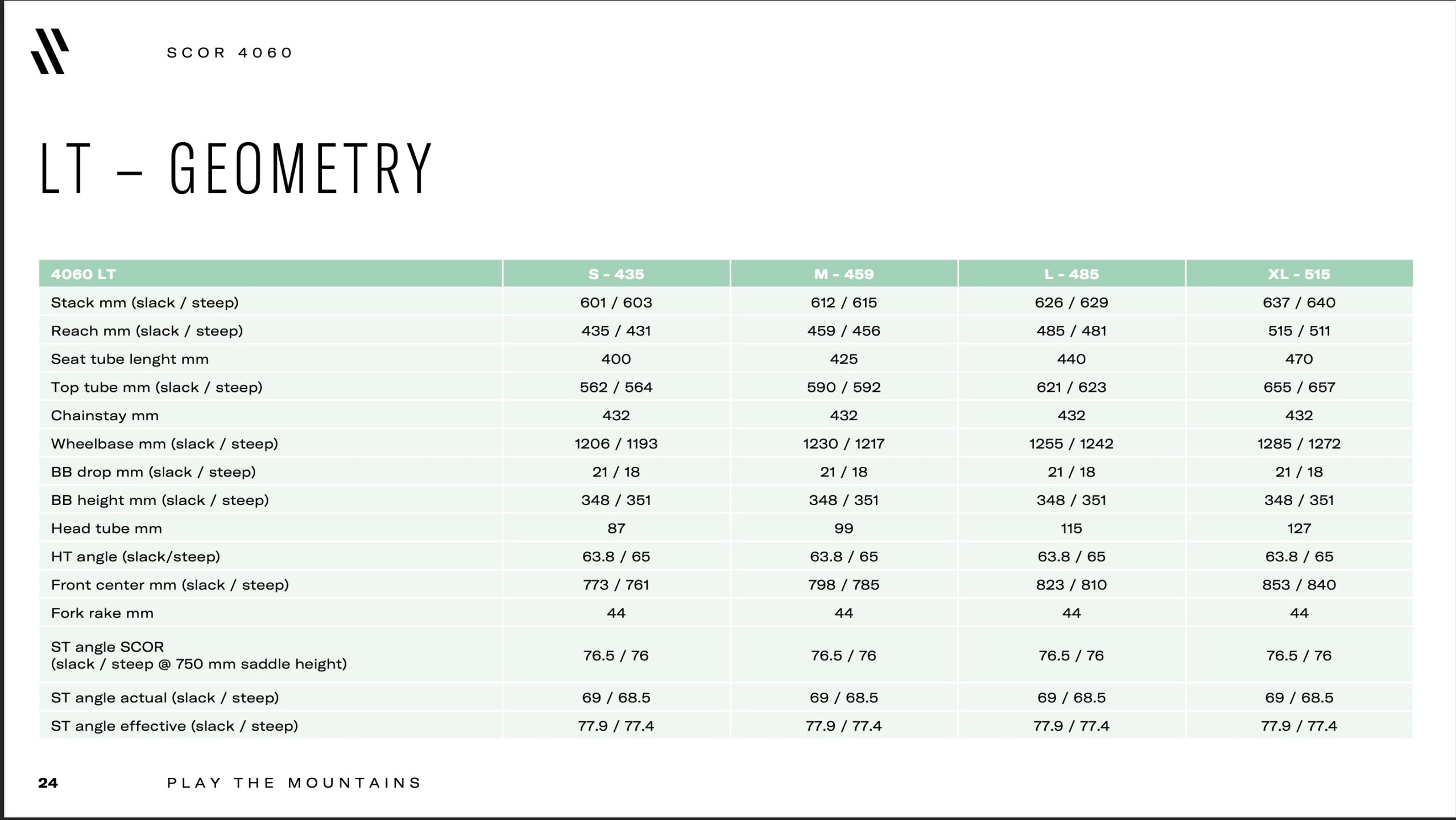 SCOR also says that you can run either bike as a mullet if you're so inclined, though geometry charts for that configuration aren't listed. In the case of the 4060 ST, you'd put the flip chip in the LT setting to raise the bottom bracket back up, and return the headtube angle a bit closer to stock. For the LT, SCOR recommends putting the headset into the steeper position to accomplish the same goal. Our hunch is that this works out a little more cleanly, geometry wise, on the ST than the LT, but we'll experiment and report back.
The Builds
Both versions of the 4060 are available as bare frames, frame and shock packages, or two complete builds, dubbed NX and GX for their drivetrain options. The equivalent builds on the ST and LT bikes are largely similar with some variations — most notably different suspension parts.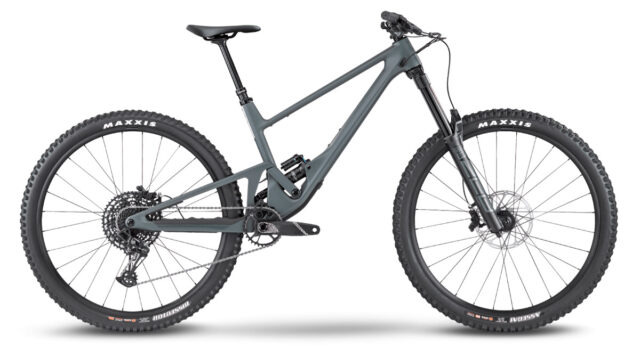 All four also get Maxxis Assegai front / Dissector rear tires, but the ST builds come with MaxxTerra rubber at both ends and an Exo front / Exo+ rear casing combination. The LTs beef things up with an Exo+ / MaxxGrip front tire and a DoubleDown / MaxxTerra rear.
Overall, these are really nicely chosen builds. In particular, the GX builds offer a great combination of top-end suspension and brakes with a middle-of-the-road drivetrain and quality aluminum wheels. It's a very solid way to go about piecing together a very high-performing Trail / Enduro bike without completely breaking the bank, and I very much approve of the thinking behind it.
My only real complaint is that I'd like to see longer dropper posts on the bigger sizes. At 6' / 183 cm, I'm squarely in the middle of SCOR's recommended height range for the size Large that I've been riding, but I'm perilously close to the maximum extension on the 160 mm Bike Yoke Divine dropper, and I'd certainly like more stroke to get the seat farther out of the way. Especially since they've spent the money for a somewhat fancy post on the GX builds, it'd be great to see the bikes come with a longer travel option.
Some Questions / Things We're Curious About
(1) SCOR talks a lot about both 4060 variants being designed to be "fun" rather than to go fast. But fun means different things to different people, so how do they feel on trail?
(2) Does the 4060 make sense for riders who might want to have the parts on hand to convert back and forth between an ST and an LT?
(3) How about that mullet configuration? On paper, the geometry sounds like it might get a little funky, especially on the LT, but we'll give it a try and find out.
Flash Review
Blister Members can read our Flash Review of the 4060 LT for our initial on-trail impressions. Become a Blister member now to check out this and all of our Flash Reviews, plus get exclusive deals and discounts on gear, and personalized gear recommendations from us.
Bottom Line (For Now)
The founding of SCOR is an exciting new direction for BMC, and both 4060 variants look like very interesting options in their respective categories. We've got a 4060 LT GX in for testing, so stay tuned for a full review to come.