We Are One Arrival
Wheel Size: 29''
Travel: 150 mm rear / 160 mm front
Material: Carbon fiber
Price:
SP2 Build: $9,999.69 CAD / $8,999 USD
SP1 Build: $12,969.69 CAD / $10,755 USD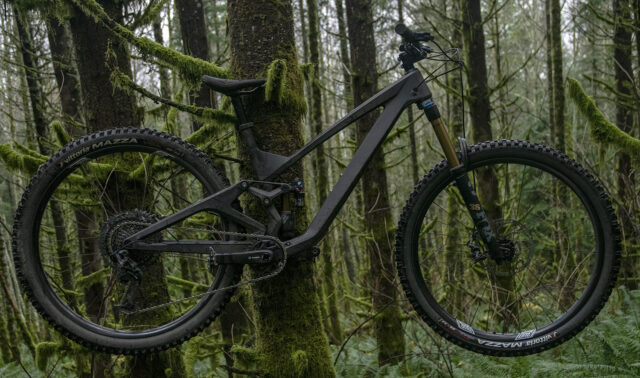 Intro
We Are One have been teasing an upcoming bike for some time now, and today the Arrival has, uh, arrived. We Are One says the Arrival is "for the aggressive rider who wants a playful bike that balances the ability to hold a line, rail corners and handle race speeds with confidence" — about what you'd expect for a 150 / 160 mm travel 29er Trail / Enduro bike.
Intriguingly, We Are One also ends their description of the Arrival by saying "and we're just getting started." But there's plenty to get excited about with the Arrival, so let's dig in.
The Frame
As you'd expect from We Are One, the Arrival is a carbon frame, made in their Kamloops, British Columbia headquarters. It's a dedicated 29er, with 150 mm of rear-wheel travel, designed around a 160 mm fork, using a parallel mini-link suspension layout. Cable routing is fully internal, and there's room for a water bottle inside the front triangle. The now-standard molded rubber chainstay protection that you'd expect is included, as is a downtube guard just in front of the bottom bracket.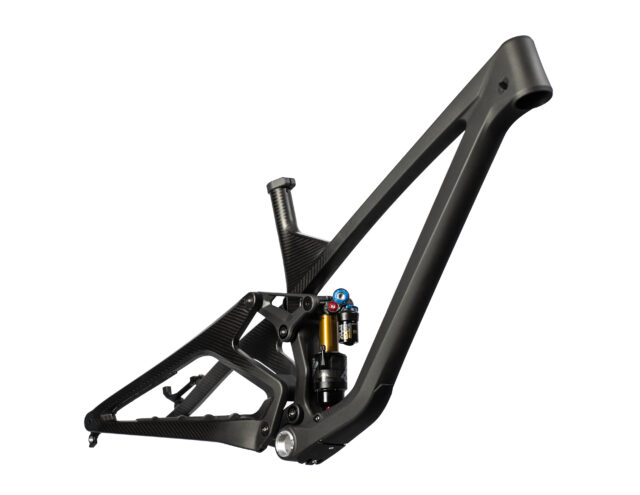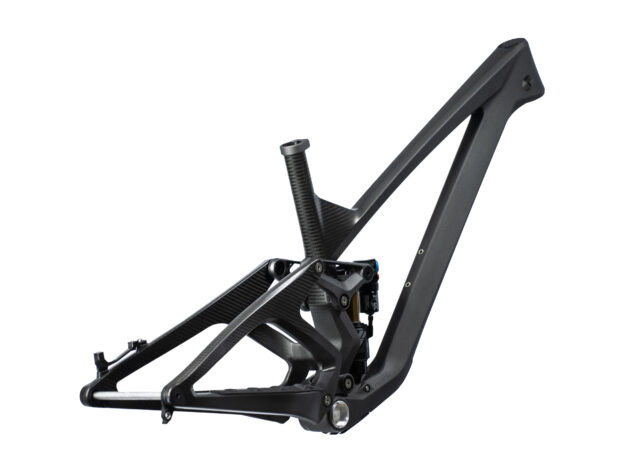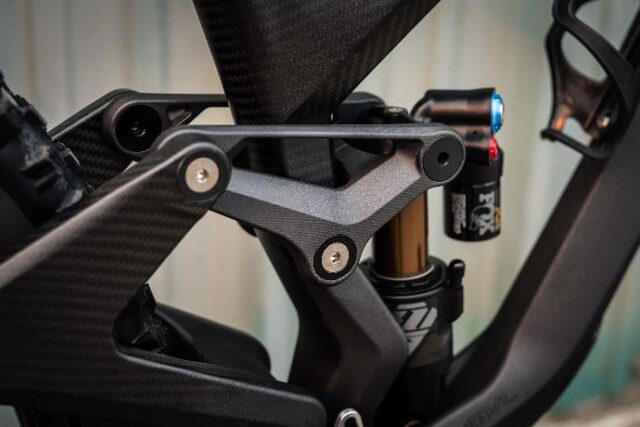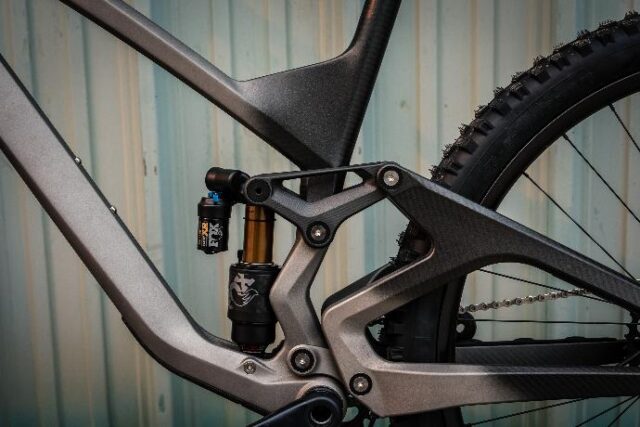 We Are One chose to go with a Superboost 157 mm rear end for the Arrival, and apparently expect that to be a bit controversial — their blurb on that detail begins with "157… Hear us out." Their argument is that the wider rear end makes for a more stable bike, but the narrower q-factor of a standard Boost crankset makes for more efficient pedalling and a better chainline with modern wide-range cassettes. The chainline argument in particular seems on the money; for a Trail / Enduro bike, where the majority of the pedalling effort is done in the lower half of the cassette, it makes sense to optimize for that part of the range. I've also done more than my fair share of climbing on a bike with an 83 mm bottom bracket shell, and completely agree that I'd prefer a narrower stance.
We Are One also opted to make their own custom brake mount for the Arrival. The tabs on the frame are a bit like a Post Mount pair of tabs, but with the two tabs offset from one another. A bolt-on adapter for a 180 mm rotor is included, and We Are One says they'll make a 203 mm option available as well.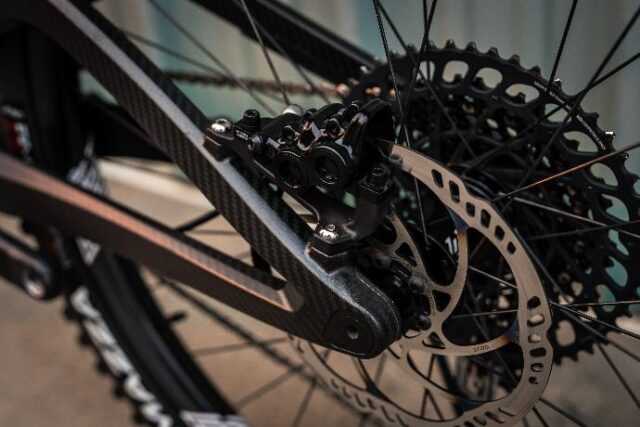 The finish on the Arrival is also a bit different than on most bikes. We Are One uses a Cerakote H Series coating on the frames and says that "each frame is hand blended at our painter's discretion." Both build levels get a fade finish from a solid color up front to raw carbon in the rear, but the exact fade might vary a bit from frame to frame. The stock color on the SP1 build is a light gray, while the SP2 gets a black finish, but We Are One also offer custom color selections if desired.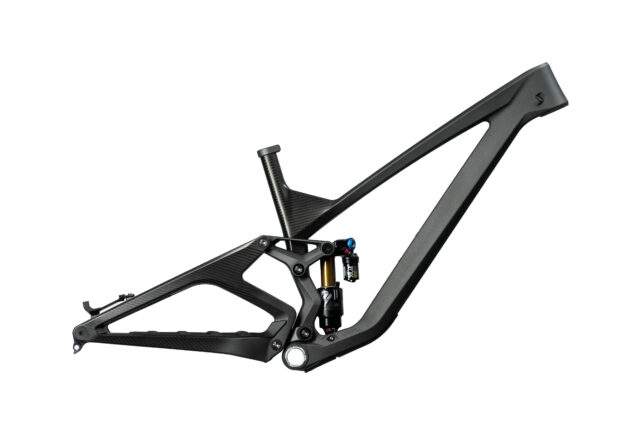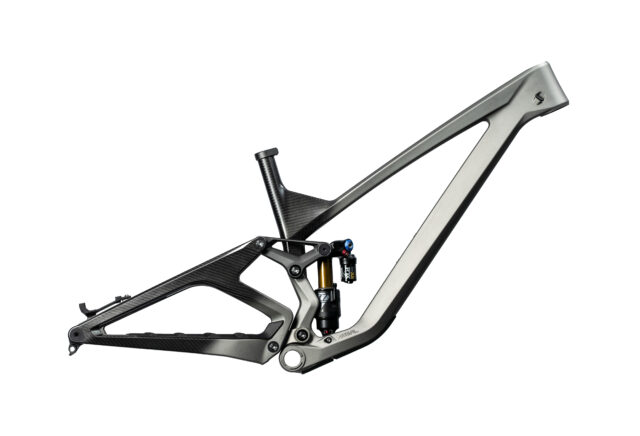 We Are One also note that almost all of the frame materials are sourced in North America — titanium hardware from China being the one exception — and that all of their products are shipped in recycled cardboard packaging, with no plastic.
Finally, We Are One offer a lifetime warranty on the Arrival frame and also mention that they have the ability to perform repairs for certain types of damage: "This process is more labour intensive than building a new frame. However, the result isn't about labour and costs; it is about our impact on the environment and keeping our products rolling longer than others. The repair program will assign a cost to repair the frame or rear triangle and will be not-for-profit, meaning our costs will be covered, and the customer gets to keep riding the product after the repair."
Fit & Geometry
We Are One offers the Arrival in three sizes, dubbed SZ1, SZ2, and SZ3, which they say cover riders from 5'3'' to 6'4'' (160–193 cm). All get a 64° headtube angle, 77° effective seat tube angle, and reach ranges from 450 to 500 mm in neat 25 mm increments. The smaller SZ1 and SZ2 get short-ish 437 mm chainstays, which grow to 441 mm on the SZ3. All of that adds up to wheelbases ranging from 1220 mm on the SZ1 through 1277 mm on the SZ3; the SZ2 comes in at 1246mm. You can see the full geometry chart here:
All of that is pretty standard for a modern, aggressive-but-not-over-the-top Trail / Enduro bike. Perhaps the most noteworthy detail is the 37 mm bottom bracket drop. While it's not an unheard-of number by any stretch, it's a bit lower than most bikes in this travel range. We'd expect all of that to add up to a very capable, but still reasonably versatile bike, and are looking forward to throwing a leg over one to find out more.
The Builds
At least for now, the Arrival is only available as a complete bike in one of two build specs, and they're both emphatically high end. Both come with We Are One's in-house Da Package bar and stem, a Chris King headset, and We Are One carbon rims. The build specs and prices are as follows:
Arrival SP2: $9,999.69 CAD ($7,958 USD at time of publishing)
Arrival SP1: $12,969.69 CAD ($10,322 USD at time of publishing)
There's certainly no budget option here. Even the more basic SP2 comes with Fox Factory suspension front and rear, high-end carbon wheels, and a SRAM X01 drivetrain. But while the Arrival is undeniably expensive, it's actually a pretty impressive value for what you get.
The Arrival SP2 build is significantly cheaper than similar spec packages from a lot of mainstream brands, including the Santa Cruz Hightower X01 ($8,049, with aluminum wheels), the Yeti SB150 X01 build with a DT Swiss carbon wheel upgrade ($9,300), and the Specialized Stumpjumper Evo X01 build with Roval carbon wheels ($8,600). Couple that with the fact that We Are One throw in some bling-y extras (Chris King headset, Da Package bar and stem, etc.) and does all that while making the frame in British Columbia? Color us impressed.
And if you'd prefer to spec your Arrival with a coil shock, either build can sub in a Push ElevenSix shock for $975 USD / $1,100 CAD.
In an age of pandemic-induced bike shortages, We Are One is also refreshingly upfront about bike availability. They've allocated 75% of their production to their dealers, and have a list on their site to see if there's one in your area.
The remaining 25% will be sold directly by We Are One and are available to order through their site, with individual production "blocks" for each month, starting in September. Once a given month's block is sold out, you can move on to the next.
Some Questions / Things We're Curious About
(1) With travel and geometry numbers that blur the line between Trail and Enduro bikes, where does the Arrival fall on that spectrum?
(2) And how does the Arrival stack up against some of the other very strong contenders in that class of bikes, including the Guerrilla Gravity Smash and Canyon Spectral?
Flash Review
Blister Members can read our Flash Review of the Arrival for our initial on-trail impressions. Become a Blister member now to check out this and all of our Flash Reviews, plus get exclusive deals and discounts on gear, and personalized gear recommendations from us.
Bottom Line (For Now)
The Arrival is a very interesting (and really good looking) new offering from We Are One, and a big step forward for a brand that hasn't made a bike before. It's also an impressively good value for money, if admittedly only in the very high-end range, and does that despite being made in Canada. We're very excited to get on one to learn more, so stay tuned for a full review to come.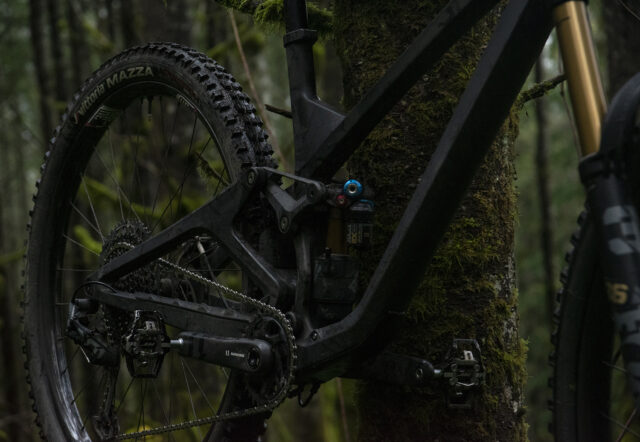 Full Review
I've spent a few months on the Arrival and — spoiler alert — it's one of my favorite bikes that I've reviewed this year. But before you bail on this review and go order one, I also think it's a bike that's going to work great for some riders and far less well for certain others — so keep reading.
We Are One talks a big game about the versatility of the Arrival, and they're right to do so. The Arrival pedals well and manages to be fairly capable at high speeds in rough terrain, while also being relatively lively and engaging in more mellow, rolling terrain, too. But it also does all that with a rather unique ride feel that really makes it stand out from much of its competition.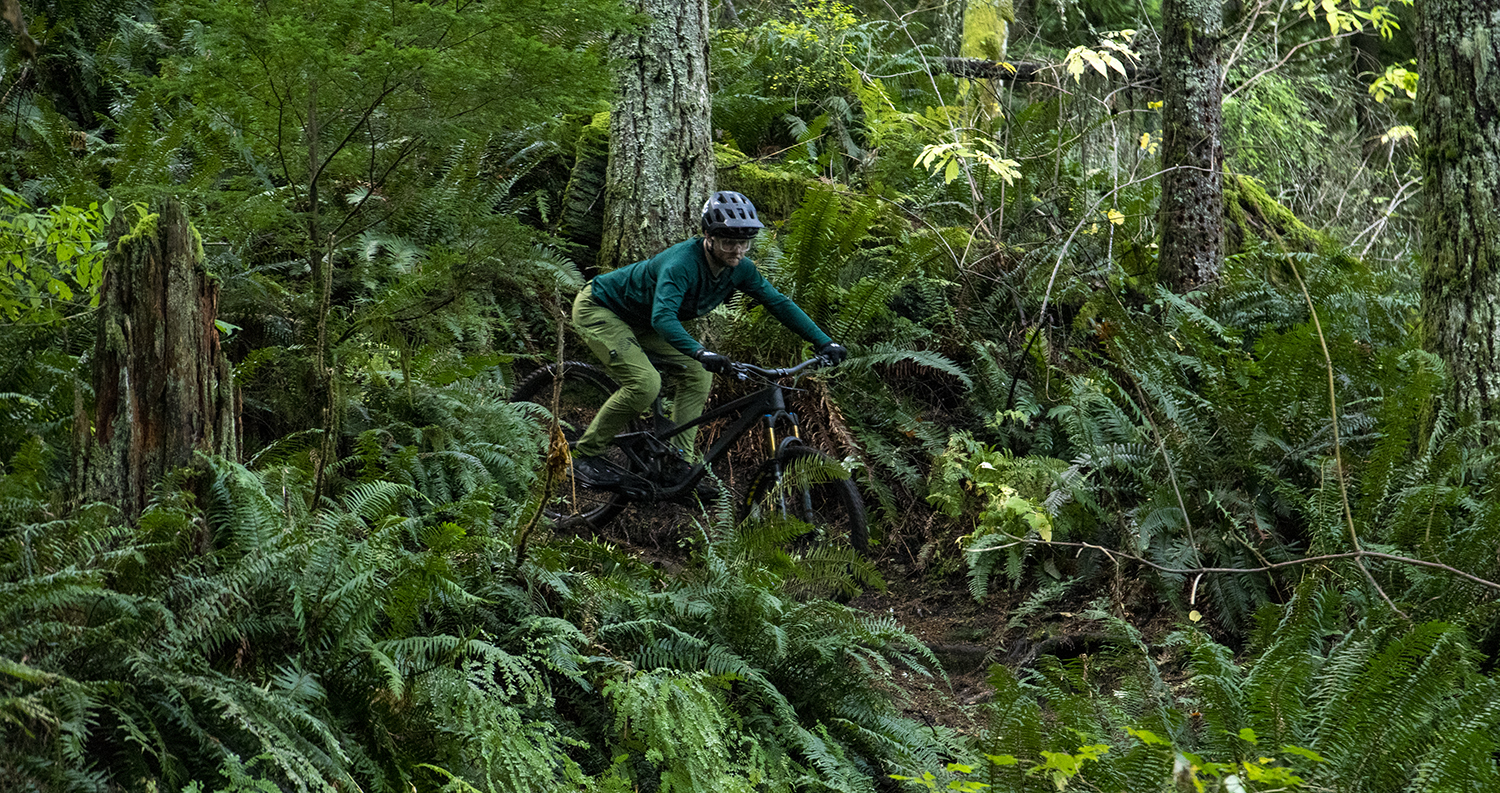 Fit & Sizing
Going into the review, I was on the fence about which size Arrival I would get along with best. At 6' / 183 cm tall, We Are One's sizing chart puts me at the bottom end of the range for the SZ3 frame (500 mm reach) and just a touch over the SZ2 (475 mm reach) but my hunch was that I could make either work. As it turned out, an SZ2 became available sooner, making the choice for me. Having spent several months on it now, I've gotten along really well with the SZ2. As we'll get into more below, a big part of what feels so special about the Arrival is that it's quite a bit more lively feeling than many other bikes in this sort of travel range — stuff like the Guerrilla Gravity Smash, Marin Alpine Trail, and the Santa Cruz Bronson — and the slightly more compact fit on the SZ2 helped accentuate that. But I also think that I could happily ride the SZ3 as well, and in doing so trade off a little bit of nimbleness for some added stability.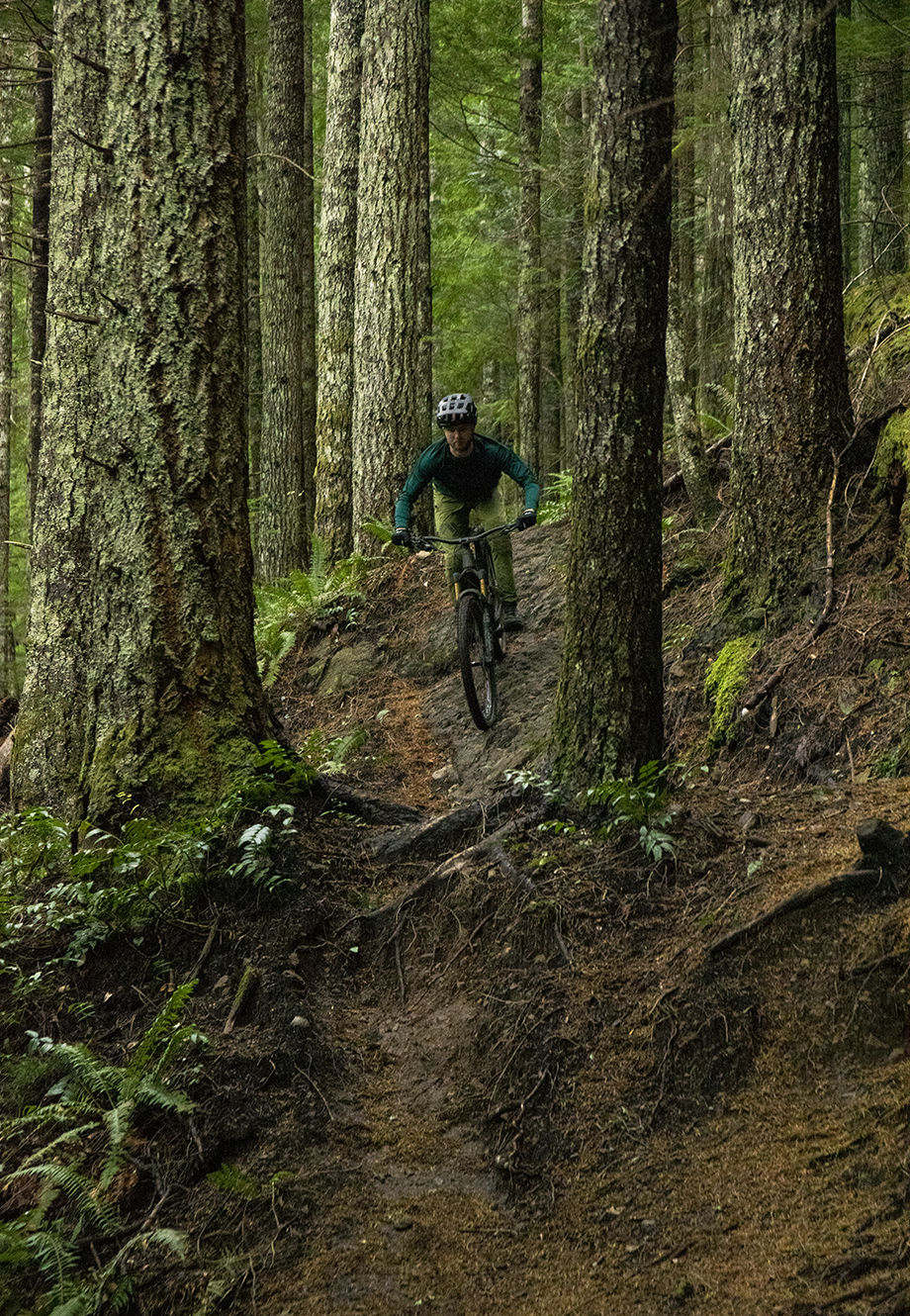 The SZ2 Arrival never felt unduly cramped on the way up, but there were some moments where a slightly roomier cockpit with more room to move around on the bike would have been welcome on some higher-speed descents — especially when I made a mistake trying to double up a small roller and got hung up, for example. All of that is to say, I think We Are One's recommended sizing ranges are fairly spot on, and I really am just on the brink between the SZ2 and SZ3; my true Goldilocks size would probably be a SZ2.5 if such a thing existed.
One of the more interesting details of the fit and geometry of the Arrival is that it has a notably short stack height — not by a huge margin, but somewhat more so than most other bikes in the category. And while I did wind up running a fairly large stack of headset spacers on the Arrival, it also feels happiest being set up with the bars somewhat on the lower side of average and being ridden from a fairly forward, aggressive body position. And so that shorter stack height makes sense — it's in keeping with how the Arrival wants to be set up and ridden.
I did swap out the stock 170 mm drop SDG seatpost for a 210 mm OneUp — the SDG works fine, but after a few rides I found myself wanting to get the seat lower. I had more than enough exposed seatpost to make the swap, though given that I'm at the tallest end of the sizing range for the SZ2, I can't really fault We Are One for the choice. Since their recommended sizing for the SZ2 goes down to 5'8'' (173 cm), it's not hard to imagine riders at the shorter end of the size range not being able to accommodate a longer post.
The Build & Other Details
I've been testing the SP2 — the lower end of the two builds We Are One was offering — but as we noted in our First Look, it's still a very nice build. The SRAM X01 drivetrain and Fox 36 and Float X2 Factory suspension pieces are all great, and I was quite impressed with the performance of the Magura MT5 brakes (this was my first time trying them). The lever throw is short and direct with a firm bite point, and their power is impressive — at least on par with Shimano XT 4-pistons — though they were relatively noisy, both in squealing when wet or dusty, and in that I noticed a fair bit of pad rattle.
We Are One's Union wheels (built with Industry Nine 1/1 hubs in this case) continued to impress, though I did have a couple of spokes come loose in the first couple of rides. A quick re-tensioning of the wheel sorted that out, and it's been solid since — as have the couple of other Union wheelsets that I've spent time on in the last few years. And I should also note again how much I like the We Are One "Da Bar" that comes on the Arrival, too. I'm not generally a fan of 35 mm carbon handlebars, but Da Bar is a real outliner in terms of ride quality, and is far, far more compliant and comfortable than most.
We Are One has sold through the complete Arrivals that they had allotted for direct sale through their site, though some may still be available through their dealer network. They'll be pivoting to frame-only sales for the time being, with availability starting soon.
There aren't many bikes I've been on recently that draw as much attention at the trailhead as the Arrival, either. Some of that is undoubtedly down to it being new and rare, but it's also a really good-looking bike. The lines are clean and crisp, and I'm a big fan of how subdued the graphics are — the only branding anywhere on the frame is a small "Arrival" masked into the Cerakote finish on each side of the downtube, and the matte gray finish blends beautifully into the raw carbon of the rear triangle. That Cerakote finish doesn't seem to be especially durable, though. There was a small chip on the top tube when I got the bike (it had been ridden previously) and that blemish propagated a bit over the course of my time with the bike. It's certainly not the end of the world but is worth noting.
Climbing
The Arrival is an efficient climber for its travel but does feel like it gives up a little bit of traction and compliance to get there. Particularly on very steep, loose climbs, the Arrival requires a little more care to pedal smoothly and keep your weight centered to maintain traction than some bikes, but works well provided that you maintain decent technique. And for a 150 mm travel bike, it's notably sprightly under high-output efforts. The comparatively low weight (31.4 lbs / 14.2 kg for our SZ2, SP2 build) doesn't hurt, but the rear suspension deserves more of the credit for that efficiency. I rarely found myself using the climb switch on the Arrival (especially because, as we've tended to find with the updated Fox Float X2, it's not particularly firm / effective) but the Arrival really doesn't need the help anyway.
Going in, I wondered how noticeable the very low bottom bracket of the Arrival would be on more technical climbs where pedal clearance is at a premium, but given that the Arrival runs relatively low sag (We Are One recommends about 20%) and stays fairly high in its travel, it proved to mostly be a non-issue for me. Like a lot of relatively low bikes, the Arrival requires some care to place and ratchet the pedals in certain situations, but it doesn't feel like an outlier in that regard. The Arrival isn't the first bike I'd recommend if technical climbing prowess is a top priority, but for most people, it should do just fine.
And while the SuperBoost rear end on the Arrival might be controversial, I really do think the incompatibility with many existing wheelsets is the only notable downside. There's still tons of heel clearance, and I'm a big fan of the fact that We Are One uses a standard Boost crankset with the wider SuperBoost rear. As We Are One founder Dustin Adams noted in our conversation on Bikes & Big Ideas about the Arrival, the idea was to improve the chainline in the gears where you actually do the majority of your pedaling (i.e., the lower half of the cassette) and while it's by no means a night-and-day difference, the change is noticeable. The drivetrain is just a touch smoother and quieter in the lower gears, and I also appreciate the narrower Q-factor (the overall width of the crank, between the pedals) over a SuperBoost crankset.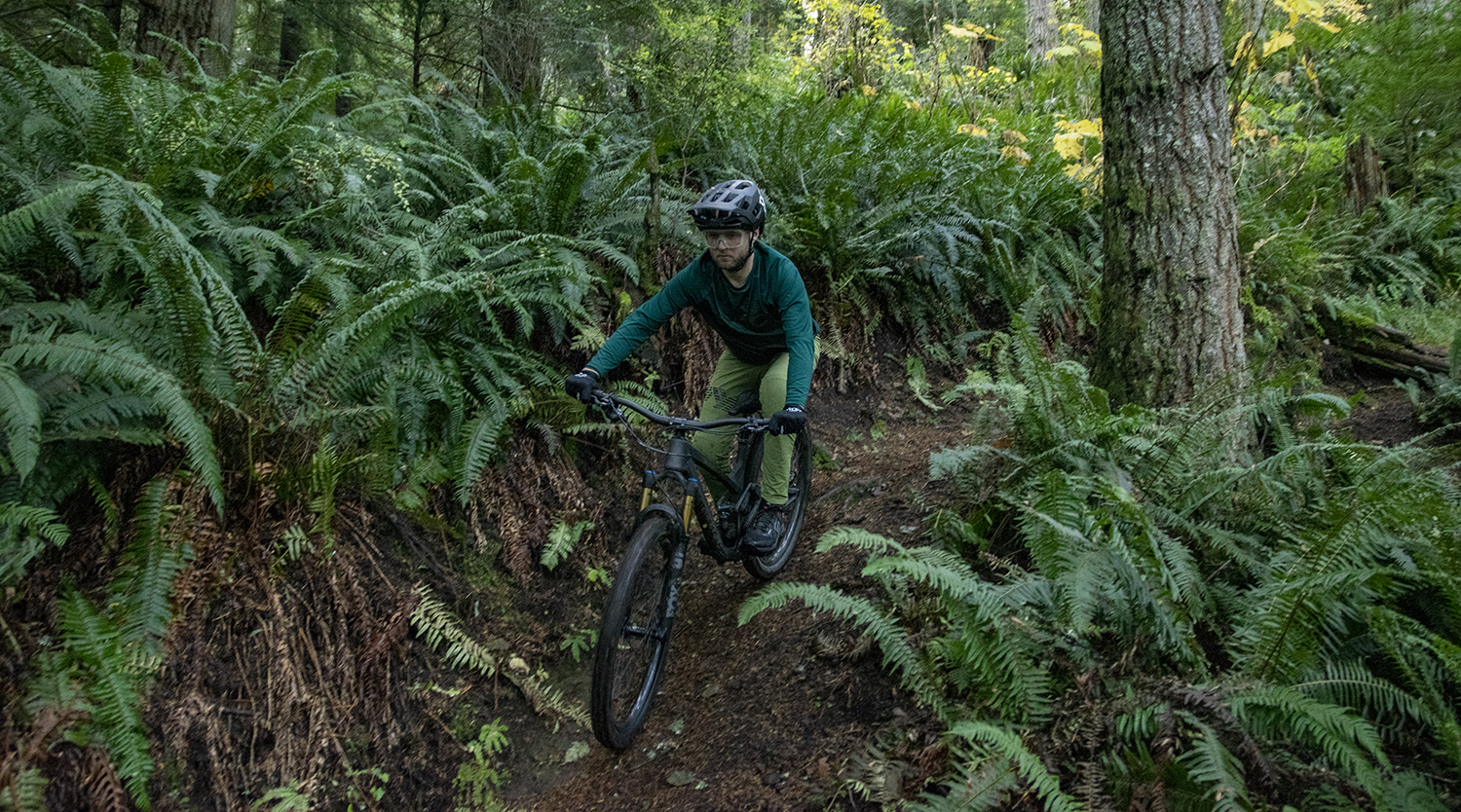 Descending
By far the most standout trait of the Arrival on the way back down is just how lively and poppy it feels — this is a bike that wants to take to the air and double up small rollers and other trail features at every opportunity. I can't think of another bike with similar travel numbers that feels like the Arrival in this regard — the much shorter-travel Guerrilla Gravity Trail Pistol is probably the best comparison I can think of.
But what's really special about the Arrival is that it does all that while still feeling nicely compliant when you need it to. Rather unusually, We Are One recommends running only 20% rear sag on the Arrival, and I found that to be fairly spot-on. But as I noted in my Flash Review, it took me a little longer to figure out how to set the fork up to match. I've ridden the Fox 36 plenty, but on the Arrival, I found myself wanting to run a bit more air pressure than I have on some other bikes to get everything feeling balanced. Some of that is likely just down to the firmer than average rear suspension setup; the relatively forward body positioning the Arrival encourages probably contributed, too. But once I got the fork settings figured out, the Arrival did a very impressive job of feeling extremely poppy and supportive without feeling harsh or lacking in compliance.
To be very clear, this is not a particularly plush feeling bike, and riders who tend to seek out especially cushy, compliant rides are probably better off elsewhere. But given how firm and supportive a setup I wound up running on the Arrival, the amount of compliance still on offer was impressive. And while the suspension definitely deserves a lot of the credit here, I think the ride quality of the frame itself plays a role, too. It's tough to decouple the feel of frame compliance from suspension performance, especially on longer-travel full suspension bikes, but the Arrival does feel like the flex of the main frame has a bigger hand in the overall ride quality than most. And given how much I like the way We Are One's Union wheels ride, maybe that's not such a surprise. While the Arrival is their first frame, We Are One knows a thing or two about working with carbon fiber and building an excellent blend of compliance and liveliness into it.
On the subject of suspension setup, it's also worth noting that, between the low recommended sag and overall high-ish leverage ratio, the Arrival requires substantially higher shock pressures / spring rates than many similar bikes. For my 165 lb (74.8 kg), I settled on running about 220 psi in the rear shock. For someone my size, that's not a problem at all, but heavier riders might find themselves bumping up against the 300 psi limit for the Float X2.
The Arrival's proclivity for taking to the air, and the relatively forward, aggressive body positioning that it encourages do mean that it feels best when being ridden with an aggressive touch, but unlike a lot of other relatively game-on bikes, it doesn't need an ultra-fast, steep trail to come alive. The Arrival is a ton of fun on mellow, rolling terrain, too — it just continues to want a bit of an active, aggressive approach from the rider. Its preference for getting light and popping over / doubling up every little feature that comes along is a ton of fun, but it does require a bit more precise riding than some other bikes that are more inclined to just plow through everything in their path.
The Arrival also corners very well, especially at medium to high speeds. In very slow, tight spots it does just fine — the wheelbase is not super long, and it doesn't feel particularly hard to maneuver — but it really comes into its own once you're moving fast enough to start to lean the bike over. As I already mentioned, the Arrival tends to favor a fairly aggressive stance with a bit of a forward weight bias to feel balanced, and if you stay over the front end, it's easy to weight both wheels evenly and rail through a sweeping corner, or get light and slide the back end around.
The Arrival isn't as stable as many (generally longer travel, longer wheelbase) Enduro bikes at very high speeds, but those sorts of bikes aren't nearly as lively and engaging as the Arrival, especially at more moderate speeds, and it's still plenty capable when things get steep and rough. The Arrival just doesn't go all-in on stability and composure at speed, and it's a whole lot more versatile than the burliest Enduro bikes as a result.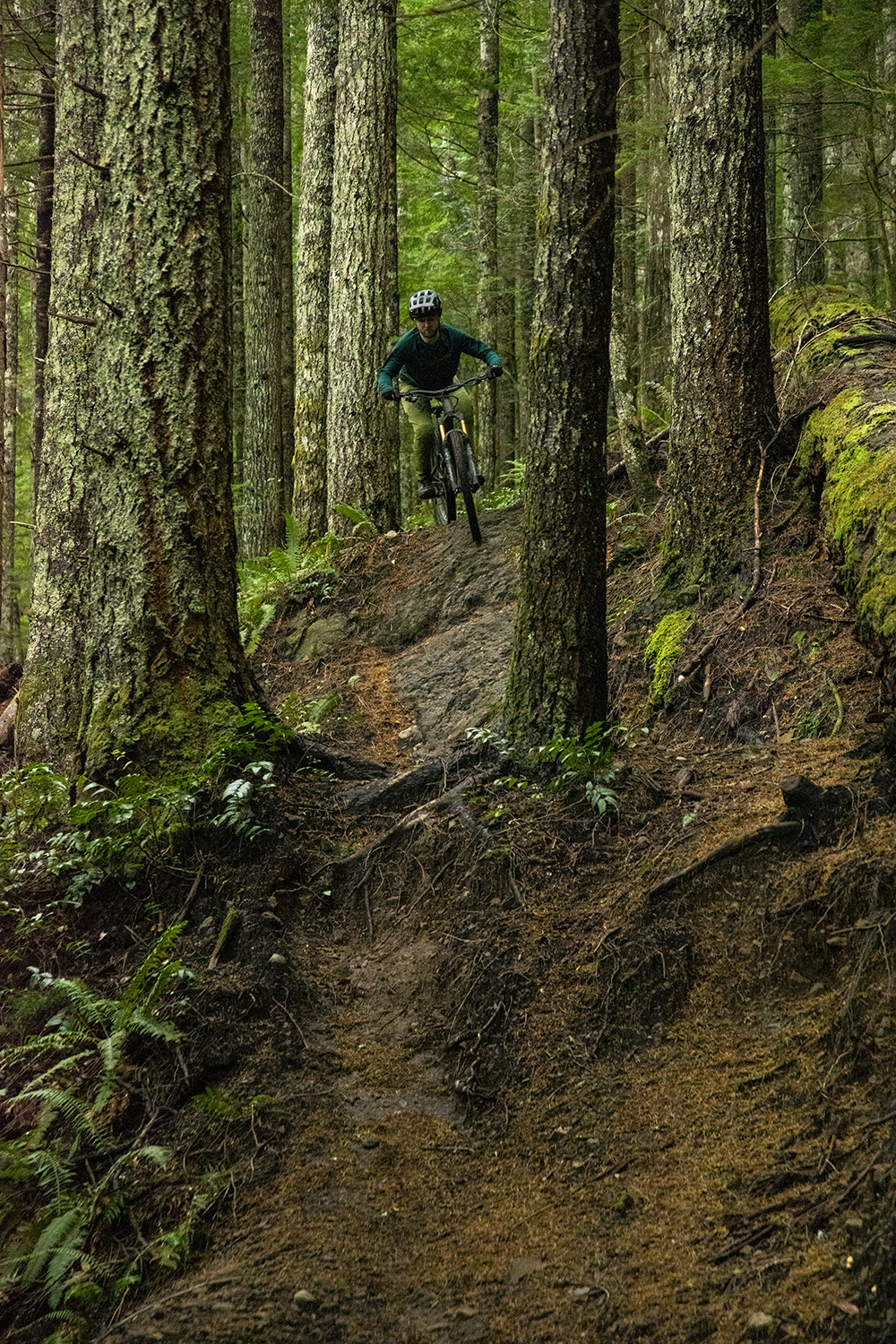 Who's It For?
We Are One set out to make a super-versatile bike with the Arrival and they've hit on a great recipe for one, with a unique ride feel that really stands out from the rest of the market. The Arrival is probably a bike that makes the most sense for relatively skilled riders who can ride it with enough precision to take advantage of just how lively and nimble it is, but for those folks, the Arrival is something special. It's definitely on my shortlist of favorite bikes that I've reviewed this year because of its unique combination of a very lively ride and a solid dose of capability at higher speeds and in burlier terrain, and if that sounds appealing to you, there aren't many bikes like it.
Bottom Line
The We Are One Arrival does an outstanding job of combining an ultra-lively ride with far more compliance than most similarly-poppy bikes, which makes it a great option for riders looking for a bike that's both quite capable at speed in steep terrain and still entertaining when things mellow out. It's a bike that favors a fair bit of precision and an active approach from the rider, rather than bulldozing everything in its path, but for a reasonably skilled rider willing to put forth the effort, it's pretty special — even before you take into consideration that it's made in Canada, too.