Antidote Carbonjack
Wheel Size: 29''
Travel: 150 mm rear / 160 mm front
Material: Carbon Fiber
Price:
Frame: $4,879 / €3,999
Complete bikes starting from $10,369 / €8,499 (see below for details)
Blister's Measured Weight: 32.8 lb / 14.9 kg (size Large, Shimano XT / Ohlins build)
Reviewer: 6', 170 lb / 183 cm, 77.1 kg
Test Location: Washington
Test Duration: 2.5 months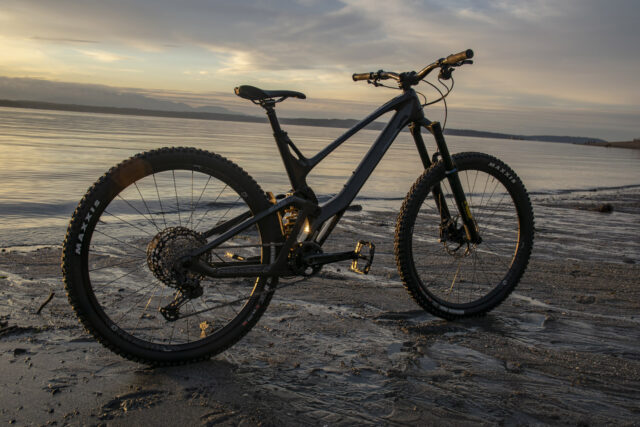 Intro
Antidote is a small Polish company who have received a lot of attention for their eye-catching carbon frames, which they make in-house in Poland. The Carbonjack is their do-it-all Enduro bike with 150 mm of rear suspension travel, and we've got one in to review. Antidote calls the Carbonjack an Enduro race bike, but it looks like it could be a whole lot more versatile than that label might suggest. There's a lot that's interesting about the Carbonjack (besides just its aesthetics), so let's dive in.
The Frame
The Carbonjack is available in carbon only (it's right there in the name, after all) and it uses the material to striking visual effect. The lines are sharp and involve a lot of complex shapes that wouldn't lend themselves to aluminum construction, but the end result manages not to look too busy or overcomplicated. It's a really cool-looking bike, especially in the raw carbon finish of our test bike. But if that particular aesthetic isn't to your liking, Antidote offers more or less unlimited options for custom paint at a range of prices depending on the degree of complexity. We wouldn't normally start this section of the review with a discussion of a bike's aesthetics, but, well, just look at it: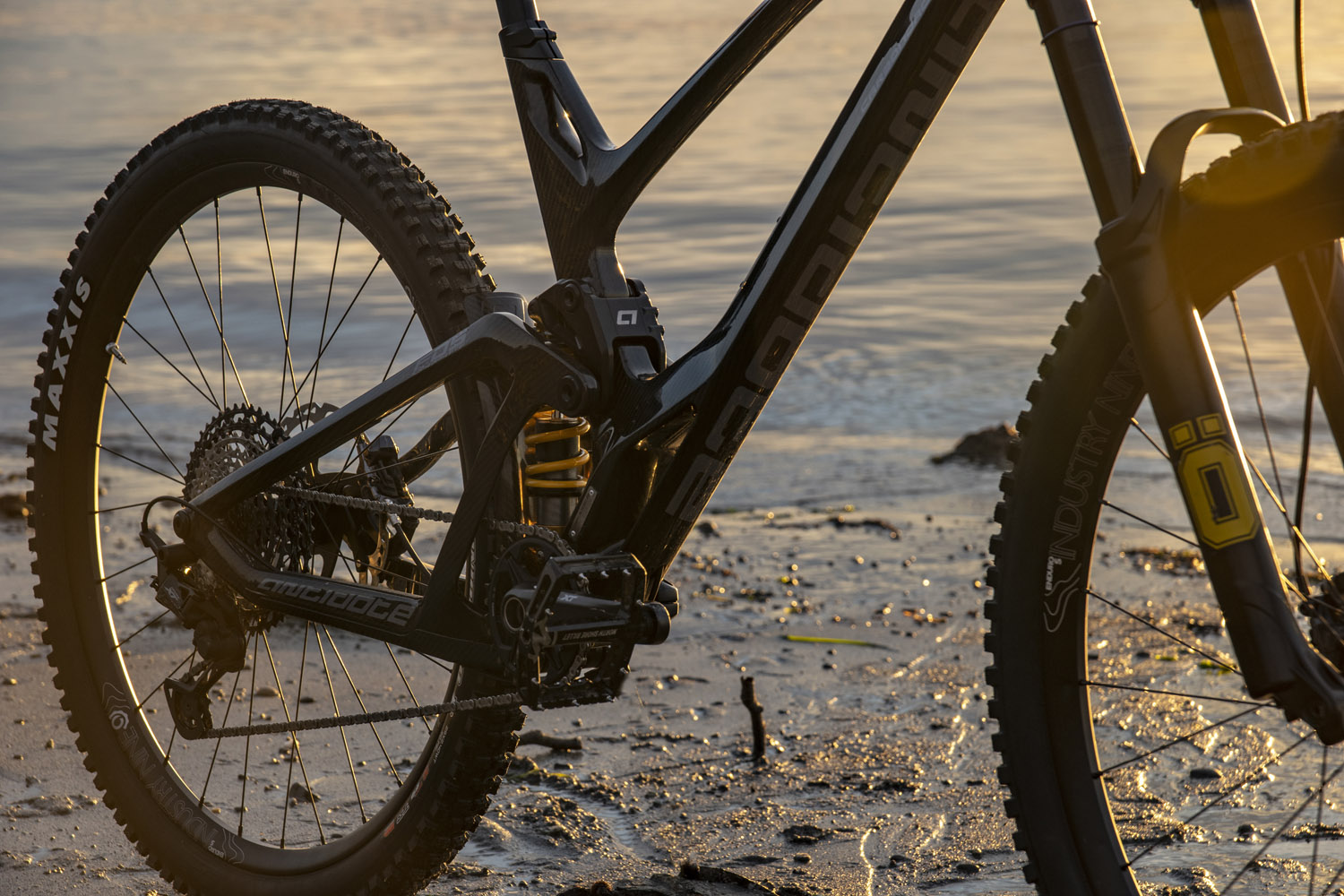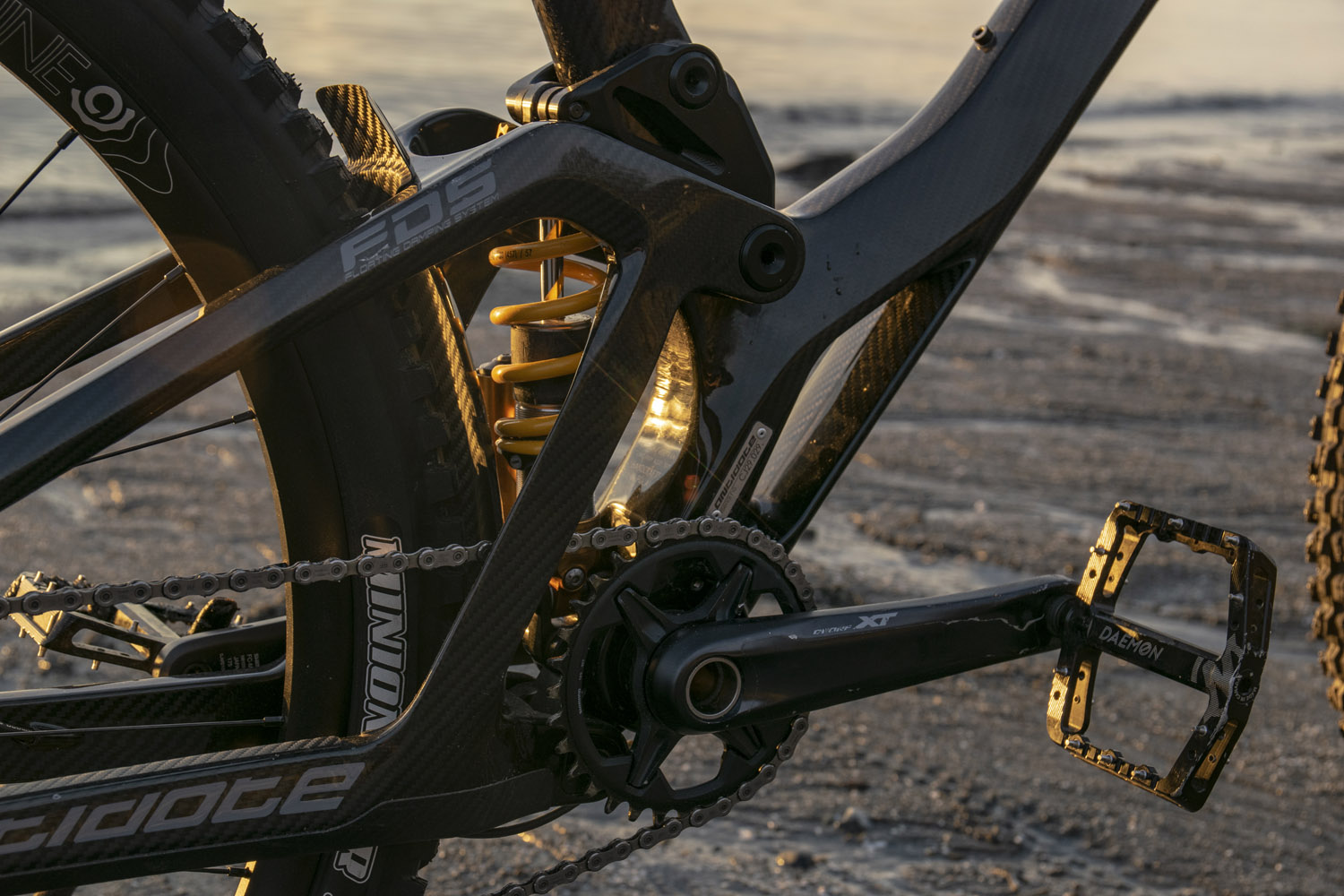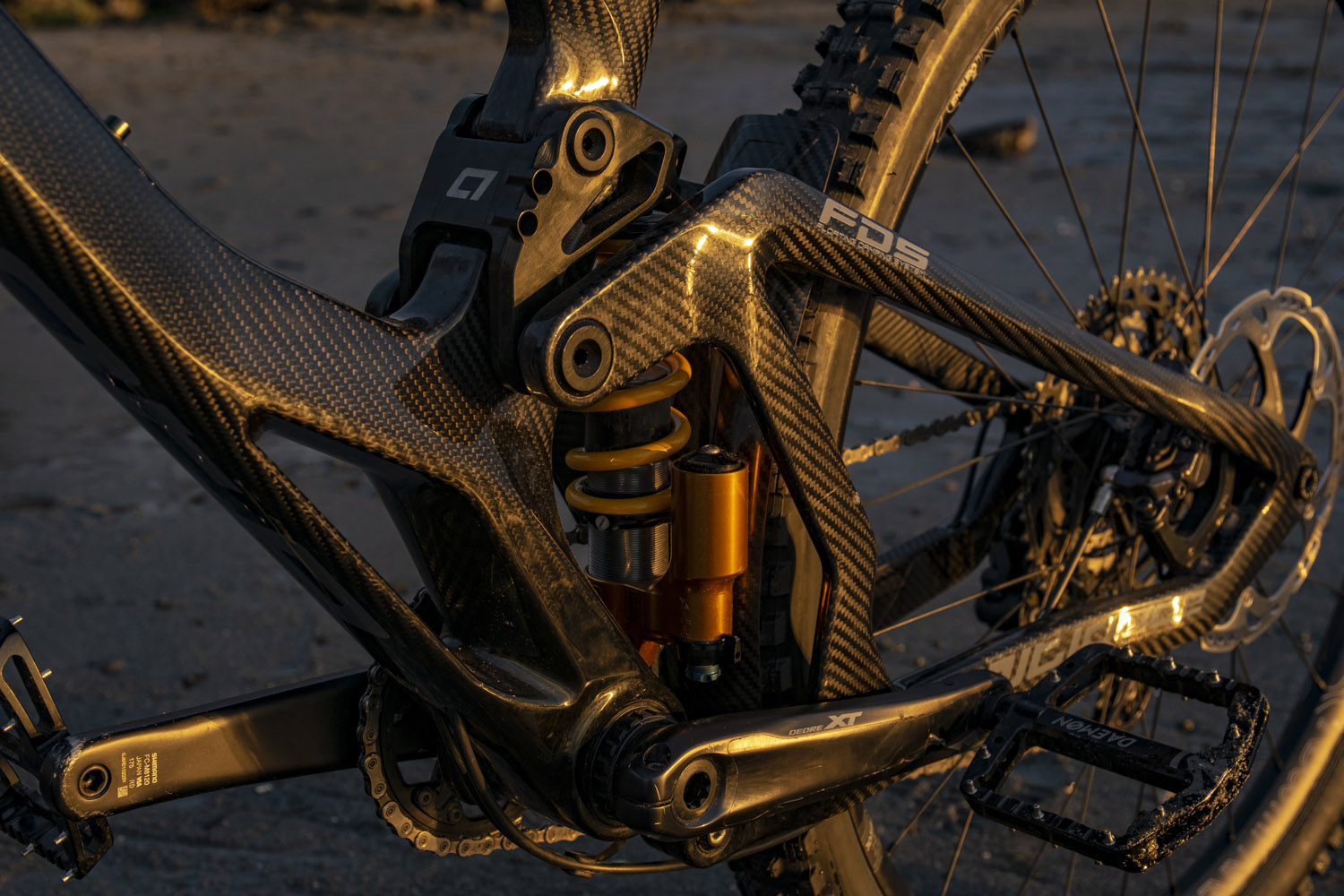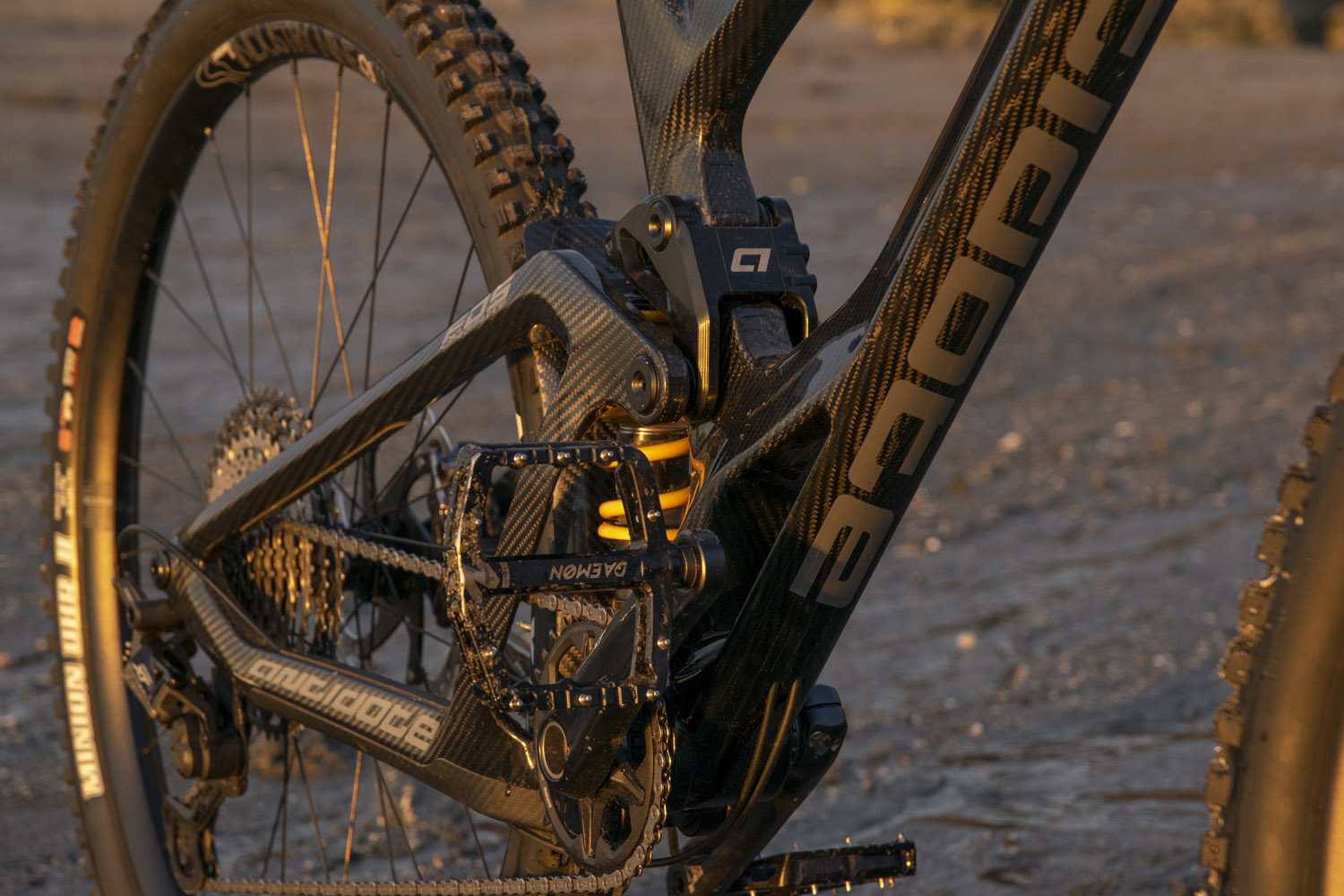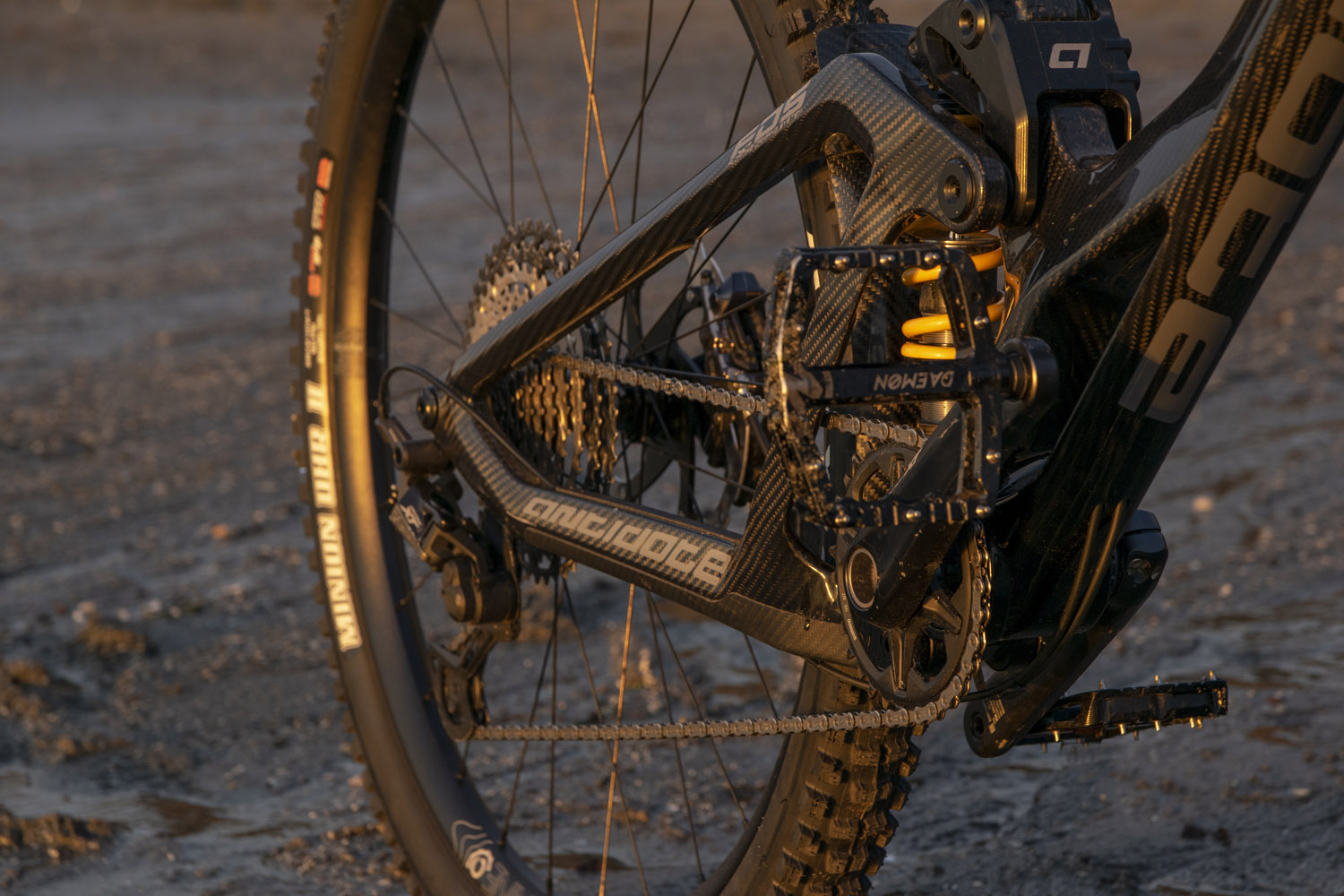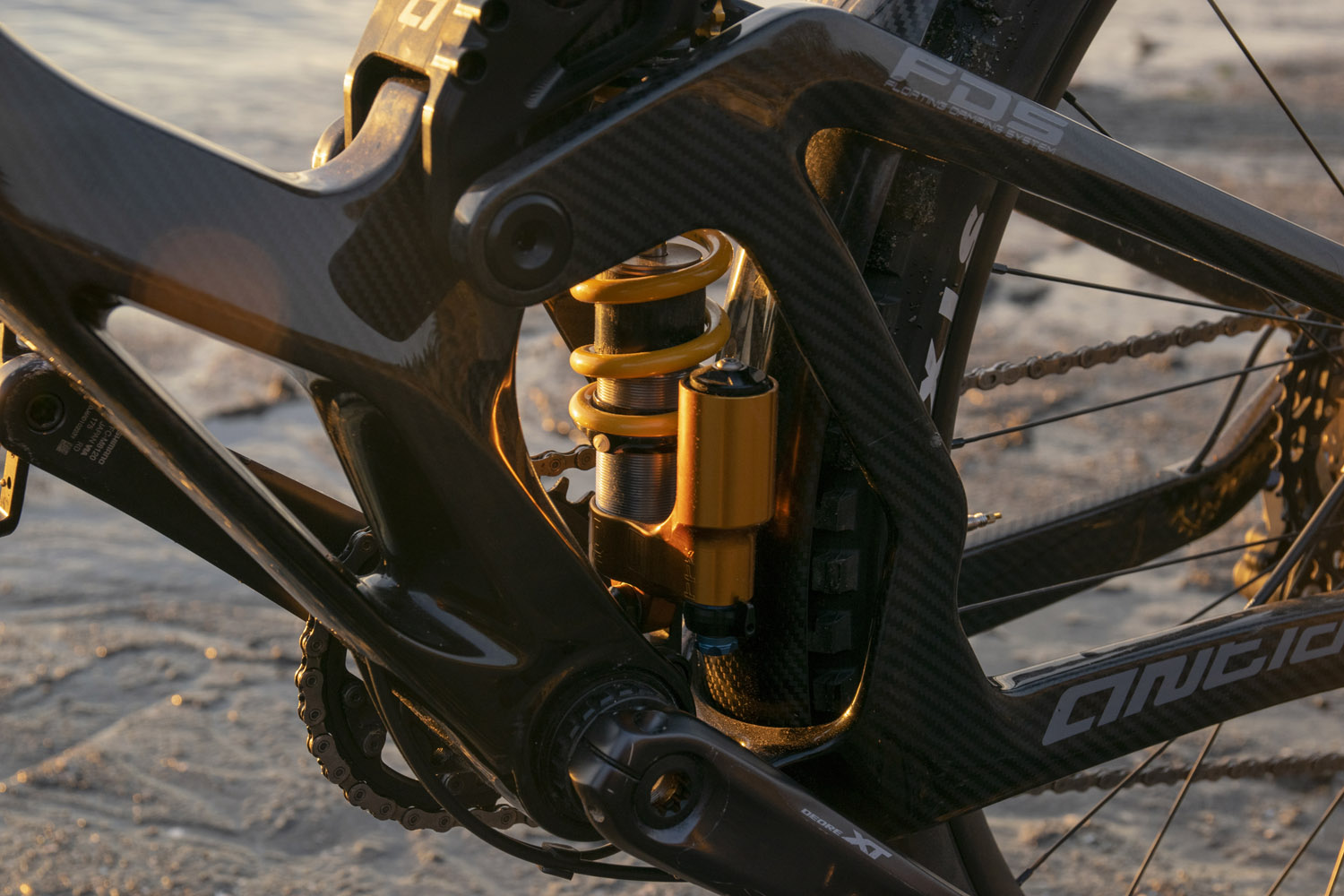 Okay, onto the real technical stuff: the Carbonjack frame has 150 mm of rear-wheel travel via Antidote's own suspension linkage design, which they dub "Floating Damping System," or "FDS." It's a dual mini-link design, with counter-rotating links a-la VPP, but the shock is mounted vertically behind the seat tube and actuated from both ends, with both ends of the shock attached to the opposing links. The whole shock is protected from rear wheel spray by a large fender (made from carbon fiber, of course). Antidote notes that they make everything on the frame in-house, apart from the titanium bolts — which is strikingly similar to We Are One's Arrival, quite possibly my personal favorite bike that I reviewed last year, and one of the most obvious competitors to the Carbonjack.
The Carbonjack is designed around a 160 or 170 mm travel fork (all the complete builds come with a 160 mm one). It's available with your choice of a threaded or press-fit bottom bracket shell and features internal cable routing throughout. The two forward mounts from a full set of ISCG chainguide tabs are included, and built-in chain slap protection across the swingarm and room for a big water bottle inside the front triangle are standard features as well. Somewhat unusually, the shock is mounted perpendicular to the main frame by way of a small shock extender at the lower link, but the result is excellent access to the adjustment knobs, despite the shock being tucked tightly into the frame (at least on our test bike, with the Ohlins TTX22 shock).
Antidote publishes unusually complete suspension kinematic details for the Carbonjack, including the leverage and anti-rise curves, and anti-squat and pedal kickback info in all 12 gears. In short, the leverage ratio starts at about 2.9:1 and falls off to 2.4:1, getting more progressive deeper in the travel; anti-squat sits around 110% at sag and falls off as the suspension compresses. Pedal kickback ranges from about 5° to 25° depending on gear ratio, and anti-rise starts off a little over 90% and falls off to under 30%. If you really want to nerd out the full graphs are shown here:
Most of this is fairly typical for a long-travel Trail / Enduro bike. The Carbonjack is significantly progressive overall (~17% overall), in a range that should work well for both air and coil shocks, and while its leverage curve isn't entirely straight, it's not doing anything too weird that we'd expect to make for complicated shock tuning. Anti-squat is maybe a touch on the lower side of average for this sort of bike but is still well over 100% around sag, and we'd expect the moderate anti-rise numbers to make for fairly active suspension under braking. And there's not a ton of pedal kickback in the higher, more descending-oriented gears which bodes well for the suspension performance there, too.
Fit & Geometry
The Carbonjack is available in four sizes from Small through XL, which Antidote says covers riders from 5'4'' to 6'6'' (162 to 198 cm). Reach ranges from 430 to 510 mm (with our size Large test bike coming in at 480 mm), and all sizes get a 65° headtube angle and 450 mm chainstays. That all adds up to wheelbases ranging from 1,203 mm to 1,293 mm (1,259 mm on the size Large), which is fairly typical for this sort of bike, though it's worth noting that the headtube angle isn't especially slack, and the chainstays are notably long — so where exactly that length comes from is a little different from many similar bikes.
The stated effective seat tube angle isn't wildly steep, at about 75°, but it's worth noting that Antidote helpfully states the seat height that they're using to calculate it in the geometry chart, and it's a roughly realistic actual seat height for each respective size — unlike a lot of brands that measure effective seat tube angle at the height of the top of the head tube. That should make the "effective effective seat tube angle" (we really need a better term for that) a bit steeper than the number on the geometry chart might suggest, and we're curious to see how it feels on the trail.
The Builds
Antidote lists six different builds for the Carbonjack, but they're really more like two different builds with three different suspension offerings, making for six total combinations.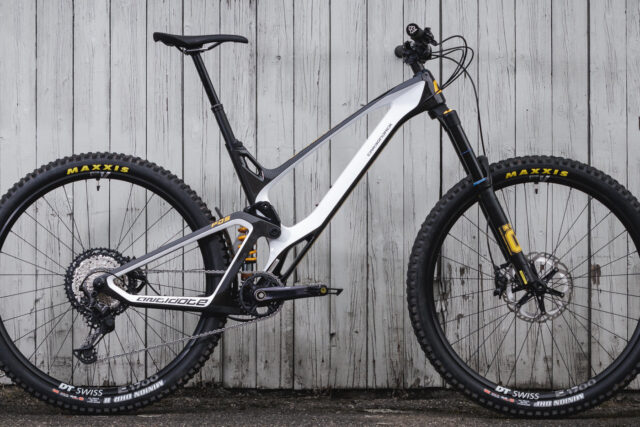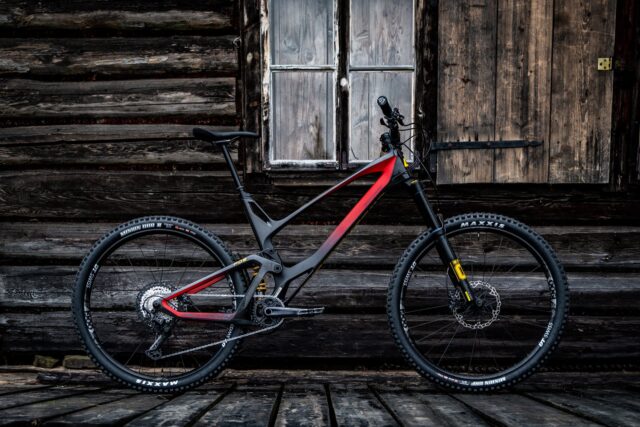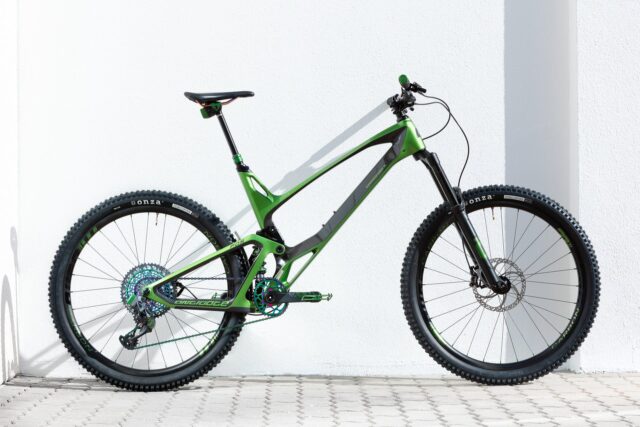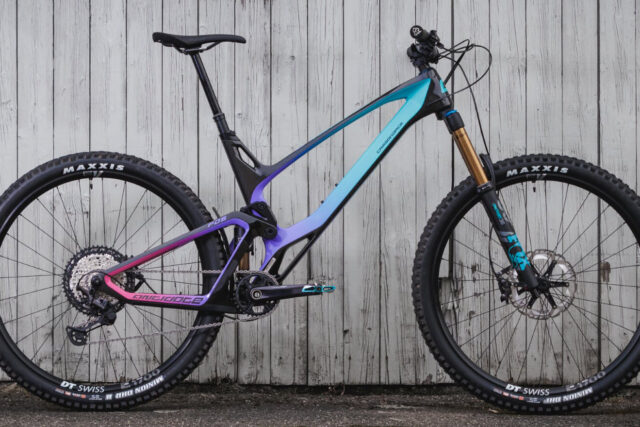 All the builds come with Maxxis Minion DHF 2.5 / DHRII 2.4 tires with DoubleDown casings, MaxxGrip rubber, and Antidote's own carbon bar with an Industry Nine stem. Additionally, all the builds can be upgraded with Industry Nine Enduro S Carbon wheels with either 1/1 or Hydra hubs for an upcharge. There certainly aren't any budget options here, and there's not much of a price range across the offerings — it's much more a matter of choosing exactly which super nice parts you want. In particular, the suspension offerings on the Carbonjack are especially impressive. We've got the Shimano XT / Ohlins build in to test (Blister Members can check out our Flash Review soon, with the full review to come) and we're very excited to see how it stacks up.
Some Questions / Things We're Curious About
(1) Antidote calls the Carbonjack an Enduro bike (and says they have a Trail bike coming later in 2022) but its travel and geometry numbers seem to blur the line between some long-travel Trail bikes and full-on Enduro ones. So which of those camps does the Carbonjack skew more toward, and who will it work best for?
(2) And how does the Carbonjack stack up against a ton of the excellent other options in that class, including the Guerrilla Gravity Smash, We Are One Arrival, Santa Cruz Bronson, and more?
Flash Review
Blister Members can read our Flash Review of the Carbonjack for our initial on-trail impressions. Become a Blister member now to check out this and all of our Flash Reviews, plus get exclusive deals and discounts on gear, and personalized gear recommendations from us.
FULL REVIEW
Mountain bike geometry isn't changing nearly as quickly as it was a few years ago, but modern Enduro bikes are still creeping longer and slacker, and often adding a little travel, too. All that adds up to bikes that are more stable and composed at speed than ever before, but also means that they need more speed and steeper terrain to come alive than bikes with more moderate numbers.
Antidote calls the Carbonjack an Enduro bike, but with 150 mm rear / 160 mm front travel and not wildly aggressive geometry, it's a whole lot more versatile than the biggest of the new-school bruisers. Having now spent a couple of months on it, the Carbonjack offers something rather unique in the class of ~150 mm travel bikes that blur the lines between long travel Trail and Enduro bikes — and I think it'll really click for the right riders.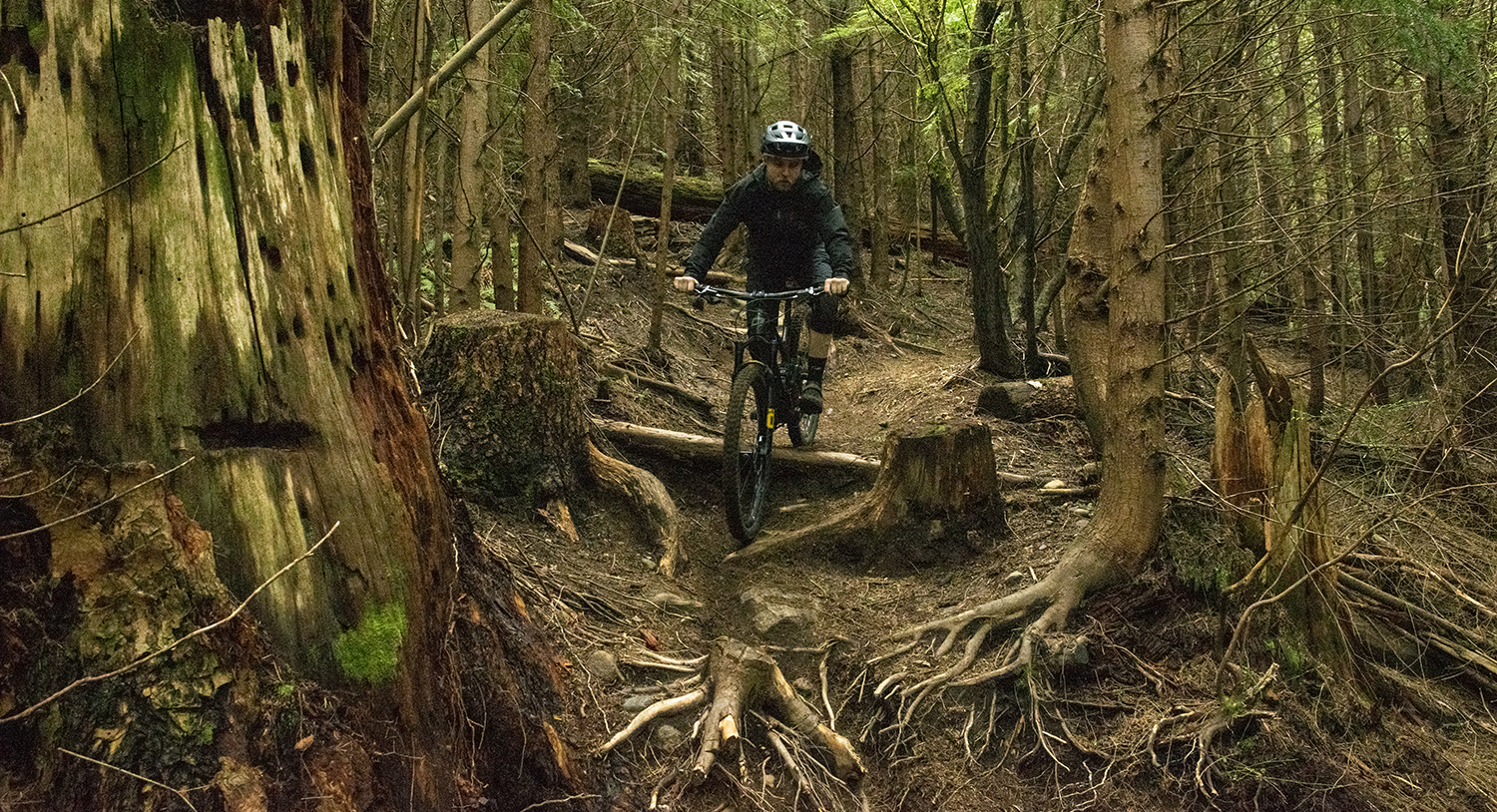 Fit and Sizing
Antidote's recommended sizing puts me (6 ft / 183 cm) squarely in the middle of the band for the size Large Carbonjack and that feels right. I've recently had a number of review bikes come through where I felt caught between the Large and XL frames, but that's definitely not the case here. At 480 mm, the Carbonjack's reach isn't especially long, but the effective top tube is a little roomier than many other bikes with similar reach numbers, and the sort of body positioning that the Carbonjack encourages works well with a not wildly long cockpit.
If anything, I'd encourage most people who are on the brink between sizes to opt for the smaller option on the Carbonjack. There's the long-ish effective top tube for one thing, and the Carbonjack is also a bike that works best being ridden relatively centered and upright. I'll go into a lot more detail on that in the Descending section, below, but the Carbonjack isn't a bike where a super long, stretched-out fit is likely to work all that well. The stack height on the Carbonjack is fairly average but — due to the same body positioning preference that I've been talking about — I wound up running a relatively high bar setup, which in turn increases the distance from the pedals to the bar, and makes the fit feel a little bigger than the reach might suggest.
To be clear, I don't think the Carbonjack is any kind of wild outlier in this regard, and Antidote's sizing recommendations seem quite reasonable. My point is simply that the Carbonjack works better with a bit of room to move rearward and hang off the back of the bike — something that sizing up might not afford.
Climbing
In our Flash Review I wrote that the Carbonjack felt about average for its travel class in terms of pedaling efficiency, but having spent more time on it, I'd actually upgrade that assessment a little bit — it offers a really nice combination of above-average efficiency paired with solid traction and suspension that remains reasonably active under power.
Now, the Carbonjack is definitely not the absolute most efficient ~150 mm bike out there — see the Comparisons section, below, for more on that — but it does feel a little quicker than most. I didn't find myself using the climb switch on the Ohlins TTX22 shock much, either. It's both slightly hard to reach while on the bike and doesn't have a very firm climb mode, so it doesn't make a huge difference anyway. Thankfully, the Carbonjack really doesn't need much help on that front — it pedals quite well.
Personally, I'd prefer a slightly steeper seat tube angle on the Carbonjack, but it doesn't feel wildly out of place. While the 74.6° published effective seat tube angle sounds pretty slack, it's worth noting that it's measured at a realistic seat height for each given frame size, not at the top of the headtube. Particularly on larger frame sizes, where riders are generally running their seats higher, the standard effective seat tube angle measurement can get pretty misleading if the actual seat tube angle is significantly more slack. So kudos to Antidote for giving a more useful measurement there.
[If you could use a refresher on what all the seat tube angle stuff means, check out the "Geometry Charts, Pt. 2" section of our Mountain Bike Buyer's Guide for a rundown.]
All that said, I didn't have any trouble keeping the front wheel planted, even on very steep climbs, which can sometimes be an issue on bikes with slacker seat tube angles. Credit, I think, the quite-long 450 mm chainstays, which do a good job of counteracting the more rearward weight balance that the moderate seat tube angle produces. The relatively firm, supportive suspension doesn't hurt, either — even with a lot of weight on the rear wheel, it doesn't feel wallowy or prone to sagging super deeply. I'm personally just used to a bit steeper seat tubes on this sort of bike and find the pedaling position that they offer to feel a little more natural, but that's 100% down to personal preference, and the Carbonjack does a very good job of not displaying any of the other downsides that can crop up with slacker seat tube angles.
Overall, the Carbonjack climbs fairly well for this class of bike, especially when the climbs aren't insanely steep — in which case a steeper seat tube angle would likely help. Traction under power is respectable, but definitely not best-in-class, either. I'd describe the Carbonjack as feeling firm and efficient first and foremost, with solid traction for how efficient it is. That's a balance that I got along with quite well, and think a lot of other people will, too.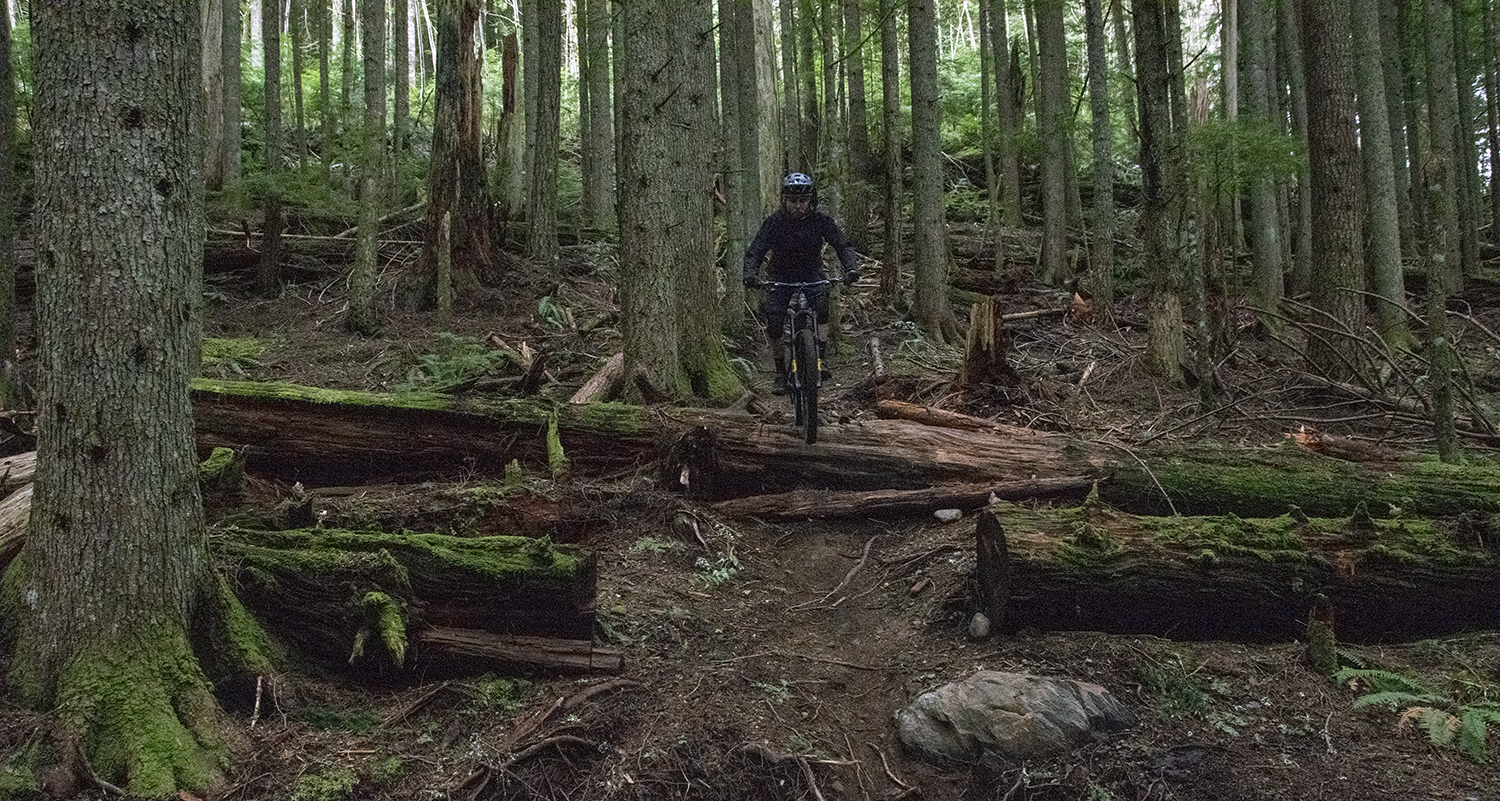 Descending
As I alluded to before, the Carbonjack does definitely work best when ridden with a slightly more centered, upright stance, as opposed to getting way forward and aggressively weighting the front wheel. And that's not a huge surprise, for a bike with quite-long 450 mm chainstays and a relatively moderate 65° headtube angle; while the wheelbase isn't especially short, it's skewed significantly rearwards, relative to most bikes in its class.
In my first couple of rides on the Carbonjack, I actually felt like the sweet spot on the bike was notably small. The window I had to get far enough back on the bike for it to feel balanced, without stretching my arms out into a more locked-out, less athletic position felt fairly narrow. But switching to a narrower bar completely solved the issue. Antidote's own in-house-made bar that comes on the Carbonjack is especially wide, at 810 mm, and that's just a bit too long for me, personally. Swapping in a 780 mm one solved the issue completely, and I'm definitely not complaining about the bar width spec. It's far easier to trim a bar narrower than add width back, so I'm all for spec'ing a wide one (within reason).
I did also wind up running the bars on the Carbonjack a bit higher than I often do, again to achieve what felt like a more natural fit on the bike to go with the Carbonjack's preferred body positioning. It's easier to stay centered on the bike if you're a little more upright with your chest up a touch, and the Carbonjack doesn't take much effort to keep the front wheel weighted, even in relatively flat, unsupported corners.
And with those setup details sorted out, I got along really well with the Carbonjack. As I suspected going in, based on its slightly more moderate travel numbers and not-wildly-aggressive geometry, the Carbonjack feels more like a bike that straddles the line between longer-travel Trail bikes and full-on Enduro ones, rather than being firmly in the latter camp. But if you have the right expectations for what sort of bike you're getting, it's a good one. The Carbonjack is definitely a bit less stable at super high speeds and on very steep trails than a whole lot of much bigger, longer, slacker Enduro sleds, but it's also more nimble and quicker handling in tighter spots than those sorts of bikes tend to be, and is a whole lot more fun in slightly more rolling, varied terrain — while absolutely being able to hold its own on some steeper, more demanding descents, too.
The Carbonjack is not an especially playful bike, in terms of being easy to slash the rear end out and throw the bike around in the air; rather, it offers up a lot of rear tire grip and works best when keeping both tires stuck and carving through turns rather than squaring them off. But stay centered on the bike and lean it over, and the Carbonjack does corner very well, and not just in big, sweeping arcs — it comes around surprisingly quickly if you don't try to fight the bike, and instead work with its preferred cornering style.
Where the Carbonjack does get more playful, at least in a sense, is in its suspension performance and how readily it takes to the air — it definitely works best with a relatively firm, lively suspension setup, and is eager to take to the air and double up little terrain features. Again, it's not really the easiest bike to throw around in the air and get sideways, but it does a great job of finding little natural takeoffs and mowing down rougher sections of trail by simply skipping over them. And it does that while also having fairly good small-bump sensitivity and grip off the top. To reiterate, it's not a super plush, cushy bike by any stretch, but the combination of being quite supportive and lively without feeling stiff and harsh on smaller chatter that the Carbonjack offers is impressive.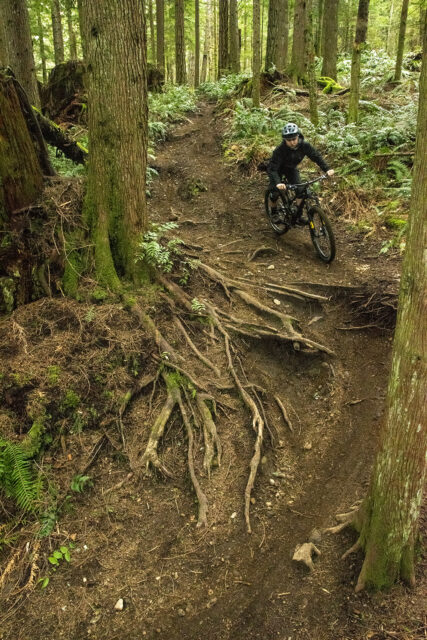 The Build
The build on our Carbonjack review bike is excellent — I'm a big fan of the Ohlins RXF36 and TTX22 suspension, the Shimano XT drivetrain is great, and the Industry Nine Enduro S wheels ride extremely well. I did, unfortunately, have a couple of hiccups though. A handful of rides into my testing, the rear brake (Shimano XT 4-piston) started leaking fluid from the master cylinder quite badly. Shimano brakes developing a wandering bite point isn't exactly news, but this was one of the more complete failures that I've ever experienced with them. The bike had been ridden previously by the time that I got on it, so this wasn't a brand new brake that went kaput, but it made for an exciting final descent, with a rear brake that would pump up and start working if I squeezed it on and off a few times in short succession, but otherwise went to the bar. I just swapped in a replacement set of brakes for the remainder of the testing.
The Bike Yoke Revive dropper post also gave me a little trouble. The most interesting feature of the post — and the origin of the "Revive" name — is that there's a switch in the seatpost head that can be actuated with a 4 mm Allen wrench to reset the post and purge the hydraulic internals of any air that might find its way in and cause the post to become spongy at the top of its travel. The good news is that this feature works great — it only takes a minute, and reliably brought the post back into working order. The bad news is that I needed to do it at the start of almost every ride. Now, to be fair, Bike Yoke does say that the post should be stored right side up to prevent the post from getting spongy, and I didn't do that. I've got way too many bikes stuffed into way too little space to do anything other than hang them vertically. So that's arguably my fault, but the Revive is also the only modern post that I'm aware of that has had that issue.
Overall, though, the builds that Antidote offers are super nice (if admittedly high-end, and priced accordingly). I also like that they offer a variety of suspension packages with a given drivetrain. The Fox, Ohlins, and EXT options are all excellent — just pick your exact flavor — but it's cool having the suspension options decoupled from the drivetrain selection.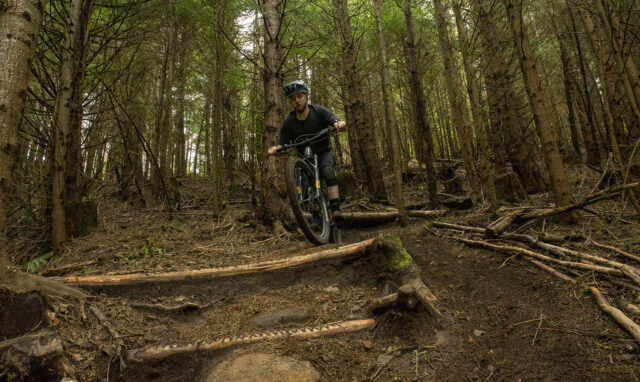 Comparisons
This is a decent comparison in some respects. The fit and handling of the two bikes are relatively similar (or at least can be — the Altitude has an unusual degree of geometry adjustability, and can feel pretty different depending on how you set it up). With the Altitude in its long chainstay setting and near the slacker end of the range on the Ride9 chip, the two become most similar. With those settings, the Altitude is slightly more stable and slower handling, but not by a big margin.
The big difference, though, is in terms of suspension performance. The Carbonjack pedals substantially more efficiently, and favors a relatively firm, lively suspension setup, whereas the Altitude is much more plush and planted.
This is also an interesting comparison. The first-generation Megatower feels pretty similar to the Carbonjack in terms of where it falls on the spectrum between quick handling and ultra-stable, and both work best with a fairly firm, supportive suspension setup. (The new Megatower V2 is way more bike overall.) But the Carbonjack works best with a more rearward, upright body position, whereas the Megatower is a bit more neutral in that regard, and the Carbonjack has significantly better small-bump sensitivity and traction under power.
The Arrival feels a bit like a version of the Carbonjack that favors a much more forward stance and more aggressive weighting of the front wheel. But the Arrival is also even more lively and eager to pump and pop off of every little terrain feature than the Carbonjack, and feels a bit quicker handling and easier to throw around, while still being similarly stable at speed. Because of its preference for a fairly forward, aggressive stance, the Arrival feels a little more game-on and demanding, whereas the Carbonjack is more willing to be ridden less aggressively (though neither would be my top choice for riders looking for a super easy-going bike).
Super different. The Alpine Trail is more stable and planted than the Carbonjack, and wants an even more forward stance than the Arrival. Both are above average in terms of pedaling efficiency, but the Carbonjack does a better job of maintaining traction under power and has better small-bump sensitivity. Mostly, though, their handling feel and preferred body positioning are wildly different. They've got a 20 mm difference in chainstay length — that's huge — and definitely feel like it.
Pretty different. The Occam LT pedals substantially better than the Carbonjack, and feels quicker handling, less stable, and generally happier in more rolling, varied terrain. The Carbonjack is substantially more bike, both in terms of offering worse pedaling efficiency and being more capable on steeper, faster, rougher trails.
The Carbonjack is a bit more bike than the Hightower, in that it's more stable at speed and a little slower handling in tight spots. But the Hightower actually feels more plush and cushy in terms of its suspension performance, whereas the Carbonjack is more supportive and lively. The Carbonjack also pedals a little more efficiently but offers significantly less traction under power.
The Bronson and Carbonjack are similar in terms of where they land on the spectrum between what I guess you'd call "true Trail bikes" and more full-on Enduro sleds, but that's about it — they go about striking that balance very differently. The Carbonjack pedals more efficiently and its suspension is more supportive and lively, whereas the Bronson is more plush. The Bronson also works with a more forward stance, and while they're not too far off from each other in terms of straight-line stability, the Bronson feels quicker handling at speed, whereas the Carbonjack is a bit calmer and takes more effort to muscle around.
The biggest difference here is in suspension — the Smash is more plush and planted feeling, whereas the Carbonjack is more lively and energetic. The Carbonjack also pedals a little more efficiently, but not by a huge margin. Their preferred body positioning is also a bit different, with the Smash being fairly neutral in that regard, in contrast to the Carbonjack's preference for a more centered, upright stance. But once you account for their differences in preferred riding style, they're fairly similar in terms of overall stability vs. handling quickness.
Super different. The 4060 LT feels a bit like a Marin Alpine Trail with more plush, cushy suspension. The Carbonjack pedals better, is a little less stable at speed, and works best with much different body positioning and cornering style. The 4060 LT feels much more playful and freeride-oriented, whereas the Carbonjack feels more like a race-oriented Enduro bike that's been mellowed out a little and made more versatile.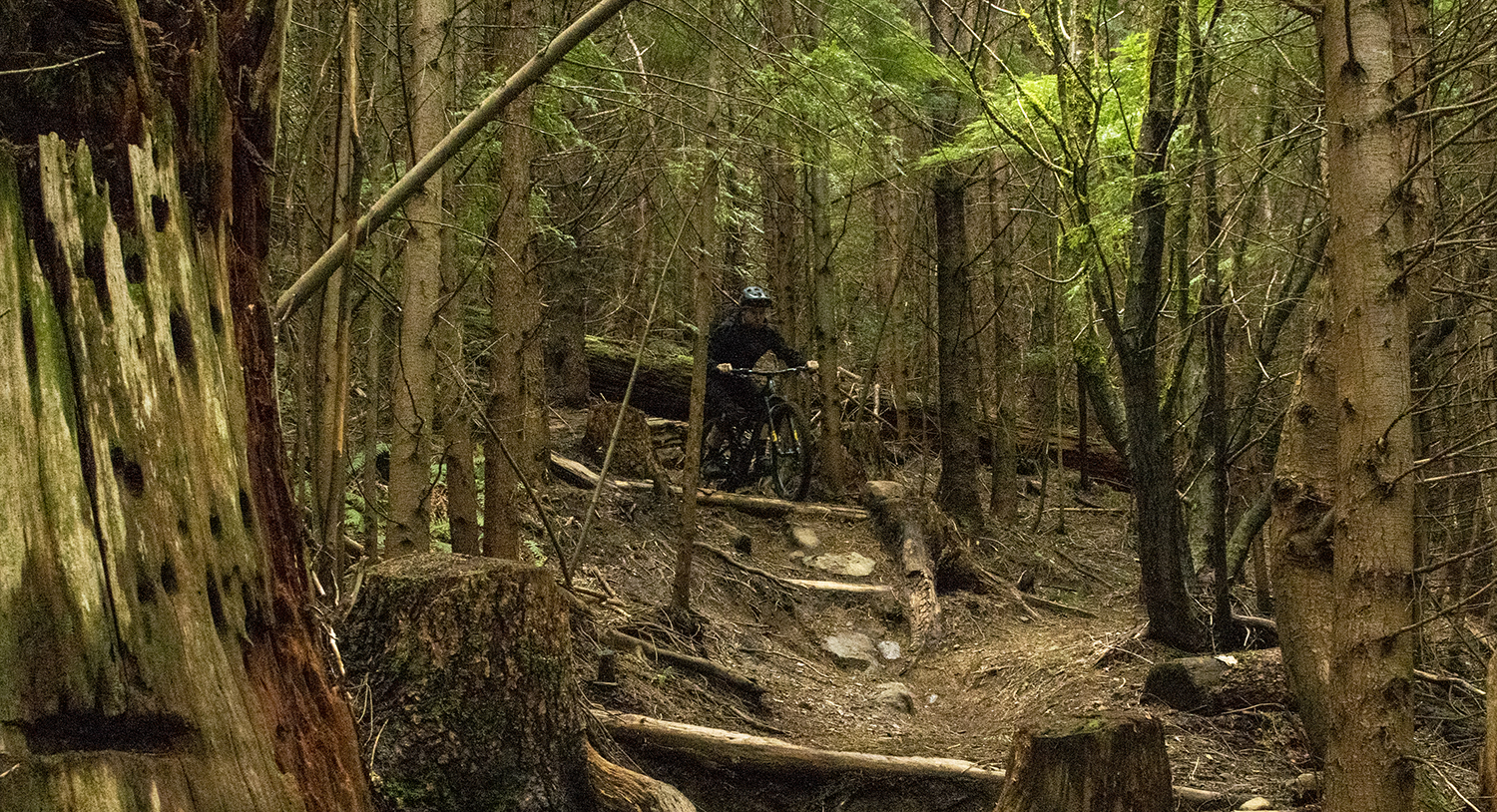 Who's It For?
I think the Carbonjack is going to work best for intermediate to expert riders who tend to take a relatively aggressive approach to descending, but want a bike that's a bit more versatile and doesn't take as much speed and pitch to come alive as a lot of really full-on Enduro bikes. It pedals very well, and the suspension feels firm and supportive first and foremost, but it's still got pretty good small-bump sensitivity to go with it. The Carbonjack definitely favors a pretty upright, rear-biased body position which won't work for everyone, but if all that sounds appealing, it's a great bike.
Bottom Line
The Antidote Carbonjack is a bike that does a really nice job of blending solid stability and composure in steep, technical terrain without being so aggressive as to feel out of place in mellower, tighter spots. And it also favors a fairly firm, lively suspension setup without giving up a ton of small-bump sensitivity to get there. It's a really nice all-rounder with a bit of a descending focus that's going to work great for a lot of more aggressive riders, especially folks who like a bit more rearward-biased, upright position on the bike. And it's made in Europe, with gorgeous bare carbon construction and essentially unlimited options for custom paint for folks who want to make theirs truly stand out.