2023 Santa Cruz Megatower
Wheel Size: 29''
Travel: 165 mm rear / 170 mm front
Material: Carbon fiber
Price: Complete bikes $5,649 to $13,999; see below for details
Size Tested: Large
Blister's Measured Weight:
34.6 lb / 15.7 kg (Megatower GX AXS RSV, Size Large)
Reviewers:
Dylan Wood: 5'10", 155 lbs / 178 cm, 70 kg
David Golay: 6', 170 lb / 183 cm, 77.1 kg
Test Location: Washington; Gunnison / Crested Butte, CO
Test Duration: 2.5 months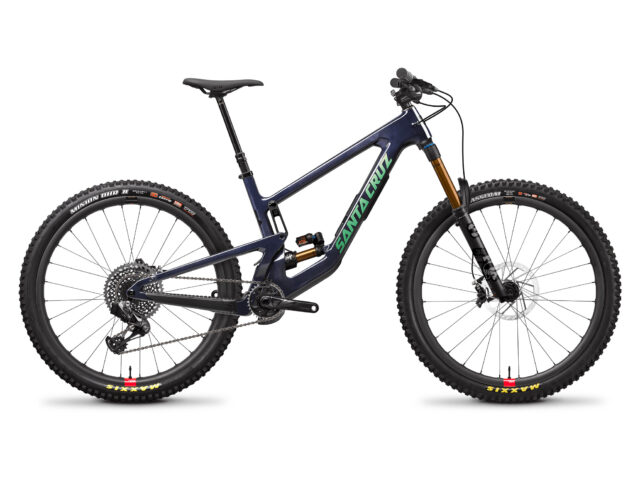 Intro
At first glance, the new second-generation Megatower doesn't look all that different from the original iteration — it's still a 29er with Santa Cruz's typical lower-link-driven VPP suspension layout and an overall similar silhouette. But the geometry has gotten a major update, the suspension kinematics have been tweaked (and grown in travel), and — a first for Santa Cruz — the Megatower now has in-frame storage, too. The resulting bike looks like a serious bruiser that'll compete with the new generation of super-aggressive Enduro bikes, such as the Transition Spire, Nukeproof Giga, Canyon Torque, and so on.
We've started spending time on the new Megatower and Blister Members can check out our initial on-trail impressions in our Flash Review. In the meantime, let's take a closer look at the design of the overhauled bike:
The Frame
As with the outgoing first-generation Megatower, the new Megatower V2 is offered in a carbon fiber frame only, but with Santa Cruz's standard C and CC layup options — the latter being a higher-end composite layup that cuts a bit of weight with no purported loss of stiffness or strength. It's still a dedicated 29er, but the suspension travel has grown to 165 mm rear, paired with a 170 mm travel fork (up from 160 mm at both ends on the outgoing bike). Santa Cruz also says that you can bump up to a 65 mm stroke shock (from 62.5 mm stock) for 170 mm of rear travel if you're so inclined.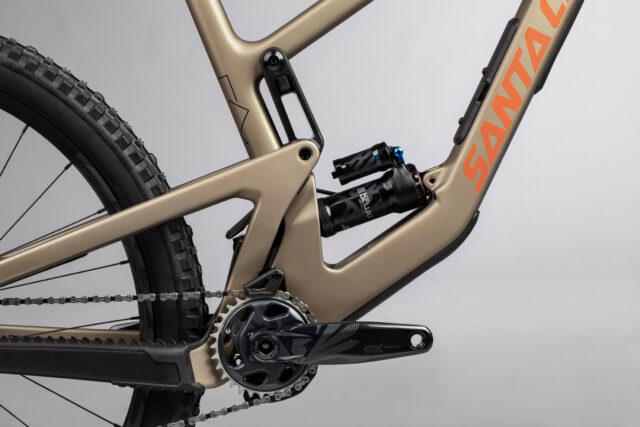 In addition to adding some extra travel, Santa Cruz has lowered the overall leverage ratio of the Megatower and straightened out the curve at the end of travel for increased bottom-out resistance. The leverage ratio now goes from about 3.1:1 to 2.2:1 in a very straight line, for 29% total progression.
Santa Cruz has also added a storage compartment to the downtube, underneath the water bottle mounts. The "Glovebox" is secured with a latch on the side of the bottle cage and comes with a tool roll and separate sleeve for a spare tube to keep things from rattling around inside the downtube, and is secured for easy retrieval.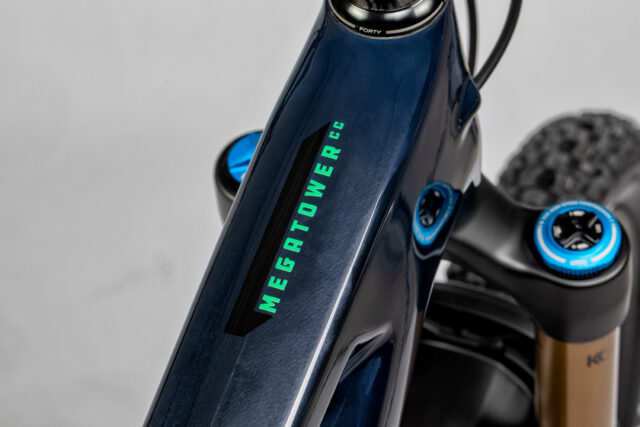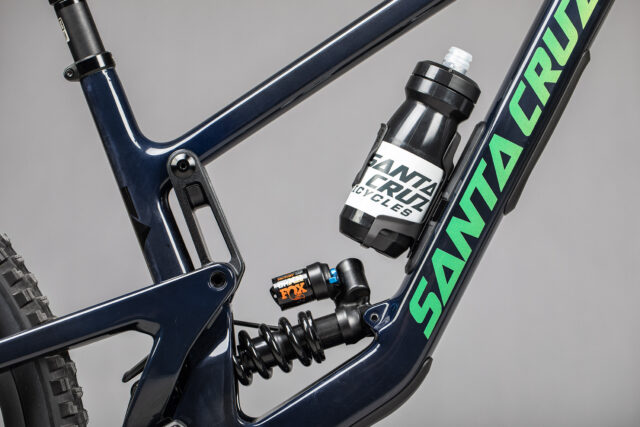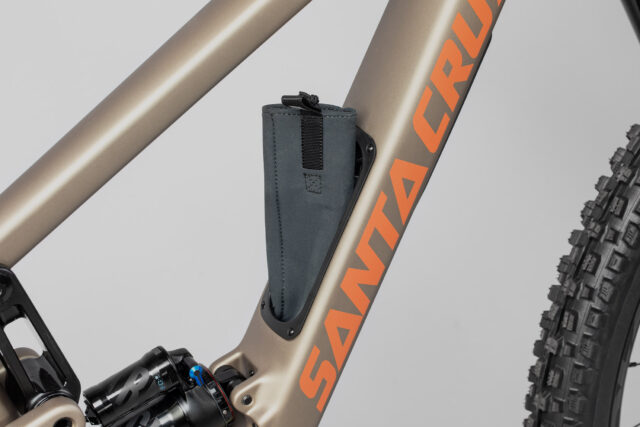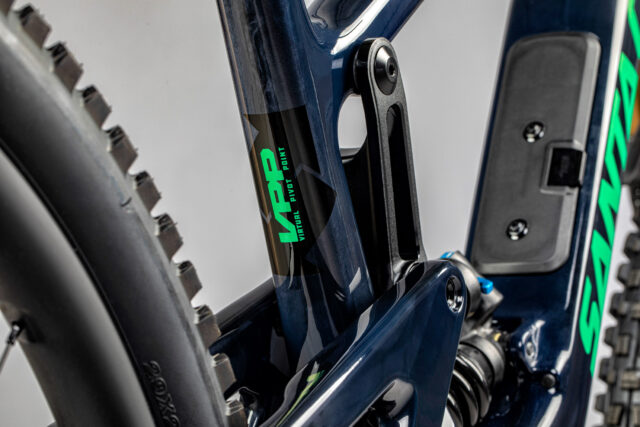 Elsewhere, you get all the standard features you'd expect from a modern Enduro bike — full guided internal cable routing, a UDH derailleur hanger, threaded bottom bracket, and ample molded rubber protection for the chainstay, seatstay, and downtube. Santa Cruz's typical geometry adjust flip-chip is still here (more on that below). Tire clearance is stated at 29'' x 2.5'', and the brake mount is for a 200 mm rotor. And Santa Cruz's standard lifetime warranty — including pivot bearings — applies here, too.
Fit & Geometry
The new Megatower is offered in the same five sizes as the old one, Small through XXL, and despite the modern trend toward longer reaches, that particular number hasn't grown a ton — just 5 mm per size. The Large frame comes in at 472 mm (low position) with 20 mm jumps to the Medium and XL frames, and 25 mm steps from there to the S and XXL. But the new Megatower has a much slacker headtube angle at 63.5° (from 64.7°, both in the low position) and new size-specific chainstay lengths, in lieu of the flip-chip on the outgoing model. The prior bike could be run with 436 or 446 mm stays in all sizes; the new one ranges from 437 to 448 mm across the size range.
The seat tube angle has gotten substantially steeper — and larger sizes get slightly steeper effective angles than the smaller ones, with the Small frame starting at 77° and the XXL clocking in at 77.5° (effective, low position).
The flip-chip steepens the headtube angle by 0.3°, and adds 3 mm to the bottom bracket height. As per usual for Santa Cruz, those are pretty subtle changes, but the option to fine-tune is there if you want it.
All of that adds up to wheelbases that are a whole lot longer than the old Megatower — by about 20 to 40 mm, depending on frame size and chainstay setting on the outgoing version. That's a big difference and one that should make the new bike quite a bit more stable than the first generation. Santa Cruz certainly seems to think so, calling the new bike "bigger & badder" and emphasizing that it's meant to be an Enduro race bike first and foremost.
The Builds
Santa Cruz offers the new Megatower in seven different builds, starting with the base R spec, up through a super-high-end XX1 Flight Attendant Ltd. offering, complete with RockShox's wild new Flight Attendant electronically controlled suspension. There aren't any truly entry-level builds here, with the full range getting solid quality brakes and suspension in particular.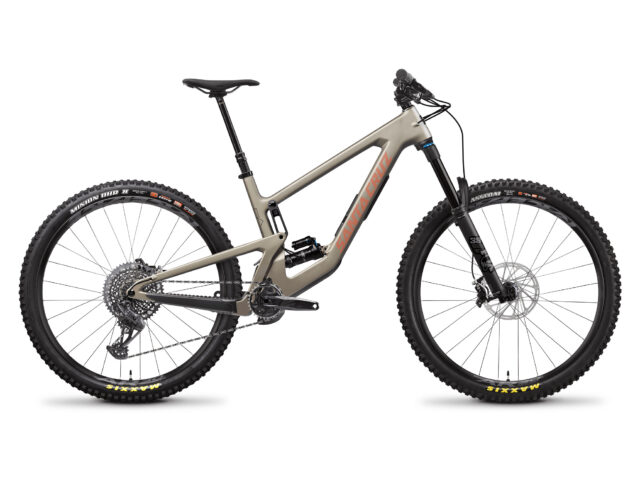 All the builds get Maxxis Assegai front / DHRII rear tires with MaxxGrip and MaxxTerra rubber compounds, respectively. Versions spec'd with an air rear shock get Exo+ casings, whereas their coil counterparts bump up to DoubleDowns. And builds up to and including the GX AXS option get the more basic Carbon C frame; the CC version comes on the X01 build and up.
Some Questions / Things We're Curious About
(1) The first-generation Megatower felt like a pretty game-on bike, but its geometry was starting to look a bit dated by modern standards, and it wasn't the most stable, forgiving bike. The new Megatower looks like it should be a whole lot more stable and composed when pushing very hard, but is it really?
(2) And how much versatility (if any) does the new Megatower give up to get there?
(3) Just how different does the Megatower feel compared to Santa Cruz's other long-travel Enduro offering, the Nomad, and who should be looking at which bike?
FULL REVIEW
The original Megatower felt like it was caught between trying to be a long-travel Trail bike and a super game on Enduro one, with very firm, supportive suspension but more moderate geometry than has become the norm for the 160+ mm travel Enduro class. The new Megatower changes that and now feels like a proper modern charger. But who does that mean that it will work best for, and how does it stack up against a very crowded field of competitors? Let's dive in: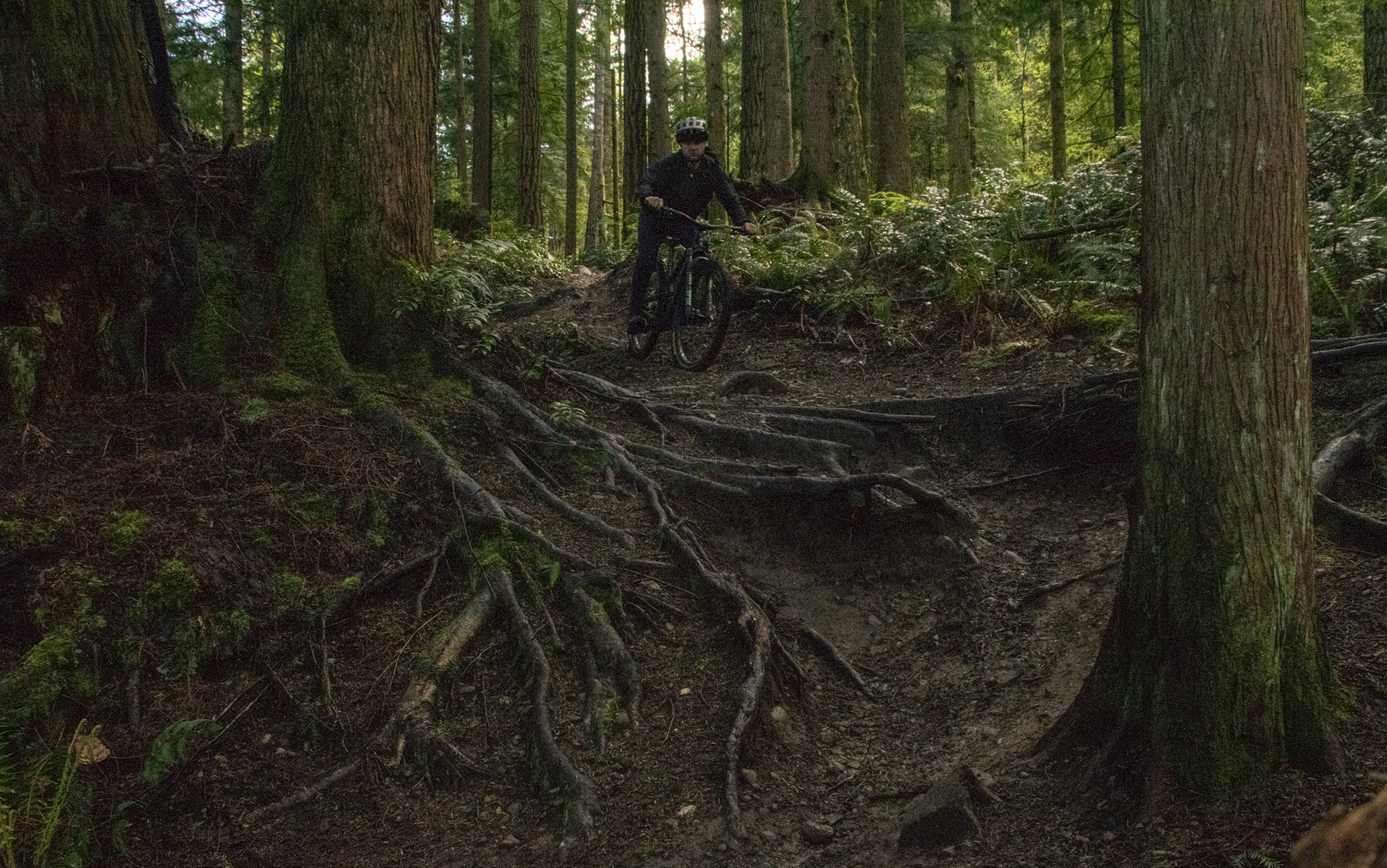 Fit & Sizing
Dylan Wood (5'10", 155 lbs / 178 cm, 70 kg): I'm right in the middle of Santa Cruz's sizing for their Large bikes, and I've ridden several Large Santa Cruz bikes in the last few years with reliably good results. The new Megatower in a size large is no different — I get along very well with the fit of this bike, both seated and pedaling and when moving about the bike on the way down. The fit of the Large Megatower feels right on the money for me.
David Golay (6', 170 lb / 183 cm, 77.1 kg): At 6' tall, I'm nearing the upper end of Santa Cruz's recommended sizing for the Megatower (and a lot of their other models), and that feels right. But unlike the more easy-going, playful Santa Cruz offerings I've been on recently (Nomad, Bronson, and new Hightower), that presented a bit more of a quandary for me on the Megatower. On those other bikes, opting for a not-super-aggressive fit felt more in keeping with their overall intentions and character. I probably could have ridden an XL for any of them, but given that they're all supposed to be some flavor of more versatile and/or more playful and quicker-handling than the Megatower, keeping the sizing a little smaller and opting for a more maneuverable, easy to throw around package worked great.
But the Megatower is a bit of a different story. Since it's a much more stable, hard-charging bike that's focused more on descending at speed, there were times when a slightly roomier cockpit, longer wheelbase, and the resulting extra stability and room to move around on the bike would have been welcome. Going up to an XL would have undoubtedly come with some tradeoffs in terms of maneuverability, but for this sort of bike that's a tradeoff that I'm generally happy to make, within reason. The biggest thing that would have given me pause about the XL Megatower is the pretty tall 656 mm stack height. I'm fairly sure that I could have made it work, but would likely have needed to swap to a lower rise bar than the stock 35 mm one (which felt great on the Large, with its lower 638 mm stack) but I think getting that detail sorted out would have been a little trickier had I sized up.
Now, that's not really any complaint on my end — no matter how where you put your sizing breaks, someone is going to wind up on the cusp, and in the case of the Megatower, that just happens to be me. I'll touch more on how the fit manifested itself in terms of climbing and descending performance below, but this was a bike where I really felt on the border between the Large and XL — just like Santa Cruz's sizing chart suggests.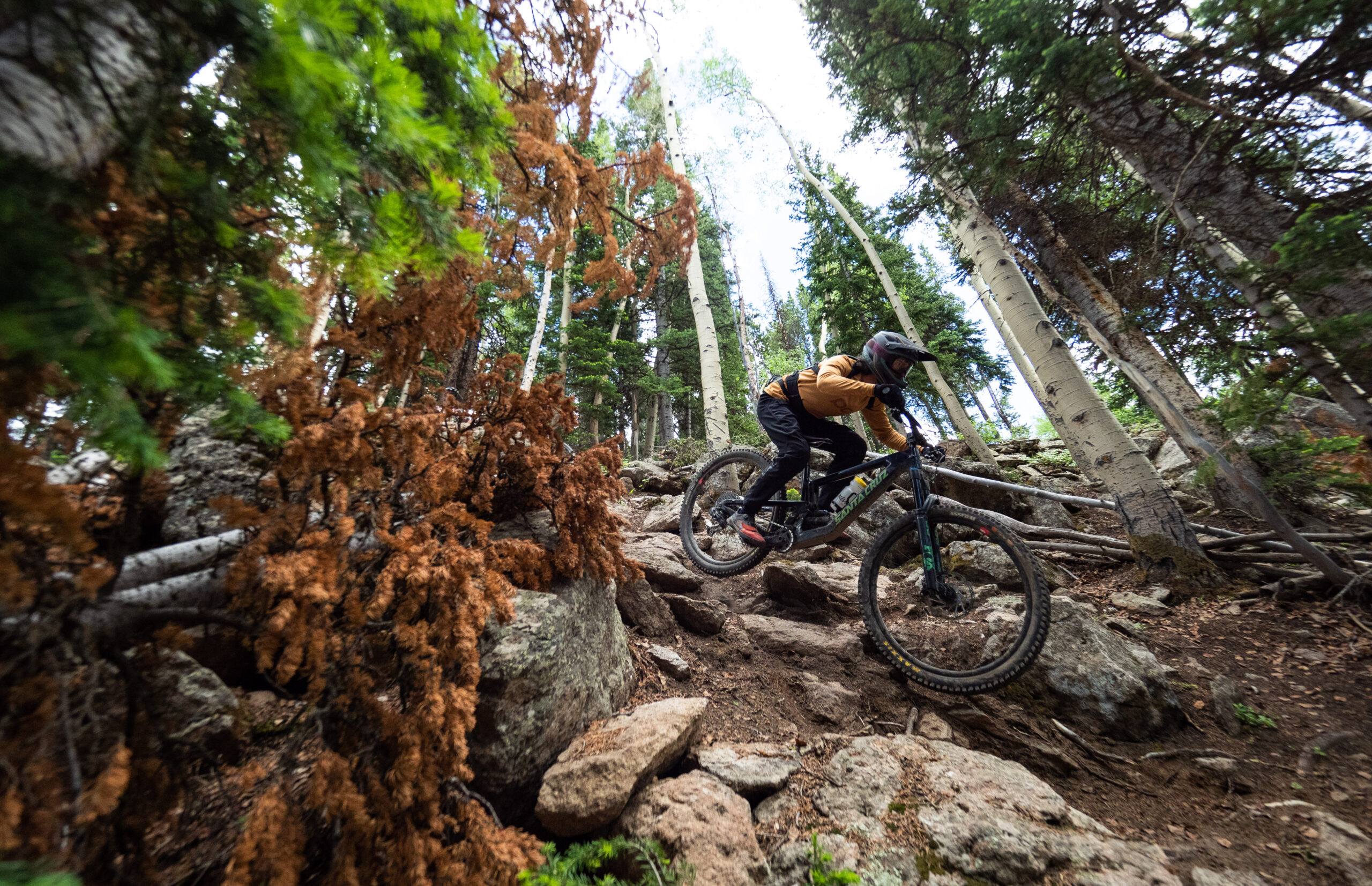 Climbing
Dylan: With expectations adjusted correctly for an Enduro race bike, the Megatower is a good climber. It's not the most efficient and sprightly climber in its class, though it is also far from the most sluggish.
The Megatower's suspension is biased more toward providing plenty of traction over being the most efficient long-travel option out there, and I think this is very appropriate for an Enduro bike like the Megatower. To access steep, rough downhills in my area, I often need to climb up steep, technical trails, and I like to ride as much as I can, attempting to clean challenging sections before I start to walk my bike. I found the Megatower to offer a lot of grip in these situations, and I was able to clean a lot of hard moves.
On smoother, more mellow climbs, the Megatower does have a bit of pedal bob, but nothing that's out of the norm for a 165mm-travel bike, and I found myself not feeling the need to touch the climb switch on the RockShox SuperDeluxe rear shock very often. The climb switch does stiffen up the rear suspension a bit without sacrificing loads of traction, though, and I expect riders looking for a more efficient pedaling platform will want to use it more regularly.
The Megatower does have a pretty slack head tube angle (63.5º in the "low" setting), and the front wheel is somewhat far out in front of you when climbing. However, it also has a relatively steep seat tube angle (77.5º, low position, size Large). This allowed me to get my weight forward and over the front wheel enough to prevent significant wandering of the front wheel and allowed me to keep on track on steep, tricky portions of climbs. In general, the Megatower's geometry creates a body position that still felt comfortable when pedaling hard on steeper climbs. Some bikes with steeper seat tube angles can feel even more comfortable on steep climbs, but they can also feel uncomfortable on flatter ones. I found the Megatower's geometry to be well-designed for steep climbs, but still practical when pedaling up flatter roads.
David: Yup, I'm in total agreement with Dylan here. The Megatower is definitely not the most efficient pedaling 160+mm-travel Enduro bike out there, but it does a way better job of maintaining traction under power than the most hyper-efficient options, and the combination of decent efficiency and very good traction that it offers is a balance that I think will work well for a lot of people — especially those whose climbs tend to be on the more technical side — and it doesn't feel like it's wildly biased towards one extreme at the expense of the other. I found myself using the climb switch more than Dylan, but my local climbs involve a lot more smooth fire roads than his do, and the notably firm climb mode on the RockShox Super Deluxe Select+rear shock on our GX AXS RSV test build makes for a solid bump in efficiency.
The pedaling position is also really good. The fairly steep seat tube feels appropriate for a bike that's meant to grind its way to the top of big descents more than thrive in rolling, varied terrain, but unlike the very steepest options out there (most notably the Privateer 161) the Megatower doesn't feel awkward when pedaling along on flat ground, either.
The seated cockpit does feel on the short side for me, but not uncomfortably so — and again, I'm at the very top of the size range for the Large frame that we tested. I also didn't have any trouble keeping the front wheel planted or with it wandering on steep climbs. Like any long, slack, long-travel Enduro bike, the Megatower isn't particularly interested in climbing super quickly but it does a good job of getting to the top without drama.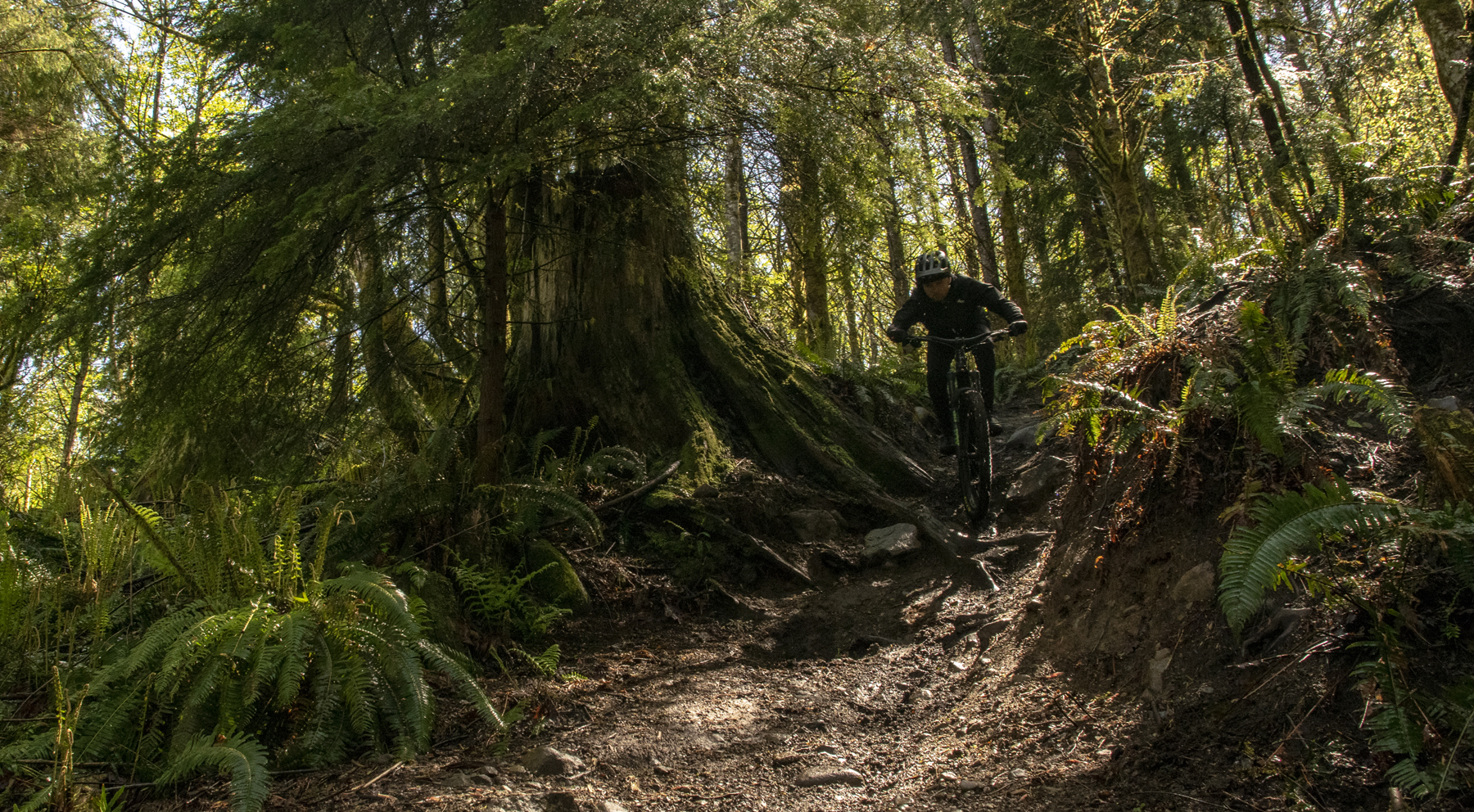 Descending
Dylan: It should be no surprise that the Megatower comes alive when pointed downhill. It's a very capable and stable bike on the way down, but not one that only feels practical on exclusively the steepest, chunkiest, most demanding trails around.
First of all, the new Megatower has significantly more plush and forgiving suspension than its predecessor. While the original Megatower had pretty firm, game-on suspension, this newer iteration feels a bit softer off the top and easier to utilize. Even comparing it to bikes that are less firm and game-on than the previous model, though, the sensitivity and suppleness of the new Megatower still stands out. The Megatower's suspension offers a lot of traction in the first half of the travel. This results in a calm, planted feeling over small and medium bumps, and great traction on off-camber roots and the like. It has great small bump compliance on trail chatter and brake bumps, and you don't have to be going at race speeds to get the suspension to open up and come to life.
When encountering bigger impacts such as fast and chunky rock gardens, G-outs, and huck-to-flat drops, the Megatower also handles these quite well. This bike's suspension does a good job of absorbing bigger impacts without blowing through its travel; in fact, I found it pretty hard to bottom this bike out when running Santa Cruz's suggested spring rates in the fork and rear shock. Throughout its travel, this bike's suspension curve feels quite smooth and intuitive; it doesn't have any weird characteristics that show up when riding. It keeps its speed quite well regardless of the terrain it's in and takes care of harsher, more abrupt impacts well without always bottoming out.
David: I didn't love the suspension performance of the first-gen Megatower, but the new one is excellent, and once again I'm in agreement with Dylan's characterization. The new Megatower does a great job of being quite plush and sensitive in the early part of the travel, while still offering good support and not blowing through the suspension on bigger hits. Rear-wheel traction is especially impressive, and the Megatower's ability to feel smooth and comfortable without being wallowy or lacking composure when you start hitting things harder is excellent.
My only quibble is that I would have preferred to be able to firm up the compression damping in the rear slightly, but our GX AXS RSV test build came with a RockShox SuperDeluxe Select+ shock, without an external compression adjuster. To be clear, I'm talking about fine-tuning and small tweaks, not some kind of wholesale change in the setup, and I think the stock tune is in the right ballpark. Going to one of the X01 builds (see above) would get you a super-adjustable Fox Float X2 or DHX2 Factory shock if you want to be able to dial things in more.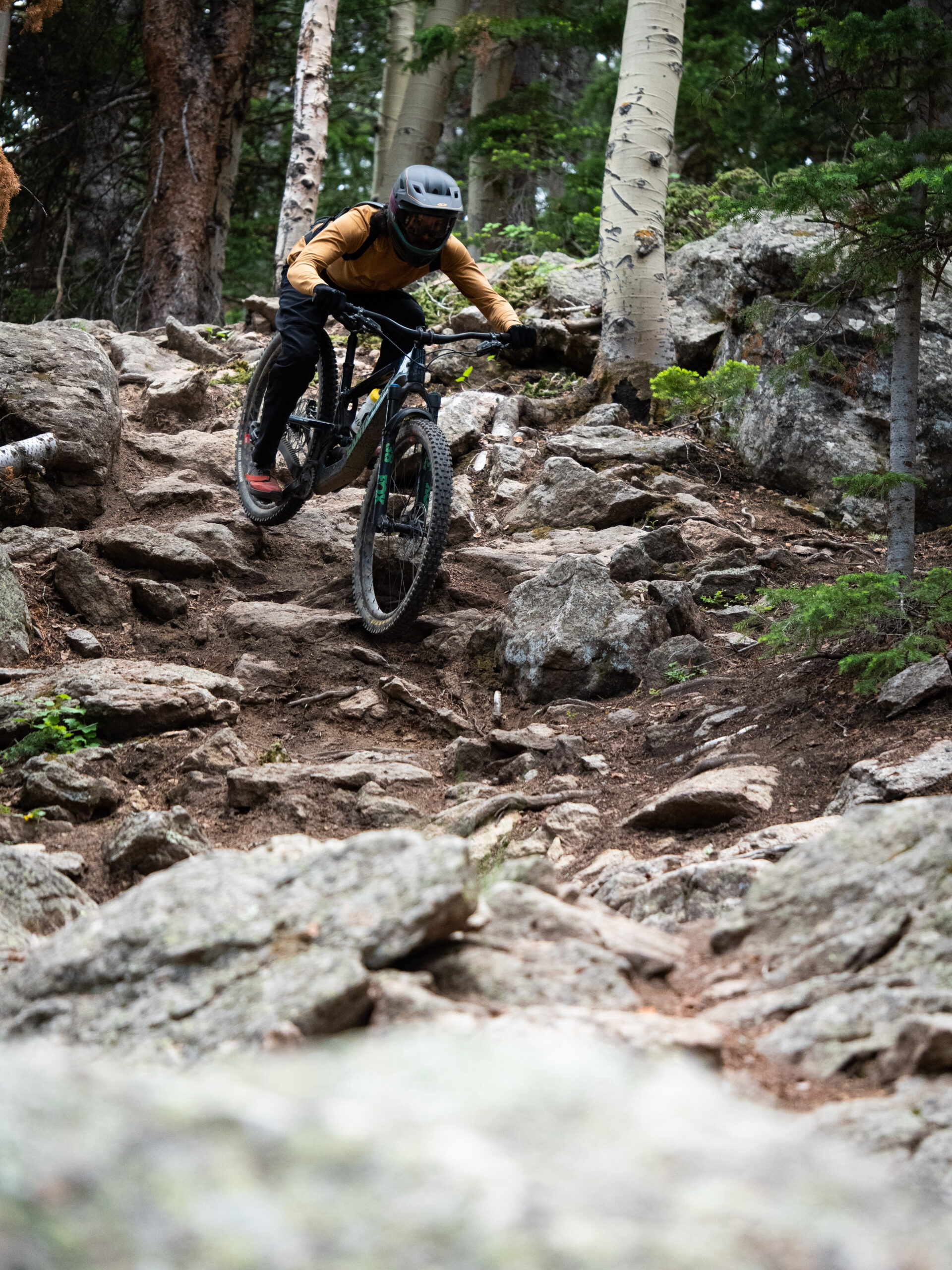 Dylan: The Megatower's geometry feels most at home on steep, fast trails. It has a large sweet spot and isn't very sensitive to small changes in weight distribution. It does get along best with a more forward, aggressive riding stance, though, due to its slack front end. This bike has a large wheelbase, and it's apparent when riding. It feels very stable at high speeds through rough terrain, and it is hard to get bucked too far forward or backward on it. This bike's steering also feels very comfortable at high speeds; it commits very well to a line, and never exhibited any twitchiness during my time on it.
The Megatower isn't very quick handling, and it does require some speed for it to feel most intuitive. At slower speeds and in flatter terrain, the Megatower does feel like it needs to be steered with the handlebars and muscled around a bit more. Additionally, this long bike can feel like a handful in tight, slow corners, such as a switchback, where its long wheelbase hampers its maneuverability. In steep terrain, the Megatower always felt intuitive and under control. I probably struggled to get along with this bike the most on flatter terrain, specifically flat corners. On trails that lack steepness, it doesn't eagerly tip into corners and across the fall line. Instead, I had to be pretty diligent about aggressively leaning this bike over and getting it to follow the trail on flat corners.
While the first-gen Megatower was a relatively playful bike that was pretty easy to get airborne, the V2 Megatower would rather stay glued to the trail. I think this is a result of both the geometry and suspension of this bike, and I also think that most riders will find that it is an improvement. You can certainly launch this bike into the air on bigger, faster jumps, but it isn't the poppiest and most playful bike for jibbing about at slower speeds. Essentially, what the Megatower lost in quickness and playfulness, it made up in stability and smoothness.
I've been stressing how capable this bike is on steep and fast trails, and while it does require some extra effort to maneuver around flatter, more mellow trails, it doesn't feel totally out of place. While I wouldn't recommend this bike to anyone who mostly spends their time on mellow XC trails, it also offers enough efficiency to dabble here every once in a while.
David: Once again, I'm in agreement with Dylan — the Megatower is now a proper modern Enduro bike that feels most at home going fast on steeper, more technical trails, and it does a really good job of having a lot of capability to charge hard while still feeling forgiving and composed when you're riding with less than full commitment. And that's a really good combination for a bike that makes it comparatively easy to open up and charge, without demanding that you do so 100% of the time. As Dylan said, the Megatower isn't especially easy-going in the sense that it's not especially engaging at lower speeds and on more rolling terrain, though it doesn't feel wildly out of place or awkward there, either. It's a bike for folks with access to fast, sustained descents, and one that's happy to accommodate a wide variety of riding styles and levels of aggression provided that it's in its preferred terrain.
As I mentioned up top, I do think that I'd personally like just a little more room around on the bike and a slightly bigger-feeling sweet spot than the Large Megatower afforded me, but I think that's entirely down to sizing, and Dylan's impressions make total sense for someone who's a couple of inches shorter than I am. Because the bike felt a touch on the small side for me, I felt like I needed to stay a bit more upright on it to keep my weight centered and not inadvertently end up too far off the back of the bike, but that occasionally caught me out when slamming into a big hole at speed, where I wasn't in as strong a position to do a pushup on the bars and got momentarily out of sorts. This wasn't a regular occurrence or anything, but for my height and personal preferences, I at least wonder if the XL would have been a better call for this sort of big Enduro bike.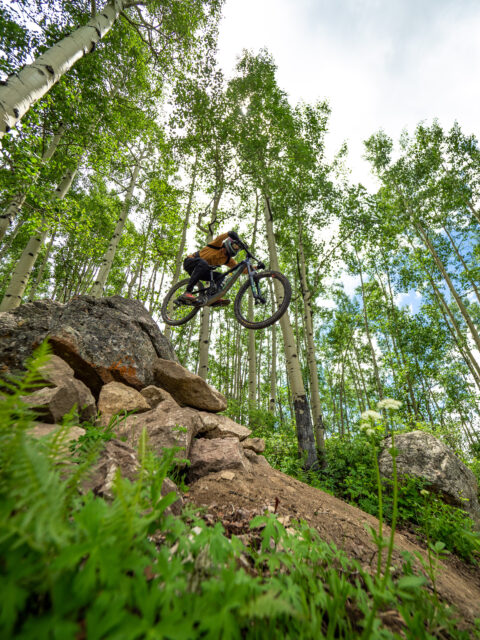 But, again, I'm at the very top end of Santa Cruz's recommended size range for the Large Megatower, and I think that most folks will slot in nicely to one of the sizes. My real point is that the Megatower is now a true aggressive modern Enduro bike that's biased pretty strongly towards being stable at speed over being versatile and nimble and that if that's genuinely the right sort of bike for you, it likely makes sense for a lot of folks who are on the brink sizing-wise to embrace the stable, hard-charging character and size up; if the idea makes you nervous, it's worth at least thinking about whether you'd actually be better off with something a little more compact and nimble — such as the Bronson or Nomad.
I got along with the Megatower in flatter, less-supported corners a bit better than Dylan — I wouldn't be surprised if the sizing differences played a real role here. As with most relatively long, slack bikes, I found that getting on the front wheel and slapping the back end around was the easiest way to muscle the Megatower through some tighter, flatter corners, particularly at speed, but I found the Megatower a relatively easy and intuitive bike to do that on. The slightly more compact fit likely helped make it easier for me to get over the front end and get light on the back wheel; it's certainly not like sizing up would be tradeoff-free.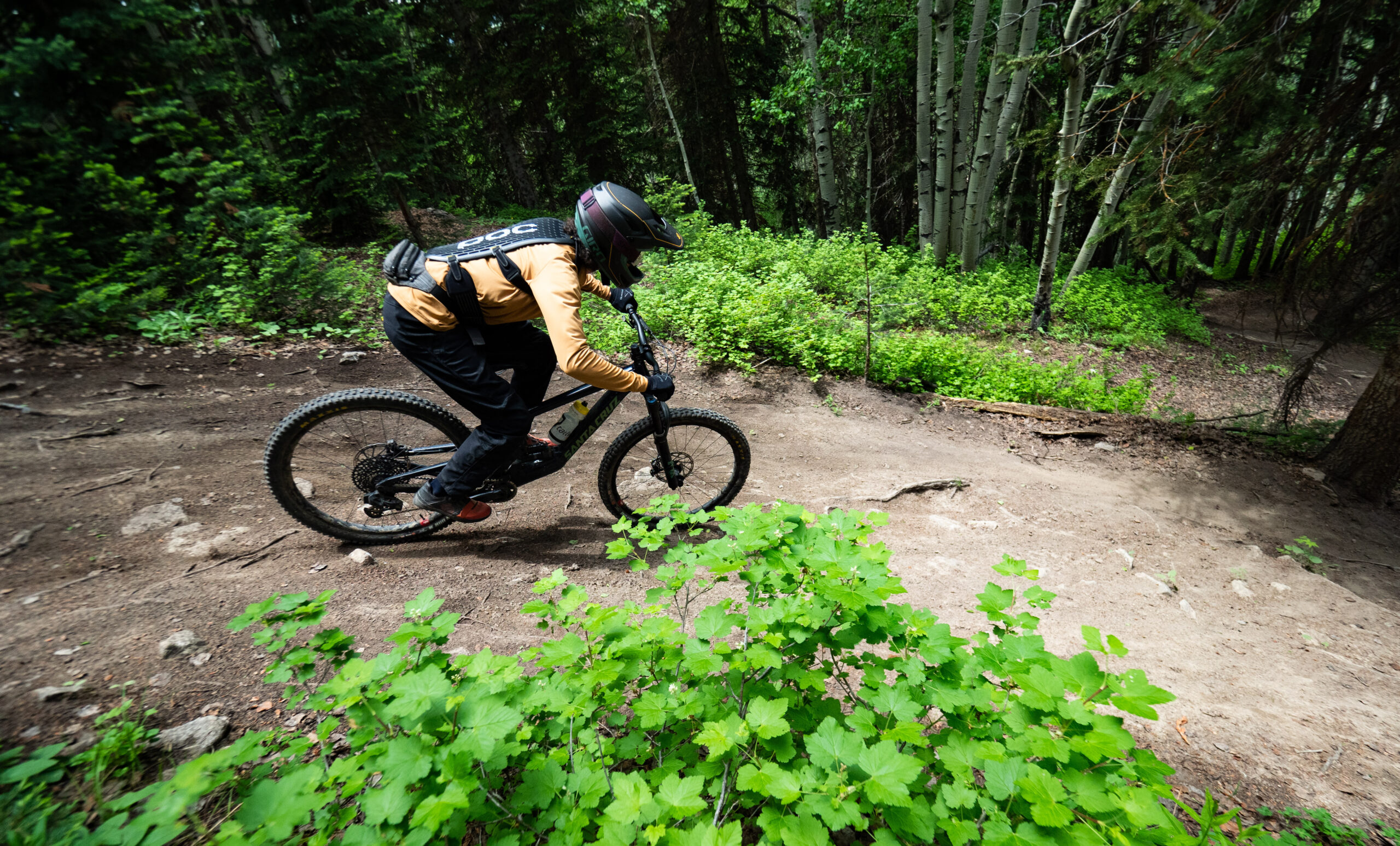 The Build
Dylan: The C GX AXS RSV build might look a little strange at first glance. It's got electronic shifting and carbon wheels and comes in just under $10K, but it's also built around Santa Cruz's carbon "C" frame, which isn't even their high-modulus carbon frame (that's the "CC"). However, I think that this build kit is really dialed (for my liking, at least), and I'm not sure if I'd change much.
The GX AXS drivetrain on this bike is very reliable and smooth once it is set up properly. I did bend the derailleur hanger significantly once, and it took some time using micro-adjustments to get the GX AXS to shift properly after I straightened the hanger back out. But, once the derailleur is in the right place in each gear, it's super dialed. I am also a huge fan of the precise ride the Reserve wheels offer without feeling harsh, and I am very happy to have them on this bike. The Maxxis Assegai and DHRII is a tire combo I've come to really like, too. While the build kits of this bike with a coil shock on the rear do come with Maxxis' DoubleDown casing, the builds with an air shock (like the one we tested) come with EXO+ casing, which has let me down in the past due to being more easily punctured than I'd like (I never had any flat issues with the tires on this Megatower, though). This is, however, easy to swap out.
I'm happy to see the Fox 38 Performance Elite on this bike. I ran it with 87 PSI, 6 clicks of low-speed rebound, 5 clicks of high-speed rebound, 10 clicks of low-speed compression, and 5 clicks of high-speed compression (all from the fully "closed" position). These are actually Santa Cruz's recommended settings for my weight, and while I toyed around slightly with the settings, I landed back on the recommended settings as feeling the best. I rarely ever utilized the full 170 mm of travel up front, but I was happy to have it as it smoothed things out very effectively. David removed a volume spacer up front, leaving the fork with just one in it, and I never felt the need to add it back or take the remaining one out. I've also always liked the RockShox SuperDeluxe Select+ rear shock, and it served me well on the back of this bike. I ran 170 PSI and 6 clicks of rebound (from closed). Again, these are Santa Cruz's recommended numbers, and I rarely bottomed this shock out and didn't feel the need to add or remove volume spacers.
Additionally, this bike has SRAM Code RSC brakes with 200 mm rotors front and rear. I've found that SRAM's Code brakes work well for me and provide great stopping power and modulation, and 200 mm rotors felt ideal for my weight and the terrain I ride most often. If this were my bike, I'd probably install a 200+mm dropper, as I had lots of room to spare with my 76 cm seat height applied to this bike and I've started to prefer a dropper around 210 mm long. That's just me, though, and I am sure that certain riders on the shorter end of the Large sizing will appreciate that they don't have to downsize the 175 mm dropper on this bike.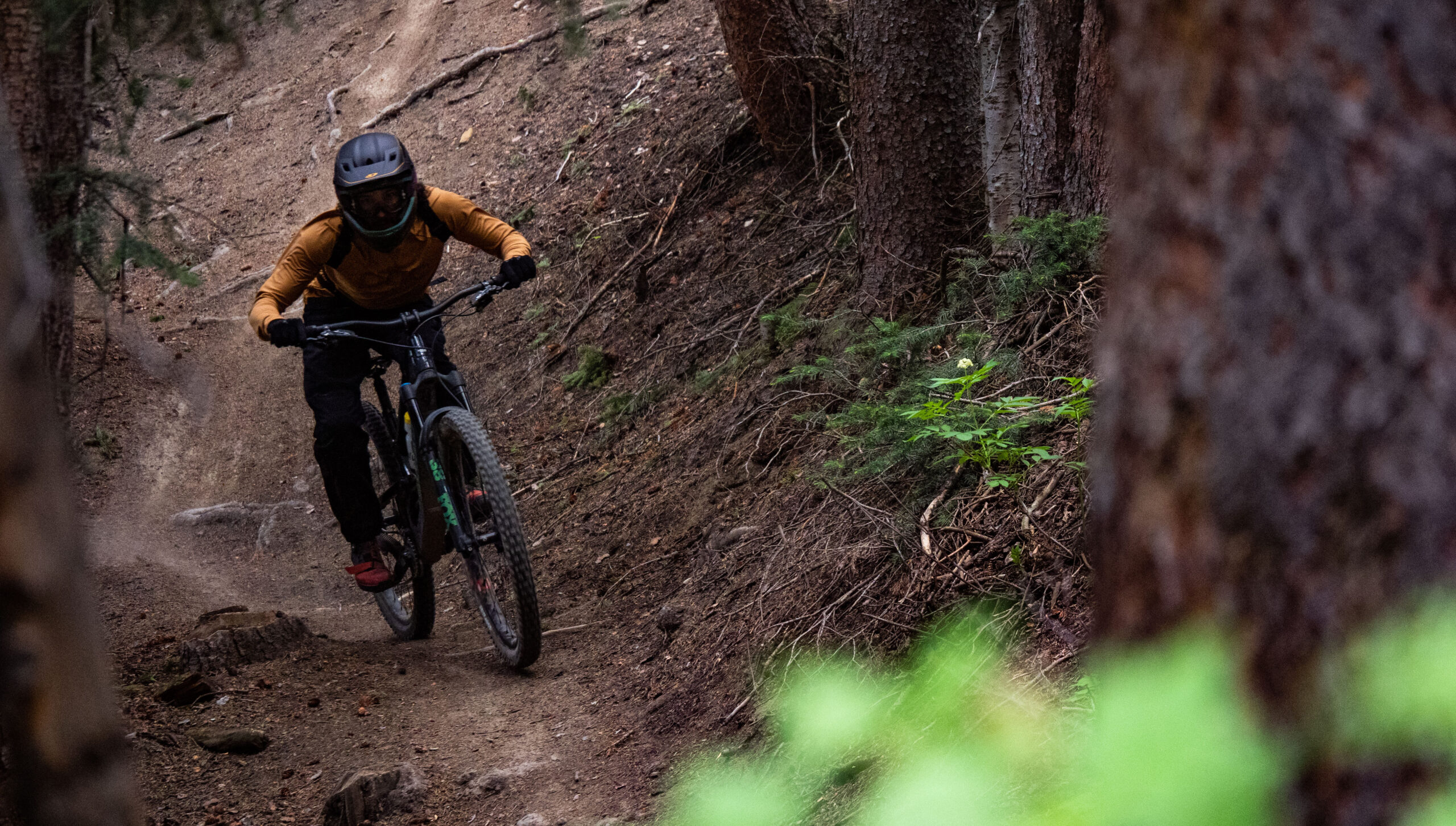 David: Dylan hit the main points here, and the GX AXS RSV build we tested is indeed super nice. Apart from missing the compression adjuster on the RockShox SuperDeluxe Select+ rear shock (check out the "Descending" section, above for more on that) and agreeing with Dylan that DoubleDown casings would feel more appropriate on a 165mm-travel Enduro bike such as the Megatower, I really have nothing to complain about. If I were spending my own money on a Megatower I might opt for the X01 Coil build and save myself $500 compared to the GX AXS RSV, and get myself a rear suspension upgrade and the beefier tires that I was after in the process. I'd miss the excellent Reserve|30 wheels, but that's a tradeoff I could live with.
The Glovebox downtube storage is a nice addition to the Megatower, too. The lid is easy to install and remove if you have a bottle cage mounted to it but is a little tricky to pry off without one, especially with gloved fingers. And Santa Cruz's included internal storage pouches do a nice job of providing options for organizing whatever you happen to stash inside the frame while keeping most rattling at bay. The lid is definitely not 100% waterproof, though, so keep that in mind when thinking about what to stuff in the frame (depending on the weather). I was also able to (barely) squeeze a lighter-weight jacket into the frame with the storage pouches removed, which was welcome as an emergency option, but a little cumbersome to do regularly if, for example, I wanted a jacket for warmth on descents but was taking it off for each climb.
Geometry Settings
Dylan: I'll always try both geometry settings on a bike, and it's quite easy to swap between the High and Low geometry settings on the Megatower. The Megatower doesn't feel very different in either setting, and both are worth trying. The biggest difference I felt was that in the High setting, this bike handles flatter corners a bit better. It just felt a little easier to tip over and more intuitive entering, sustaining, and exiting flatter corners. The Low setting does feel a bit more stable and gives a feeling of having a slightly lower center of gravity, and I preferred that for steep, gnarly trails such as Captain Jack's on Mt. CB. On most bikes, I usually settle on the lower/slacker of the two settings, but on the Megatower, I could see myself swapping between these settings depending on the specific trail I am riding or the types of terrain I am riding at that time of year. Honestly, if this were my bike, I might spend most of my time in the High setting (which, to be fair, is still plenty slack, low, and long), but that's just me and the terrain I mostly ride.
David: The flip-chip on the Megatower makes for a pretty subtle change, but I think Dylan has the idea right — the High setting is a little quicker handling and easier to lay over into a corner at more moderate speeds; the Low one is a touch more stable and helps you feel "in" the bike just a little more. But mostly, it's minor tweaks on the overall Megatower theme — everything we've been saying throughout is true in either geometry setting, and the flip-chip very much does not transform the Megatower into something substantially different or anything like that.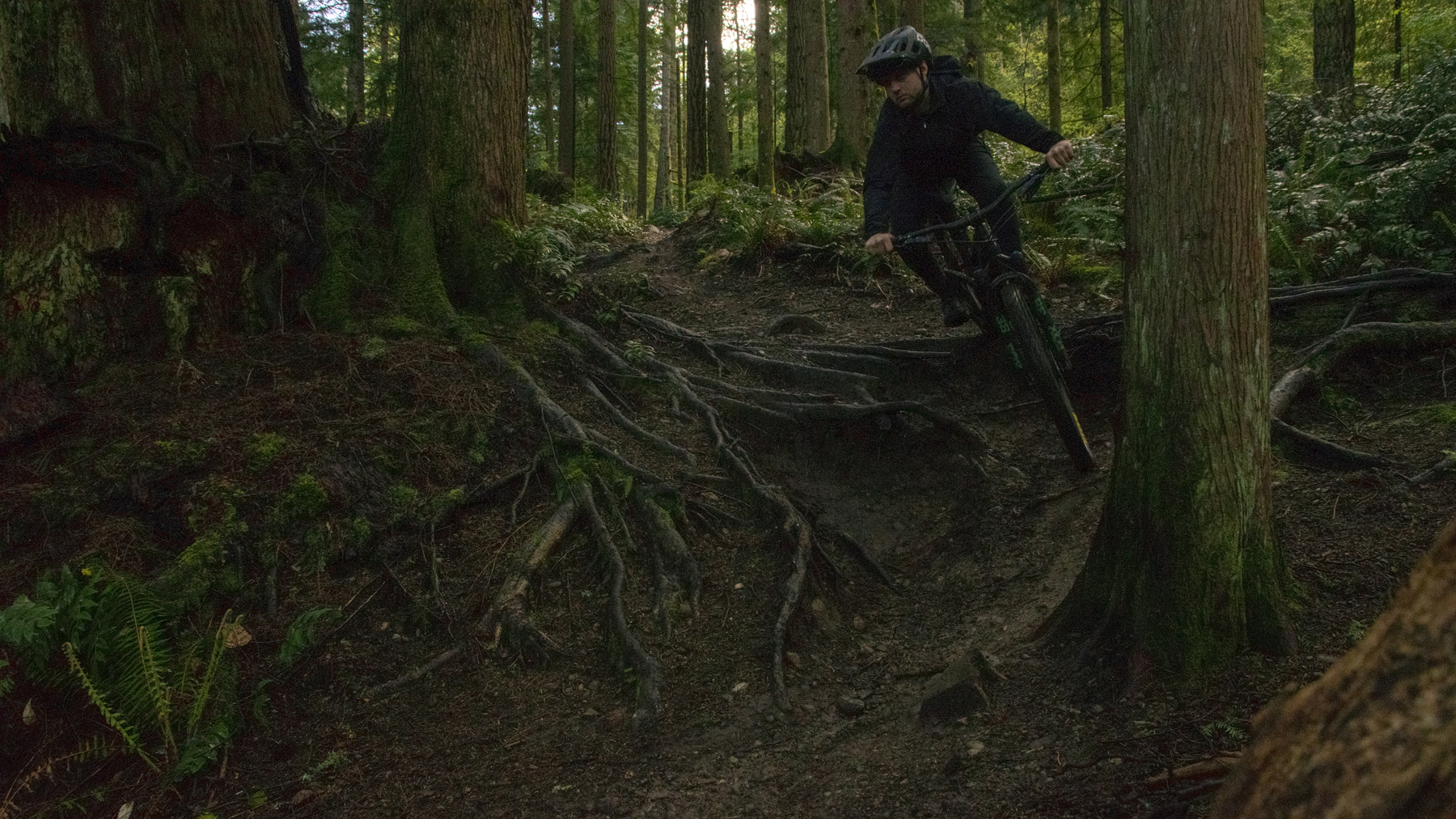 Comparisons
Dylan: I've touched on it a bit throughout this review, but the new Megatower is different from the OG it replaces in a few ways. First, its suspension feels more plush and planted, while the V1 Megatower's was firmer and more efficient off the top. Second, the new Megatower is longer and more stable and has a bigger sweet spot in between the wheels. The old Megatower was easier to get in the air and more nimble around tighter switchbacks, though. Additionally, the V2 Megatower isn't as quick to steer around slower and flatter corners as the V1, though again, it does feel more stable at high speeds. The first Megatower was maybe a more efficient climber, but its slacker seat tube crippled it on steeper climbs. The new bike has less efficiency and more traction, but with a more comfortable seated climbing position on steep climbs. Overall, I think the new Megatower is a more true Enduro race bike, and most people who really want a true Enduro bike will likely prefer the V2 Megatower over the V1.
Dylan: These bikes both encourage a forward, aggressive riding stance, but their geometries and suspension feel somewhat different. The Lithium is more nimble and corners slightly better at slower speeds, and it also feels a bit more efficient. The Megatower feels more glued to the trail, though a bit more sluggish and less at home on more mellow, flatter trails.
Dylan: The Range feels more downhill-oriented and more like a bike dedicated to crushing descents than the Megatower. The Range feels even more planted and glued to the trail than the Megatower, and it offers even better traction. On the flip side, the Megatower is slightly more efficient and feels more versatile on mellow trails.
David: If anything, I think Dylan's description of the Megatower as "slightly more efficient" is understating things. The Range is an exceptionally focused bike that's even more stable, planted, and composed going very fast in rough terrain than the Megatower, but it trades off a lot of efficiency and versatility to get there. The Range is amazing at what it does, but the Megatower is a better option for more people.
Dylan: The Spectral feels like more of an all-rounder than the Megatower. The Spectral is lighter, more nimble, and more efficient than the Megatower, making it a better climber for most people unless you really care about traction on the way up. In equivalent sizes, both bikes are pretty long and prefer to go in mostly straight lines. The Megatower feels more planted and composed at higher speeds and rougher terrain, and mostly just feels like it's more appropriate for racing downhill.
Dylan: This is a similar comparison as the Spectral. The Bronson is more easygoing than the Megatower and feels more versatile. It's more accepting of an upright riding position and is more playful and nimble. The Bronson corners better at slower speeds and in flatter corners, though the Megatower feels more stable, composed, and capable at high speeds and over rougher terrain. This one also comes down to whether you want a more versatile all-rounder (and a mullet at that), or a more dedicated Enduro race bike.
David: There are definitely some similarities between the two in terms of their suspension performance, but the Megatower is a lot more stable and composed at speed, less nimble and easy-going in tighter spots, and feels more game-on and less playful overall. The Bronson is also definitely lighter and more efficient (as you'd expect, given their differences in travel).
David: As with the Bronson, the Nomad has some similarities to the Megatower in that all three offer notably plush suspension that still holds up very well when you start hitting things harder, and very good traction under power paired with solid but not amazing efficiency. The Nomad splits the difference between the Bronson and the Megatower, in that it's got similar suspension travel to the Megatower, and consequently feels more plush and forgiving than the Bronson, but the Nomad is quicker handling and more playful than the Megatower. The more you want a bike to go race Enduro or just push fast on big descents, the more sense the Megatower makes. The Nomad is a great option if you're looking for something that's more nimble, easier to throw around in the air, and feels a bit more like a modern take on a freeride bike.
David: Like the Nomad, the 4060 LT feels quicker-handling and more playful than the Megatower, but isn't as stable or composed at speed. The Megatower's suspension also feels a little smoother and more planted over small to medium chatter, but the 4060 LT is poppier and more eager to get airborne. And the 4060 LT encourages a much more forward stance and more aggressive weighting of the front wheel than the Megatower.
David: This is a very good comparison — the Capra and the Megatower remind me of each other quite a bit in terms of suspension performance and aren't too far off when it comes to handling, either. The Capra is a touch quicker handling and the Megatower is a little more stable, but they're both bikes that encourage you to push harder on steep, technical descents and feel both quite capable in that sort of terrain while also being notably forgiving. The Megatower is a little more efficient under power than the Capra, but again, we're talking about relatively slight differences — they're a very good comparison to each other.
The Capra also offers an MX mixed wheel size version, which we haven't tested — the comparison above is for the 29er Capra. Check out our full review of the Capra for more on how we expect the two to differ.
David: This is another good comparison overall. The Gnarvana and the Megatower are quite similar in terms of overall stability and handling feel, but the Gnarvana prefers a slightly more upright, centered stance to get there, whereas the Megatower encourages you to get forward and weight the front wheel a little more aggressively. The Megatower's suspension also feels a little more supportive, but both do a good job of balancing above-average sensitivity and plushness with at least solid supportiveness.
David: Much less similar. The Jekyll pedals more efficiently than the Megatower, but doesn't have as much traction under power, and its suspension feels a lot firmer and more lively at the expense of some small bump sensitivity. Overall stability is similar, with the Jekyll maybe having a very slight edge, but the Megatower is the better technical climber and feels a little more intuitive and easy to maneuver at very low speeds and in awkward tight spots.
David: Pretty similar story to the Jekyll. The 161 is remarkably efficient for a 160+mm-travel Enduro bike but gives up a good bit of traction and small bump sensitivity to get there, and needs to be going faster and pushing harder to start to come alive than the Megatower. The Megatower feels a lot more planted and forgiving, but a little less lively and eager to get airborne. The 161 also favors a bit more forward body position and more aggressive weighting of the front wheel as compared to the Megatower, and the 161's extremely steep seat tube angle feels more awkward under flatter seated pedaling.
David: The Firebird feels like it splits the difference between the Megatower and 161 a bit — it's in between the other two in terms of efficiency, small bump sensitivity, and just how hard it needs to be pushed to come alive. The Firebird is a little less planted and smooth feeling than the Megatower but is a little quicker to change direction at speed. Once again, the Megatower is the better technical climber of the two and feels a little more intuitive and easy to manage at low speeds and in very tight spots, though that's not strictly either bike's forte.
The sizing differences are also notable — the Firebird runs significantly bigger than the Megatower, and the Large Firebird feels squarely in my personal wheelhouse fit-wise, whereas I'm more between sizes on the Megatower.
David: Quite different. The Rallon reminds me more of the V1 Megatower than the V2 one, in that it's a notably quick-handling, lively-feeling 160mm-travel bike that blurs the line between a long-travel Trail bike and an Enduro one a bit. The Rallon is a lot more efficient under power than the Megatower but is less stable at speed, less plush and planted feeling, and overall feels more versatile but less focused specifically on high-speed descending.
David: Somewhat like the Orbea Rallon, the Altitude feels more versatile and less hard-charging than the Megatower, but it goes about that fairly differently. The Altitude and Megatower are similar in terms of pedaling efficiency and both have suspension on the more-plush end of the spectrum, but the Megatower is more stable at speed, more composed in very rough sections, and is a bit slower handling in tight spots.
David: Very different. The Dreadnought is a little more stable at speed than the Megatower, but its handling is less intuitive, it's harder to muscle around in tight spots, and its suspension performance under braking suffers significantly. The Megatower is a little more plush feeling and has better pedaling traction under power, but the Dreadnought is a touch more efficient.
David: Pretty different. The G1 is more stable at speed than the Megatower but wants more speed and aggression to come alive, is more of a handful in tight, rolling terrain, and doesn't have as much small bump sensitivity and plushness. The G1 pedals substantially more efficiently but doesn't have as much traction under power as the Megatower, and is a much more challenging technical climber. The Megatower is going to be the more versatile option for more people.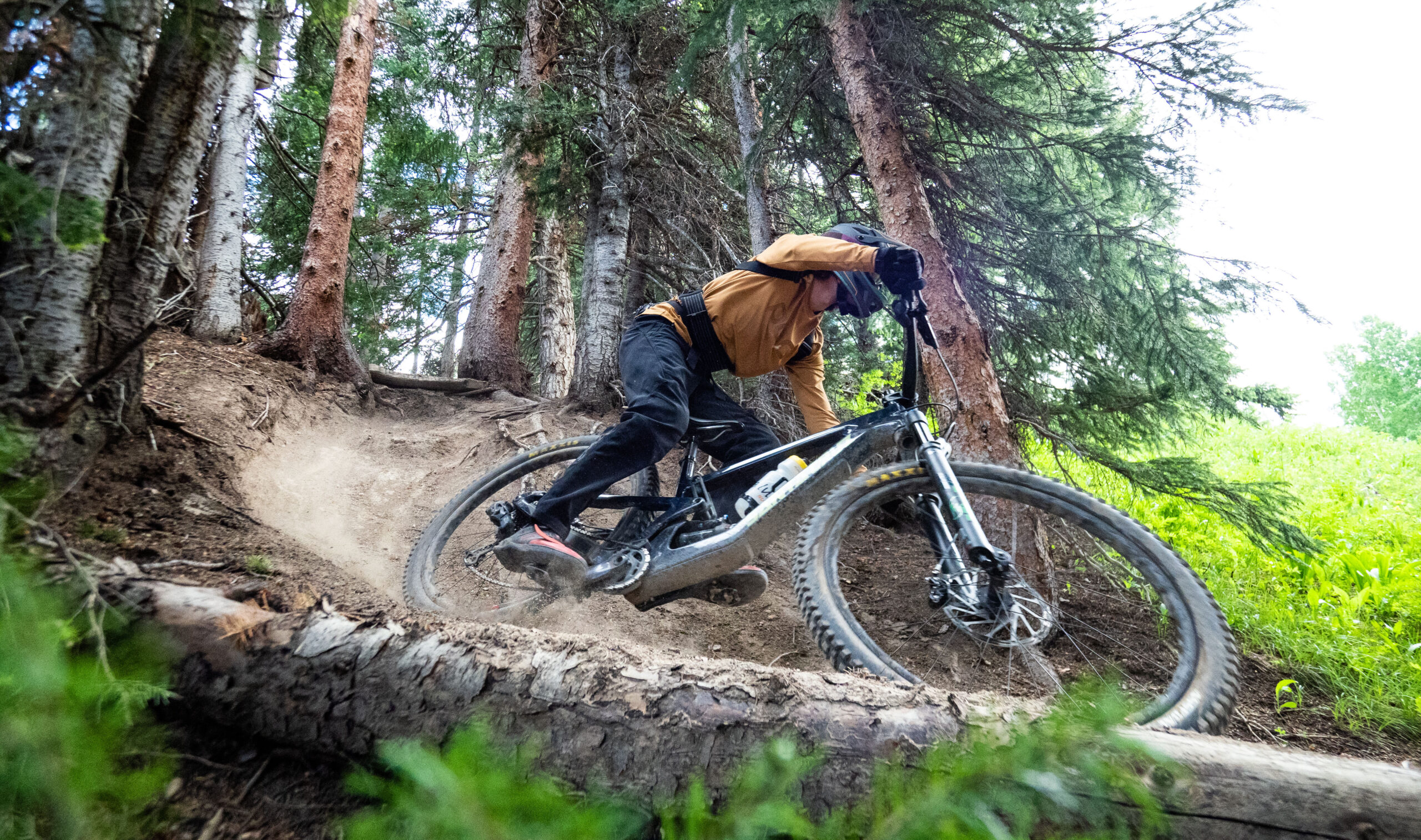 Who's It For?
Dylan: The Megatower is for people who want a capable, forgiving bike for going fast downhill. It isn't a very eager climber, and it can feel like too much bike to enjoy mellow XC-type trails, but it has impressive traction and maintains enough versatility to not feel like too much of a handful in tighter, jankier spots. And the new Megatower can be pushed really hard on the way down and offers a lot of stability and composure at high speeds and on steep, rowdy trails. Most impressively, the Megatower does all that while not feeling especially demanding of being ridden very hard or especially precisely — it's a bike that makes going fast easy, and that's going to be a ton of fun for a lot of riders, from intermediates through hard-charging experts.
Bottom Line
David: The V1 Megatower felt caught between being a long-travel Trail bike and a real Enduro bike. The V2 is squarely in the latter camp and feels like a much better, more cohesive overall design for it. The new Megatower is far more stable and composed at speed than the old one, has greatly improved suspension performance, and does an especially good job of feeling intuitive and forgiving while still being very stable and very capable in big terrain, making it an excellent bike for folks who want something that encourages them to go harder and faster on difficult descents, without feeling like it has to be going all out to come alive.