2021 Transition Spire
Geometry: See below
Wheel Size: 29''; compatible with 27.5'' rear wheel
Travel: 170 mm rear / 170 mm front
[or 160 mm rear w/ a 60mm-stroke shock, down from the stock 65 mm]
MSRP:
Frameset: $2,299 – $3,399
Complete bikes $3,799 – $6.699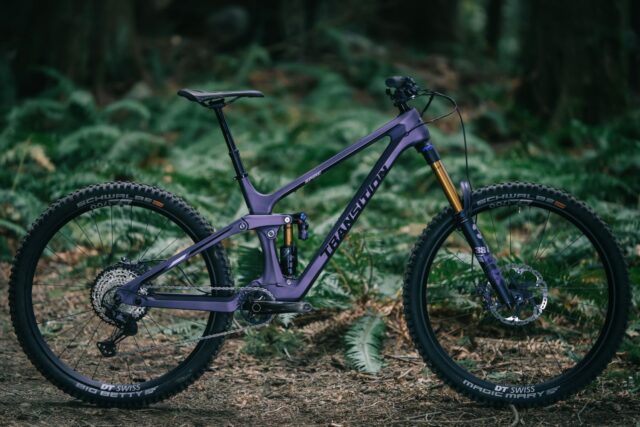 Intro
The Sentinel has been Transition's longest-travel 29er for years now, and while it's a very capable bike in its own right, it's got less travel and a bit more moderate geometry than many of the biggest, burliest bikes that have recently entered the category, such as the Nukeproof Giga, Nicolai G1, and Propain Spindrift.
Enter, the Spire — Transition's longest-travel 29er to date. They call it a "nimble bruiser," and with 170 mm of travel at both ends and a 62.5° headtube angle, it certainly looks to have the "bruiser" part of that statement on lock. But given the rise of these sorts of bikes, the question is, what really sets the Spire apart from the competition? And what about that new mulleted Patrol that Transition released a few days ago? Let's dive into the details:
The Frame
While the Spire looks like a whole lot of bike on paper, Transition makes it clear that they don't mean it to be a one-trick pony that only feels at home going downhill in super gnarly terrain. As they put it, "the Spire blends DH bike capability with mid-travel efficiency in such a way it's almost two bikes in one."
While the new Patrol is available in aluminum only, aluminum and carbon versions of the Spire are on offer. Transition's familiar design language carries over, including a Horst link suspension layout with a vertically-oriented shock. Rubber guards for the seatstay, chainstay, and downtube come pre-installed, and an additional shuttle guard is included in the box. Cable routing is fully internal, a full-size water bottle fits inside the front triangle on all sizes, and there's a second set of accessory mounts underneath the top tube.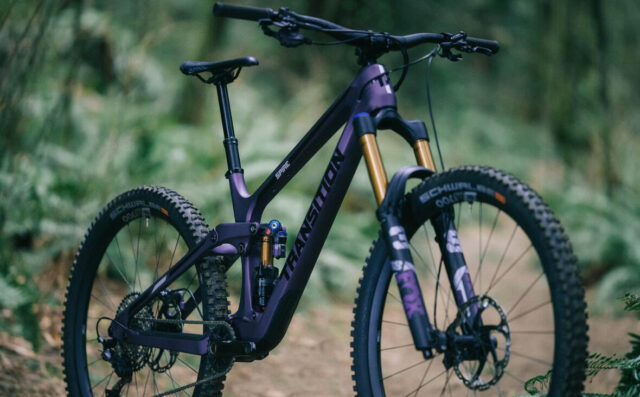 As with the new Patrol, the Spire features a flip chip at the lower shock mount to toggle between two geometry settings (more on that in the Fit and Geometry section below). Unlike the Patrol, Transition does say that you can run your choice of wheel size on the Spire, with mullet compatibility in the high geometry setting. The Spire comes with a 205 x 65 mm trunnion-mount shock, which produces 170 mm of rear-wheel travel, but it's possible to use a 205 x 60 mm shock if you want to drop the rear travel to 160 mm.
Like the new Patrol, the Spire gets 56mm-diameter headset cups at the top and bottom to make more room for reach-adjust headsets, particularly when using a dual-crown fork with a straight 1.125'' steerer tube. It's a nice bit of added flexibility, as is the ability to run a dual-crown fork if you're so inclined.
And finally, the Spire also gets Transition's new lifetime frame warranty for the original owner.
The Builds
Transition will be offering the Spire as both aluminum and carbon frame kits, each with a Fox Float X2 Factory shock and FSA headset, or as one of five complete builds. The complete build specs can be seen below.
In short, there are SRAM GX and Shimano XT builds available with both the carbon and aluminum frames. The GX builds are identical, apart from the frame material, and include a Rockshox ZEB Ultimate fork and Super Deluxe Ultimate rear shock. The XT ones are nearly the same and both come with a Fox 38 Factory fork, but the XT Alloy gets a Fox Float X Performance rear shock in place of the Float X2 Factory on the carbon version. And finally, there's a Shimano Deore build available on the aluminum frame, with a Marzocchi Bomber Z1 fork and Fox Float X Performance shock.
These builds are very similar to those on the new Patrol, and as with that bike, all come with 165 mm cranks and a OneUp bash guard. The GX builds notably also feature a 220 mm front brake rotor (Shimano doesn't have anything larger than 203 mm on offer as of yet, so the XT and Deore builds make do with that). These are stout builds, and make a lot of sense given the intentions of the bike. Pricing for the various options is as follows:
Alloy Frameset: $2,299
Carbon Frameset: $3,399
Alloy Deore Build: $3,799
Alloy GX Build: $4,899
Alloy XT Build: $5,599
Carbon GX Build: $5,899
Carbon XT Build: $6,699
Fit and Geometry
The new Patrol is a notably long, slack bike but the Spire takes things even further. It's got a 62.5° headtube angle in the low flip-chip position (63° in the high one) and already-long 448 mm chainstays on the Small through Large sizes, which bump up to 454 mm on the XL and XXL. And speaking of that XXL size, the Spire gets a gargantuan 530 mm reach in that size. The Small gets a 425 mm reach, the Medium 455 mm, and each successive size grows by 25 mm. The stated chainstay and reach numbers are all in the low geometry setting; the chainstays shrink by 2 mm and the reach grows by 5 mm in the high setting. For reference, here's the full geometry chart for the Spire:
Even in 2021, where "long / low / slack" seems to be the defining mantra of most new bike releases, the Spire stands out for just how far it takes those principles. The headtube angle is fully into DH bike territory (and is more slack than any bike that's meant to earn its turns that we've ever tested, aside from the Nicolai G16 and BTR Ranger), and the reach and chainstays are long, all of which adds up to a notably lengthy wheelbase. We expect it to be extremely capable at speed, but are very curious to see just how much the "nimble" part of Transition's "nimble bruiser" claim comes through.
Transition doesn't publish a geometry chart for the mullet configuration, but I estimate that it should slacken the headtube and seat tube angles by about a degree (for a 62° headtube angle!), shorten the reach by about 10 mm, and lower the bottom bracket by 15 mm or so.
Some Questions / Things We're Curious About
(1) The Spire is a big bike, with a 1289 mm wheelbase in the size Large (low geometry setting), 29'' wheels, and a whole lot of suspension. We don't doubt that it'll feel supremely capable in big terrain, but just how versatile is it the rest of the time?
(2) How different does the Spire feel to the new, pretty similar-looking Patrol, and what sorts of riders should be most interested in which particular bike? And who will find both to be overkill?
Bottom Line (For Now)
The new Transition Spire looks like a seriously big gun for consequential terrain, but Transition seems to think it's a lot more versatile than just being that. We're very eager to get on one and see what it can do, and hope to make that happen soon.