2021 Nukeproof Giga
Wheels: 27.5" and 29′′ versions available
Travel:
27.5" Wheels: 180 mm rear / 180 mm front
29" Wheels: 170 mm rear / 180 mm front
Frame Material: Carbon Fiber
Geometry: See Below
Stated Weight (size Medium frame + Fox Float X2 shock): 8.55 lbs / 3.88 kg
MSRP:
Comp (Shimano Deore) build: $3,700 / £3,700 / €4,700
Elite (Shimano SLX) build: $4,600 / £4,600 / €5,800
Factory (Shimano XT) build: $5,500 / £5,500 / €7,000
Frame and Fox Float X2 Factory: $2,600 / £2,600 / €3,300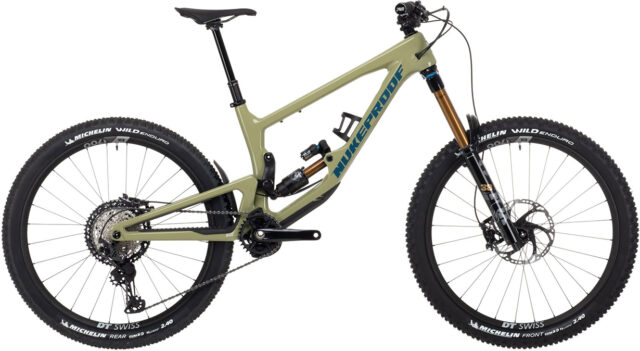 Intro
Nukeproof calls their new Giga a "Super Enduro" bike, slotting in above the Mega (get it?) that their riders have been piloting on the EWS circuit. With a 180 mm travel fork, 170 or 180 mm rear wheel travel (depending on wheel size), and quite long / low / slack geometry, the term makes some sense. But how exactly does the Giga fit in among other long-travel bikes, and who might such a monster bike make sense for?
The Frame
The Giga is available with a carbon frame only, but Nukeproof does let you pick your preferred wheel size — in a somewhat rare move these days, both 27.5" and 29" wheel options are available across the full size range. There are no flip chips or replacement parts to toggle between the two though. Each version gets its own, dedicated, frame. Both are offered in five sizes, from S through XXL, which Nukeproof says covers riders between 5'2" and 6'7" (159 to 201 cm).
The Giga uses a linkage-driven single-pivot suspension layout, with a beefy swingarm driving the shock via a rocker link and dogbone. The shock sits low in the frame, just above the bottom bracket, making room for a 750-ml water bottle inside the front triangle. The Giga's downtube is heavily sculpted to make space for the bottle, though, which necessitates a custom bottle cage for fit, which Nukeproof includes with the frame.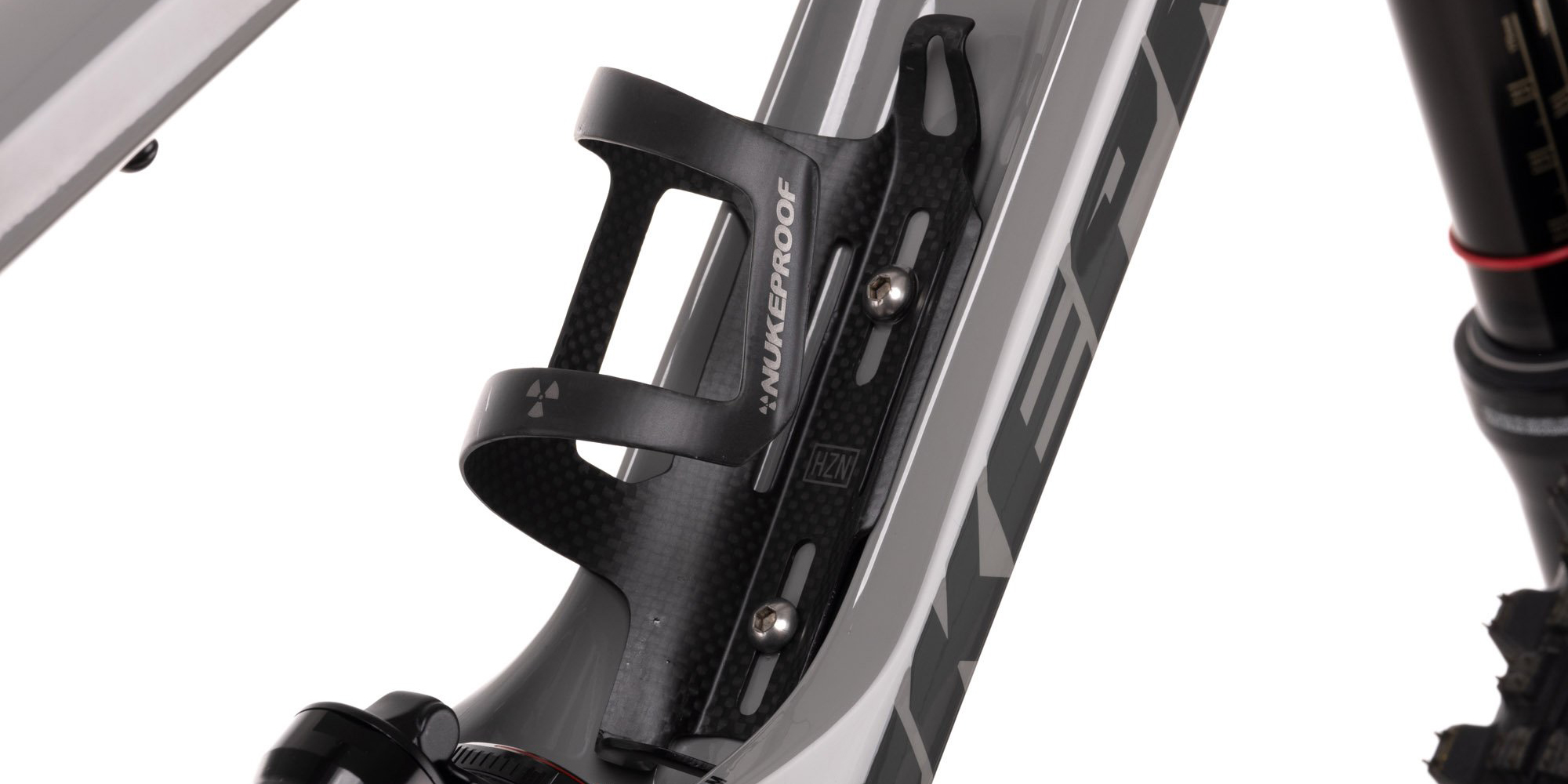 The underside of the Giga's downtube is protected by a large, rubber guard, and Nukeproof also includes a set of accessory mounts on the underside of the top tube. A mini rear fender, attached to the swingarm, protects the frame and pivot bearings from wheel spray.
Cables on the Giga are all routed internally, with tubes to guide them seamlessly to their exit points. The bottom bracket shell is threaded and features ISCG 05 tabs for a chain guide, and molded rubber chainstay and seatstay guards are included as well. As a nice added touch, Nukeproof has made replacement guards available for just $10, should the originals get damaged. The Giga uses a SRAM Universal Derailleur Hanger, and features post-mount tabs for a 180 mm brake rotor. Tire clearance is stated at 2.6" for the 27.5" bike, and 2.5" on the 29er.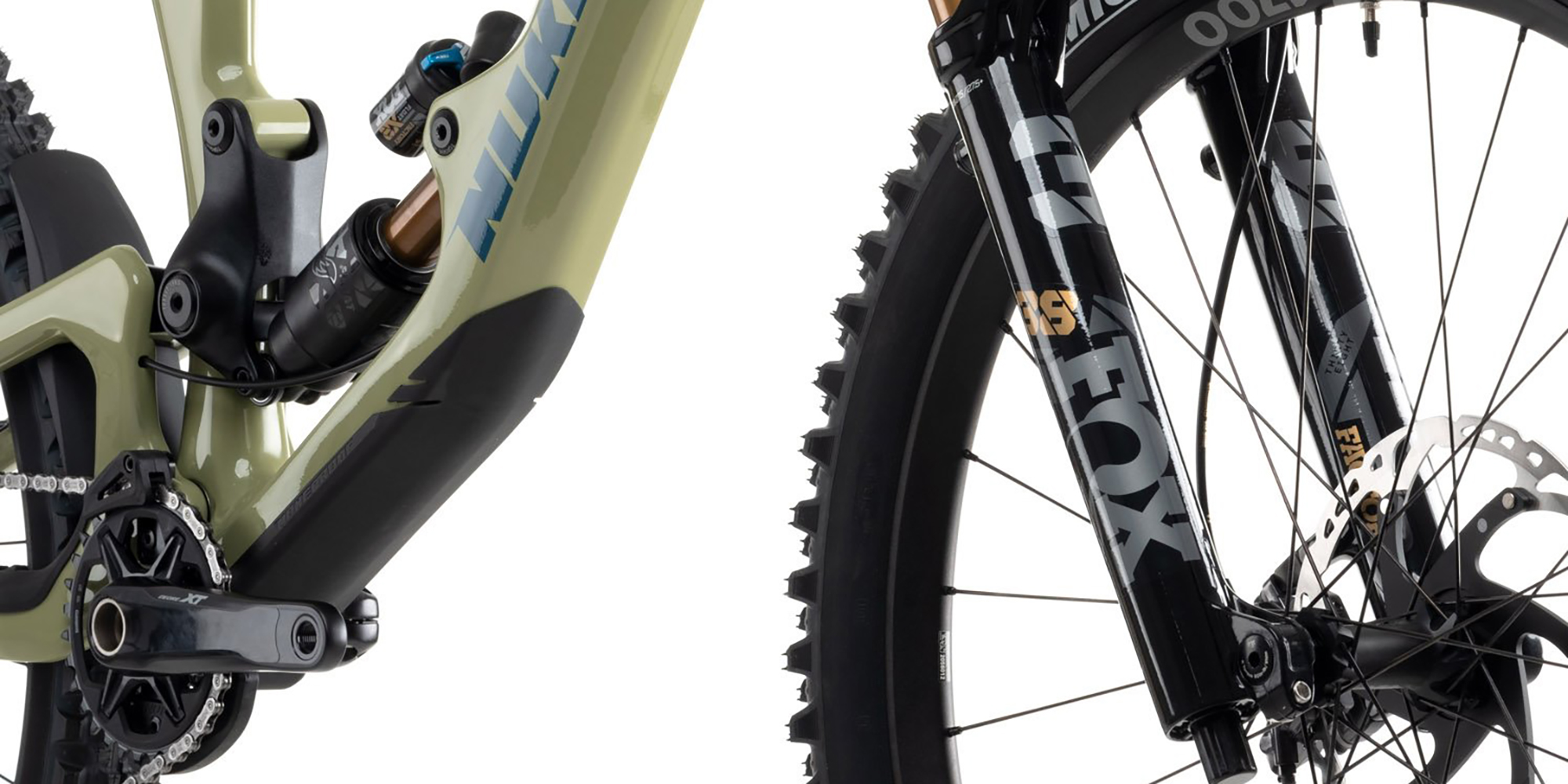 Though there's no adjustable geometry offered on the Giga, it does have a flip chip to toggle between two different leverage curves for the rear suspension. Both are quite progressive, with the baseline setting offering 25.5% total progression, and the "+ Progressive" option bumping that up to 29%. Nukeproof says the latter setting is ideal for use with a coil shock, or in particularly wet, slippery conditions where a bit of extra suppleness off the top is helpful.
The Builds
Nukeproof is offering the Giga in three complete builds, as well as a frame-only option. The builds are identical for both wheel sizes, and the overview is as follows:
Giga Comp ($3,700):
Fork: RockShox ZEB
Shock: RockShox Super Deluxe Select R
Drivetrain: Shimano Deore M6100
Brakes: Shimano Deore M6120 4-Piston, 203 mm rotors
Wheels: Sun-Ringle Duroc SD37 Comp
Dropper Post: Brand X Ascend (125 mm drop on size S frames; 150 mm on M, and 170 mm on L–XXL)
Giga Elite ($4,600):
Fork: Fox 38 Performance Elite
Shock: Fox Float X2 Performance
Drivetrain: Shimano SLX M7100
Brakes: Shimano SLX M7120 4-Piston, 203 mm rotors
Wheels: DT Swiss E1900
Dropper Post: Brand X Ascend with Shimano SL-MT500 Lever (125 mm drop on size S frames; 150 mm on M, and 170 mm on L–XXL)
Giga Factory ($5,500):
Fork: Fox 38 Factory
Shock: Fox Float X2 Factory
Drivetrain: Shimano XT M8100
Brakes: Shimano XT M8120 4-Piston, 203 mm rotors
Wheels: DT Swiss E1700
Dropper Post: Bikeyoke Divine with Shimano SL-MT500 Lever (125 mm drop on size S frames; 160 mm on M and L, and 185 mm on XL–XXL)
All three builds seem like very solid values for their respective prices, and are sensible specs for the intentions of the bike.
One thing I might like to see is longer-travel dropper posts, especially on the bigger sizes. At 6' / 183 cm tall, I'm on the cusp of Nukeproof's recommended sizing for between the L and XL, and I've become spoiled by 200+ mm drop posts. The Giga's seat tube is short enough and has enough insertion depth that I could run a 210mm-drop OneUp V2 post, for example, even on the XL, but the full builds' droppers only go up to 185 mm of travel. That's a minor complaint though, and one that I have with a fair number of bikes — Nukeproof isn't particularly an outlier here. Overall, the Giga builds look great, especially at the price points that they're hitting.
Fit and Geometry
For reference, here are the full geometry charts for the 27.5" and 29" wheeled Giga (linear dimensions in mm; click each chart to expand them):
The geometry of the Giga is, unsurprisingly, fairly aggressive, but it's not entirely over the top, either. Both wheel sizes get a 63.5° headtube angle, a 78° effective / 72° actual seat tube angle, and reach ranges from 430 mm to 515 mm on the 29er, in 25 mm increments between sizes. The 27.5" bike gets 5 mm more reach in a given size, with the same 25 mm sizing increments.
The 29" bike gets long-ish 445 mm chainstays across the size range, while the 27.5" version has more moderate 435 mm stays. The stack height is also considerably taller on the 29ers, owing to the taller front wheel and fork; Nukeproof did trim a little off the 29er headtubes to compensate, but the stack height is still ~7 to ~25 mm taller, with bigger discrepancies in the smaller sizes.
This gets at something we've talked about a fair bit at Blister — while 29" wheels are seemingly taking over the world, we've got real reservations about them for shorter riders, particularly on longer-travel bikes, where the combination of the big front wheel and taller fork adds up to a very high stack height, and can pose issues when it comes to getting the bars into a suitably low position. And while we've seen some companies, including Privateer, Rocky Mountain, and Canyon, splitting their size range by wheel size on certain models, I'm thrilled to see Nukeproof offering a full size range for both wheel sizes. Despite being moderately tall myself, I'm still a big fan of 27.5" wheels, and don't want to see them disappear from the sizes of bikes that I ride. It's great that Nukeproof is giving riders the choice of their preferred wheel size, but we'd caution riders at the smaller end of the size range to at least check their preferred bar height and give the stack height some thought before springing for the 29er Giga.
Of course, the Giga is a long bike — the wheelbase ranges from 1216 mm to 1314 mm for the 29er, and a still quite-long 1204 mm to 1307 mm with 27.5" wheels. That said, Nukeproof hasn't gone totally over the top with the Giga. The 63.5° headtube angle is slack, but not uncommonly so, and similarly, the reach figures are long enough to seem thoroughly modern, without being eye-poppingly huge. It should all add up to a very capable bike in terms of descending prowess, but we'd expect it to maintain enough versatility to not feel like it only works when pointed down a steep, rough trail at high speed. We're excited to get on one to find out more, and are working to make that happen.
Some Questions / Things We're Curious About
(1) We'd be shocked if the Giga doesn't feel extremely capable while descending at speed, but just how versatile is it as a Trail bike?
(2) While the Giga's geometry is certainly aggressive, it's actually not that far off from a lot of modern ~160 mm travel bikes, including Nukeproof's own Mega, and the Guerrilla Gravity Gnarvana. So who will benefit most from the bump-up to the extra travel that the Giga adds, and who will be better served with a bit less?
Bottom Line (For Now)
The Nukeproof Giga is an interesting new offering, combining modern, aggressive Enduro geometry with a bit more suspension travel than is typical for the class — and pricing the result very competitively. It looks like it will be a highly capable descender, but we're curious to get on one to find out more, and see how versatile it feels. Is this a viable option for riders who are pedaling to the top of most of their rides, or does it make more sense as a bike park and shuttle rig that can do a bit of climbing if needed? We're working on getting a Giga to test, and are excited to find out.