2021 Transition Patrol
Geometry: See below
Wheel Size: 27.5'' rear, 29'' front
Travel: 160 mm rear / 160 mm front (or 170 mm rear with a 65 mm stroke shock, up from the stock 60 mm)
MSRP:
Frameset, with Fox Float X2 Factory: $2,299
Shimano Deore Build: $3,799
SRAM GX Build: $4,899
Shimano XT Build: $5,599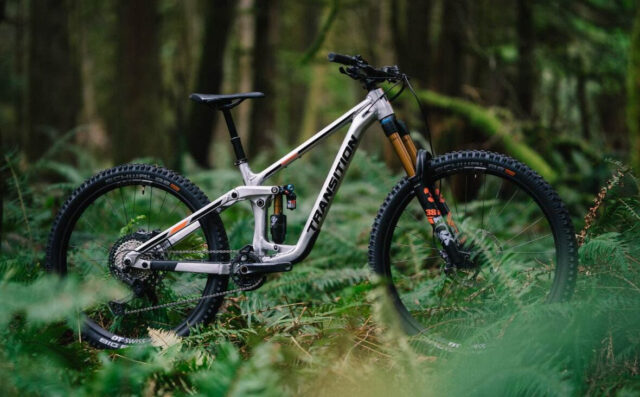 Intro
The Patrol has been in Transition's lineup since 2015, first appearing as a 155 mm rear / 160 mm front travel Enduro bike with 27.5'' wheels, but Transition's press release for the latest version begins by declaring that "the party animal is back." It's clear that they intend the Patrol to be a playful, fun bike, rather than some game-on race bike that's only at home going a million miles an hour.
That said, it also looks like quite a bit of bike, with 160 mm of travel and both ends and quite long / low / slack geometry. So who is the new Patrol going to make the most sense for, and how does it fit into the rest of the market? Let's dig in.
The Frame
Transition's description of the new Patrol makes its intentions clear: "Jibbing, jumping, pumping, and hooting your way down the trail, the updated Patrol loves to party. From bike parks to your local trails, the Patrol isn't concerned with where you ride, but rather how much fun you are having."
The outgoing Patrol was available in both aluminum and carbon frames, but the new model is offered in aluminum only — a sensible-seeming choice for a bike that's meant to be a fun, burly freeride bike more than a speed-obsessed Enduro racer.
Despite the material change from the last few bikes Transition has rolled out — the Scout, Sentinel, and Spur are all available in carbon only — the overall lines and aesthetics of the Patrol share a strong family resemblance. The familiar Horst link suspension with a vertically oriented shock carries over, now with ~24% total progression — far more than the outgoing Patrol. Rubber guards for the seatstay, chainstay, and downtube come pre-installed, and an additional "shuttle guard" is included in the box. Cable routing is fully internal, a full-size water bottle fits inside the front triangle on all sizes, and there's a second set of accessory mounts underneath the top tube.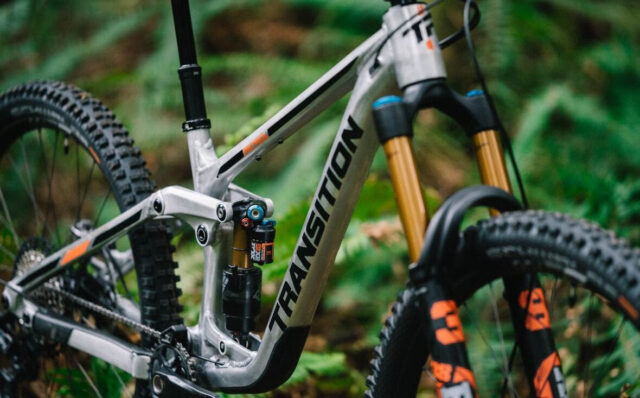 The Patrol also features a flip chip at the lower shock mount to toggle between two geometry settings (more on that in the Fit and Geometry section below) but it's not meant to adjust for wheel size — the new Patrol is a mullet through and through. And while the Patrol comes with a 205 x 60 mm trunnion-mount shock, yielding 160 mm of rear travel, it's possible to use a 205 x 65 mm shock to bump things up to 170 mm in the back.
One interesting feature of the new Patrol is that the headtube isn't tapered. Instead, the Patrol uses 56mm-diameter headset cups at the top and bottom to make more room for reach-adjust headsets, particularly when using a dual-crown fork with a straight 1.125'' steerer tube. And yep, the Patrol is rated to be used with a dual-crown if you want to get really rowdy — a bit of a rarity for a non-DH bike these days, and an option that I'm glad to see available.
As has been the case with all of Transition's frames since the updated Scout rolled out last year, the Patrol gets a lifetime warranty on the frame for the original owner.
The Builds
Transition will be offering the Patrol as a frame kit with a Fox Float X2 Factory shock and FSA headset, or as one of three complete builds. The frameset retails for $2,299, the Shimano Deore build goes for $3,799, and the SRAM GX and Shimano XT options will set you back $4,899 and $5,599, respectively. The complete build specs can be seen below.
These builds all seem nicely in keeping with the intentions of the bike. Both the SRAM GX and Shimano XT builds get top-tier suspension (RockShox ZEB Ultimate / Super Deluxe Ultimate and Fox 38 Factory / X2 Factory, respectively) and solid, but not full-bling drivetrains and wheels. It's also worth noting that all three come with 165 mm cranks and OneUp bash guards and dropper posts — it's a burly bike with a clear descending focus.
Fit and Geometry
Transition was an early adopter of long / low / slack new-school geometry ("Speed Balanced Geometry," in their parlance) and the new Patrol gets even more slack, in particular, compared to the outgoing model.
The outgoing bike had a 64° headtube angle across the board. The new model drops that to 63.5° in the "high" geometry setting, and 63° in the "low" one. Reach has actually remained about the same between the two generations, but unfortunately, the XS size from the old bike is no more. The size Small starts at a 415 mm reach, and that figure grows to 440 mm on the Medium, 475 mm on the Large, and 505 mm for the XL — all in the low geometry setting. The high option stretches the reach by 5 mm in all sizes. The seat tube angle has steepened by about a degree across the board, and Transition is now joining the club of companies varying chainstay length by size, with the Small and Medium Patrols getting 436 mm stays, which grow to 442 mm for the Large and XL (again in the low setting). For reference, here's the full geometry chart in both flip-chip settings:
All of this adds up to a bike that does seem like it should be reasonably playful, but we don't expect the Patrol to be a super quick-handling, ultra-jibby bike. It's still quite long, quite slack, and ought to be fairly stable at speed. The geometry (apart from the front wheel size) actually isn't too far off the new, 5th-generation Santa Cruz Nomad — a bike that we recently discussed on Episode 59 of Bikes and Big Ideas, and one that we'll be talking more about on Blister very soon. And the Patrol's chainstays, especially, are notably longer than those on the Marin Alpine Trail — a bike that we recently called "one of the most playful, fun Enduro bikes that we've been on recently."
Some Questions / Things We're Curious About
(1) Transition is clearly emphasizing the fun-factor when it comes to the Patrol, but given that it's still a fairly long, slack bike, just how much speed is it going to take to come alive, and how easy is it going to be to throw around? On paper, the Patrol looks like a very interesting middle ground between stability and quickness, but we're curious to see if that's borne out on the trail.
(2) How does the mullet wheel setup feel on the new Patrol, and does it feel like it loses some of the ability to easily throw the bike around that you tend to get with smaller 27.5'' wheels?
Bottom Line (For Now)
Mullet bikes are getting a lot of buzz these days, but there aren't a ton of non-DH bikes sold as dedicated mullets yet. Transition has taken a bold step in updating their longstanding 27.5'' Patrol to a mixed-wheel setup, but the result looks very compelling on paper, and we're hoping to be able to get on one for a full review soon.