2021 Transition Spur
Geometry: See Below
Wheel Size: 29"
Travel: 120 mm rear / 120 mm front
Stated Weight:
Frame w/ shock: 2.45 kg / 5.4 lbs
SRAM XX1 AXS Build: 11.2 kg / 24.7 lbs
MSRP:
Frame only w/ shock: $2,999
GX Build: $4,999
X01 Build: $5,999
XX1 AXS Build: $8,999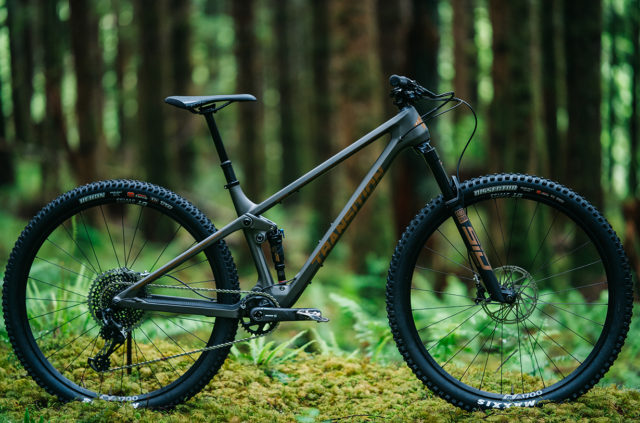 Intro
The last few weeks have brought about several new and interesting shorter-travel bikes. Revel revealed the brand-new Ranger, Guerrilla Gravity released the Race SL build on their Trail Pistol, Specialized overhauled their Epic and Epic EVO, Yeti launched the SB115, and now Transition has announced a totally new bike, the Spur.
With 120 mm of travel front and rear, 29" wheels, and the brand's lightest-ever frame, the Spur is reportedly an "All-Country" bike. Now, the last thing the bike industry needs is yet another confusing, overlapping category name for bikes, but basically, Transition says that the Spur is — surprise surprise — supposed to handle a bit of everything, but with more of a focus on uphill efficiency and low weight compared to their longer-travel models.
So, how exactly does the new Spur's design compare to the competition? Let's take a closer look:
The Frame
As of publishing this First Look, the Spur is only available in a full carbon frame, just like the revamped Scout and Sentinel. Transition claims that their carbon molding process allows them to get an ideal strength-to-weight ratio, which would be important for the Spur, which reportedly weighs in at 2.45 kg / 5.4 lbs for the frame + RockShox SIDLuxe shock.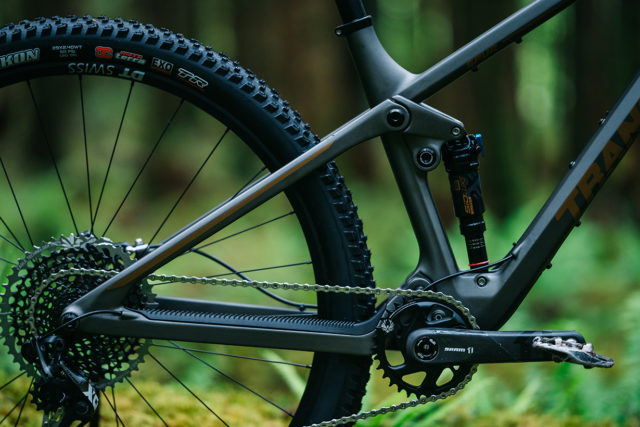 The Spur features a similar "GiddyUp" suspension design to Transition's other bikes and features "nearly 30% progression and a consistent linear rate of change." The goal of this being, well, the goal of most designs: small-bump sensitivity and bigger-hit support. They don't list specific anti-squat numbers right now but instead simply say "anti-squat is tuned to enhance pedaling performance and acceleration but doesn't get in the way of the suspension working when it's needed."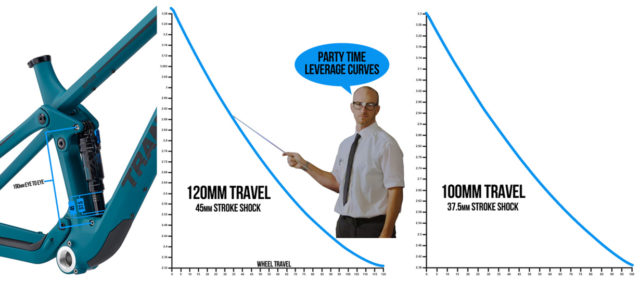 One difference with the Spur vs. Transition's longer-travel bikes is that the Spur features what they call a "flex stay" in the rear triangle, which let them ditch a pair of bearings and pivot hardware near the axle, reportedly without a loss of strength.
As we've come to expect from Transition's recent bikes, the Spur features "guided" internal cable routing for the drivetrain and dropper, but with an externally routed rear-brake line for easier maintenance. The other relatively standard features are there, too: threaded bottom bracket, Boost rear spacing, and rubber protection on the chainstay and downtube. You can fit a full-size water bottle in the front triangle, and there is also an accessory mount on the underside of the top tube. In terms of tire clearance, Transition says you can fit up to a 29" x 2.4" tire in the Spur.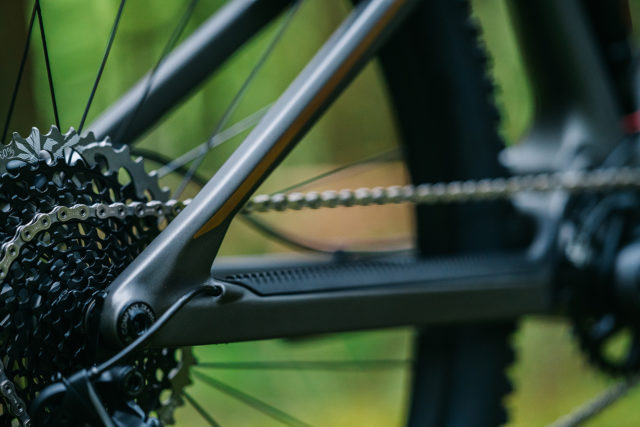 One noteworthy aspect of the Spur is the option to convert it to 100 mm of rear travel by using a 37.5mm-stroke rear shock (all builds and frames come standard with a 45mm-stroke shock set up for 120 mm of rear travel).
Like all of Transition's carbon bikes released so far in 2020, the Spur comes with a lifetime warranty for the original owner against manufacturing defects. They also have a crash replacement policy for original and second-hand owners where they'll aim to get you a replacement part of a frame at a reduced price if it's damaged and not covered under warranty.
The Builds
As of publishing this article, the Spur is available as a frame only with a shock, and then in three complete builds based around SRAM's GX, X01, and XX1 AXS drivetrains, all with SRAM's new 10-52t cassettes. These range in price from $2,999 for the frame + shock to $4,999 for the GX build, $5,999 for X01, and $8,999 for the high-end AXS build. All Spur builds come with some version of RockShox's SID suspension, and all feature some version of SRAM's 4-piston, G2 brakes.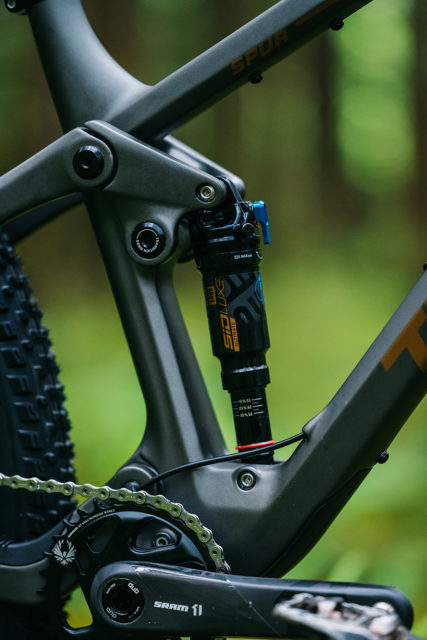 The GX and X01 builds come with a OneUp dropper post, ranging from 120 mm, 150 mm, 180 mm, and 210 mm for the Small, Medium, Large, and Extra Large sizes, respectively. The XX1 AXS build gets the AXS version of the RockShox reverb with 150 mm or 170 mm of travel. All full builds also come standard with a 50 mm stem and 800mm-wide bars, which should keep most people happy and those who prefer narrower bars have the option of cutting them down.
Rounding out all three builds are 2.4″ Maxxis Dissector 3C Exo tires up front and 2.4″ Maxxis Rekon 3C Exo tires out back, which happens to be a nearly identical combo to the builds of the new Revel Ranger.
For reference, here are all the specs for the current, full Spur builds:
Geometry
For a bike with 120 mm of travel front and rear, the Spur's geometry is quite modern, though not crazy by today's standards.
For a size Medium Spur, here are some quick geo highlights:
Head Tube Angle: 66°
Reach: 455 mm
Chainstay Length: 435 mm
Wheelbase: 1190 mm
Seat Tube Angle (effective): 76.2°
Transition's most recent short-travel bike was the Smuggler, which also had 120 mm of rear travel but was paired with a 140mm-travel fork. Looking at the Smuggler, its geo numbers are strikingly similar to the Spur's, with the Smuggler having a 450 mm reach, 430 mm chainstays, 66° head angle, and 76.3° seat tube angle for a size Medium. So, while the Spur features less travel up front, it maintains some very similar geo numbers vs. the Smuggler, though the Spur is a touch longer at both ends.
If we look at the new 115 mm / 120 mm travel Revel Ranger in a size Medium, the Ranger is similar in terms of reach (453 mm) and chainstays (436 mm), but the Ranger's head tube angle is notably steeper (67.5°) and its seat tube angle is slacker (75.3°).
Compared to the recently overhauled Santa Cruz Tallboy (120 mm / 130 mm travel), the Tallboy looks quite similar on paper with a 448 mm reach, 430 mm chainstays, 65.5° head angle, and 76.3° seat tube angle for a size Medium in the "low" setting.
The new Specialized Epic Evo (110 mm / 120 mm travel) is a notably shorter bike with a 436 mm reach, 438 mm chainstays, and 1164 mm wheelbase for a Medium, and it also has a much slacker seat tube angle at 74.5° and slightly steeper head angle at 66.5°.
So, all that is to say that the new Spur's geometry looks quite modern, and sits more on the descending-oriented end of the spectrum when looking at a few other bikes in its travel class. And if you look at the geo numbers of a 120mm-travel bike from just a few years ago, the Spur's geo would seem pretty wild.
For reference, here's the full geo chart for the Spur: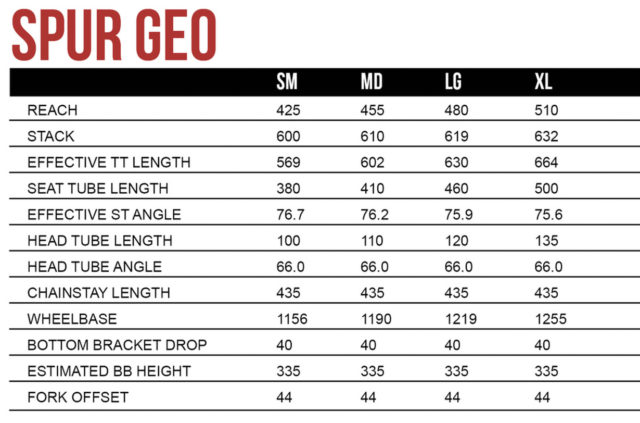 Bottom Line (For Now)
The new Transition Spur fills the shorter-travel hole in the brand's current lineup, and it looks like it has the potential to be a versatile bike for those who don't need all the travel and weight of the numerous longer-travel Trail bikes on the market.