2023 Santa Cruz Hightower
Wheel Size: 29''
Travel: 145 mm rear / 150 mm front
Material: Carbon Fiber; Aluminum version coming in 2023
Price:
Carbon complete bikes $5,499 to $10,699; aluminum options TBD
Blister's Measured Weight:
31.8 lb / 14.4 kg (Hightower CC X01 AXS RSV, size Large)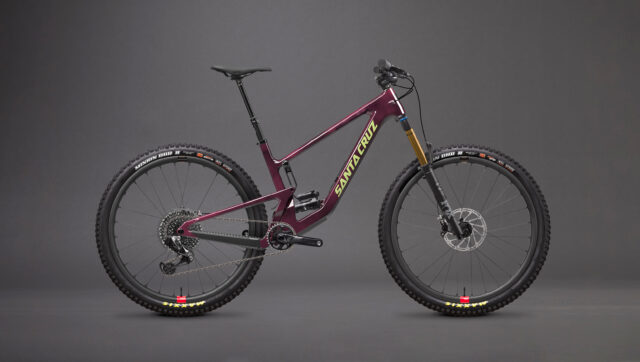 Intro
Santa Cruz's tagline for the new Hightower is "it's a mountain bike." And while that's inarguably true, it's not as flippant as it sounds at first blush — the Hightower is supposed to be the most versatile bike in Santa Cruz's lineup, and the one that more people should be buying than any other. Or at least that's how Santa Cruz looks at it. But are they right to do so? And how does it compare to the previous version?
The Frame
As with the outgoing Hightower V2, the new V3 bike is offered in aluminum or carbon fiber, with Santa Cruz's standard C and CC layup options for the latter material. In short, the C frame is a slightly more affordable option, whereas the top-spec CC frames get a fancier layup that trims a little weight, allegedly at no cost to stiffness or durability. The carbon frames are available now, with the aluminum versions following sometime in 2023.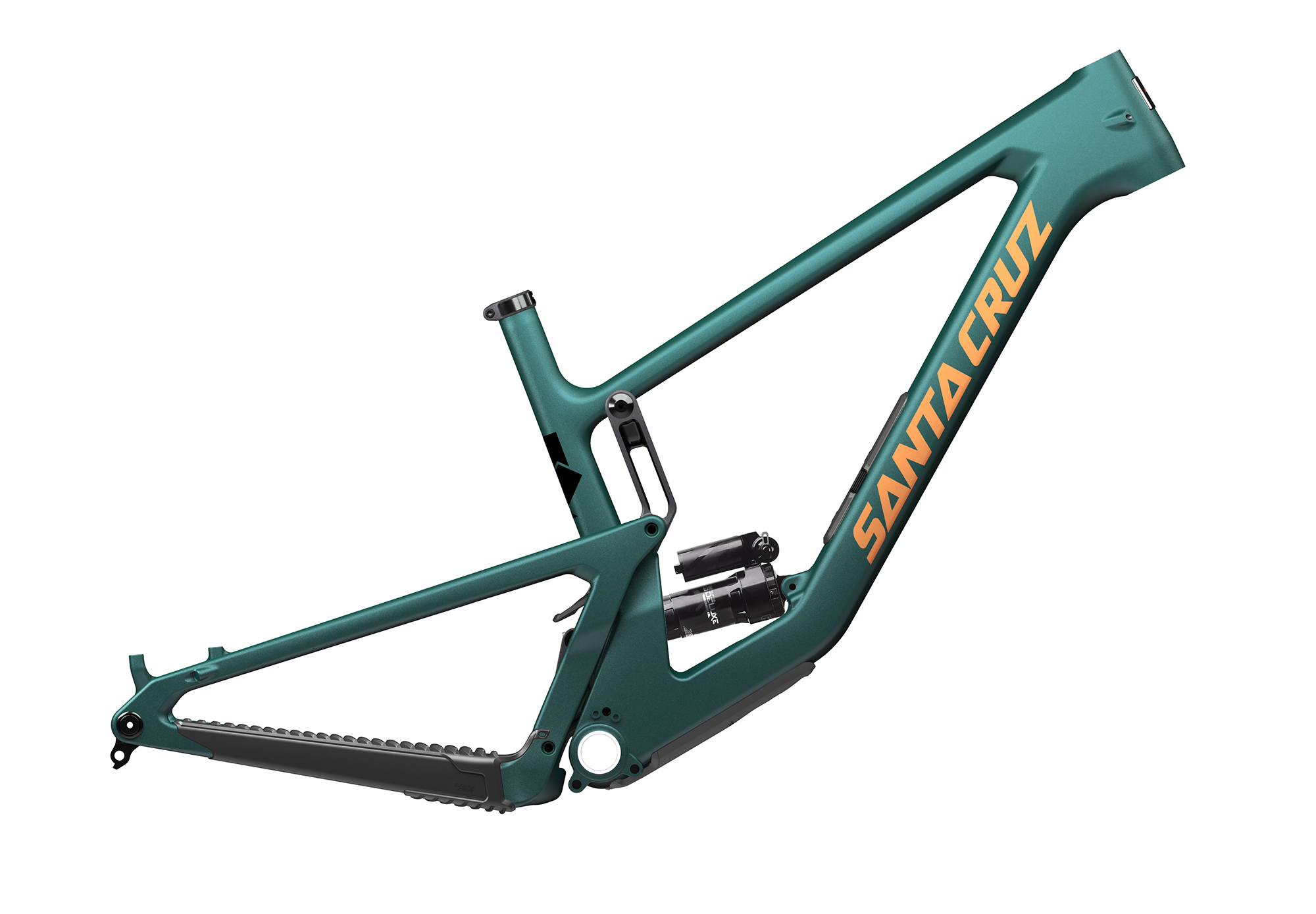 There's a lot more that hasn't changed; the Hightower is still a 145mm-travel 29er, designed around a 150 mm fork. It's still got lower-link-driven VPP suspension, room for a water bottle in the front triangle, fully internal cable routing, a threaded bottom bracket shell, and ISCG 05 tabs. The geometry adjusting flip-chip also remains (more on that below).
But the stuff that has changed is pretty important — the geometry has gotten tweaked, the suspension kinematics reworked, and there's now a "Glovebox" storage compartment in the downtube — on both the aluminum and carbon models. The derailleur is also now a UDH (which we're pretty excited to see catching on and actually becoming a real standard instead of an XKCD comic).
Let's start with the suspension: Santa Cruz has made the leverage curve both more linear and a little more progressive, going from just over 3:1 at topout to a little under 2.4:1 in a fairly straight line; the prior generation bike wasn't wildly different, but had slightly less progression overall, and the curve flattened out notably deep in the travel. Santa Cruz says these tweaks add up to improved bottom-out resistance and a bit more consistency in suspension performance throughout the travel, and on paper that checks out.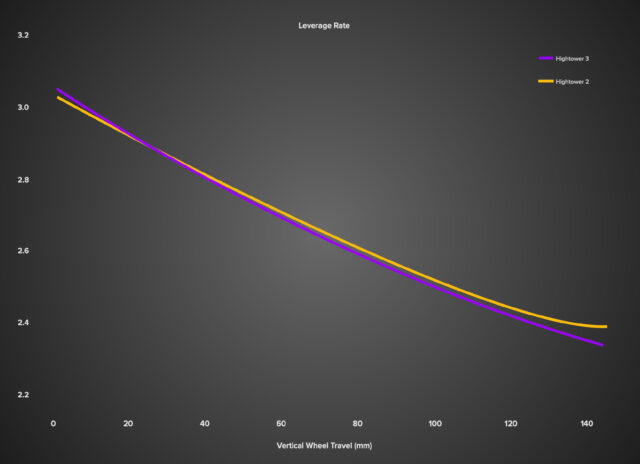 The new Hightower V3 also has slightly less anti-squat in the first 40% or so of travel as compared to the V2 bike, but it's still on the higher side, at a little over 130% around sag. Santa Cruz says that the slightly more moderate anti-squat makes for better sensitivity early in the travel due to reduced interaction between the suspension and chain forces. That checks out too, though the change should be pretty modest — we're talking about a change of less than 10 percentage points around sag. That said, the slightly more progressive suspension should help with initial sensitivity too, so it'll be interesting to see how much of a difference the combined changes have made.
[And if all of that suspension talk didn't make much sense, check out the Suspension Kinematics section of our recently updated Mountain Bike Buyer's Guide.]
Santa Cruz's "Glovebox" downtube storage debuted with the new Megatower earlier this year, and the same system carries over to the Hightower — there's a quick-release lid underneath the bottle cage, and an included "Tool Wallet" and "Tube Purse" help keep things organized in there. Or if you take those out, there's room to stuff a lightweight jacket in there, too.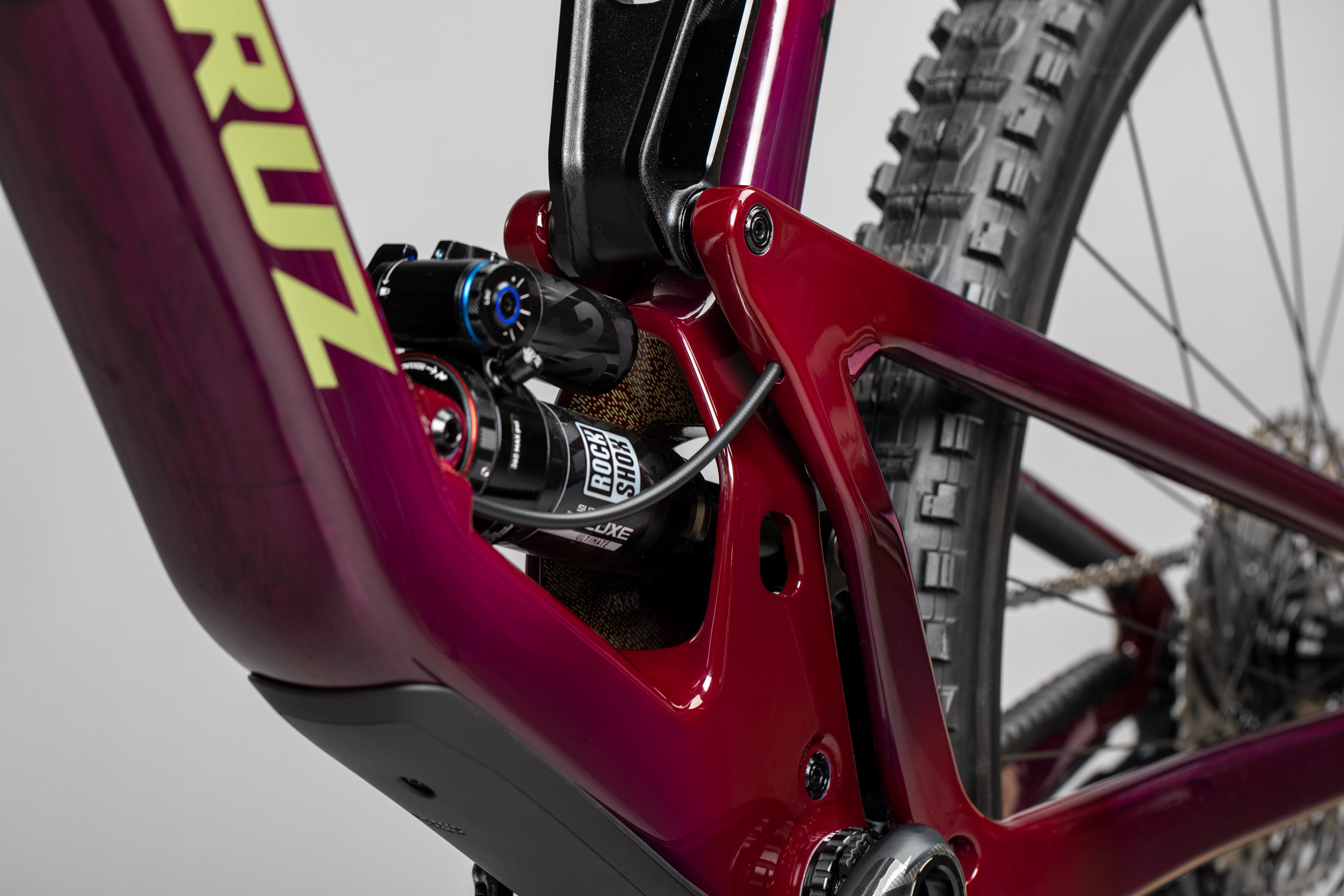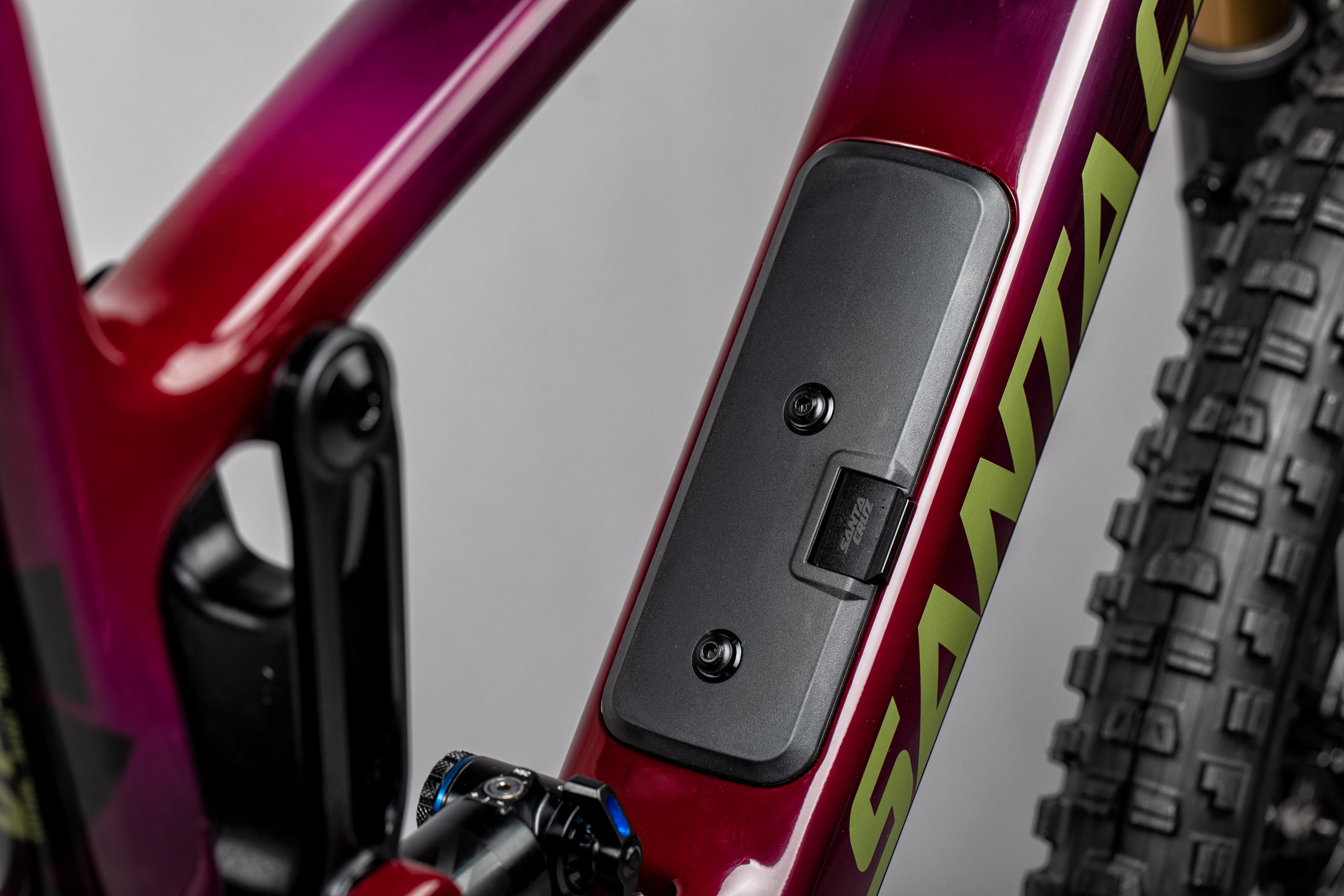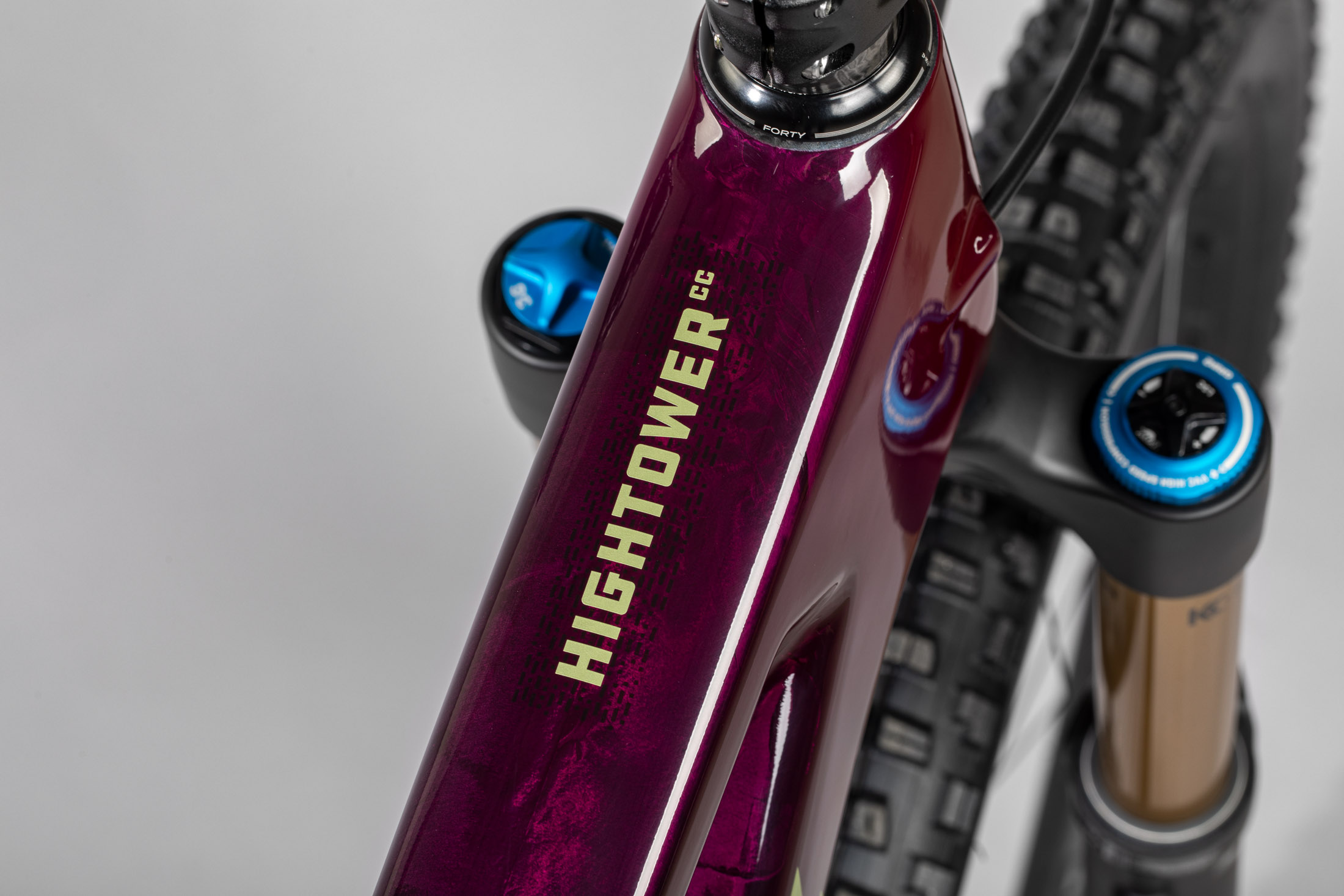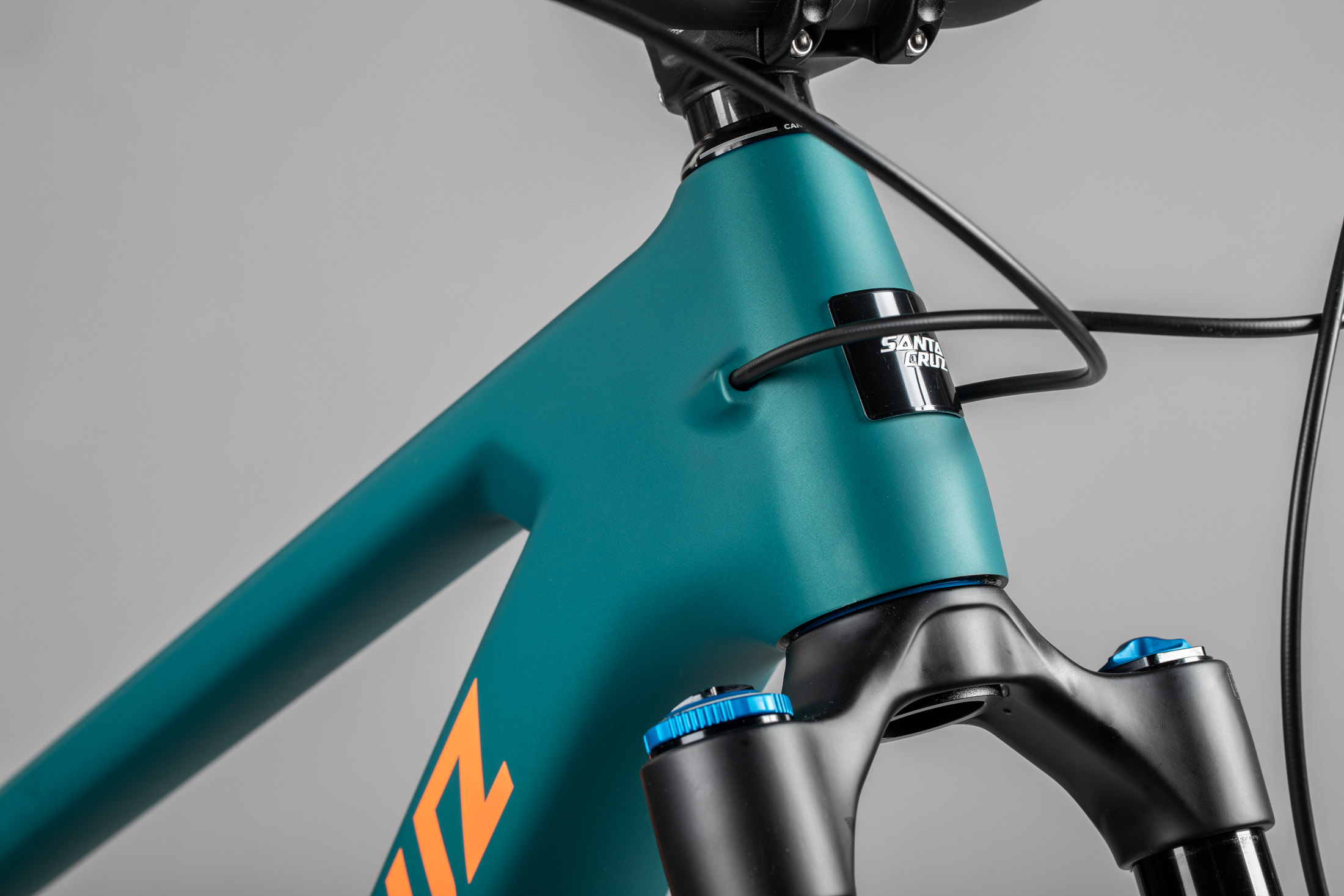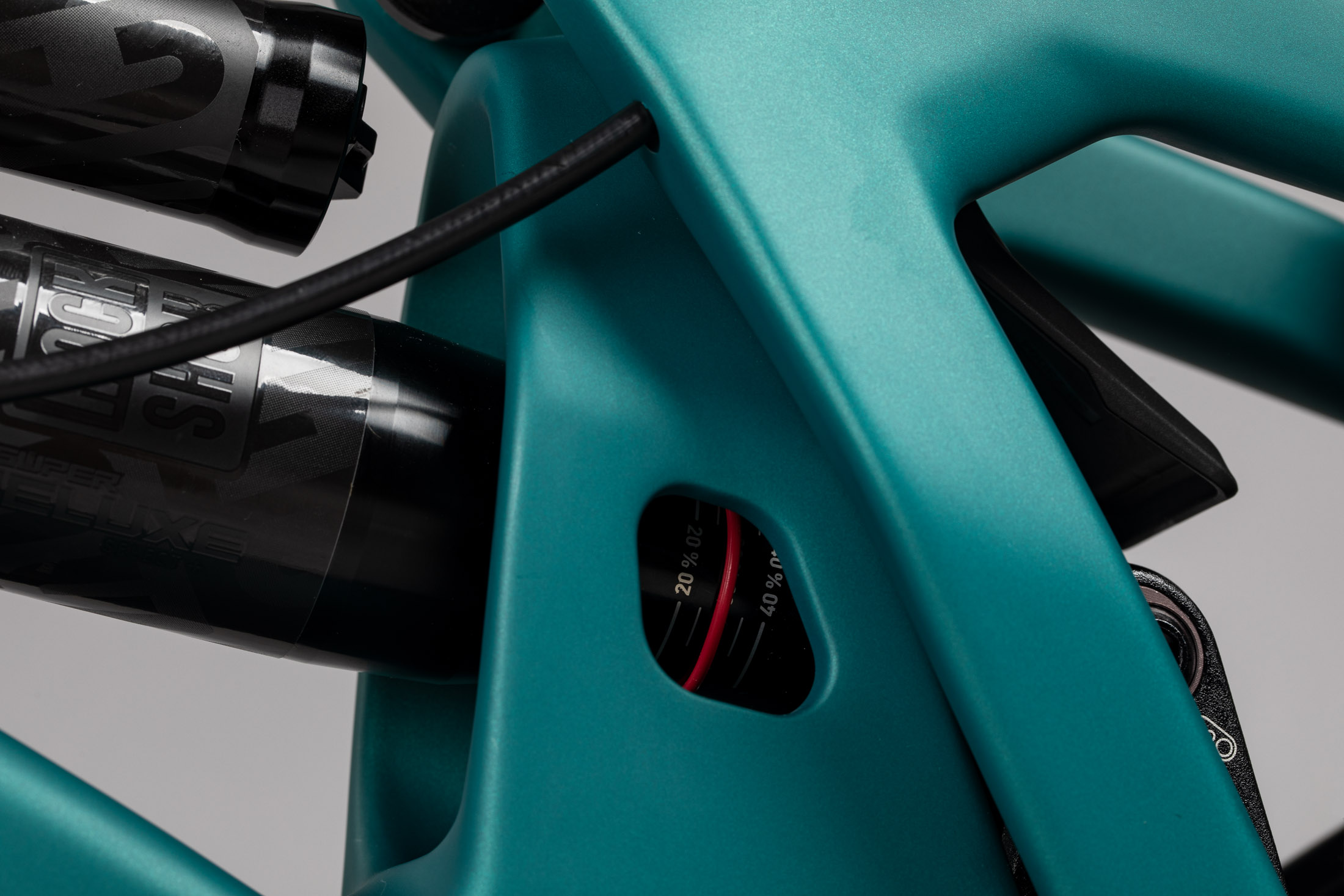 Santa Cruz has also found some other details to tweak. There's now a hole in the non-drive side of the shock tunnel to make it easier to view the sag indicator, and the shelf at the bottom of the tunnel has been reshaped to direct water away from the lower link pivots. And speaking of the shock tunnel, it's more compact than that on some of Santa Cruz's bigger bikes (e.g., the Megatower) which leaves more room for dropper post insertion, but means that coil shocks and some larger-volume air shocks (including the Fox Float X2) don't fit.
Fit & Geometry
The new Hightower is offered in the same five sizes, Small through XXL, as the prior-generation bike, and while the reach has technically gotten longer, it's by a whole two millimeters per size — so not much change there. There are bigger changes elsewhere, though. The headtube angle is 0.7° slacker (64.8° or 64.5° depending on flip-chip setting), the seat tube angle has been steepened in the larger sizes (to about 76.5° effective across the board, in the low geometry setting), and the chainstay lengths are now size-specific for all sizes; the XXL Hightower V2 got longer 440 mm stays, but the other four sizes all came in at 434 mm. The new bike gets chainstays ranging from 432 to 444 mm, with 3 mm steps between each size. The stack height has also grown considerably, by between 5 and 15 mm, depending on size.
Santa Cruz has also dropped the bottom bracket height very slightly (just a millimeter or two, depending on flip-chip setting) which they say is just meant to compensate for the slightly more supportive suspension and correspondingly higher ride height on the new bike, rather than make for a real difference in terms of on-trail feel.
All told, the changes that Santa Cruz has made feel more like slight tweaks and refinements of the Hightower recipe than any kind of major overhaul, but the result is a really nice set of numbers that we'd expect to make for a really versatile all-rounder that it's easy to imagine clicking for a whole lot of riders in a big range of locales.
The Builds
Santa Cruz offers the Hightower in six different builds for now, all with a carbon frame. The R, S, GX and GX AXS feature the more basic Carbon C frame and the top-tier Carbon CC frame is featured on the X01 and X01 AXS RSV builds. All builds get Maxxis Minion DHR2 Exo 2.4'' tires at both ends (MaxxGrip rubber front, MaxxTerra rear). Kudos to Santa Cruz for the choice of MaxxGrip rubber for the front tire, but the plain Exo casings seem a little wimpy, given the intentions of the bike. It's not a big Enduro bike that demands DoubleDowns, granted, but I'd rather see Exo+ ones on there.
That quibble aside though, the builds seem nicely thought out — and I'm very into putting the big-gun SRAM Code brakes on the higher-end builds. That's a part where going overkill is clearly better than coming up short (Santa Cruz does moderate things by going with 180 mm rotors at both ends).
The aluminum options are slated to launch in 2023, with pricing and spec details TBD.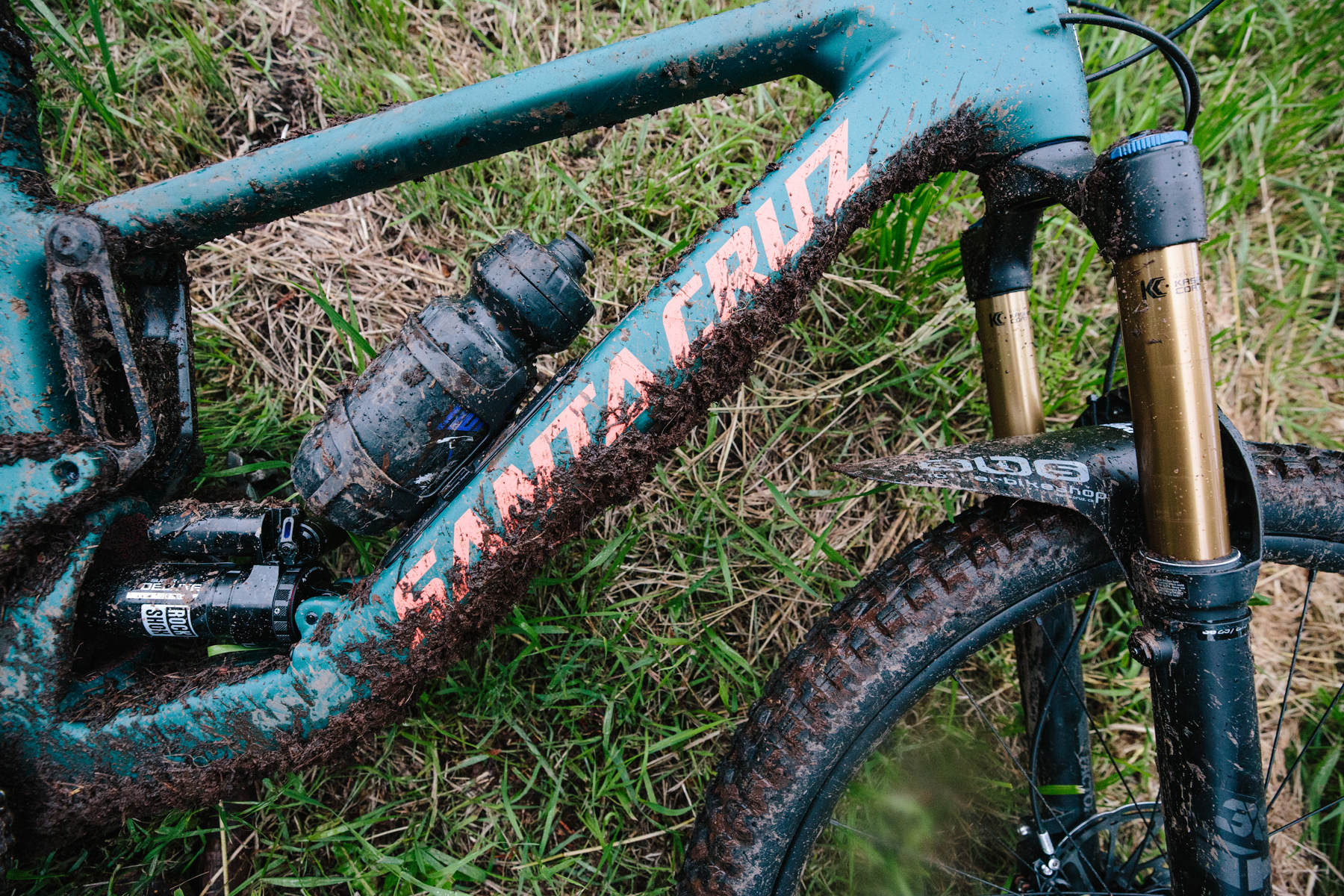 Some Questions / Things We're Curious About
(1) Santa Cruz has made a lot of little tweaks to the new Hightower, and while none of them look too dramatic on their own, how different does the new bike feel when they're all added up?
(2) And how does the Hightower stack up against the numerous ~150 mm travel bikes that we've been on recently, including the Canyon Spectral, Santa Cruz's own Bronson, the Guerrilla Gravity Smash, and a whole lot more?
Flash Review
Blister Members can read our Flash Review of the new Santa Cruz Hightower for our initial on-trail impressions. Become a Blister Member now to check out this and all of our Flash Reviews, plus get exclusive deals and discounts on gear, and personalized gear recommendations from us.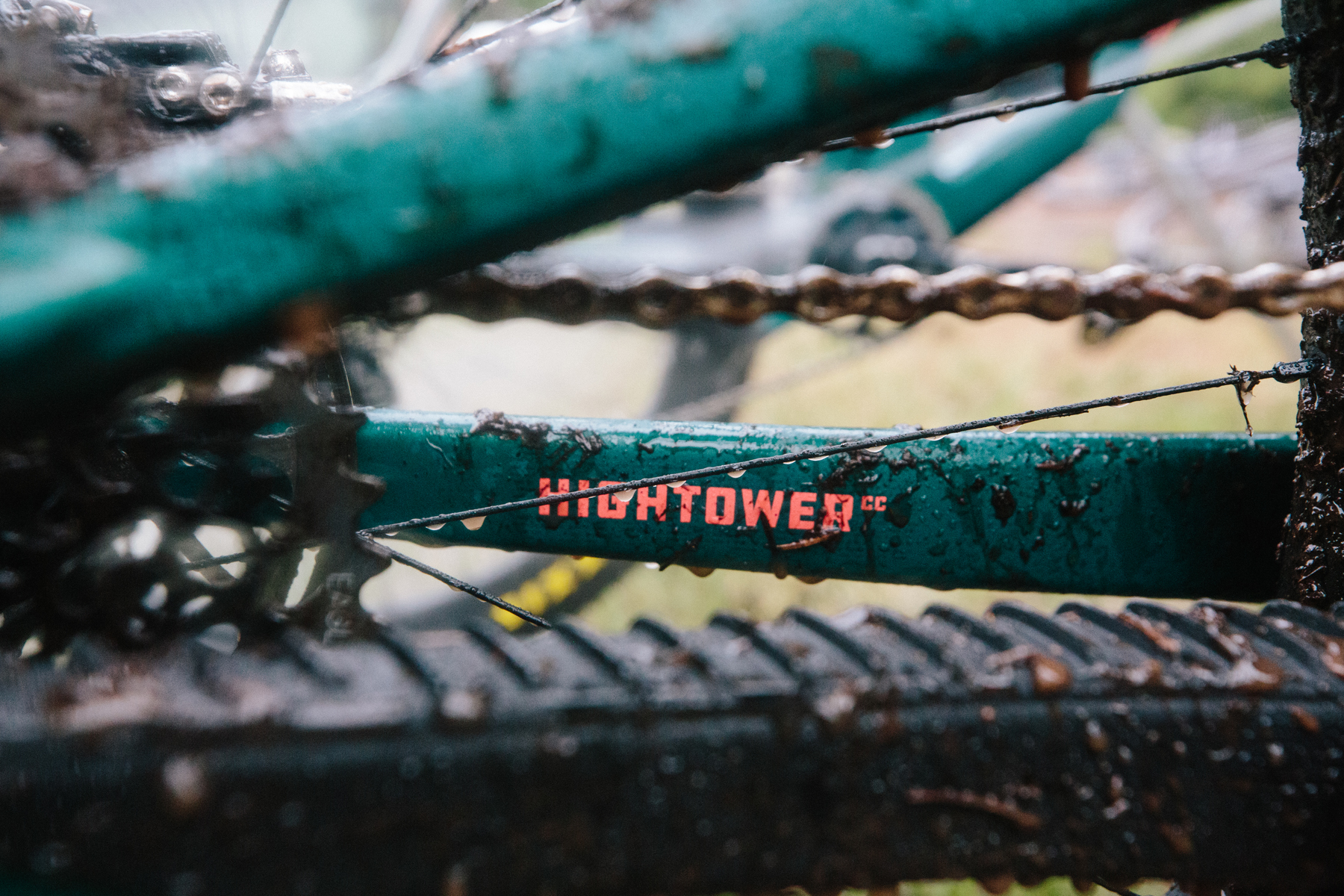 Bottom Line (For Now)
We already really liked the outgoing V2 Hightower, but that hasn't stopped Santa Cruz from trying to improve upon it. While the changes that they've made don't look too dramatic on paper, they all seem like nice refinements of what was already a good, versatile Trail bike. We've got a Hightower X01 AXS RSV in for testing, so stay tuned for a full review soon.